Adventurous Kate Goes to a Bangkok Ping Pong Show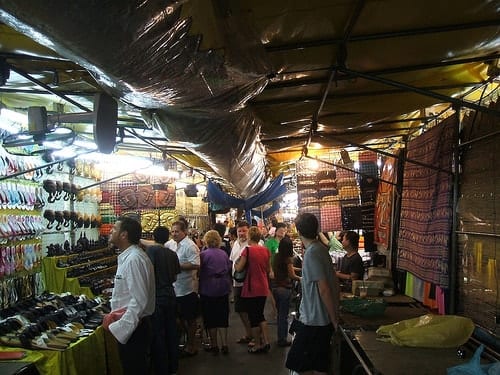 Image: Harry Haze
Bangkok ping pong shows are as notorious as Bangkok's Red Light District itself.  Walk down Khao San Road — a totally different neighborhood — and, regardless of your age or gender, men whisper, "Ping pong? Ping pong?" while smacking their lips together in a telltale pop.
I had to see it for myself.
Yes, maybe this wasn't the best activity to do as a solo female traveler, but what was I going to do?
Me: "HEY EVERYONE AT THE HOSTEL!  WHO WANTS TO GO TO A SEX SHOW?

Everyone: "…."

Me: "I'LL BE RIGHT OVER HERE."
I would go alone.  I would go alone with confidence and style.  And being a solo female traveler alone in the Red Light District would probably make a better story, wouldn't it?
(I warn you, this is an extremely sexually explicit post.  If you're faint of heart or not interested in this sort of thing, I encourage you to stop reading immediately.  I'll be back to normal posts tomorrow.)
"Patpong," I tell my cab driver on Khao San Road.  And for perhaps the first time in history, a Bangkok driver actually knows the place I'm talking about.
One 80-baht drive later, he drops me off in the heart of the Patpong Night Market, where tables of designer knock-offs are surrounded on three sides by strip clubs.
A man rushes up to me before I'm even out of the cab.  "Ping pong?  Ping pong?"
"Um, yes.  Actually."
If he's surprised, he doesn't show it.  Instead, I'm led past the market and up a steep staircase into a dark club.
Immediately I'm seated with a view of the round stage.  Dance music blares overhead, the speakers emitting strong static.  Women surround me in various states of undress, an older madame overseeing everything.
The man who brought me hands me a card.  300 baht ($10) covers entry and my first drink.
"Bucket?" I ask hopefully.
Ha.  Like they'd include a bucket.
The girls bring me a Singha and dissipate, resuming their gyrations on stage.
An older, pockmarked, overweight woman seated to my left looks me up and down.  "I can make you feel good," she purrs.
Holy sh*t.
"It's okay.  No, thank you.  Mai yao, ka," I tell her.
She doesn't relent.
"I'm not interested."
She starts stroking my arm.
"I like boys," I say as I wrestle her off me.  "Only boys.  I don't like girls.  I'm just…curious."
Curious.  Isn't that what many a college girl has said upon diving headfirst into labia for a night?
Sheesh.
"You give me tip."
I hand her 20 baht and the large woman returns to behind the counter.
I'm wondering where the attractive lesbians are.  Seriously, is she really the best they have to offer?  Is it the low demand, or do most girls tend to go for her type?  Why would girls go for that type, period?  There seems to be a significantly lower shame factor in Thailand than anywhere else I've ever been. Does this relate to why the majority of guys on Craigslist Casual Encounters are looking for women by whom they pretend to be disgusted real life?
My mind is wandering to my psychology courses in college and recent Savage Love columns…but then the show really begins.
Image: permanently scatterbrained
I'm trying to figure out how to articulate the word for a woman's anatomy without driving a lot of lotion-and-kleenex-scented traffic to my site, but I think that will go out the window once I describe my current hostel situation as a Vagina Vault.  (Three levels of key-card security in a women's-only wing?  Yep, that's a Vagina Vault, all right.)
Let's call it a hoo-ha, for comedic purposes.
Anyway, there is a bunch of balloons at one end of the stage.  My naive self assumes that they're just for decoration.
Not a chance.
The one completely naked woman on stage is holding what appears to be a long straw.  Before long, she lies down on her side, one leg extended into the air, straw fully inserted into hoo-ha.  She puts a dart into the straw, holds on tight, and —
POP!
I'm gaping and wondering exactly which muscles she has to squeeze to make a motion like that.
POP!
Maybe it's a stretch?  Something she eats?
POP!
Did she store up air before that?  How would one even begin to do that?
POP!
There are only two left.  Surely she won't be able to —
POP!
The girl gets up, grabs the final balloon, and hands it to me.
OH MY GOD.
I hold it as far away from me as I can stretch.  She gets down on the stage again and I'm doing everything I can not to look into the vortex.  In goes the straw, in goes the dart, and —
POP!
Thanking God that an errant dart didn't hit any of my vital arteries, I tip her and sit.
Next: ping pong.
My only knowledge of ping pong shows comes from South Park: Bigger, Longer and Uncut, which, admittedly, isn't very much.
Well, it's not too different from what you'd imagine.
I'm handed a paddle.
You can guess what happens next.
No?
One by one, the woman inserts ping pong balls into her hoo-ha and shoots them across the room. All of them are aimed in my direction.
I'm screaming and dodging and batting them away.  But soon, my competitive instincts take over and I'm hitting them back with vigor, because the last thing I want is to get a soaked ping pong ball in my face!
I survive, hitting back every single ping pong ball.  BOOYEAH.
"Now you tip!" the girl commands.  Of course, I tip!  That's the most tip-worthy act I've seen in a long time.  I give her a hundred.
The other girls immediately swarm me.
"Are you kidding?  None of you did anything!"
They won't leave.  I acquiesce, giving each of them 20 baht.  At that point, I'm out of bills, so I go to the bar to see if they can change a hundred.
"No," the madame refuses.
Really?
"You know, I'm out of here," I tell her, turning on my heel and leaving the club.
Nobody follows me out.  THANK GOD.
So that was my first ping pong show.  Is this something solo female travelers can go to on their own?  Well, sure.  But I wouldn't recommend it. I also bet you'd spend a lot less money if you had two or more people.
That said, it was something that I will remember for the rest of my life.
While I realize that there's so much that can be said about Thailand's sex trade and the tragic lives of these women, I want the post to concentrate on the humor and overall ridiculousness of my night.  We can discuss the serious stuff at another time.
To be honest, I'm a bit worried about whether I can continue my adventures at this rate.  How the hell could I top this?! I've already been punched in the face!  Am I going to wake up with a tattoo of a tiger on my face like that girl on For the Love of Ray-J?
If you have any suggestions for what I should do next, I would gladly welcome them!  Any ideas?
Adventurous Kate contains affiliate links. If you make a purchase through these links, I will earn a commission at no extra cost to you. These commissions help reduce the ever-increasing costs of keeping this site active. Thanks for reading!