Capri Adventure: Ascending Monte Solaro
Capri is a mountainous island in Italy's southern Campania region, just off the coast of Naples.  It's also one of my favorite places in the world.
Capri is divided into two halves: the posh, ritzy Capri, and the village-like, lesser-visited Anacapri.
Staying in Anacapri — at the fantastic Bussola di Hermes — gave us the chance to see more of Anacapri, which plenty of tourists just skip entirely in favor of the beaches and boutiques.
Monte Solaro, the highest point on the island, is one of Anacapri's star attractions.  For just a few Euros, you can take a chairlift to the top of the mountain.
Then for twelve minutes, you soar through the air, gliding by incredible gardens like this one.  I love how the chairs are built for one — it gives you a chance to take everything in.
And then you get to the top, where you have a 360-degree view of one of the most beautiful islands in the Mediterranean.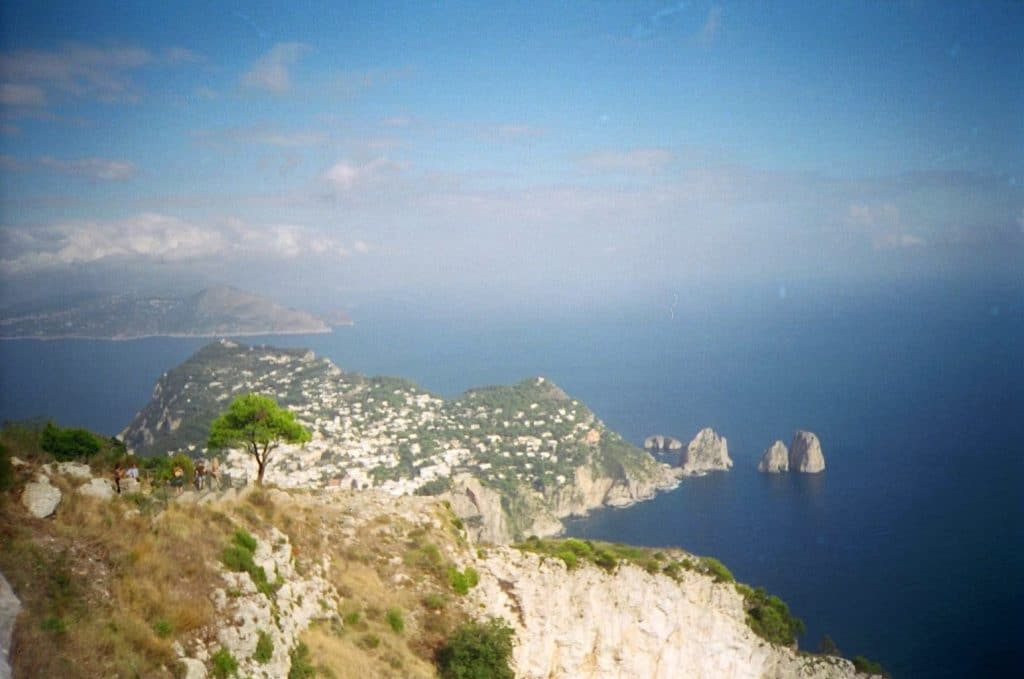 I was so struck by the beauty of Capri — I remember feeling as if I were in the middle of a Greek myth.  It was so quiet on top of the mountain because everyone was just as spellbound as I was.  I would have gladly stayed on top of Monte Solaro for days, living on nothing but tomatoes and fresh mozzarella.
Look how happy we are!  The seven of us bonded that weekend, and I think that being in a beautiful setting had much to do with that.
Here's a video I found on YouTube of the chairlift.  If you pause at 1:12, you can see the amazing garden!
If ever you find yourself in Capri, be sure to visit the best of Anacapri, especially Monte Solaro.  You won't regret it!
Adventurous Kate contains affiliate links. If you make a purchase through these links, I will earn a commission at no extra cost to you. These commissions help reduce the ever-increasing costs of keeping this site active. Thanks for reading!