When I was in the hippie enclave of Pai, northern Thailand, I saw a busker with the best idea I have ever seen.
A dude walked up, his body covered in paint the color of Pepto-Bismol, and thrust his walking stick down.  We, the bystanders, then realized that he had instructed us to paint him.
What a brilliant idea! I'd much rather paint a guy for a small donation than pose with a silvery statue! Wouldn't you?
Naturally, there was only one thing I would paint on him.
AdventurousKate.com.  Of course.
This is a form of creative blog marketing of which I haven't read a lot. Quite frankly, I haven't noticed a discernible impact — nobody has responded to my site with, "Hey, I saw your site written on that guy in Pai and had to check it out!"
But who knows?  Perhaps it gained me a subscriber or Twitter follower or Facebook fan.  I'll never know for sure.
It took hardly any effort, so I decided to continue this practice while tubing in Vang Vieng, Laos.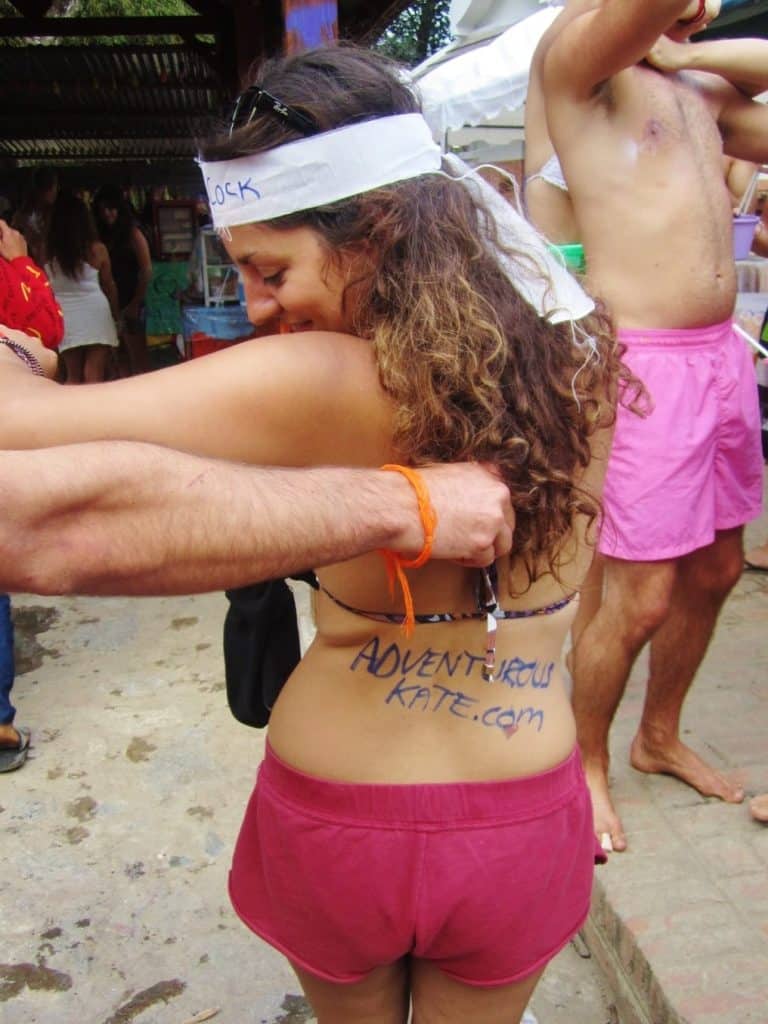 In Vang Vieng, everyone has something written on his or her back — the more offensive, the better.  (Just wait until you see the incredibly offensive collection I plan to post in the future.  You won't believe the awful things some people can dream up.)
But for me, it was all about promoting my site.
Did it work?  Possibly. I will say that writing the name of my site on my back led people to ask me about it, and led me to several conversations that wouldn't have happened otherwise.  And some of the people I've met in Vang Vieng has since checked out my site.
Overall, this blog is written to encourage people, particularly women, to go after their dreams and travel, especially on their own. If I can gain as few as one more reader from a tactic like this, I will consider it a success.
What are some of the creative blog marketing techniques you have used?  Did they work?