A few months ago, I resolved to visit 101 UNESCO World Heritage Sites by the end of the year. That would require me to visit 50 new sites in about eight months.
It soon became clear that this was not going to happen.
I failed in several ways. First off, I was traveling solidly for more than a month straight with no downtime: home (no new sites), Italy (three sites documented below), South Africa (no new sites), and the Netherlands (one site documented below) before leaving on the SOTM Tour.
Getting ready for the SOTM Tour left me so busy that I had no time to see any other sites — not the post-Netherlands trip to Germany and Luxembourg that I had to abandon, not the other sites in England, not even the other two sites in LONDON!
And when UNESCO announced their new sites for 2013, I had been to none of them. I had hoped to pick up at least one more there.
Beyond that, my travel plans for this year were overly ambitious. Now that I have committed to slowing our travels down, there's no way I'm going to hit 50 new ones by December.
But.
I'm still going to work on this goal. I'm still going to get to 101 UNESCO sites. It will just take me a bit longer.
For now, here are the first 10 sites I've visited since beginning the challenge, complete with UNESCO's thoughts and my own thoughts:
52. Museumsinsel (Museum Island), Berlin, Germany
UNESCO's take: "The five museums on the Museumsinsel in Berlin, built between 1824 and 1930, are the realization of a visionary project and show the evolution of approaches to museum design over the course of the 20th century. Each museum was designed so as to establish an organic connection with the art it houses."
My take: I appreciate the thought that went into designing buildings appropriate to the museums within, but I can't say that I was particularly captivated by Museumsinsel. If you're in Berlin, definitely stop by; otherwise, it's not one of the OMG-you-absolutely-must items on this list.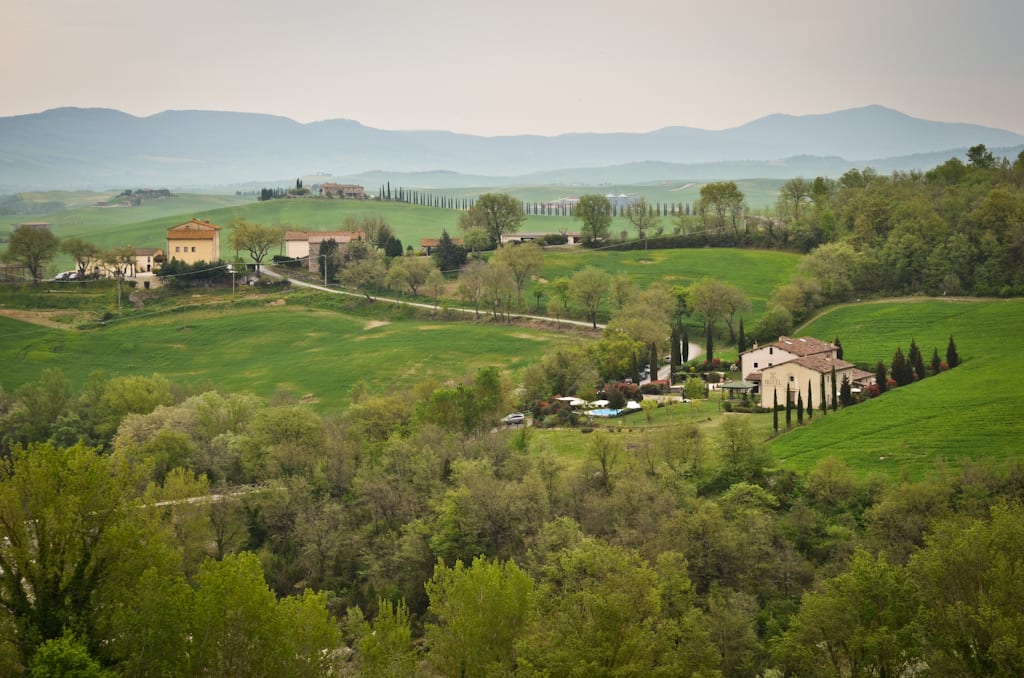 53. Val d'Orcia, Italy
UNESCO's take: "The landscape of Val d'Orcia is part of the agricultural hinterland of Siena, redrawn and developed when it was integrated in the territory of the city-state in the 14th and 15th centuries to reflect an idealized model of good governance and to create an aesthetically pleasing picture."
My take: When driving around the Val d'Orcia, you have this strange feeling of familiarity, like you've been here before. It's from all the paintings that you've seen in your life! It really is a canvas brought to life, and the Val d'Orcia is a fascinating place to visit and photograph for that reason alone.
54. Historic Centre of the City of Pienza
UNESCO's take: "It was in this Tuscan town that Renaissance town-planning concepts were first put into practice after Pope Pius II decided, in 1459, to transform the look of his birthplace."
My take: I absolutely fell in love with Pienza, not only because it's so beautiful, but also because it's brimming with romance. While it may not be the most impressive Italian city I've seen in terms or architecture or history, it is an absolutely beautifully preserved place and I highly recommend visiting it.
55. Historic Centre of Siena
UNESCO's take: "[Siena's] inhabitants pursued their rivalry with Florence right into the area of urban planning. Throughout the centuries, they preserved their city's Gothic appearance, acquired between the 12th and 15th centuries…The whole city of Siena, built around the Piazza del Campo, was devised as a work of art that blends into the surrounding landscape."
My take: Siena is definitely nice, and cultural, and a great Tuscany day trip, but I wouldn't call it one of my favorite places in Italy. It's not quite a city, and definitely not a small town. The architecture is wonderful, and I love the flags that decorate the streets, but I'm not so sure how well it was designed to blend into the surrounding landscape.
56. Seventeenth-Century Canal Ring of Amsterdam Inside the Singelgracht
UNESCO's take: "The historic urban ensemble of the canal district of Amsterdam was a project for a new 'port city' built at the end of the 16th and beginning of the 17th centuries. It comprises a network of canals to the west and south of the historic old town and the medieval port that encircled the old town and was accompanied by the repositioning inland of the city's fortified boundaries, the Singelgracht."
My take: This is an icon! You've got to visit the canals of Amsterdam. It's a fantastic place to photograph. Two odd things: first, it actually reminded me of Boston, and second, I have no idea how people live here — most of the canals have no barrier, so it's easy for anyone, and especially children, to fall in.
57. Chartres Cathedral
UNESCO's take: "Partly built starting in 1145, and then reconstructed over a 26-year period after the fire of 1194, Chartres Cathedral marks the high point of French Gothic art. The vast nave, in pure ogival style, the porches adorned with fine sculptures from the middle of the 12th century, and the magnificent 12th- and 13th-century stained-glass windows, all in remarkable condition, combine to make it a masterpiece."
My take: The cathedral is excellent — definitely one of the best gothic cathedrals in Europe, and hands down the best French gothic cathedral — but I enjoyed the town more than I enjoyed the cathedral itself. Chartres is a good afternoon trip from Paris, or you can pair it with a trip to Versailles, as it's on the same train line.
58. San Marino Historic Centre and Mount Titano
UNESCO's take: "San Marino is inscribed as a testimony to the continuity of a free republic since the Middle Ages…Thanks to its position on top of Mount Titano, it was not affected by the urban transformations that have occurred from the advent of the industrial era to today."
My take: While San Marino feels a bit Disneyfied, due to lots of tourism confined to a small space, I found it charming — and the views are unbelievable. The single coolest thing is that the entire country is perched on Mount Titano (which is the reason why no trains run there). It's like something out of a fairy tale, and definitely worth a visit.
59. Ferrara, City of the Renaissance, and its Po Delta
UNESCO's take: "The humanist concept of the 'ideal city' came to life here in the neighbourhoods built from 1492 onwards by Biagio Rossetti according to the new principles of perspective. The completion of this project marked the birth of modern town planning and influenced its subsequent development."
My take: Ferrara was certainly a beautiful city, with lots of architectural marvels — but I didn't find it as impressive as other cities in Italy, or even in Emilia-Romagna. The old town didn't feel as charming as most Tuscan towns. I actually preferred nearby Parma, which isn't UNESCO-listed, but perhaps it should be.
60. Palace and Gardens of Schönbrunn
UNESCO's take: "From the 18th century to 1918, Schönbrunn was the residence of the Habsburg emperors…Together with its gardens, the site of the world's first zoo in 1752, it is a remarkable Baroque ensemble and a perfect example of Gesamtkunstwerk."
My take: It's like the Austrian Versailles! Really, if Baroque art and architecture are your thing, this is a great place to visit — and if you don't want to spend any money, the gardens are free! Schönbrunn is a great place to live out your Austro-Hungarian Empire Royal fantasies.
61. City of Valletta
UNESCO's take: "The capital of Malta is inextricably linked to the history of the military and charitable Order of St John of Jerusalem. It was ruled successively by the Phoenicians, Greeks, Carthaginians, Romans, Byzantines, Arabs and the Order of the Knights of St John. Valletta's 320 monuments, all within an area of 55 ha, make it one of the most concentrated historic areas in the world."
My take: I've never seen a city that looks like this — and that makes it very special. Valletta is one of the oldest planned cities in the world and is built on a grid — it's so strange to see, especially being from Boston, a city with no reason to its crazy street layout! Add the amazing architecture (and balconies) on top and you have a winner. A must.
So — which ones were my favorites?
Valletta. It's such a cool city, both in terms of its crazy history and its unusual look.
And Pienza and the Val d'Orcia. I can put them together because Pienza is technically within the Val d'Orcia — it's a UNESCO inside a UNESCO, a meta-UNESCO! This is Italy at its best.
Coming Up
Stay tuned until the next ten sites! The list will start with sites from Malta, Macedonia (pictured above), and hopefully Japan and Korea!
Have you been to any of these UNESCO sites? What did you think of them?
Adventurous Kate contains affiliate links. If you make a purchase through these links, I will earn a commission at no extra cost to you. These commissions help reduce the ever-increasing costs of keeping this site active. Thanks for reading!