Adventurous Kate contains affiliate links. If you make a purchase through these links, I will earn a commission at no extra cost to you. Thanks!
I AM BACK!  After a 22-day break from the site — my first non-working vacation in years — I'm ready to share my adventures from Croatia, Bosnia, and Montenegro with all of you.
It was SUCH a good trip.  I've been yearning to visit this region for years, and the Balkans didn't disappoint whatsoever.  I'm convinced that these are some of the most beautiful (and most fun) countries in the world!
For now, a picture from each of the 22 days I was away: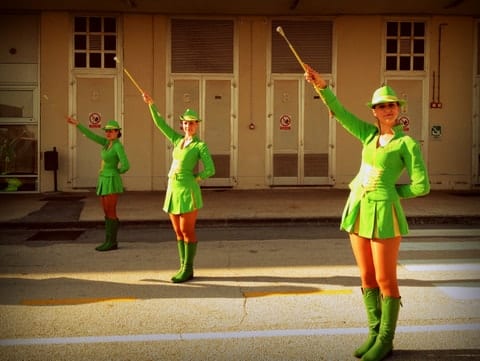 Day 1: Pula, Croatia
How's this for an airport arrival?  Dave and I later learned that we happened to be on Jet2's inaugural flight from Manchester to Pula, and they welcomed us with wine, pastries, and lavender sachets.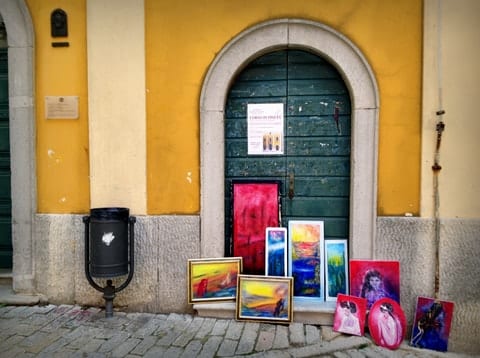 Day 2: Labin, Croatia
On our first full day, we decided on a whim to drive to the village of Labin.  Labin turned out to be a beautiful and colorful town with some of the cheapest truffle pasta dishes we found!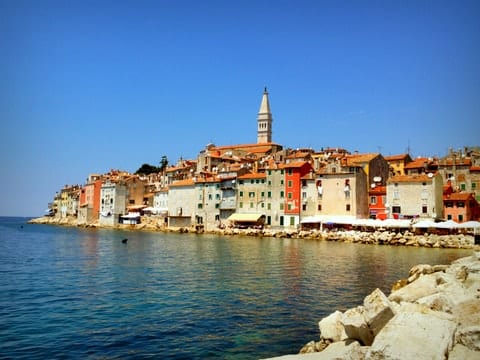 Day 3: Rovinj, Croatia
I'm not usually a fan of very touristy towns, but there was something different about Rovinj.  Maybe it was that underneath the tourist-filled town, Rovinj is a genuine Mediterranean fishing village.  Or maybe I'm getting old and increasingly liking nicer places.  Either way, Rovinj was simply delightful, and I loved it.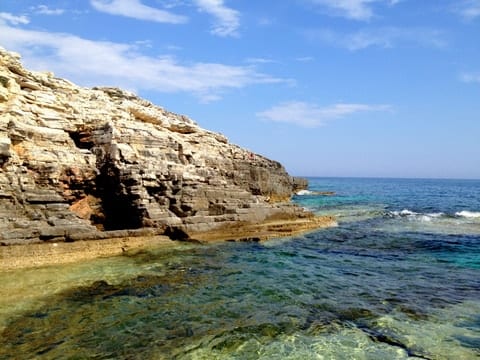 Day 4: Kamenjak, Croatia
Four days into our trip, we made our first foray to the beach — specifically, the wild beaches of Rt Kamenjak, south of Premantura.  It's the bottom tip of Istria and well worth a trip.  Just don't expect to lie on any sand!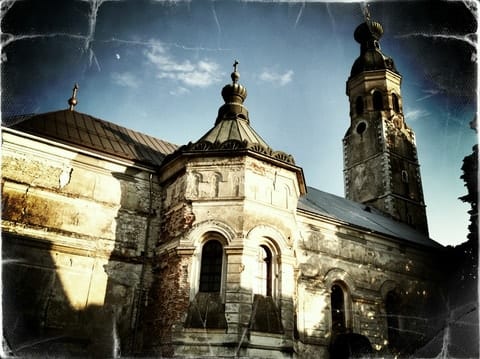 Day 5: On the Road to the Plitivice Lakes, Croatia
One of the best things about renting a car in Croatia was getting to see lots of unexpected sites along the way — like this church, somewhere between Rijeka and the Plitivice Lakes.  We drove by and I yelped, "I have to take a photo of that!"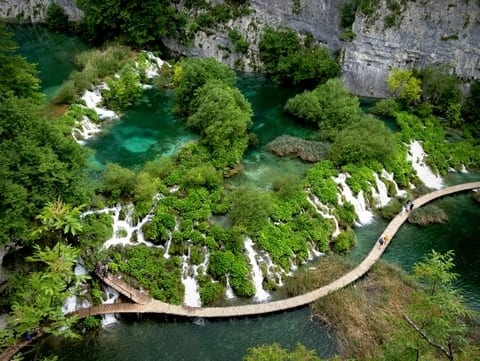 Day 6: Plitivice Lakes, Croatia
This is one of the natural wonders I had been looking forward to the most — and although we had to deal with a thunderstorm, insane crowds, and a guy who just started randomly peeing in the middle of a cave, we had a great time exploring the green lakes and white waterfalls of Plitivice.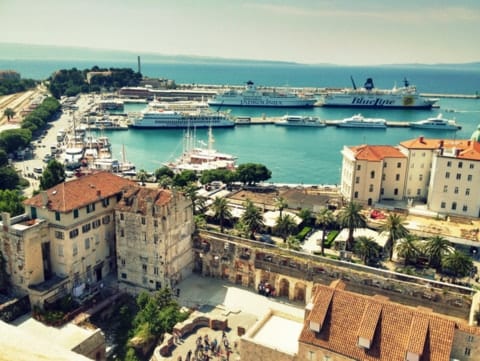 Day 7: Split, Croatia
There's something old-fashioned about the Dalmatian Coast — somehow, despite all the holidaymakers in tube tops and short shorts, it gives you the feeling of being back in the 1950s.  I think this picture of Split's harbor exemplifies that.
Day 8: Omiš, Croatia
After hopping on our Busabout Croatia cruise, our first activity was an hourlong hike up a mountain to see the view from the fortress in piratey Omiš.  And as usual, I kind of overestimated my ability to climb a mountain in a skirt, in searing heat, without becoming a blotchy, wheezing mess.  But I made it!
This picture was taken moments after we got back on the boat.  The thought of a giant pina colada is what kept me going to the top.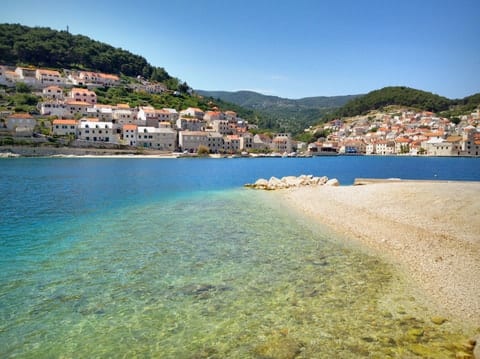 Day 9: Pučišća, Brač, Croatia
On the way to Makarska, we stopped for a short swim in Pučišća on the island of Brač.  In any other country, a beach this beautiful would be the cornerstone of the trip.  In Croatia, it's just a swim stop!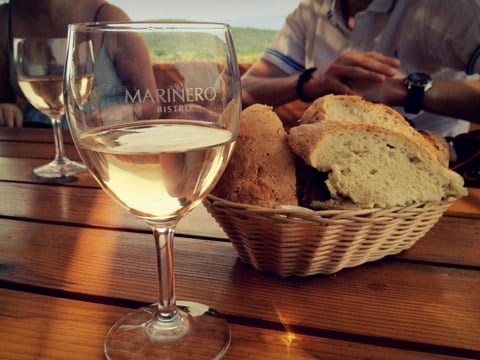 Day 10: Stari Grad, Hvar, Croatia
One of my favorite activities on our Busabout cruise was the wine tasting in Stari Grad, Hvar, a UNESCO World Heritage Site.  The highlight?  THAT HOMEMADE BREAD.  It might be the best bread I've ever tasted!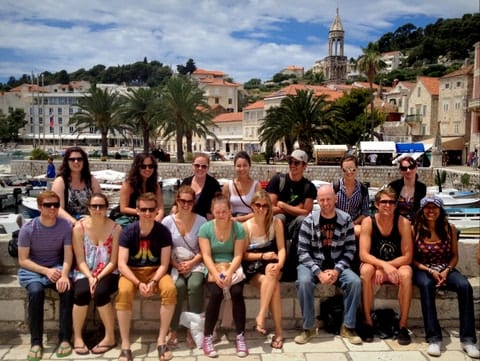 Day 11: Hvar Town, Hvar, Croatia
Strolling amongst possible celebrities in the ritzy town of Hvar, my shipmates and I fit in just fine!  We had a great group on our cruise — mostly Australians, mostly mid-twenties to early thirties, and entirely a lot of fun!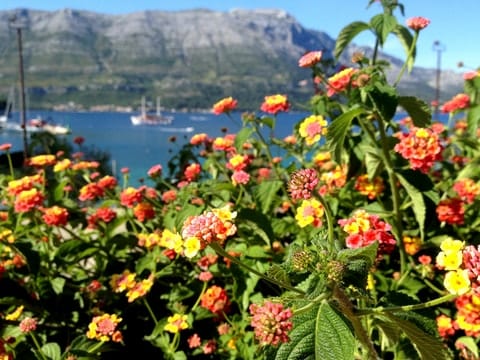 Day 12: Korčula, Croatia
Korčula was an unexpected highlight for me — I loved the town, its architecture, and especially its flowers.  There are so many interesting details — so if you're a photographer, Korčula is the Croatian island that you want to hit up!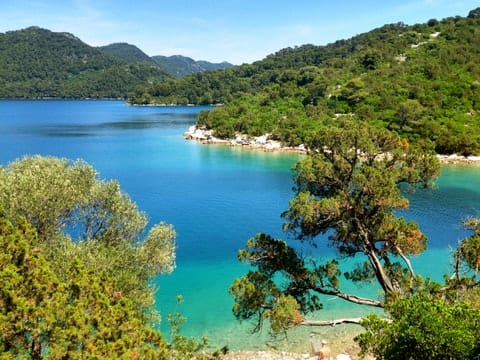 Day 13: Mljet National Park, Mljet, Croatia
Oh, Mljet — one of the most beautiful places I've ever seen!  Odysseus reportedly spent six years here, enthralled by both Calypso and the island's beauty.  I don't blame him one bit — I could spend all day gazing at these saltwater lakes.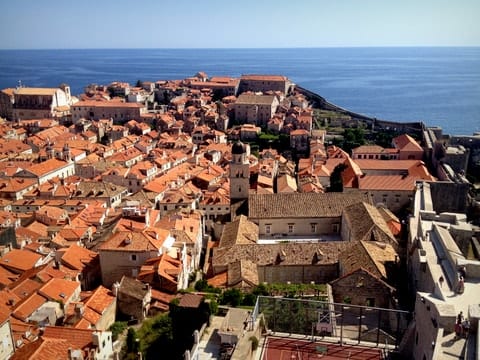 Day 14: Dubrovnik, Croatia
Oh, Dubrovnik — the Pearl of the Adriatic, the Most Beautiful City Ever, whatever you might call it.  While the old town is crowded and busy, you can get away from it all on the city walls — and get some amazing photos.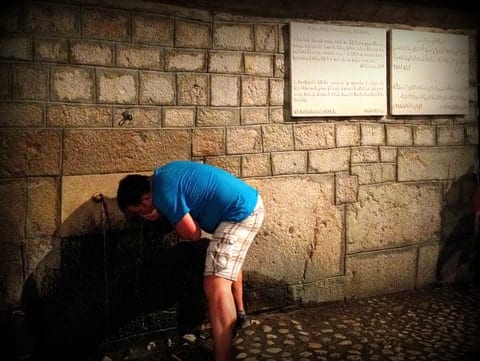 Day 15: Sarajevo, Bosnia and Herzegovina
From Dubrovnik to Bosnia in 6.5 hours!  The lines never ended for this water fountain outside a mosque in Baščaršija, Sarajevo's old town.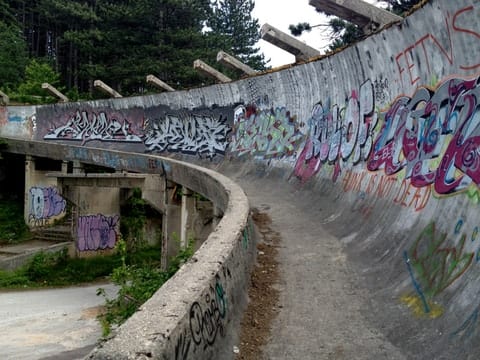 Day 16: Sarajevo, Bosnia and Herzegovina
It's strange, but no image affected me more deeply than this bobsled track.  In 1984, Sarajevo hosted the Winter Olympics and rejoiced at being the first Yugoslavian city to host the games.  Less than a decade later, the city was being bombed from every direction.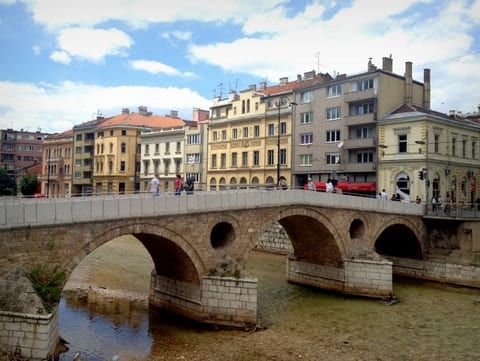 Day 17: Sarajevo, Bosnia and Herzegovina
Franz Ferdinand is more than a band — he was the Archduke whose assassination sparked World War I.  And this bridge, Sarajevo's Latin Bridge, was where that shot was fired — and changed the history of the planet.

Day 18: Mostar, Bosnia and Herzegovina
There's so much to write about Mostar — a beautiful city that, only 20 years ago, was reduced to rubble.  I'm still trying to process my feelings on this difficult place to visit.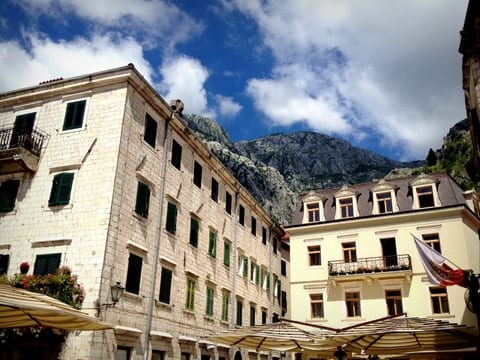 Day 19: Kotor, Montenegro
As Dave and I arrived in Montenegro, we were struck by the charm of the town of Kotor, a delicate walled city set in the middle of the absolutely breathtaking Bay of Kotor and surrounded by fjords and mountains.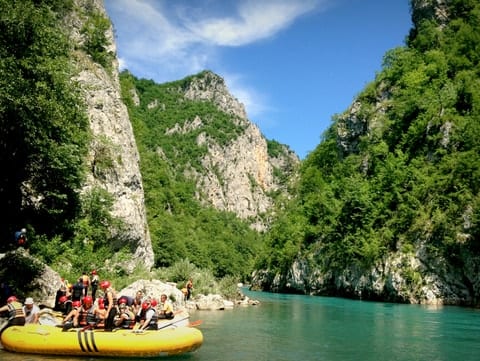 Day 20: Tara Canyon, Montenegro
Whitewater rafting in Montenegro's Tara Canyon was one of the activities we were looking forward to the most — and we had a fantastic day on the river.  The rafting was incredibly fun, but the biggest highlight was the staggering beauty of the canyon, mountains rising around you!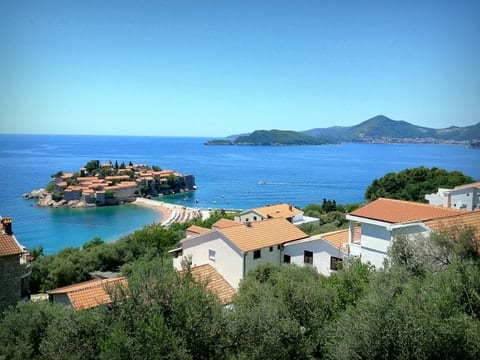 Day 21: Sveti Stefan, Montenegro
Several years ago, I saw a picture of the island of Sveti Stefan and immediately knew that I HAD to go there.  For years, Sveti Stefan came to mind again and again when planning my travels.  On this day, my dream was finally realized.  I had made it to Sveti Stefan, and I couldn't stop smiling.
Day 22: Kotor, Montenegro
On the final day of our trip, Dave and I woke up at 5:00 AM to hike to Kotor's fortress, where we watched the sunrise over the Bay of Kotor.  A beautiful finale to our three weeks in paradise.
You'll be reading much, much more about my time in the Balkans in the coming weeks and months.  I can't wait to share all of these places with you!  But for now, I have to ask:
Which photo is your favorite?
Get email updates from Kate
Never miss a post. Unsubscribe anytime!