Adventurous Kate contains affiliate links. If you make a purchase through these links, I will earn a commission at no extra cost to you. Thanks!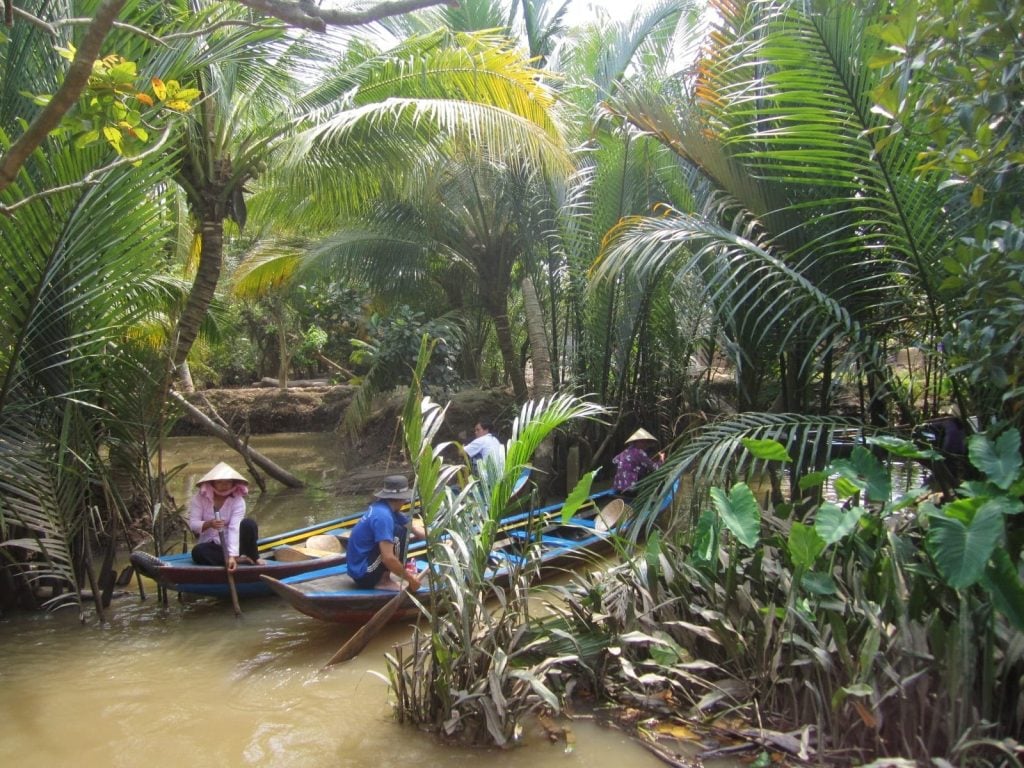 The Mekong Delta, the place where the great river splits into trails, paths and waterways, is supposed to be one of Vietnam's most beautiful attractions. Naturally, my friends and I decided to book a one-day tour from Saigon.
I'll be honest – while we've done so many wonderful things in Vietnam, our Mekong Delta tour was a bit of a bust.
After a bus ride and boat trip, we made our first stop – a coconut candy factory.
The candy had a bit of an odd taste, especially since it was wrapped in (edible) rice paper, but it quickly became addicting!
We also got a free shot of coconut wine.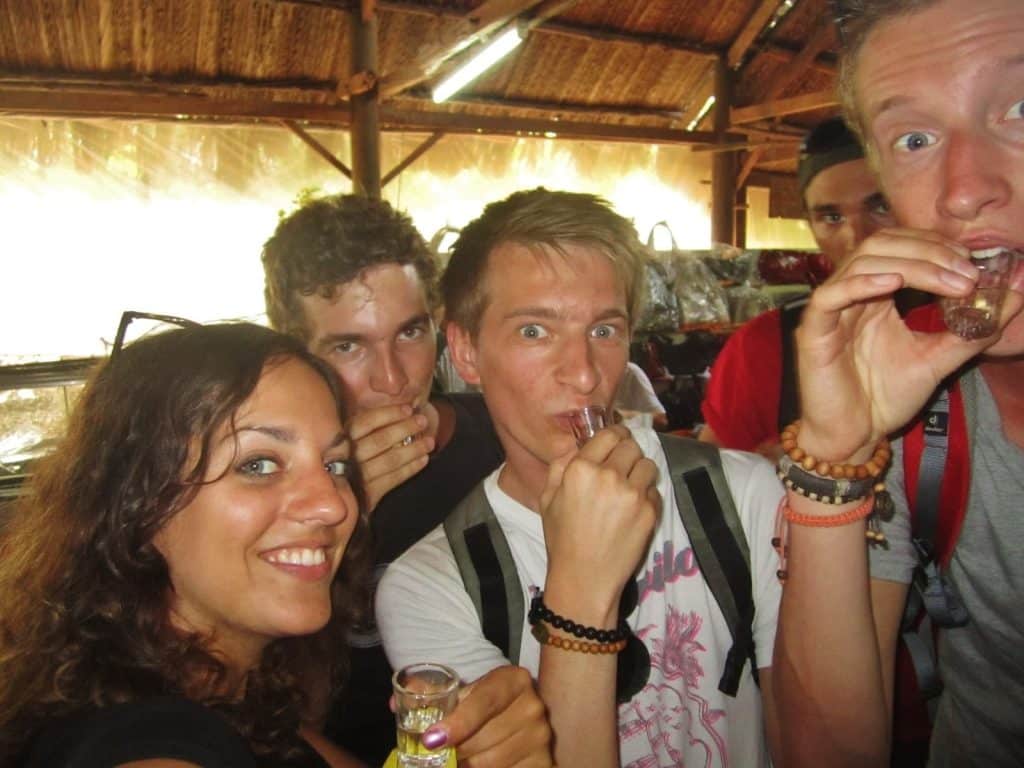 The next part was a bike ride around the island. There weren't enough bikes for everyone on our tour, and a lot of them were rusty and broken down.  A few were even missing pedals.
Being one of the last people to get there, I declined a bike and instead went for a walk…though I was amused watching super-tall Sander on his.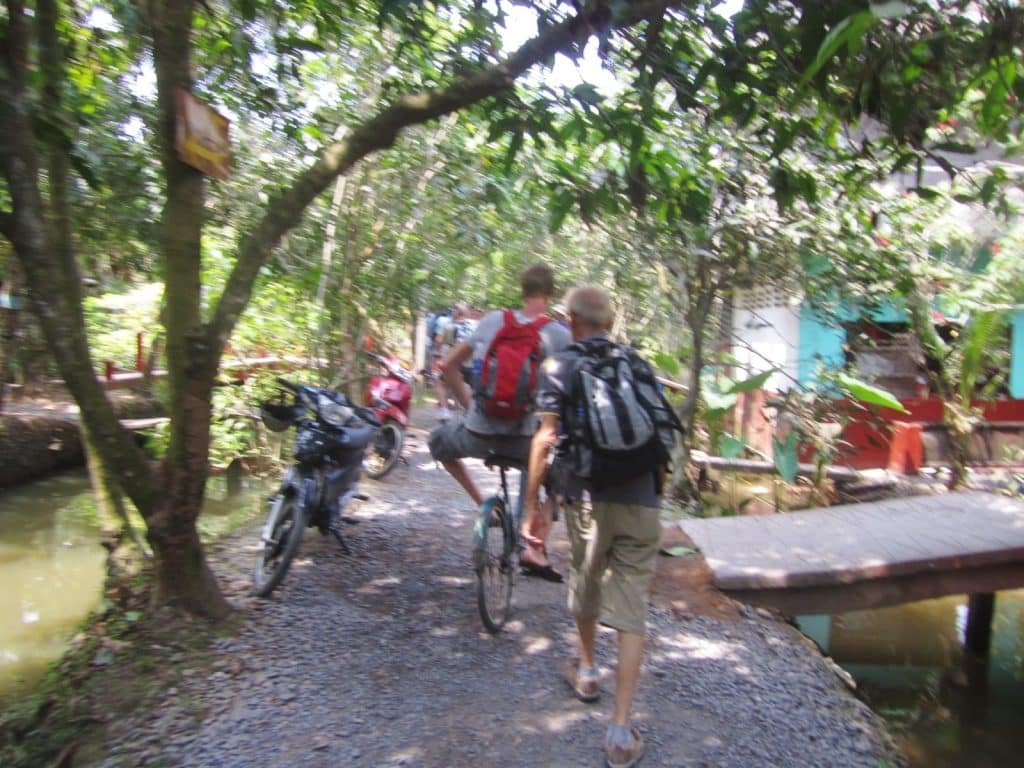 The walk was nice.  Lunch, honestly, was pretty scary.
And then we came to the best part of the day – a canoe ride through gorgeous waterways. Now, THIS was the Mekong Delta that I had imagined.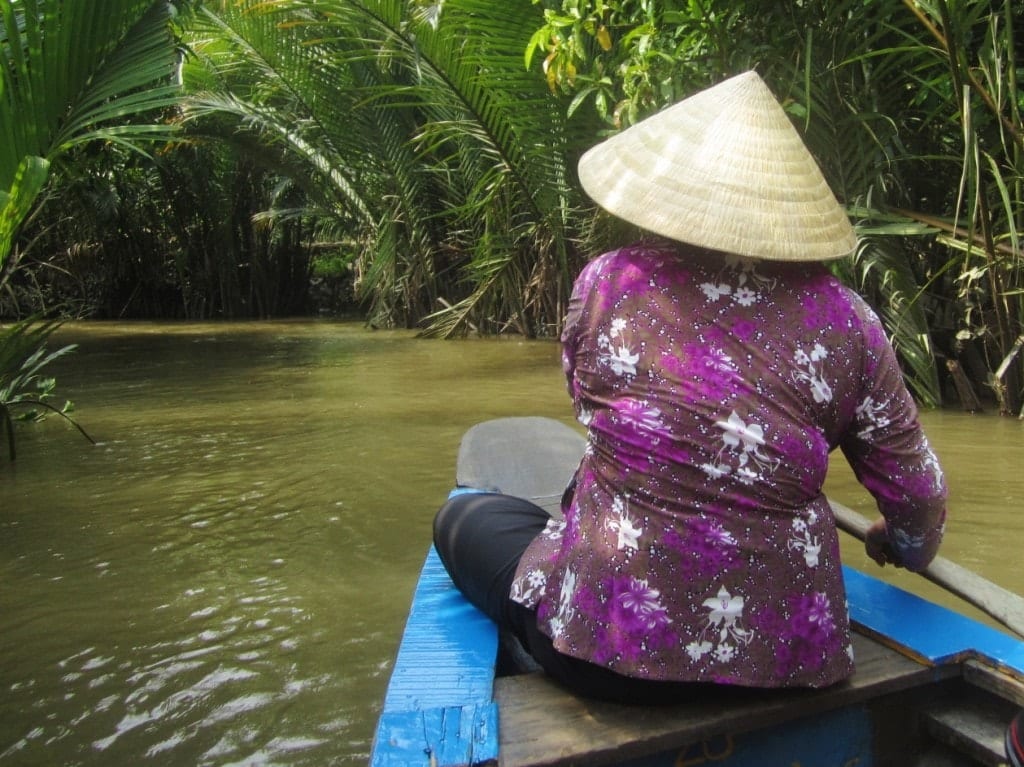 AND we got to wear conical hats!
Next, we had fruit and tea while listening to a band, and then we were ushered to another pavilion where we were served more tea.  Nothing vile, but nothing special, either.
But the worst part of the trip was that people were always, constantly hounding us to buy stuff. Rather than the authentic villages I imagined, every island was covered with gift shops.
We were encouraged to buy coconut candy and wine (which we did), to order expensive dishes instead of the included meal, and, quite awkwardly, to tip the singers.
That's not to say the day was a complete disaster. It was cheap ($8, including lunch), and my friends and I had fun.  Though we would have had fun no matter what we were doing.
But if I had been alone, or if I had shelled out a lot of money for this, I wouldn't have been happy.
Just know that if you sign up for a Mekong Delta tour, this will likely be what you get. However, I've heard that the two-day tours, which include a homestay, are more worthwhile.
When you have a disappointing tour, it can sometimes be a blessing – it makes you realize how many great adventures you've already had. And while this one didn't measure up, it made me look back at my amazing times in Vietnam, from Hanoi to Saigon, and smile.
Get email updates from Kate
Never miss a post. Unsubscribe anytime!