Adventurous Kate contains affiliate links. If you make a purchase through these links, I will earn a commission at no extra cost to you. Thanks!
One day in Angkor. Guidebooks recommend spending at least three to get the most out of it.  I chose to do it in one, and a one-day Angkor itinerary, while not optimal, is absolutely possible.
I put together this one-day guide to Angkor for people who appreciate temples, but don't live and die by them.  I'm not ashamed of admitting that I fall into that category.  While I'm crazy about modern architecture, ancient temples don't really do it for me.
That being said, Angkor is amazing. Trust me, you'll be impressed.  But I could only take so much of it.
If you're only able to spend one day in Angkor, here's what to see:
Part I: Sunset at Phnom Bakheng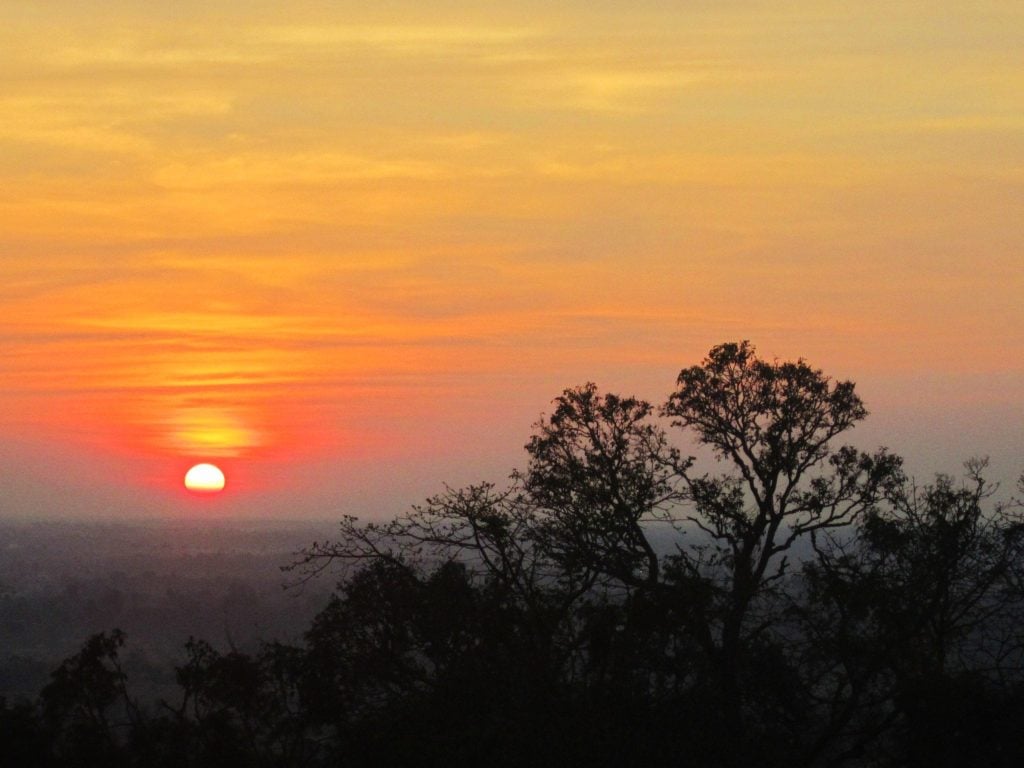 Your one-day ticket gives you access to Angkor from 5:00 PM on the previous day.  Join the masses and go for sunset at Phnom Bakeng.  Your driver will take you right there.
Be aware that much climbing is involved and you'll be one of hundreds of tourists. But seeing the sun slowly set over the Cambodian countryside is nothing short of divine.
Part II: Sunrise at Angkor Wat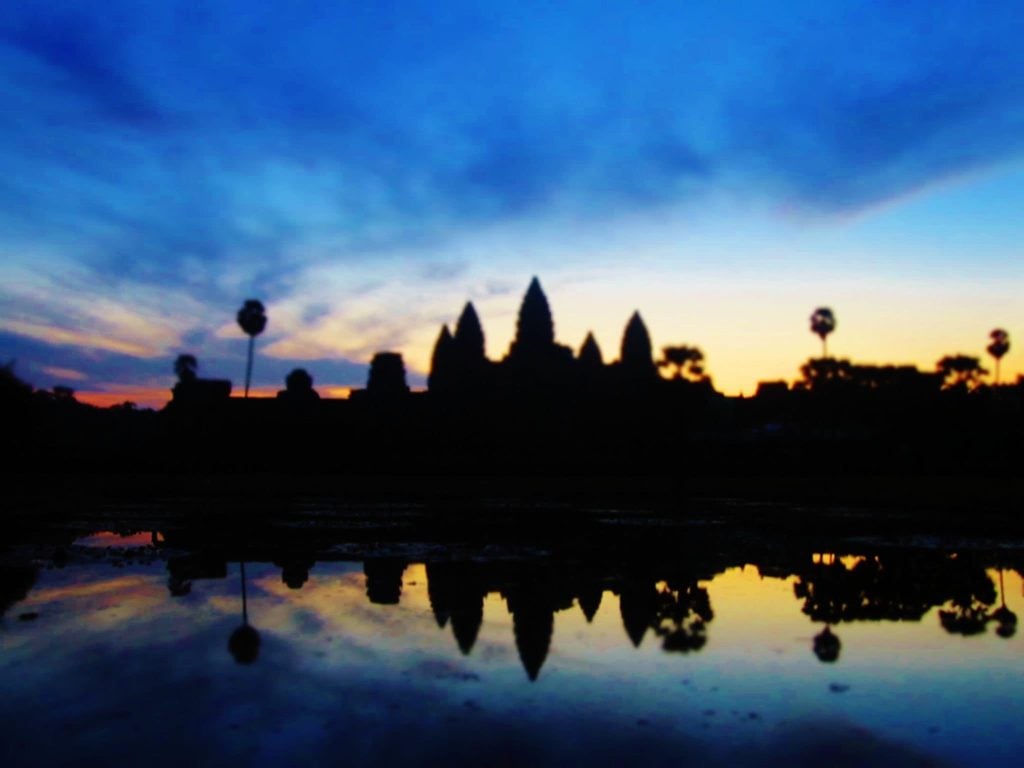 I hope you're willing to get up at 4:30 AM, because your guide will be picking you up from your guesthouse at 5:00! (You also definitely shouldn't be doing shots at 2:00 AM at the bar called Angkor WHAT?! the night before, but that's another story for another time.)
Once you get to Angkor, there will be vendors selling coffee, tea, baguettes and fruit.  Get a cup, if you're so inclined, and make your way to the lake in front of Angkor Wat.
Seeing Angkor Wat at sunrise is an incredibly crowded atmosphere as well, but the view is so amazing, you'll forgive it.
My tip?  Stand behind a short Japanese lady and shoot over her head.
Part III: Explore Angkor Wat
As soon as the sun has illuminated the front of Angkor Wat, it's time to leave. You've already seen the best of the sunrise — seeing the silhouette of Angkor Wat illuminated from behind.
At that point, it's time to run up to Angkor Wat and explore.  The crowds will be minimal at this time of day, and you'll get much of the temple to yourself. That makes for great photo opportunities.
Part IV: Explore Angkor Thom
Angkor Thom is an ancient city that reached its peak in the 12th century with a population of one million (!!).  Today, the wood and straw homes in which people lived were destroyed by the elements, but the stone temples remain.
There are three main temples in Angkor Thom, and each of them deserve a view:
IV-A: Bayon
Bayon was my favorite temple at Angkor. The 54 faces carved into the rocks are absolutely scintillating, and I love the tidbit that they bear more than a passing resemblance to the visage of megalomaniac King Jayavarman VII.
Come on, wouldn't you have done the same thing?  It's good to be the king.
IV-B: Baphuon
This temple is still currently being put back together, which is why you'll see the yard in front of it covered with mismatched bricks.
For a real thrill, climb the stairs in the back — it's the steepest, scariest staircase I've ever seen.  I'm still shocked I made it down unscathed!  But the feeling of achievement after climbing to the top is pretty unbelievable.
IV-C: The Terrace of Elephants
Back in the day, this terrace was where the king would make proclamations to his audience. Public ceremonies took place.  I love imagining centuries ago when the million citizens of the Khmer empire came out to hear the king speak!
Also — I love the elephant motif that is present throughout the structure!
Part V: Explore Ta Prohm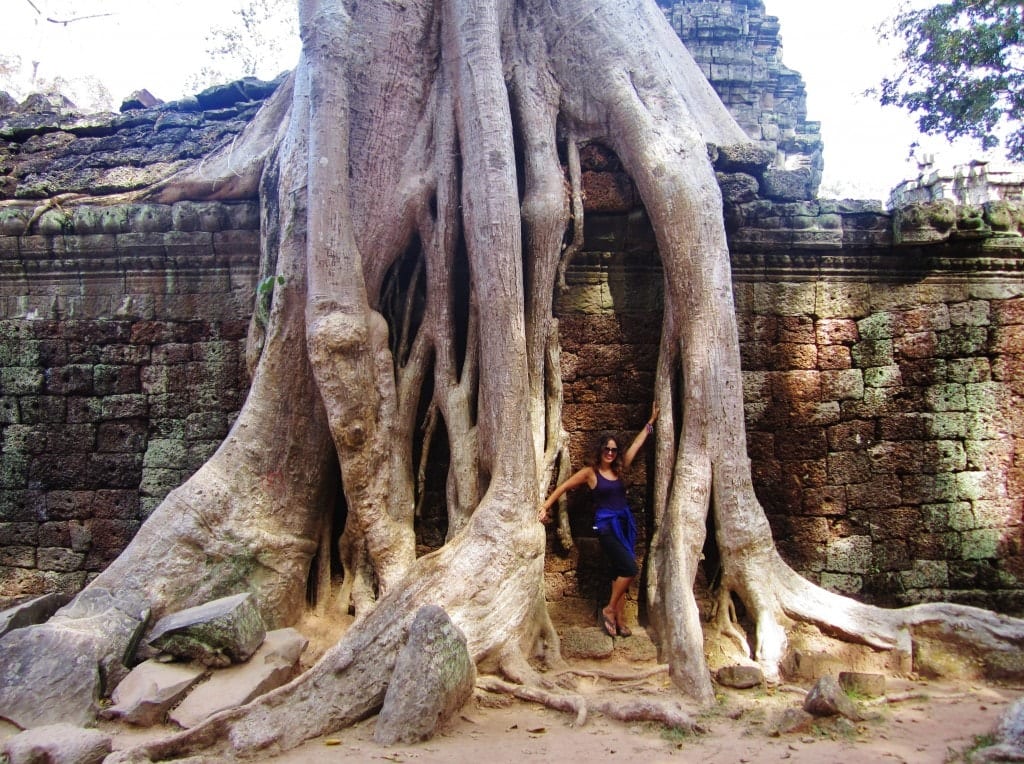 Feel like Indiana Jones or Lara Croft?  This is your place. The temples at Ta Prohm are wrapped in centuries-old tree roots and insanely photogenic.
Consequently, this is where the tourist crowds are at their worst. Good luck getting a picture without any other people in it!  Do what I did in the photo above, and find an obscure corner.
Part VI: Extras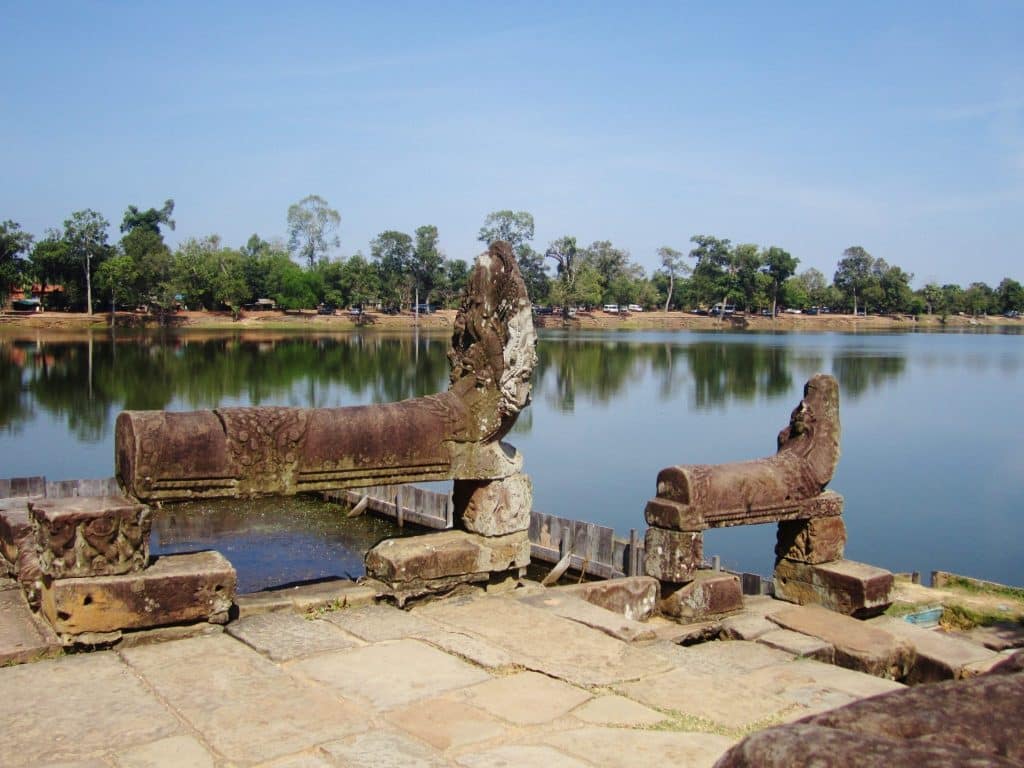 Honestly, by this point, you'll likely be templed out. But if you want more, ask your driver what's good to see.
The best destinations will cost more money and be a lengthy drive away. Figure out in advance if this is something you'd like to do.  If not, there are plenty of nearby sites, including the lake above.
If you have more than one day, you can see several more temples that were built in starkly different styles from the rest of the major temples of Angkor. If not, rest assured — you've seen the major highlights.
Here are a few more tips:
Get a driver.  Tourists aren't permitted to drive themselves.  You can hire a driver with a tuk-tuk or motorbike.  I chose the motorbike, as it's cheaper and a hell of a lot more fun.
The one-day Angkor ticket costs $20. The three-day ticket costs $40.
Once you arrive in Siem Reap and get transferred to your guesthouse, your driver will try to be your driver at the temples. Ask him where he'd take you for the day, determine whether he knows his stuff, then take him up on it.  Most Siem Reap drivers know which temples to see. You can find a place to stay in Siem Reap here.
Once again, take time to relax and chill. You need to take breaks at Angkor, even if you're only there for one day.
Above all, if temples aren't your thing, don't force yourself to see every last one of them. Travel is about making yourself happy.  Do what makes you happiest.
Get email updates from Kate
Never miss a post. Unsubscribe anytime!