Adventurous Kate contains affiliate links. If you make a purchase through these links, I will earn a commission at no extra cost to you. Thanks!
Hanoi is well-known for its snake restaurants — restaurants that serve every body part of the snake. If you're lucky, the snake will be a cobra; if you're the guest of honor, you'll be served the heart.
I could not imagine a better adventure in Hanoi!
Hanoi Backpackers Hostel runs trips to Snake Village most nights.  For $15, you get to visit a traditional snake restaurant on the outskirts of Hanoi and enjoy the full snake dining experience.  There's a snake buffet, plenty of rice wine, and since it's organized through the hostel, you know that there will be a great group of people.
Also…
You can help kill the snake.
You drink the snake's blood and bile.
And if you're truly adventurous, you can bite the heart out of the living snake, feeling it beat in your mouth for a few moments before you swallow it.
BEYOND badass!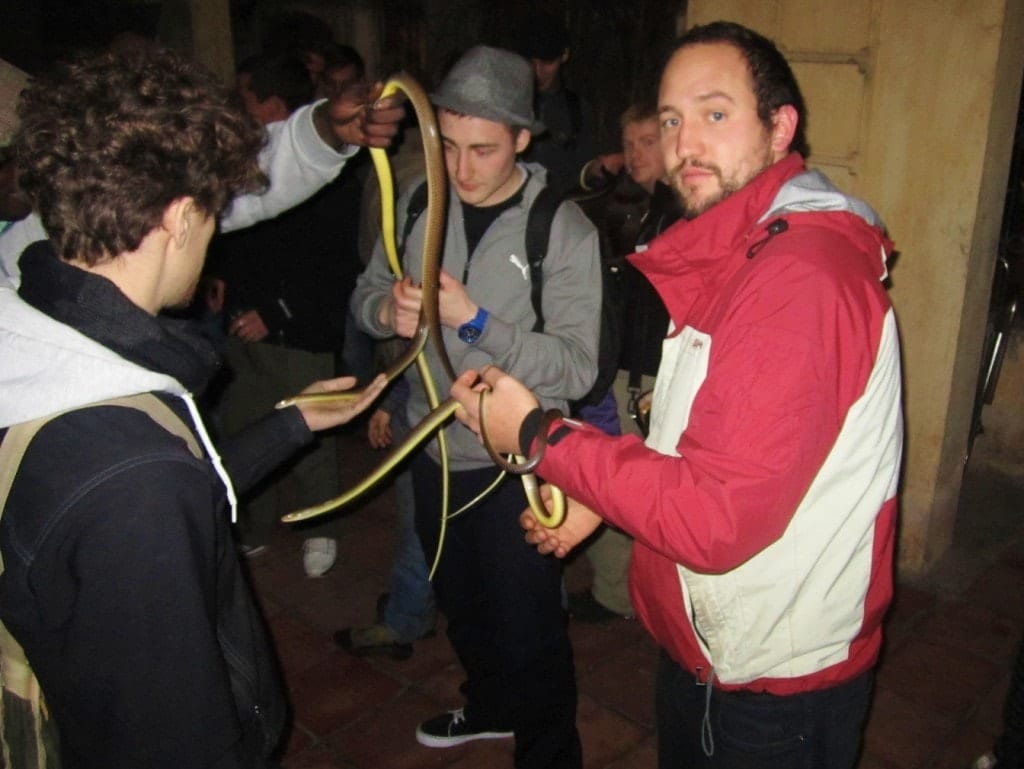 When we arrived, we chose five snakes.  These wouldn't be the ones we would eat, but they would definitely be the ones that we killed.
The snakes were killed one by one by inserting a knife just underneath the head.  Each snake was sliced open lengthwise, which gave these guys easy access to the blood and bile.
I initially wanted to eat the heart myself, but I couldn't get myself to do it. Even I have my limits, I guess.  Someday.
My friend Dave, however, did splendidly.  He later told me he wasn't sure whether he felt the heart beating in his mouth or if it was just his imagination.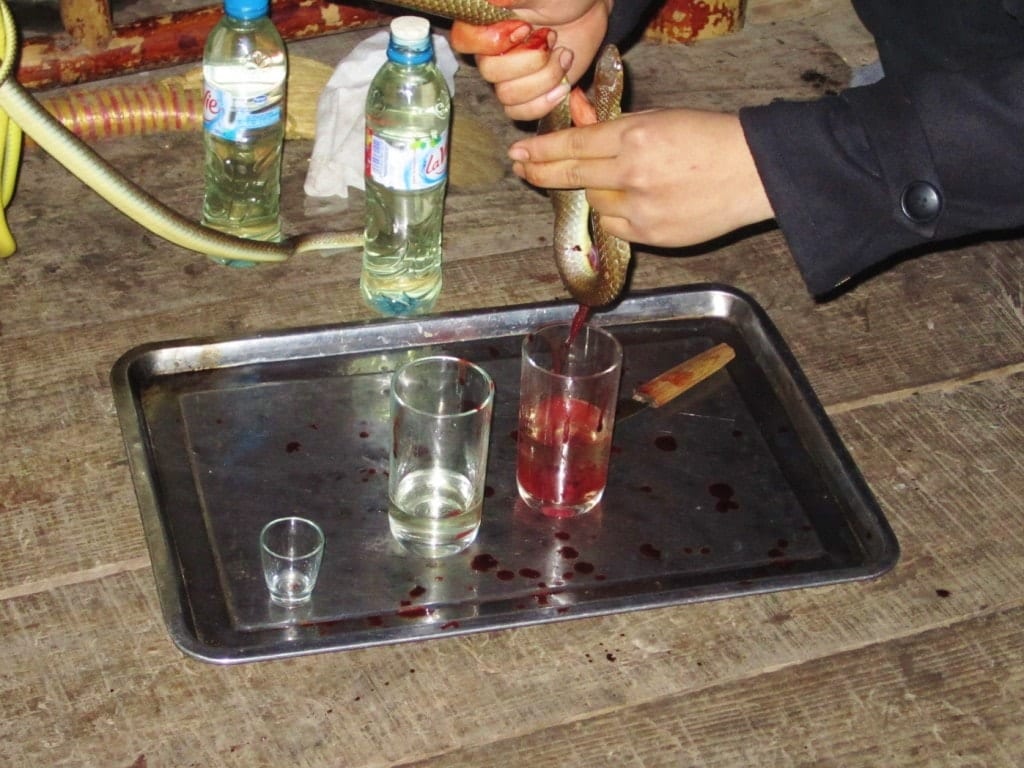 Next, the blood was squeezed into glasses filled with rice wine.  How amazing is that picture?!
The bodily fluids were poured into shot glasses for us.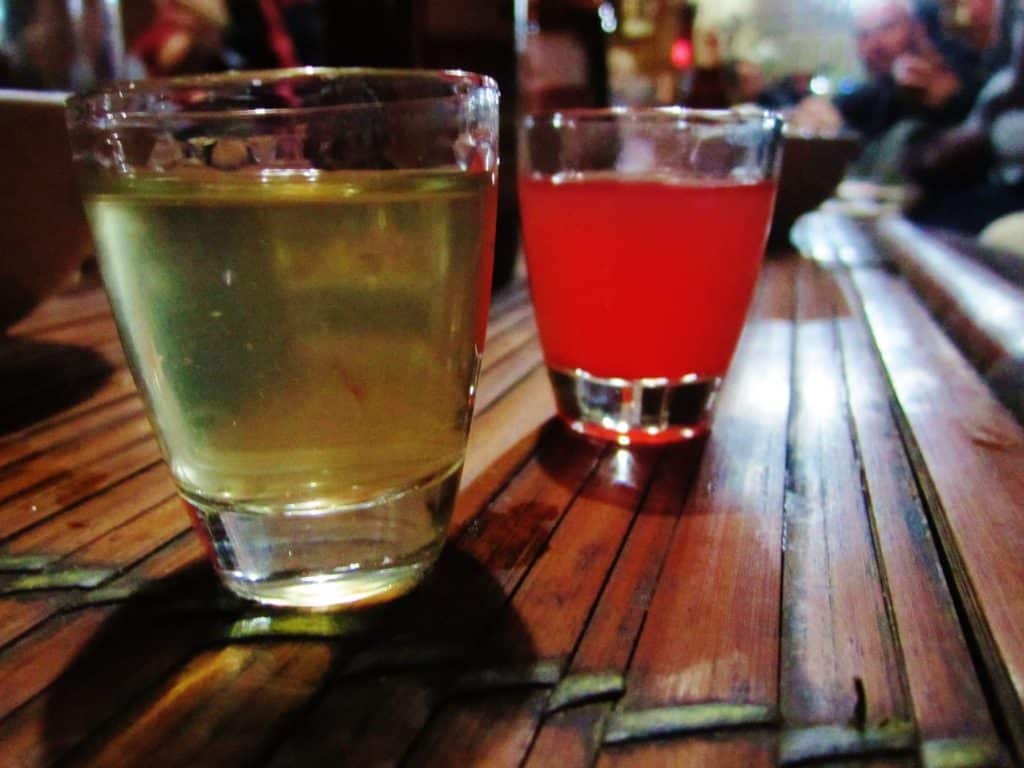 On the left: snake bile and rice wine.  On the right: snake blood and rice wine.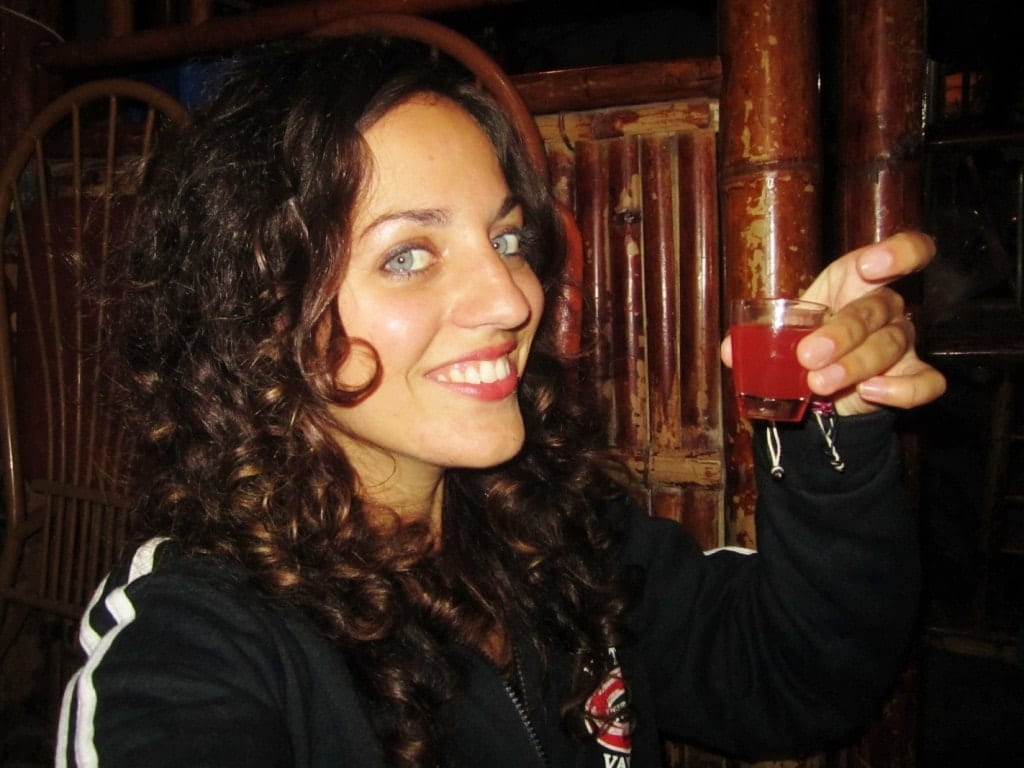 Down the hatch!
Honestly, it tasted more like rice wine — which tasted like whiskey — than anything else. But simply knowing that it was blood, blood that had been flowing through an animal only moments ago, was an insane rush!
We then feasted on a snake buffet.  No part of the snake was overlooked — we even ate the bones!
To answer your imminent question, snake kind of tastes like chicken.  Doesn't everything, though?
Two of the best dishes: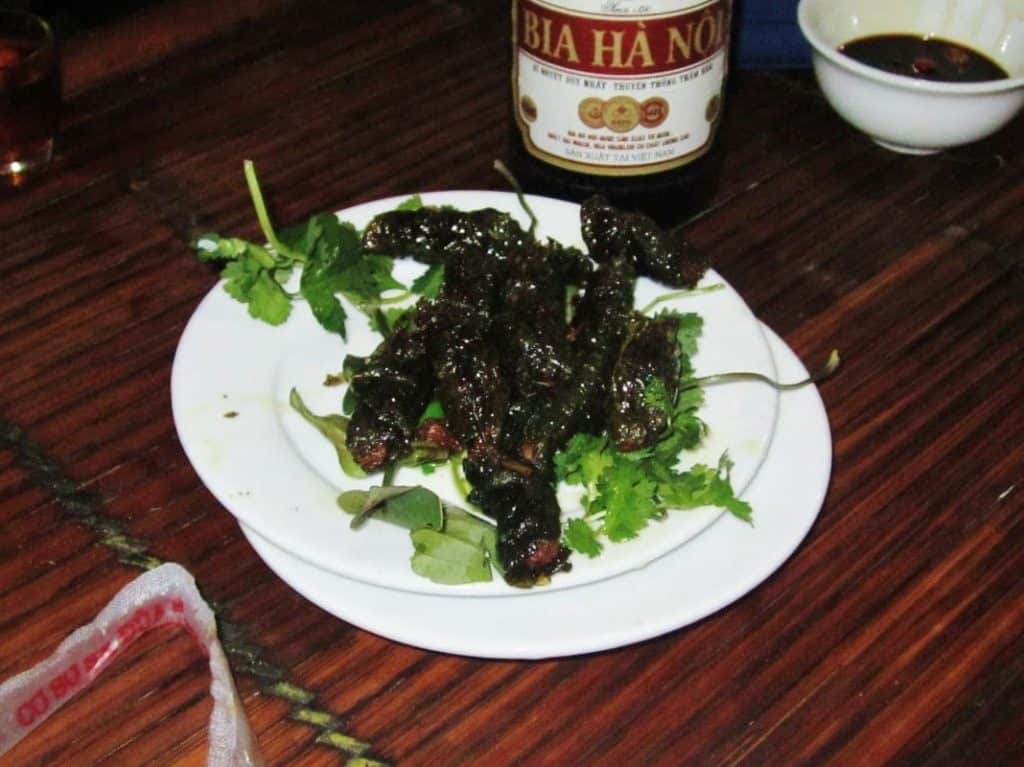 Snake wrapped in seaweed.  So juicy and tender.
Snake spring rolls!
We toasted, again and again, with shots of rice wine.  (A word to the wise — rice wine is extremely potent.  Treat it like liquor, not wine.  Don't do all the shots you're offered.)
To conclude, I doubt PETA will be inviting me to hang out anytime soon.  And I wouldn't be surprised to lose a reader or two over this.
But I don't care.  My experience of drinking snake blood and bile was nothing short of extraordinary — and one hell of an adrenaline rush!
You can see my friends agreed!
Next time, I promise you, I'm going for the heart!
Get email updates from Kate
Never miss a post. Unsubscribe anytime!