Adventurous Kate contains affiliate links. If you make a purchase through these links, I will earn a commission at no extra cost to you. Thanks!
Today's guest post was written by Colm Hanratty, editor of Hostelworld.com.

The evening before the climb to Machu Picchu, one of South America's most iconic attractions, travelers can get themselves into a bit of a panic. Word begins to travel around Aguas Calientes, the base point for the historic site, that you need to be at the gates for 6:00 AM to ensure you get a ticket to climb Hyuana Picchu, the larger of the two mountains in that postcard picture of Machu Picchu you've seen countless times.
In restaurants all over this tourist-trodden town, tour groups discuss what time they will begin their joined ascent the next morning. My group decided that we would begin our climb at the ungodly hour of 4:00 AM. My roommates had different ideas, though. These were Mauro, a multi-linguist from the Brazilian city of Sao Paolo, and Wil, a graphic designer who hailed from Melbourne and liked to differentiate himself from other 'Wills' around the world by spelling his name with one 'l' and not two.
"I think we should leave around 3:30 AM," were the sentiments of Mauro, who was convinced that if we left a second later we wouldn't get a ticket to climb the mountain after hearing that they only issue four hundred a day. I begged to differ, but since I had spent the last two full days with these guys (we joined the rest of the group at a later stage), I reluctantly agreed to get up at 3:30 AM the next morning.
There are no two ways about it — the climb to Machu Picchu from Aguas Calientes is a tough one. After a few nightcaps the night before, it's even tougher. It starts quite moderate, but once you reach the steps it gets considerably tougher.
It was pitch black when we began. But just over halfway into the climb, it began to slowly brighten. Once it did, we realized that we were literally hiking through the clouds. I hadn't experienced this before, so the sense of excitement, along with infrequent urges by Wil to "man up," helped me along the final stages of the climb. Looking at the view that was slowly appearing before me painted an instant smile on my face. I knew then that this day was going to be a special one.
We finally made it to the entrance of Machu Picchu approximately one hour and forty-five minutes after leaving. One of the first groups to reach the top, we sat on the steps and caught our breath, looking at the relief on the faces of others as they too reached their final destination.
As we approached 6:00 AM when the gates finally opened, busloads of tourists arrived one after another, adding to the queue to get in. The line extended dramatically in a short space of time, but we were guaranteed our spot, having been one of the first to arrive.
Of the four hundred tickets issued to climb Hyuana Picchu each morning, two hundred of them are for the morning climb before 10:00 AM and the other two hundred are for the afternoon climb which is after 12:00 noon. While I took one of the tickets for the morning climb, in the end I opted not to tackle this enormous mountain. The way I saw it, I wanted to take pictures of this mysterious mountain, not hike up it.
Luckily, Mauro and Wil were with me on this. Instead we saved our energy and took in what I like to call a "moment." As we sat looking towards the famous site, we waited for the clouds to clear. They did gradually, and every ten minutes you could see more and more of one of the most photographed landmarks in the world.
I'll never forget that day at Machu Picchu. I saw it while it was covered in clouds, again when the sun first struck it, and again in all its glory in mid afternoon. I must've taken over one hundred pictures of it. In between pictures myself and my new found friends didn't speak that much either. We were simply appreciating this moment, one which we may never experience again.
I haven't come across too many other places like it on my travels. And even though I'm not the most spiritual person in the world, there is something very mystic, and even moving about Machu Picchu. If you are in the process of penning an itinerary to South America, don't finish it without including a trip to this famous site.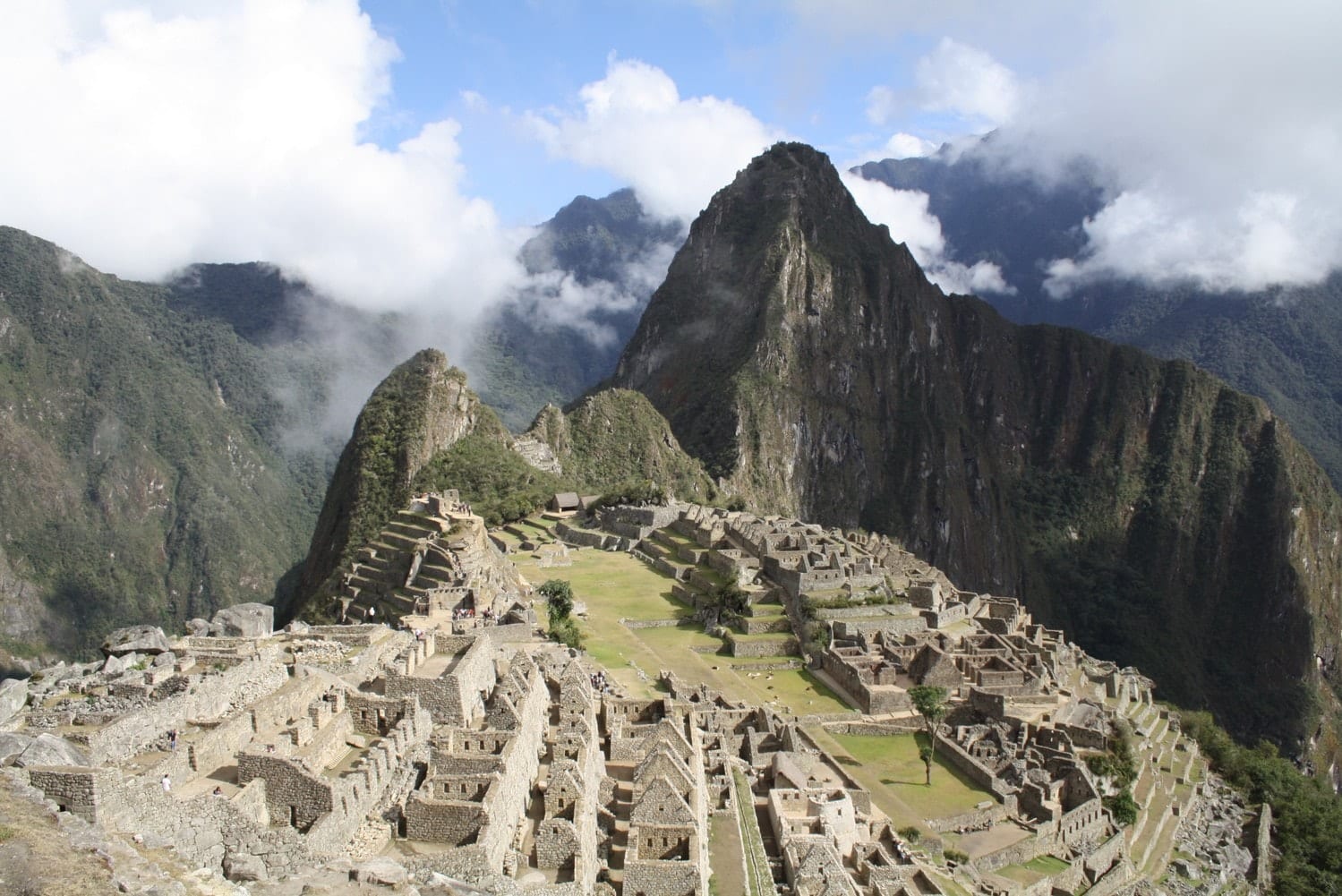 Colm's Machu Picchu Q&A

Is Machu Picchu part of the 'Inca Trail'?

Yes – the Inca Trail is 4 days and the final day is the trek to Machu Picchu.

I've heard I need to book it months in advance – is this true?

Yes again – in high season the Inca Trail is booked up to four months in advance. In low season you'll be able to book it up to two weeks in advance. Take note also that the Inca Trail is closed for the entire month of February, but you can still visit Machu Picchu during this time.If I can't get on to the Inca Trail, are there other treks I can do?

There are lots of different routes to Machu Picchu. And even if they're all booked up, you can visit the site on a day trip from Cusco, the base town for treks there.

What time do I need to start hiking to the mountain the day of the visit to Machu Picchu?

You may hear you need to leave at 3:30 AM, but if you leave at 4:30 AM you'll still be one of the first 400 to arrive.

Anything else I need to know?

If you plan on seeing sunrise at Machu Picchu and also climbing Hyauna Picchu, opt for the afternoon climb rather than the morning one.
Colm Hanratty (@colmhanratty) is editor of the number one hostel-booking website Hostelworld.com (@hostelworld). Colm travelled to South America for six weeks last year and among other things visited Machu Picchu. Here's an account of that day.
To keep up to date with everything at Hostelworld.com make sure to follow them on Twitter and 'like' them on Facebook.
All photos courtesy of Colm Hanratty.
Would you like to share a favorite adventure in a guest post on Adventurous Kate?  Let me know!