Adventurous Kate contains affiliate links. If you make a purchase through these links, I will earn a commission at no extra cost to you. Thanks!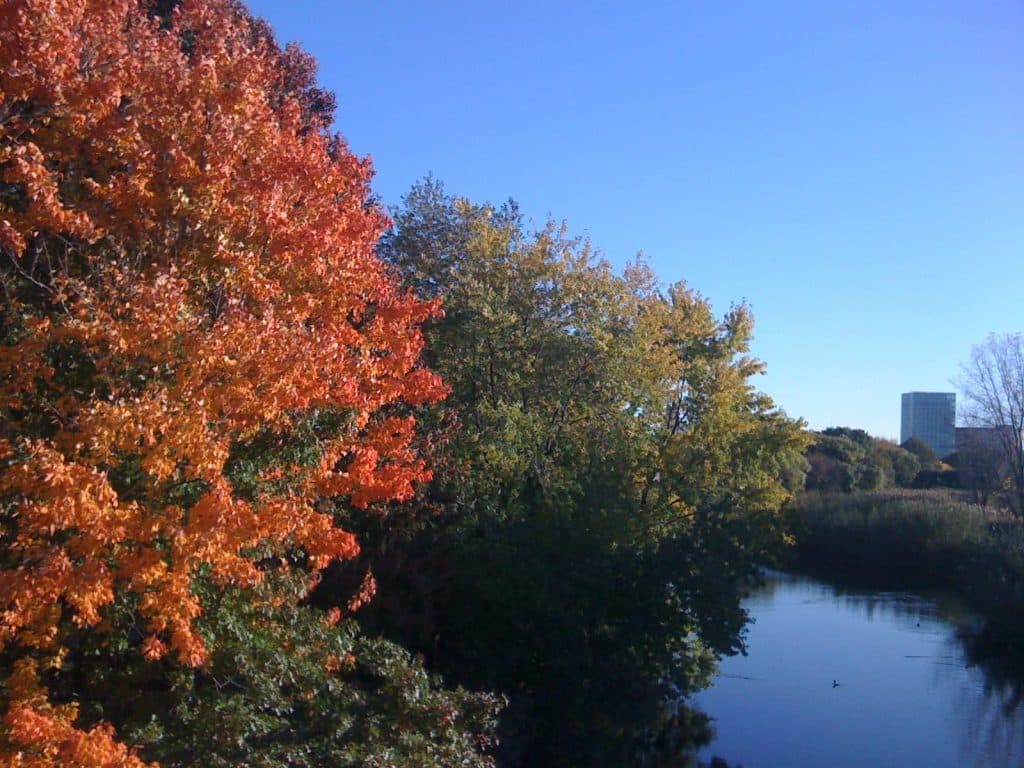 Autumn in the Fens, across the street from my apartment.
When I was twelve years old, I was accepted to Boston Conservatory for classical piano performance.  Every week, my mom and I made the trek to the Conservatory from the suburbs, riding the T until we burst onto the sidewalk at Hynes Convention Center Station.
This neighborhood — home to Boston Conservatory, Berklee College of Music, New England Conservatory and Symphony Hall — makes it clear that musicians are in charge.  All kinds of musicians, whether sporting black formalwear and toting cellos, or rocking pink dreadlocks and busking for change.
Stepping onto Boylston Street and Massachusetts Avenue became the highlight of my week.  I loved walking down the street and knowing exactly where I was going, like I belonged there.  I'd then go and have piano instruction next door to opera singers, sometimes attending seminars with college students.  I even loved the Conservatory's creaky, old-fashioned cage elevator.
This will be my life, I thought.  I'll go to the Conservatory or Berklee for college and live in a brownstone across the street.  I'll go out for Korean food with my friends.  I'll buy music from that guy who looks like Weird Al and go to Haymarket on Friday nights, just for fun.
That's what made this neighborhood exceptional: I knew I was surrounded by my future self.
Twelve years later, I moved into that exact building across the street from Boston Conservatory.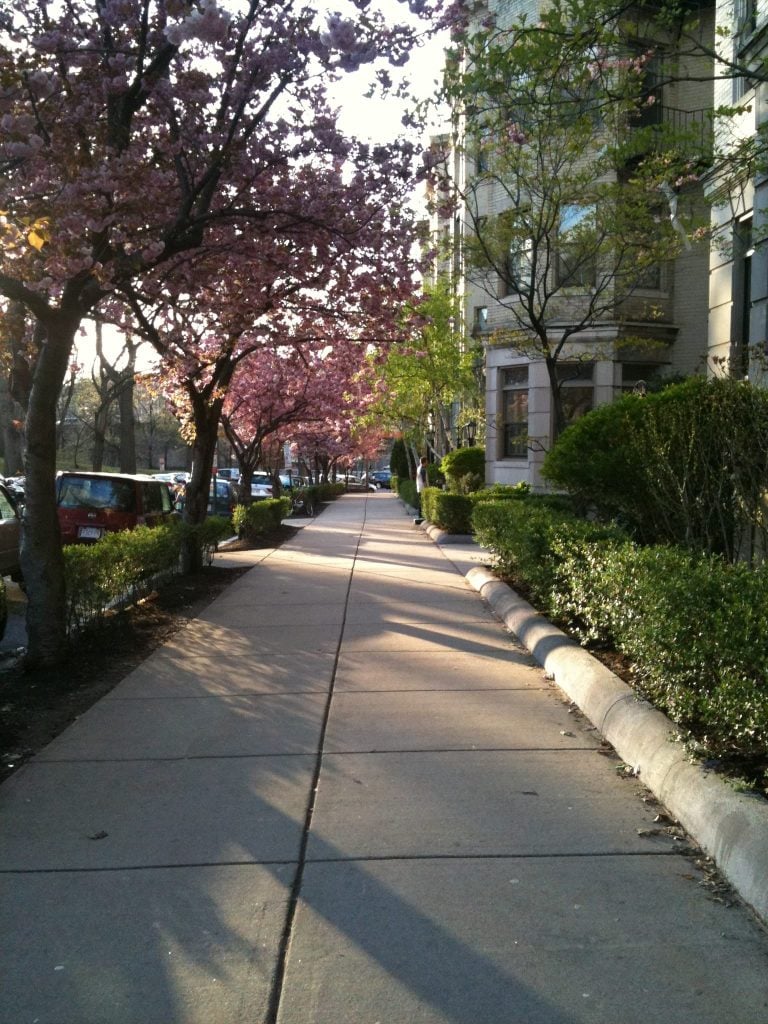 My street in springtime.
Yesterday, I moved out of Boston and out of the wonderful neighborhood where I've lived for the past two years.  It's the area where Fenway, Back Bay and Symphony intersect, and the area is dominated by Berklee College of Music.
I didn't end up going to college for music.  Life took me on a different path — to Fairfield University, a creative writing degree, and an insatiable thirst for travel.
That said, music is still one of the defining aspects of my life, and that's one reason why I love living among aspiring professional musicians.  We know what it's like to live with the compelling urge to create, create, create.
This artistic energy fills the neighborhood and gives it its personality — much more than the cheaper-than-Back-Bay rents and slew of Asian restaurants.  This neighborhood is ramshackle but creative, bursting with potential.  If the neighborhood were a person, it would eat nothing but ramen noodles for a month to save for a guitar.
Best of all, while other downtown neighborhoods are rapidly gentrifying, this neighborhood feels the same as it did twelve years ago.
I have friends who have made lives for themselves in Somerville, Allston, the North End.  But this is my Boston. And as nice as it would be to have a swank South End loft, no other Boston neighborhood will ever have as much of my affection as the Berklee area.
After spending my first four post-college years in Boston — two in Davis Square, Somerville, before moving downtown — I've made Boston my cultural hometown.  But it means more to me that I found my own neighborhood — a little corner of Boston that fits me like a glove.
I'll miss it.
Get email updates from Kate
Never miss a post. Unsubscribe anytime!