Adventurous Kate contains affiliate links. If you make a purchase through these links, I will earn a commission at no extra cost to you. Thanks!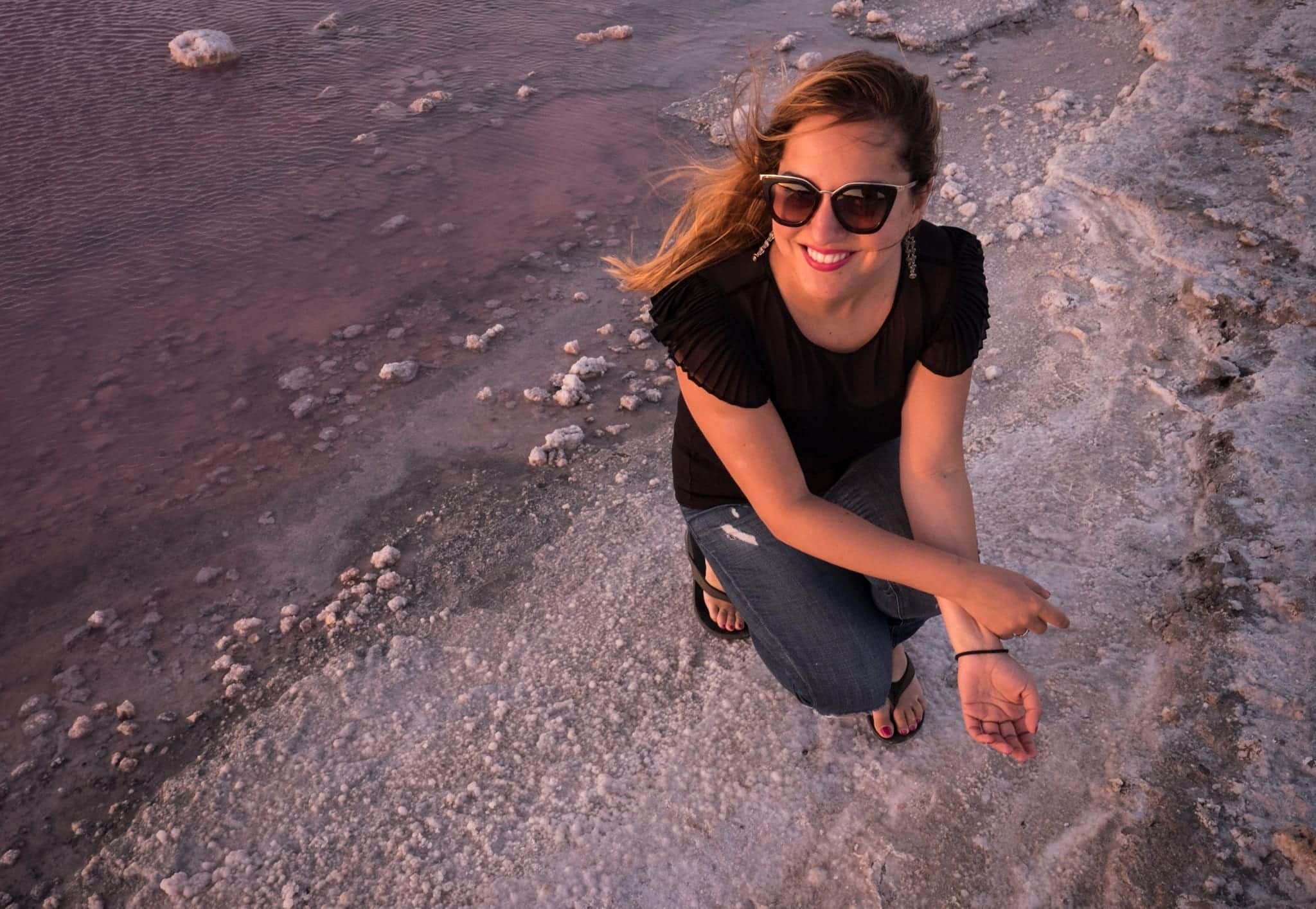 It doesn't feel right to "go back to normal" just yet. Whatever that's supposed to mean. And writing blog posts about pretty places privileged people can visit feels a bit inappropriate at a time when a white supremacist was hired into a top position in the White House and the rights of a great deal of Americans are in danger.
But this is what I do — I have an obligation to you as readers and to my bank account as an entrepreneur. But I want you to know that I'll be working in the background to protect the rights of the most vulnerable Americans. I hope you will be, too.
So, how shall we return to our usual programming? The usual Kate would write a 3,500+ monster overview post on Western Australia. That will come — in time. But before we do that, let's have an escape.
In lots of ways, my German blogger counterpart Freedi and I were travel soulmates. We were on the same page when it came to virtually everything, and could almost read each other's minds by the end of our trip.
And we were complimentary as well. She was the one who showed up with no fewer than seven cameras (!); I had two. I was the one who had done extensive WA research before arriving; she had done none.
So when we convened for our first meeting in the Tourism Western Australia office in Perth, I was ready to add destinations into our road trip wherever we could.
"Is there any way we can add in a stop at Hutt Lagoon?" I asked.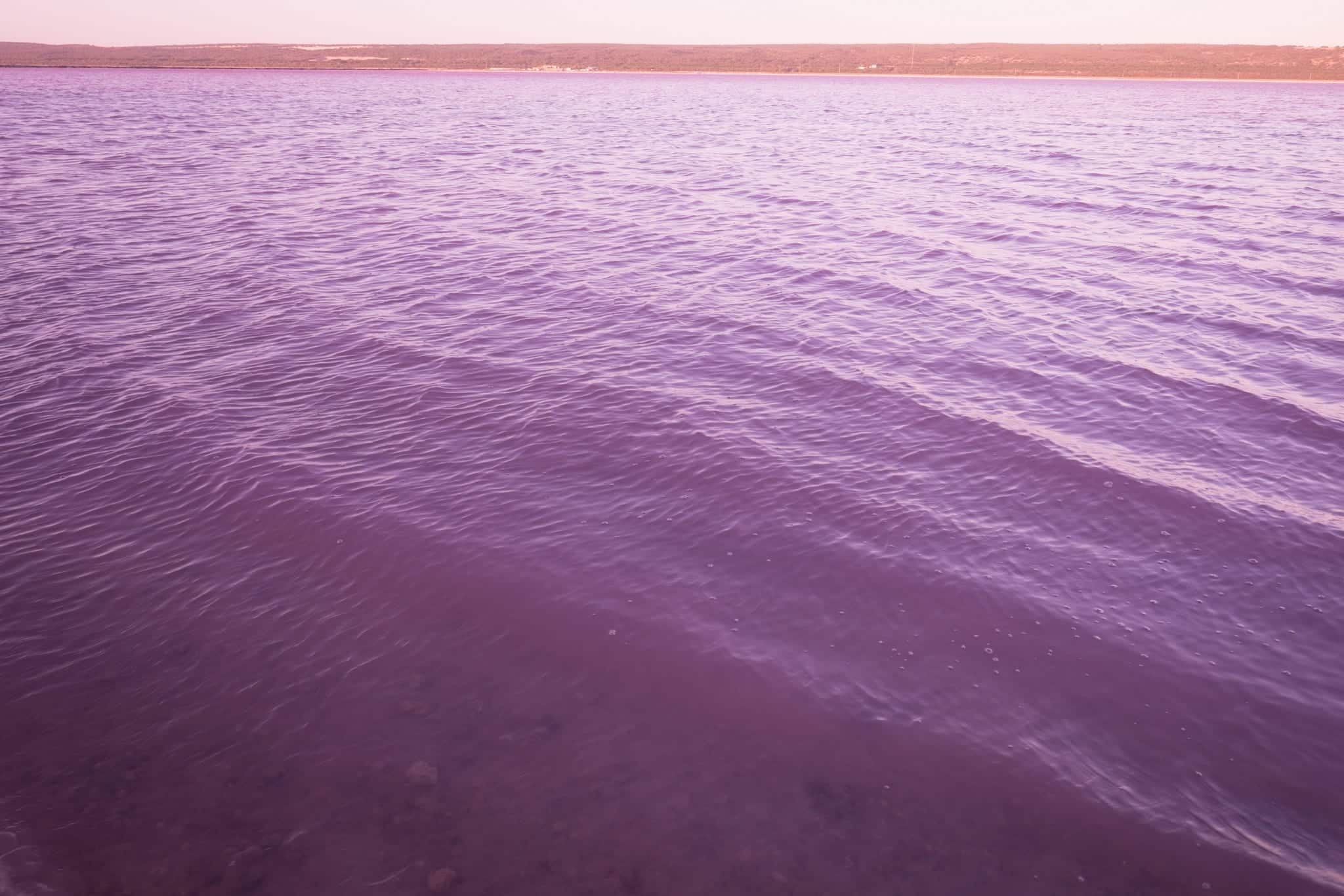 Hutt Lagoon is a saltwater lake in Port Gregory, just south of Kalbarri on the coast. Due to its algae content, the lagoon glows bright pink.
Gary Pepper shot a Lancôme ad there and just look at it. WOW. Still pink waters and a bright red dress.
I've never been to a pink lake in my life, and as a girl whose favorite color is hot pink, I knew I had to get there somehow.
The answer? Of course! This was a road trip! We were here to have fun and explore and take cool pictures. And it was on the way!
On a long day of driving from Perth that included stops at the Pinnacles Desert and a lobster lunch in Cervantes, we arrived at Hutt Lagoon in time for sunset.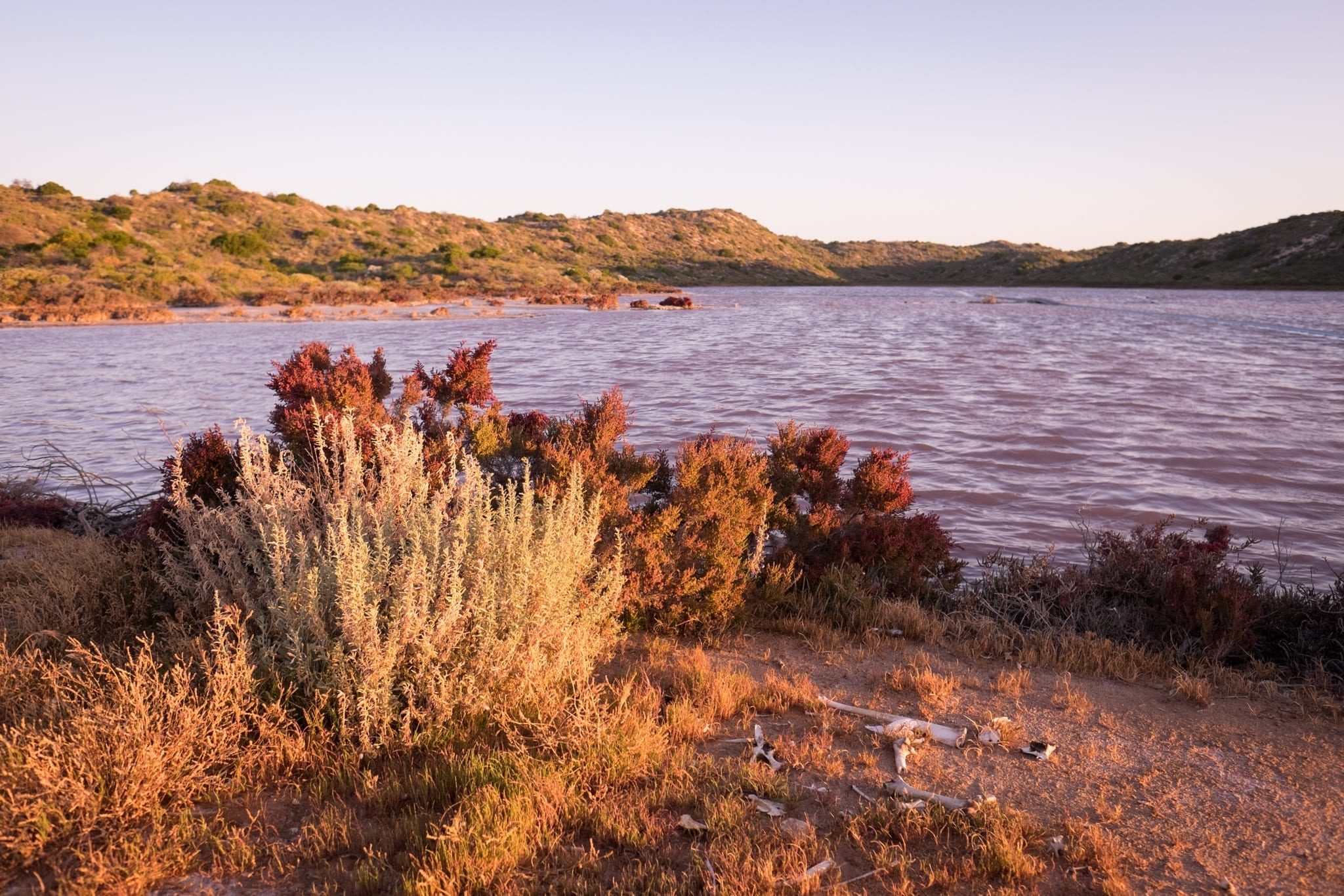 First off, however, keep your expectations in check. Hutt Lagoon changes color depending on time of day and time of year, and when we first saw it, it was a silvery blue with a hint of pink.
Is that it? I thought.
I'm glad I had read Gary Pepper's warning: "We spent two days shooting as we only had a few hours of appropriate light; the pink lake glows it's most iridescent when light is directly above and begins to turn silver by the late afternoon when light starts hitting it from an angle. Luke took most of the photos from the air in a sea plane, and as the airport was 45 minutes from the pink lake, this meant that I had to wait in the sun for an hour and a half before and after being dropped off, but it was well worth the wait (it's never as glamorous as it seems!)." (Me: THANK YOU FOR SAYING THAT. Nobody ever talks about the reality of shooting photos!)
Then as the sun dipped beneath the horizon, the pinks and purples came out from every direction.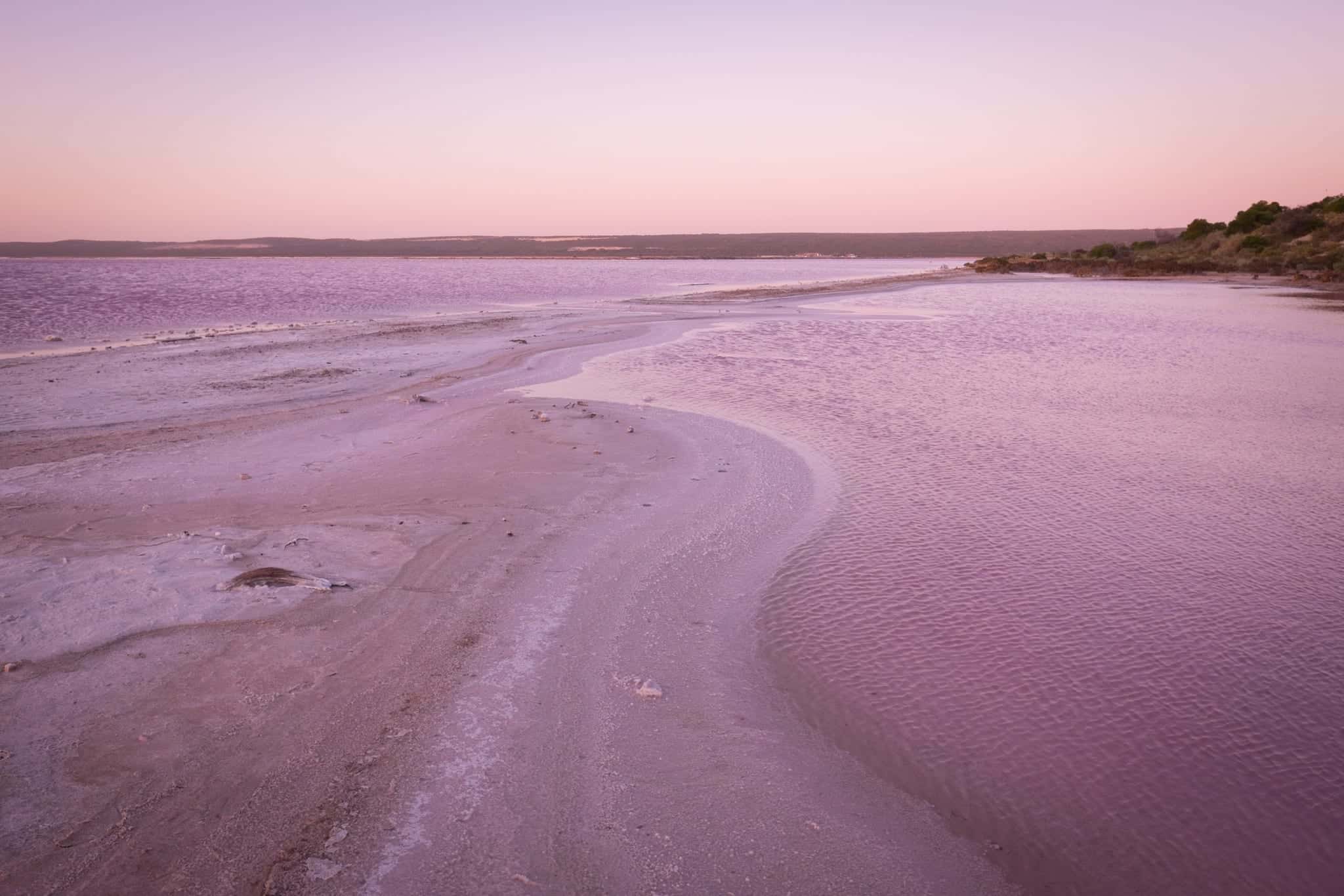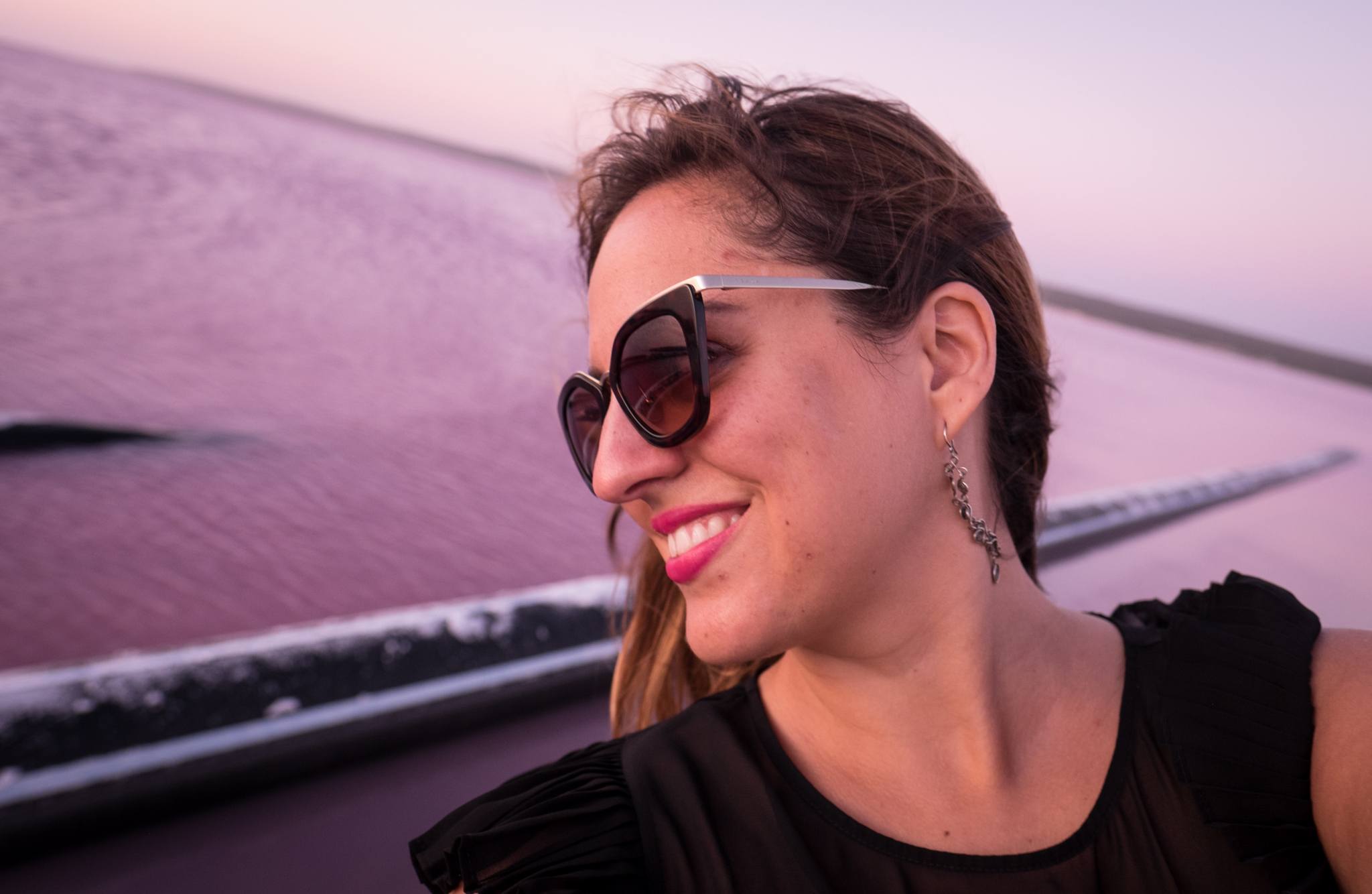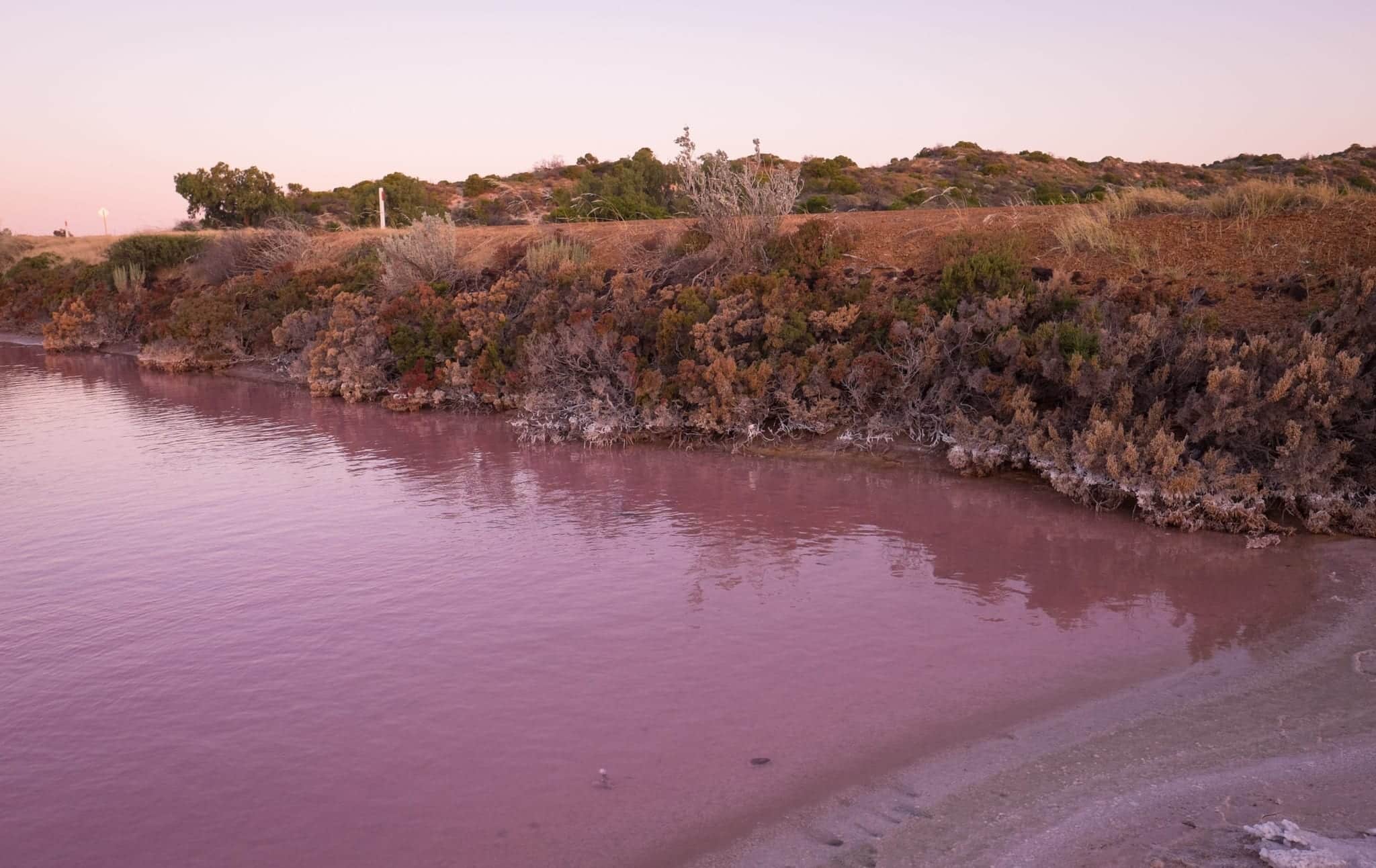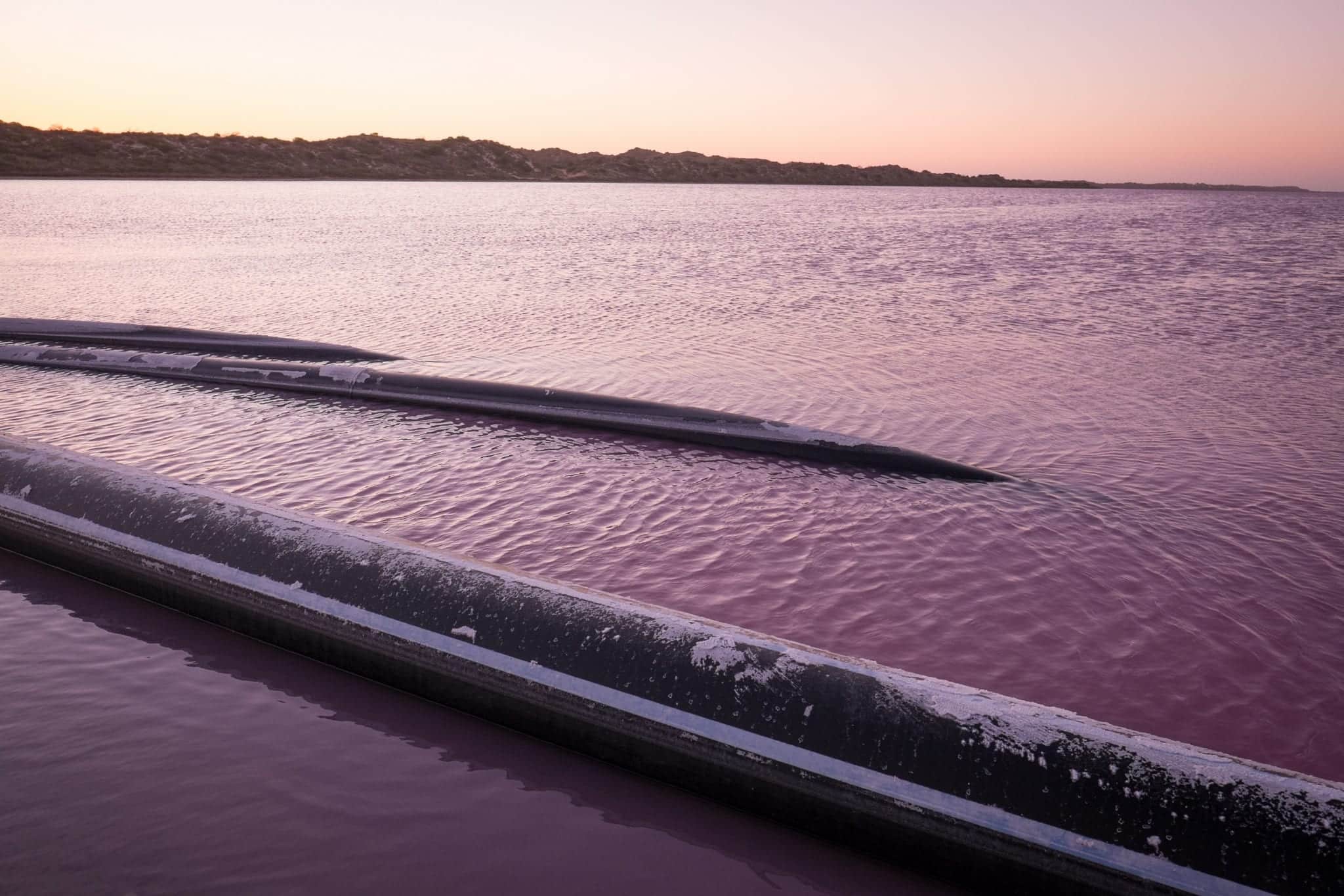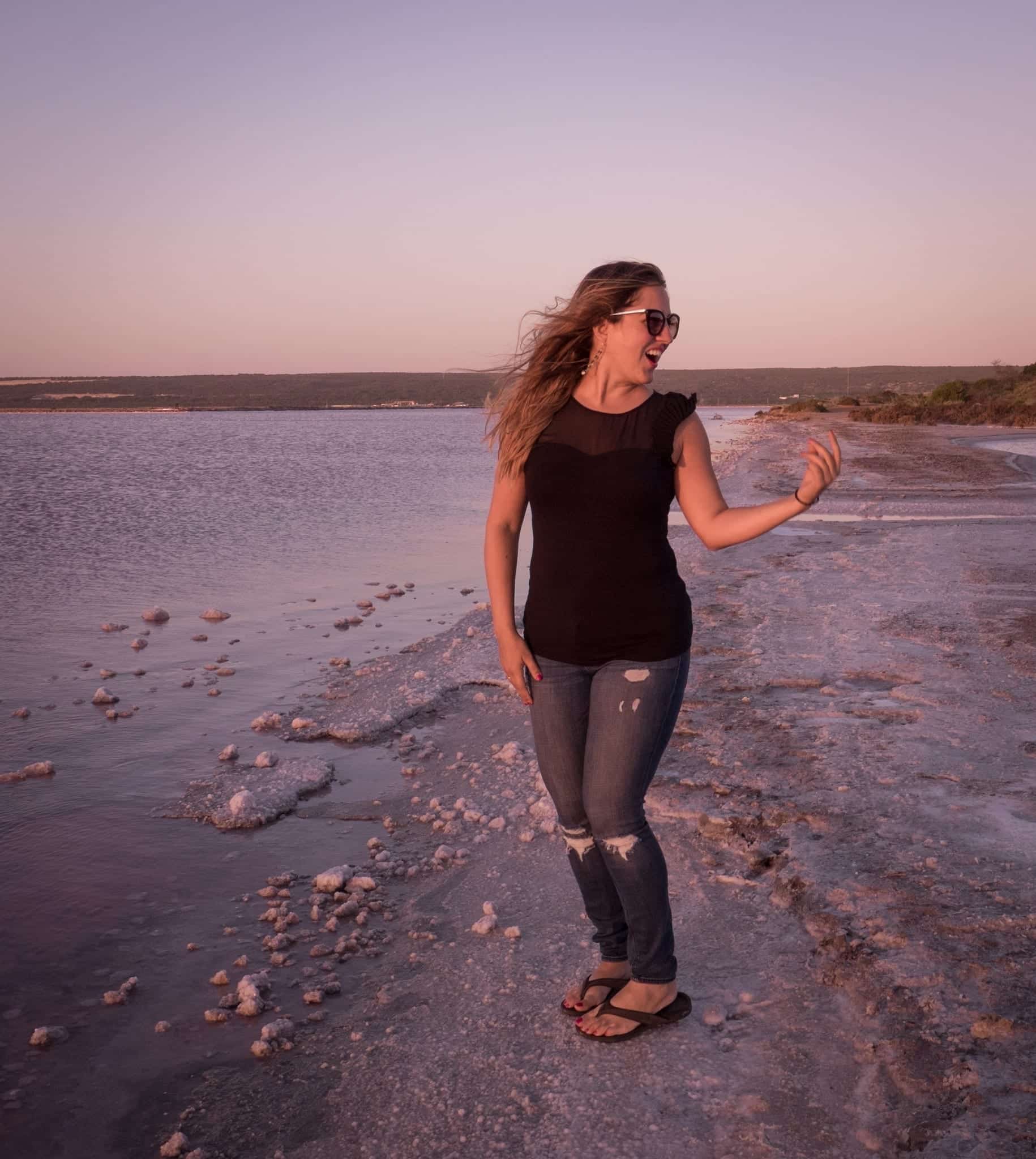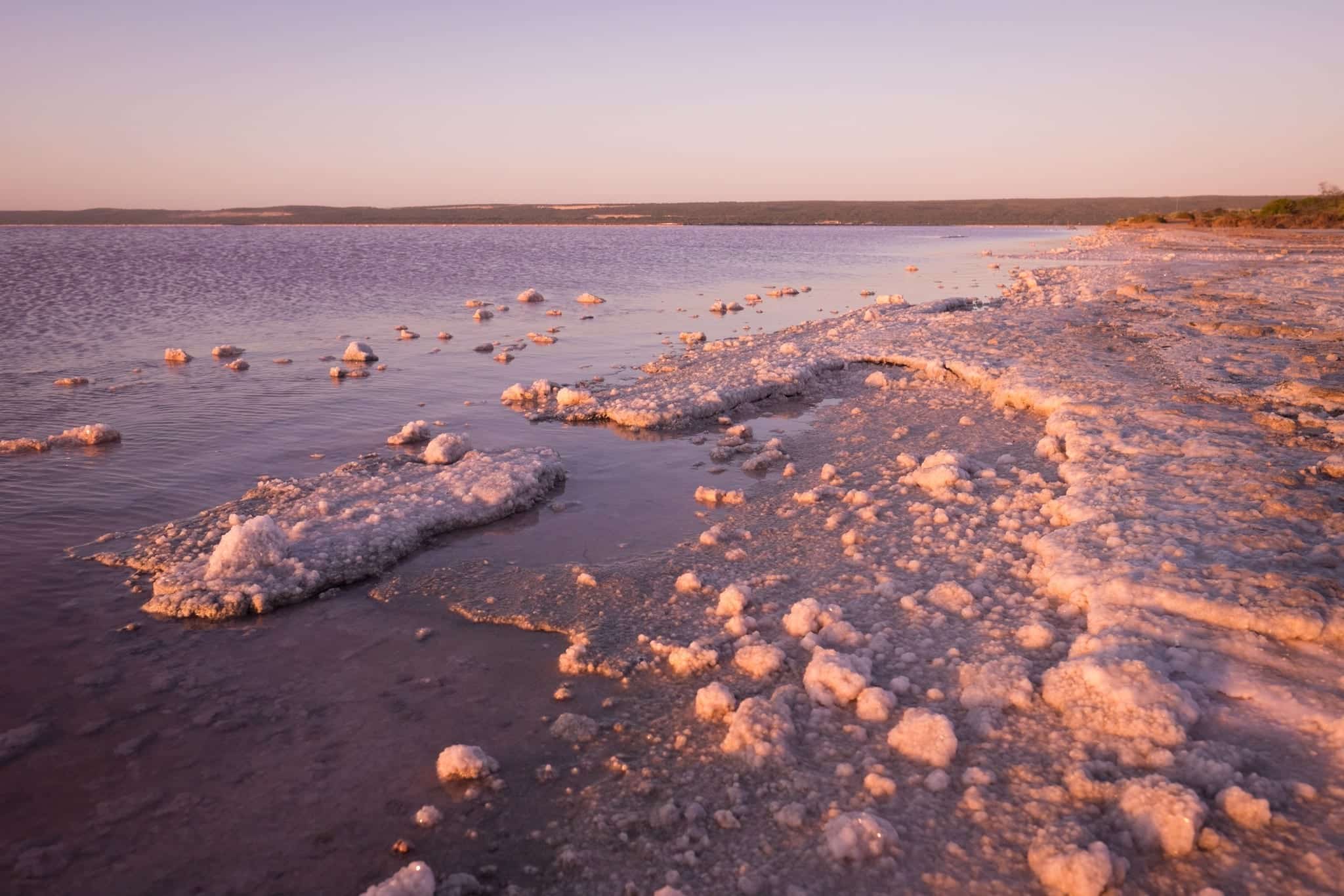 Yes. This was absolutely worth it.
Salute Your Shorts fans, I don't know who this dude is, but he totally reminded me of Zeke the Plumber.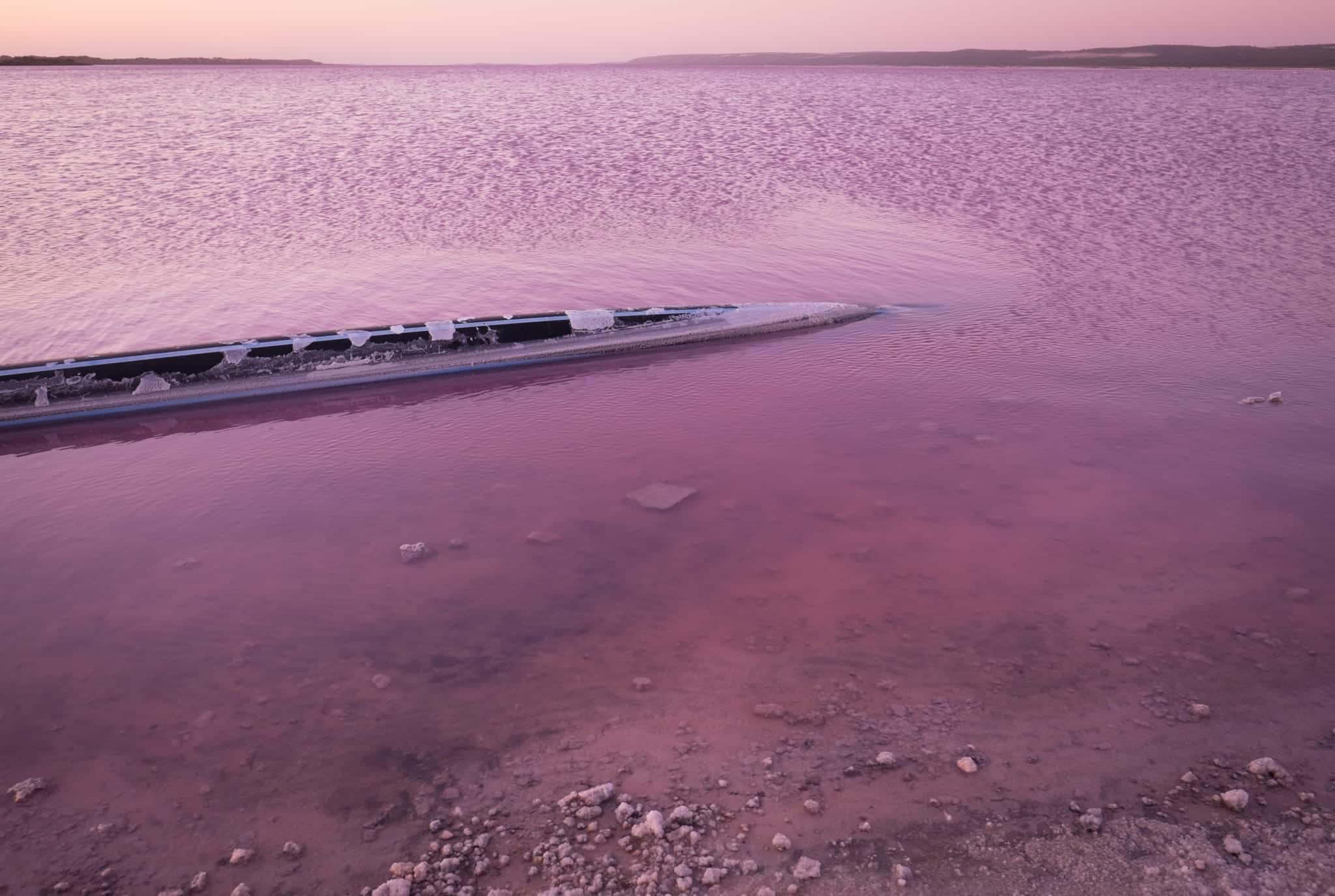 For more than two years, I've had the coast of Dubrovnik as my iPhone background photo. It was time for a change! This is my new background.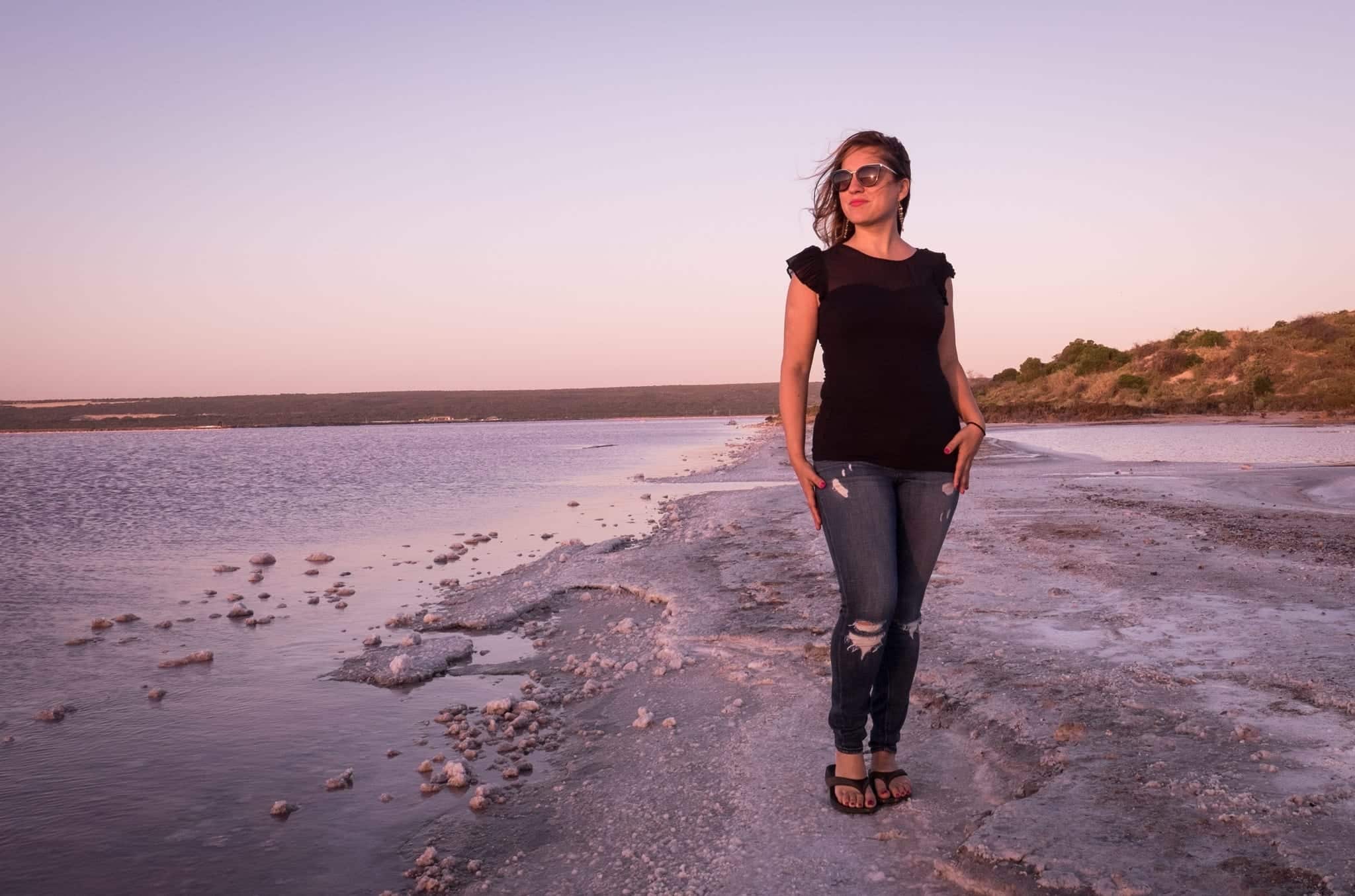 How often do you get to strike a pose at a pink lake? Freedi and I spent a good 30 minutes photographing each other! And because she had brought all those cameras (including a Leica that nearly made me weep), we got so many kinds of fantastic shots.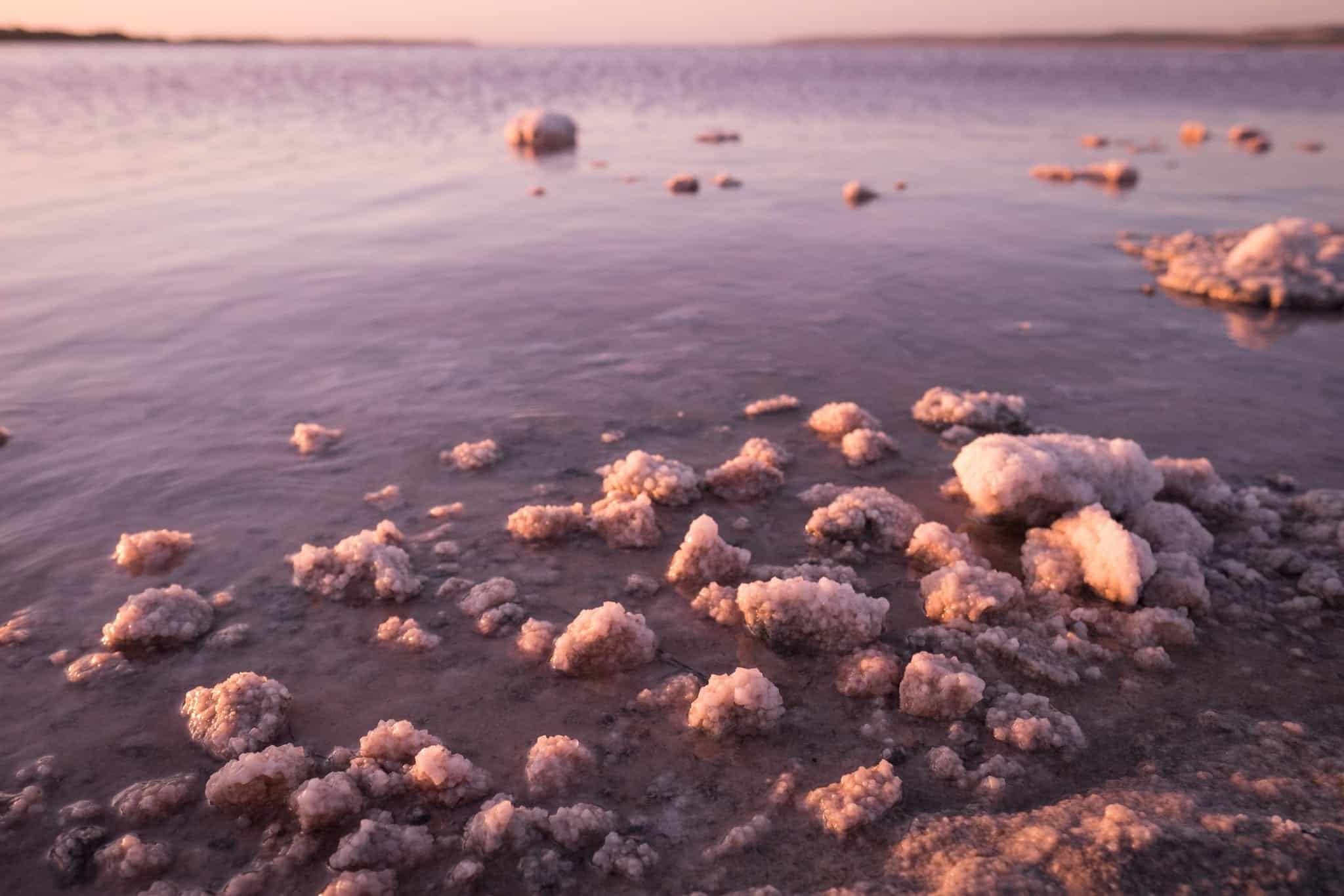 There's a very high salt content in the lake, which leads to salt formations like these. It's like the Dead Sea: it's not too dangerous to swim in it, but if you cut yourself underwater, YEOUCH!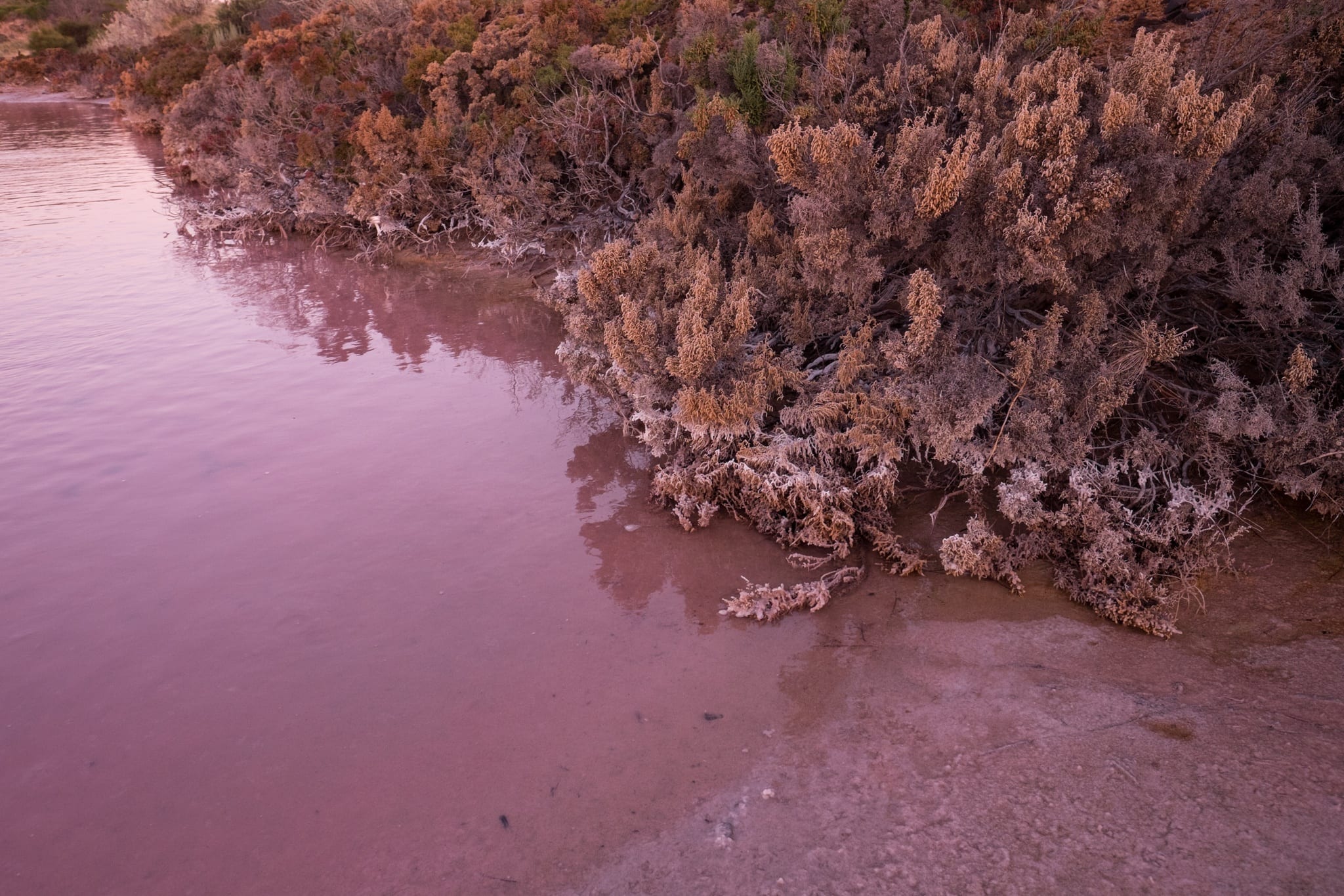 Low-hanging vegetation gets covered in salt. You can crack those branches in half.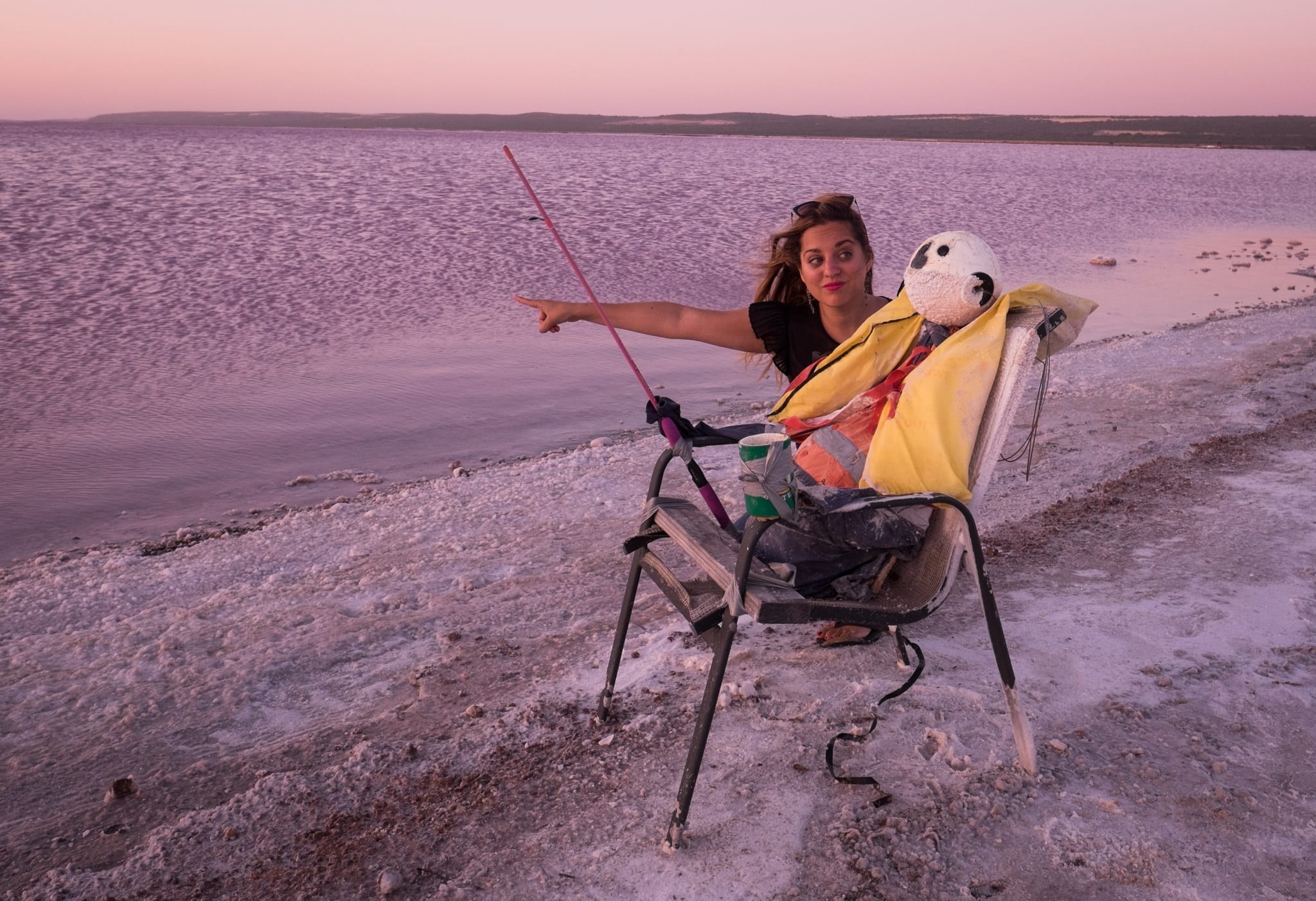 Best part? This isn't the only one! Western Australia has a handful of pink lakes, some of which are more reliable color-wise than Hutt Lagoon. I flew over one on Dirk Hartog Island in Shark Bay; the more famous one is Lake Hillier, near Esperance on the south coast. Lake Hillier tends to look Pepto Bismol-pink most of the time.
Hutt Lagoon was just a short spot on a long road trip, but I'll always remember how happy I was to be surrounded by PINK.
Essential Info: If you're not on an organized tour, the only way to explore this part of Western Australia is by car. WA is very sparsely populated and I urge you to learn basic car maintenance, like changing a tire, before attempting a road trip in this region.

I stayed at the Kalbarri Edge Resort, which was one of my favorite places where I stayed on my WA road trip. The self-catering suites have kitchenettes and even have their own washer-dryers! You can bet I took advantage of that. Rates from $160 AUD ($121 USD). Find more hotels in Kalbarri here.

Don't visit Western Australia without travel insurance — it could save your life. I use and recommend World Nomads.

Many thanks to Freedi for taking all the photos of me in this post.
This campaign is brought to you by STA Travel and Tourism Western Australia.
Have you been to a pink lake or somewhere else otherworldly? Share away!
Get email updates from Kate
Never miss a post. Unsubscribe anytime!