Adventurous Kate contains affiliate links. If you make a purchase through these links, I will earn a commission at no extra cost to you. Thanks!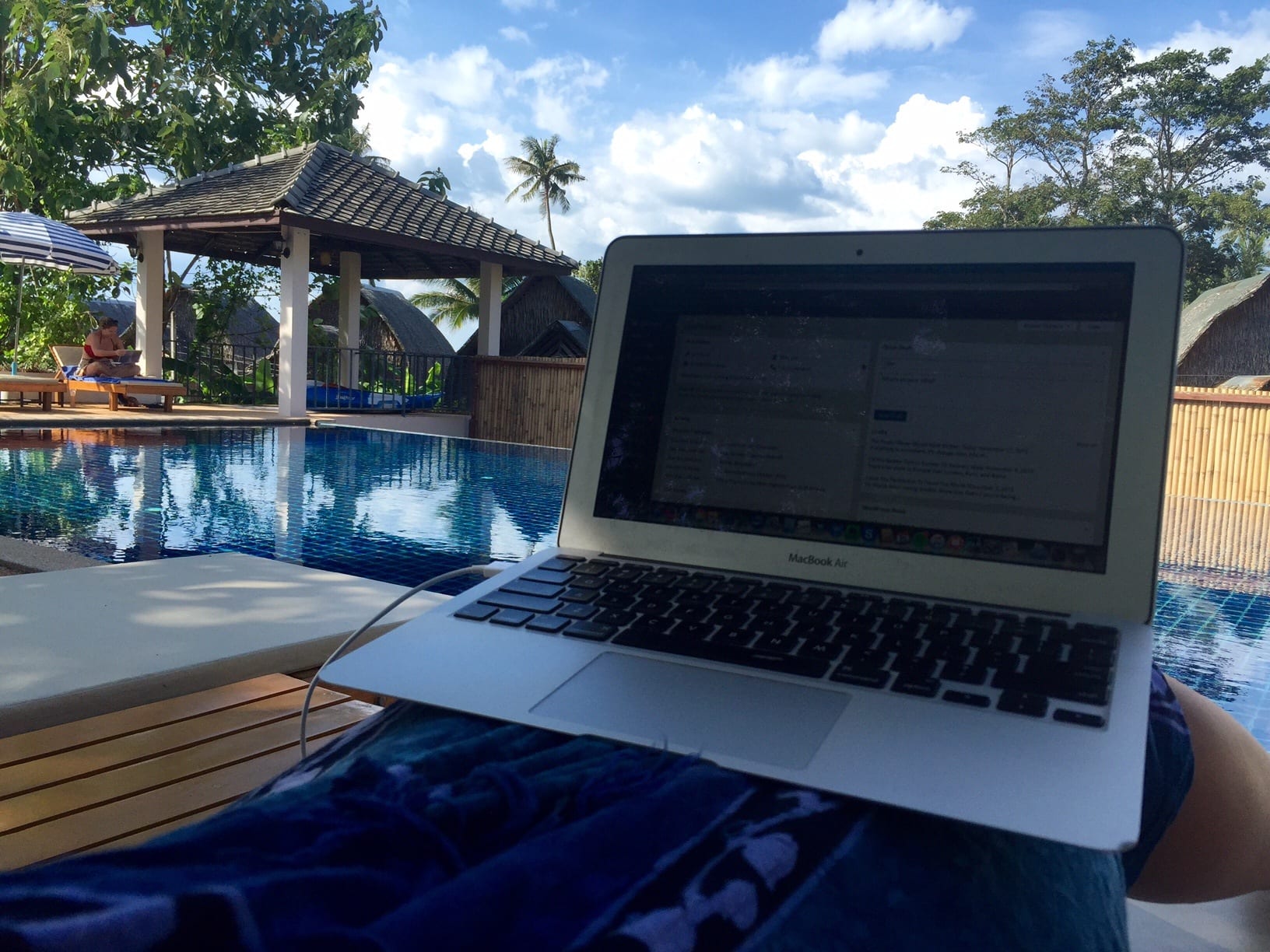 I remember back when I was one of few travel bloggers making a full-time living online. Those days are long gone.
It's different now. Simply put, it's become a lot easier and there are a lot more opportunities out there, so many more people are making a full-time living. And that goes way beyond the travel blogging industry — it's never been easier to make money online.
Earning a living online, never having to go into work again, having the freedom to travel year-round, and being your boss — that's the dream for a lot of people.
But travel blogging is not the only way. In fact, I'd discourage 99% of people against it. Travel blogging is a very tough nut to crack, it requires a lot of time and effort, and most people don't have the writing and photography skills for it.
And being a professional Instagrammer? Well, honestly, that's extremely difficult to do unless you're young, thin, conventionally attractive, and, let's face it — white and blonde. It's hard enough if you have all those characteristics; if you don't fit that mold, you're going to have a much more difficult time.
But there are other ways to quit your job and travel.
There's writing books, creating products, starting companies, becoming a coach. And for many people, it can earn them enough money to quit their jobs.
What if you're not sure what you want to do yet? What if you are interested in multiple ideas — maybe you like the idea of freelancing, maybe you'd like to start a business — but don't want to drop a ton of money on just one specific course in case it's not right for you? Where do you even begin?

Introducing 2017's Paradise Pack
The Paradise Pack is a collection of digital resources and guides that will teach you how to make money online so you can travel the world. They are sold together at more than 90% off.
Want to start your own business? Want to become a freelancer in your field, or even a new field? Want to build a blog and turn it into a business? The Paradise Pack will help you do those things.
Want to earn free flights from travel hacking? Want to teach English online? The Paradise Pack will help you do those things, too.
The products altogether cost more than $2600 — here, they're available in a bundle for just $197. 
The Paradise Pack is only available for one week each year, and the products change every year, so this will be your only chance to get this exact pack.
Today is day one. I'm posting this today because people who buy by midnight tonight will receive a bonus: a workshop on how to make the most of the pack.
The Paradise Pack sale ends on Monday, June 5.
And now some questions:
Haven't I seen this before?
I've promoted the Paradise Pack twice before, in 2015 and 2016 — but it's a completely different collection every year. There are occasional repeat products, but for the most part they're new offerings.
The guys behind the Paradise Pack, Jason and Travis, make efforts to put together an excellent, original collection each year. I've tried out some similar packs geared around making money online, and I think the Paradise Pack consistently has the best collection on the web.
Previous years' packs have been fantastic — which you certainly noticed. More than 100 Adventurous Kate readers have purchased the pack!
Do you make a commission on it?
Yes, I make a commission. Regular people like me make 30% from sales. Authors of the products in the pack earn more, however — they make 50% from sales.
Someone makes a commission on every pack sold, no matter what. There are no discounted packs. So no matter how you buy it, a commission will go to somebody.
Do what I do — buy it through the blog of someone whose work you enjoy.
Is it worth the $197 price?
Absolutely. For all that you save and earn as a result of this package, from free flights to business income, it would be worth it if it cost triple. Quadruple. Quintuple.
$197 is a lot of money. I get that. If it's too much for you, it's too much. But if you actually put in the effort with these products, you will earn it back several times over. I promise you that.
Is there anything else I should know?
Yes. 10% of sales will to two charities: Pencils of Promise, a charity that builds schools for children in developing countries, and Travel Access Project, a charity that funds scholarships for travel and education.
So far the Paradise Pack has raised more than $50,000, enough to build two schools in Guatemala! Pencils of Promise is a rare charity that puts 100% of its online donations directly toward their programs.

Paradise Pack Products That Are Especially Worth It
Every year, there are a few standout products in the Paradise Pack. Here's what I think are the most valuable:
Zero To Your First $10K by Brian Lofrumento (value: $497)
Why? Because every beginner needs some extra help getting started.
No matter who you are or what kind of business you want to start, this course will guide you through earning your first $10,000.
This product targets people at the beginning of their journey, so whether you're starting to make money online for the first time or moving into a new industry, it will help you find your way through launching a brand new product or service.
The Social Media Rockstar Academy by Ka Sundance (value: $299)
Why? Because a big audience translates into more money.
As much as I hate when the words "rock star" are presented as one, this course is valuable in that it shows you how to build an enormous social media following in a very fast time frame, as well as creating videos that showcase your product or services. The bigger base audience you have, the more money you can make passively.
Frequent Flyer Masterclass by Travis Sherry (value: $147)
Why? Because everyone wants to fly for free.
Getting free flights is one of my readers' most frequent requests. This course will teach you how to hack the frequent flying system and get free flights, even business class flights, all over the world. With the Frequent Flyer Masterclass, learn how to travel anywhere in the world for less than a hundred bucks using frequent flyer miles.
Cruise Ship Jobs 101 by Amanda Hathorn-Geary (value: $147)
Why? Because working on cruise ships is one of the most surprisingly fun and lucrative ways to see the world while getting paid.
And if you want to find a way to work a cool job, save a ton of cash, and have months-long breaks, working on a cruise ship is a great way to go about it. This book while show you the ins and outs of getting hired for one of these gigs. It's not a sustainable-for-the-rest-of-your-life kind of gig, but it can be a lot of fun for a few months or years, especially if you use it to start a nest egg for future travels.

Other Included Products
Here are the other products included in the pack:
Rock Your Systems by Natalie Sisson (value: $69)
"How can you find more free time while still growing your business? Hint: It's SYSTEMS. Put systems in place in your business in under a week using the power trio of Asana, Google Drive, & Slack. Get sh*t done so you can spend your time doing whatever else makes you happy."
Easy Language Hacking Guide by Benny Lewis (value: $269)
"Discover the fast and easy way to learn 6 popular languages with these easy language hacking guides. You'll learn tricks that show you where to focus your efforts for quick results in language learning. Plus, Benny is throwing in a live Q&A so you can ask all your language questions."
A Better Life for Half the Price by Tim Leffel (value: $49)
"If you'd like to upgrade your life without giving up everything you like to do, lowering your cost of living may just be a matter of changing your address. You'll get the ebook, special reports, and a three-part video series to help you choose the best destination for you!"
Virtual Assistant Foundation by Danielle Greason (value: $197)
"Become skilled in four core digital marketing support services to get started as a virtual assistant or freelancer right away. Learn Danielle's in-depth client workflow processes and follow steps to landing your very first paying client."
Become a Super Learner by Jonathan Levi (value: $147)
"We've all experienced the frustration of an ever-growing reading list, struggling to learn a new language, or forgetting things you learned in even your favorite subjects. This course is about hacking your learning, reading, and memory skills, improving your ability to learn new skills or information quickly and effectively."
House Sitting and Travel Lifestyle Summit by Nat and Jodie (value: $97)
"Get all the inspiration, advice, and actionable steps you need to start house sitting and traveling the world with free accommodation. Learn actionable strategies from those already doing it — over 60 world-class house sitters!"
I Kinda Wanna Be a Coach! by Jacob Sokol (value: $197)
"In this virtual conference, Jacob Sokol and 27 other world-class coaches and business experts share the most important tools, mindsets, and strategies they wish they had known about when they first started. Includes audio, video and pdf versions. Get started becoming a great coach with a booming business!"
Freelance Writing Guide by Dave Lee (value: $197)
"Writing about travel in a way that transports, inspires, entertains, and teaches is easier said than done. Discover and develop your style of storytelling! In addition, you'll have access to a private Facebook group to ask questions, get feedback on writing assignments, and connect with others taking the course."
FYI, this course is a division of my beloved Travel Blog Success. Like all of the courses, the Facebook group is worth the cost of the course alone!
21 Days to Discover Your Passion by Chelsea Dinsmore (value: $97)
"Feeling uninspired? Have no clue what you're passionate about? Break through with Passion Discovery Actions to help you build your mindset, create congruence, define your change, and set up rituals for success. Build massive momentum toward doing work you love in just 21 days."
The Complete Guide to Starting a Lifestyle Business by Sean Ogle (value: $47)
"Sean's a true pro who has had success with multiple types of lifestyle businesses. In this guide, he shares everything you need to create a business that gives you the freedom and flexibility to do what you want."
The 30-Day Money Cleanse by Caroline Makepeace (value: $97)
"This six-week online program will help you improve your relationship with money (and create more of it!). Move from limitation and lack of money to confidence, comfort and security about where it's coming from, how to value and treat it, and where to spend it (i.e. on things you love!)."
Teach ESL Online by Rose Breuer (value: $37)
"Ever thought about teaching ESL online? This ebook is for you! Learn how to start and run an online teaching business, how to make great lesson plans in less time, and much more. Includes recorded lessons with real ESL students and an exclusive Q&A video with Rose."
Sweet Ass Journal to Develop Your Happiness Muscle in 100 Days by Heath Armstrong (value: $39)
"Create a personal foundation full of habits and strategies in alignment with your dreams. Build the foundation you need to smash resistance and build your freedom empire."
Family Freedom: A Guide To Becoming a Location Independent Family (value: $27)
"Want to have more freedom with your whole family? Learn how to make money on the road, what to do about insurance, mail, etc., and options for schooling the kids! This guidebook shows you: it's doable."
Branding Masterclass by Tommo and Megs (value: $97)
"Follow an actionable system to create or improve a niche brand that will really stand out. Test your brand ideas for profit potential and assess your monetization options. Define your perfect target customer. Find your direction: complete your personalized blog brand business plan."
Heart Centered Sales Systems by Emily Utter
"Rock your sales without feeling salesy! Be an expert with this collection of word-for-word scripts, trainings, and a cheat sheet for overcoming common buyer objections. Quickly add tens of thousands of dollars in sales to their bottom line."
BONUS PRODUCT
There is one bonus available for those who buy on the first day:
Mastering the Paradise Pack Worship by Jason and Travis
"We're offering a special bonus for action takers! Get the Paradise Pack before Tuesday, May 30 at 11:59pm, and you'll be invited to a special Mastering the Paradise Pack workshop. Get your specific questions answered and walk through the best ways to use the Paradise Pack in this interactive workshop!"

But does it actually work?
Will these resources help you build a life like mine with the ability to travel full-time? They only will if you make the effort. Nothing in life is free; if it were easy, everyone would be doing it by now. So be prepared to study, and work, and build.
And be ready to make mistakes. God knows I made about a million of them in building my business. The important thing is that I never stopped working on my business, even when times got hard.
Still on the fence? Read about the Paradise Pack here and see if it's for you.
And if you're ready to go?
And with that, I'll see you on the road.
Please note that affiliate links are used in this post. If you purchase the Paradise Pack, I will receive a commission at no extra cost to you. By purchasing items through my affiliate links, you'll help ireuce the ever-increasing expenses of running this site. Plus…the payment for this one comes in two days before my birthday, so think of it as giving me a little present while getting yourself something much better? Thanks!  

Get email updates from Kate
Never miss a post. Unsubscribe anytime!