Adventurous Kate contains affiliate links. If you make a purchase through these links, I will earn a commission at no extra cost to you. Thanks!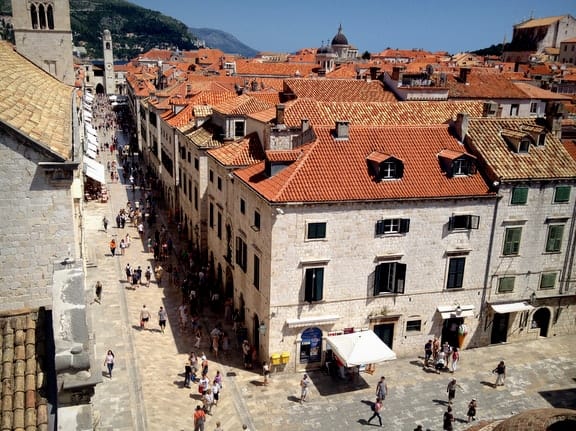 Dubrovnik — the pearl of the Adriatic, Lord Byron's paradise, and one of the most beautiful cities in the world. Dubrovnik was the final stop on our Busabout Croatia Cruise, and I was looking forward to seeing this beautiful city in real life after dreaming about it for years!
Dubrovnik didn't disappoint — it was breathtaking. In spite of the heat and humidity and heavy crowds, this was undeniably one of the most beautiful cities I've ever seen.
But the best way to see Dubrovnik is to get up high — on top of the city walls.
These walls stretch completely around Dubrovnik's Old Town, a distance totaling 1.2 miles. There are no words that I can give for views this good — let me just say that you'll be very glad you made the trip.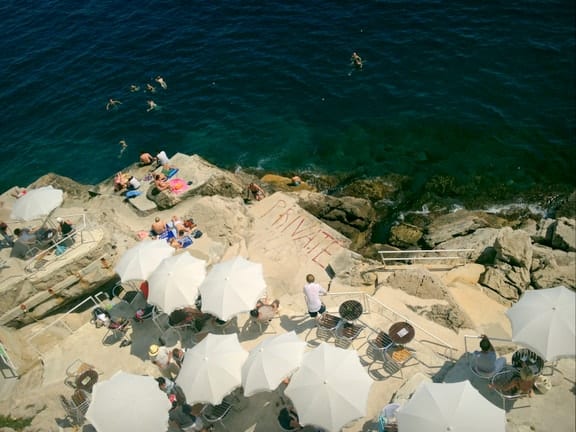 And some of the views are hilarious — like this not-so-hidden beach. Or PRIVATE MY ASS Beach (see it written out?), as I've taken to calling it.
Months back, Dave and I found a YouTube video declaring that this place was actually a nude beach — NOT SO! Being this accessible to the view from the walls, it would have only been a beach for exhibitionists (and from what I've observed, most nudists are the opposite).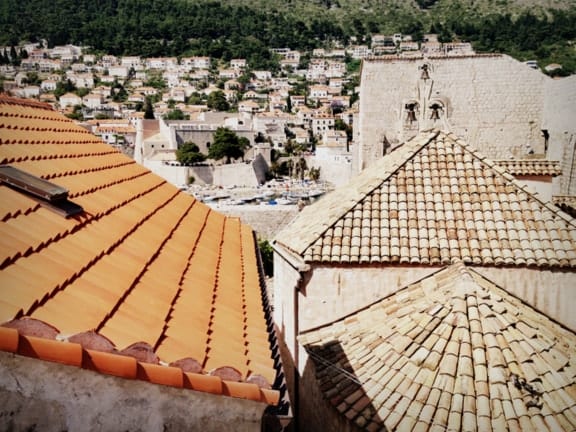 On a more serious note, viewing Dubrovnik from the walls gives you the chance to see the damage from the war up close. Dubrovnik was sieged from late 1991 through early 1992, and the city was in ruins. It was painstakingly rebuilt, but you wouldn't know it unless you were looking for the two-toned roofs.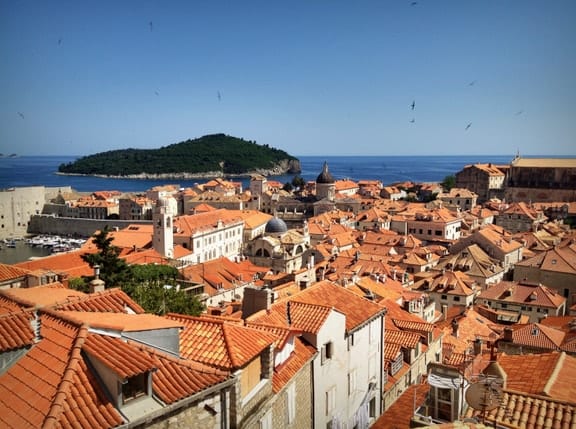 If you happen to attract pigeons, Dubrovnik might not be the best place for you. The swarms of pigeons are absolutely INSANE, and they don't hesitate to divebomb humans.
(You remember my great fear of birds, and especially pigeons, right? I didn't do well in Dubrovnik.)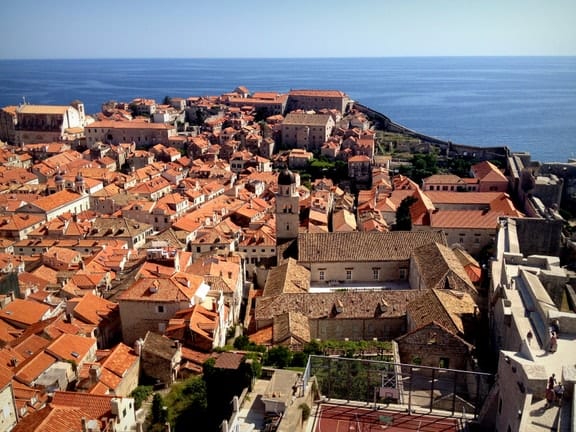 A few tips for walking the Dubrovnik walls:
Buy tickets just outside the main gate to the Old Town. Tickets cost 70 kuna each, or $11.50.
Try to avoid the hottest part of the day. Go early in the morning or late in the afternoon.
Bring bottles of water — there are a few kiosks and cafes on the walls, but they're expensive.
Be sure to get a picture of PRIVATE MY ASS beach.
Few city walls are as dramatic and interesting as Dubrovnik's, and from the walls, you'll be able to enjoy the city from an unforgettable angle. If you're spending time in Dubrovnik, don't miss a chance to climb these walls! Lord Byron would agree.
Planning a Trip to Croatia:
Croatian Islands and the Dalmatian Coast:
Istria and the North:
I visited Dubrovnik as a guest of Busabout's Croatia One-Way Sail. All opinions, as always, are my own.
Get email updates from Kate
Never miss a post. Unsubscribe anytime!