Adventurous Kate contains affiliate links. If you make a purchase through these links, I will earn a commission at no extra cost to you. Thanks!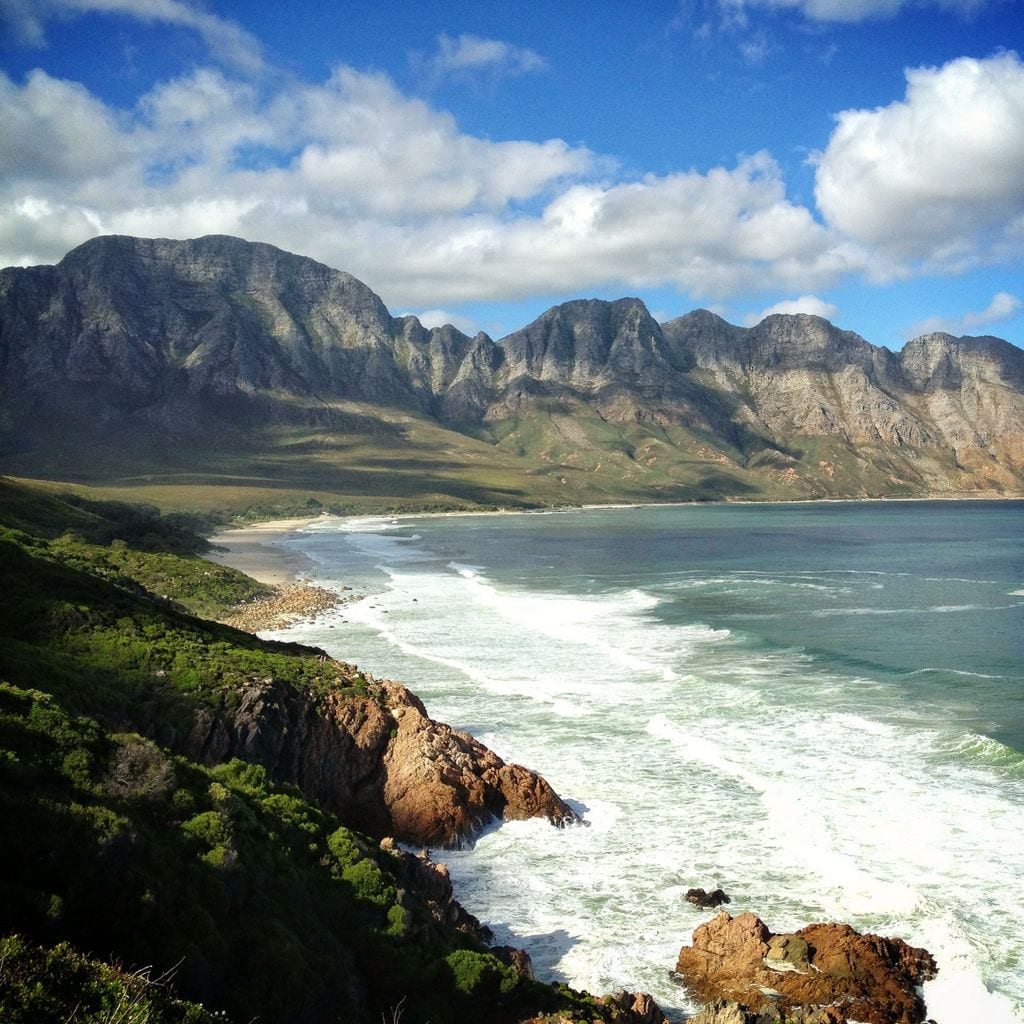 My latest South Africa trip was beyond anything I could have imagined. As much as I loved my first trip back in October, I didn't expect to be even more impressed than I was the first time.
Forget being impressed — I was blown away. Staggeringly so. This trip was so much fun, I actually hurt from smiling too much!
I'll be writing much more about South Africa in the coming weeks, and editing my best photos. For now, here's a taste of some of my favorite moments.
Surfing During a Pink Sunset in Jeffreys Bay
By now, I'm pleased to say that I have surfed on three continents — Asia (Bali), North America (Mexico), and Africa (South Africa)! Quite badly, but I've done it!
Our time in the ocean was brief. Nadine and I only had time for a 45-minute lesson, but our instructor Tom gave us the basics as quickly as possible and led us into the ocean. While neither of us was able to actually look like a real surfer, we had a ton of fun. It was Nadine's first time ever, and though she was hesitant at first, she was thrilled that she did it.
But the best part was that the sky turned pink around us, making it a colorful surfing experience unlike any I've ever had.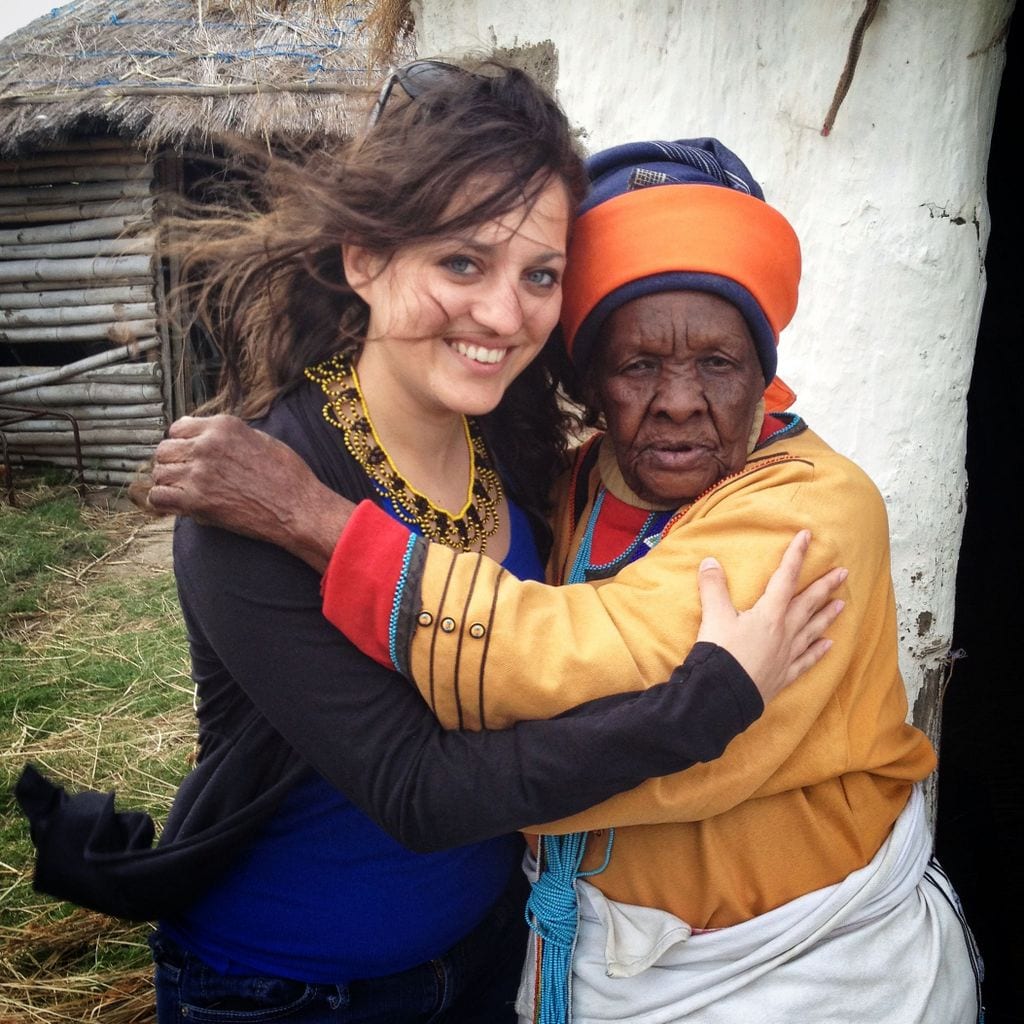 Visiting Mama Tofu's Village in Cintsa
We visited a Xhosa village in Cintsa and were introduced to Mama Tofu, a feisty 93-year-old with a million one-liners and opinions on the sex lives of Xhosas. I bought some gorgeous necklaces from the ladies in the village, including the one pictured above.
But the moment that really hit me was when one of the women grasped my elbows and held on, her eyes shining. "Thank you," she said emphatically. "When you buy from us, you help us. Thank you."
This reiterated to me just how important it is to keep your spending as close to the source as possible. Forget gift shops and department stores — buy directly from the women who make the necklaces and they are the ones who benefit.
Road Tripping the Western and Eastern Cape
The single best aspect of road trips, in my opinion, is stopping anywhere that seems cool or unusual or fun. We had plenty of time on some days of our road trip — so in addition to stopping at every possible scenic outlook to Instagram the view, we also stopped at cool places like hot springs, weird desert shops like Ronnie's Sex Shop, pretty towns, cool food places Simon loved, and more.
The Garden Route is such an amazing part of the world to road trip! It's beautiful and fascinating. If you come to South Africa, I highly recommend traveling by car.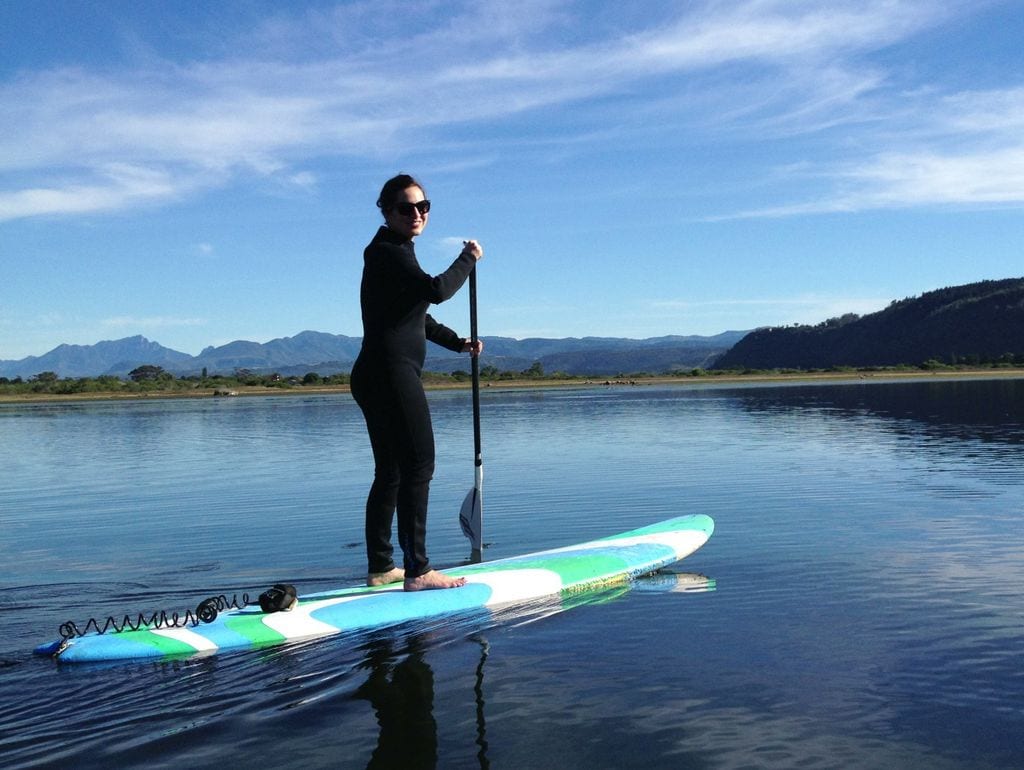 Gliding Through Sedgefield's Lagoon
The moment that I stood up on my first paddleboarding excursion, I was a changed woman. At that moment, I resolved to move somewhere warm close to the water so I could buy a stand-up paddleboard (SUP) and do it every day!
This sport was made for me. It was super-easy, yet a good workout involving a lot of balance. It was solitary, meaning that I could be alone with my thoughts and meditate while slowly paddling through the water. I couldn't imagine a better place than Sedgefield's lagoon, with perfect glassy water and blue mountains in the distance.
This won't be the last time I paddleboard. Next up: trying it in the wild waves of the ocean!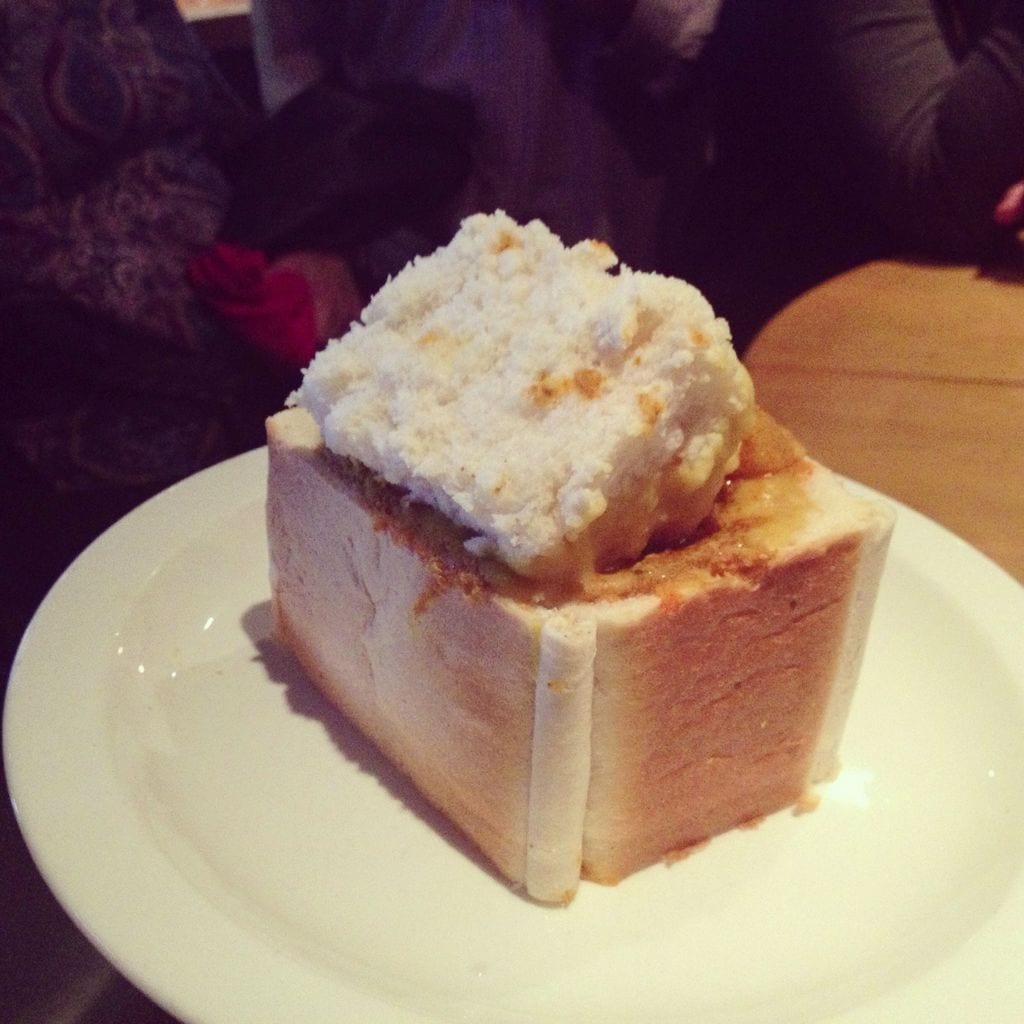 Bunny Chow-Palooza in Durban
I had heard that Durban was the Indian part of South Africa and home to extra spicy curries, but I had no idea that I would love them this much! I'm not too big on them in general, but every single curry I had in Durban was amazing. Most of them were spicy enough that they made my lips burn, but not so spicy that I hated myself for eating them!
The absolute highlight, though, was bunny chow — curry served in a hollowed-out loaf of bread. They are dirt cheap on the street or in little shops (10-20 rand, or $1-2) and pretty cheap in restaurants as well. If I lived in Durban, I'd eat bunny chow every day.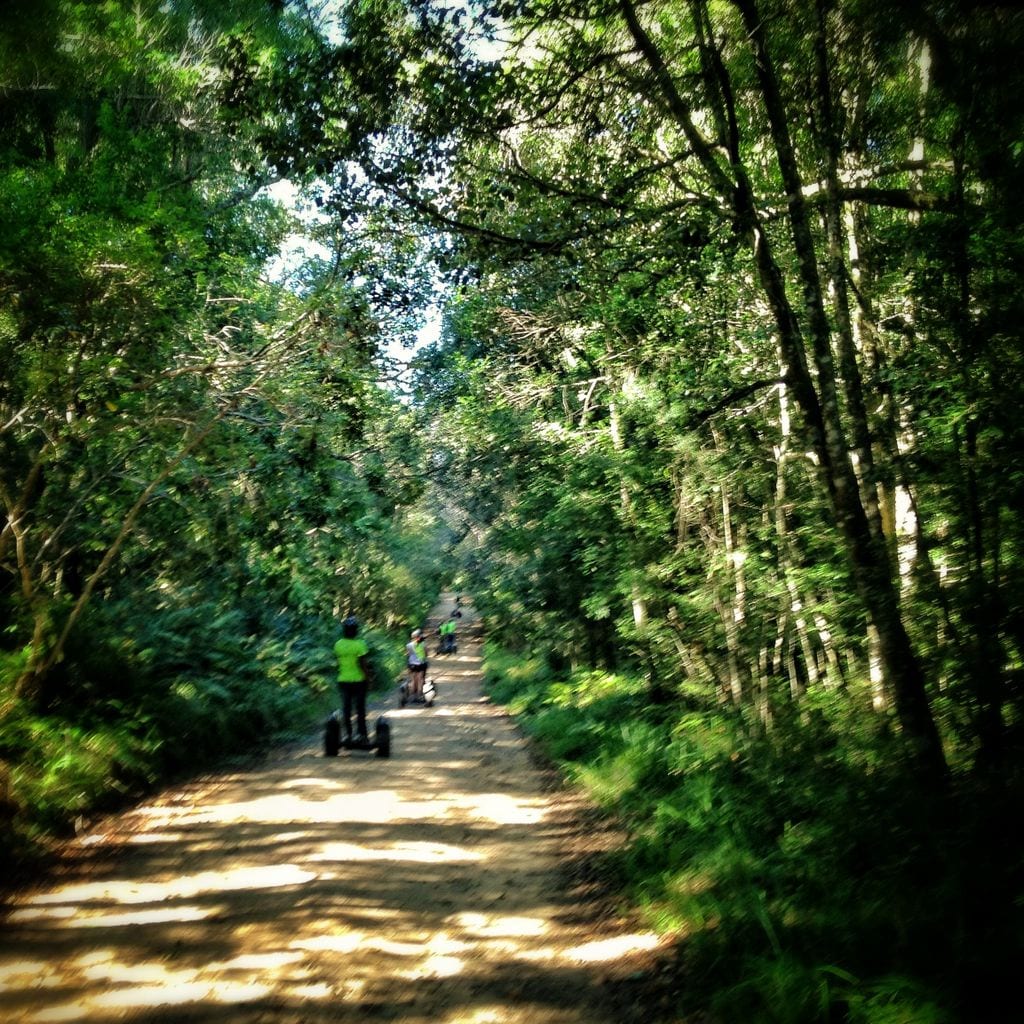 Zipping Through the Tsitsikamma Forest
When passing through Storms River, we decided to check out the nearby Tsitsikamma Forest — but in a different way. By Segway! I had never Segwayed before, and I thought they were best confined to urban areas, but it turns out they're a lot easier than you think. Soon you catch your balance and start doing some crazy maneuvers.
It was wonderful in the Tsitsikamma Forest. It smelled so green and lush, and as I rode through, the wind in my face, I wished I could take that moist air around with me forever.
Walking the Wild Beach of Cintsa
Cintsa was a highlight for me — I loved this part of the Wild Coast. It was rough, rugged, and felt deserted. (We also had the best view possible at Buccaneers Lodge and Backpackers.)
We got to Cintsa just in time for a visit to a local brewery (run without running water!) and having some beers on the sand dunes at sunset. As the sun went down, the hostel guys invited us to walk back. A presumed 30-minute walk turned into an hour and us stripping to our undies so we could cross the river, holding our electronics above our head, and get back to the hostel. We laughed, we posed, we Instagrammed.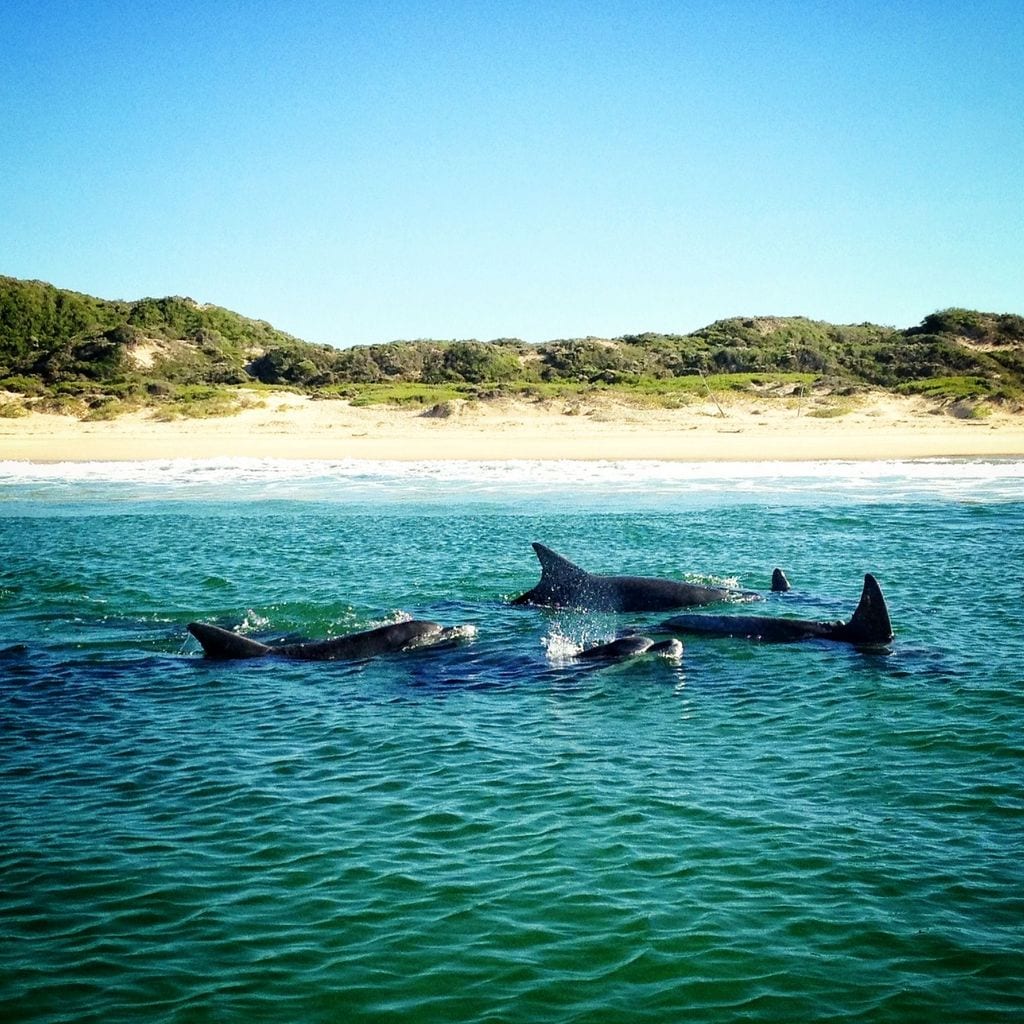 Seeing Dolphins in Plettenberg Bay
I've never been one of those girls who idolizes dolphins, wears dolphin jewelry, draws them all over her notebook in school. Even so, I found seeing dolphins in real life for the first time to be deeply moving. They were beautiful. They were elegant. They were dancing.
We watched them for about 10 minutes, dipping again and again above the surface, and it nearly brought me to tears.
Riding Through the Mountains of Swellendam
That morning, we had driven along the coast. By the afternoon, we were deep in the mountains, rising around us in hundreds of shades of green. My horse, Tequila, led me up the mountain and around, surrounded by bright green mountains in every direction. Golden hour was upon us and each mountain was bathed in the last delicious moments of sunlight.
It was so simple, but so wonderful. For the first time in my South African travels, I felt truly connected to the landscape of this beautiful country.
Getting Smooched in Cintsa
Our final morning in Cintsa had been spent with people — Mama Tofu's village, then Cintsa East, where students were taking classes and learning how to use PowerPoint in The Big Green E-Machine, a mobile solar-powered computer lab.
We had a bit of extra time left, so we went to visit a creche and play with some kids. At that point, I went over to a swingset where two little boys were jumping around and playing. They loved my camera and posed hard — then I tried to get them to blow kisses to the camera. Instead, they started kissing me! So sweet and so adorable.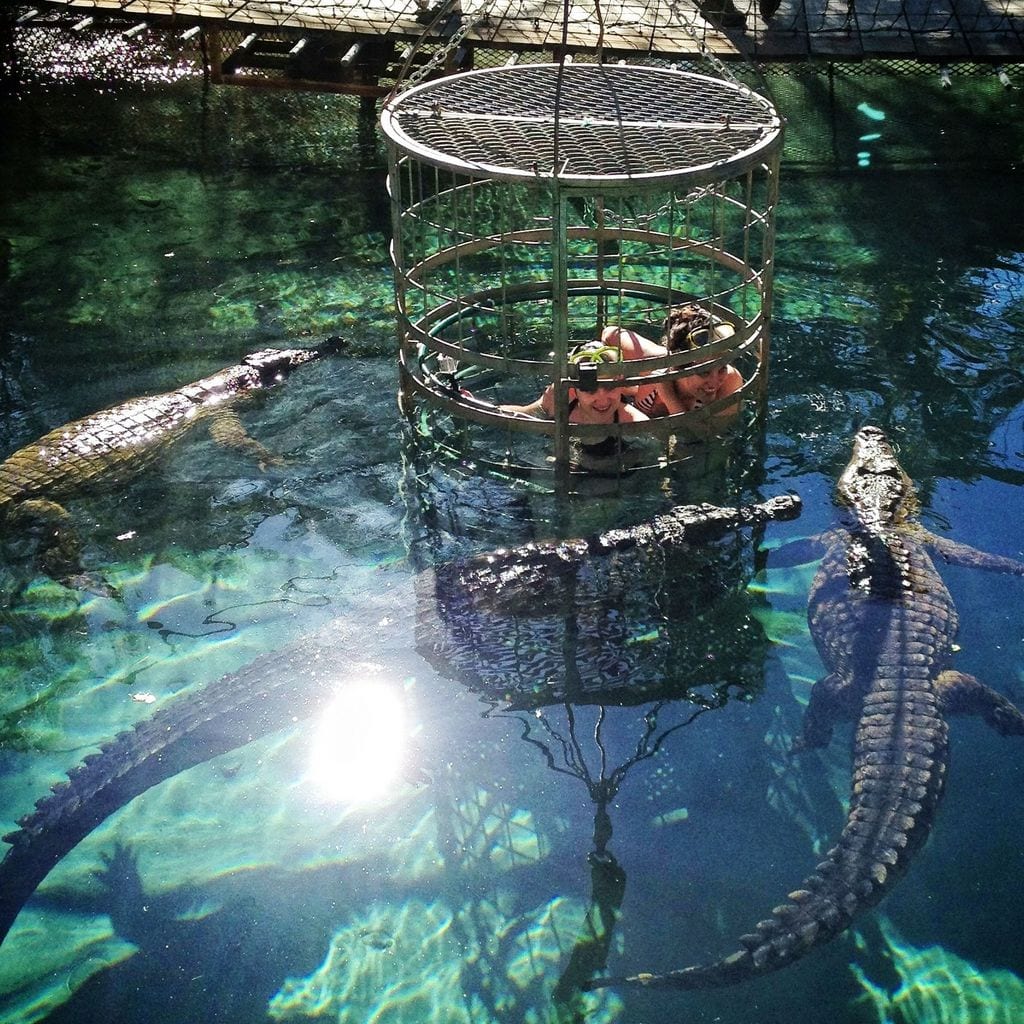 Cage Diving with Crocodiles in Oudtshoorn
One of the craziest things I've ever done? Hell yes! Cango Wildlife Ranch in Oudtshoorn offers several "animal encounters," and this one was the most extreme one on offer. It's only offered in two places in the world: here and Texas. (Either Texas or Florida would not surprise me.)
Nadine and I jumped into the cage, were lowered into the lagoon, and spent most of the time screaming — first at the coldness of the water, then at the crocodiles themselves. They were slow-moving, but actually got their noses and mouths into the cage! We pushed ourselves into the middle and continued screaming as we held onto the ropes.
It was an adrenaline rush and a unique experience I will never forget!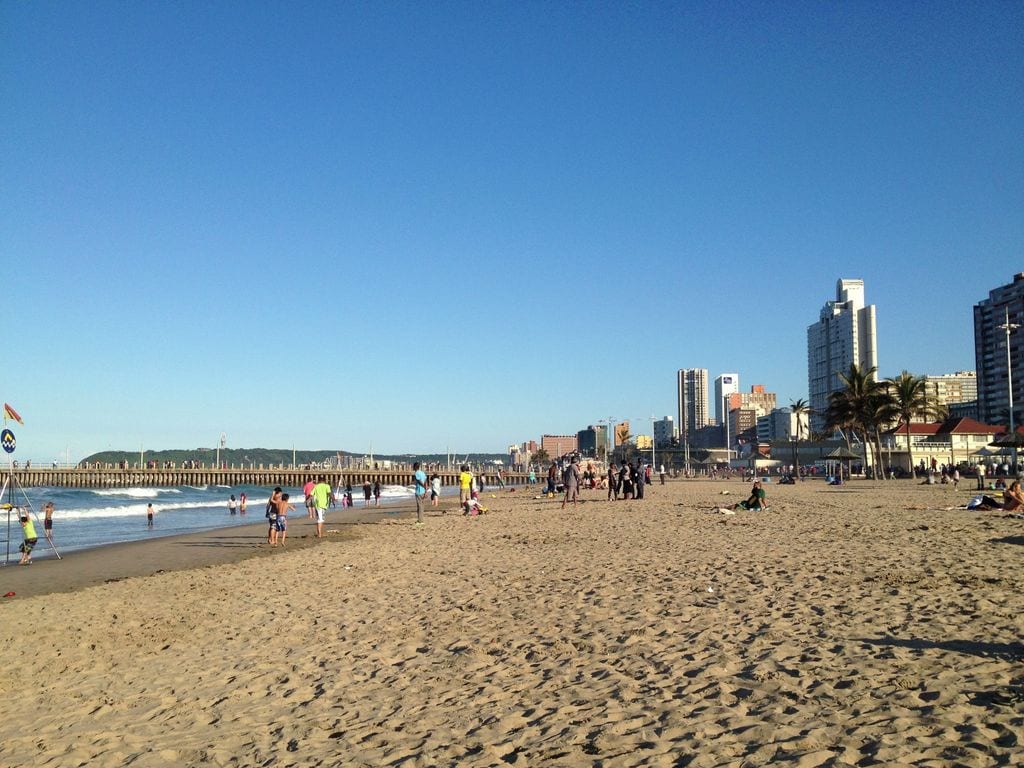 Swimming in the Indian Ocean
My final afternoon in South Africa was spent on the beach in Durban, the warmest city in South Africa, diving through the huge waves of the Indian Ocean.
I swim in the ocean whenever I can — but this was different. Parents weren't yelling at their children. People weren't being obnoxious. Surfers weren't plowing into swimmers. People of all age and sizes and colors were just throwing themselves into the waves, over and over again, and shrieking as they got knocked over — because no matter who you are, the ocean affects everyone the same way.
Now, if that isn't a metaphor for humanity, I don't know what is.
South Africa is a place filled with fantastic memories, and I'll be reliving this trip for a long, long time.
Essential Info
Island Vibe in Jeffreys Bay offers a variety of surf lessons for different levels and durations — contact them for specifics.
Buccaneers Lodge and Backpackers in Cintsa offers a Xhosa experience visiting Mama Tofu's village for 250-295 rand ($27-32) per person. You can also volunteer at the creche for a half day for 200 rand ($22).
AfroVibe Lodge on Myoli Beach in Sedgefield offers half day paddleboard rentals on the lagoon for 300 rand ($32).
Ocean Blue Adventures in Plettenberg Bay offers cruises from 400 rand ($43).  We took the 1.5-2 hour Dolphin Encounter tour for 400 rand ($43) per adult or 200 rand ($22) per child.  In Plett we stayed at Nothando Backpackers.
Cango Wildlife Ranch in Oudtshoorn offers crocodile cage diving for 320 rand ($34) with discounts if you book more than one encounter. This in addition to admission to the ranch: 120 rand ($13) for adults and 80 rand ($9) for children.
If you're looking for accommodation for your trip to South Africa, you can find the best prices on hotels here.
I never travel without travel insurance. You never know what might go wrong, like a missed flight or getting sick, and travel insurance will help protect you financially. I use and recommend World Nomads.
This campaign is brought to you by the South African Tourism Board and is supported and managed by iambassador. Adventurous Kate maintains full editorial control of the content published on this site.
Get email updates from Kate
Never miss a post. Unsubscribe anytime!