Adventurous Kate contains affiliate links. If you make a purchase through these links, I will earn a commission at no extra cost to you. Thanks!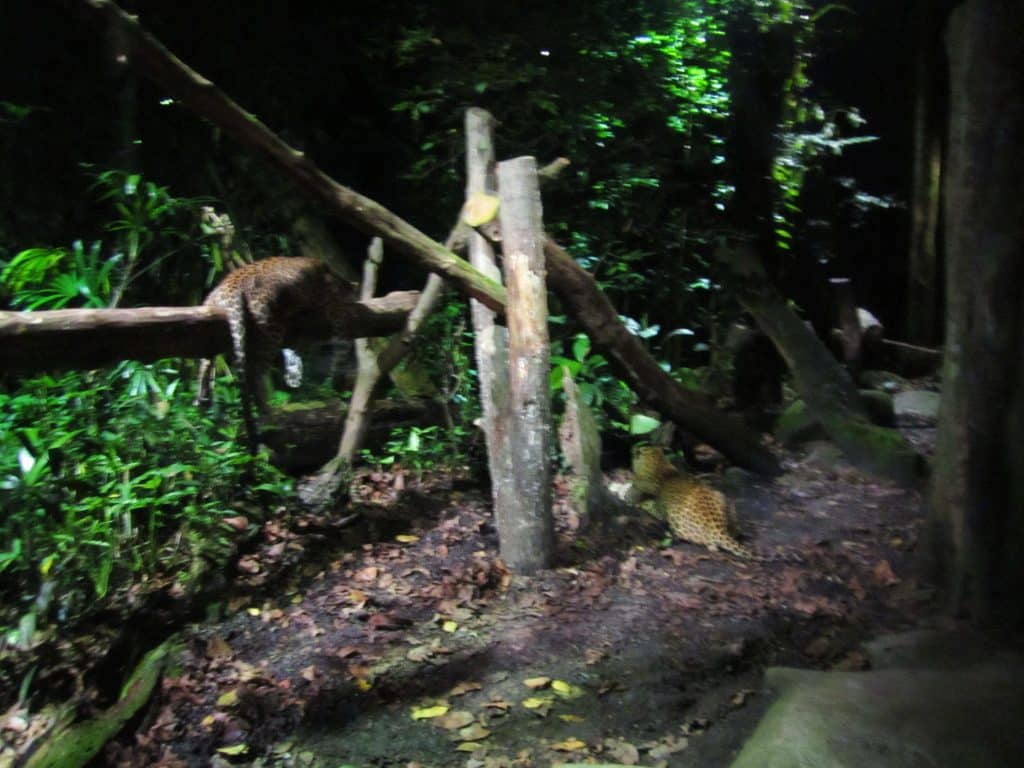 I had one major sight on my agenda for Singapore: visit the Singapore Night Safari. This is one of the more unique zoo experiences of which I've heard — it features exclusively nocturnal animals and lets you walk around on trails in a cage-free environment.
But first, you should know two things before going to the Singapore Night Safari:
If you bring your kid here, you are the coolest parent in the world, and your kid will adore you.
And secondly:
You will not get ANY good pictures.  But that's okay.
The Singapore Night Safari is a flash-free park, to protect the animals and their eyesight.  Photographing moving animals without flash is a losing battle.  Accept that you won't get any good pictures, and just go for the experience.
The Singapore Night Safari is primarily a place for families. But any place with scantily clad male dancers performing at the entrance is fine with me!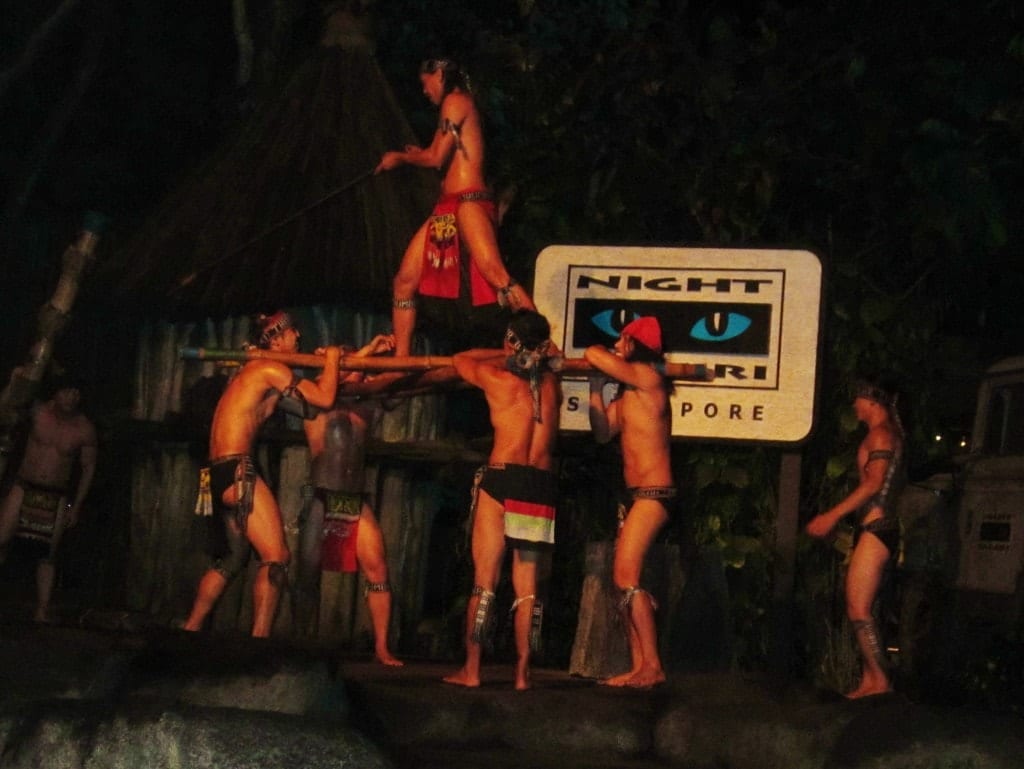 My night began with the Creatures of the Night show, which featured some of the animals showing off — a raccoon that knew how to recycle, a smoky leopard, even a wolf.  This was definitely more of a show for kids, but it was entertaining nonetheless.
The highlight, though, was when they reached down into a box below people's seats and pulled out Maggie the reticulated python, one of the world's longest species of snake!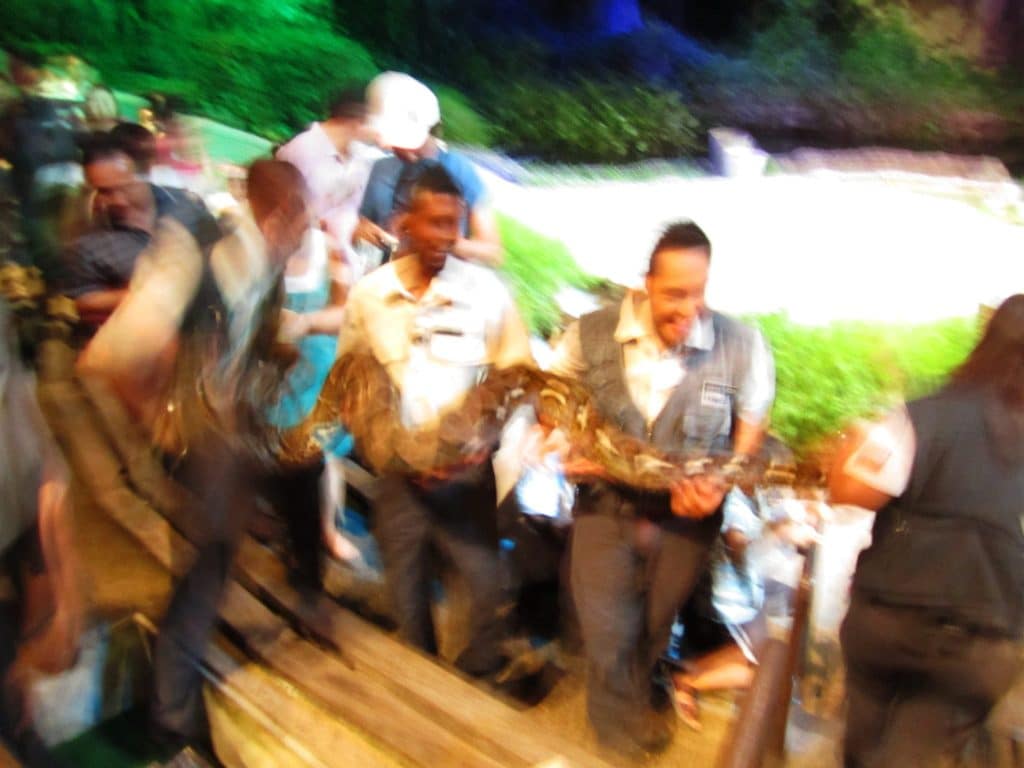 Next up was a tram ride. The forty-minute ride took us through the entire Night Safari, showing us the animals in their recreated habitats.
On the tram, our tour leader shared lots of interesting animal facts.  A few of my favorites:
Hippos may be vegetarians, but that doesn't mean they won't eat you. They'll chew you up and spit you out.
There are only 300 lions left in Asia — all of them in India.
Male elephants need to be separated from their babies because they will fight and/or kill them.
Rhinos run very fast, but not for long. If you're chased by a rhino, your endurance very well could save you.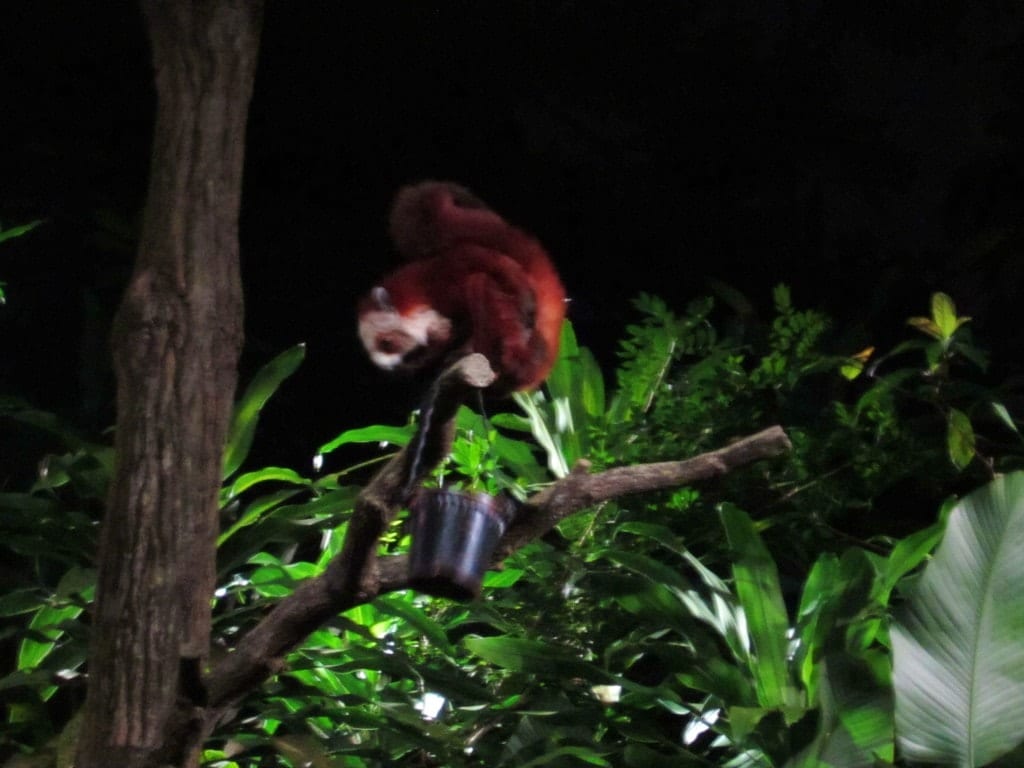 But for me, the final part of the Singapore Night Safari was my favorite — visiting the walking trails! You get to walk around deep in the jungle and get up close to the animals.
This is what makes the Singapore Night Safari different from other zoos, and I loved it.
My favorite animal?  The flying squirrel, pictured above!  How adorable is that little guy?
Another favorite was the fisher cat.  It would lean into the river to swat at fish and they would all swim away as some giant turtles kept watch.  I could have watched those animals for hours.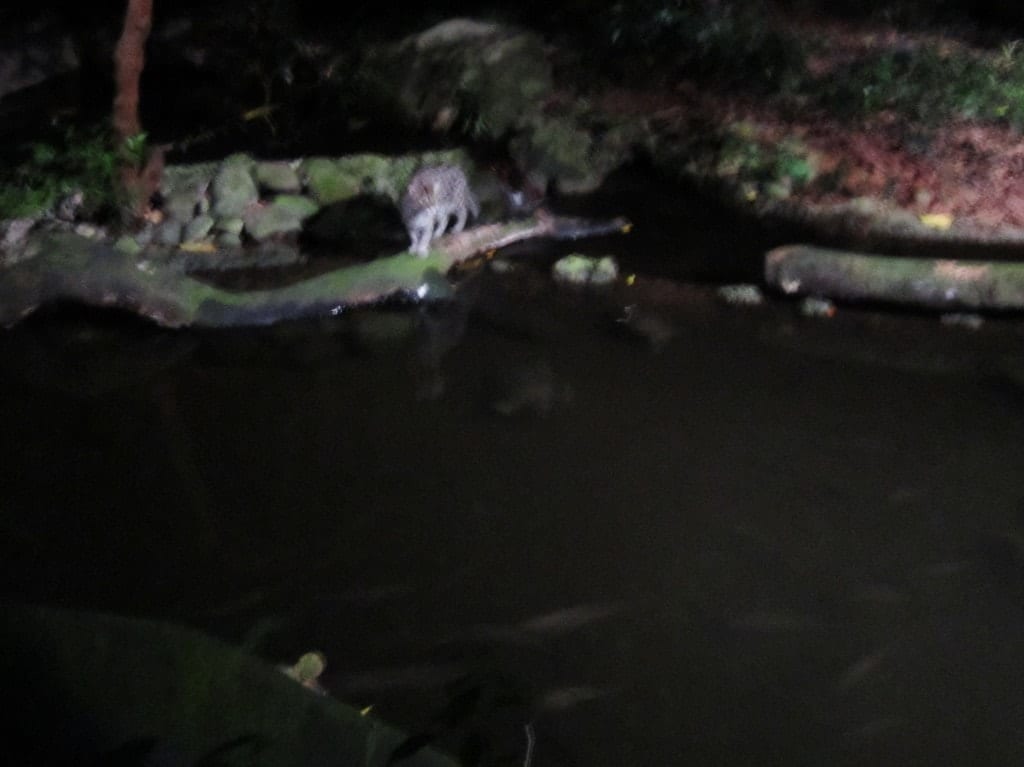 At S$32 ($26 USD) for adults and S$21 ($17 USD) for kids ages 3-12, the Singapore Night Safari is definitely not a cheap activity, especially when you factor in cab fare (it's either that or a LONG bus journey, though they also have a cheap shuttle from several downtown points).
My big suggestion?  Get there early. It opens at 7:30 PM.  There is so much to see, and it's worth it to have the extra time to amble and explore at your own pace.
Worth it?  Most definitely, and if you're an animal lover, it's an absolute must!
I received a complimentary visit to the Singapore Night Safari.  All opinions, as always, are my own.
Get email updates from Kate
Never miss a post. Unsubscribe anytime!