Adventurous Kate contains affiliate links. If you make a purchase through these links, I will earn a commission at no extra cost to you. Thanks!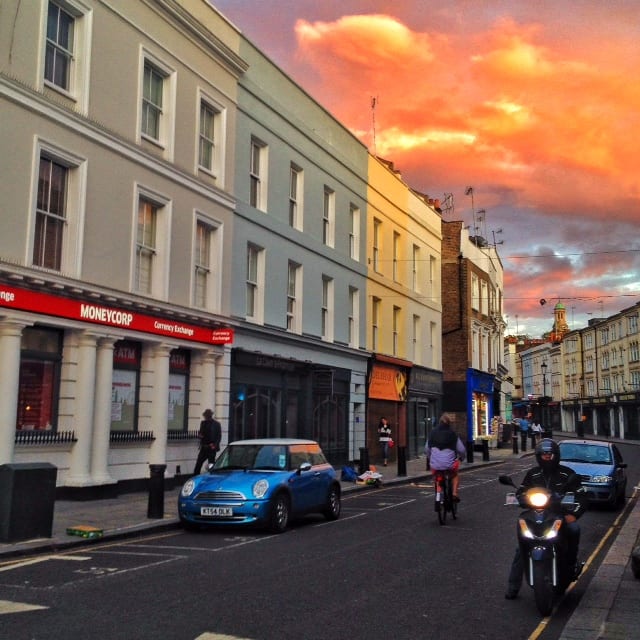 The following branded content post is brought to you by DrinkAdvisor, a free nightlife app available for both iPhone and Android.  I thought it would be entertaining to use the app to find some new cool bars in London to recommend to you all!
Even after all the time I've spent in London, I still feel like I barely know the city. Especially when it comes to nightlife.
So when DrinkAdvisor invited me to try out their app, I thought it would be great to give it a test drive in a cool London neighborhood. The location I chose: Notting Hill, a pretty pastel neighborhood home to cool shops, boutiques, and markets. But after the shops close and the markets shut down, Notting Hill is home to some pretty cool bars.
The DrinkAdvisor App

DrinkAdvisor is a free app that covers nightlife destinations in 200 cities around the world: bars, clubs, pubs and more.
The way it works is that it gets your location and recommends bars around you. These aren't based on user-generated content — a team of writers has put together excellent written content on each destination. In addition to that, there is detailed content about cocktails, spirits, and more, including but not limited to cocktail recipes and interesting facts.
DrinkAdvisor goes above and beyond — it allows you to plan ahead, meet up with friends, and rate the bars with a thumbs up or down, and add your own photos, which keeps the professional content the center of the app while allowing people to add their own information.
DrinkAdvisor also has offline capabilities and if you don't have a data plan for your phone, you can save a list of bars to visit later.
Above all, DrinkAdvisor is both free in the App Store and Google Play, and is the only app on each platform specializing in bars, nightlife, nightclubs and drinks with up-to-date information provided by experts.
I walked out of Notting Hill Gate, met up with my friend Chris and his friend Rob, and we put our faith in DrinkAdvisor to show us the way.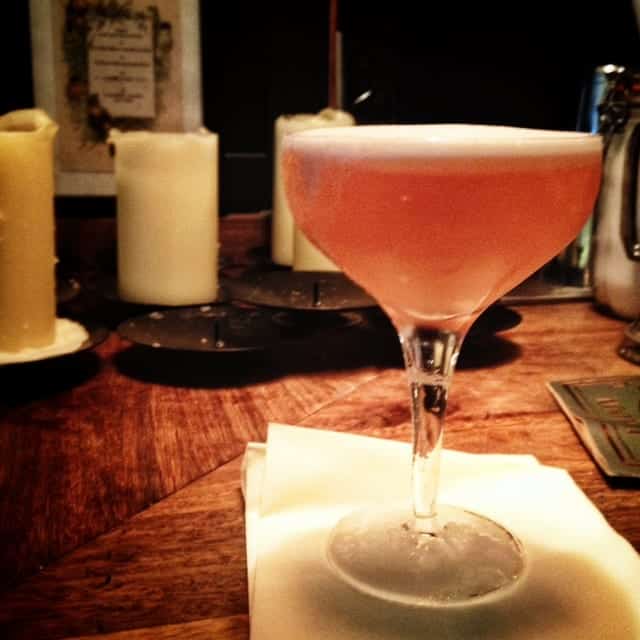 Bar 1: Portobello Star
Heading up Portobello Road, I noticed a sign for The Ginstitute — now that sounded like it was up my alley! Sadly, this tiny gin tasting room was having a private event, but the downstairs bar, Portobello Star, was open to everyone, had a posh yet retro feel, and featured a nice cocktail list.
The drink: Clover Club, a cocktail made with gin, raspberry, lemon and egg white.
Bar 2: Trailer Happiness
A tiki bar in the middle of London? Who would have known?! DrinkAdvisor sent us next to Trailer Happiness, a little underground den that feels like you've gone into a time-warp. It's very 1970s, the staff wear Hawaiian shirts, and rum is the spirit of choice.
This is such a cool little find in London and I'm so glad I came across it — I've never been to a tiki bar anywhere else!
The drink: Royal Hawaiian, a sweet gin drink made with orange juice instead of lemon juice. It's technically not on the menu but was recommended to me by the waiter after I told him that I liked gin and orange.
Bar 3: Montgomery Place
Around the corner from Trailer Happiness was Montgomery Place — a chic, sleek bar specializing in classic cocktails. Our bartender poured the cocktails expertly, splaying his arms far apart without spilling a drop, and he was from Rimini (in the Romagna region of Italy, where I've spent a lot of time), so we had a lot to talk about!
The drink: French 75, my favorite cocktail of all time. Gin, champagne, lemon juice, simple syrup.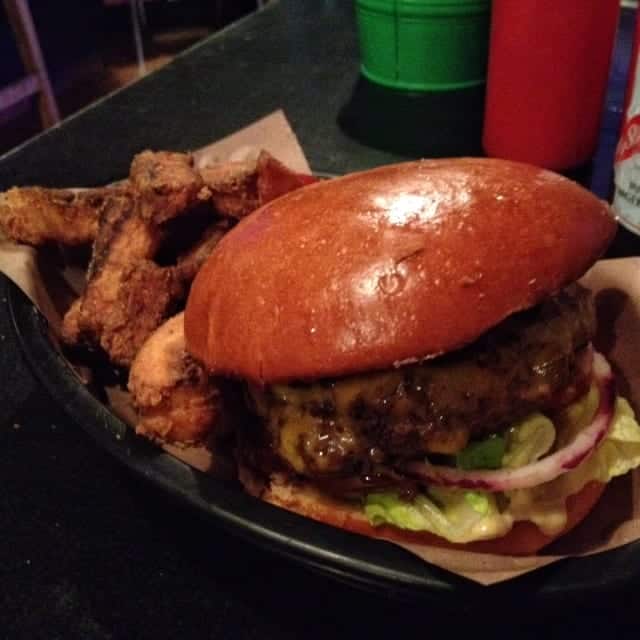 Food: Boom Burger
After several cocktails, it was definitely time for food, and Chris led us to Boom Burger.
I know you're not in a position to evaluate culinary nuances after having a few cocktails — but this may be the best burger I have ever had. Seriously. It had bacon jam on it. BACON JAM. And the fries were plantains. OH MY GOD. I need to get back here.
DrinkAdvisor App: What I Like and What I Don't
The Good: The app is beautiful, well-designed and intuitive — it's a pleasure to use.
Additionally, the written content is excellent. In fact, I'm surprised that this app is free, because it seems like it would take a lot of money to grow and maintain content this good without relying on user-generated content.
The Bad: Coverage is scant in certain neighborhoods. Here in Balham, where I type this, there is only one bar listed within one mile of me, even though there are two bars within a one-minute walk of my flat and several more in the neighborhood. It seems like this would work better in busier neighborhoods.
A few of the bars I visited in Notting Hill were marked incorrectly on the map. I kept going to the wrong place and using Google Maps to navigate. (Note: I brought this up with the DrinkAdvisor team. They tell me that they are aware of this problem, asked me which bars were marked incorrectly, and they plan on fixing it today.)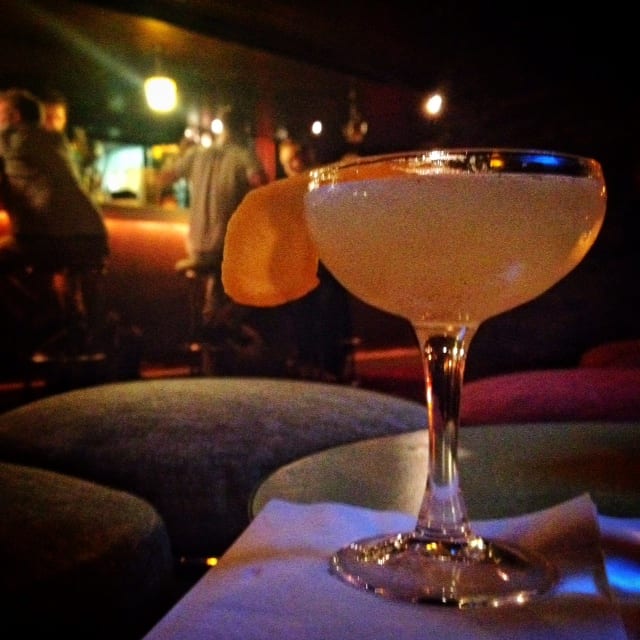 The Takeaway
DrinkAdvisor is a fun app and I know I'll be using it again as I explore more neighborhoods in London and the cities that I plan on visiting next, including New York and Athens.
And if you're up for a good night out, Notting Hill is a fabulous neighborhood. 😉 While all the bars were great, I was most surprised by Trailer Happiness. What a unique place!
Should you download DrinkAdvisor? Absolutely! It's free; there's no reason not to! Try it out for yourself and see how you like it. I'd love to hear what you think.
Where's your favorite neighborhood for a bar crawl?
Get email updates from Kate
Never miss a post. Unsubscribe anytime!