Adventurous Kate contains affiliate links. If you make a purchase through these links, I will earn a commission at no extra cost to you. Thanks!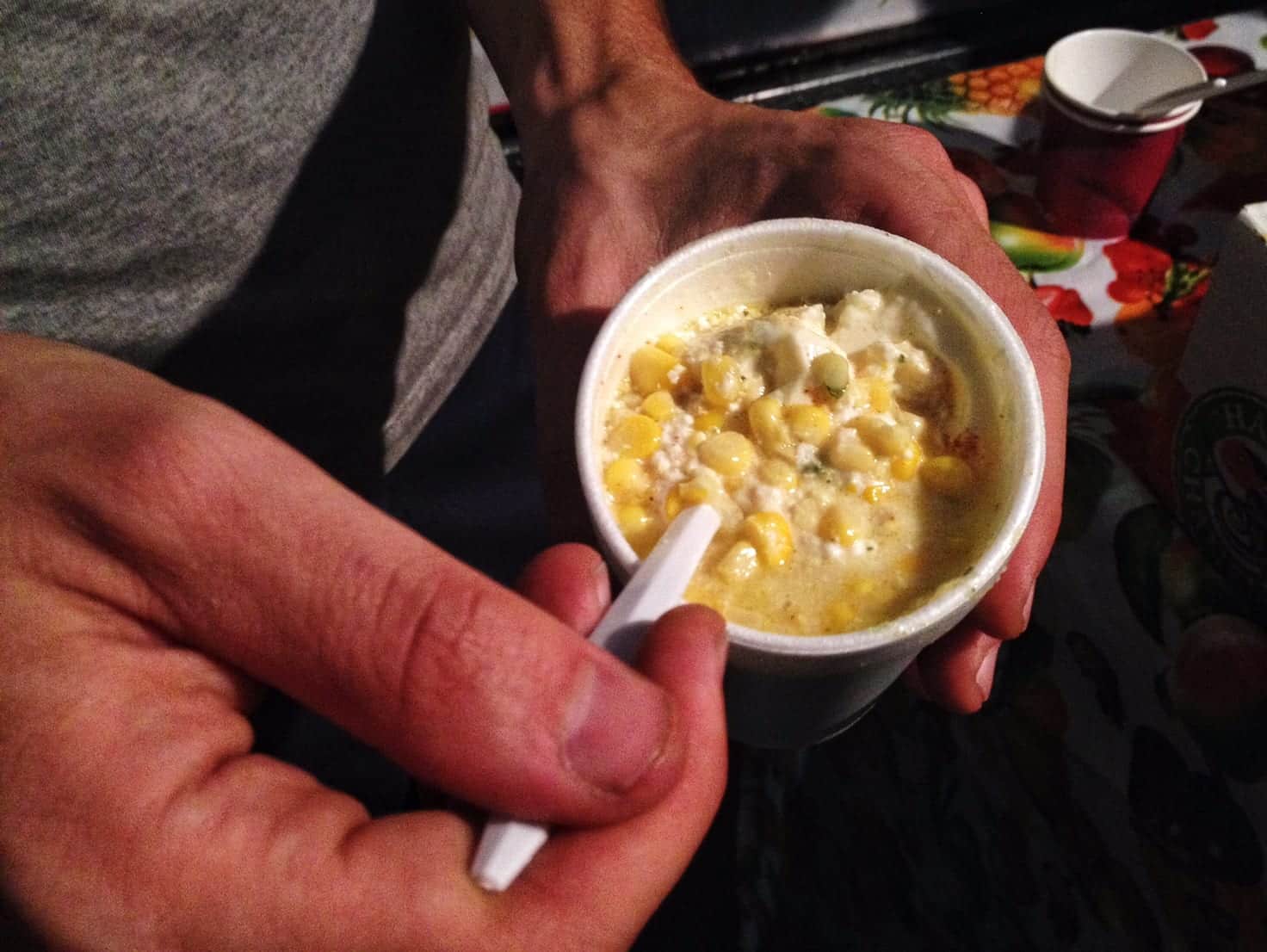 New York has become one of my bases over the past few years. With so many of my friends living there (as well as a sister who doesn't mind putting me up on her couch), I'm spending more and more time in the city, and with that, looking for new and interesting things to do on my visits.
One activity that I had been wanting to do for years? A Queens street food tour by Jeff Tastes. And somehow I kept pushing it until a future visit.
After hearing me talk about the tours forever and never actually booking one, my sister Sarah and her boyfriend Zack surprised me by booking the three of us on the Midnight Street Food Crawl for my birthday present. What a perfect gift!
In my past few years of travel, food has gone from a hobby of mine to a full-fledged obsession. From watching a giant tuna being theatrically butchered in the middle of a restaurant in Kyoto to hunting for truffles with dogs in Emilia-Romagna to planning an entire Southern USA road trip around what I would be eating, my greatest travel experiences (and memories) have been shared through food.
But there's one big gap in my food knowledge. When I can talk about Asian or European food for hours, I barely know anything about Latin American food. The only Latin American countries I've been to are Mexico and Argentina (I plan on changing that this winter!) and the only Latin American cuisine that I know well is Mexican.
This tour changed everything. I left with knowledge of food not only in Mexico but Ecuador, Colombia and the Dominican Republic.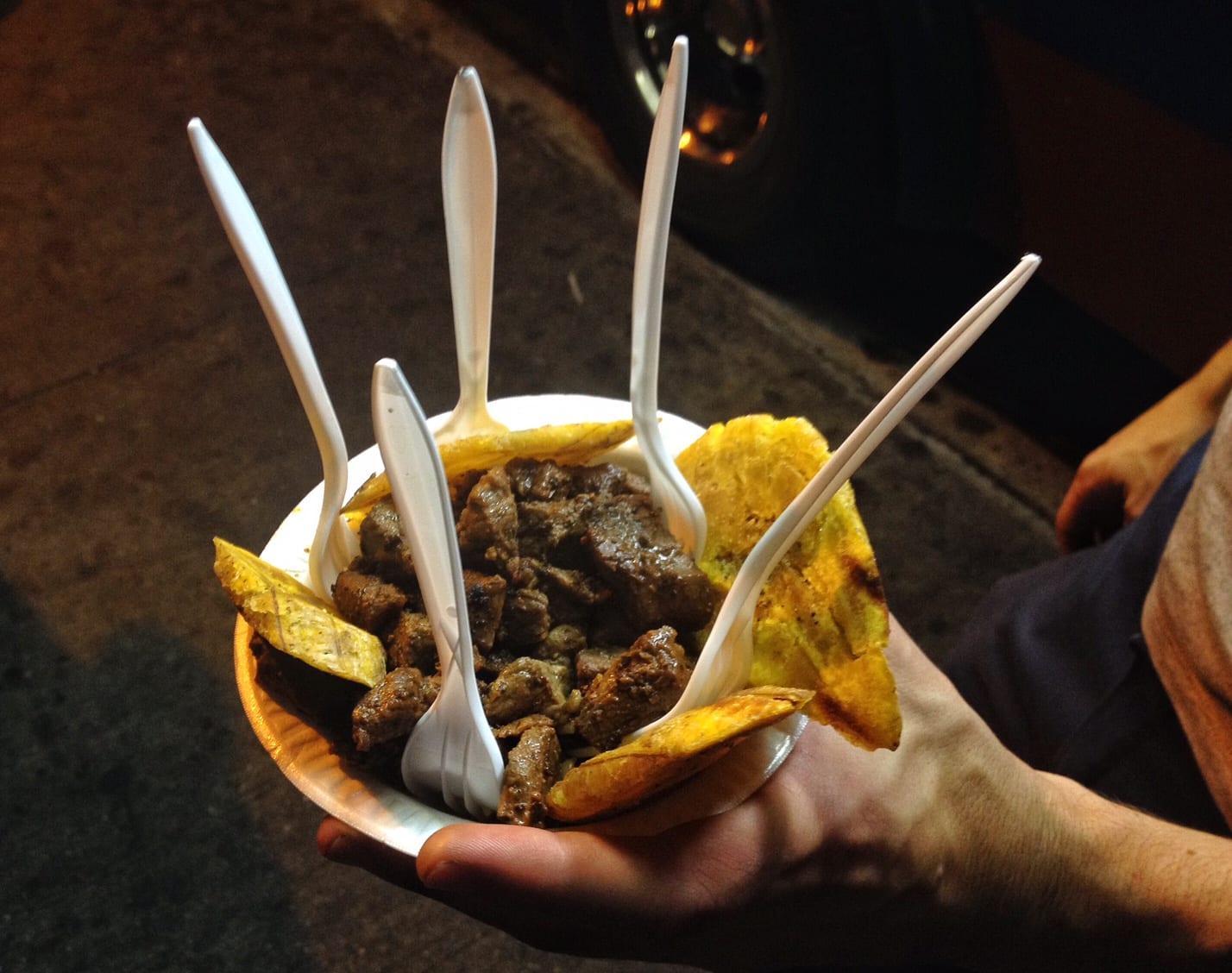 The Midnight Street Food Crawl
Jeff's tours are informal — right away, he feels like that foodie friend of yours who just wants to take you around his neighborhood. (Which it is. Jeff lives here and knows it like the back of his hand.) Jeff picks out whatever food looks good and every tour is a little bit different. About eight dishes are included on the tour, but if you want to get more on your own dime, you're welcome to do so.
Jeff took us to street carts, food trucks and takeaway restaurants in Jackson Heights and Corona. We learned about New York's strict food cart laws and how some people are, shall we say, interpreting them creatively. At one point, we were invited into an art-deco-theater-turned-church where a service had just finished.
Throughout the night, Jeff introduced us to the different vendors and chatted with the other customers about what they were eating today. At one point, Jeff even argued with one local who said he didn't like Muslims ("Why? They're not bothering you! They're not bothering you!").
Some of the treats we ate on our tour: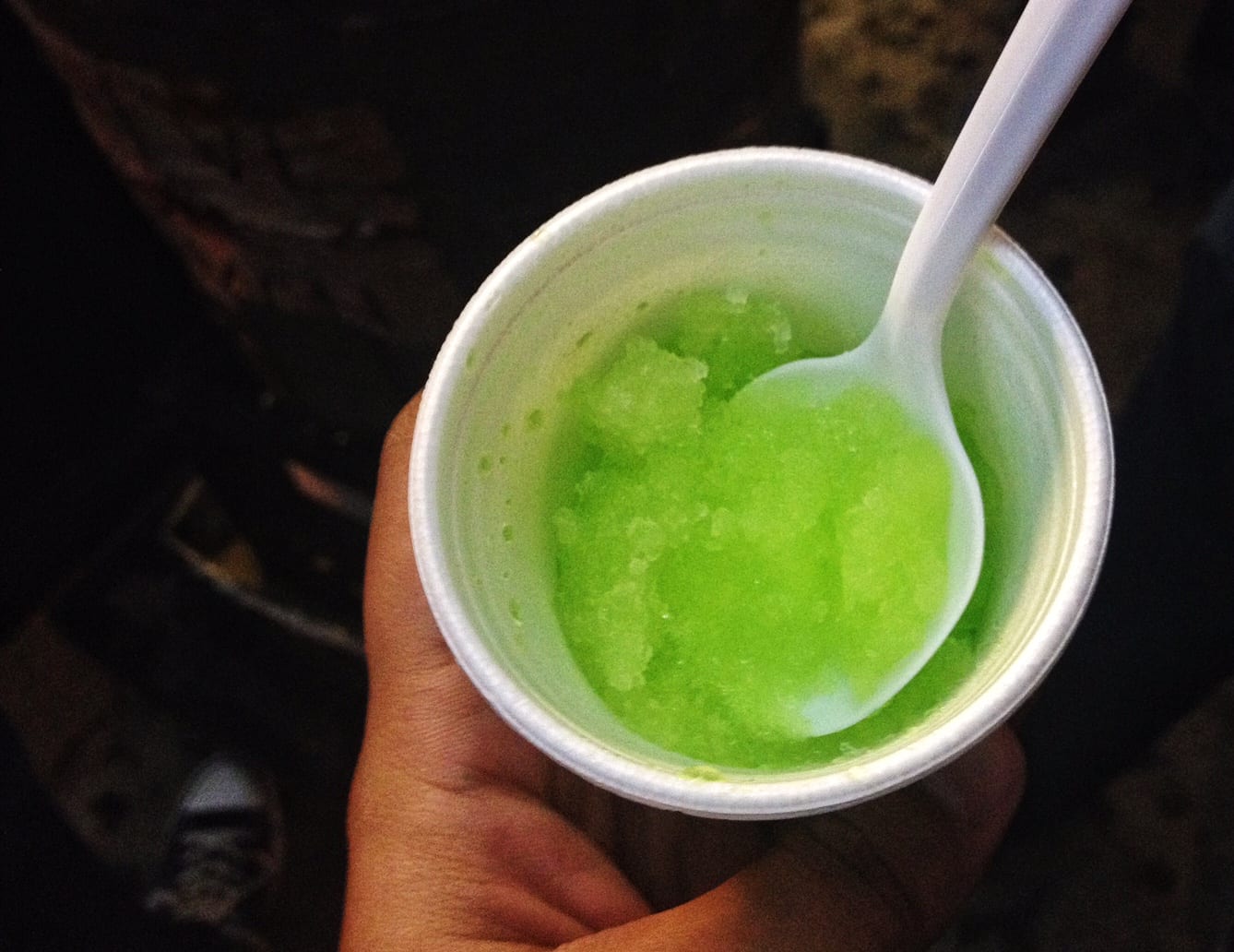 Why not start with dessert? The first treat of our crawl was limon nieves, a Mexican lemon slush.
Carnitas tacos are one of my favorite things, ever, and this one was the best I've ever had. Carnitas is seasoned pork cooked in lard or fat for a few hours until tender and served with tortillas.
You think bacon is candy? Wait until you try carnitas. Hoo boy.
"When you see the word quaker, what do you think?" Jeff asked us.
"Oats?" I guessed.
"Yeah. Quaker is passion fruit juice made with oats."
I know it sounds weird, but believe me, it was delicious. Bright and refreshing with a slightly textured feel.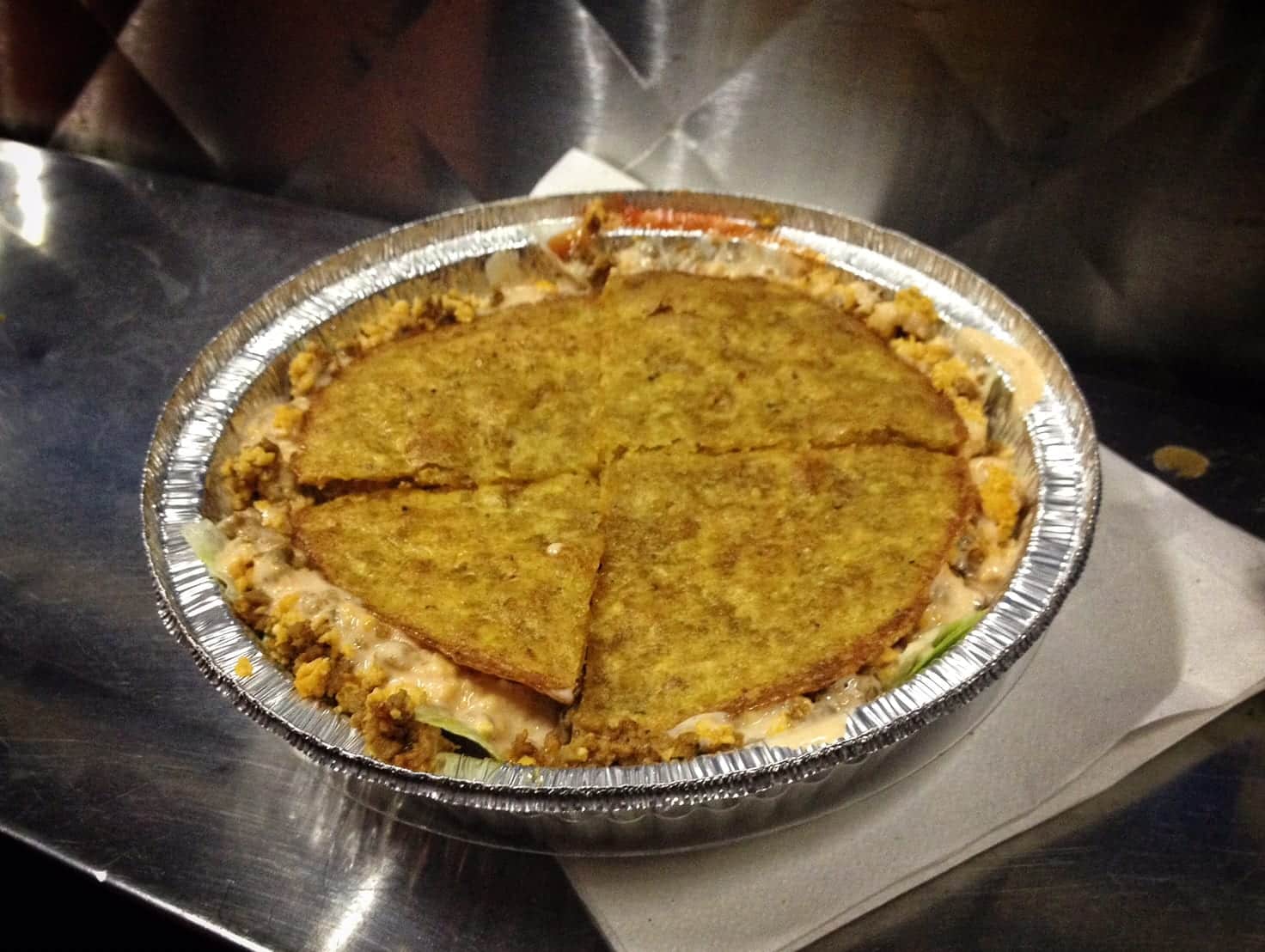 If you had to make a sandwich without using bread, what would you use instead? If you're Dominican, you mash and fry plantains into patties and use them to surround a pile of meat. This is a patacon and as much as it felt like a heart attack on a plate, was it ever delicious.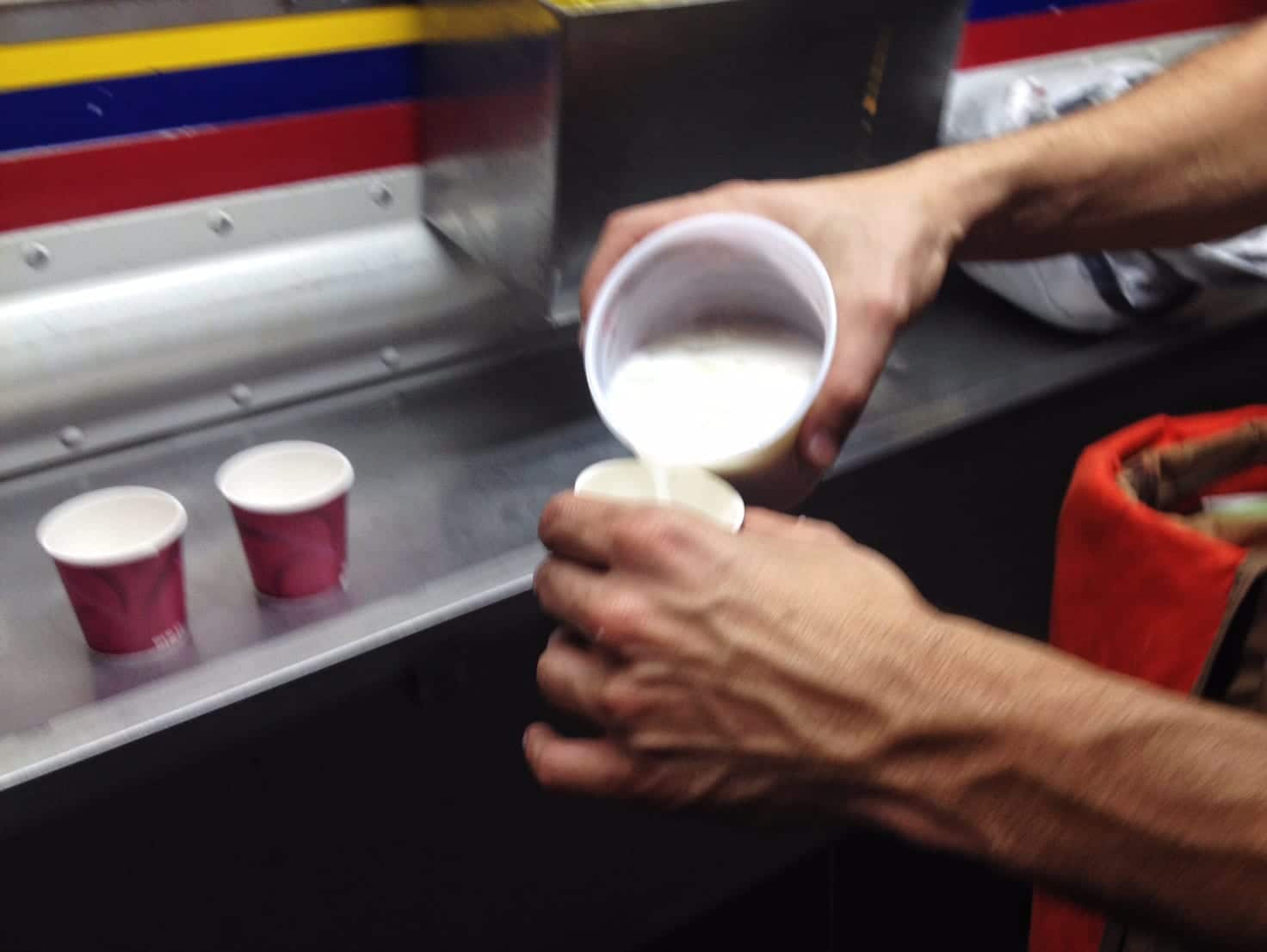 When it comes to coconuts, I'm used to just sticking a straw in a coconut and sipping it plain. At an Ecuadorian food truck in Corona, their coconut juice was filled with LOTS of sugar. OH SO SWEET AND GOOD. And now I can't go back to plain coconuts again.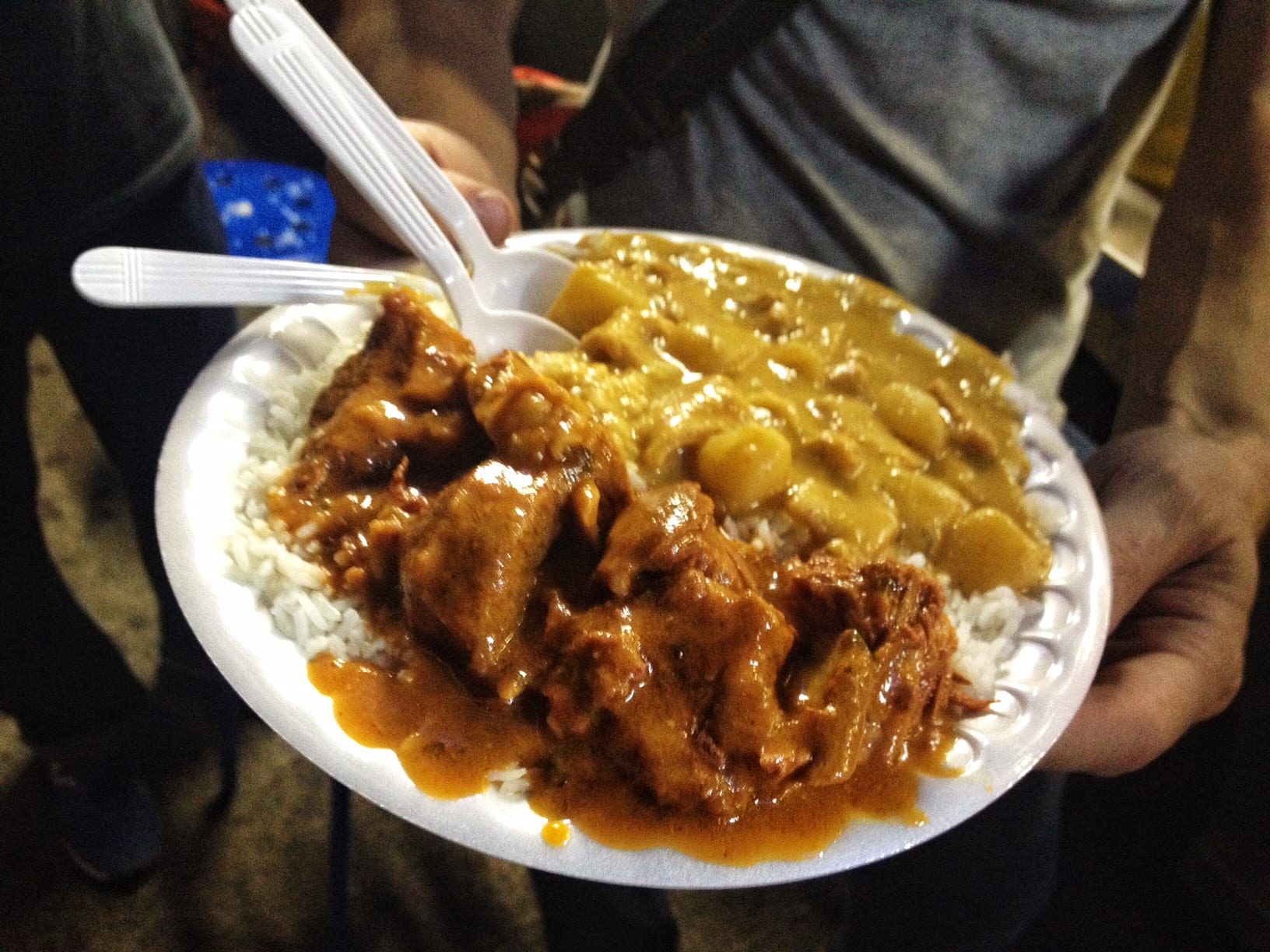 Ecuadorian seco de chivo (goat stew) and guatita (peanut-based tripe stew). I'm putting guatita into the category in which haggis and paté fall — it's really, really good if you don't think about what you're eating!
Jeff lugged along a bag filled with forks, spoons, and cups, dividing everything into fourths (the fourth member of our tour was a friend of Jeff's, a foodie and longtime New Yorker originally from Japan — he and I had a LOT to talk about!).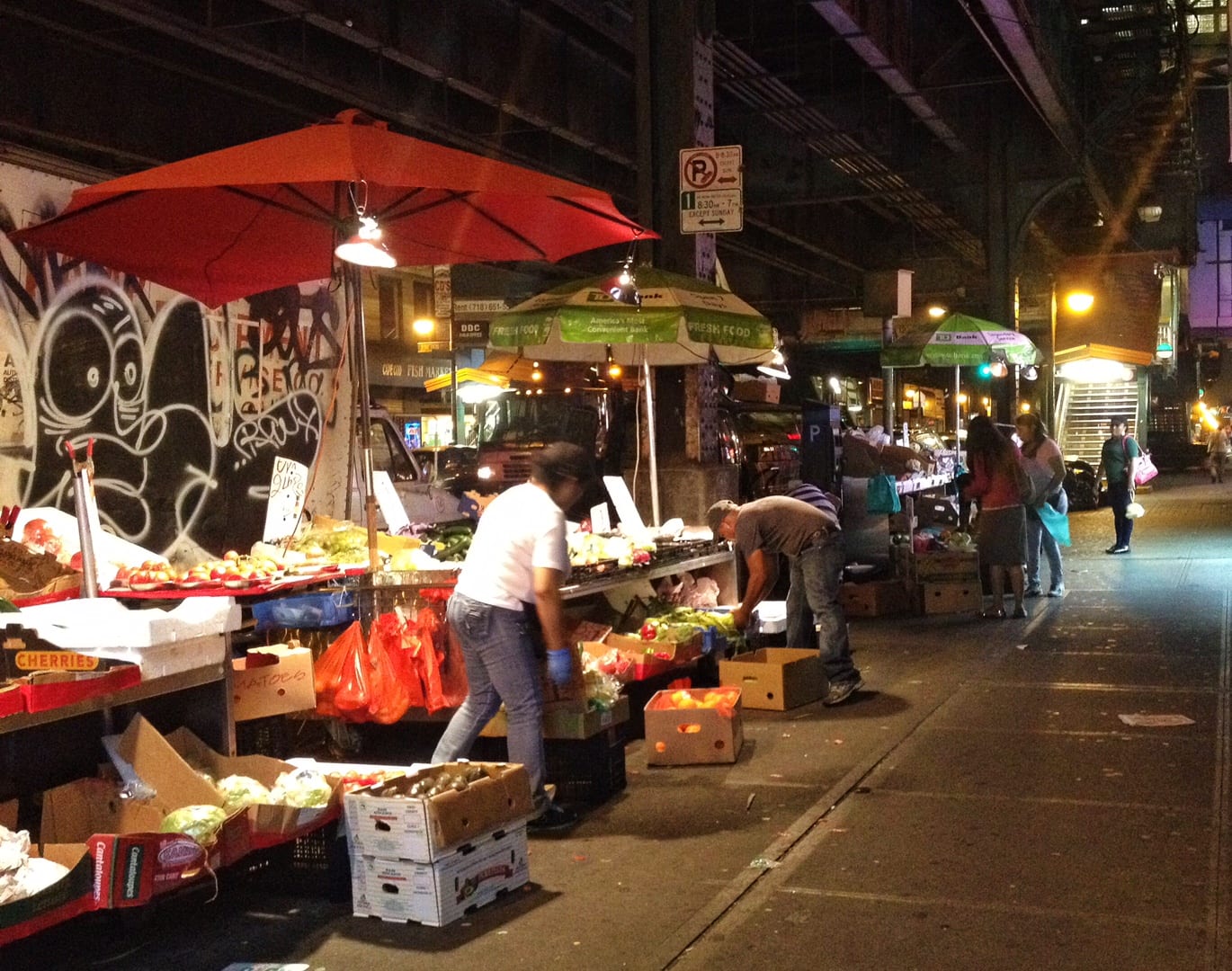 On New York Today
I feel like New York is becoming increasingly scrubbed up these days. Prettier, cleaner, far more expensive. Gentrification reigns as the rich spill beyond Manhattan's borders, taking over neighborhoods in Brooklyn and pricing locals out of their homes in every direction. And even though anyone who's spent time in New York knows it's far from squeaky-clean, it just seems so different today, especially compared to the fearsome New York of the 80s and 90s.
I feel like most of the travel and lifestyle bloggers who cover New York today focus only on the pretty, the upscale, the expensive — ignoring its less attractive aspects. I know I'm guilty of it. (Call it the Sex and the City legacy. Love it or hate it, that show is still far more influential than anyone ever dreamed it would be.)
There are some exceptions to this, of course, no blog more so than Humans of New York — but for the most part, if you were judging New York based on the blogosphere alone, you'd imagine a gleaming city of brownstones and burnished chrome and adorable food trends, of boutiques and maybe the occasional witty hobo. Not exactly a full-fledged, well-rounded city home to more than just the economically privileged.
This part of Queens was the best antidote. Jackson Heights and Corona are working-class neighborhoods of Spanish-speaking immigrants. It's not that pretty, but the food is simple, delicious, and astoundingly fresh. People stopped at streetside counters and chatted with neighbors as they ordered food. Taking in the late-night Roosevelt Ave. street life as the subway rolled overhead, it felt more like Bangkok or Manila to me than New York.
The Takeaway
I'm so glad I finally got to go on this tour. I feel like Jeff gave me the keys to a new part of New York City. If I had come to Jackson Heights on my own, even with internet research, I would have been a bit lost — but now that I've gotten the lay of the land, I can explore it in greater depth next time (and hopefully hit up some Indian and Himalayan eateries).
You bet I'll be returning to eat my way through Jackson Heights and Corona. One of my friends in New York used to live on the Texas-Mexico border and I can't wait to show her how good the Mexican food is here!
If you're looking for something new to do in New York, especially if you've been focusing on the shiny, upscale side of New York lately, this is a great way to spend an evening.
Essential Info: Jeff's Midnight Street Food Crawl takes place in Jackson Heights and Corona, costs $59 per person and lasts about three hours. Despite the name, it starts at 8:30 PM, not midnight. The cuisine on this tour is Latin American.

Jeff runs another tour: Queens Tastes of the World, which also costs $59 and lasts three hours, but it takes place during the day in Jackson Heights, Elmhurst, and Woodside, covering cuisines from all over the globe.

See Jeff's full site here for more information about the tours, the food, and the neighborhoods.

A little bit of Spanish will help you immensely in this part of Queens.
What's the best food tour you ever went on?
Get email updates from Kate
Never miss a post. Unsubscribe anytime!