Adventurous Kate contains affiliate links. If you make a purchase through these links, I will earn a commission at no extra cost to you. Thanks!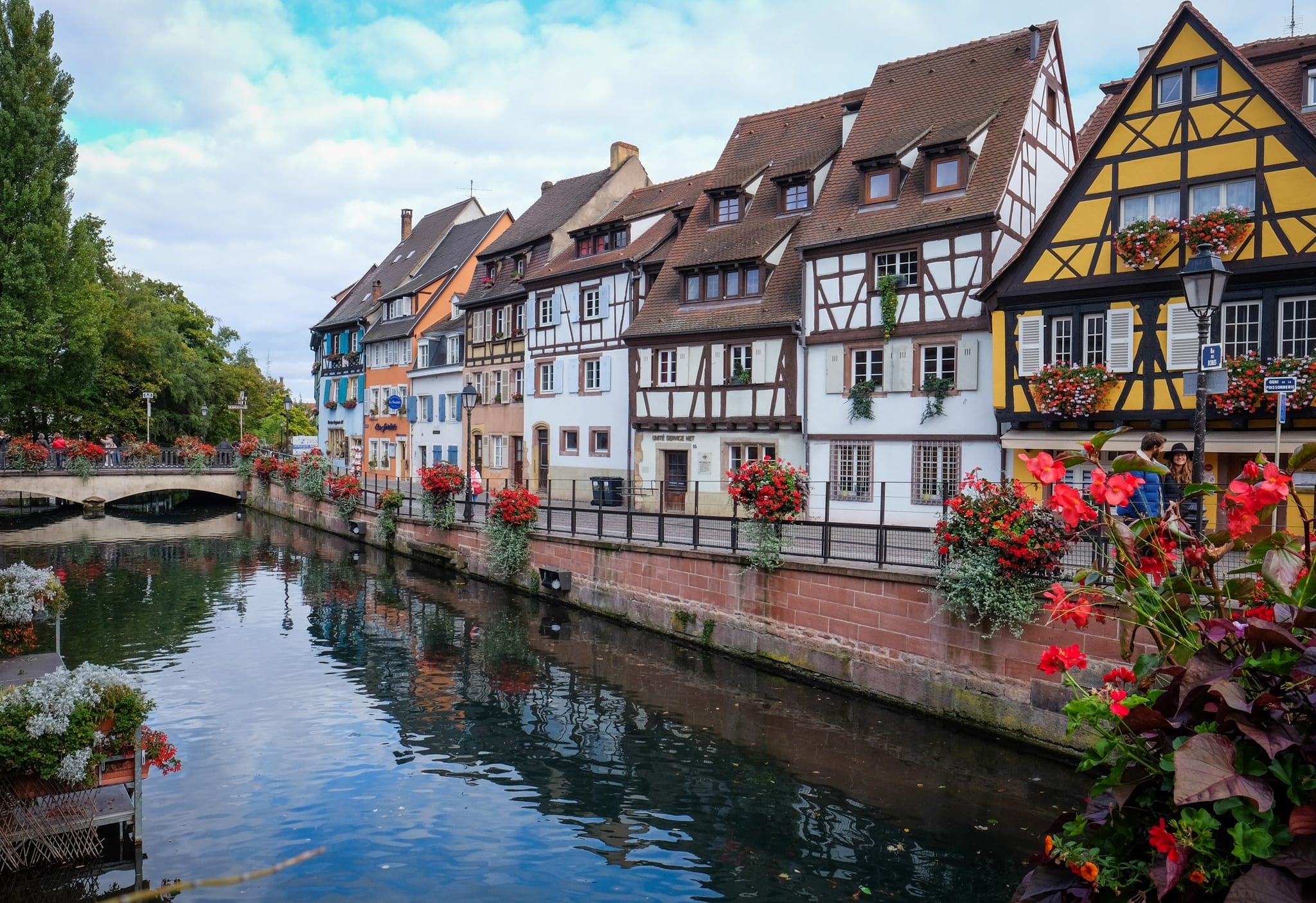 If there's any country that I visit often but need to explore in more depth, it's France. Again and again I overlook other regions in France in favor of spending all my time in Paris, a city I find difficult to resist.
But recently I had an opportunity to see a bit more. There were a few days in between the end of The Video Summit in Leipzig, Germany, and my scheduled arrival in Paris. It seemed like the universe was guiding me here.
To Alsace.
Alsace, France's smallest region, is perched on the edge of Germany and Switzerland on the Rhine River. Alsace has been volleyed back and forth between French and German control for centuries. As a result, you have a beautiful blend of multiple countries.
In Alsace, streets are dominated by half-timbered houses with windowboxes brimming with flowers.
In Alsace, freshly baked baguettes are sold alongside giant pretzels.
In Alsace, the local Alsatian language is endangered, primarily being spoken by older residents.
In Alsace are LOTS and LOTS of older foreign tourists — my guess is many of them are on a Rhine river cruise.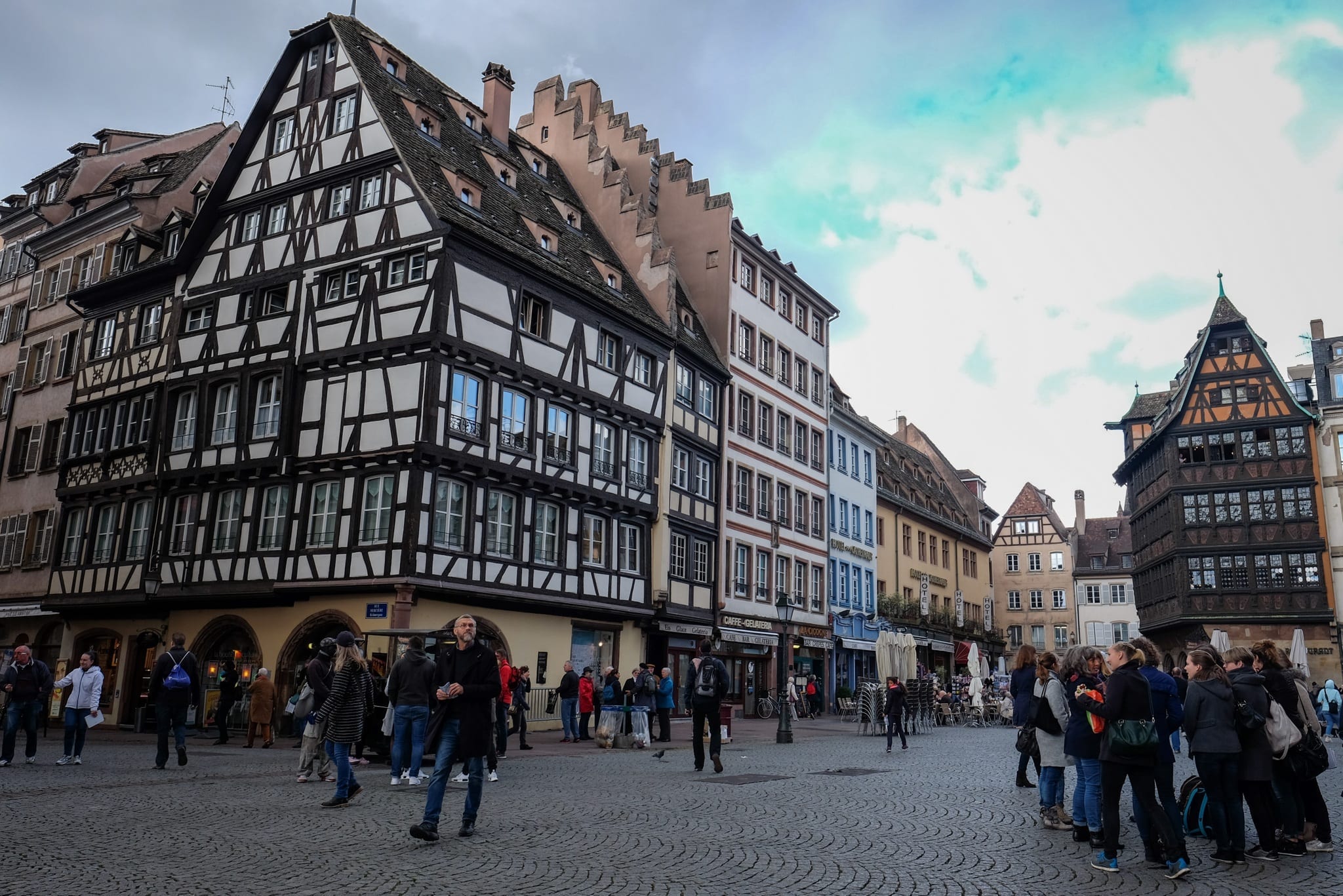 Strasbourg
I arrived late in Strasbourg, the culmination of two trains, a bus, and an ill-advised Google Maps suggestion to walk down an unlit path in the woods on the way to Saarbrücken's bus stop. In other words, I was exhausted and frustrated and there were no cabs in sight.
"I'm sorry, do you know where I can find a taxi?" I asked a local couple in French.
They had no idea. "Why don't you take the tram?" the woman asked. "Where are you going?"
"Close to the train station."
"Then take the next one!" She even showed me how to buy a ticket.
Soon I was whirring across the city on the tram, and in no time I had crossed the city for so much less than what my usual taxi would have cost. It couldn't have been easier.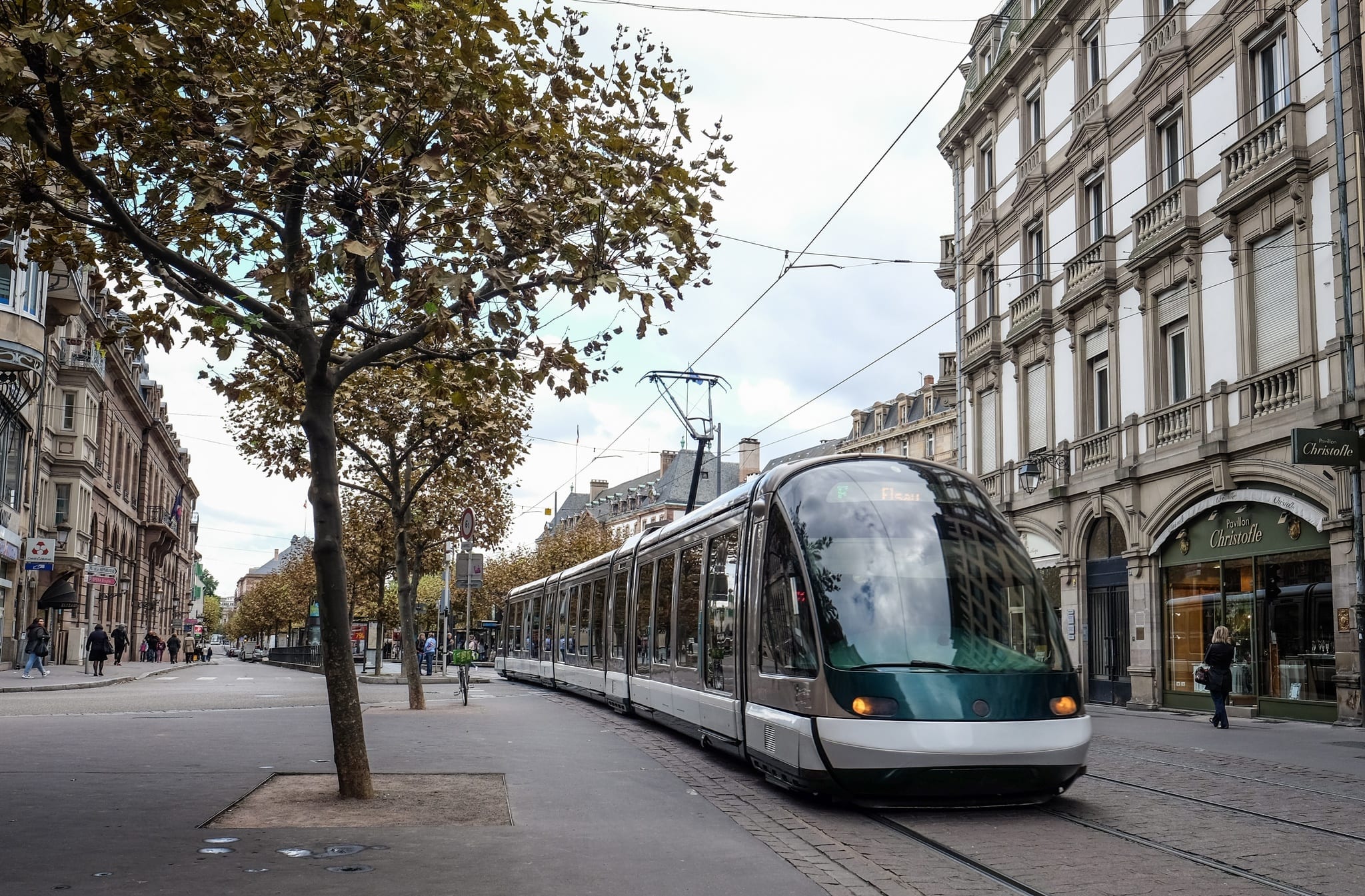 What struck me about Strasbourg was its livability. It was largely walkable, with the tram for longer distances. Flowers bloomed in every direction, even in October. The river was beautiful. And while many European cities turn ugly as soon as the city center ends, the modern sections of Strasbourg were actually quite stately as well. And everyone was so nice!
Strasbourg also has easy transit connections to Paris and all over Europe. And prices were much cheaper than in Paris.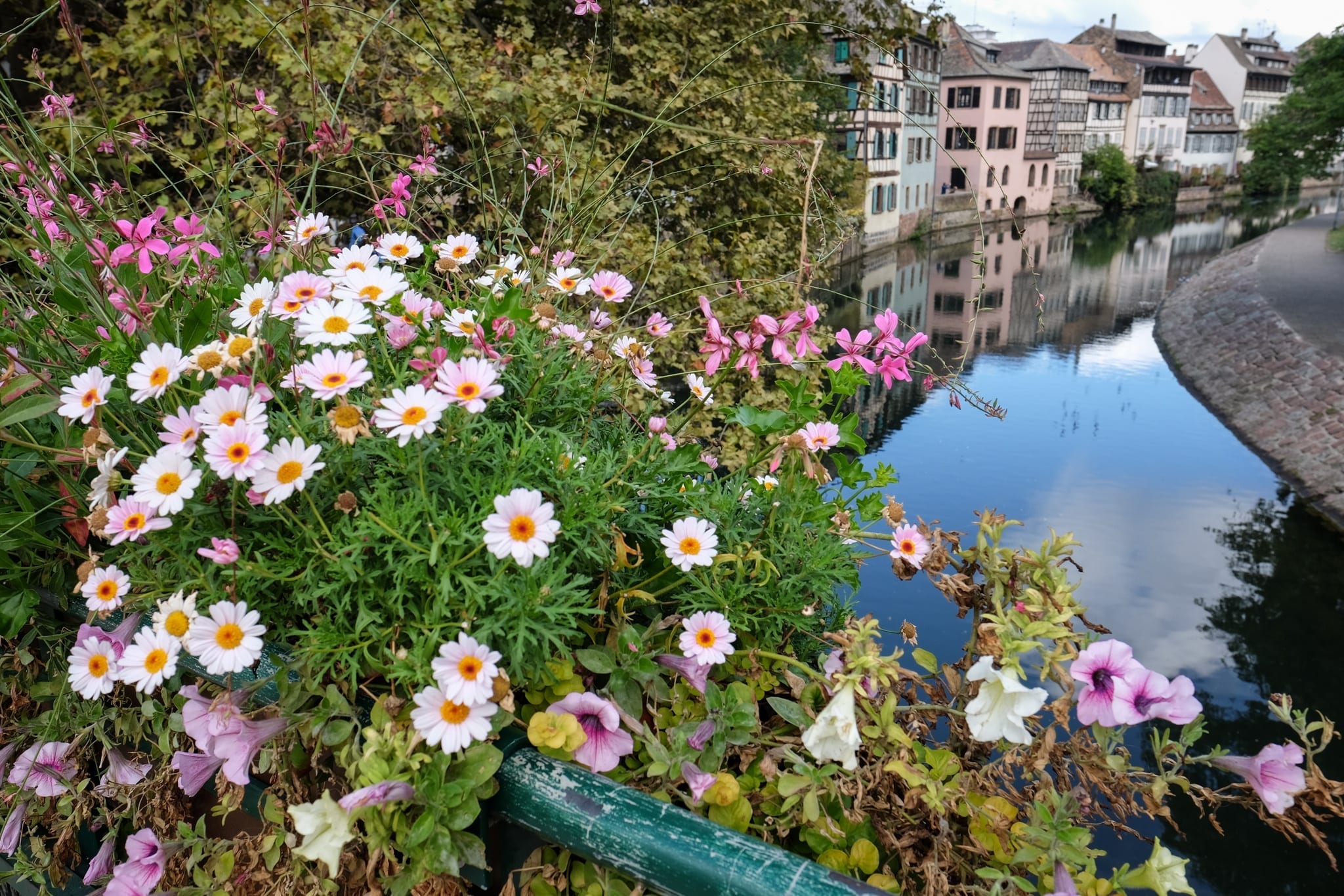 I can't help looking for livability over visitability — my mind automatically goes there. Strasbourg just felt so nice to me — like a good, low-key European city where you could settle down and enjoy the best of France while fitting in as a local, absent from the pressures you might find somewhere like Paris.
Street signs in Strasbourg appear in both French and Alsatian.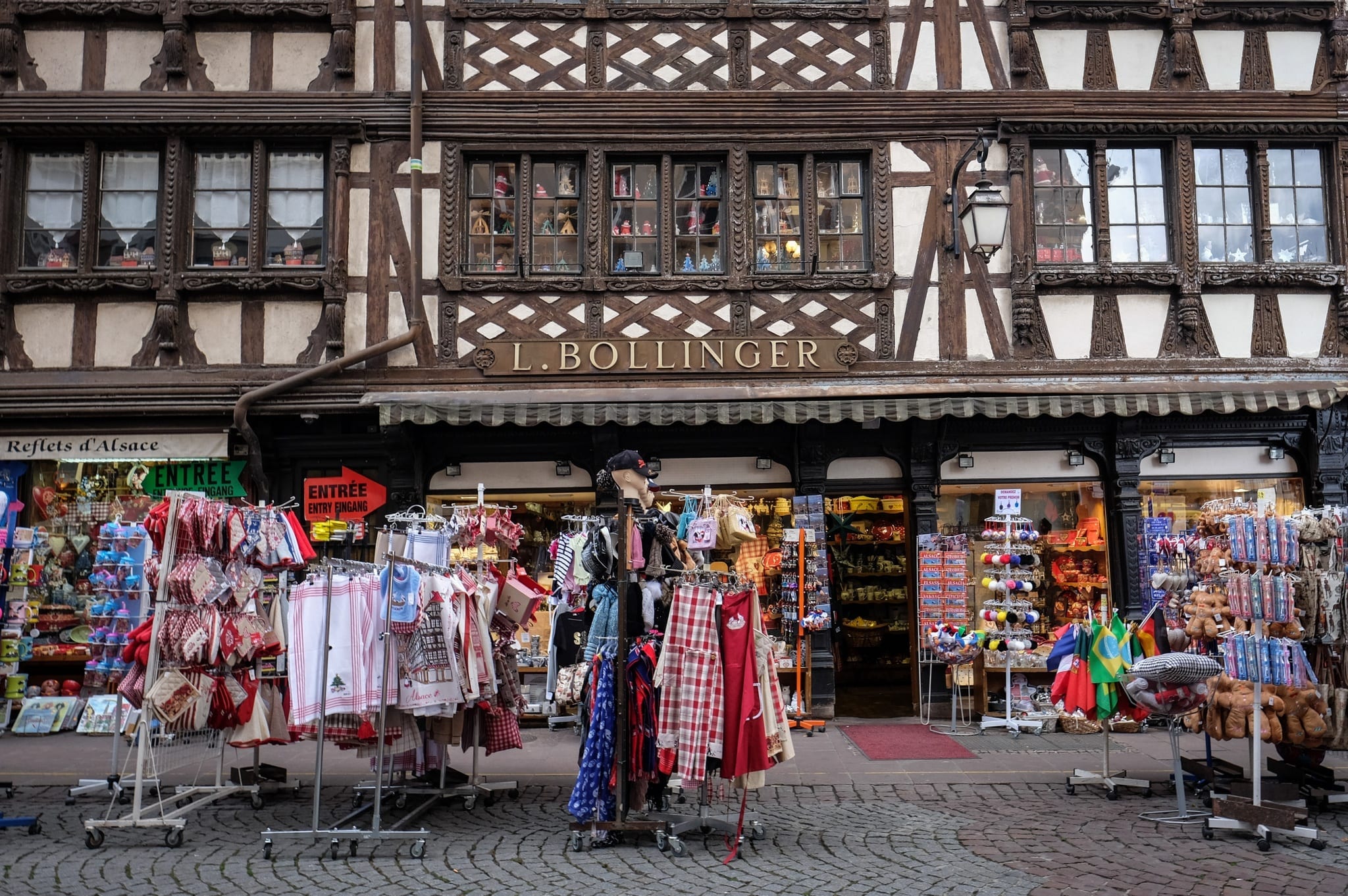 The Petite-France neighborhood holds UNESCO World Heritage designation and is filled with tourists and souvenir shops. But just walk a few blocks away and you'll be surrounded by locals.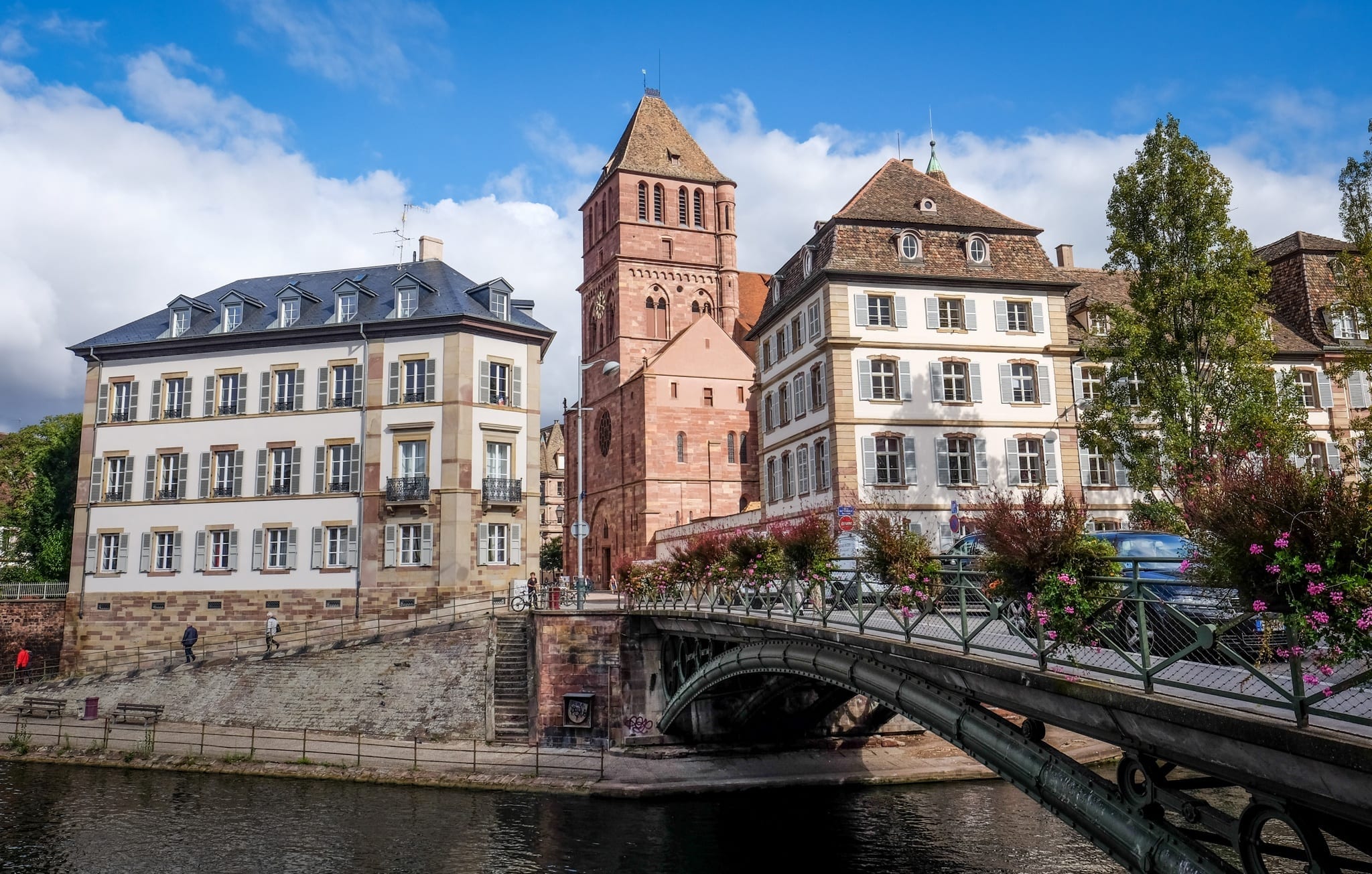 The Rhine snakes through the city, each bridge filled with flowers.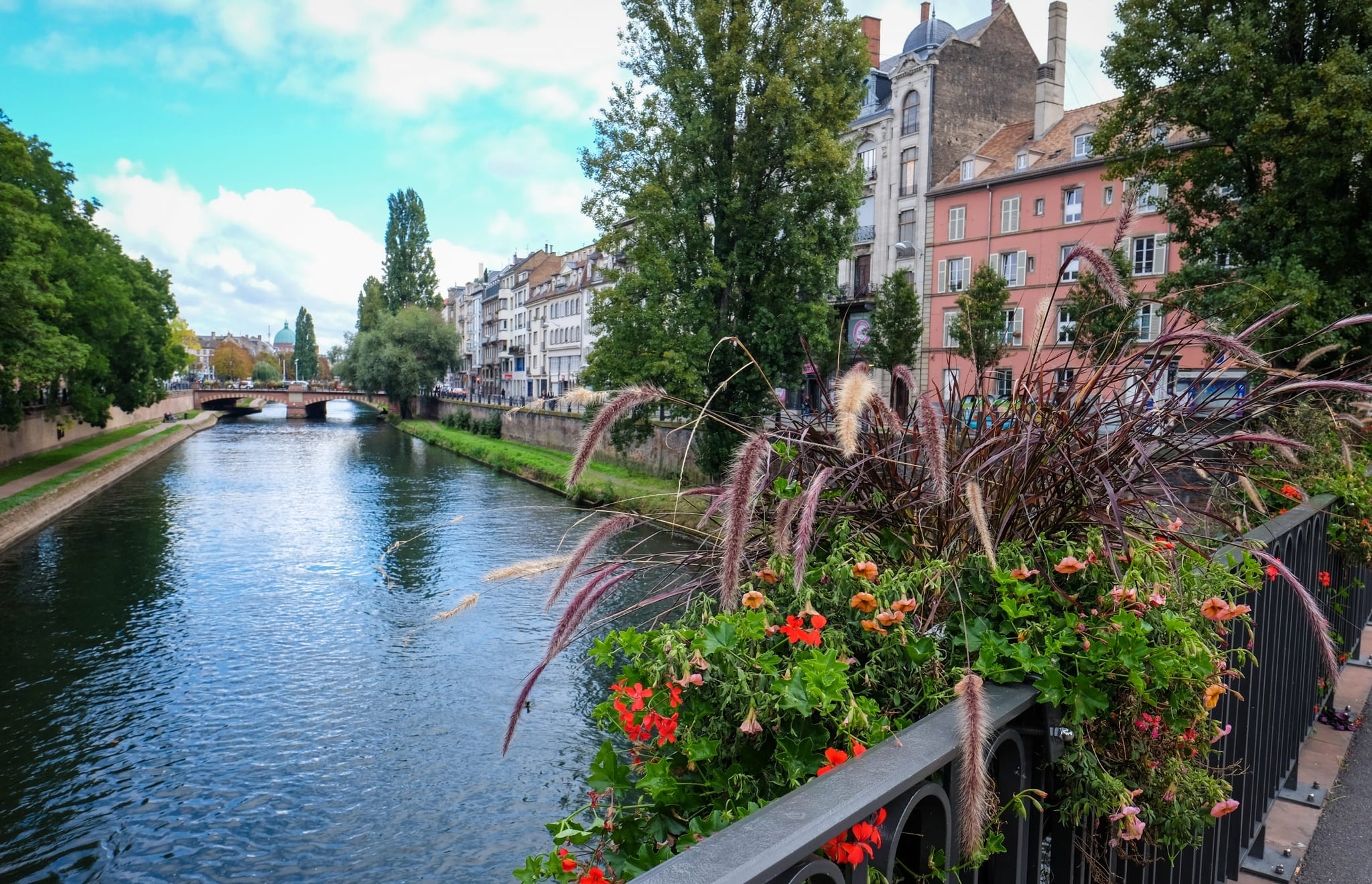 I think I unnecessarily crossed every bridge in Strasbourg just trying to get shots of their flowers.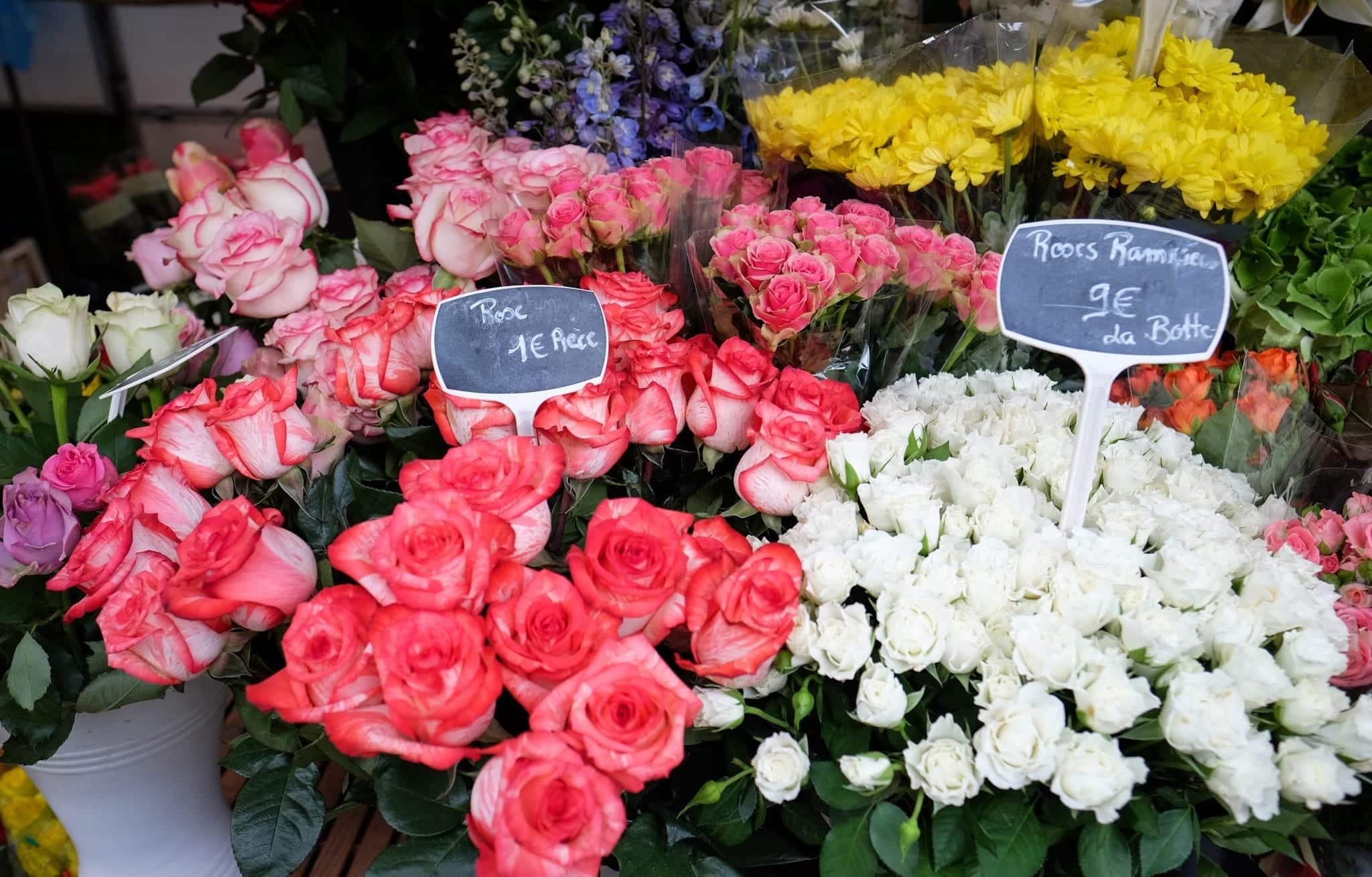 Whether on a bridge or in a vase, Alsatians love their blooms.
Strasbourg made me so happy. As I sat on a bench in a square, eating a goose rillette sandwich with cornichons from a nearby open-air market, my heart swelled. This was everything that I loved about France. And German touches didn't change a thing.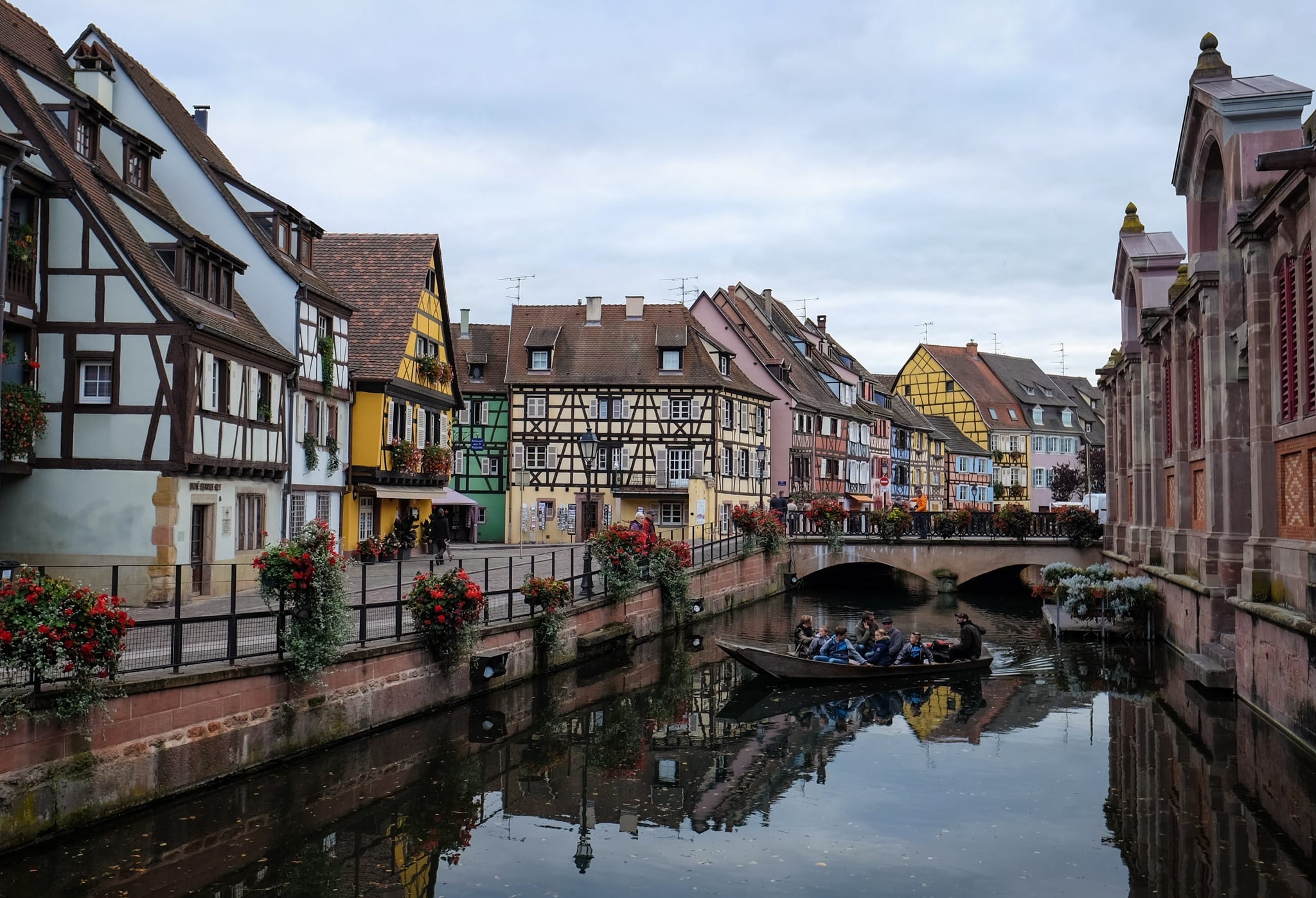 Colmar
Truth? I hadn't even heard of Colmar until fairly recently. Then Matt visited on a river cruise, Amanda visited on another river cruise, and Erin and Simon visited by train for two days. (Who says travel bloggers aren't influential? I wouldn't have gone if not for them!)
If Strasbourg is a revelation, Colmar is pure fantasy. This small town is just 40 minutes away from Strasbourg by train and could be worlds away. Take all of the beauty of Alsace, make it even more colorful, and distill it into a small town filled with canals.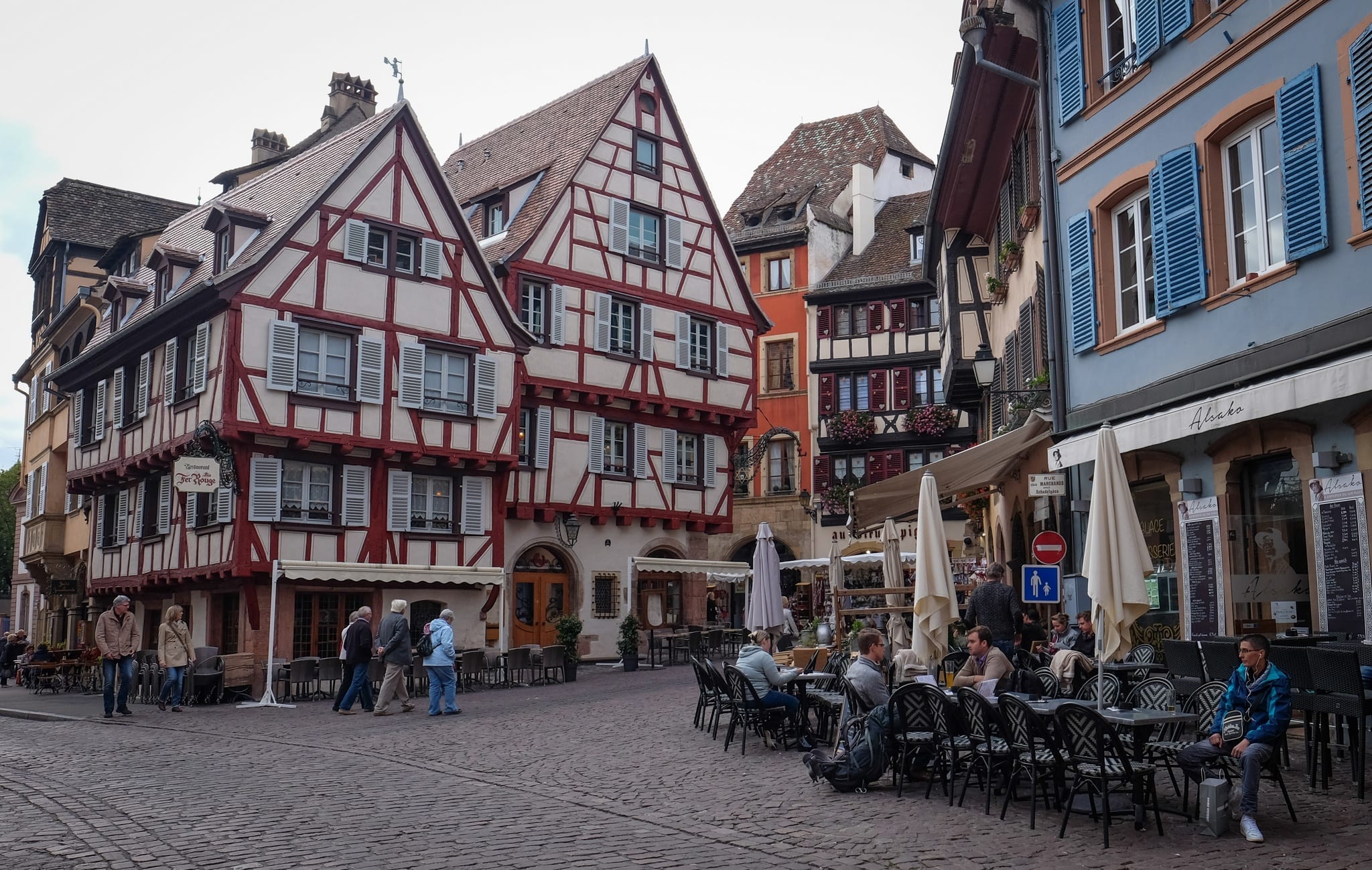 I found Colmar to be more colorful and more densely packed than Strasbourg.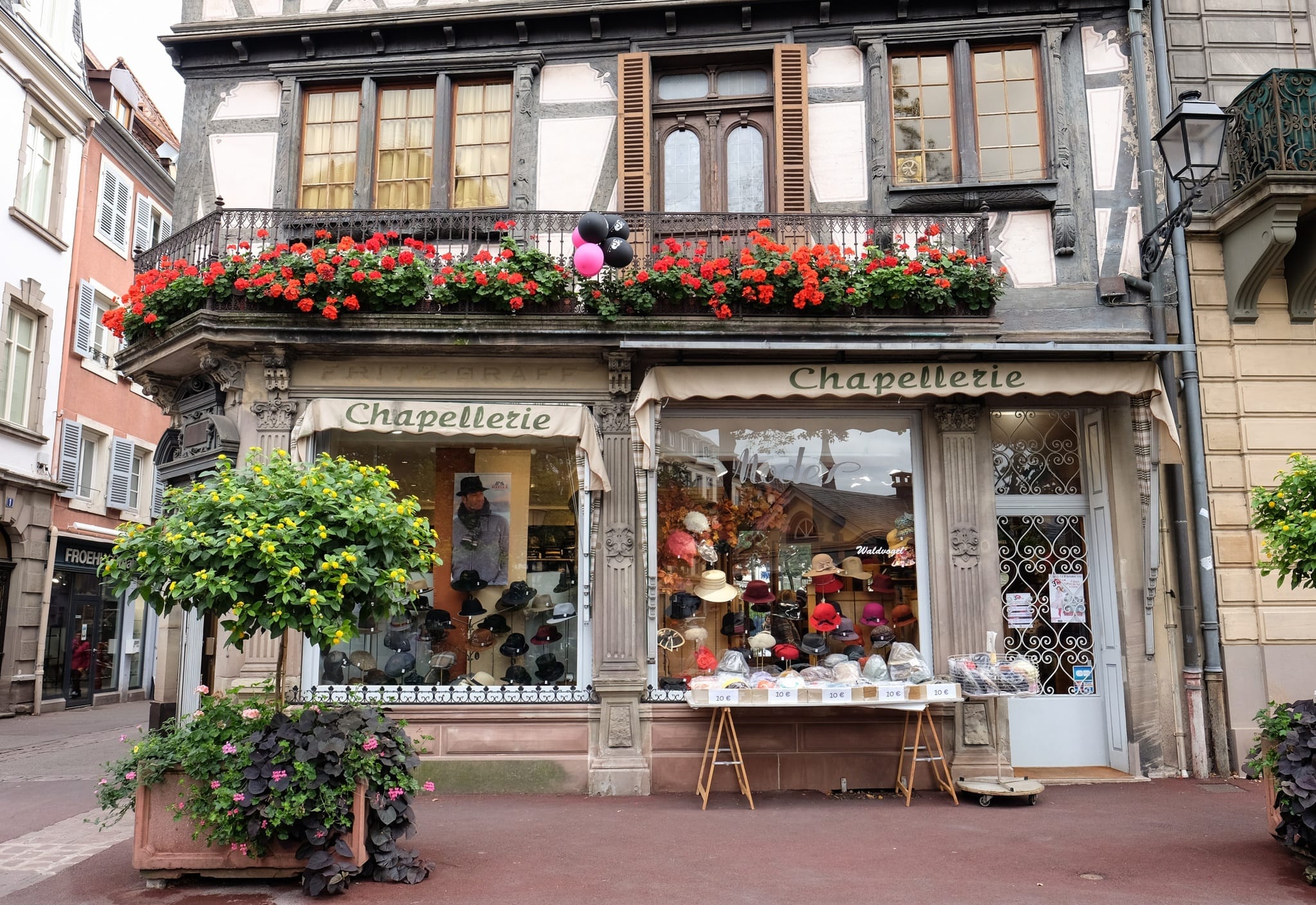 Chapellerie. I love that word — it means hat store!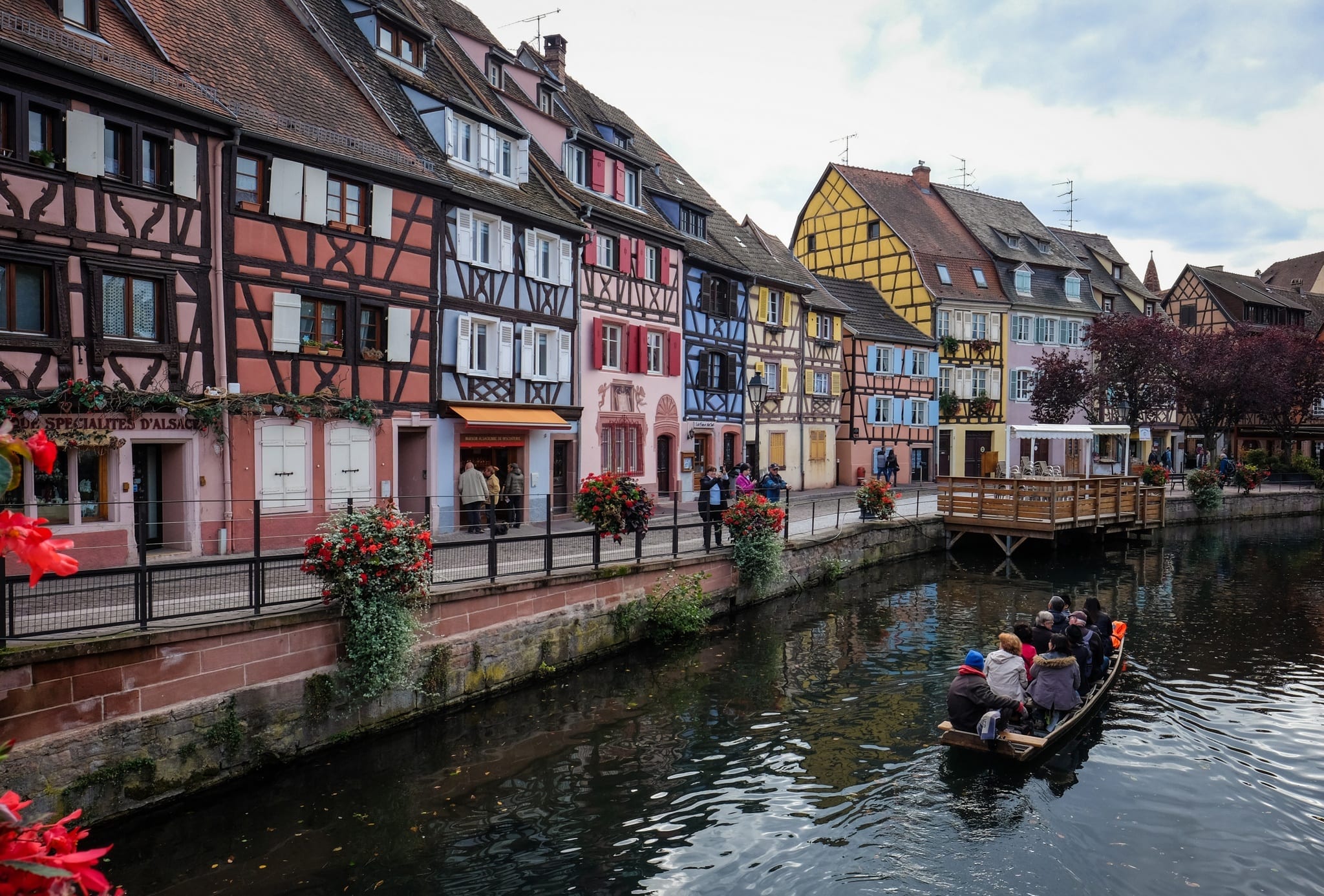 "Greetings from Selfie Point!" I announced on Snapchat. A few Chinese girls were taking selfies in front of this bridge and burst out laughing when I said that. This area is called La Petite Venise — Little Venice.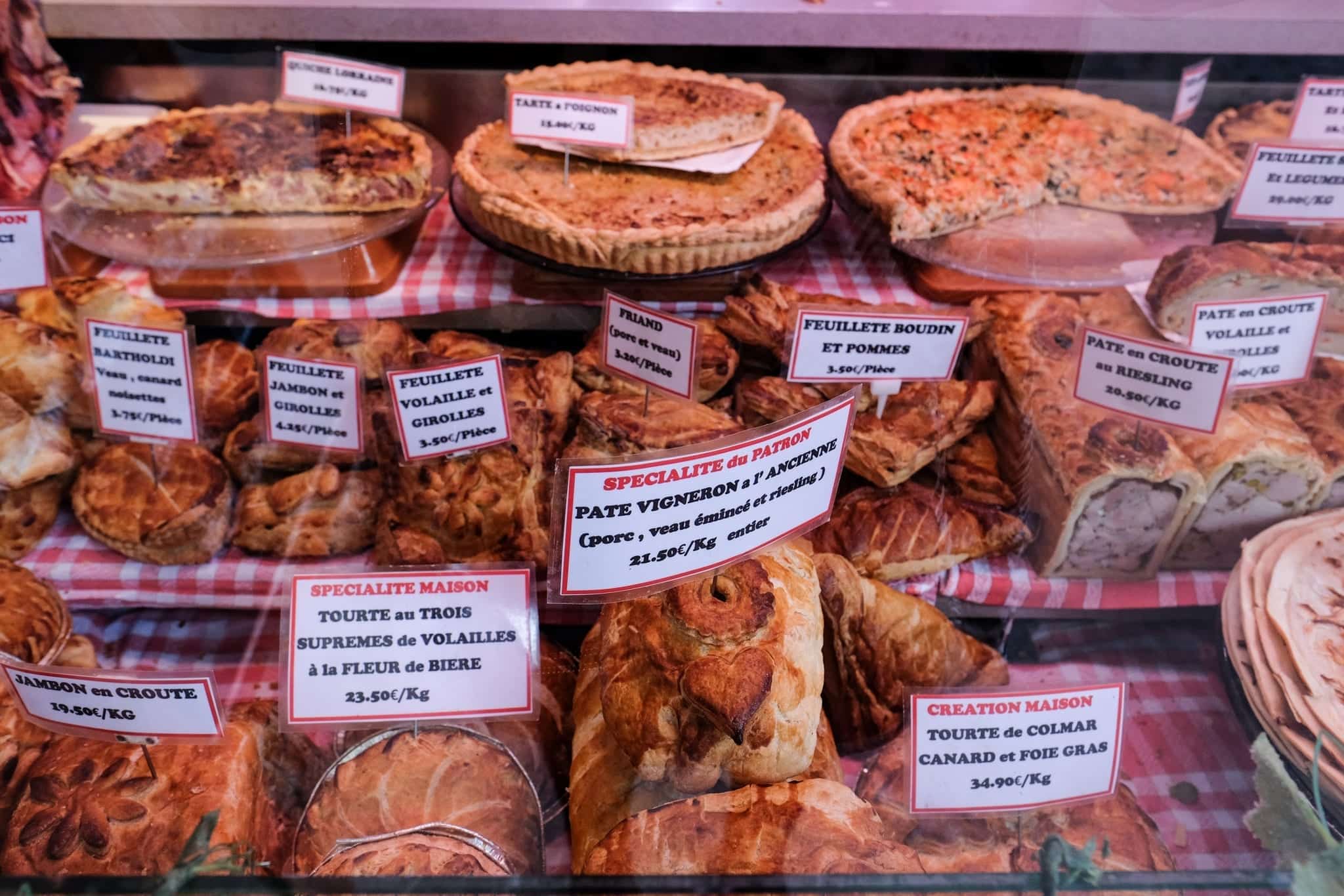 Look at all these specialties at the bakery!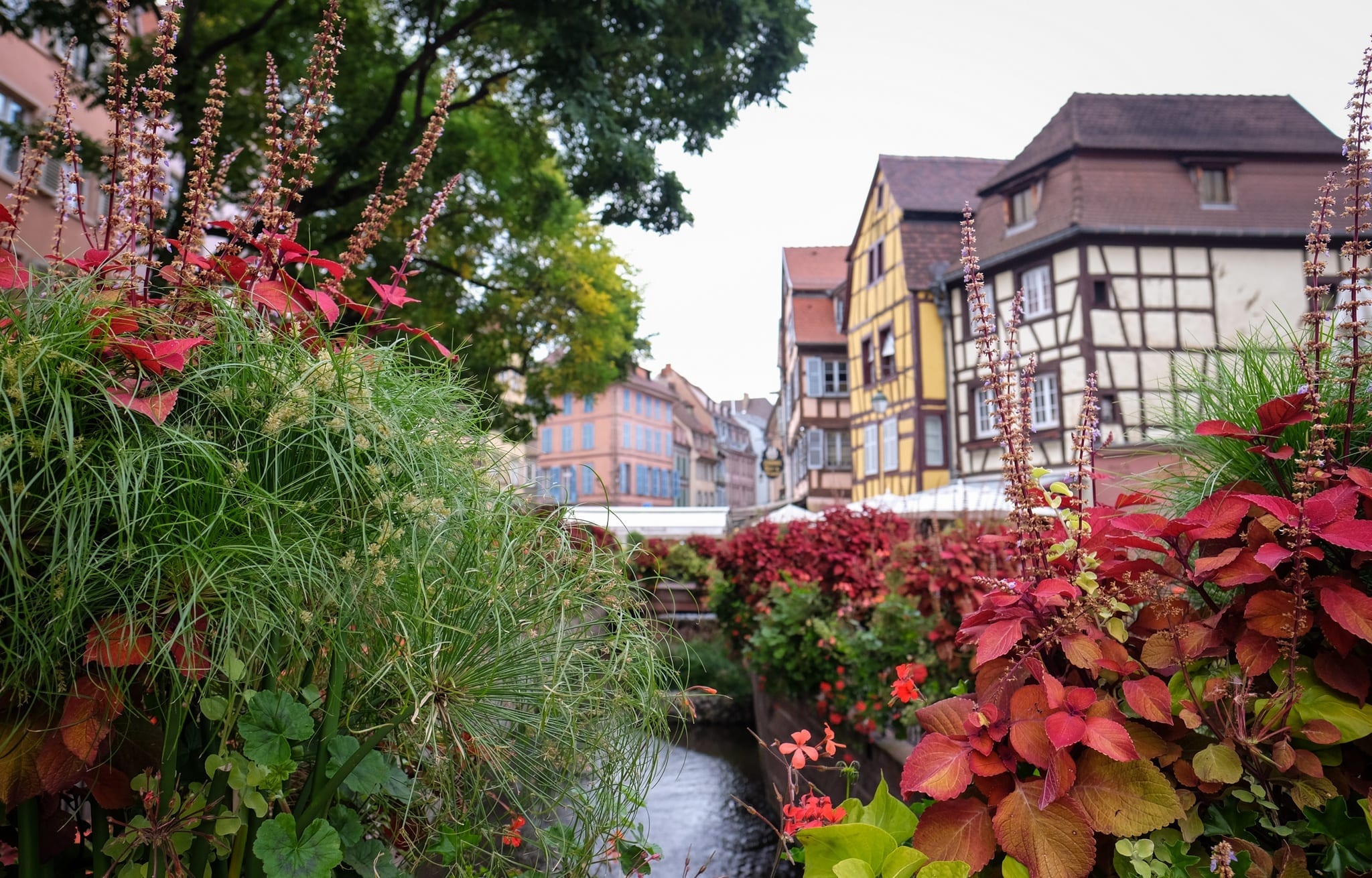 Just like in Strasbourg, flowers spill out of every opening possible.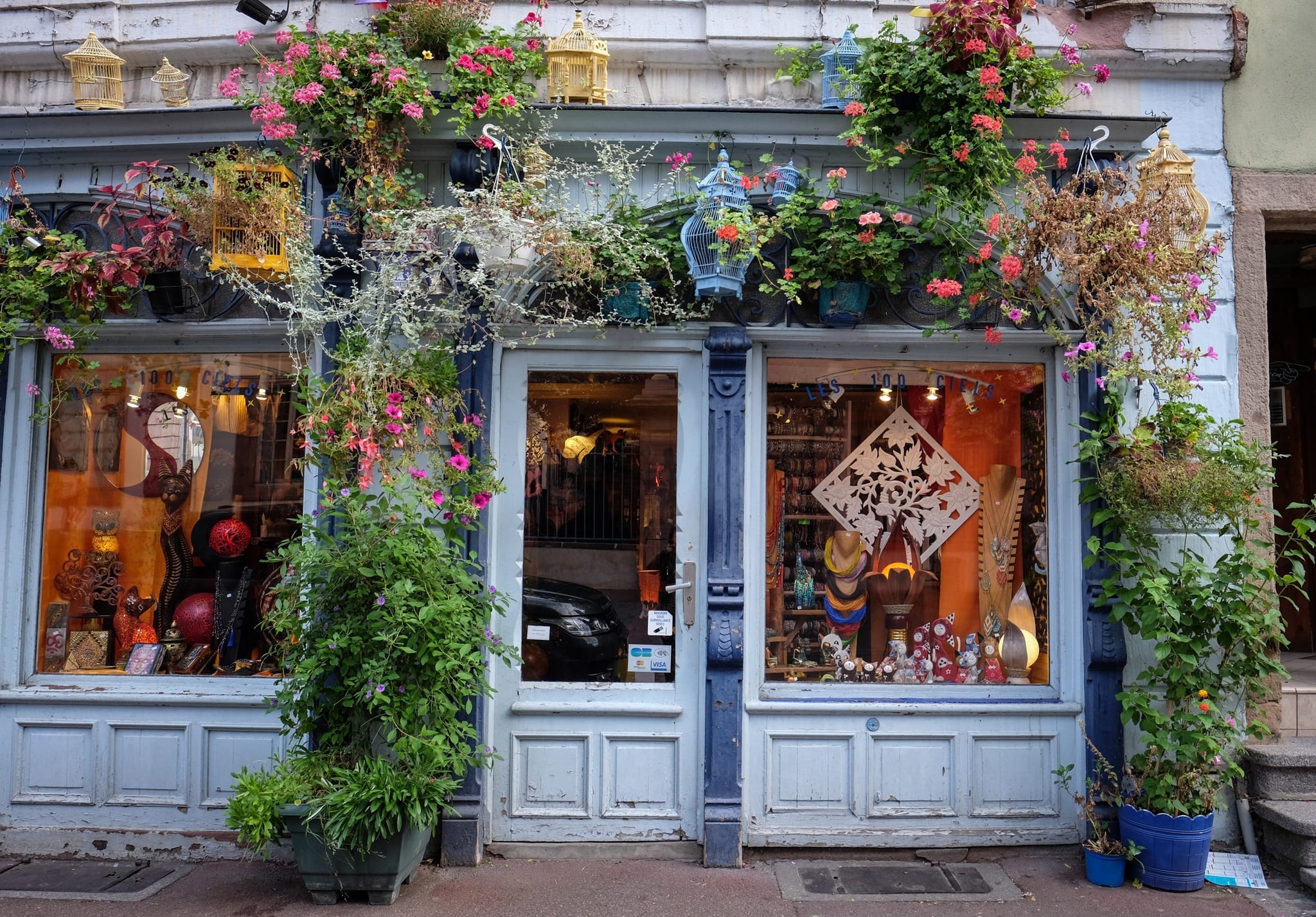 This doorway is amazing.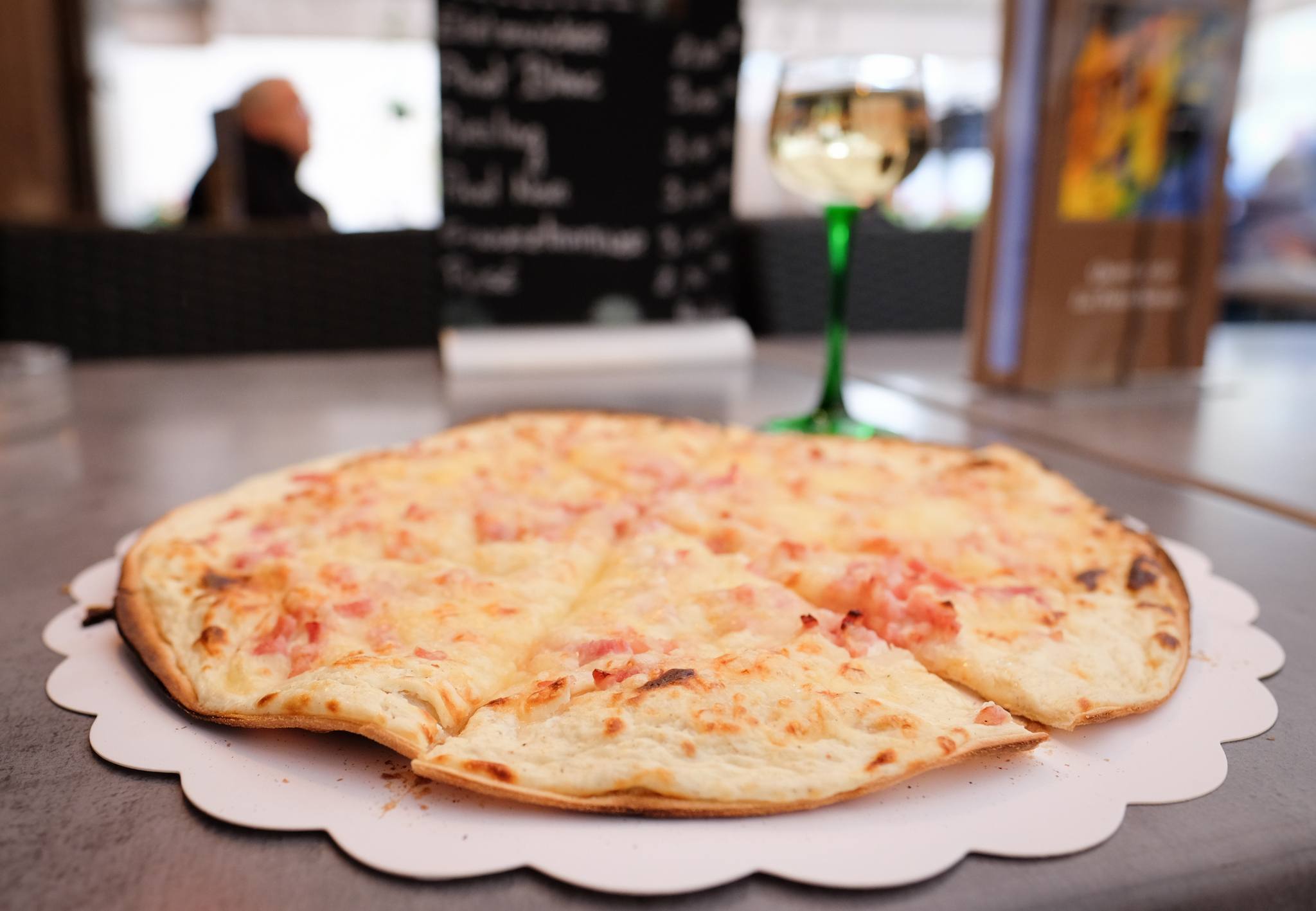 I had to have the most famous Alsatian dish — a tarte flambée! This flatbread is covered with bacon, onions, and lots of cheese, paired with a local Pinot Blanc.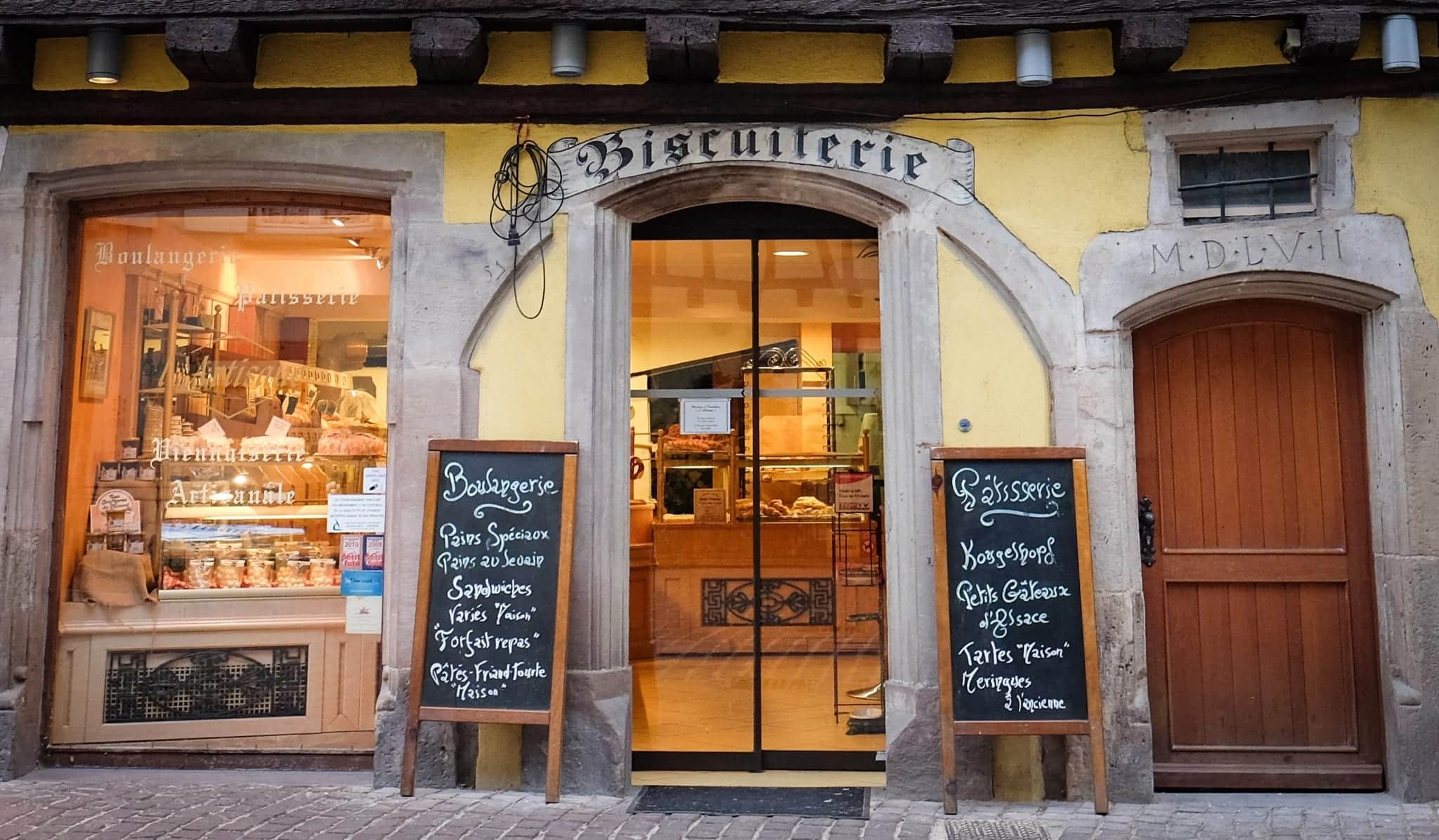 French or German? You decide!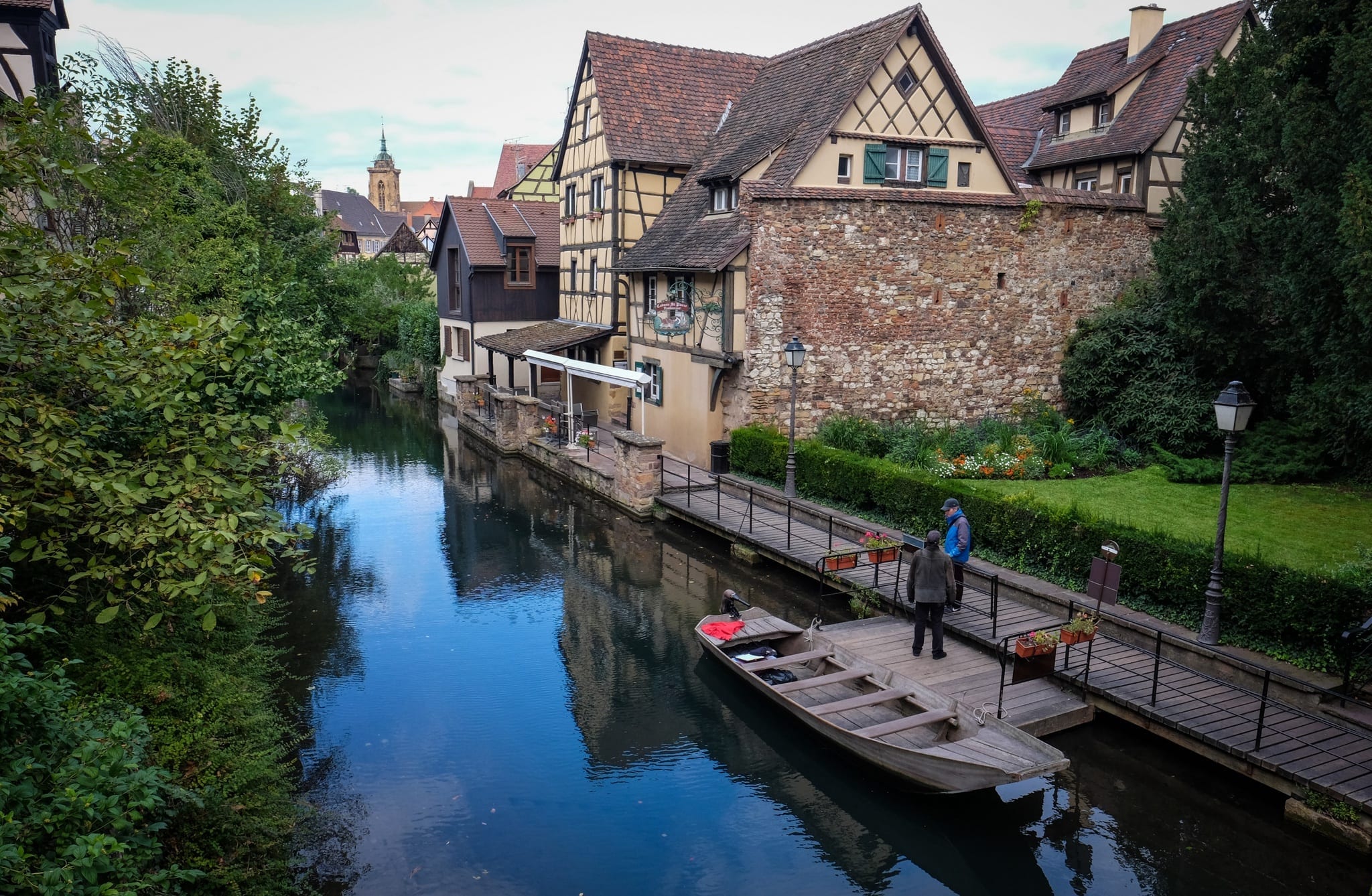 You could hire boats for short cruises down the canals.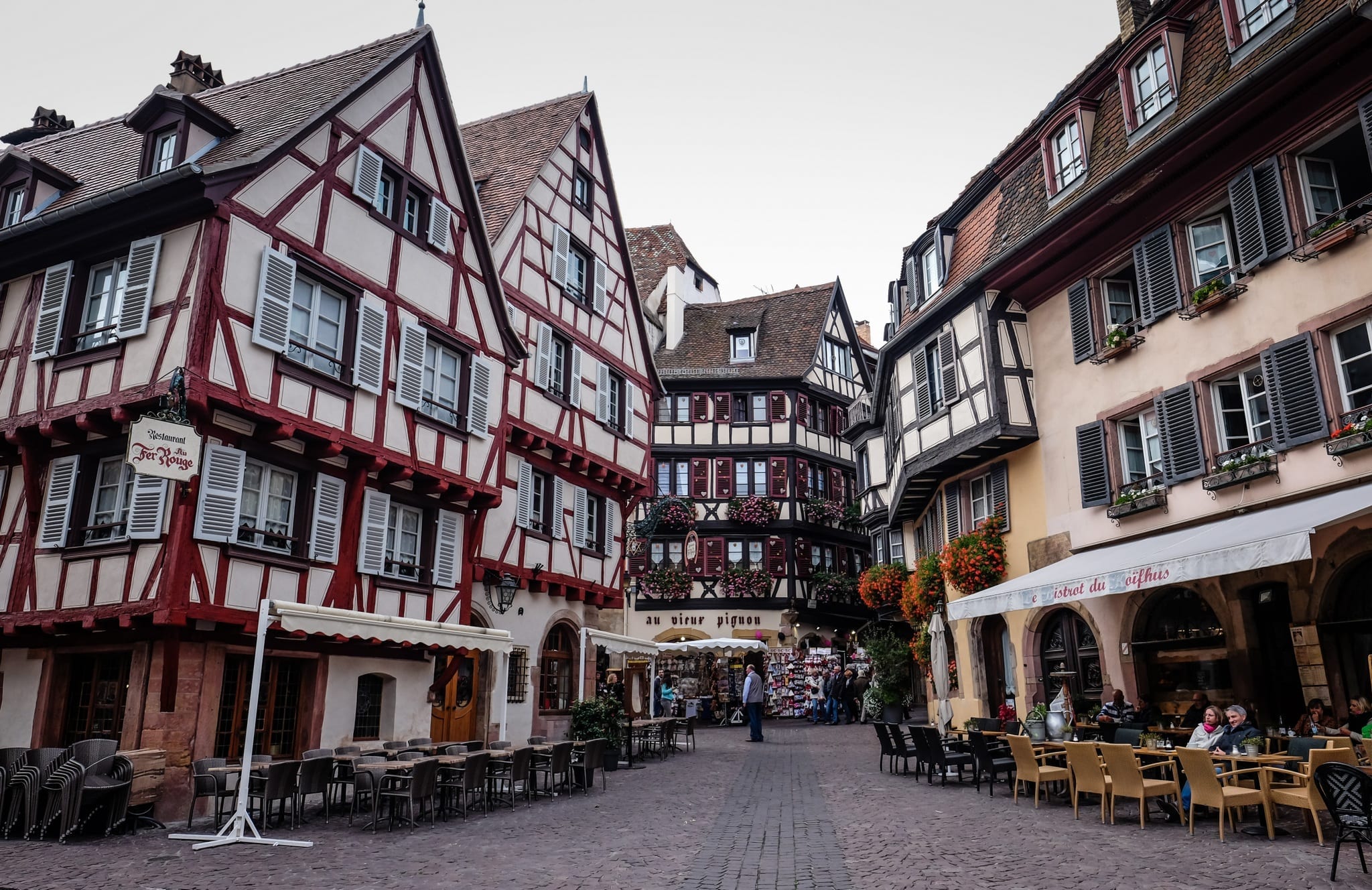 More of Alsace
As soon as I visited, my Snapchat followers kept blowing up my phone: "Are you going to Riquewihr? You MUST go to Riquewihr!" Unfortunately I didn't have time to visit the intriguingly spelled town, but typing it into Google Images shows that it's yet another beauty.
The best way to explore Alsace in depth is to rent a car and drive to different villages. Many people go on a wine tasting trail, but please don't drive if you've been drinking. (On recommendation of my Snapchat follower Mark, who works in the wine industry and gives me recommendations wherever I go, you should look for Pinot Blancs like Zind Humbrecht, Dirler Cade, and Kuentz Bas!)
I would love to come back to Alsace and explore more in depth. This trip was a teaser, as so many of my trips are, but in this case I know I would jump at the chance to return.
Essential Info: In Strasbourg I stayed at the Hotel City Résidence Strasbourg Centre. Wifi did not work in my room and when I complained to the front desk, they responded, "Oh yes, wifi does not reach all of the rooms." And they were fully booked and couldn't move me. So for that reason I wouldn't recommend them. If you have a data plan or internet isn't important to you (or you can check in early and get a better room), I found it to be good value for the price and in a convenient location not too far from the train station. Doubles from 50 EUR ($55 USD). Find other Strasbourg hotels here.

Train tickets between Strasbourg and Colmar cost 12.50 EUR ($14) each way and trains run frequently throughout the day. The old town is about a mile from the train station, so be ready to walk.

One last thing — if your goal is to visit as many countries as possible, Alsace is a great place to spend at least some of your trip. Germany and Switzerland are close by and easy to visit. Luxembourg, Belgium, and the Netherlands are a bit further but can easily be visited on the same trip as well.
Is Alsace your kind of destination? Share away!
Get email updates from Kate
Never miss a post. Unsubscribe anytime!