Adventurous Kate contains affiliate links. If you make a purchase through these links, I will earn a commission at no extra cost to you. Thanks!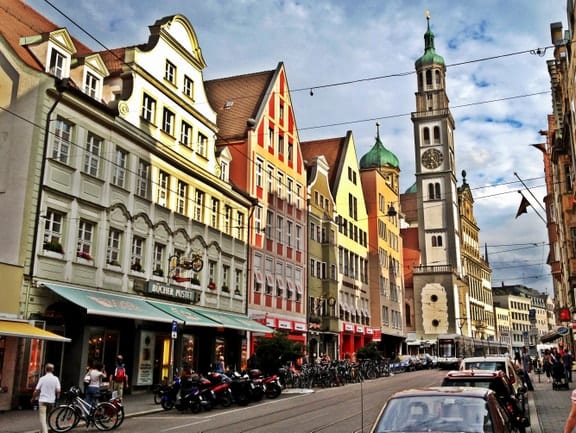 If you're 26 or younger, I've got news for you: 27 is a scary age.
Why?  That's the big year of marriage.  Sure, people get married younger than 27, but those tend to be the couples who have been together for years and years, whom you expect to get married.
At 27, your single friends start getting married.
And that is how I ended up in Augsburg, Germany.
If you've traveled with me for any length of time, you've heard me tell at least one Josh story.  My early twenties were spent partying pretty hard in Boston.  I was everyone's party friend.  And Josh was MY party friend.
We first met at a house party given by a mutual friend of ours.  I was about to start a new job at his company the following Monday.  We bonded quickly, as you can see by the first picture of us ever taken:
We woke up that next morning, him snoring on the couch, me slumped in a recliner with a bag of chips on my lap.  There was a full-frontal naked man staring at us from the computer screen.  And did I mention we were in a house full of lesbians?
That was only the beginning.  Our adventures included:
Going out for dinner quite often — "dinner" meaning three oysters and three martinis each.
Going out until 4 AM on a work night at least once a month.  Which is impressive when you consider that nothing in Boston is open past two.
Requesting Snoop Dogg's "Sexual Eruption" again and again at various clubs until they played it, us usually the only two on the dance floor.
Going out to a gay strip club that played porn starring the actual guys dancing on the bar.
Most memorably, ALMOST playing Ding Dong Ditch on the house of a prominent member of U.S. Congress.  Thank God we got lost and couldn't find it.
And so when Josh told me he was not only getting married at the ripe old age of 27, but getting married and moving to GERMANY, my response was simply, "WHAT IS GOING ON?!"
And so Dave and I ended up traveling to the Bavarian city of Augsburg, a 25-50 minute train ride outside Munich.
The Wedding
I've been to lots of weddings — primarily traditional Catholic weddings.  This one was not remotely like any of the others (and not just because it was two guys).
The festivities started with a civil ceremony in German and English.  The grooms wore designer jeans, button-downs, and waistcoats.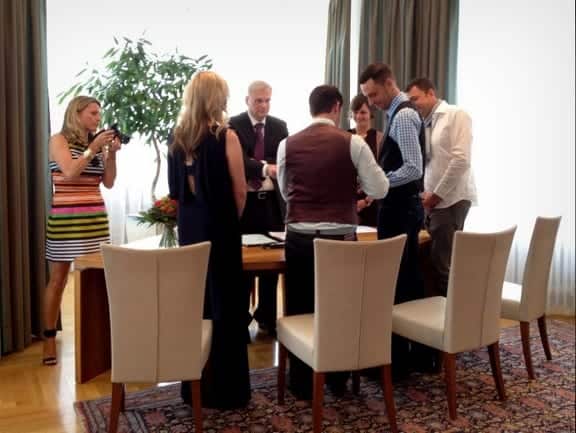 We then celebrated with a champagne reception in the courtyard of a nearby building.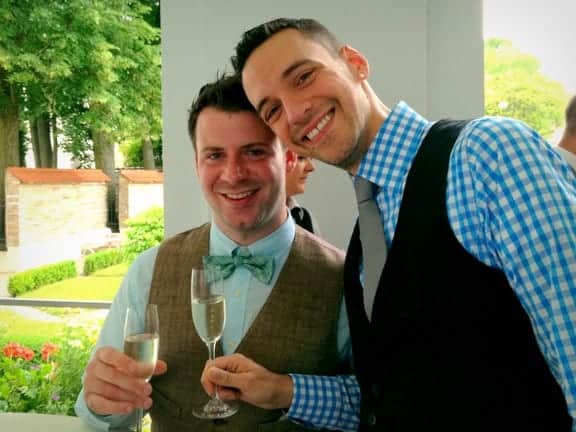 Next stop: beer hall!  I can't remember the name of the local brew, but it's delicious!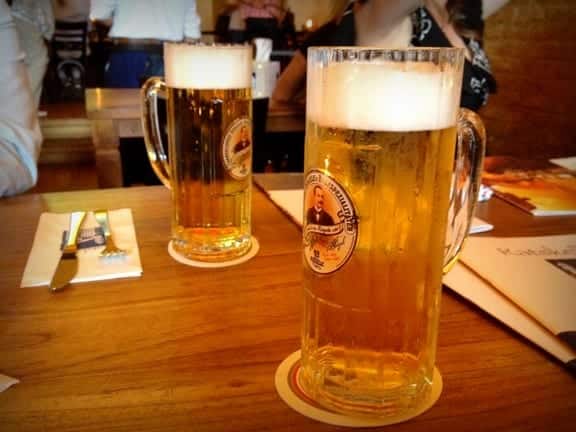 And then, naturally, daytime bar-hopping.  It wasn't long before Daniel broke out the leiderhosen.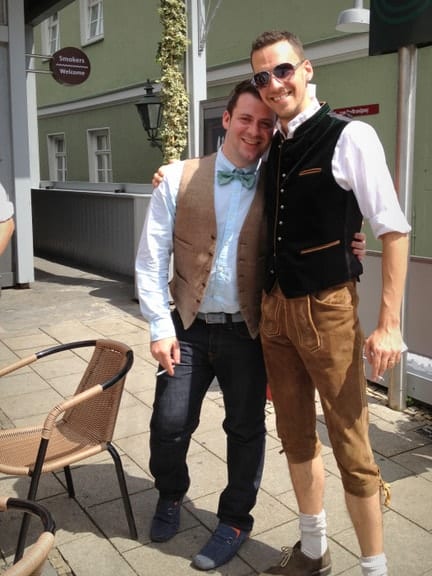 We finished at a place called KahnFahrt (hehehe) where we rowed around the canals.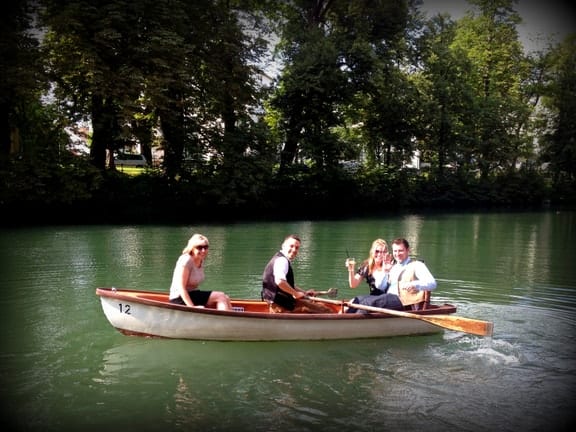 What a great day.
I was a bit nervous before meeting Daniel, as I'm sure all friends are before meeting their good friend's future husband whom they haven't even met, but within a few minutes, I adored him.  He is such an incredibly kind guy — and charming, and friendly, and intelligent, and thoughtful.  Not to mention HANDSOME.
The wedding was just filled wish so much love.  Their friend, a baker, made beautiful cupcakes.  Daniel's father, a musician, wrote a song for them called "You Have a Golden Heart."  The family dog made an appearance.
Best of all?  There will be a bigger ceremony next summer.  I can't wait.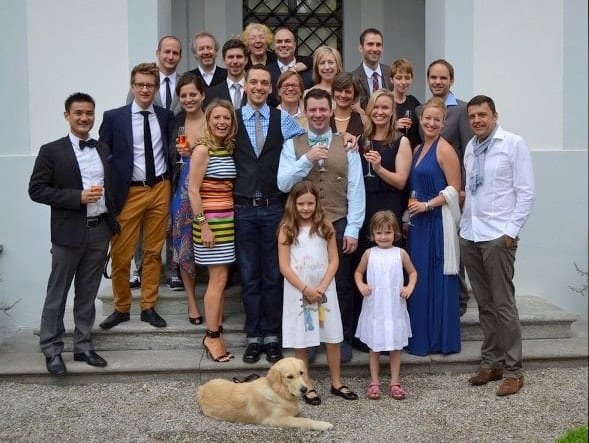 The Legal Aspect of Same-Sex Marriage in Germany
Technically, it was a civil partnership.  Daniel told me later that although civil partnerships include many of the rights of marriage, they don't receive all of them.  When a couple marries in Augsburg, the taxes of the higher-earning spouse are cut in half, and the other spouse's taxes are reduced significantly.  That doesn't happen for civil partnerships.  (However, another same-sex couple filed a lawsuit against the city for this, so it may be changing.)
Separate is not equal.
That said, I'm so glad that Josh was able to immigrate to Germany.  Even though same-sex marriage has been legal in Massachusetts since 2004, it's not legal at the federal level, which means that Daniel can't immigrate to the United States.
Those of us who fight for LGBT equality have a long way to go.  But we're getting there.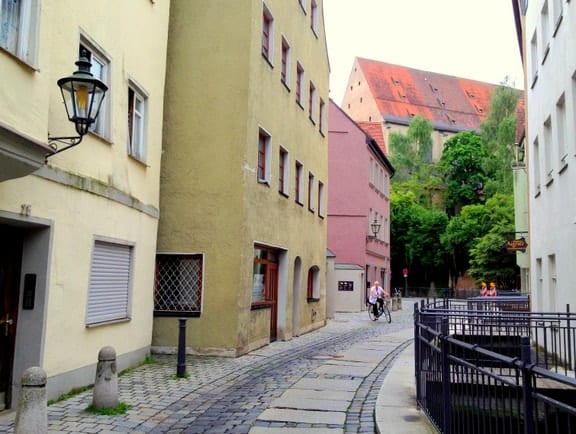 Augsburg
As for Augsburg, I loved it!  I tend to enjoy small cities more than huge ones (Innsbruck rather than Vienna, Bologna rather than Rome), and I much preferred Augsburg to enormous, overwhelming, touristy Munich.
Augsburg is a walkable city with a lot of nice architecture and a cool Old Town with canals.
In the city center, you'll find lots of cool cafes, bars, and restaurants.  A few of my favorite places: Pow Wow, a cafe that becomes a bar at night (and has delicious Pow Wow punch cocktails that taste like orange Hi-C), and Pizzeria Dragone, home to some of the best pizza I've had on my travels.
I felt so comfortable here.  Munich is where you go to visit; Augsburg is just a sweet place to live.  Daniel is actually originally from Munich and can attest to that.
And — if you're looking for a cheap way to do Oktoberfest, Augsburg is an excellent option, especially if you're in a group.  There is a hostel in Augsburg, but it isn't listed on any of the major hostel-booking sites.  There are also "group tickets" for the train in Bavaria that allow groups of up to four people (I believe) to travel on one ticket for the price of two, and the cheap, slow train only takes 50 minutes.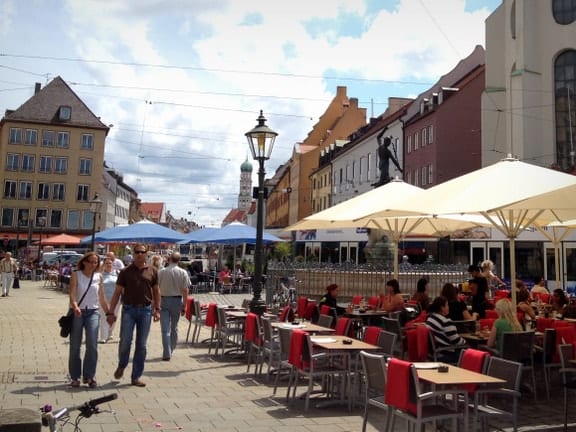 The New Life in Europe
At first I was really excited that Josh would be living in Europe.  I could imagine the emails we'd send each other — "20 euro flights to Gdansk this weekend!  Let's go!"
We're still going to do that.  Only now we want to bring Dave and Daniel.  It would be so much more fun with them (and the four of us had a blast together).
And so we live on as two reformed partiers from Boston, now grown up and settled in Europe.  Josh and I are still partying up around the world — but not as often, as hard, or as irresponsibly — and we've found partners we want to bring along for the ride.
This life is the right one, indeed.
Get email updates from Kate
Never miss a post. Unsubscribe anytime!