Adventurous Kate contains affiliate links. If you make a purchase through these links, I will earn a commission at no extra cost to you. Thanks!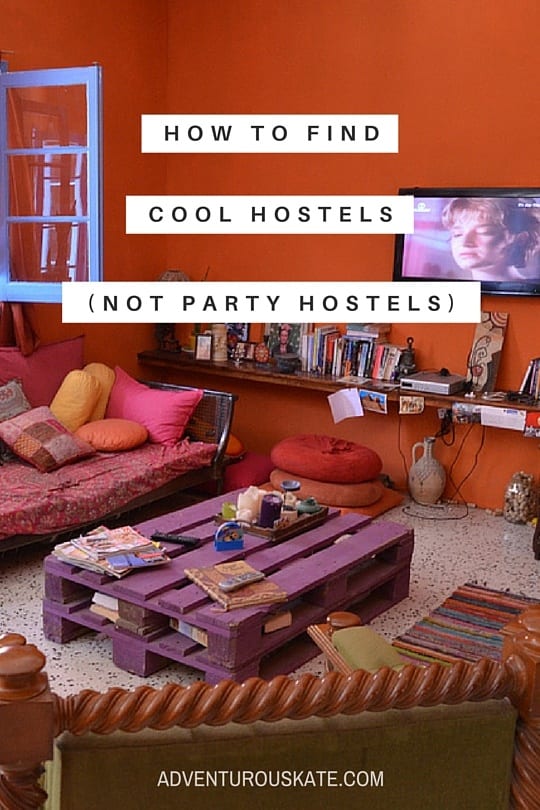 Though I used to be all about the party hostels, today I'm all about the cool hostels — ones that aren't about partying but relaxing, socializing, and having a great time. In this week's question, I show a reader how to find those hostels.
Hi Kate (or Kate community),

I was reading your blog post about making friends while traveling, I'm doing a bit of solo traveling in europe this summer and while in the past i've stayed at hostels, I'm starting to feel a bit….old for them. I'm only 24!

And while I still like to have fun, I don't necessarily want to stay at a place that feels like a frat house, where everyones goal is to get blacked out drunk. How do you choose hostels that are still fun and easy to meet people, but isn't all 18 year olds on gap year?

I still want to meet people, and even though couchsurfing is great hostels expose you to a larger population.
The timing couldn't be better. My good friend Kash Bhattacharya, better known as The Budget Traveller, has just released his free ebook: Luxury Hostels of Europe.
Yes — luxury hostels. Many hostels these days understand that budget lodging does not need to be low-quality lodging. Smart hostels these days are adding beautifully decorated private rooms, guest relations managers, rotating art installations, even swimming pools!
This project has been a labor of love for Kash. Last year he visited 50 luxury hostels all over Europe. Around 60 were reviewed, including reviews by others, and the 40 best luxury hostels in Europe made the cut for this book. In short, nobody knows luxury hostels better than Kash.
I was also Kash's editor, so I have been living and breathing luxury hostels for the past few weeks, and I can tell you what a terrific product this is. I've stayed at several properties featured in this book — including my favorite hostel, Gallery Hostel in Porto — and can confirm that they are quality.
So please be sure to download the book for free here on the home page. The book downloads when you sign up for the newsletter.
As for hostels that aren't contained in this book, these are the steps that I follow to finding cool hostels that aren't party hostels:
1) Check reviews. Hostel booking sites are your best friend. You'll find plenty of reviews on HostelWorld and HostelBookers, as well as TripAdvisor. Sort them by highest rating. Keep in mind that most people leave reviews either to rant or to rave, so take them with a grain of salt and look for patterns in the reviews.
2) Check the hostel website. See how they present themselves to the world. Is their site covered with pictures of people partying and ads for bar crawl specials? Or do they talk about it being a peaceful escape with chill-out areas?
3) See whether the hostel has a bar. Having a bar doesn't necessarily mean it's a party hostel — but you can't be a party hostel without a bar. So if you definitely want to avoid party hostels, stay at hostels without a bar.
4) Spend more for a higher quality room. And not necessarily a private room. Spending an extra $5 to stay in a six-bed dorm rather than a sixteen-bed dorm is money well spent because it makes it feel even less like a frat house.
One last thing to keep in mind — I've found that hostel experiences tend to vary widely depending on the people you meet. Hanging out with a crowd of cool people can turn even the most boring hostel into the most memorable part of your trip. So say hi, be friendly, and take part in the hostel's activities. Some of my good friends today are people who I've met in hostels around the world.
Good luck and have a fabulous time in Europe!
How do you find the best hostels?
Get email updates from Kate
Never miss a post. Unsubscribe anytime!