Adventurous Kate contains affiliate links. If you make a purchase through these links, I will earn a commission at no extra cost to you. Thanks!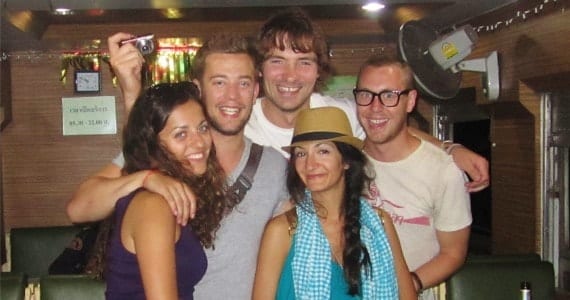 This week's question is about planning.  Just how far should you plan ahead when you travel?
Hi Kate!

I've been thinking of taking some time off my job to backpack across Europe & Asia for several months. I came across your blog while doing some research, and it has been so inspiring! Really confirms that I'm making the right choice. My only question to you, is how in depth did you plan the trip?

My personality is to just go places without a plan, and figure things out as I go along.  However, with a big trip such as this, I feel that it requires maybe more planning (places to work/stay, plane tickets?) But I want it to be somewhat spontaneous as well.. With your experience, do you have any recommendations?
Some people would tell you to just book a flight and take things as they come.  I'm a big believer in flexibility — though not quite THAT much flexibility.  And I also think that planning is a huge part of the fun! Just researching and looking up destinations will make your heart race with excitement!
First of all, plan for your budget.  Europe and Asia have very different costs — a bare-bones budget would cost you $80 a day in Norway or $15 a day in Cambodia.  Have a general idea of how much time you're going to spend in each region and make sure you have the money to cover it.  Also keep weather and high and low seasons in mind.
Unless you are positive when and where you will finish your travels, I recommend buying a one-way ticket.  My plans in Asia changed all the time, and I ended up losing money when I decided to cancel my round-trip ticket and fly home via England instead of Korea.
As for work, are you planning on short-term work, like picking up a gig in a beach bar, or long-term work, like becoming an au pair in Europe or getting an English teaching contract in Asia?  If it's the latter, make sure to spend time doing your research.  In countries like Korea and Japan, it's extremely rare to find teaching contracts that last less than a year.
Also, check your schedule and plan ahead for festivals and other popular travel times.  If you're planning on being in Valencia for Las Fallas or Munich for Oktoberfest, make your lodging reservations as soon as you can, because everywhere in town WILL sell out.  Outside of festival time, I book my lodging the day before if I know where I want to stay or if I'm arriving at night.
And this goes without saying, but make sure your travel insurance covers you for the entire duration of your trip.  I recommend World Nomads.  Their policies last up to six months, but you can extend your policy anytime.
Beyond that, remain completely flexible.  The example I always like to give is when I made friends in Sihanoukville, met up with them again in Siem Reap, spent New Year's with them in Bangkok, and then decided to abandon my plans to head south, instead going with them to Vang Vieng and Luang Prabang.  I had some of the best times EVER with Chris, Jon, Mona, and Anthony — they remain dear friends of mine today and now that I live literally down the road from Chris in London, we still get to hang out all the time!  I am SO glad that I allowed myself the flexibility to make that happen!
Good luck and have a wonderful, flexible time!
Get email updates from Kate
Never miss a post. Unsubscribe anytime!