Adventurous Kate contains affiliate links. If you make a purchase through these links, I will earn a commission at no extra cost to you. Thanks!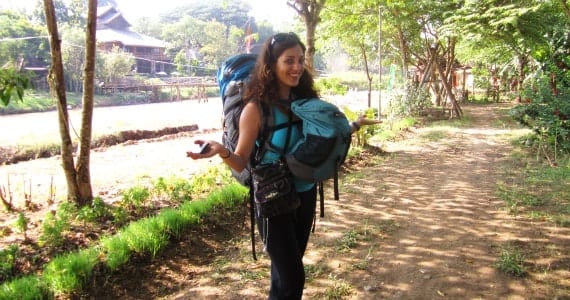 Is it necessary to book your accommodation in advance? If so, how far in advance? The latest Ask Kate question delves into the pros and cons of showing up to book.
Hey Kate!

Let's say you book a plane and go with it, you just pretty much research the area best as possible for places to stay and transit?

I know sometimes you just have to wing it but do you have somewhat of a plan as well because what happens if you wait til the last minute to find a place and it's all booked up?
There's a lot of romance in rocking up to a hostel with a backpack on, checking out the atmosphere and then giving a nod to the owner before plunking down your passport and enough cash for a few nights' stay.
I used to do that myself, mostly on my first long-term trip to Asia. In Chiang Mai and Vang Vieng and Saigon, I'd just check out a guesthouse, check out the bathroom, test the hardness of the bed, try out the wifi, and agree to stay there or move on to another property. I felt so free.
For the most part, it would work just fine, but sometimes it went horribly. When I arrived in Bali in 2011, I had nothing booked because I couldn't find anything cheap enough for my $12 a night budget. It was awful — it was late at night, I was hitching a ride on the back of an ojek (motorbike) with my giant backpack, it was pouring, and although my guidebook suggested there was a lot of action on Poppies Gang, there were ZERO guesthouses there and everything else was shuttered for the night.
I ended up going from door to door in Kuta until I found an expensive but disgusting room and moved out first thing in the morning, heading to a still-pricey but Lonely Planet-recommended guesthouse instead.
Today? I always book ahead. I book ahead for two reasons: because there is so much information online today that it's easy to book almost any kind of property, and because today I have a much lower tolerance for dragging my luggage from guesthouse to guesthouse.
How and When to Book Accommodation
If I'm on a shorter trip where I know where I'll be on each day, I usually book out a few weeks in advance. If I'm on a longer trip where my timeline is ambiguous, I book out a few days in advance. Sometimes I'll book just a few hours before I show up.
I start by researching the destination and choosing the neighborhood where I want to be based. Next, I take a look at my preferred site (Agoda for Asia, HotelsCombined for other hotels, HostelWorld for hostels, or Airbnb for rentals), I narrow down properties to within my budget and sort them by rating, then take a look at a few reviews of the higher-rated places before booking one.
Generally speaking, if there are lots of ratings and it averages out to be one of the highest rated guesthouses, you've got a good deal.
Take today: I'm currently on Sri Lanka's south coast as I'm writing this (and it is FABULOUS here!), and I just booked a few rooms in Unawatuna for me and my friends for tomorrow night.
If you're booking for a festival or very popular time to visit — think New Orleans during Mardi Gras or the Caribbean over Christmas — book as early as humanly possible. The best accommodation will book up fast and you receive no benefits for waiting.
If you're booking in the high season for a destination, like Koh Phi Phi in January or Paris in July, and accommodation is a priority for you, book it early. If accommodation is less of a priority, you could gamble and wait until sooner, but you might end up with a sub-par place.
If it's in the off-season, you should have no trouble waiting until the last minute, but there's no problem in booking early.
If you're booking on Airbnb, couchsurfing, or an otherwise individually owned rental, give yourself at least a few days in advance. Accommodation like this is managed by individuals and they often need a few days to coordinate schedules and put things together.
Do you book accommodation ahead of time? What do you recommend for travelers?
Get email updates from Kate
Never miss a post. Unsubscribe anytime!