Adventurous Kate contains affiliate links. If you make a purchase through these links, I will earn a commission at no extra cost to you. Thanks!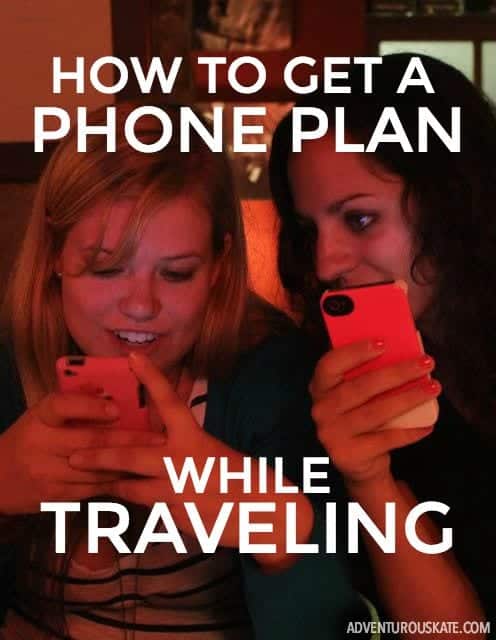 This week's question is one that I get asked quite often.  If you bring your phone on your travels, how do you make calls abroad?
I was wondering what cell phone and carrier you use? I have a centro and I'm with sprint but have never used my phone outside the USA. I'm going on a cruise for thankgiving and next summer going to Italy and possibly somewhere else early next year.
Lots of people assume that I have an international plan on my iPhone — how else would I be able to use it in so many countries?
Well, that couldn't be less true.  Having an international plan on your phone can be astronomically expensive.  What I do is what most long-term travelers do: I buy pay-as-you-go SIM cards in the countries I visit and switch them into my iPhone.
I've actually only bought SIM cards in a few countries: Thailand (1-2-Call), Indonesia (Telkomsel), the UK (a TalkMobile card that works all over Europe), and the US.  While many US plans are expensive, I'm currently on a T-Mobile pay-as-you-go plan that gives me 100 minutes of talking, unlimited texts, and 5 GB of data for just $30 per month, which is perfect for me.
Where do you buy SIM cards abroad?  At the airport when you arrive, or at a phone store, or at a convenience store like a 7-11.  Just buy it, pop it in, and follow the directions on the package.  Cards cost next to nothing and most plans are quite cheap.
This will only work, however, if your phone is unlocked.  If your phone is locked, unlocking it will require you to finish your contract or pay a lot of money, and it is now illegal to unlock American phones without the assistance of your carrier.  Outside the US, most phone stores offer unlocking as one of their services.
If you don't want to unlock your phone, I suggest you buy a cheap phone and use that as your travel phone.
Phones aren't always necessary to have on your travels — but they certainly make life easier.  And if you plan on meeting up with lots of locals while abroad, they're essential.  I couldn't last for long without a phone in Bangkok.
But don't think you need to change your home plan to an international plan — it's not worth it.  And if you leave your home SIM card in your phone, be sure to turn off your data or keep your phone on airplane mode in order to avoid charges.
Good luck and have a FABULOUS time in Italy!
Image: Anywhere But Home
Get email updates from Kate
Never miss a post. Unsubscribe anytime!