Adventurous Kate contains affiliate links. If you make a purchase through these links, I will earn a commission at no extra cost to you. Thanks!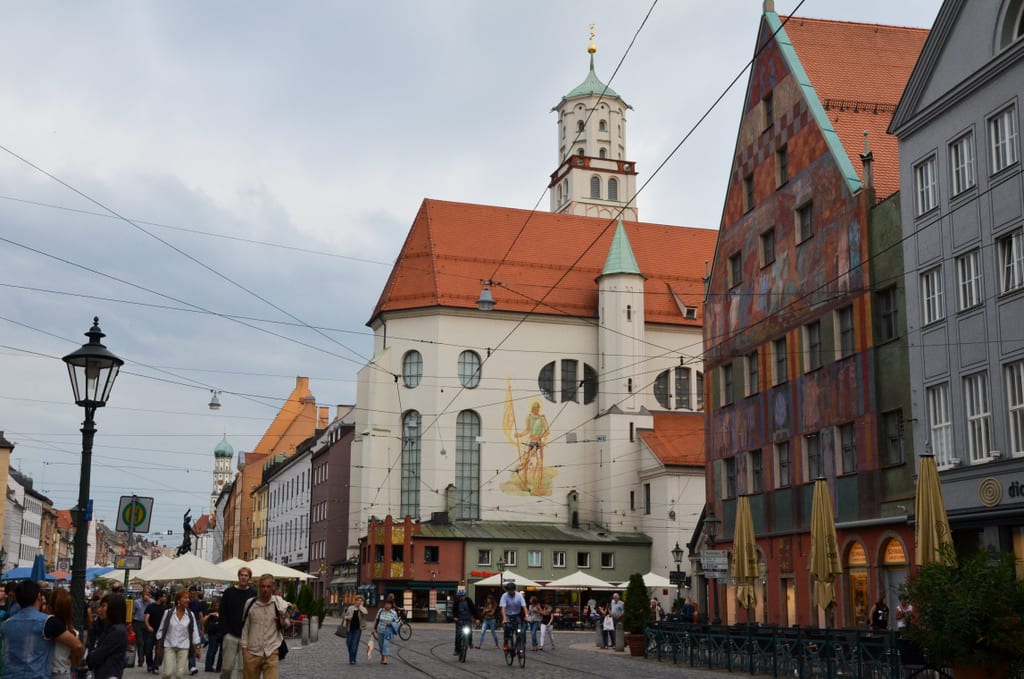 Last July, I discovered Augsburg for the first time: a small Bavarian city just 25 minutes from Munich, and one that I found far more livable than its more famous counterpart. The occasion? My dear friends' offbeat Bavarian wedding.
This year, Josh and Daniel celebrated their one-year anniversary with friends and family flying in from all over America. As usual, they had a colorful assortment of friends and family.
One thing I love about Augsburg is what a surprise it was to me. This is a city that just gives me a great feeling — it's a wonderful place to just be. Augsburg continued being just as much of a surprise this time around. After walking into one of the city's oldest and nicest traditional buildings, I found this in the basement: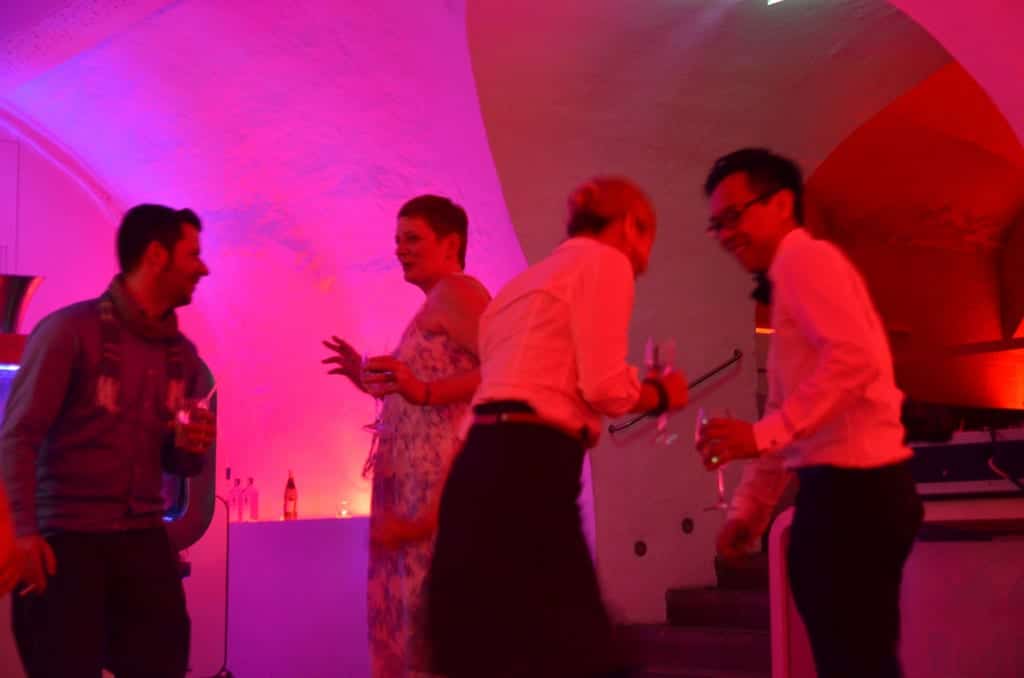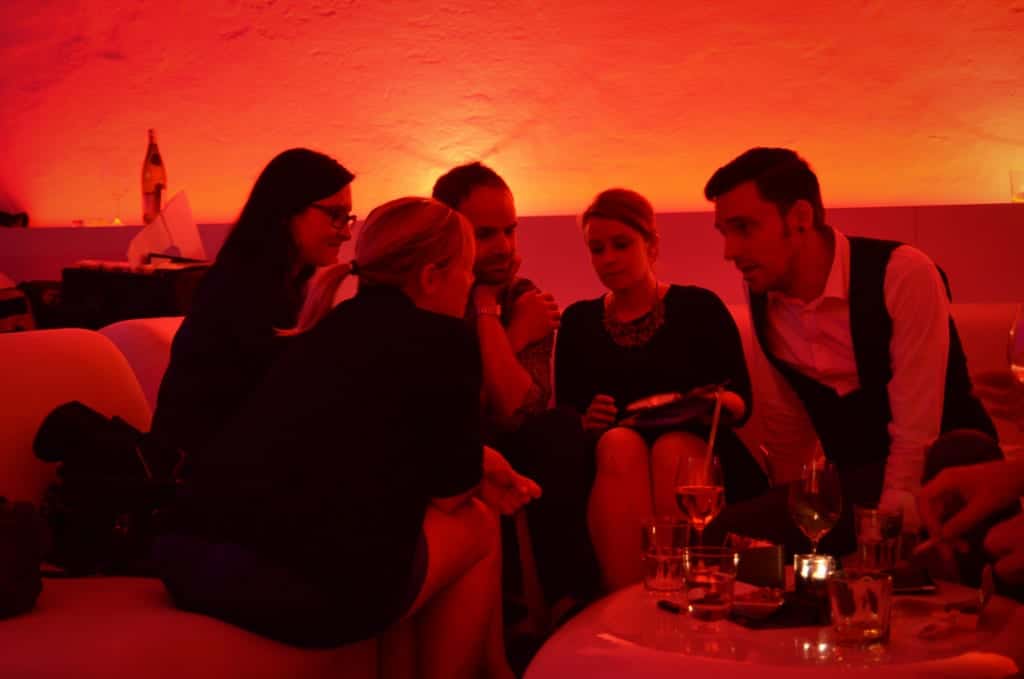 Bright, neon, and serving the most delicious cocktails.
It was so great seeing my friends, and reminded me how fortunate I am to have to have friends in random places all over the world.
Two highlights: the first being finally meeting Josh's family and learning that the apple doesn't fall far from the tree (and you can take that any way you'd like). The second was getting so many interesting people to pose for Someone Once Told Me.
Daniel's is the first one to go live from Augsburg. Find out the English translation and Daniel's story here.
Josh's is going up next week. His references one of my favorite "Josh stories" — the night Josh accidentally got into three fights in a row at Gypsy Bar, a crazy club in Boston where anything can happen.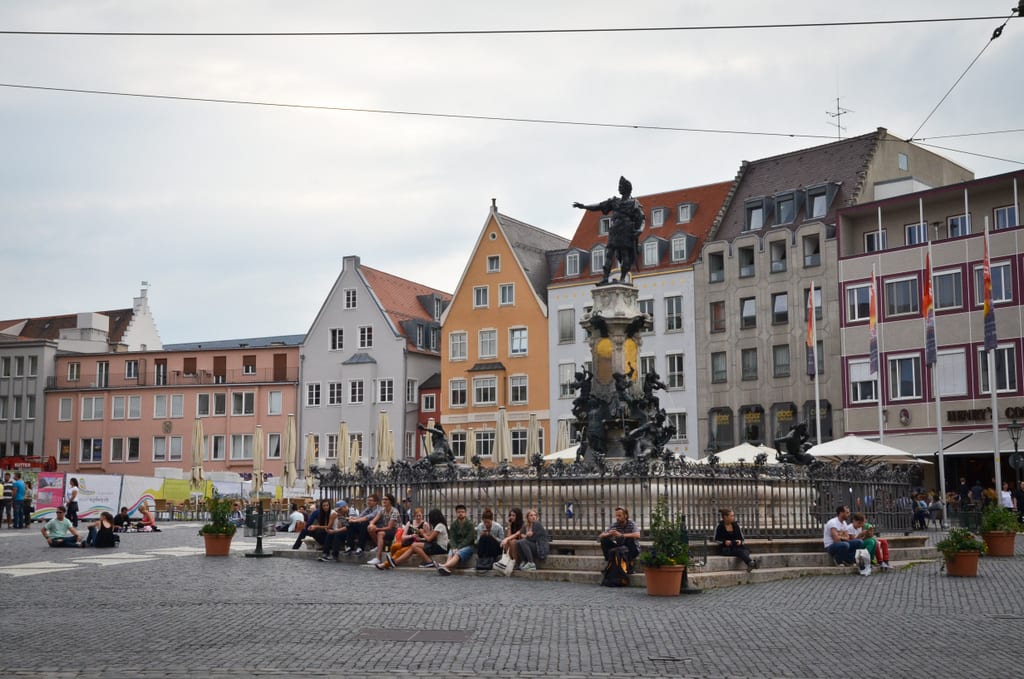 The Oktoberfest Secret
I've said it before and I'll say it again: staying in Augsburg for Oktoberfest could save you a lot of money.
Every year for Oktoberfest, Munich lodging prices rise exponentially and hostels get booked solid months in advance.
Augsburg, however, is only a 45-minute ride away from Munich by slow train (about €11, or $13, each way) and a 25-minute ride away by fast train (about €19, or $25, each way).
AND — the region of Bavaria offers group rates for train tickets. For the price of two tickets, up to five people get to travel a single ticket. That means that a group of five people could go to Munich and back on the slow train for just €4.50 ($6) each way. The trains run until around midnight, but trust me, you don't need to stay out late at Oktoberfest if you're there for most of the day anyway.
In addition to that, you can stay where I stayed — an Augsburg hostel that does not even raise their rates during Oktoberfest. My eyes nearly fell out of my head when I heard that.
Jugendherberge Augsburg
Last time in Augsburg, I stayed in a budget hotel, having no idea whether there were even hostels here. I came across the Jugendherberge Augsburg while walking through the city, and decided to stay there on my next visit. Through HostelWorld, they graciously offered me a complimentary three-night stay.
Jugendherberge Augsburg is in a great location, close to the canals and an eight-minute walk from the city center.
I had a private ensuite room with easily-push-together-able twin beds. The bathroom had a shower and toilet. Security here was excellent, with keycard access only. The staff members I met, especially Tobias, were open, friendly, and helpful, giving me direction to area sites and restaurants. While fellow guests seemed friendly, however, there wasn't much of a social atmosphere.
Most notably, they do not raise their rates during Oktoberfest. I couldn't believe it when I heard it!
There's one critical flaw: wifi is only accessible in the common area downstairs, and they close the common area after midnight. If you need wifi after midnight, you need to sit on the stairs in the dark or turn on the switch that gives you 30 seconds of light before shutting off again. Additionally, there was neither air conditioning nor fans (and temperatures were about 95 F/35 C!), though I understand that this is fairly common for lodging in Bavaria and throughout Germany.
In the past, hostels used to be nothing but a cheap, basic place to stay. After all, isn't a bed, a shower, and a common kitchen all you need?
That is changing fast. I've been loving the hostel revolution taking place around Europe and elsewhere — properties are offering all kinds of cool amenities, private rooms, couple-friendly double rooms, free wifi in every room, community-building events like dinners, pub crawls, and group tours. At places like Gallery Hostel in Porto, MyMojoVie in Vienna, and even Hanoi Backpackers, the hostel stay can be the highlight of the trip. And they often cost the same or within a few euros of other hostels.
At the same time, some properties are just sticking to the basics. Jugendherberge Augsburg is of those — a place where you can stay and know you'll be secure, comfortable, and close to the city. But I think if they added a few more amenities — a more comfortable common area where wifi is accessible 24/7, double beds for couples — they could get themselves to the next level.
Essential Info: Rates at Jugendherberge Augsburg start with €21 ($27) for dorms, private singles from €32.50 ($42) per person, double (actually twin) rooms from €25.50 ($33) per person, private triples and quads from €21 ($27) per person.

The hostel is an eight-minute walk from Maximilianstrasse and central Augsburg. Wifi is only available in the lobby, and common areas are closed at midnight.

I had World Nomads travel insurance during my time in Germany and I always recommend getting it before any trip, regardless of destination. It will protect you if something goes wrong.
Many thanks to Jugendherberge Augsburg and HostelWorld for the complimentary stay. Many thanks to Eurail.com for their support of the European leg of the SOTM Tour. All opinions, as always, are my own.

Get email updates from Kate
Never miss a post. Unsubscribe anytime!