Adventurous Kate contains affiliate links. If you make a purchase through these links, I will earn a commission at no extra cost to you. Thanks!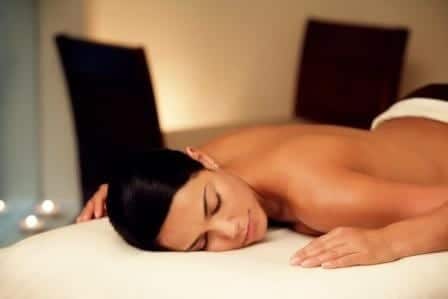 Image: Grand Velas Resort
I've found the best massage in Boston: Boston Massage Associates in Copley Square. I can't recommend this business enough!
I know a lot of you come to this site for Boston tips.  Let me tell you something: I've had lots of massages in Boston, but after going to Boston Massage Associates, I won't go anywhere else.
Boston Massage Associates was founded by Eric Derrico in 2009.  I first went to see Eric when he worked for another practice, and I was impressed with his technique right away.
The massage was incredibly intense without being painful, and Eric was able to pinpoint several of my pain issues without my even saying so.  Throughout the process, he explained how everything worked in the different muscles.
Before I left, he showed me stretches that would reduce the pain I often felt in my hip, a remnant of a foot injury.  It was more than I expected, and so much more than I had experienced anywhere else in Boston!
It was through Eric that I learned the benefits of massage therapy.  More than just a spa activity, massage therapy is a way to maintain your health.  I've had back issues since my waitressing days in college, and I thought seeing a chiropractor was my only option.  Not so.  Eric even works with Boston Marathon runners and Ironman triathletes to help them reach their potential!
Your health is the primary concern at Boston Massage Associates.  In fact, if you have health insurance, you get a 25% discount.  And tipping is strictly forbidden.
After my first two sessions with Eric, I got a massage at one of the best spas in Las Vegas – and compared to Eric, the Vegas massage was so elementary, I nearly walked out.  After experiencing the best massage in Boston, I've been spoiled for life!
Eric's a pretty adventurous guy in his own right – he surfs in Massachusetts in the middle of winter!  But beyond that, he's a great guy – he is so involved in philanthropy and charity work, from rescuing dogs to founding beach cleanup groups.  He even has days where all of his revenue is donated to charitable causes, like Haiti relief.
Some people talk about making the world a better place – Eric actually lives it.  And that's exactly the kind of local business that I want to support.
Beyond that, I love that the office is conveniently located right in Copley Square, on top of the Starbucks at Boylston and Berkeley, and I appreciate that you can schedule appointments online.
If you plan to visit Boston anytime soon, make sure you get the best Boston massage: Boston Massage Associates.  You'll thank me.
Visit the Boston Massage Associates web site to learn more and feel free to book an appointment online!  Tell Eric I sent you.
This post was sponsored by Boston Massage Associates, but every opinion here is very, very much my own.  Getting to review a place you love is the best-case scenario!
Get email updates from Kate
Never miss a post. Unsubscribe anytime!