Adventurous Kate contains affiliate links. If you make a purchase through these links, I will earn a commission at no extra cost to you. Thanks!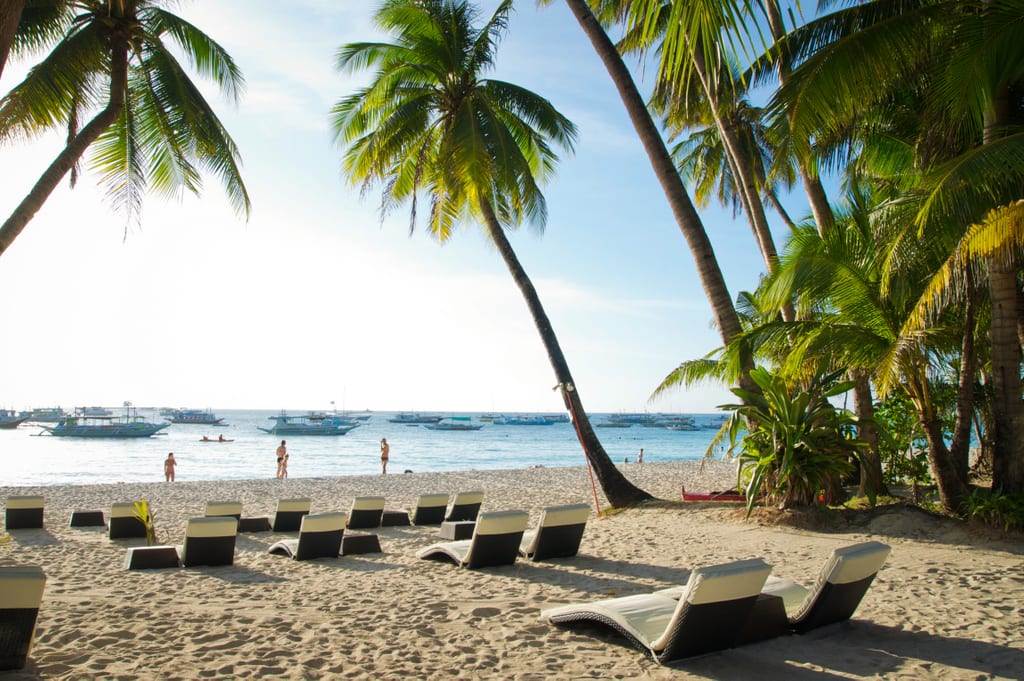 Have you ever sat to the ultimate healthy meal, only to find yourself gazing at the unopened bag of Sour Patch Kids in your kitchen?
You made yourself a salad — an exceptionally healthy one. It's vegan, gluten-free, has seasoned tofu for protein and even a good dose of goji berries and various nuts and seeds loaded with antioxidants.
You're about to serve yourself — and then that bag of Sour Patch Kids catches your eye. It's filled with Sour Patch Kids. And right next to it is a package of peanut butter M&Ms.
You know you should eat your salad like a proper person…but you really, really want that candy. And it wouldn't be so bad to eat it. Just for one meal.
Boracay is candy in destination form.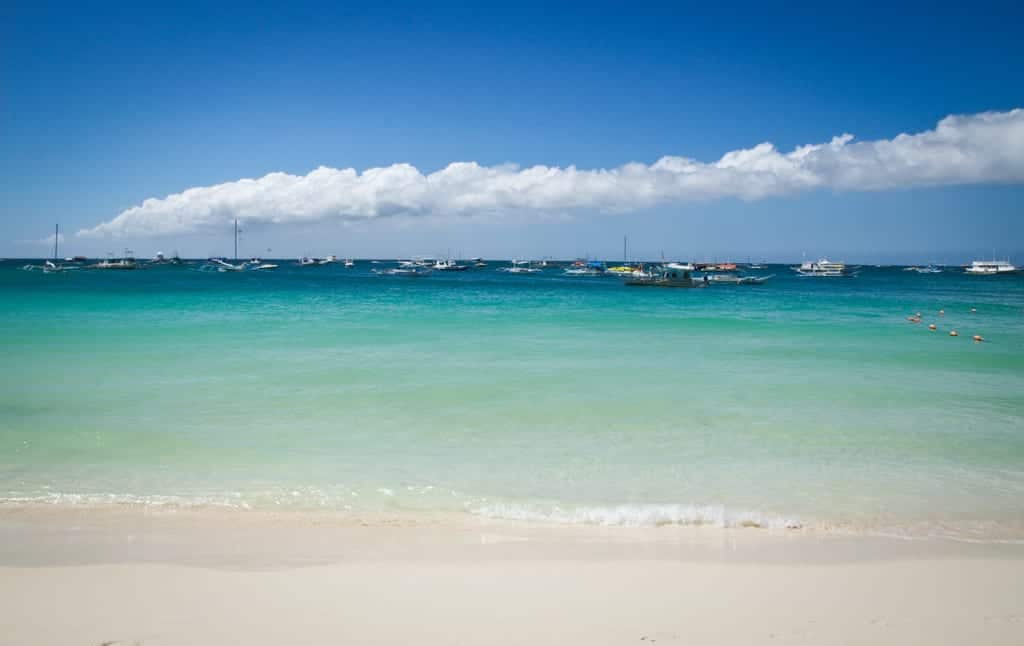 With only two weeks allotted to explore the Philippines before heading on to Hong Kong and back to the US, my time was limited. My original plans for the Philippines had been to head up through North Luzon to see the UNESCO-listed rice terraces along with the hanging coffins of Sagada.
This region shows off some of the Philippines' natural and cultural beauty, and I wanted to explore it — it seemed like the "smart" thing to do.
That said…it wouldn't be the smoothest journey. It would take two overnight buses there and back, plus some crazy bus journeys along cliffs, very basic guesthouses, spotty connectivity…a region that I'd love to visit at the right time. But this wasn't the right time. I had too much work to do and not enough energy to give this trip the attention it deserved.
Sabrina, my Philippines-expert friend, nearly exploded when I told her my plans. "You can't go to the Philippines and not see a single beach!" she admonished me. "The beaches are the best part! Go to Boracay."
That was all the convincing I needed. I booked tickets right away.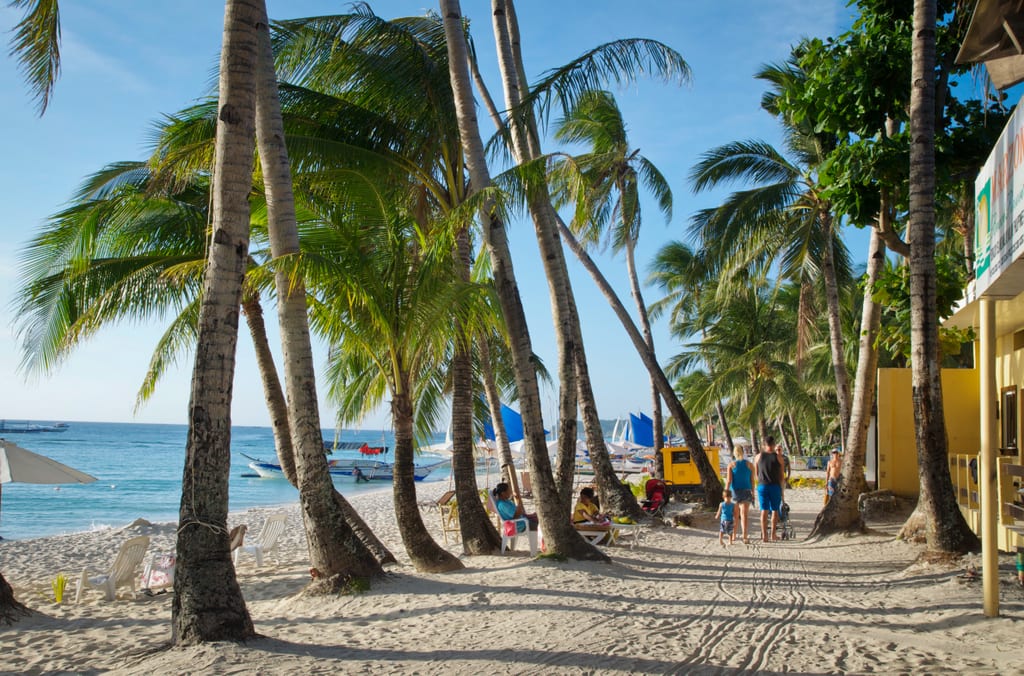 Getting to Know Boracay
Boracay is a tiny island in the Visayas region of the central Philippines. As the most popular travel destination in the Philippines, it's far from undiscovered — the island absolutely teems with tourists, especially Filipinos, Koreans, and Chinese.
White Beach is the main hub of the island, stretching along the west coast, and it's often cited as one of the world's best beaches. And with a beach path running parallel to the shore, you could spend your whole stay on Boracay on sand — I know I nearly did!
White Beach is divided into three sections named after the former boat stations: Station 1, furthest north, is home to luxury resorts. Station 2, in the middle, is a huge commercial hub and home to tons of shops, restaurants, and hotels, as well as DMall, a massive shopping complex.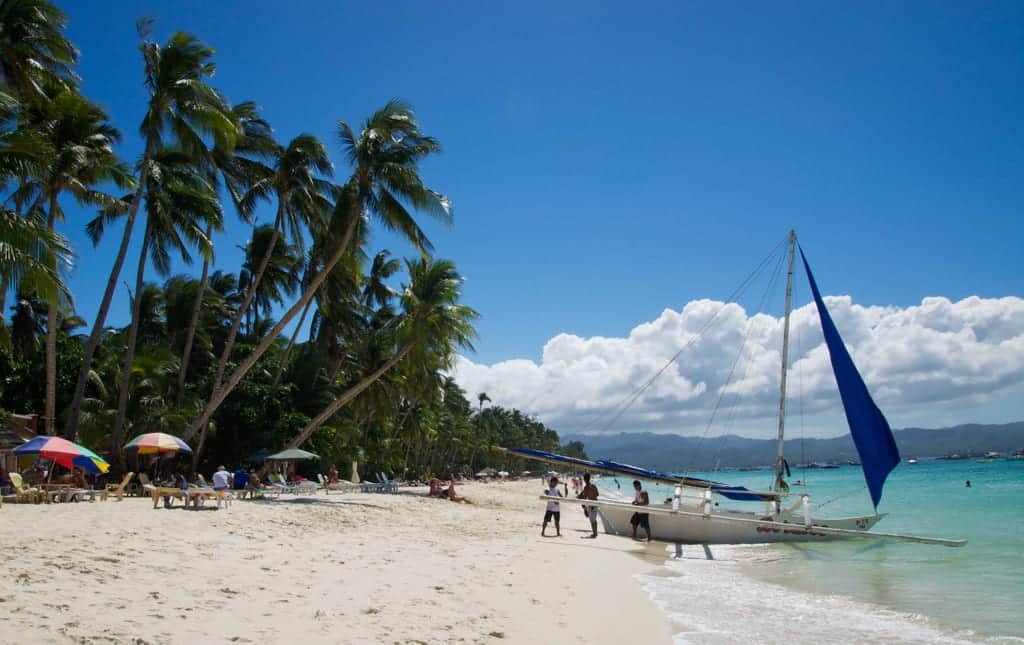 Station 3, furthest south, is much quieter and more relaxed. Just south of Station 3 is Angol, an even more chilled out neighborhood. Some people say that Angol is the only remnant of the "Old Boracay" before it got so developed.
There are a few other beaches — Bulabog Beach in the east is popular with the kitesurfing/windsurfing crowd in high season, and secluded Puka Beach in the north is a big day trip destination.
As for me, I loved the Station 3/Angol region and spent the bulk of my time there, but would often head up to Station 2 for dinner and drinks.
Boracay Life
Wake up, sit on the beach, get brunch, get lunch, read, swim a little bit. Watch the sunset, get dinner, maybe get a drink or two. That's all you have to know.
The thing about Boracay is that the beach here is so great — the sand so white and fine, the beachfront so long, the landscape so beautiful, the water so warm and turquoise — that you can do nothing else and still feel entirely accomplished.
Also: eat mangos day and night. I swear that the Philippines is home to the sweetest, juiciest mangos in the world. I had mango juice, mango shakes, mango lassis, even a mango set on fire with burning cognac and topped with ice cream!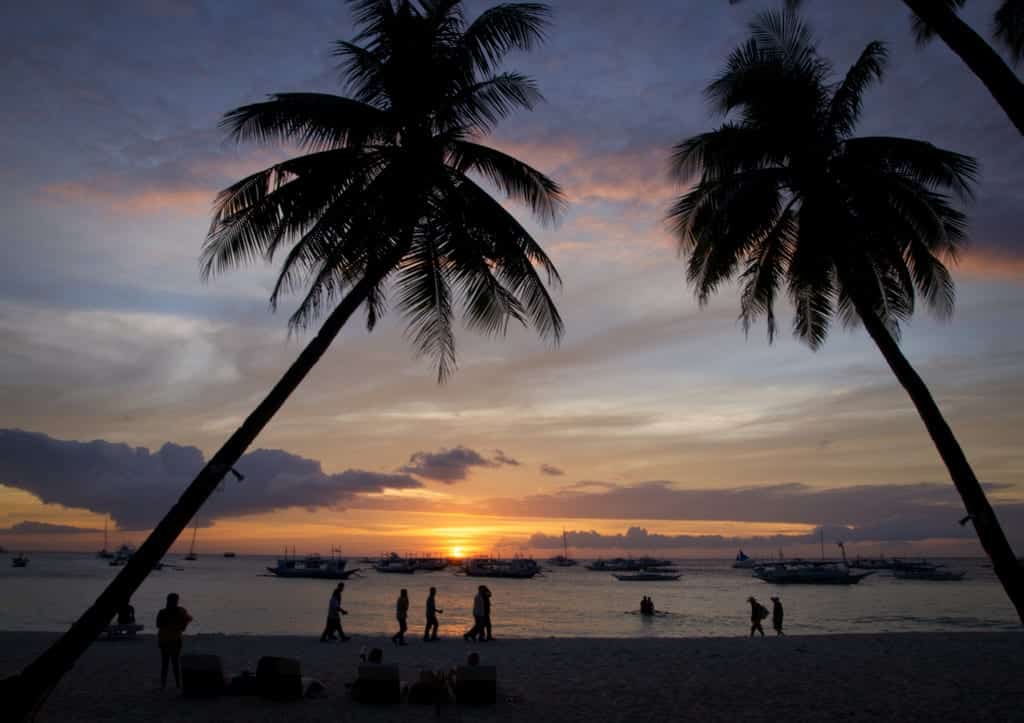 The World's Best Sunsets
Back in the day, I thought that Koh Lanta was home to the world's best sunsets. While I've seen some amazing sunsets on Lanta, quite frankly, they didn't hold a candle to what I saw on Boracay.
On my third night on Boracay, I saw what was indisputably the best sunset of my life. My photos don't remotely capture how incredible it was, but here are a few shots of it anyway.
The Philippines are OPEN FOR TRAVEL!
When I arrived in Manila, I got a tweet from one of my readers: "Must be crazy with the typhoon damage!"
"Not at all," I replied. "Manila's fine. The typhoon was nowhere near here."
I thought it was a fluke — but then I got another message saying the same thing. And another. Many people thought that the Philippines was destroyed by Typhoon Haiyan (also known as Yolanda) in November 2013.
The truth: most of the Philippines was either unaffected or mostly unaffected by the typhoon. The city of Tacloban on the island of Leyte was hit the worst, and the city is still in very rough shape today. Volunteers are still working on rebuilding Tacloban.
But you know where was mostly unaffected by the typhoon and is functioning as normal today? Manila. North Luzon. Palawan. Bohol. Cebu. Negros. Malapascua. Sirgao. Siquijor. Camiguin. Most if not all of the major tourist hotspots.
And, of course, that includes Boracay. "All we got was a power outage and a new layer of white sand on everything," one local told me. "It looked beautiful."
Please don't write off the Philippines. The small businesses on these islands are struggling due to the Philippines' PR problem, and they need your tourism now more than ever. The pictures in this post are from an incredibly developed island. The less-developed islands are even more pristine and gorgeous. And they are waiting for you.
Essential Info: To get to Boracay island, you can fly to either Caticlan or Kalibo, which are both on the island of Panay in the Philippines. Caticlan Airport is right by the ferry to Boracay; Kalibo is a 90-minute drive away (and tends to have cheaper flights to more destinations). The ferry takes 15 minutes.

I stayed at a few different guesthouses, but the only one that I would recommend is Gracia's Inn in Station 3. It has no website and is hard to find (on Google Maps it looks like it's on "Angol Road," which appears to actually be an alley), so ask around. I paid 1000 PHP ($22) per night for a private room with a double bed during Chinese New Year (peak rates). No wifi, and 3G did not work inside the room (something that I found throughout the Philippines), but it was clean and comfortable. You can find other hotels in Boracay here.

In Station 2, I highly recommend CYMA for excellent Greek food (get the flaming cheese, mussels and flaming mango!) and Nigi Nigi Nu Noos for drinks (their Boracay Colada is the best pina colada I've ever had!). In the Station 3/Angol neighborhood, Cowboy Cucina was the most reliable wifi I found (though far from ideal), and they had great pizza and lattes.

Be sure to get travel insurance before you visit Boracay. I never travel without it and always use World Nomads.
Is Boracay your kind of tropical island?
Get email updates from Kate
Never miss a post. Unsubscribe anytime!