Adventurous Kate contains affiliate links. If you make a purchase through these links, I will earn a commission at no extra cost to you. Thanks!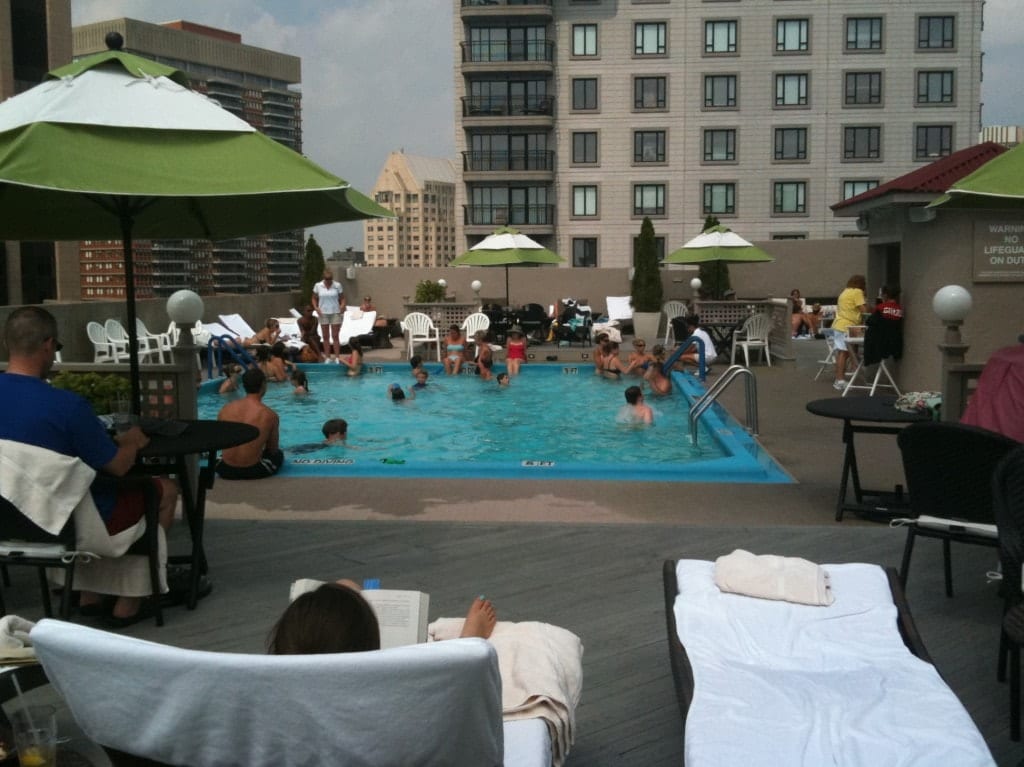 I love living in Boston, but I'm not a fan of the weather here: a six-month winter followed by two days of of spring, then an intense, all-too-brief summer, during which the city turns into a sweatbox.
Then came the nonsummer of 2009, when it rained nearly every day in June and July.  I had to go to Mexico to get an actual summer!
So now that we have a summer, a real summer, I knew I had to make the most of it — and I found myself at the rooftop pool at the Colonnade Hotel in Back Bay.
Believe it or not, this is the only rooftop pool in Boston that's open to the public.  Hotel guests are free anytime; non-guests are permitted Monday through Friday.
The views are smashing — especially out the back, where you can look over the South End.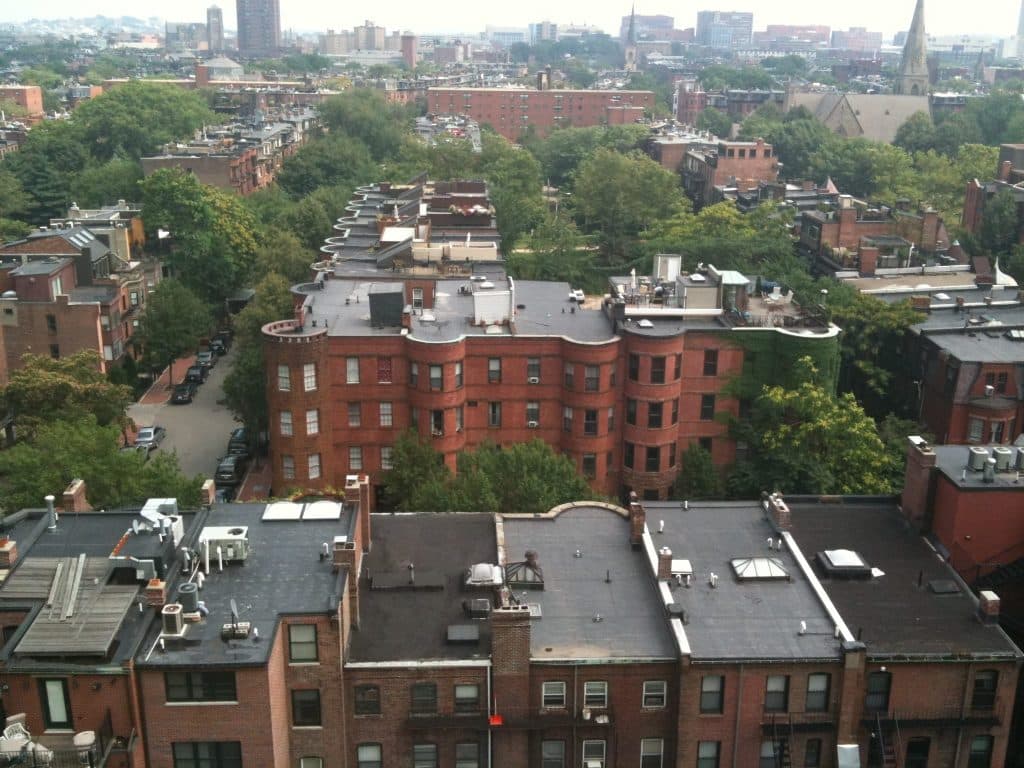 The atmosphere at the rooftop pool was calm and relaxing, and there was no better feeling than to sink into your chair, the sun shining on you, book in lap, cocktail by your side.  As a sun worshiper, I had come home.
The crowd was a bit of an odd mix.   There were quite a few twenty-something women at the rooftop pool, with other men and women in their twenties through fifties, including a few couples and several families.  Many more twenty-somethings showed up later in the afternoon.
There were around a dozen kids at the pool, all ostensibly hotel guests, but they never dominated the landscape.  This wasn't a pool of screaming, cannonballing children — they kept it low-key.  Which I appreciated.
My chair was on a platform that was slightly back from the pool, which I would recommend if you wanted to stay as far away as possible from the kids.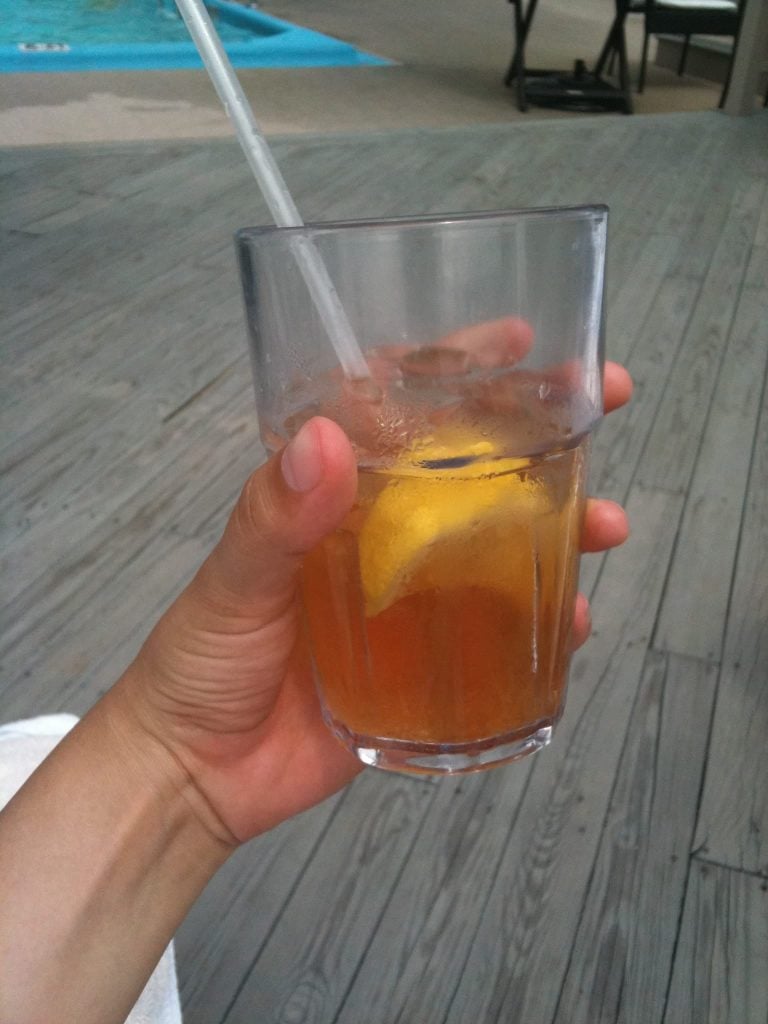 The Rooftop Cocktail: Firefly sweet tea vodka and lemonade.  I dare you to find a more sensational cocktail for a hot summer day!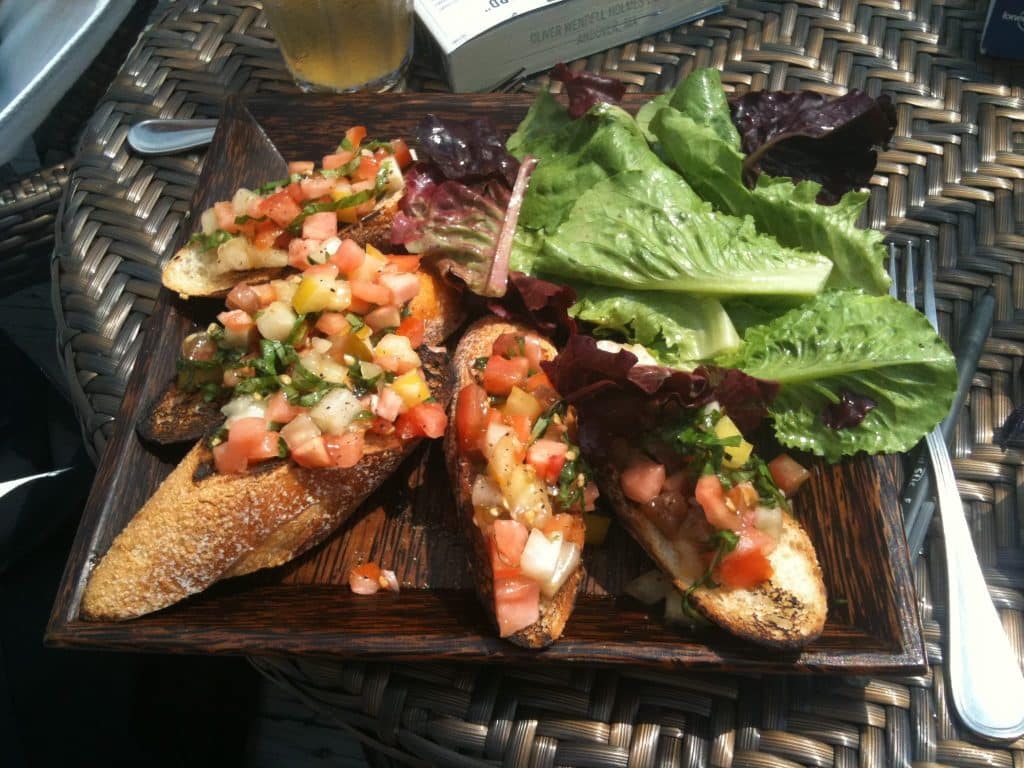 The Colonnade rooftop pool has a menu of light poolside fare.  The bruschetta, pictured above, was delicious, but what I love the most about the menu is that you can order Pizzeria Regina pizza — and they will actually deliver it straight from the North End!
Admission to the rooftop pool is $40, or $20 after 3:00 PM, which, frankly, is ridiculous.  In other cities, some pools charge half the price for an adults-only pool with a much more luxurious atmosphere.  And this is weekday pricing!
Then again, the Colonnade has a monopoly.  They literally have no competition.  If ever another rooftop pool in Boston were to open, I think we would see some changes.  Competition would be good for them and for us.
For now, I don't mind paying $40.  It may be comparably expensive, but I think the experience makes it a worthy occasional splurge.
Overall, I loved the Colonnade rooftop pool, and I can think of no place where I'd rather spend a special summer ditch day from work.  (The Fens?  Revere Beach?  Nope.)  The most important thing — and I can't emphasize this enough — is to make sure that you plan your day off when the weather is supposed to be nice!
Note: I received complimentary admission courtesy of the Colonnade Hotel.
Get email updates from Kate
Never miss a post. Unsubscribe anytime!