Adventurous Kate contains affiliate links. If you make a purchase through these links, I will earn a commission at no extra cost to you. Thanks!
This year I achieved a long-held travel dream: visiting Christmas markets in Germany. It's crazy that I haven't done this until now!
I remember visiting my first German Christmas market, albeit in another country — it was during my semester in Florence in 2004. The market was set up a two-minute walk from my apartment on Piazza Santa Croce. I was flabbergasted that a market this wonderful would set up. My eight roommates and I went for sausages for dinner; we bought chocolate-covered fruit on a stick; we bought crafts for gifts. I pretended to be as excited about chocolate-covered bananas as they were. (Still not a fan of banana and chocolate together today.) Strangely, I don't think we ever consumed gluhwein.
And I continued to visit markets elsewhere — the UK's largest market in Birmingham; all the markets in Paris. But Germany remained elusive until this year. I knew I wanted to come to Germany for Christmas and soon I got the opportunity to come to Bavaria and do some content creation work for the German National Tourism Board.
Bavaria is a large southeastern region of Germany that includes Munich. This is a very traditional and beautiful part of Germany with gingerbread-like small towns, beer gardens, lederhosen, dirndls, cuckoo clocks and Oktoberfest. However, Bavaria is like Texas in that what many people think are German stereotypes are actually Bavarian stereotypes.
(Case in point: A friend texted me "Conan's in Bavaria too!" while I was there. "No, he's in Berlin and doing Bavarian things," I told him. "That's like traveling to New York and learning how to rope cattle.")
So, how was it? I absolutely loved it. It was such a relaxed and chilled out trip. Though I was working the whole time, most of the trip was built around browsing markets, eating delicious food and drinking gluhwein (German mulled wine). It was also a reminder that Christmas doesn't have to be as kid-oriented as it is in America — in Europe, these markets are for the adults!
I won't be publishing a full guide to planning a Bavarian Christmas market trip just yet — it's not practical to do that a few days before Christmas. I'm saving that guide for next September or so, when you guys are actually planning Christmas trips. But for now, enjoy a taste of this beautiful region of Germany at its most festive time of year.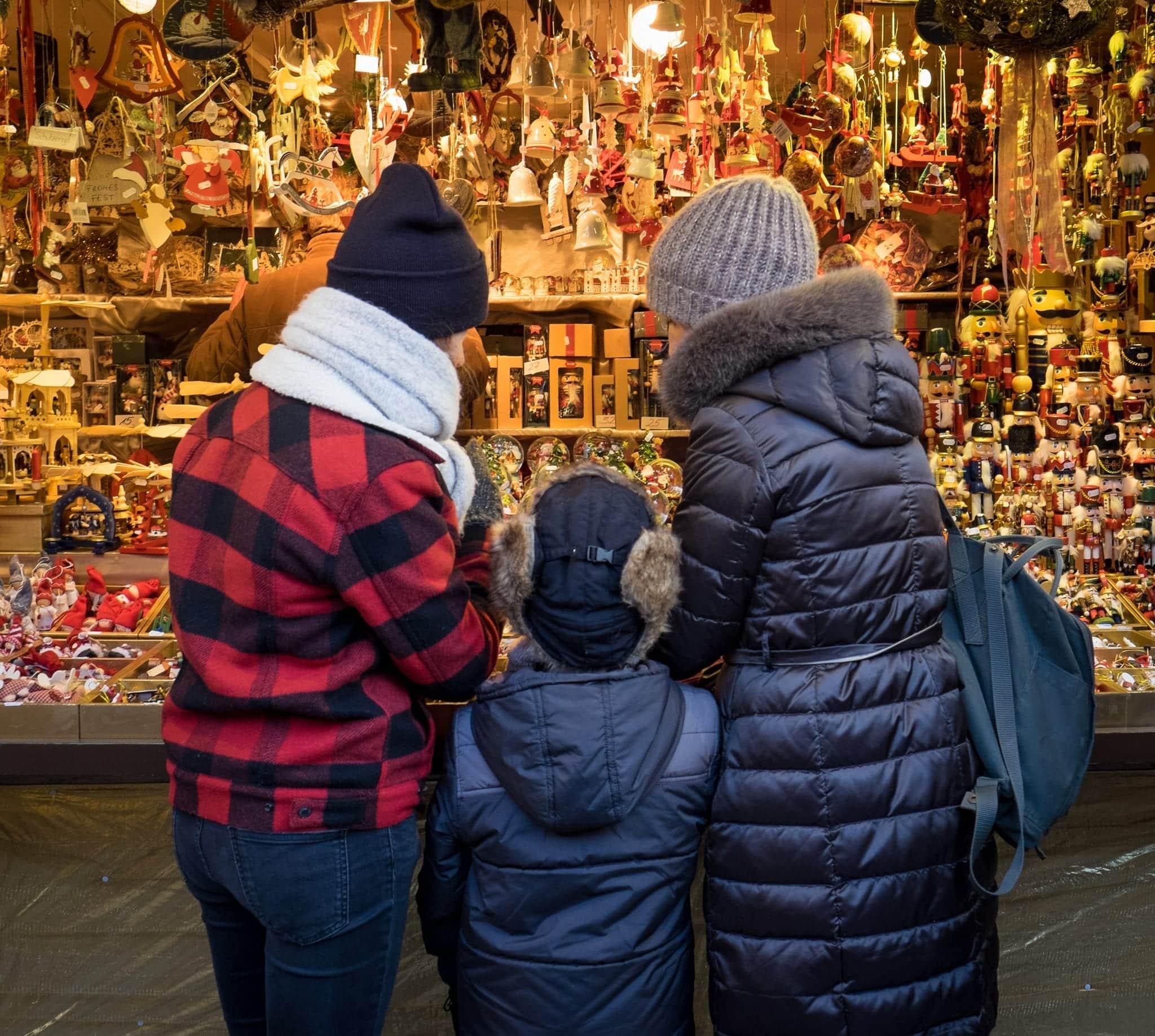 I started off exploring the markets at Marienplatz in Munich. I love how they brought families together!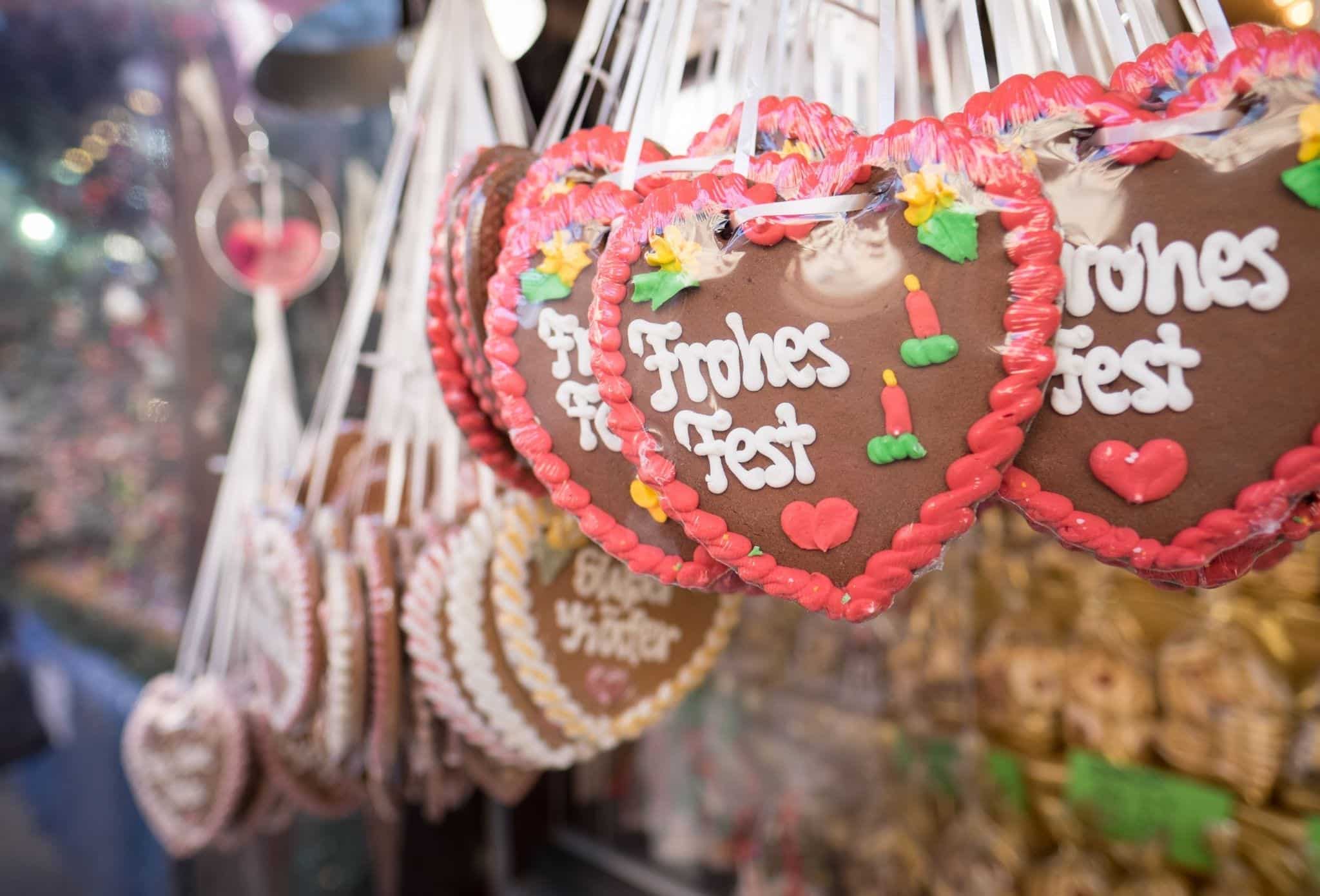 Lebkuchen (gingerbread)! Don't make an amateur error and eat these ones, however — they are mainly for giving and receiving as gifts.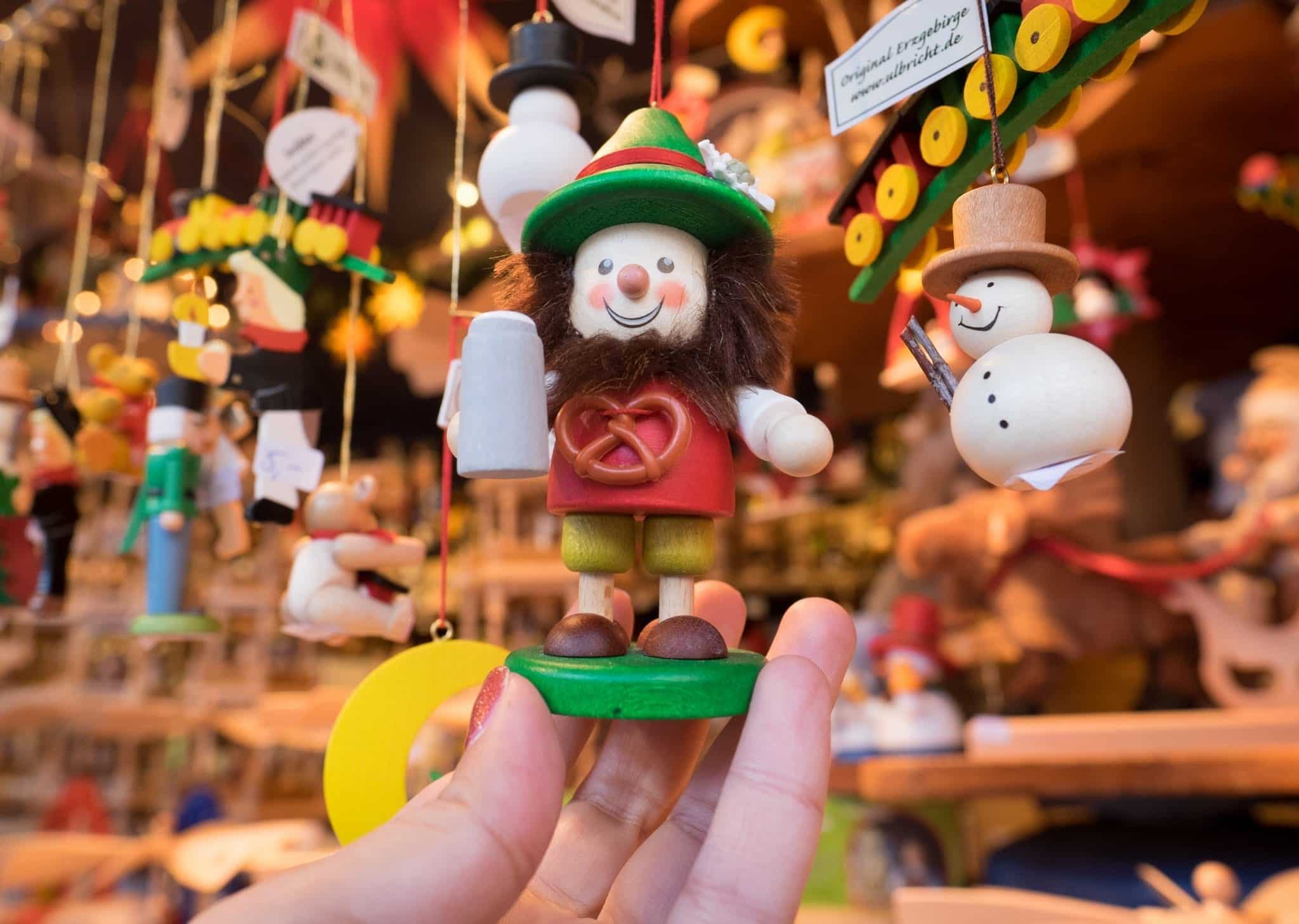 Handmade ornaments can be found wherever you go. I love how it looks like the snowman is clapping for him!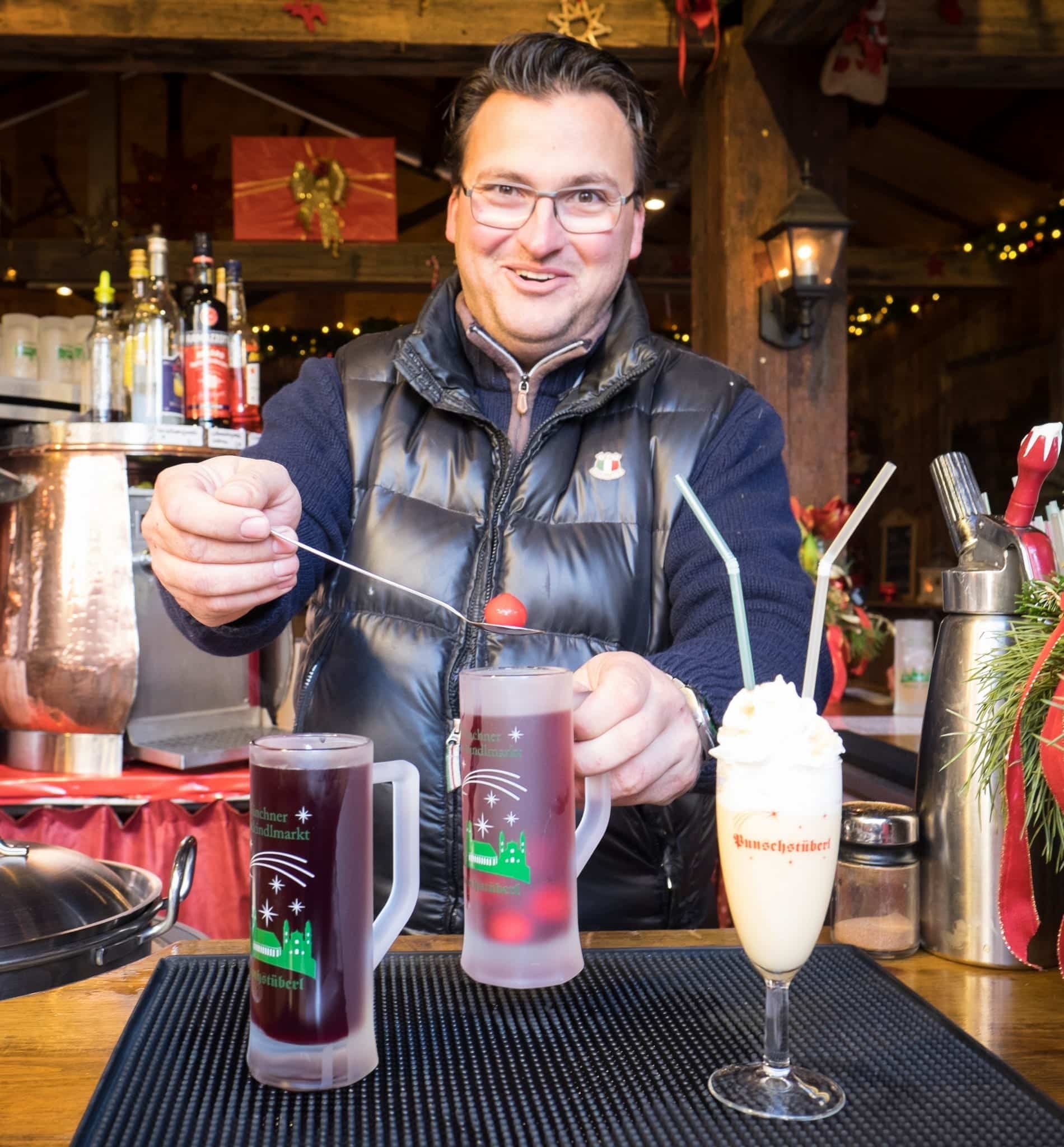 This gluhwein-serving man has discovered the secret to happiness: find what you love and do it for the rest of your life. For him, it's serving various Christmas beverages to foreigners at the market.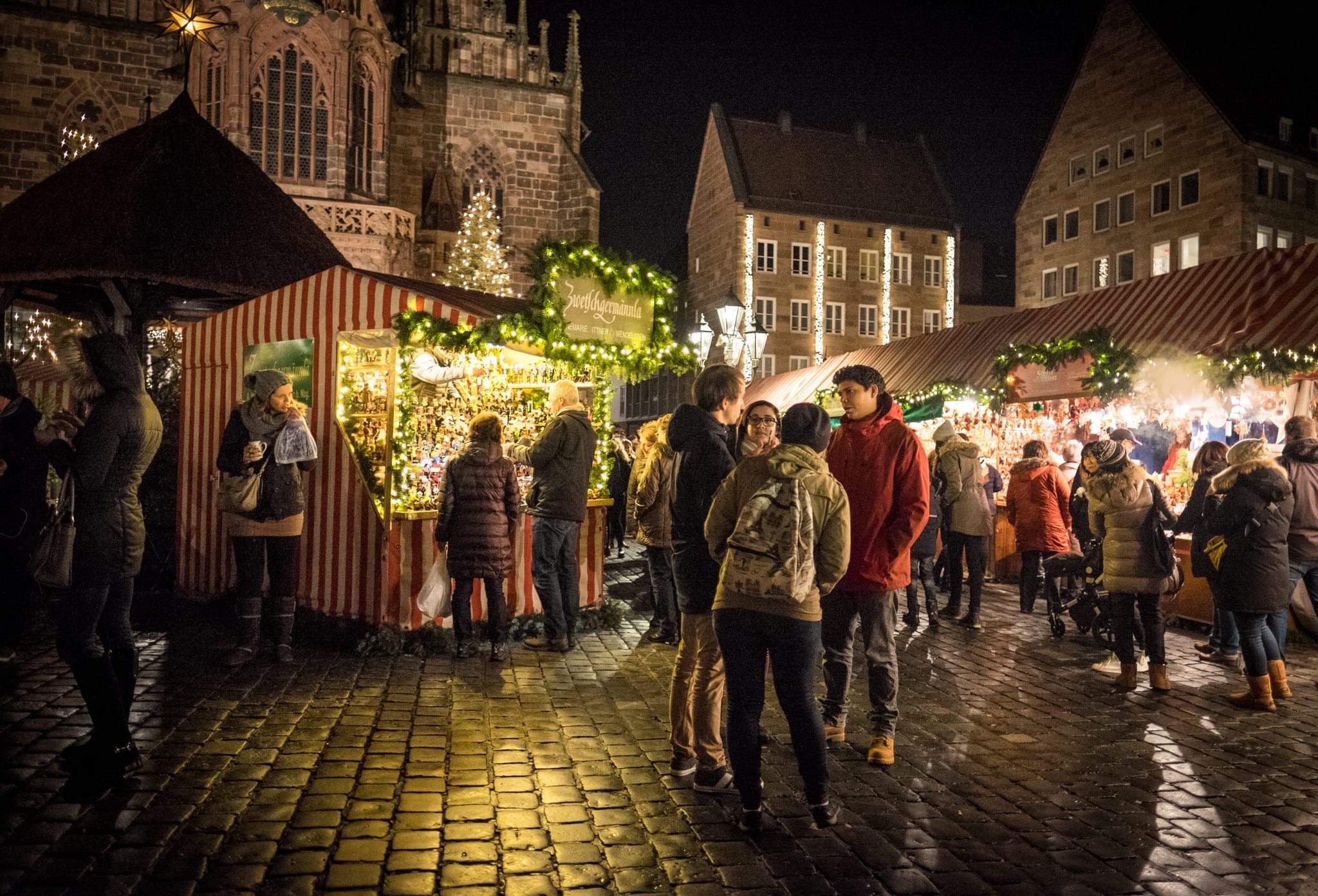 If there's any city in Bavaria you must visit during Christmas, it's Nuremberg (Nürnberg), the grandaddy of all Christmas markets. It's the oldest, the largest, and the wares are all handcrafted.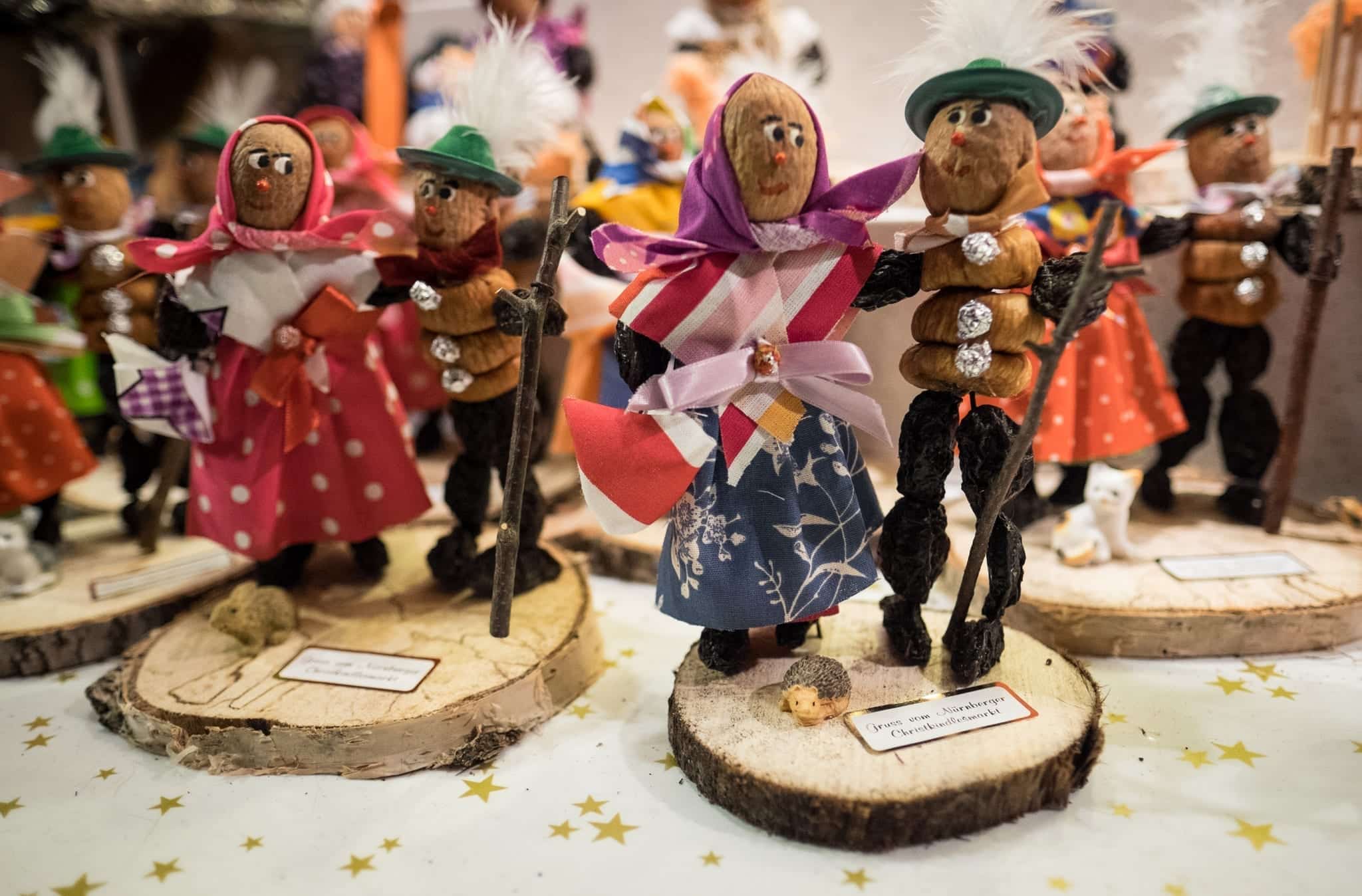 These fig people were surprisingly omnipresent throughout Bavaria.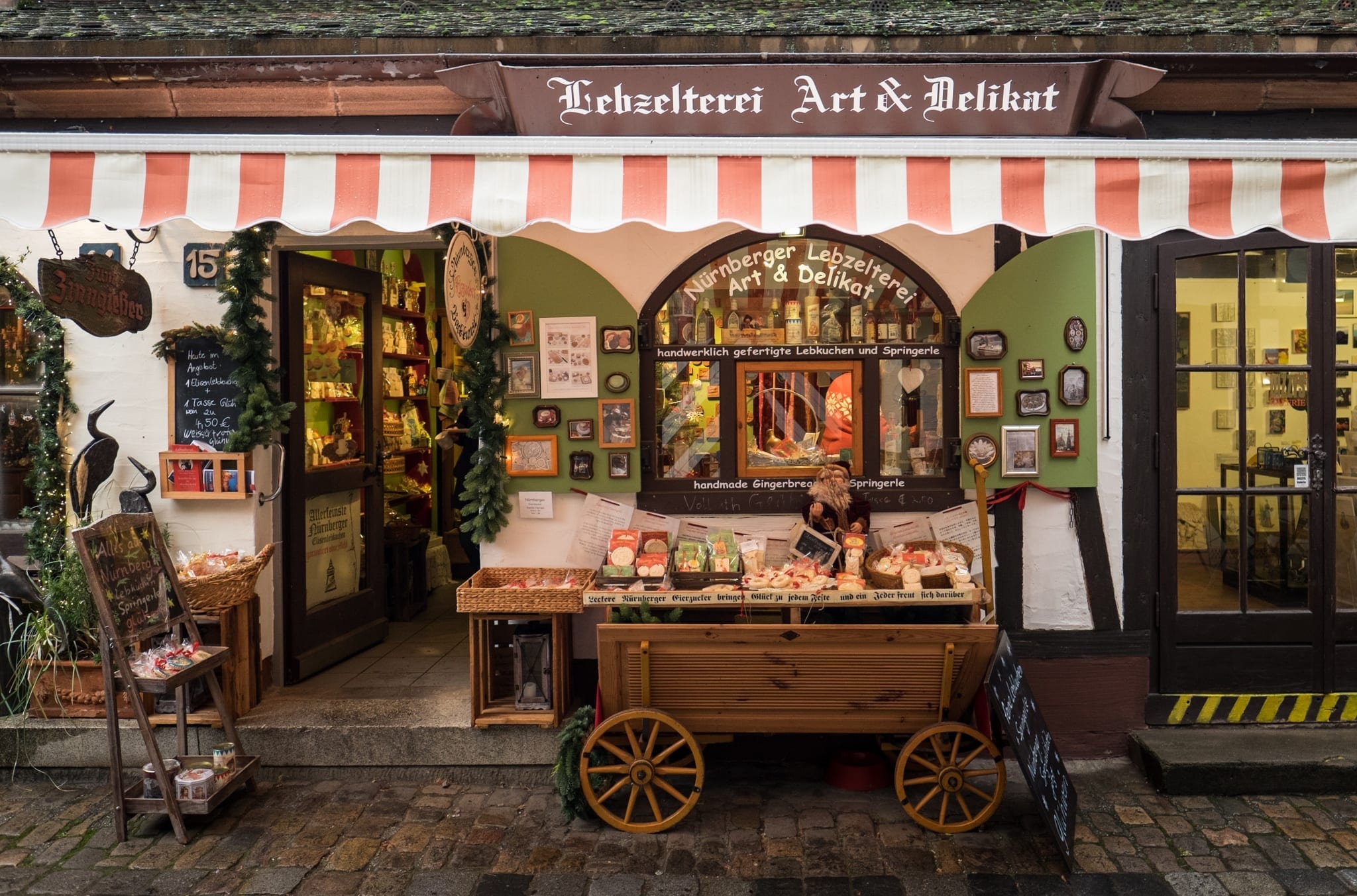 There are winding streets in Nuremberg that are decked out like they're from a past century.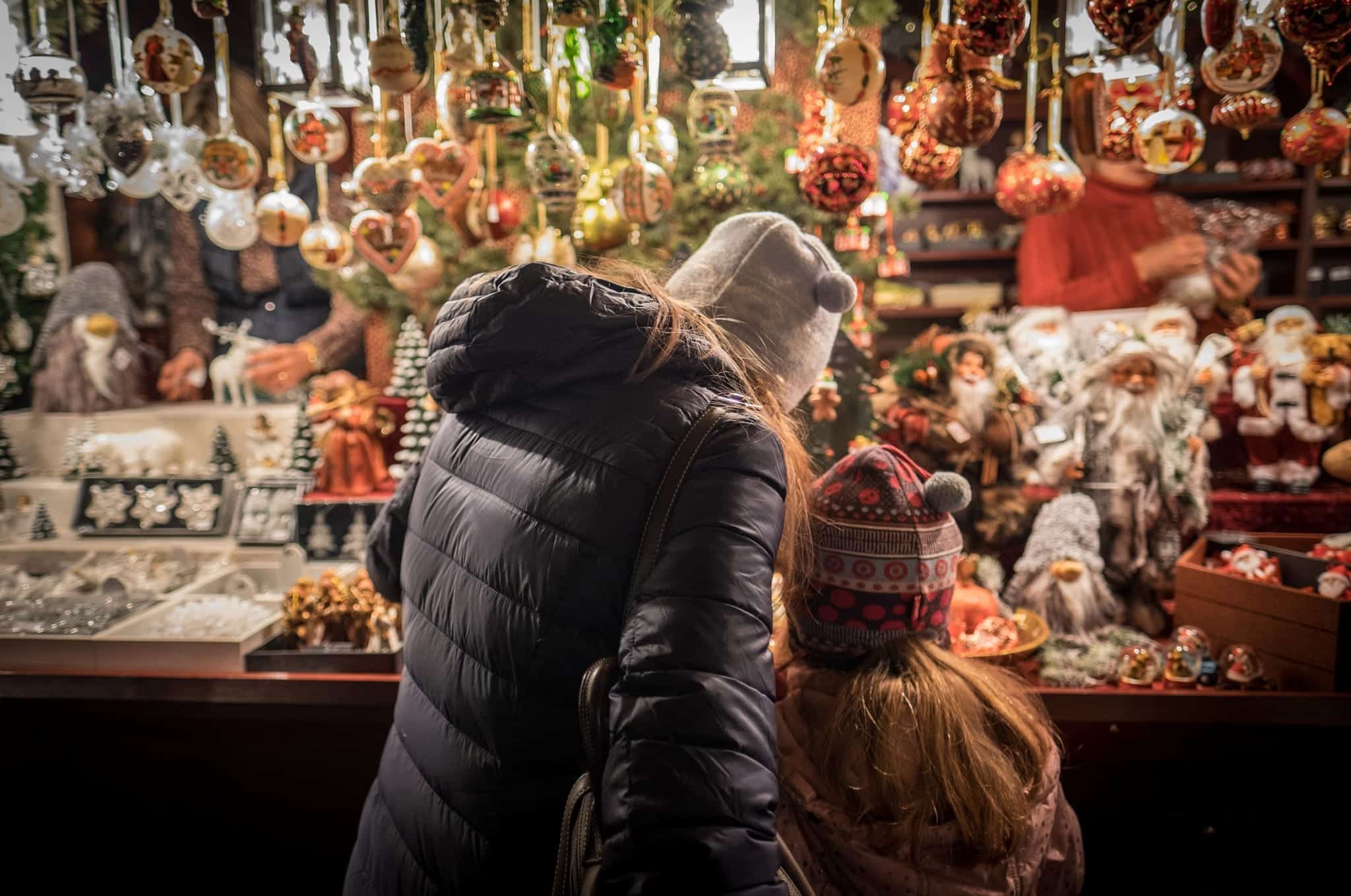 I love this shot of a mother and daughter!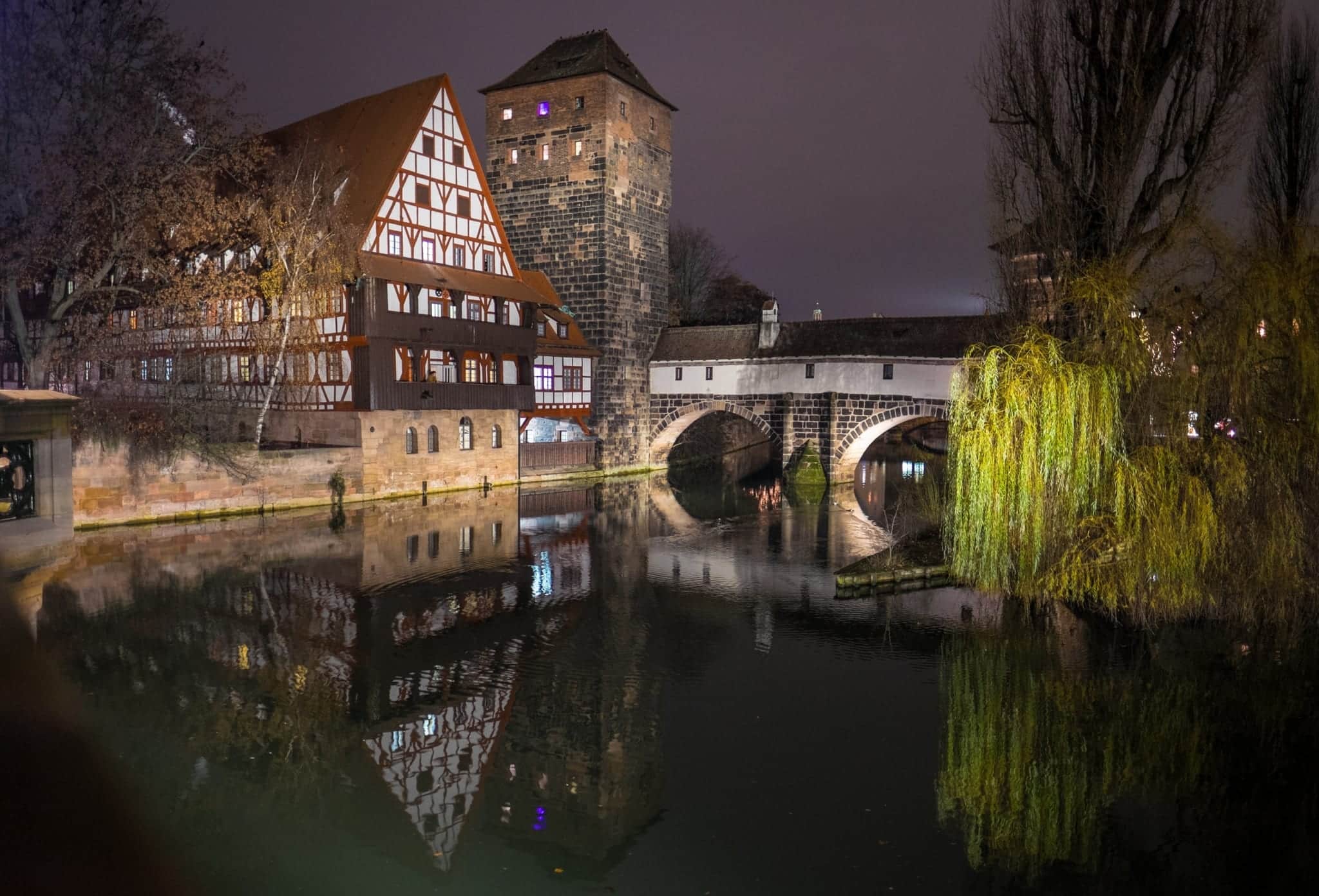 My favorite shot is of Nuremberg at night…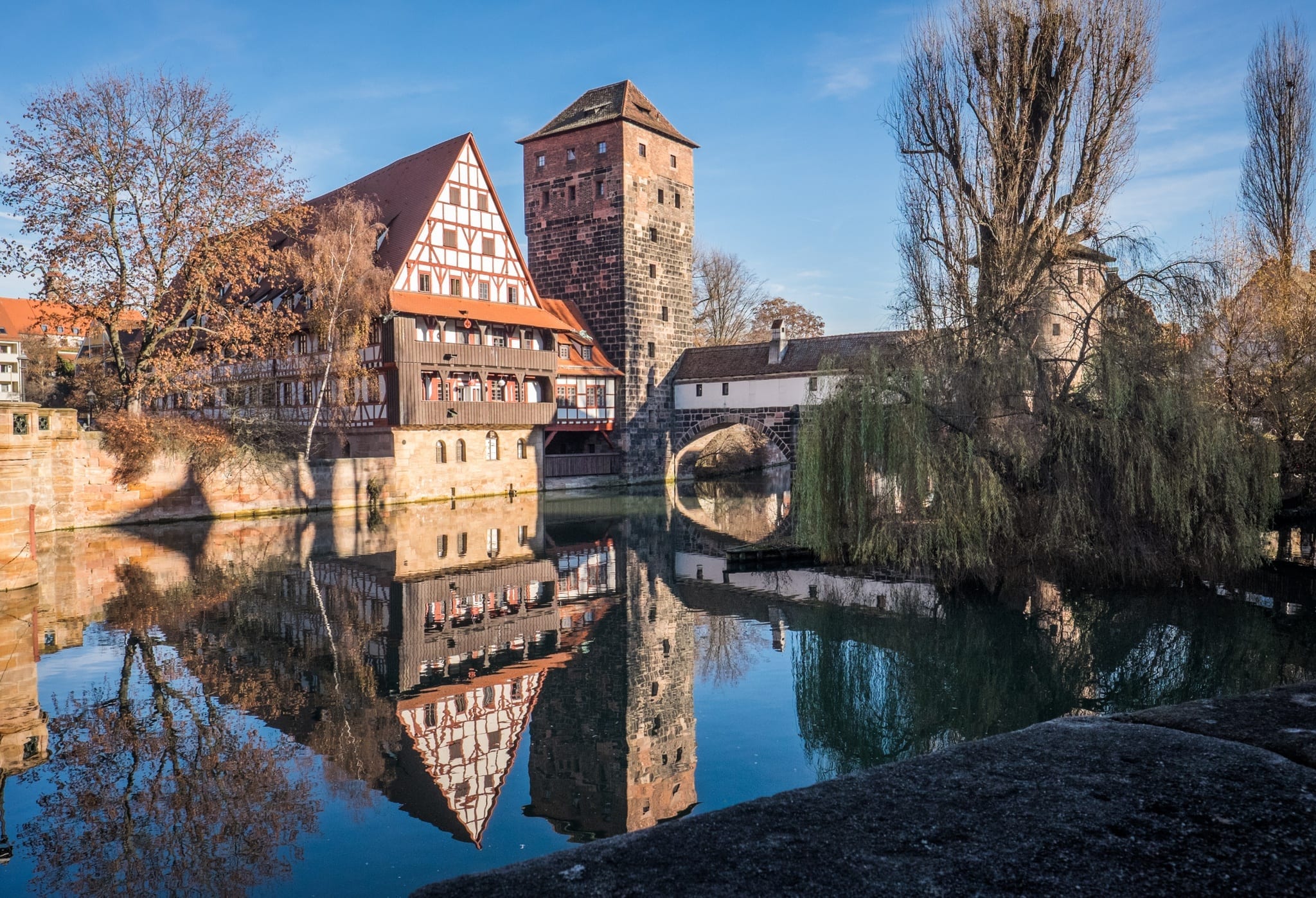 And it's just as beautiful by day as well!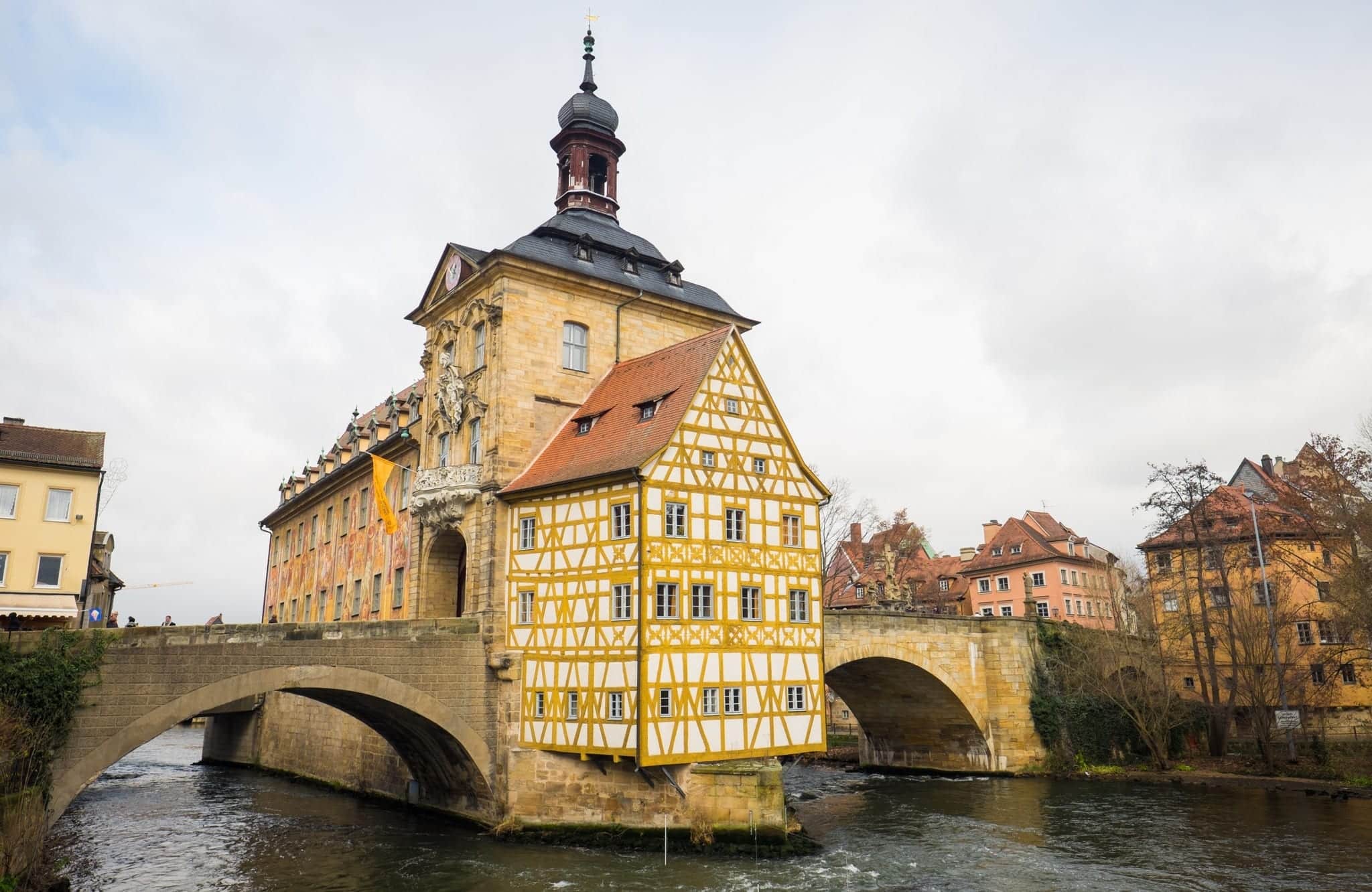 Bamberg is a lovely town 30 minutes from Nuremberg. This is the most famous vantage point in the city!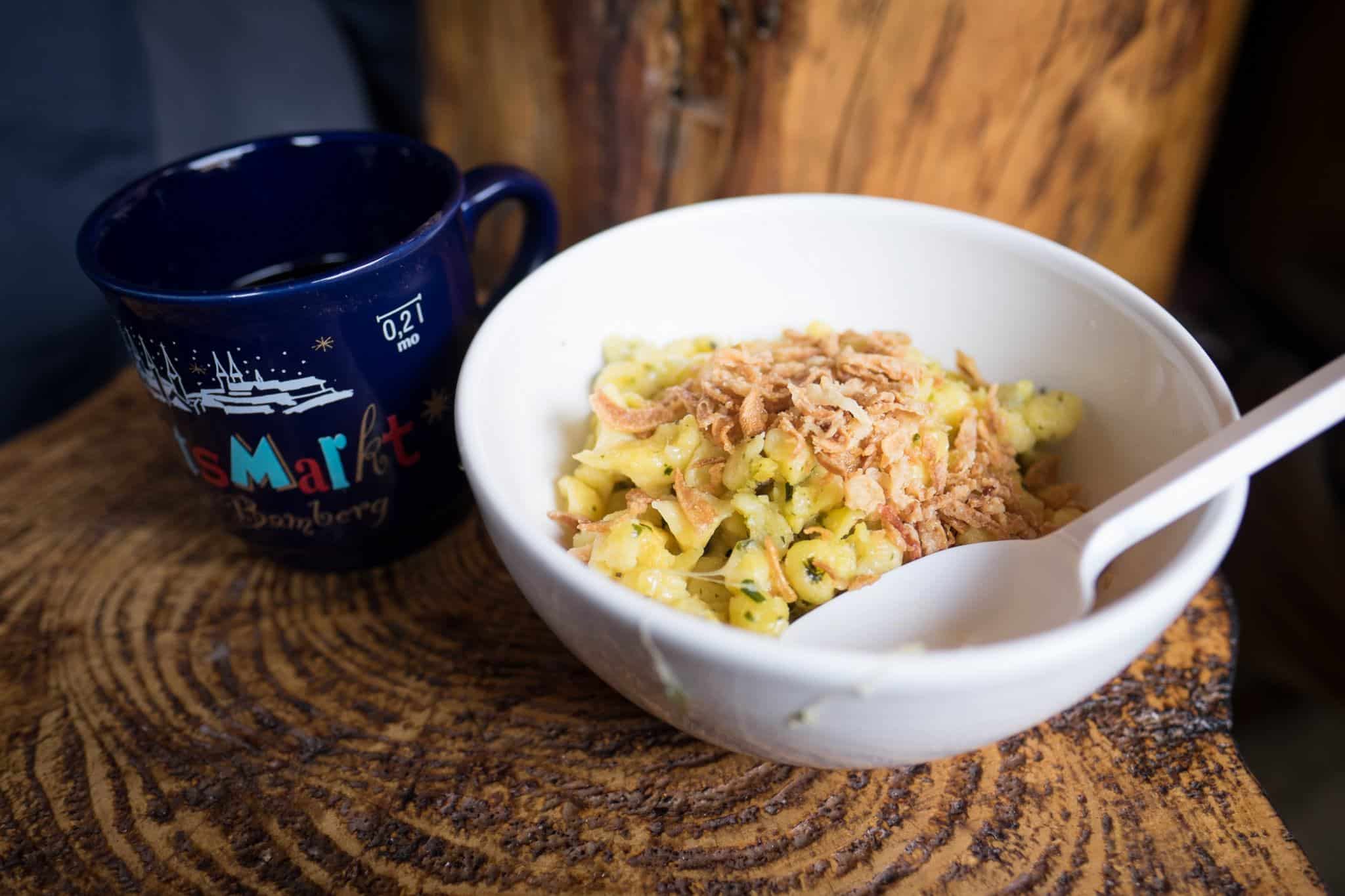 Heidelbeer gluhwein and käsespätzle — blueberry mulled wine and cheesy noodles topped with fried onions.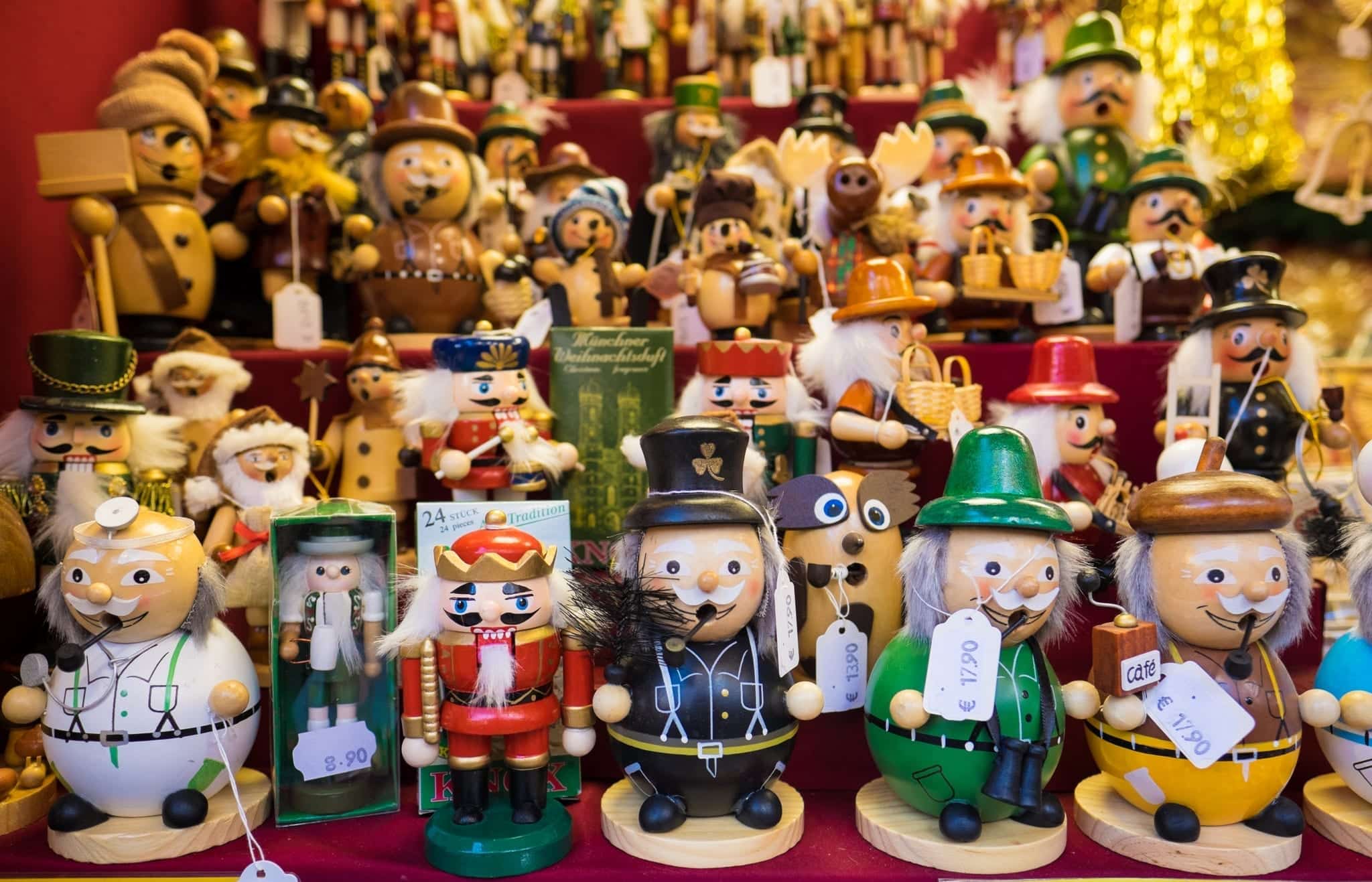 I wouldn't be able to sleep with these in my room.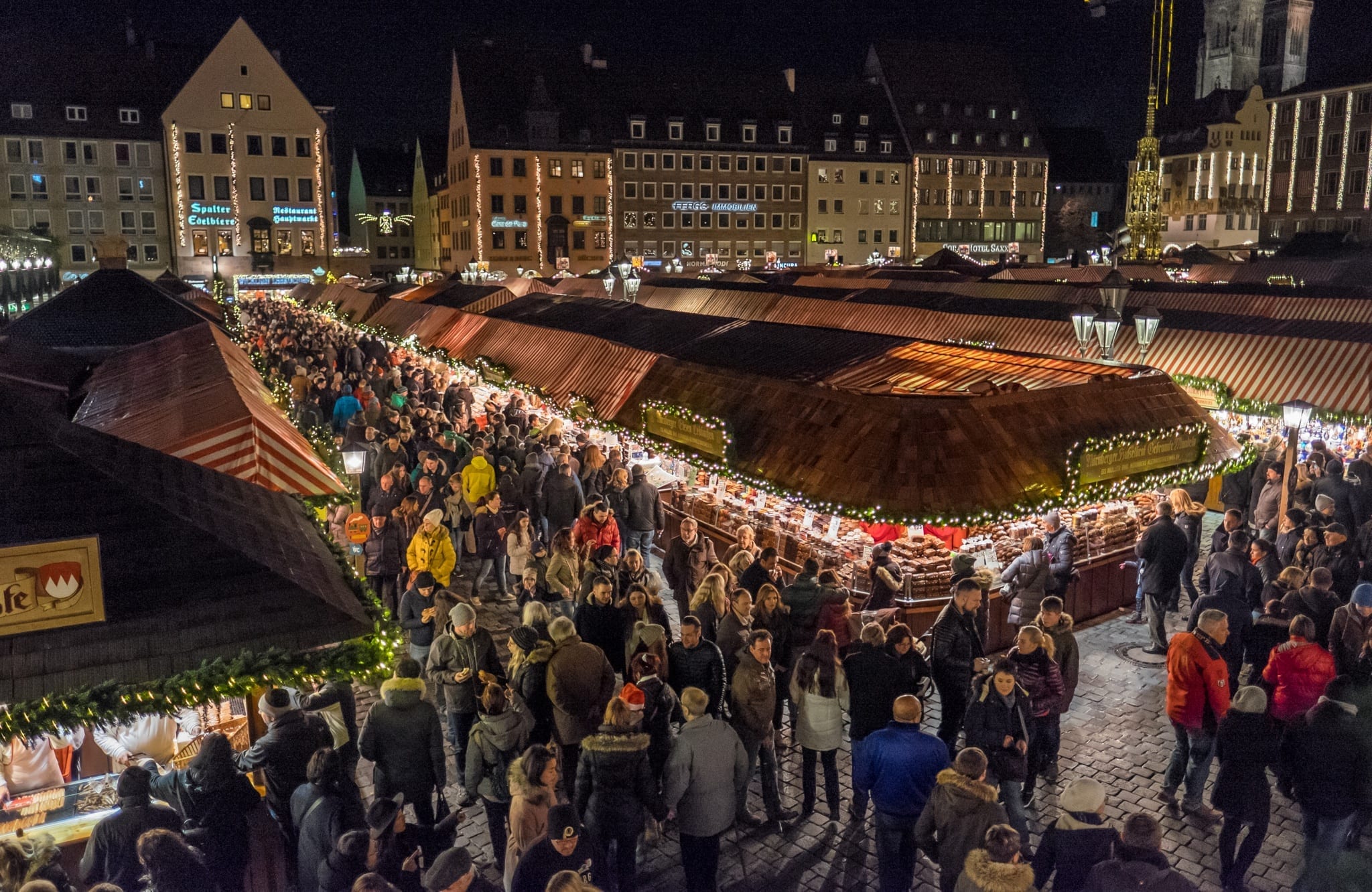 You can see how big the Nuremberg Christmas market is here! I happened to love it, but lots of locals told me they preferred smaller, less congested markets.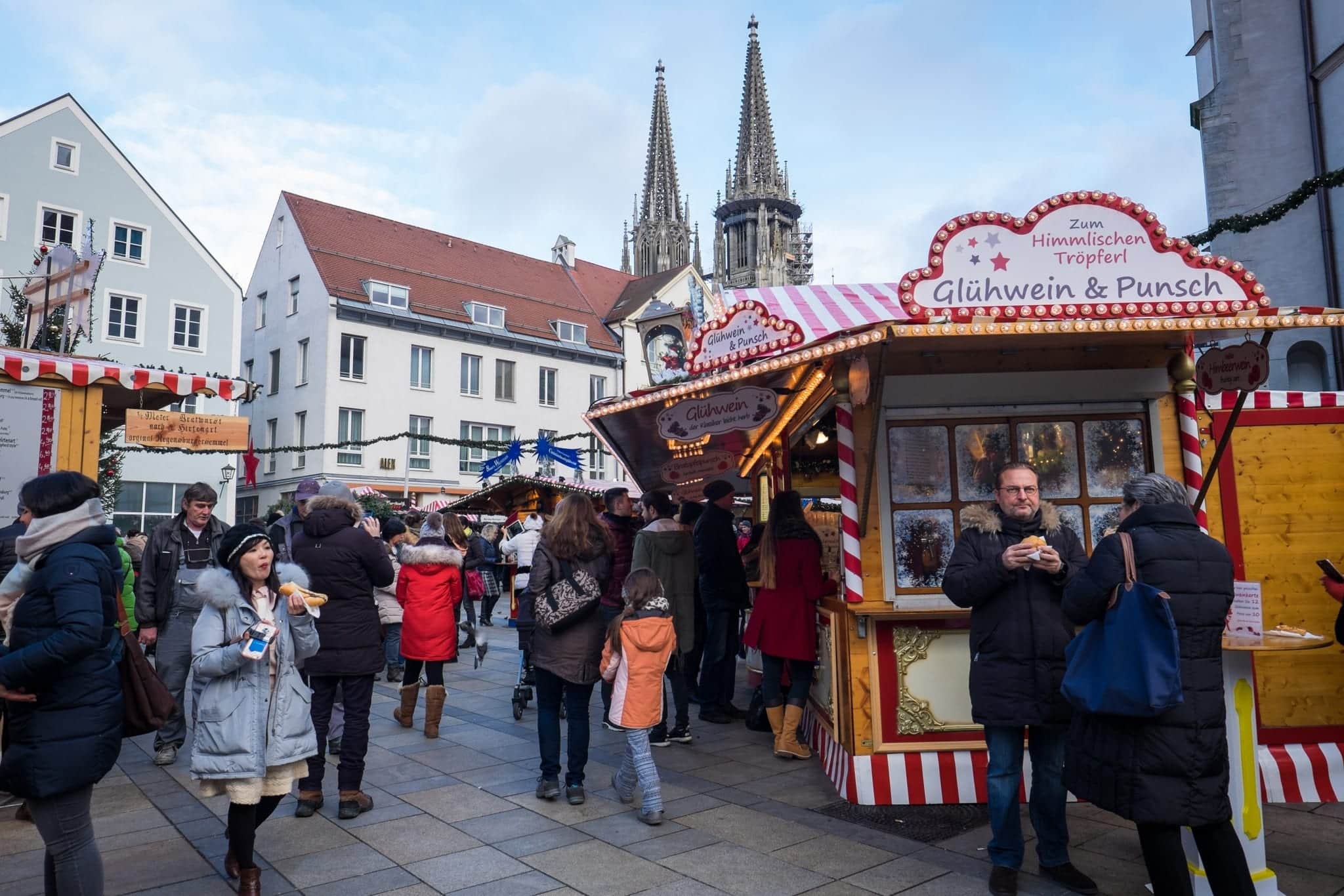 Regensburg was my next stop. This small city felt very Italian to me, and not just because it was full of espresso bars!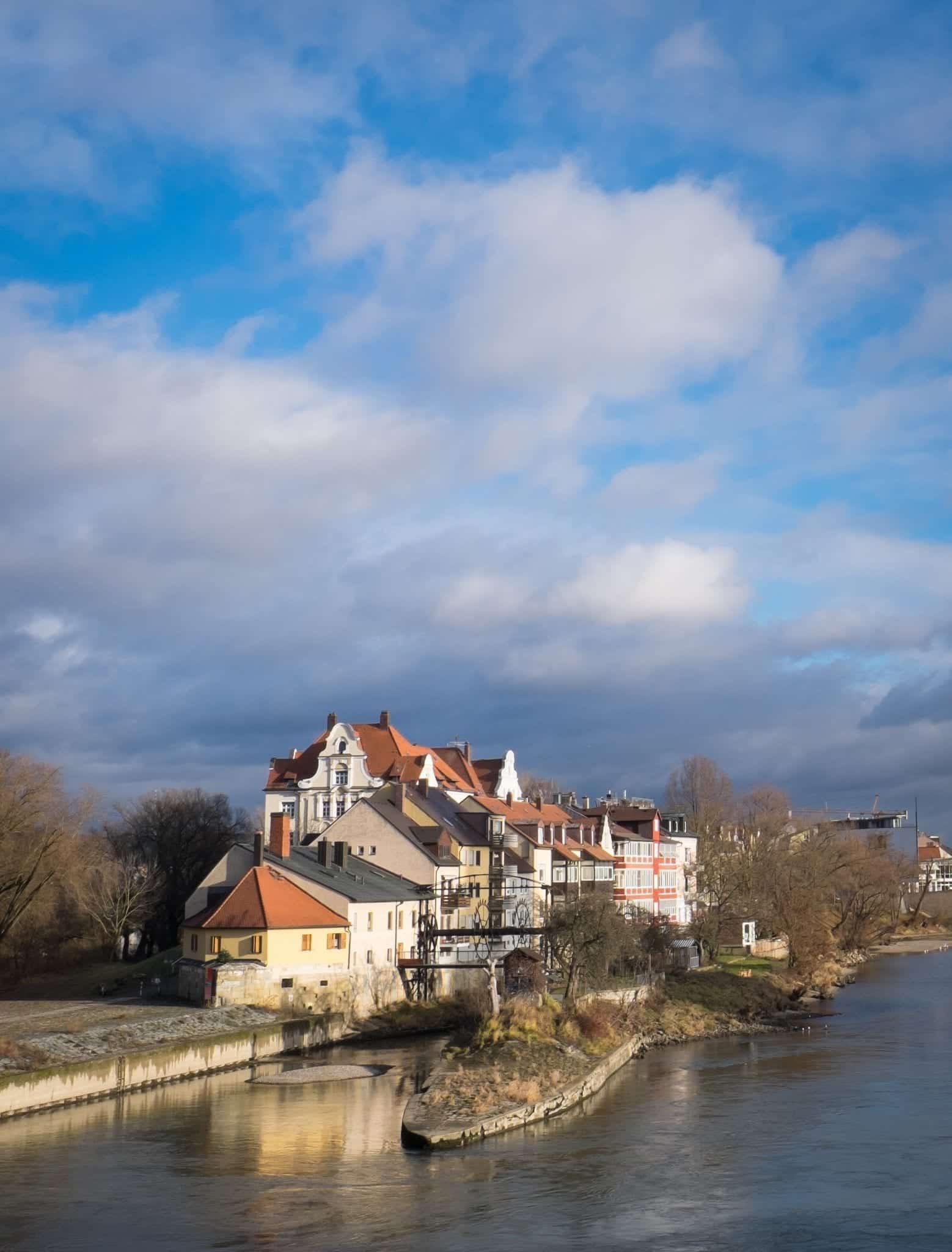 Regensburg is on the Danube, making it a popular stop on river cruises.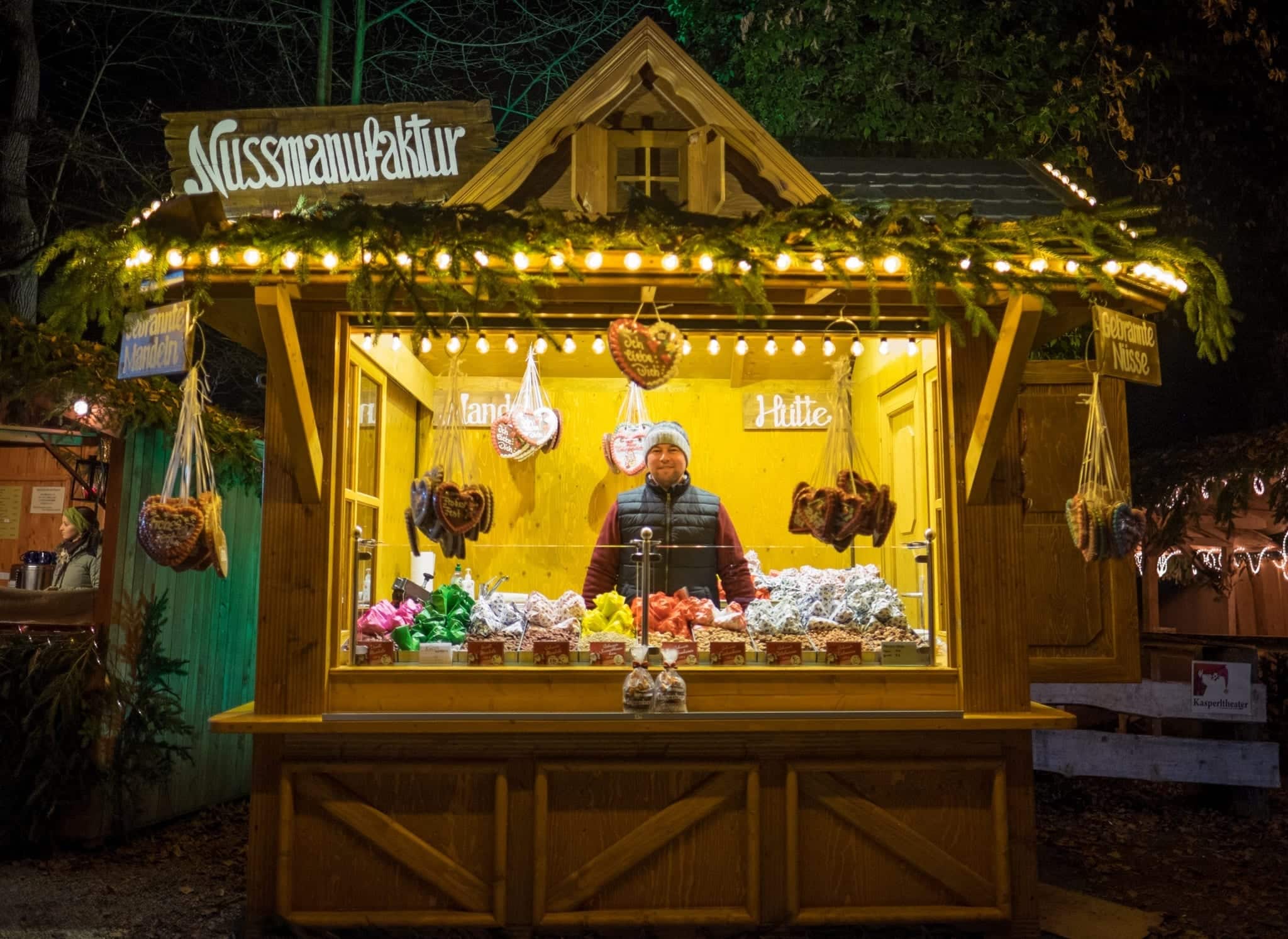 Regensburg also had the only market where I had to pay to get in — the Romantic Market, which cost 6.50 EUR ($7). It was absolutely lovely inside, but I'm not sure I'd pay for any other market!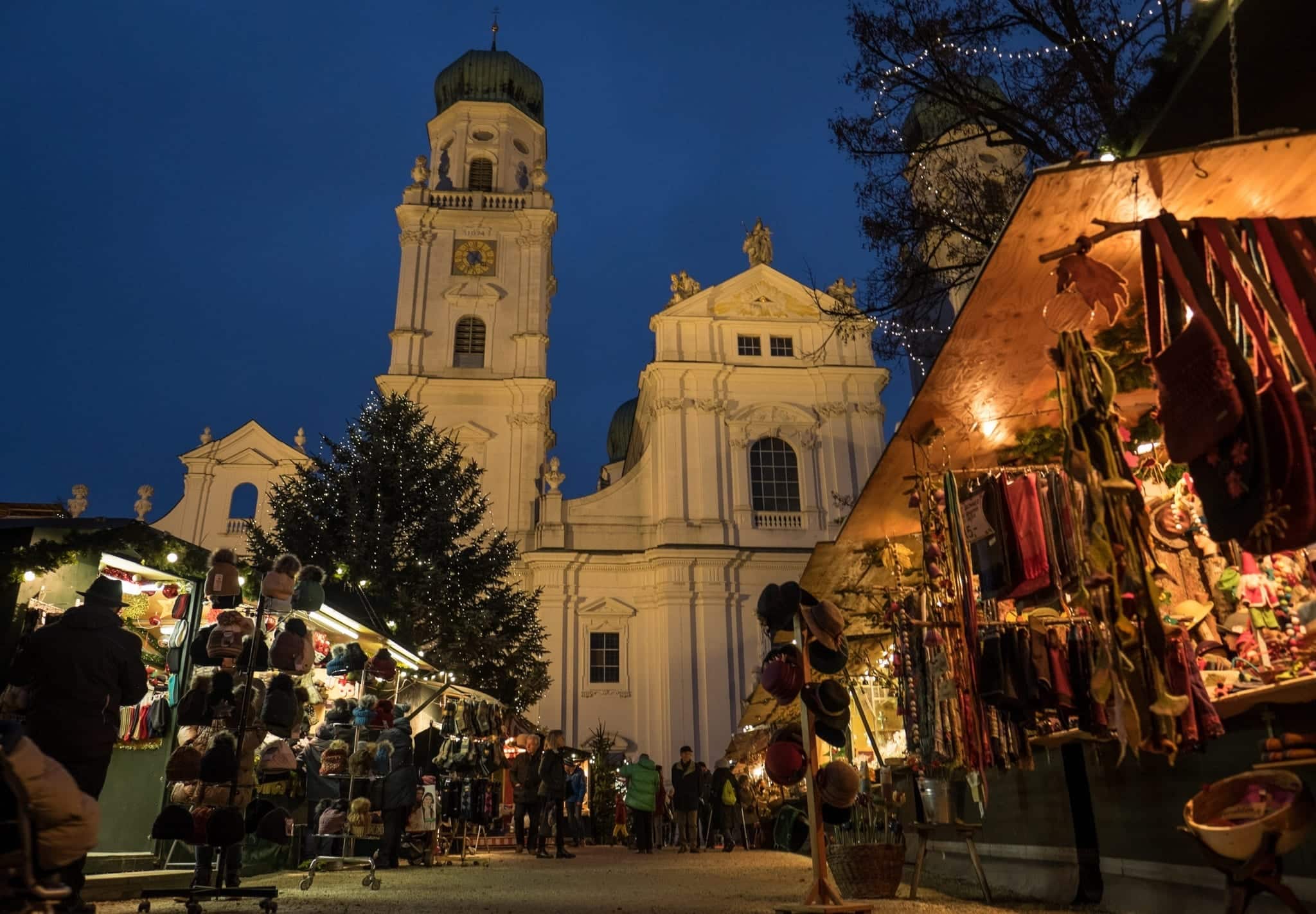 Next up was Passau, another city on the Danube. It definitely won for the quirkiest and most interesting history!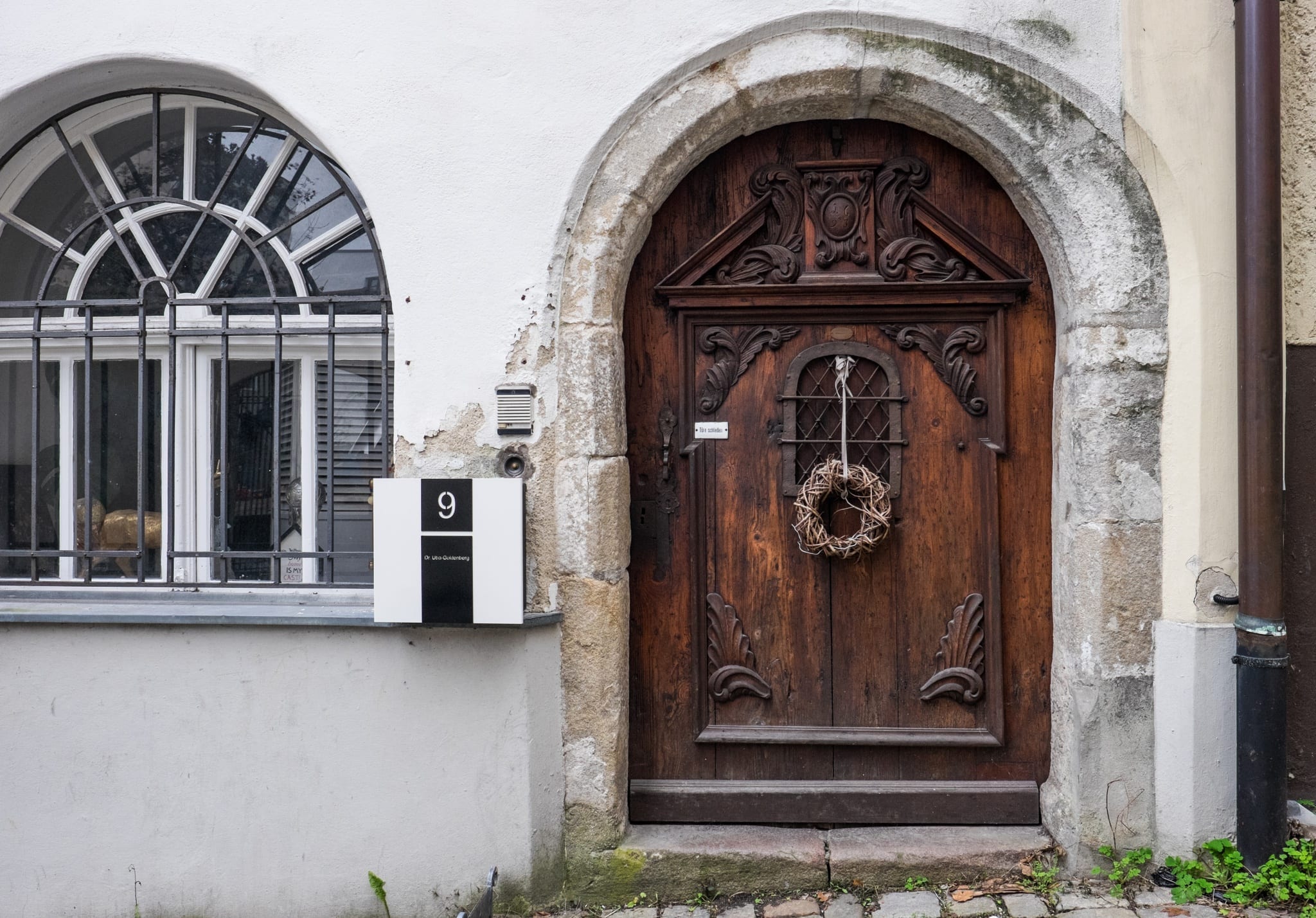 This is a plague door dating back to 1693. Back in the day, people with the plague were quarantined behind doors like these and fed through the slits in the window. (Amusingly, a handwritten sign in the window reads "NO PLAGUE HOUSE!")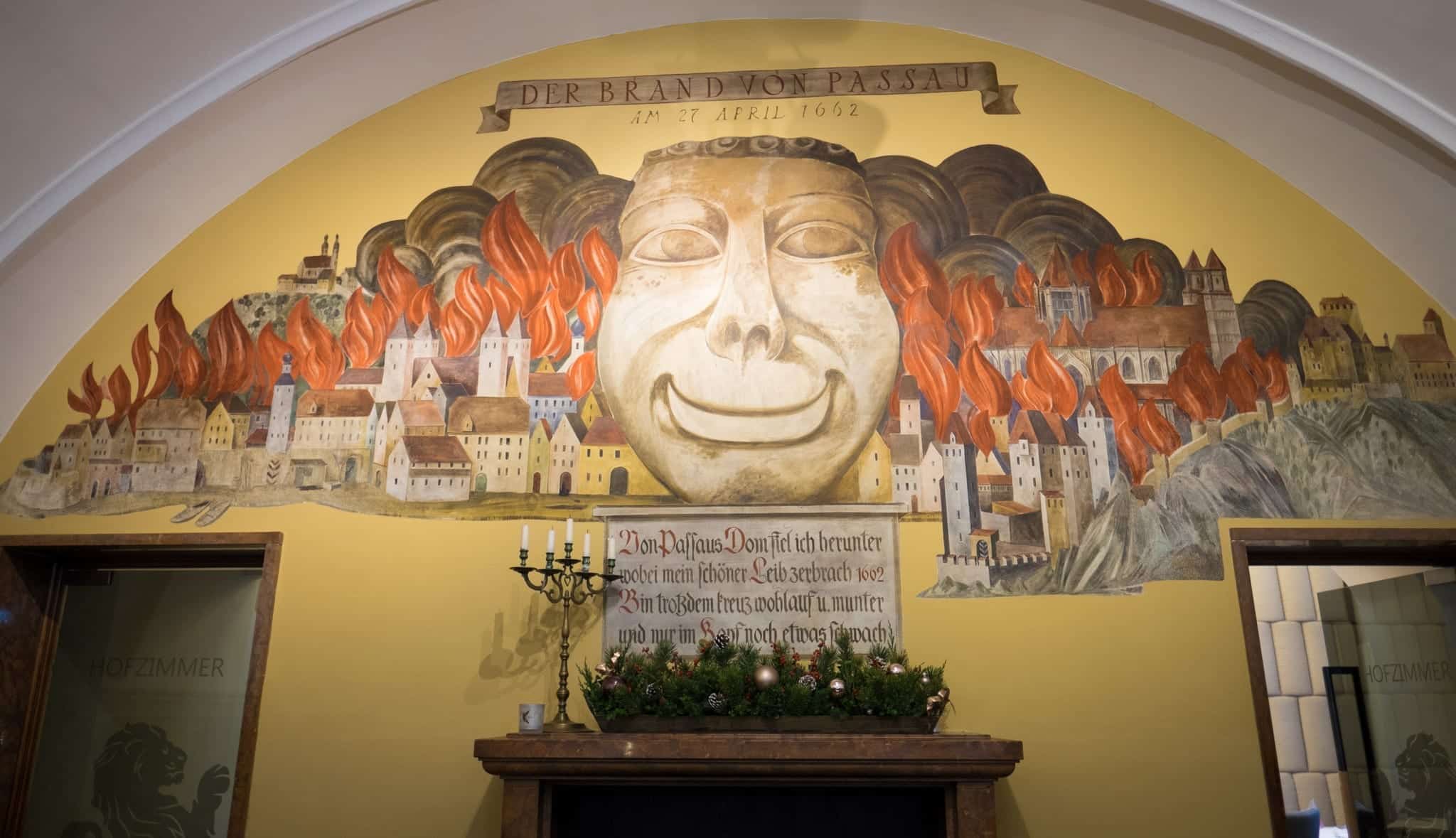 Passau is defined by fire and water. A fire in 1662 burned the entire town to the ground — and yet they rebuilt. Today, at the confluence of two rivers, they're vulnerable to flooding. The second-highest flood of all time took place in 2013.
"The insurance down by the river must be expensive," I told my guide, Martina. "Oh, no — they can't get insurance at all," she replied. How crazy is that? Even people living on an active volcano in Hawaii can get insurance, albeit extremely expensive insurance!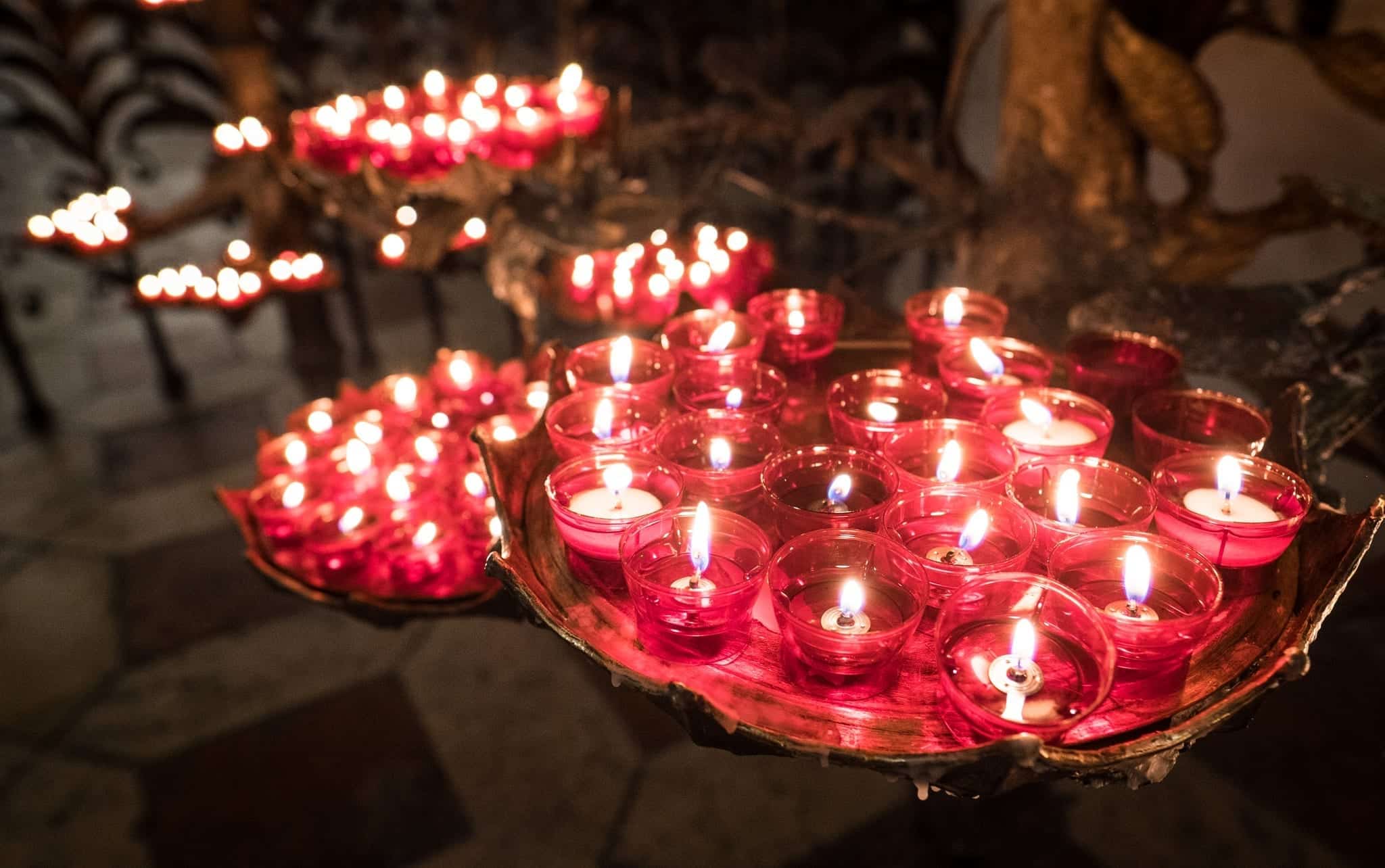 If you've ever traveled with me through a Catholic country, you know that I stop and light a candle whenever there's an opportunity to do so.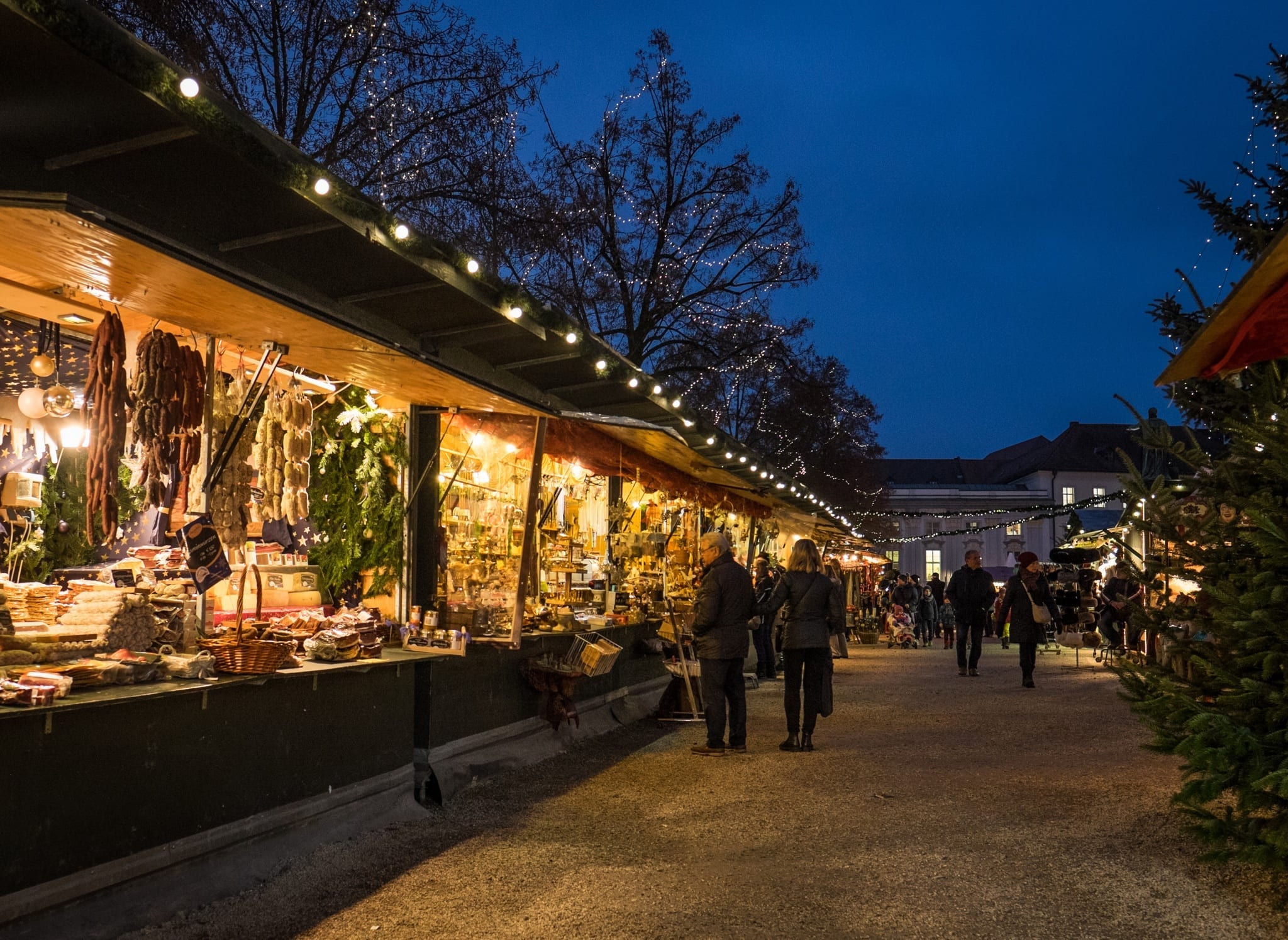 I love the look of Passau markets against the bright blue sky!
Little Red Riding Hood was on display in Munich.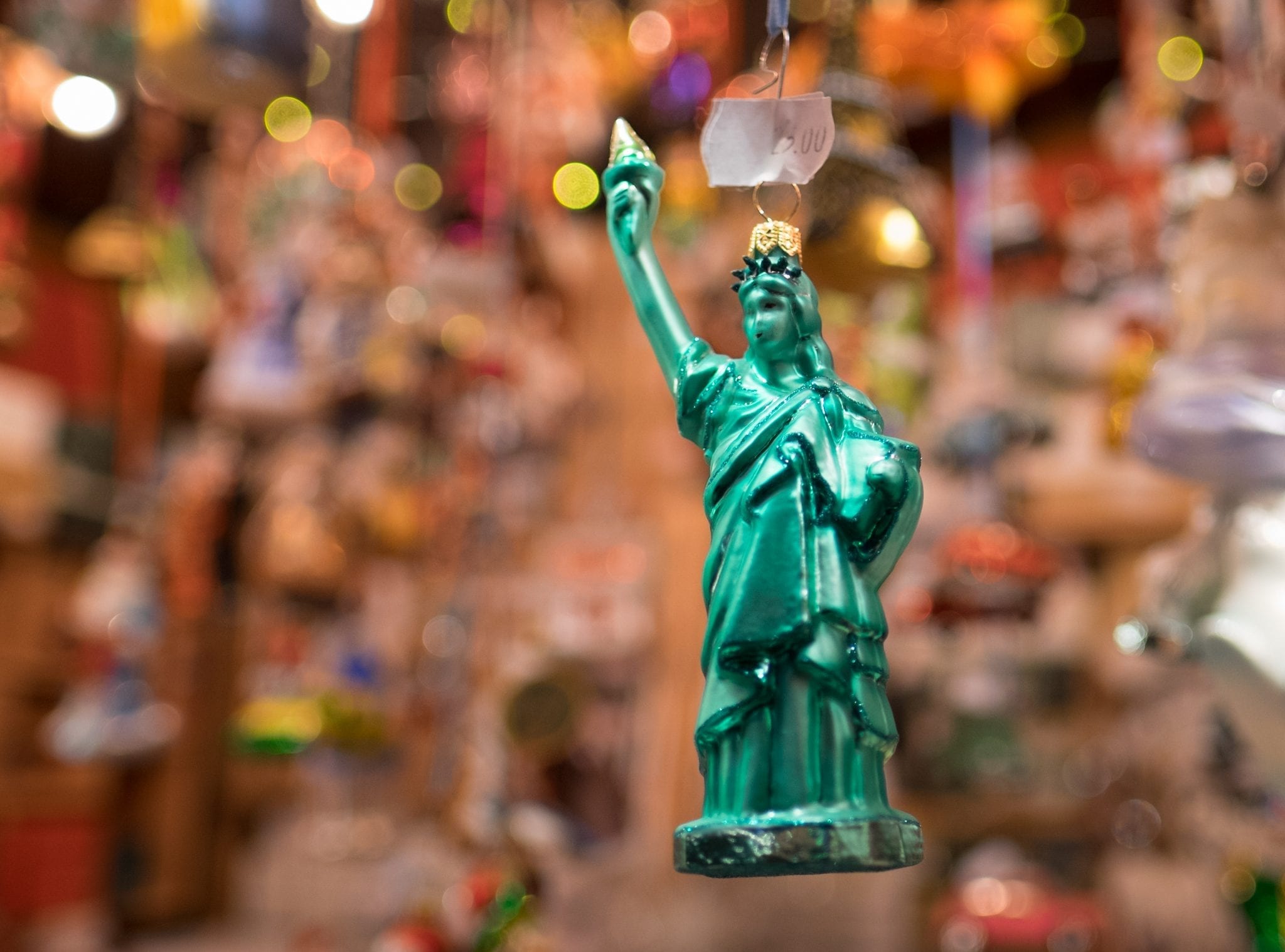 I was very surprised to see Lady Liberty in Munich. (And how much do you love the bokeh on that shot?)
Also in Munich is the Pink Market — the largest LGBT market in the region.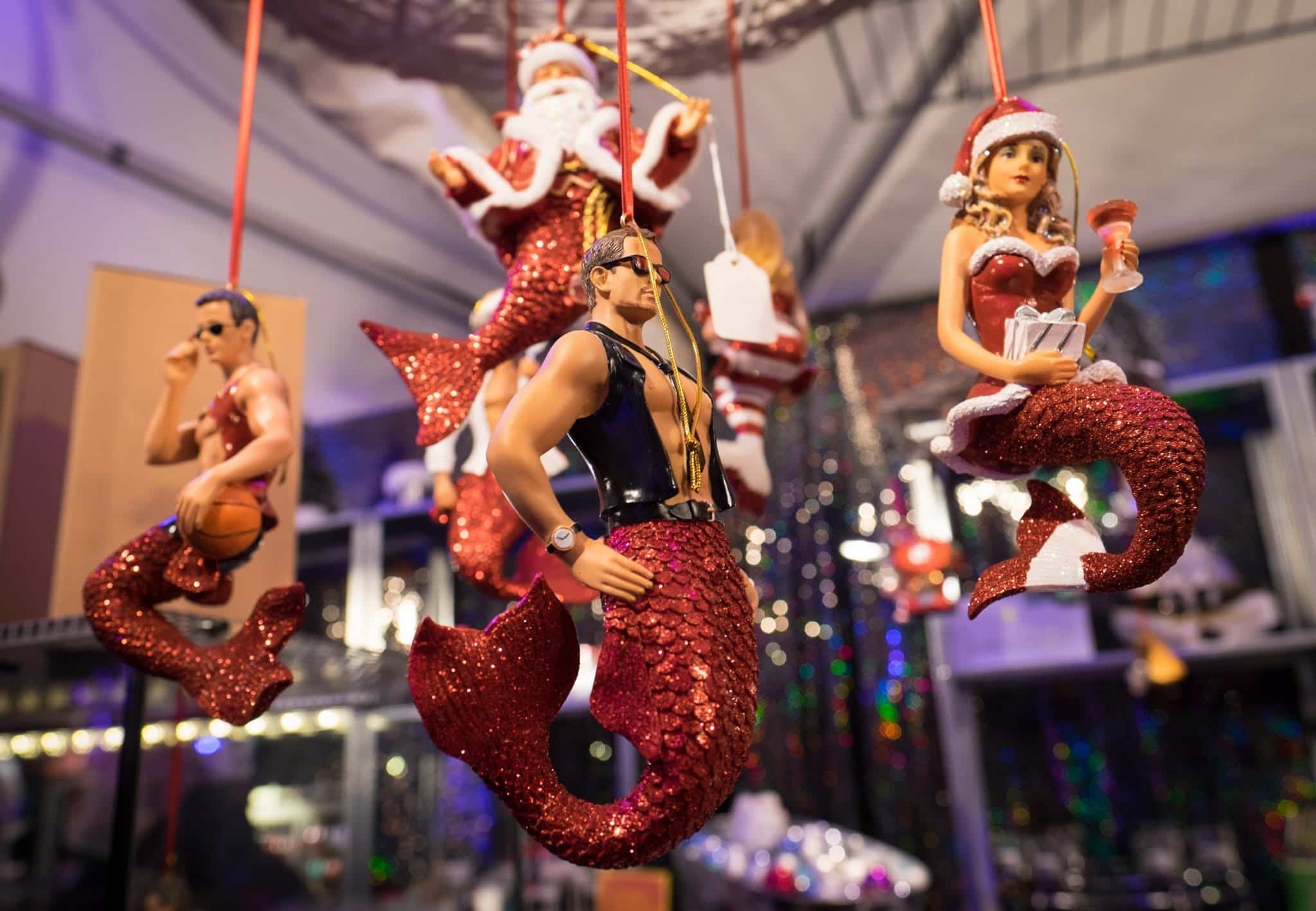 Finally Pink Market definitely had some unique handicrafts for sale — including sexy merman ornaments! How awesome are these?
Essential Info: I flew in and out of Munich and traveled by train throughout Bavaria. My tickets were  purchased a la carte, but you might save money with a Eurail (non-EU resident) or Interrail (EU resident) pass or the German Rail Pass, which is strictly for Germany. I recommend pricing out your legs and comparing the total cost. Don't forget day trips! Germany is one of the best countries to use rail passes because you almost never have to pay additional reservation fees for the fast trains, unlike France, Italy, and Spain. Plus, if you're over 26, you're automatically in first class.

For a Christmas market trip or a trip where you're doing lots of day trips, I find it best to stay in a hotel within a short walk of the train station (especially in small towns) because it will make your life a million times easier.

In Munich I stayed at the Hotel Präsident, a good, central three-star close to the main train station and in walking distance of a lot of Munich attractions. Rates from 192 EUR ($199). I also stayed at the Westin Grand Munich Hotel, an excellent five-star business hotel, but it's not in the center of town; it's well connected by U-bahn though. Rates from 438 EUR ($454). Find more Munich hotels here.

In Nuremberg I stayed at the Congress Hotel Mercure Nürnberg, which I do not recommend because it's isolated and far from everything (11-minute walk to U-bahn or 14 EUR ($14.50) taxi to the train station), and one night the front desk gave my key out to a stranger who barged into my room. (Always double-lock your door!!!) The manager was good about making things right, but I wouldn't stay there again because of the location. Rates from 94 EUR ($97). Find other Nuremberg hotels here.

In Regensburg I stayed at the Hotel Central Regensburg City Centre, which was spacious, comfortable, close to the train station and a short walk from the old town. Rates from 84 EUR ($87). Find more Regensburg hotels here.

In Passau I stayed at the IBB Hotel Passau City Centre, a good mid-range hotel, which was right across from the train station and a short walk from the old town. Rates from 75 EUR ($78). Find more Passau hotels here.

Don't visit Germany without travel insurance. I use and recommend World Nomads. I had to visit the hospital after hitting my head and sustaining a concussion. The ER I visited in Munich, Klinikum der Universität München, charges non-EU insurance-holding residents 300 EUR ($311), but because I use World Nomads, I'm getting that money refunded!
I visited Bavaria on a content creation assignment for the German National Tourist Board. All opinions, as always, are my own.
Have you been to Christmas markets in Europe? Share away!
Get email updates from Kate
Never miss a post. Unsubscribe anytime!