Adventurous Kate contains affiliate links. If you make a purchase through these links, I will earn a commission at no extra cost to you. Thanks!
Right now we all need comfort — more than we've ever needed it. When times are stressful, sometimes relaxing with comforting TV shows is a way to relax and escape for awhile.
As a TV connoisseur, I'm excited to share my favorite uplifting and comforting TV shows with you: comedies where you fall in love with the characters while laughing hard, dramas you binge while rejoicing in positive moments, reality shows all about good people helping other people.
Also, this list includes several of the best TV couples of all time — Coach and Tami Taylor from Friday Night Lights, Moira and Johnny Rose from Schitt's Creek, Leslie Knope and Ben Wyatt from Parks and Recreation, and Rebecca and Jack Pearson and Randall and Beth Pearson from This is Us!
These shows are some of my favorites. There are 29 of them. I hope you find the one that's right for you!
Note: if you're reading this post via RSS or email, click through to see the videos. Top image via Shutterstock.
How to Watch These Shows
All of these shows are available to stream right now on either Netflix or Hulu.
How to Watch Hulu from Outside the US
Hulu is US-only, but you can watch from abroad by using a high quality VPN. A VPN is software you use to provide a secure tunnel and disguise your location, and it's a critical way to protect your security online when using networks that aren't yours.
While there are tons of VPNs, most don't work on Hulu. I personally use ExpressVPN to watch Hulu from abroad and highly recommend it.
Most Comforting TV Comedies
What makes an uplifiting and comforting TV comedy? I decided to focus on comedies that are about kindness more than anything else, and are overall more positive than negative. The most uplifting TV comedies are about people who help their friends and families.
I nixed comedies that are a bit mean — like the vast majority of British comedies I like — and left out a few obvious favorites, like Friends and The Office. You already have your go-to shows; here's a chance to find some new ones.
As far as I know, the most comforting comedy on TV is Parks and Recreation.
Most Comforting TV Comedy: Parks and Recreation
This show is for you if you want to spend awhile visiting the most wonderful comedic universe, starring one of the most lovable casts of all time.
Parks and Recreation is one of my all-time favorite comedies — and my go-to when I'm looking for a comforting TV show. Leslie Knope is a passionate public servant working in the Parks Department of Pawnee, Indiana. While her colleagues don't quite share her gusto (including Ron Swanson, noted mustache enthusiast), they work together to make Leslie's dreams come true.
More than anything, I think the universe around Pawnee, Indiana, is the best comedic universe ever created. Pawnee is so specific that you just know the kinds of people and places in the town, and I love how there are so many crazy characters who pop up again and again over the course of seven seasons!
That, and this is one of the all-time great comedy casts. They are all so perfectly suited for their characters!
You should know: Season 1 isn't as good. At first they were trying to make Leslie Knope into a female Michael Scott and it didn't quite work. The show starts getting better in Season 2 and they hit their stride in Season 3.
Where to Watch: Netflix and Hulu
Details: 7 seasons, 125 episodes, 22-minute episodes
The Good Place
This show is for you if you want a light, easygoing, low-stakes show about good people trying to be better.
The show opens with Eleanor finding out she has died and has been sent to the Good Place — where only the best of the best people on the Earth get to go in the afterlife. The Good Place is a utopia — but soon Eleanor realizes she was sent there by mistake, and she was quite a bad person on Earth. She begs her assigned soul mate, Chidi, to teach her how to be a good person so they don't find out and kick her out to the Bad Place.
At its core, this show is about a not-so-good person learning how to be better — not only to other people, but also herself. It's beyond heartwarming. I also found this to be likely the lowest-drama comedy on this entire list, if you're looking for something low stakes. You'll be cheering along with Eleanor! And this show has a fabulous ending.
Where to Watch: Netflix and Hulu
Details: 4 seasons, 53 episodes, 22-minute episodes
Brooklyn Nine-Nine
This is for you if you want a lightning-fast, hilarious workplace comedy about a bunch of really awesome people.
Jake Peralta is the best detective at the 99th Precinct in Brooklyn — but he's also an overgrown manchild. Under the supervision of their new captain, Jake and his strange and hilarious colleagues solve crimes in the city while having plenty of adventures in the police station as well!
What I love about Brooklyn Nine-Nine is that it's inclusive without being preachy. It's racially diverse and queer positive, not only in its main characters but its bit players, and not a single character is a stereotype. Yet you wouldn't notice this unless you were actively looking for it. Beyond that, I think it's the best comedy on TV today.
You should know: Brooklyn Nine-Nine was cancelled a few years ago but was adopted by NBC, and now they're getting ready for Season 8! Also, Lin-Manuel Miranda was such a big fan, they cast him as Amy's brother.
Where to Watch: Netflix or Hulu (new episodes only on Hulu)
Details: 7 seasons and 143 episodes so far, 22-minute episodes
Shrill
This show is for you if you want to cheer on a plus-sized feminist hero and watch her take on the world.
Lindy West's Shrill is one of my favorite essay collections of the past few years — and the least likely it was turned into a TV show starring SNL legend Aidy Bryant!
Annie lives in Portland, works at a magazine, and has a guy she hooks up with regularly. Her father's dealing with cancer, her mother constantly harasses her about her weight, her boss puts down fat people, trolls harass her online. She's trying to get through life — then she decides that she's going to live life on her own terms.
Annie learns to soar — at a Fat Babe Pool Party, filled with the most incredible swimwear you've ever seen. Her career grows, she gets into surprising relationships, and things seem on the up and up. The cast is fabulous (Marv from Home Alone is her dad!) and it's truly unlike any comedy I've seen on TV. It was also the first show in history to have an abortion in its pilot.
Shrill is the perfect show for this time — it's groundbreaking and important, but it's also a pleasure to watch.
Where to Watch: Hulu
Details: 2 seasons and 14 episodes so far, 26-minute episodes
Frasier
This show is for you if you want to laugh hard in between being lulled by smooth jazz and calm voices.
When Frasier was at its peak, I was in middle school. At that time, I thought Friends was the cool show and Frasier was the boring show for adults. I started watching it again in my thirties and was struck by how much I enjoyed it!
Frasier, at its heart, is a show about family — Frasier and his brother Niles are both snobby psychiatrists and clash with their father Marty, a retired cop. But behind those clashes, there's a lot of love. And it's all wrapped up in Frasier's smooth, low voice, as he counsels clients on his radio show.
Frasier is a ridiculous, laugh-out-loud farce that is extremely calming at the same time. Not a lot of shows can pull that off.
You should know: Frasier's dating habits are a bit cringeworthy. So many much younger women.
Where to watch: Netflix and Hulu
Details: 11 seasons, 264 episodes, 22-minute episodes
Big Mouth
This show is for you if you're a fan of Family Guy but wish it were kinder.
Big Mouth is the kind of show that I can't believe exists. It's a cartoon comedy about middle schoolers dealing with puberty, their changing bodies, and their relationships with each other. Also, there's the ghost of Duke Ellington and a pillow that can get pregnant. Seriously. You'd never think a show like this could work — but it does. EXTREMELY well.
The show stars a cadre of contemporary comedians, including Nick Kroll, John Mulaney, Jessi Klein, Jenny Slate, Jason Manzoukas, Jordan Peele, Fred Armisen, and Maya Rudolph.
You should know: This show is extremely crude from the very first episode. If that's not your thing, this show isn't for you. Yet in spite of that, the show is also kind. What are the odds?!
Where to watch: Netflix
Details: 3 seasons and 31 episodes so far, 25-minute episodes
Jane the Virgin
Where to watch: Netflix
This show is for you if you want a light yet ridiculous show full of color, interesting characters, and soap-like plot lines you'd never expect.
In this telenovela based on a Venezuelan series, Jane is a 23-year-old devout virgin determined to save herself for marriage — then finds herself mistakenly artificially inseminated by a doctor. The wild series takes you up and down and through crazy plot lines as Jane navigates love and motherhood.
My friend Sky is a huge fan of the show: "Jane the Virgin became my quarantine binge because it's light hearted and funny but full of (sometimes ridiculous) plot lines that keep me intrigued and guessing. It's a telenovela that mocks telenovelas, full of larger than life characters, some of which I love and others that I love to hate, murder mysteries and more than one love triangle.
"The drama is addicting and a great distraction, I've learned that if I plan to watch one episode, I'll be watching at least three."
Details: 5 seasons, 100 episodes, 42-minute episodes
The Mindy Project
This show is for you if you want to see a woman who is successful but also trying her best to make the messy parts of her life work — while wearing a fun and crazy wardrobe.
You might know Mindy Kaling from The Office, or her two bestselling memoirs — but she's at her best when stepping into character as a successful OB/GYN, size 8 fashion icon, and romantic lead. Mindy runs her practice with a collection of quirky coworkers and has adventures in New York along the way.
Honestly, so much of what I love about this show is visibility — a larger-than-average woman of color dating lots of gorgeous guys and wearing the kinds of clothes you only see size 0 women wear. But it's also a fun show about life and love and building the kind of life you want.
Where to watch: Hulu
Details: 6 seasons, 117 episodes, 22-30 minute episodes
Schitt's Creek
This show is for you if you want a heartwarming yet hilarious comedy about a family that genuinely enjoys each other.
Schitt's Creek opens with the IRS coming to repossess the Rose family's mansion. Newly stripped of their wealth, they start over penniless in the town of Schitt's Creek, where their ostentatious ways are at odds with the humble people populating this rural town.
I love so much about this show — Moira and David's black and white designer fashions, the Levy eyebrows, the queer positivity, the fact that Johnny and Moira are continuously, madly in love with each other. The cast is SUPERB and honestly, it's a joy to watch them all play off each other.
A lesser show would have the family in constant conflict with each other. This show proves that you can do better. Also, are there any other shows about parents and their two adult children who live together as a family unit? I can't think of any.
Where to watch: Netflix and Hulu
Details: 6 seasons, 80 episodes, 22-minute episodes
Scrubs
This show is for you if you love seeing doctors who are also goofy, wacky, and kind people who are struggling to do the best they can in a high-stakes career.
On the surface, Scrubs is a wacky sitcom. It's told through the eyes of J.D., an intern who works alongside his best friend, Turk, a surgeon. J.D.'s daydreams blend in with his experiences, and you get to experience the hospital as an office with day-to-day routines rather than a depressing emergency room, like on most shows.
But this show is kind. Often quite emotional. It's about doctors and nurses trying to do the best they can, while knowing that they can't always succeed. Also, Scrubs is often cited as being the most accurate medical show on TV.
You should know: The final season SUCKS. You're not missing anything by skipping it. Also, J.D. and Turk are best friends in real life, too.
Where to watch: Hulu
Details: 9 seasons, 182 episodes, 22-minute episodes
Crazy Ex-Girlfriend
This show is for you if you're a proud musical theatre nerd, you wish people burst into song and dance more often, or you want to watch someone make worse relationship decisions than you ever did!
Crazy Ex-Girlfriend is a musical comedy with flashy musical numbers thrown in. Rebecca is a high-powered New York lawyer who decides to move to a random California suburb to follow a boy who dumped her in high school. As she gets into her new life, she searches for love and fulfillment among a cast of crazy characters.
The musical numbers are so much fun, and Rachel is a love-to-hate character at first — but then the show gets real, focusing on mental health, as Rebecca suffers from anxiety and depression and is later diagnosed with Borderline Personality Disorder; other characters struggle as well. It's a rare and nuanced look at mental health on this comforting TV show.
Where to watch: Netflix
Details: 4 seasons, 62 episodes, 40-minute episodes
Russian Doll
This show is for you if you're a Natasha Lyonne fan, a downtown New York City fan, or you want something you can binge in its entirety in an afternoon.
Russian Doll is a show that starts off like a darker version of Groundhog Day, but it turns into something better. Nadia dies after leaving her birthday party — then she suddenly appears back at the party, getting a chance to live the night over again. Over and over, she dies a different way and reappears at the party.
As Nadia tries to figure out how to stay alive, she ends up on a crazy journey. But then she decides she wants to stop being so selfish and become a better person. It takes a lot of work, but she's able to do it. And watching her succeed is the most comforting part of all.
This show has an ending that will have you smiling widely — a rare feat for a TV show. Beyond that, the East Village is arguably the most interesting character in the show. I watched this while living in Harlem, but it made me wish I had lived downtown!
Where to watch: Netflix
Details: 1 season and 8 episodes so far, 24-minute episodes
Most Comforting TV Dramas
Is there such thing as a drama that is a comforting TV show? Absolutely. Just look for shows where the conflicts are about people and their relationships rather than crime syndicates and murders.
As much as I'm a fan of dark TV shows like Breaking Bad, The Handmaid's Tale, House of Cards and Ozark, those shows are not what I would call comforting.
Here are my picks for the best uplifting and comforting TV dramas. My #1 pick is Friday Night Lights.
Friday Night Lights
This show is for you if you want to watch a show about good people doing the best they can, and if you are not familiar with Texas high school football culture.
I love Friday Night Lights SO much, I feel the nostalgia coalescing inside my veins. This show focuses on Coach Taylor, the new and as-yet-unproven head football coach who will be run out of town if he can't win, and Jason Street, the star quarterback who ends up paralyzed in a game gone wrong. Beyond that, the football players come from various difficult backgrounds and struggle to get by while fighting to get to the state championship.
Just like any comforting TV show, you feel for the characters SO hard. Every single one of these characters is fully realized and richly drawn — but more than that, they're all good people. Flawed people, very often. But you can't help but root for them because they have kind hearts.
I also appreciate that the show focuses primarily on lower-middle-class and working class people, which is rare in most TV shows.
You should know: Some storylines around Season 2 and 3 (like Santiago's) unfortunately petered out as a result of the writers' strike.
Where to Watch: Netflix and Hulu
Details: 5 seasons, 76 episodes, 48-minute episodes
The West Wing
This show is for you if you are nostalgic for the days of competent governance in Washington — and like Aaron Sorkin's long, witty speeches.
The West Wing focuses on President Bartlet and his staff as they try to make America a better place while shepherding the nation (and themselves) through various conflicts. Most episodes focus on a day in the White House, with themes that stretch out over the season or multiple seasons.
If you're yearning to have a White House you can root for, The West Wing shows you how good it could have been. And if you love witty dialogue, this is a great show — on that practically invented the walk-and-talk.
Where to watch: Netflix
Details: 7 seasons, 156 episodes, 42-minute episodes
Sex Education
This show is for you if you love a good high school drama with a positive message — and if it's British, all the better!
Gillian Anderson plays a sex therapist in the series; her son, Otis, is an awkward high school student curious about sex and yearning to be in a relationship. He and his classmate Maeve start a business at school where they answer their classmates' sex questions.
I haven't watched Sex Education yet, so here's why my friend Georgie loves it: "This show is clever, hilarious and filled with complex, well-developed characters. It promotes acceptance of others and, most of all, yourself. Plus, Gillian Anderson rocks (and I want her wardrobe!) It's totally heartwarming as well."
Where to watch: Netflix
Details: 2 seasons and 16 episodes so far, 48-minute episodes
Anne with an E
This show is for you if you grew up with the Anne of Green Gables books, or you dream of escaping to a beautiful rural island.
It's hard to think of a character more positive than Anne Shirley — "though please call me Cordelia" — the plucky redheaded orphan who arrives in Avonlea on Prince Edward Island and charms her way into people's hearts. Anne is adopted by Matthew and Marilla, an older pair of siblings, and she makes friends and has adventures in her new home.
The images of PEI alone are enough to get you to watch this show. It's beautiful and gentle and peaceful. On top of that, you'll fall in love with Anne and root for her as the locals of Avonlea stop prejudging her orphan background and grow to love her spirit.
Where to watch: Netflix
Details: 3 seasons, 27 episodes, 44-minute episodes
Gilmore Girls
This show is for you if you love fast-paced dialogue and dream of living in a small town straight out of a storybook.
Lorelei and Rory Gilmore are a mother and daughter who are close like sisters and talk a mile a minute, peppering their dialogue with pop cultural references. Living in the quirky town of Stars Hollow, they navigate their relationships with Lorelei's wealthy parents and a rotating cast of colorful characters, as they each try to find love and fulfillment.
While I never got into Gilmore Girls, so many of my friends love it — including my friend Amanda of A Dangerous Business and Cleveland Traveler. "I didn't get into Gilmore Girls until I was in college, and you could catch re-runs on ABC Family. But even so, the show has always brought back fond and nostalgic memories for me. I love the witty dialogue and the characters, and it's one of those shows that always feels comforting to me."
Where to watch: Netflix
Details: 7 seasons, 153 episodes, 42-minute episodes
Unorthodox
This show is for you if you want to watch someone with a difficult upbringing make the escape of a lifetime halfway around the world.
In this miniseries, 19-year-old Esty is living unhappily in an arranged marriage in her ultra-Orthodox Jewish community in Brooklyn. She makes a plan to escape to Berlin, where her estranged mother lives, and begins to reconcile her conservative upbringing with a new life on the outside, and discovers new forms of joy.
Unorthodox is next on my list — and my friend Kash loved it. "Some parallels with my life story," he told me, having grown up across cultures in India and Britain, eventually making his way to Berlin as well. "It was pretty emotional to watch it."
Where to watch: Netflix
Details: 1 season, 4 episodes, 54-minute episodes
This is Us
This show is for you if you enjoy dramas about families and relationships, and love a good cathartic cry.
This show is about multiple generations of a family — Mandy Moore and Milo Ventimiglia as the couple who had an epic love story until his early death shattered the family. The show picks up in the present day when their three kids are in their mid-thirties and flashes back as early as the fifties, but mostly to the nineties.
It's about love, relationships, and finding your way. And the cast is EXCELLENT, both the leads and minor roles, especially the kids who play Randall, Kate, and Kevin at different ages.
Honestly, I was a bit on the fence about including This is Us on this list. I absolutely LOVE this show and there are some amazingly uplifting episodes with parts that make your heart sing. But there are also parts that will make you bawl your eyes out. Not always happy tears.
You should know: The sudden death of a beloved spouse and father, and its resulting years of grief, is one of the main plot points of this show. If that's a tough subject for you, I wouldn't watch this.
Where to watch: Hulu
Details: 4 seasons and 72 episodes so far, 42-minute episodes
Most Comforting Reality Shows
Reality TV may seem like a tainted genre at times — it seems like people consider it a guilty pleasure at best and an abomination at worst. But that's not true at all — a lot of documentary and competition series show you the best of what the world has to offer!
I wanted to choose reality shows that are about positivity. As much as I love the train wreck that is 90 Day Fiancé, that's not a show you watch for the positivity!
Here are my picks for the most comforting reality shows. You can't get more comforting than The Great British Bake Off.
The Great British Bake Off
This show if for you if you are looking for something gentle, beautiful, and entirely positive, without so much as a hint of drama.
This show, called The Great British Baking Show in the US, is the epitome of comfort TV. A group of amateur bakers compete in themed competitions each week, making everything from bread to pies to trifles to gorgeous little pastries. Contestants could be teenagers or seniors, travel writers or builders or rocket scientists, all who simply love to bake for fun.
The show is judged by British baking legends (ooh, Paul Hollywood's blue eyes) and hosted by comedians who keep things light and fun. The contestants seem to genuinely like each other and help each other in times of trouble. (Except the Baked Alaska incident.)
Even if you're having a rough day, it's hard not to smile while watching this show.
You should know: The first few seasons aren't on Netflix at all; don't be surprised that it's "Season 1" but feels like an established TV show.
Where to Watch: Netflix
Details: 10 seasons, 94 episodes plus 28 specials, 60-minute episodes (only seven most recent seasons available on Netflix)
Making It
This show is for you if you're a fan of Amy Poehler and Nick Offerman and you love to see sweet people doing impressively creative things in a super-positive atmosphere.
It was hard not to put this one first! Honestly, I think this might be the most comforting reality show of all — but rather than being gentle, it's goofy and fun. Making It is a competition for creatives, from woodworkers and designers to artists, who all compete to make a creative item each week.
There is absolutely no drama in this competition — Amy and Nick are endless fountains of praise.
This show is so sweet that when each person gets eliminated, they join Amy and Nick in a band, all playing the theme song together at the end of the episode! THIS IS THE NICEST SHOW ON TV. What other reality show gives contestants a send-off like that?
Where to watch: Hulu
Details: 2 seasons and 14 episodes so far, 25-minute episodes
Queer Eye
This show is for you if you live for personal transformations and don't mind crying happy tears every now and then.
What a difference 15 years make. When Queer Eye for the Straight Guy came out (heh) in 2003, it gave visibility to out gay men but emphasized the worst stereotypes. The revived Queer Eye is a breath of fresh air — five queer folks who help people improve their self-worth as much as their physical appearance.
I love that they now make over women as well as men and queer people as well as straight. I love that they focus on Middle America. I love that they're realistic — that they help a low-income dad choose nice clothes at Target and they outfit a summer camp director at REI.
But most of all, this series is about the storytelling. They share stories of the most amazing individuals, and yes, you'll cry at times. I particularly recommend the episodes with Mama Tammye, Jason the Burning Man guy, and A.J., who comes out to his stepmom in one of the most vulnerable moments I've ever seen on TV.
Where to watch: Netflix
Details: 4 seasons and 37 episodes so far, 48-minute episodes
The Repair Shop
This show is for you if you want to see talented craftspeople people using their skills to do something nice for strangers.
The Repair Shop is a British import where experts restore people's family heirlooms so they show their original beauty. After all, heirlooms deserve to be displayed, not hidden away in the basement.
I haven't watched The Repair Shop yet, but my friend Emily loves it. "Damaged desks, wonky clocks and threadbare teddy bears all get amazing transformations from experts who seem to care as much about the items as their owners. I couldn't get enough of the owners' emotional reactions when their item was unveiled at the end."
Where to watch: Netflix
Details: 6 seasons and 122 episodes so far, 30-minute episodes (season 1) and 60-minute episodes (seasons 2-6)
The Masked Singer
This show is for you if you like your reality competition shows to be FUN and ZANY, the more ridiculous, the better!
In this South Korean import, singers come out in elaborate, fully masked costumes — and the judges have to guess who they are! From week to week, singers get eliminated as people try to figure out which celebrities are performing.
My friend Amanda loves The Masked Singer as well: "My husband and I watched the first episode of The Masked Singer ironically. But we ended up getting hooked! It's a silly and at times ridiculous show, but it's wildly entertaining. Not only are the costumes and performances pretty incredible, but it's so fun to try to work out the clues and figure out who's under all the masks."
Where to watch it: Hulu
Details: 3 seasons, 38 episodes, 42-minute episodes
Comedians in Cars Getting Coffee
This show is for you if you're a comedy fan and you want something you can watch in less than 20 minutes.
Comedians in Cars Getting Coffee is exactly what it sounds like: Jerry Seinfeld picks up a legendary comedian in a vintage car that he thinks suits their personality, then they drive around for awhile and get coffee. The whole time, they talk about comedy: their processes, their experiences, how their lives play into their work.
I love listening to people talking about how they work. I'm endlessly fascinated. And it's a treat seeing how relaxed two famous comics are with each other as they talk about their passion.
You should know: This is a show that varies enormously by episode. Some of my favorites are Julia Louis-Dreyfus, Tina Fey, Trevor Noah, Seth Rogen, Carl Reiner and Mel Brooks, Chris Rock, John Mulaney, Jim Carrey, any Alec Baldwin episode, President Obama (YEP!) and Michael Richards (so weird, they had to add a disclaimer saying "seriously, nothing in this episode was planned").
Where to watch: Netflix
Details: 11 seasons, 84 episodes, most episodes around 15-20 minutes.
Tidying Up with Marie Kondo
This show is for you if you're looking for something gentle and relaxing — and LOVE the satisfaction of places getting organized!
Marie Kondo's book The Life-Changing Magic of Tidying Up became an international sensation, teaching people to thank their belongings for how they helped them and let go of everything that didn't "spark joy."
In this series, Marie visits a variety of people — a pair of newlyweds, a couple with young kids, a recently widowed woman — and helps them get their home organized and peaceful. She begins by kneeling and respectfully introducing herself to the house.
I also appreciate that the show focuses on a variety of diverse folks, including multiple queer couples and a Japanese-American family whose relatives survived the US internment camps during World War II.
Where to watch: Netflix
Details: 1 season and 8 episodes so far, 40-minute episodes
Cheer
This show is for you if you grew up loving Bring It On but wish it were a documentary.
This sports documentary focuses on the cheerleading team at Navarro College, a small junior college in Texas that wins the national cheerleading championship more often than not. The team is run like a machine by their coach and is an epitome of a big fish in a small pond.
As the team prepares for Daytona, they practice through gruesome injuries while balancing school and tough home lives. You get to learn about the lives of several of the team members. This show will give you a new appreciation for this extremely demanding sport.
You should know: This one was a bit on the fence for me, as there are some upsetting parts (especially the injuries), and some kids have sad backstories. But the goodness of some characters (JERRY!) shines through and makes it a positive show overall.
Where to watch: Netflix
Details: 1 season, 6 episodes, 60-minute episodes
Project Runway
This show is for you if you love creative people, appreciate hard work, and have an eye for style.
Project Runway is the kind of show I keep forgetting how much I love. I mean, this show gave us Christian Siriano, who went from a quirky unknown to one of the most celebrated designers in the world! On this show, amateur fashion designers compete in different challenges, the top finishers getting to show a collection at Bryant Park.
There is a bit of drama on Project Runway on occasion, but for the most part it's about fiercely talented and brilliantly creative people doing things that you never dreamed were possible, over and over again.
Where to Watch: Hulu
Details: 18 seasons, 257 episodes, 42-minute episodes
Salt, Fat, Acid, Heat
This show is for you if you love food and travel, especially when it's beautiful, but you don't take life too seriously.
There are lots of great food shows and documentaries out there — but this one is different. Salt, Fat, Acid, Heat is lush, sensual, yet completely down to earth. Chef Samin Nosrat takes you on a food journey to Italy, Japan, Mexico, and California, showing how those four elements make food better.
What I love most about this show is that Samin is a beacon of joy. She laughs loudly, and giggle-cries from eating spicy salsa. She makes you feel like she would welcome you as one of her best friends.
Additionally, this is a rare food and travel show that stars an average-sized woman of color and focuses primarily on the work of older women — who do the lion's share of cooking at home but are all too often overlooked as chefs.
Where to Watch: Netflix
Details: One season, 4 episodes, 42-minute episodes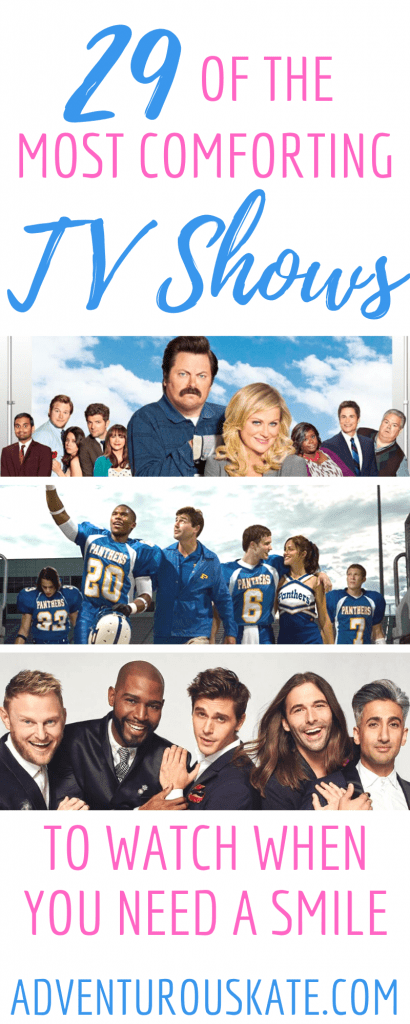 What are your favorite comforting TV shows? Share away!