Adventurous Kate contains affiliate links. If you make a purchase through these links, I will earn a commission at no extra cost to you. Thanks!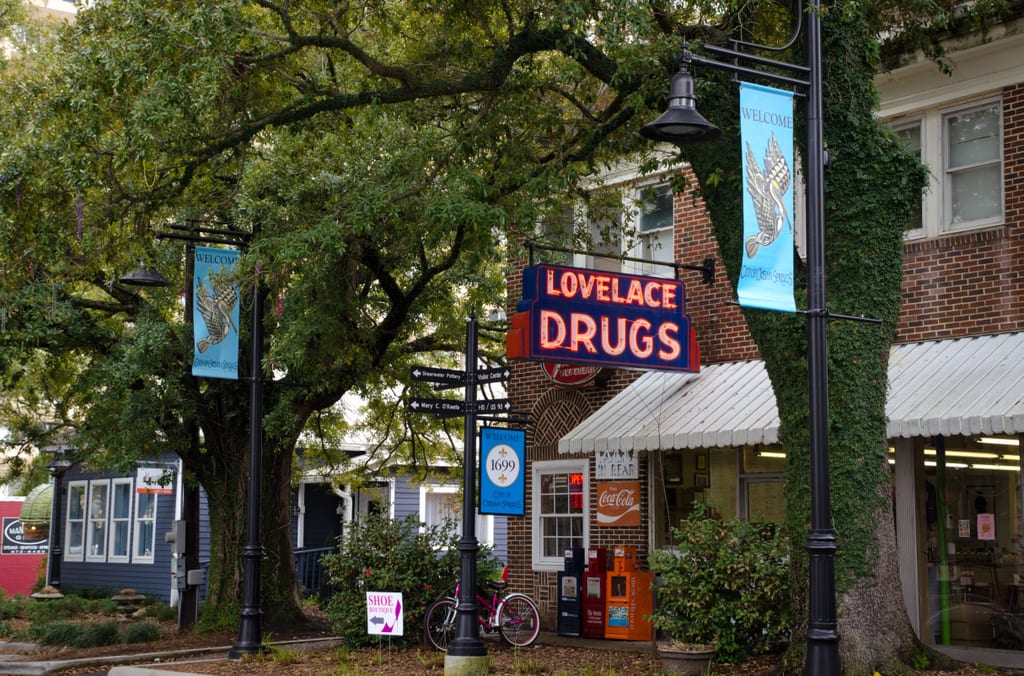 "Downtown Reading. That's a throwback."
"Is it really?" I asked. I was 21, temping for the summer, and my boss-of-the-week had told me that my own hometown was remarkable.
"It's something special. You don't see a lot of towns like that anymore."
I hadn't thought of it that way. Growing up in a Massachusetts town founded in 1644, it's easy to assume that all American towns have a compact, walkable downtown with cute buildings, a common, and several striking churches.
Then once I started traveling through California, Texas, and the southwest, I started realizing that American towns like these are actually quite rare. These days, you're more likely to find modern layouts and strip malls surrounded by giant parking lots. Want walkability? Head to a mall or shopping center.
And even in my own hometown, new developments are springing up all over the place. A giant drugstore has taken over a series of small storefronts; an enormous complex anchored by a Home Depot and a Jordan's has become a new prime shopping center. Reasons to visit downtown Reading are fewer and fewer.
That said, in pockets of America, lovely little throwback towns still exist. I found another one in the Deep South — Ocean Springs, Mississippi.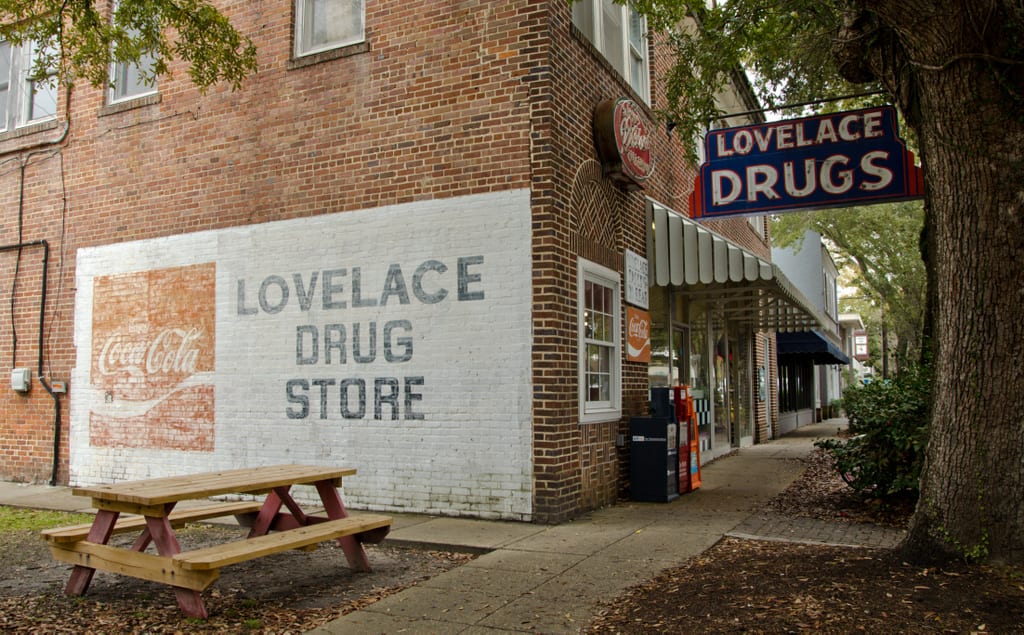 Ocean Springs is, as you might guess, right on the coast in Mississippi, a stone's throw from the Alabama border. The much more well-known Biloxi is just next door. But I liked being based here much more than Biloxi.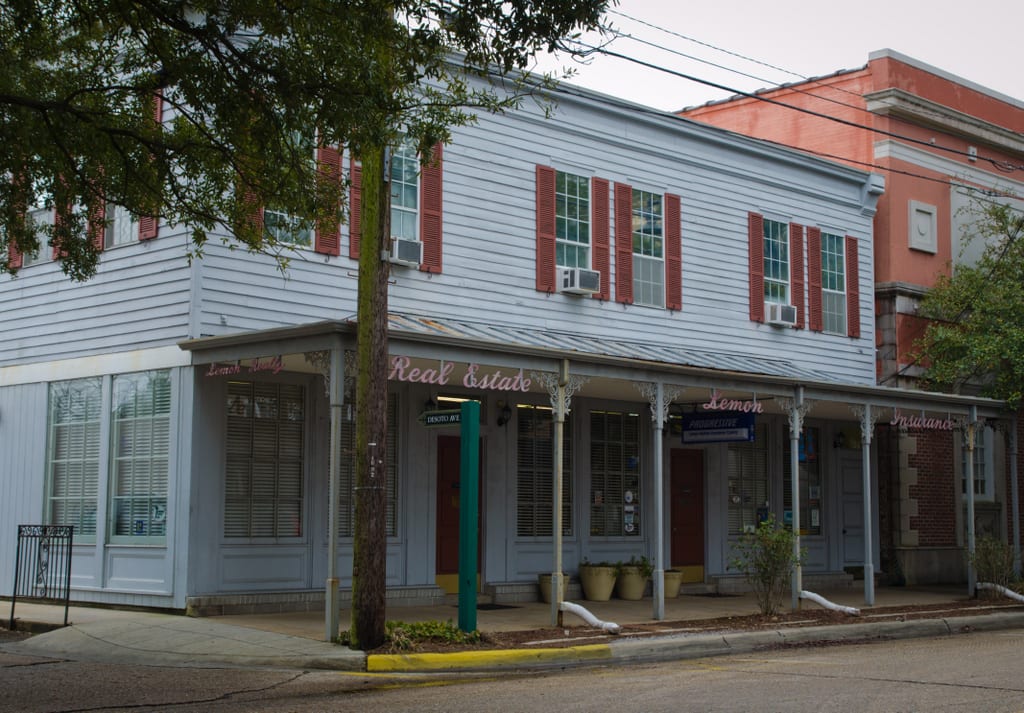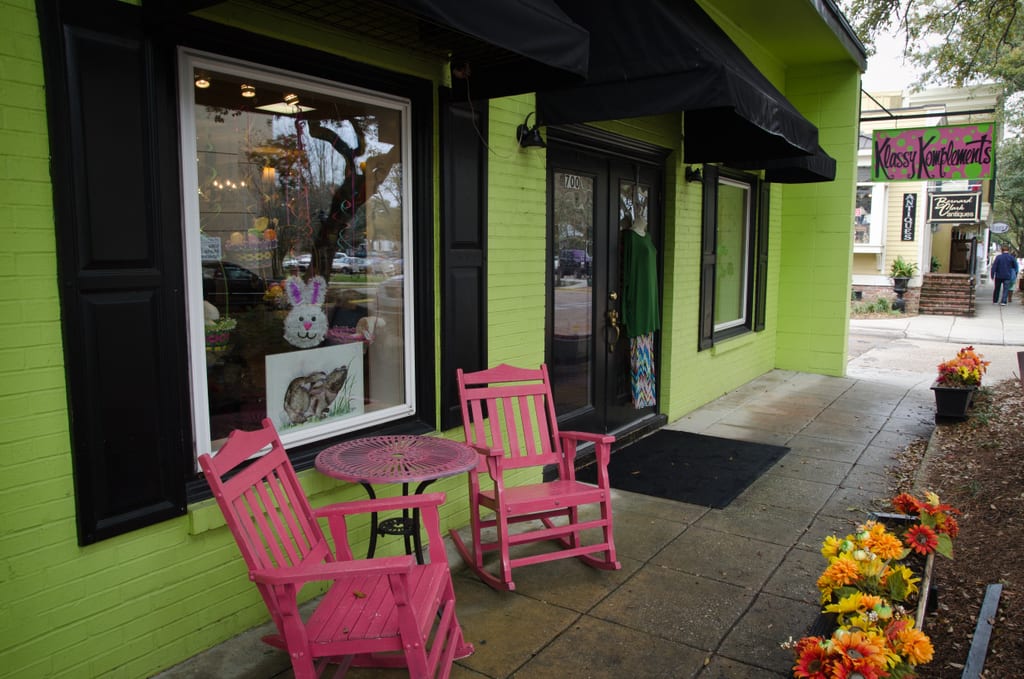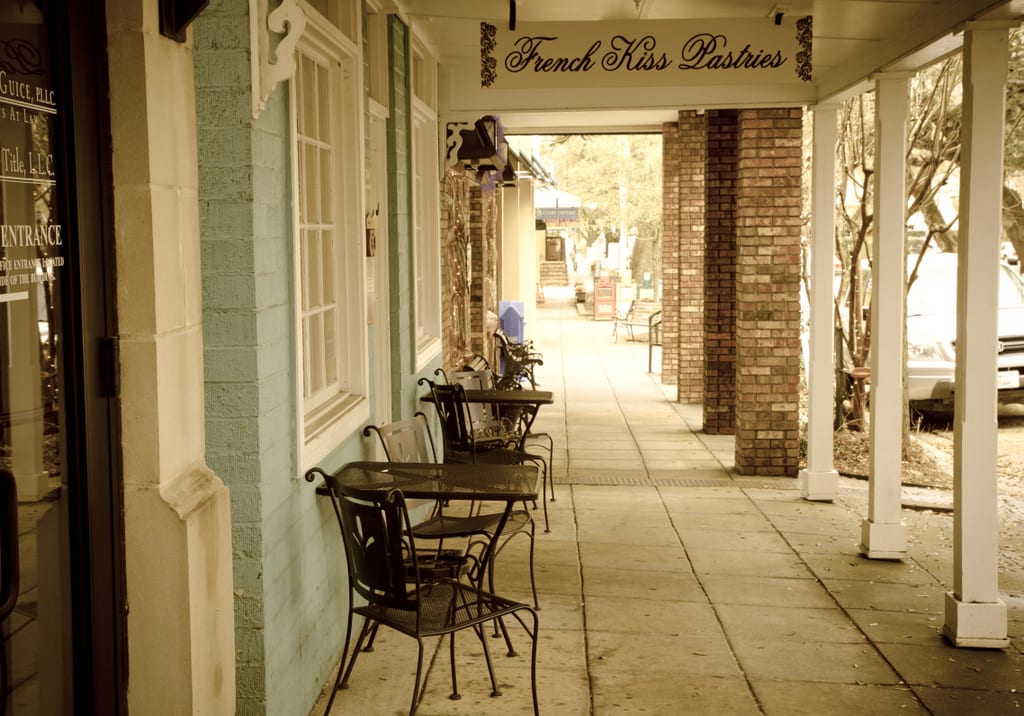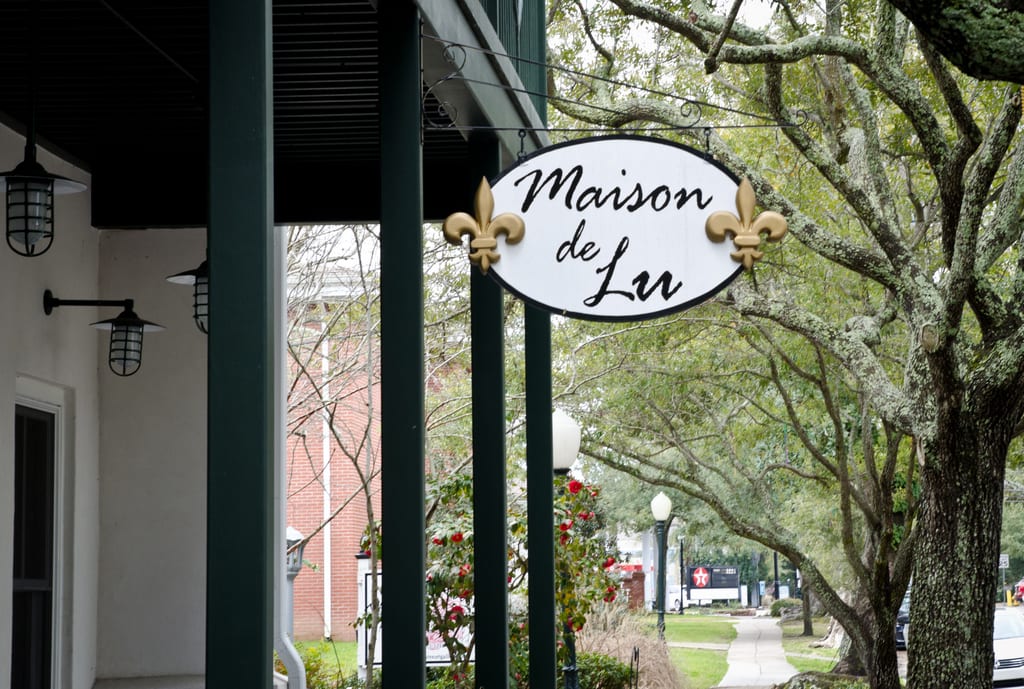 What decade was it, again? If it weren't for the cars, I could have sworn I was in the 1950s or 60s.
There's not a lot to do in downtown Ocean Springs, but I had a nice stroll and checked out some of the stores.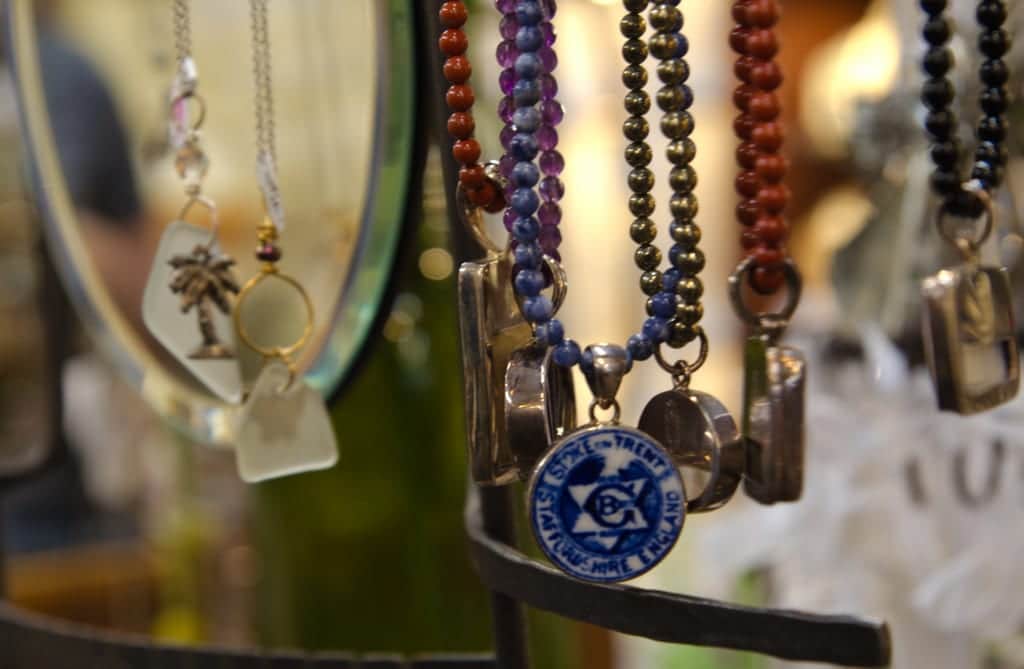 At Gina's, an artsy boutique with jewelry and home decor (the kind of place that your mom would love), I was amused to find a necklace made out of Stoke-on-Trent ceramics! Stoke-on-Trent, a city in the Midlands of England, used to be one of the top producers of fine ceramics.
I had a nice chat with the owner about the necklace, my road trip, and how I was headed to Florida next. "You should go to Seaside," she sighed. "It's — wonderful."
She didn't say a word about what made Seaside so wonderful, but her sigh was so deep and dreamy, I knew immediately that I had to go there.
It ended up being one of the highlights of the trip.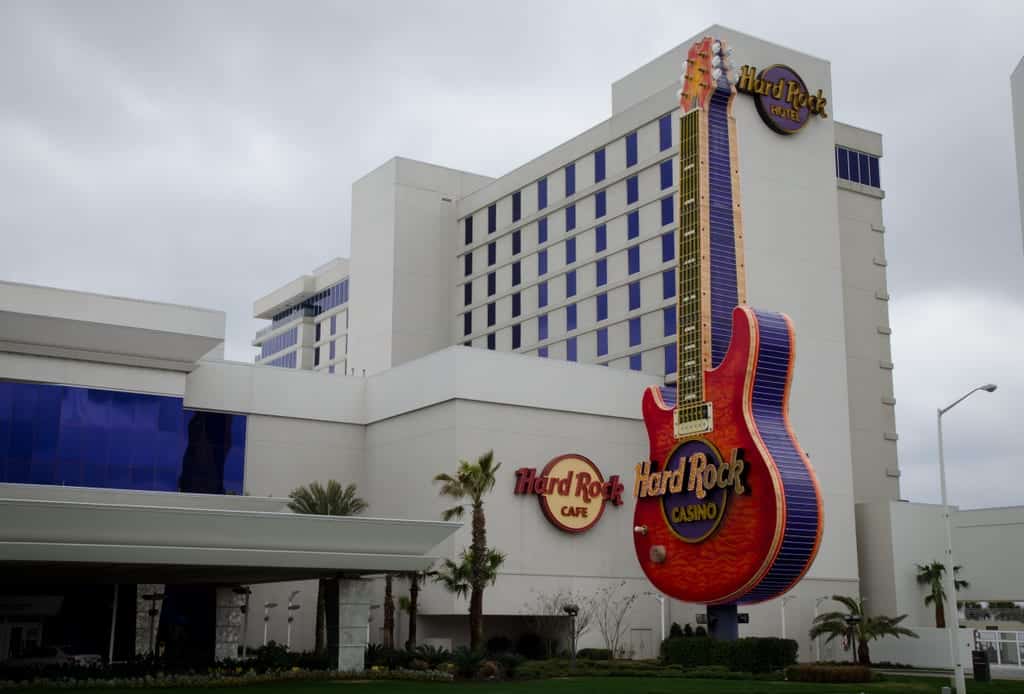 Biloxi
Everywhere you go on the Gulf Coast, there is a palpable sense of "before" and "after." The event of which people speak, of course, is Hurricane Katrina. It's hard to imagine a single natural disaster that has impacted a greater swath of the American landscape than this one.
It's been nearly a decade since Katrina. Development has been slow. Damage is still visible. And no matter how hard the Gulf Coast pulls ahead, it's still there, bleeding into the present.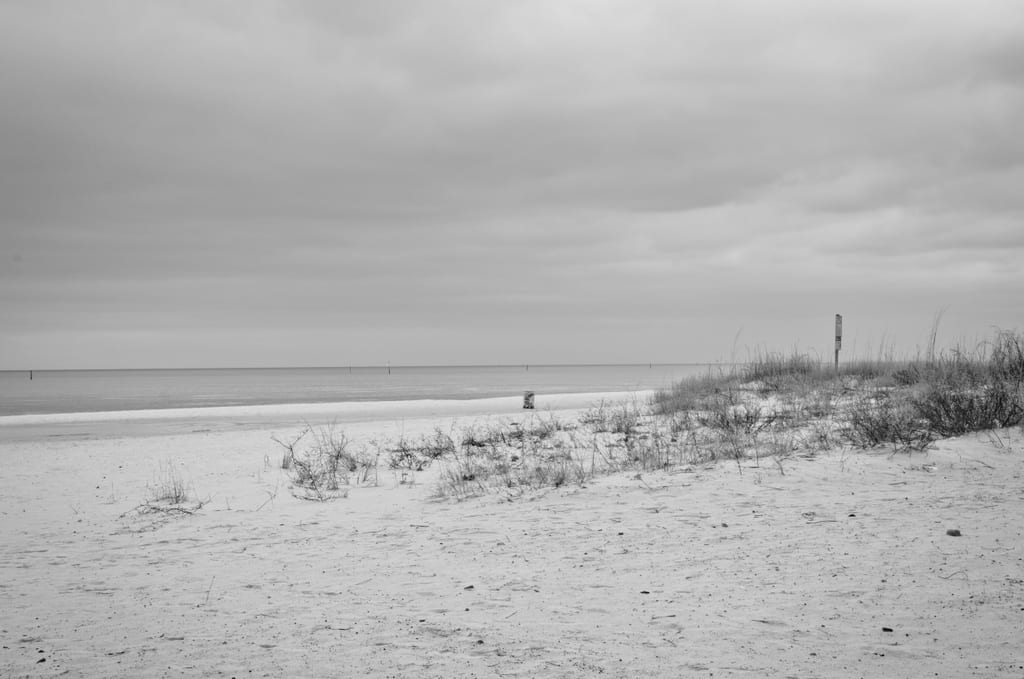 Biloxi is the major destination of Mississippi's Gulf Coast, filled with casinos and lengthy beaches. There are a few touches of culture along the landscape, like the Ohr-O'Keefe Art Museum, but Biloxi is known far and wide as a destination for sunshine and letting go.
Unfortunately, the weather wasn't at its best during my visit. The white sand beaches were dwarfed by heavy gray clouds, making a trip to the beach not the best activity for the day.
But I had to check out at least one of Biloxi's best restaurants.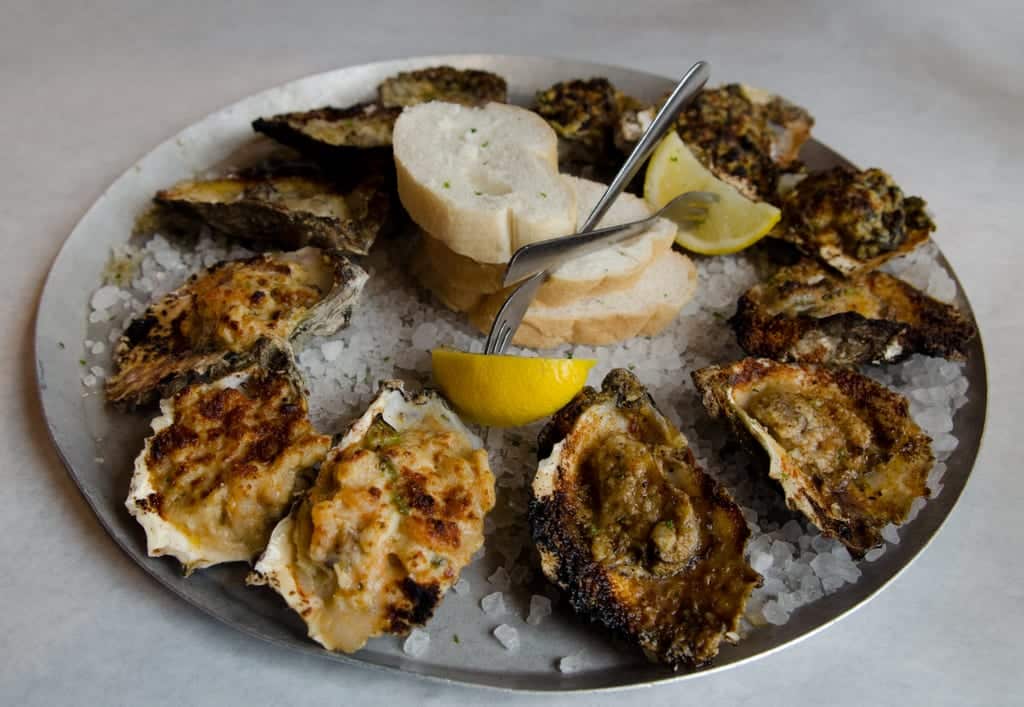 Half Shell Oyster House
"Excuse me," drawls a voice at the table behind me.
"Oh, I'm sorry," I say, moving my chair in so she can get by.
"Oh, honey, I meant me. You're faaaaaaahn." She smiles. "Your ahhhhhs are beautiful."
This is a recurring theme of my time in the South — people apologize ahead of time (not unlike the British) and follow-up by complimenting you immediately (quite unlike the British).
Half Shell came highly recommended by Amit from the Country Inn in Ocean Springs. Being a huge oyster fan, I was eager to finally try some Southern-style charbroiled oysters, though I wondered if I would actually enjoy them. I love eating raw oysters with a bit of lemon, horseradish, a drop of tabasco, and plenty of cool, ocean-y water dripping beneath the flesh. Why would you mess with that?
I got the sampler platter: three charbroiled oysters (butter, garlic, herbs, parmesan), three Oysters Bienville (crab, shrimp, bacon, bread crumbs, herbs, parmesan), three Oysters Rockefeller (spinach, cream cheese, herbs, Pernod, parmesan) and three Oysters Orleans (hot Cajun sauce).
OH MY GOD.
THESE OYSTERS. THESE WONDERFUL, WONDERFUL OYSTERS.
These oysters were the best thing I ate on the whole #SouthUSA trip — specifically, the signature charbroiled oysters with the Orleans oysters a distant runner-up.
These oysters were so good, I was scraping the shells with our teeth, eager for all the remnants I could get.
Half Shell is a high-end place — but a plate of 12 fully dressed and charbroiled oysters was only $18. They would go for double that in a high-end seafood restaurant in Boston!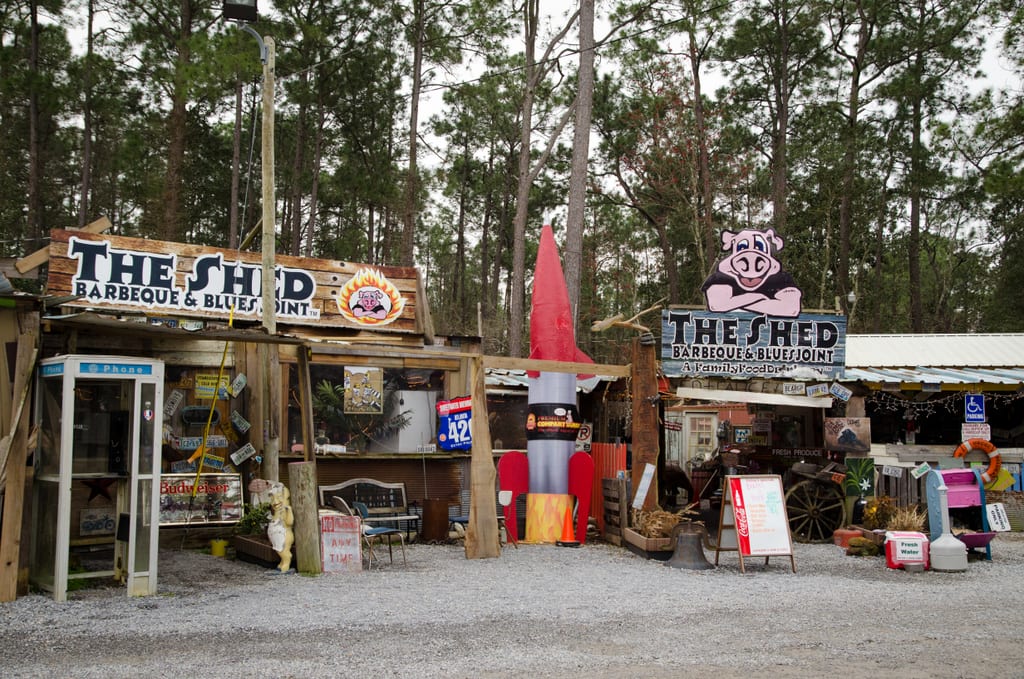 The Shed
When nearly every local tells you that you need to go to a certain barbecue joint, you listen to them. In this case, it was The Shed, a local family-owned barbecue joint that now has its own show on Food Network.
The place looks like it was thrown together out of pieces of garbage — and yes, it actually was thrown together from salvaged objects. But it works in a ramshackle way.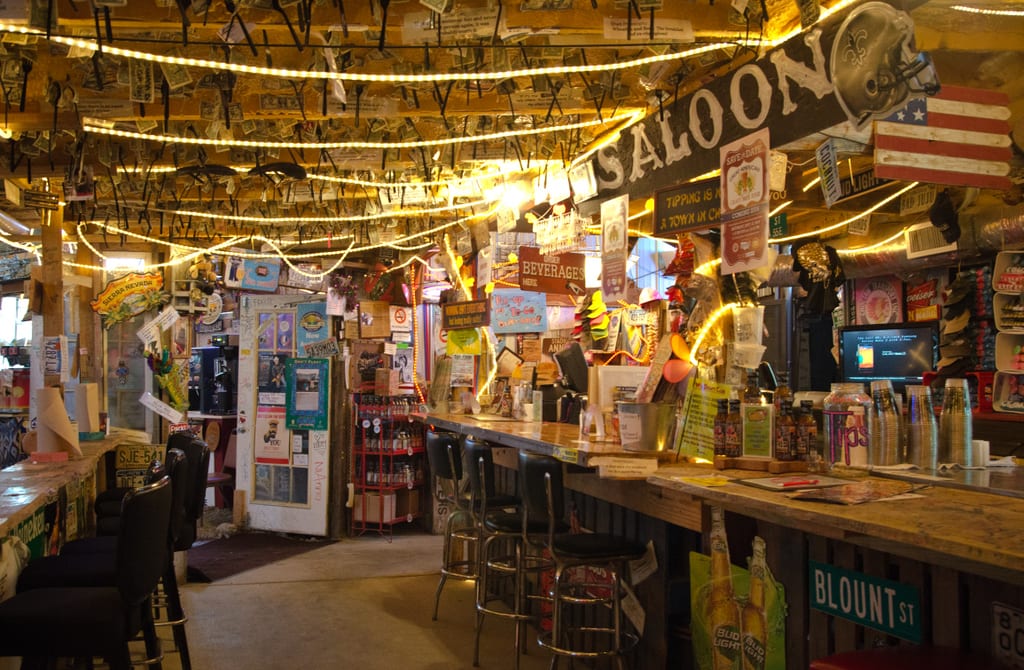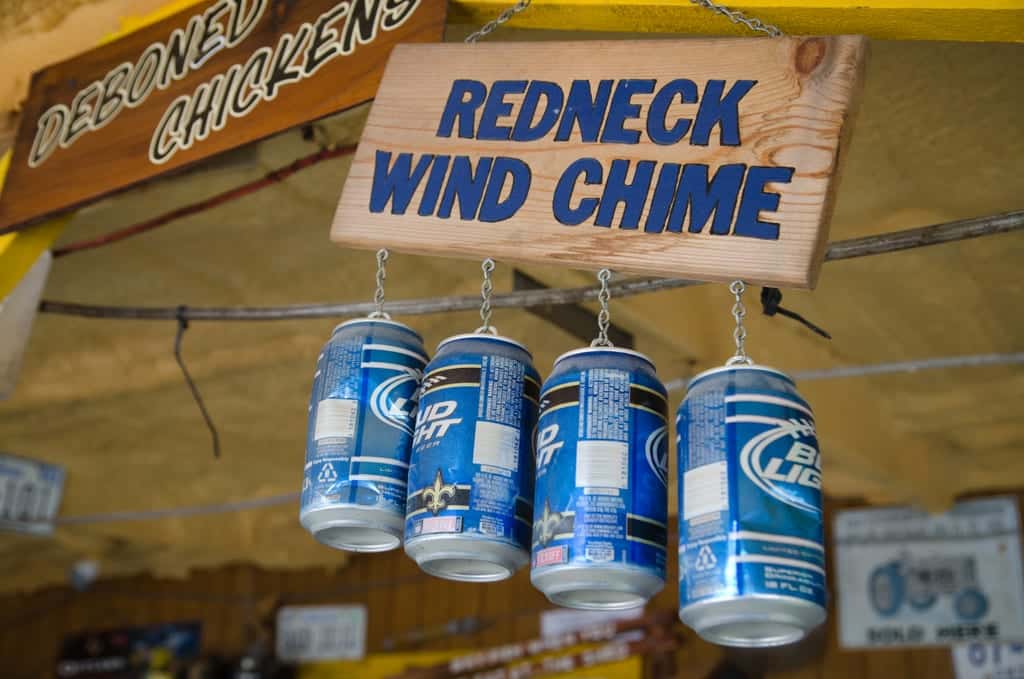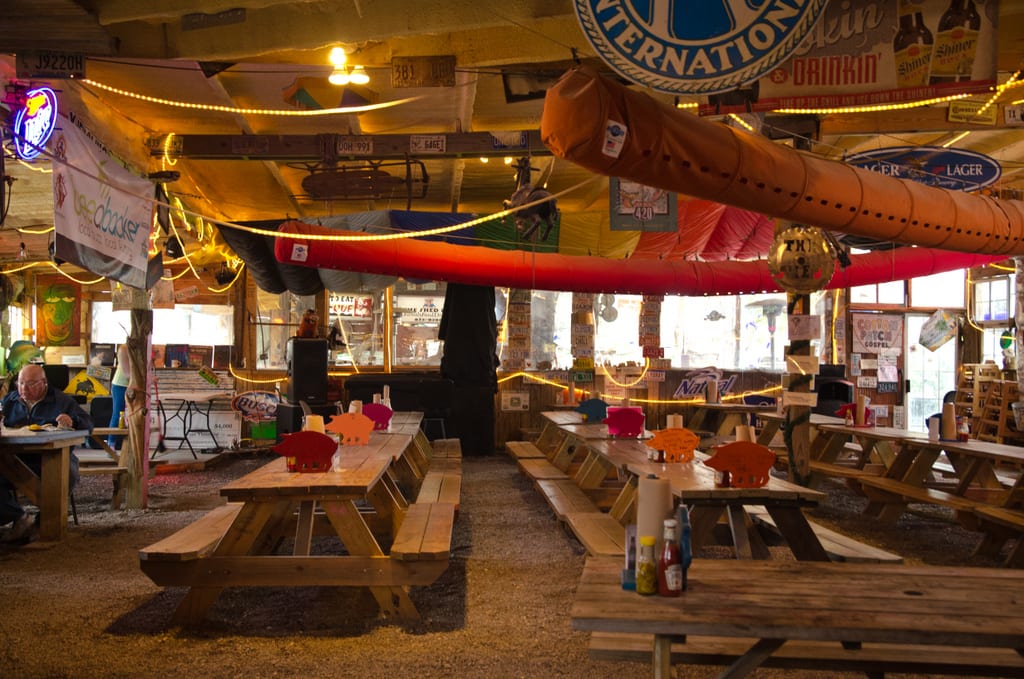 Inside are park benches, and blues bands perform several times a week.
It's a down-home, very open place. As a Yankee, I was welcomed with open arms by the staff and the fellow customers.
If there was anything that would be a worthy companion for the oysters consumed just 30 minutes before, it was their specialty: the pulled pork sandwich.
Now THAT was good pulled pork! It melted apart perfectly. The sweet potato fries and sweet tea weren't bad, either.
The Shed has been marketing themselves like crazy — at a shop in Ocean Springs, I noticed that they had at least a dozen kinds of barbecue sauces for sale, along with a wide variety of merchandise. This could end up being the next major barbecue franchise.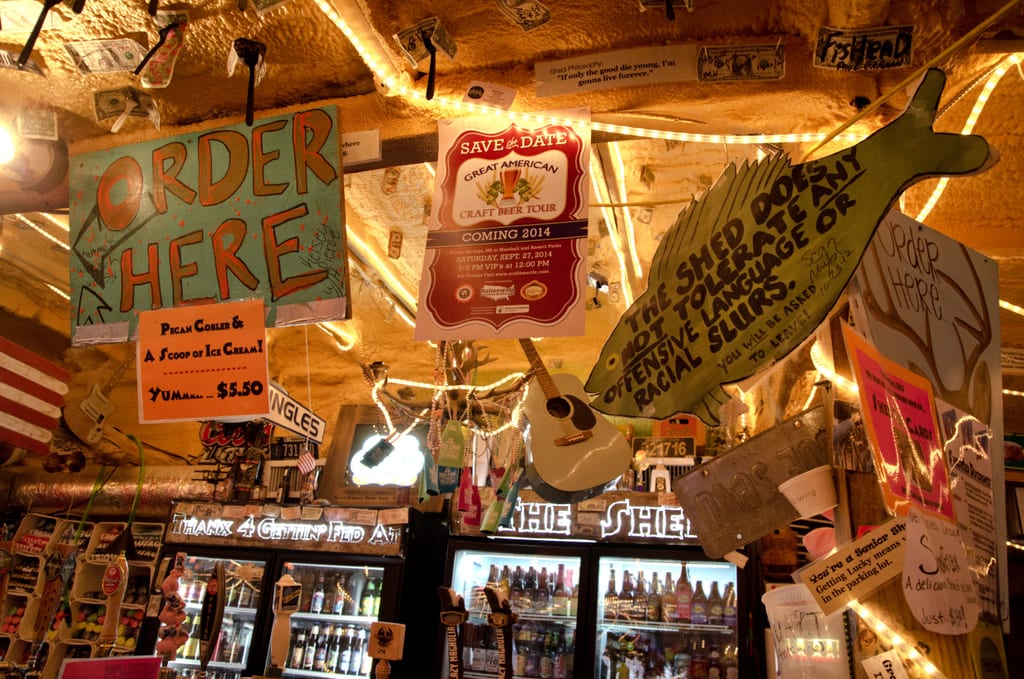 Interestingly, I noticed that a few signs inside made it clear that racist language was not acceptable at The Shed. Usually, that's the case for everywhere — but that's not the kind of thing you need to put on a sign, much less multiple signs.
It made me wonder just how much racist language you'll typically hear on a typical night out in Mississippi or elsewhere in the South.
Like the legacy of Katrina, could this ugliness be bleeding beneath the surface at all times?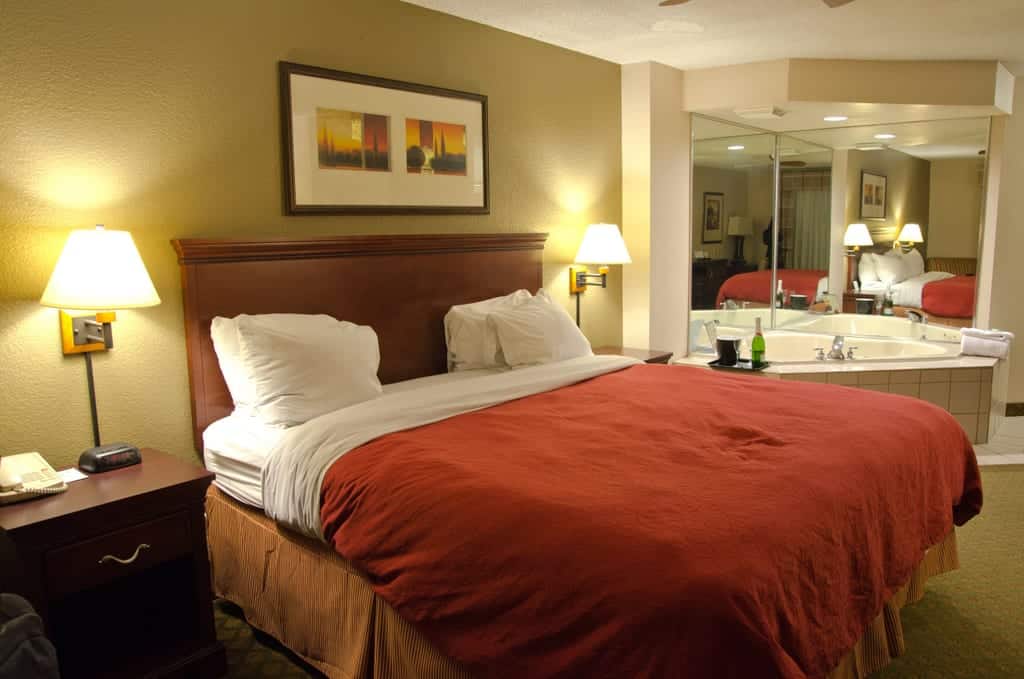 Where I Stayed — Country Inn and Suites, Ocean Springs
It had been a long day of heading to the airport to pick up the car, getting the hang of driving again, driving to Oak Alley Plantation, heading back to New Orleans, then in heavy traffic into Mississippi — but there's no way better to relax than in an in-room jacuzzi.
The Country Inn in Ocean Springs is right off the highway and a short drive from the downtown area and the ocean. Biloxi is about a 10-minute drive away; The Shed is about 10-15 minutes away. Like the other Country Inns, the beds were comfy, the breakfast was hot, and the service top-notch. Rates start at around $66 per night.
But the real highlight of this Country Inn was Amit, one of the front desk employees, who went above and beyond in making sure I had a fantastic stay. He's a Mississippi native and was brimming with ideas of things to do. And if it hadn't been for him, I never would have discovered those life-changing oysters at Half Shell. And he was an ardent advocate of The Shed as well!
If you get a chance to stay here and chat with Amit, rest assured — he will make sure you have the most delicious time possible.
The #SouthUSA campaign is brought to you by Country Inns and Suites by Carlson and Holiday Autos. All opinions, as always, are my own.
Get email updates from Kate
Never miss a post. Unsubscribe anytime!