Adventurous Kate contains affiliate links. If you make a purchase through these links, I will earn a commission at no extra cost to you. Thanks!
I knew Hoi An was famous for its abundance of custom clothing tailors, but I had no idea just how crazy fashion in Hoi An could get!
It started with a girl I met in my dorm in Hanoi.  She was wearing incredible Nike sneakers made out of beautifully patterned Asian satin.
"Your shoes are incredible," I told her. "Where on Earth did you get them?"
"Oh, I got them custom-made in Hoi An," she cheerfully replied.
Right then I knew — the moment I arrived in Hoi An, I was going to design and order the most badass sneakers known to man!
And that is exactly what I did.
After more than an hour of poring over fabric samples, I designed my dream sneakers: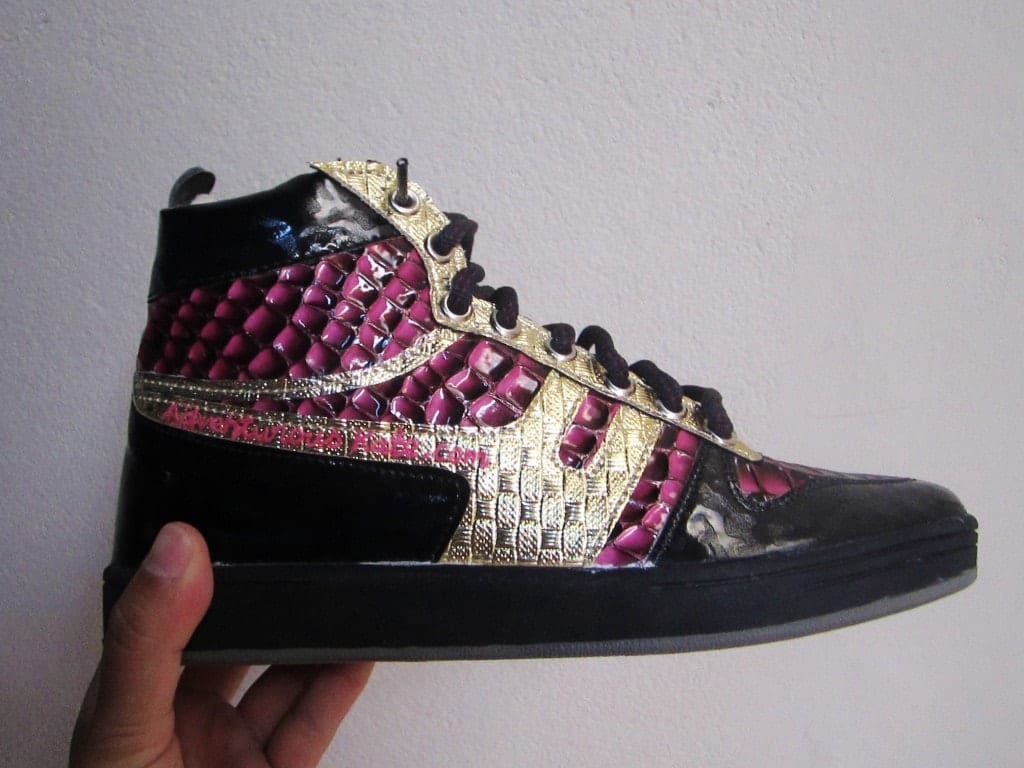 I LOVE THEM SO MUCH.
The moment I saw the magenta snakeskin, I knew I had to use it.  After playing with fabrics, I added a black snakeskin, a wild gold fabric — and emblazoned them with "AdventurousKate.com."  WHAT ELSE?!
Because of the Tet holiday, the sneakers took longer than expected to finish, and they were shipped to me in Mui Ne.
And then I opened the box…and they were my dream come true.
Total cost for custom sneakers? $65.  The shipping was free because they were late.
Back to that night.  As soon as my sneakers were designed, I headed back to the tailor to see what the boys were up to.
Shopping for clothes in Hoi An is far from just a female pursuit — the boys were so excited to get custom suits!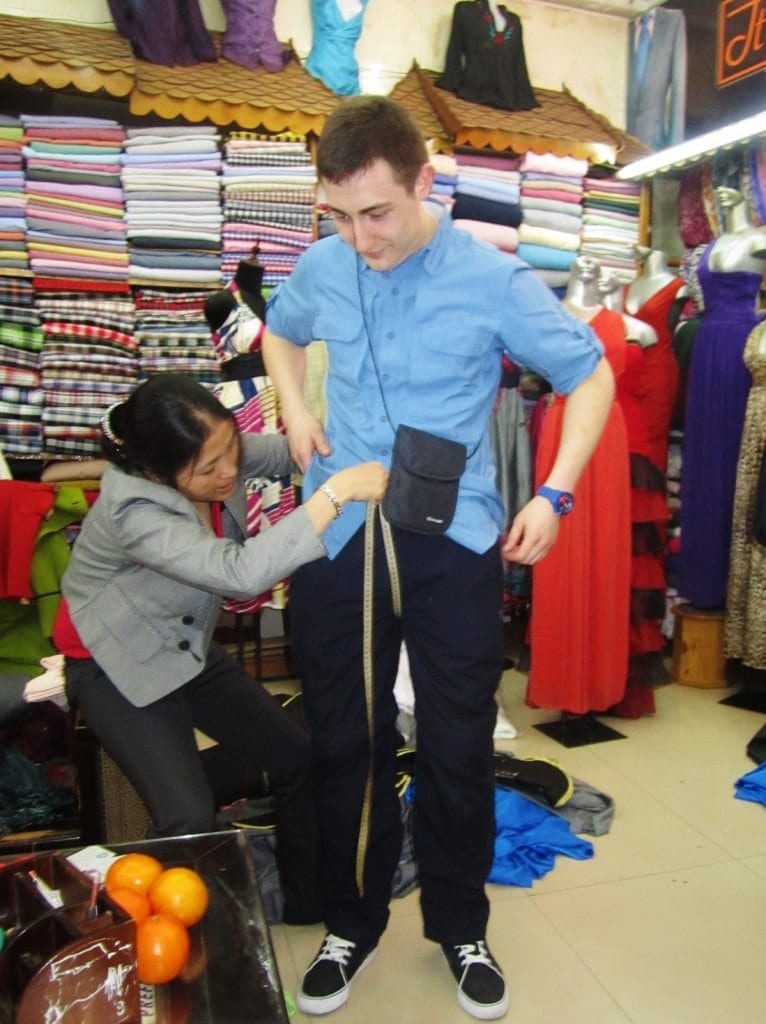 Ste and the other boys got measured for suits.  Most of them were normal dark suits that would get a lot of wear at home…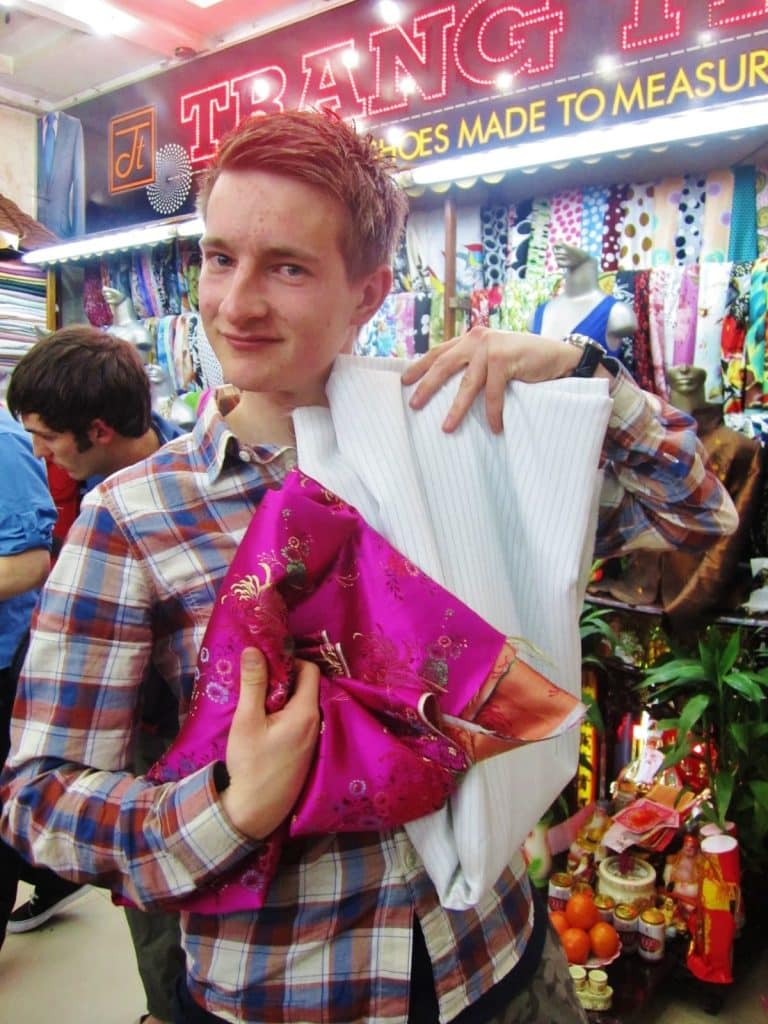 …and then Dave decided to commission a pimp suit as well. Dolce & Gabbana-inspired white with pinstripes, bright fuchsia lining — it would be the pimp suit to end all pimp suits!
Total cost for suits: around $130 each.
Even if you don't want to buy custom clothing, there are plenty of ready-to-wear items sold throughout the city.
The moment I saw this top, I knew I had to have it.  The color, the style — it was SO me!
Total cost for top and pants: $45.
Not to be outdone, the boys found some awesome silk shirts emblazoned with dragons.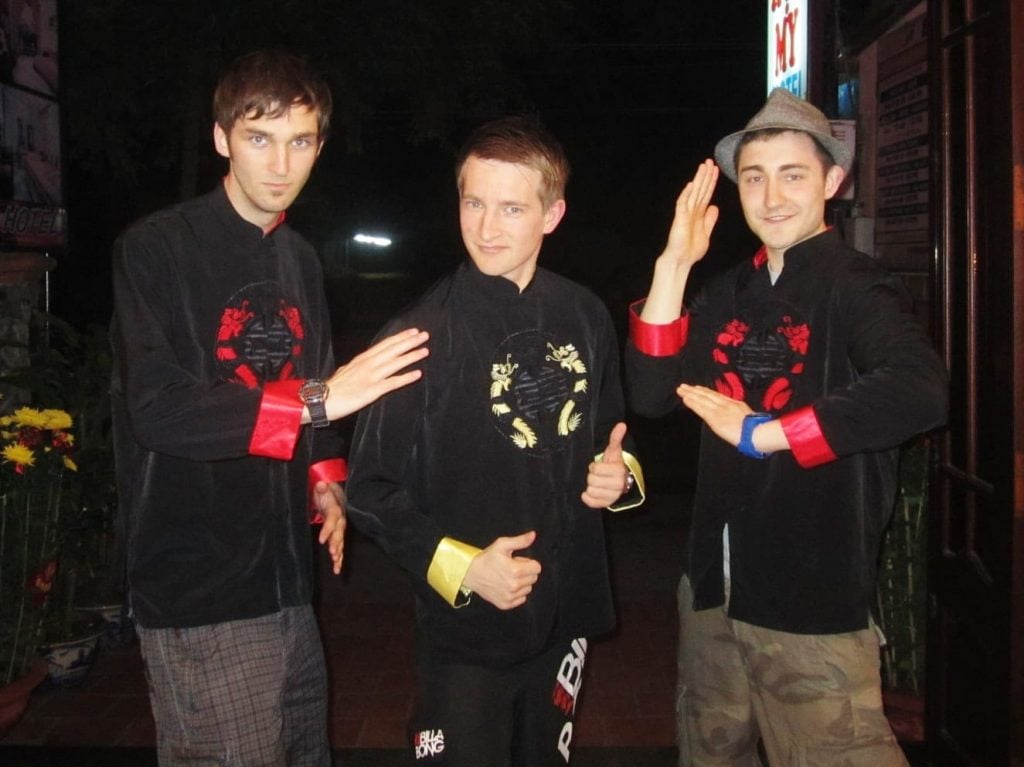 Wouldn't want to meet them in a dark alley!
Total cost: around $30 per shirt, I believe.
And then it was time for something special.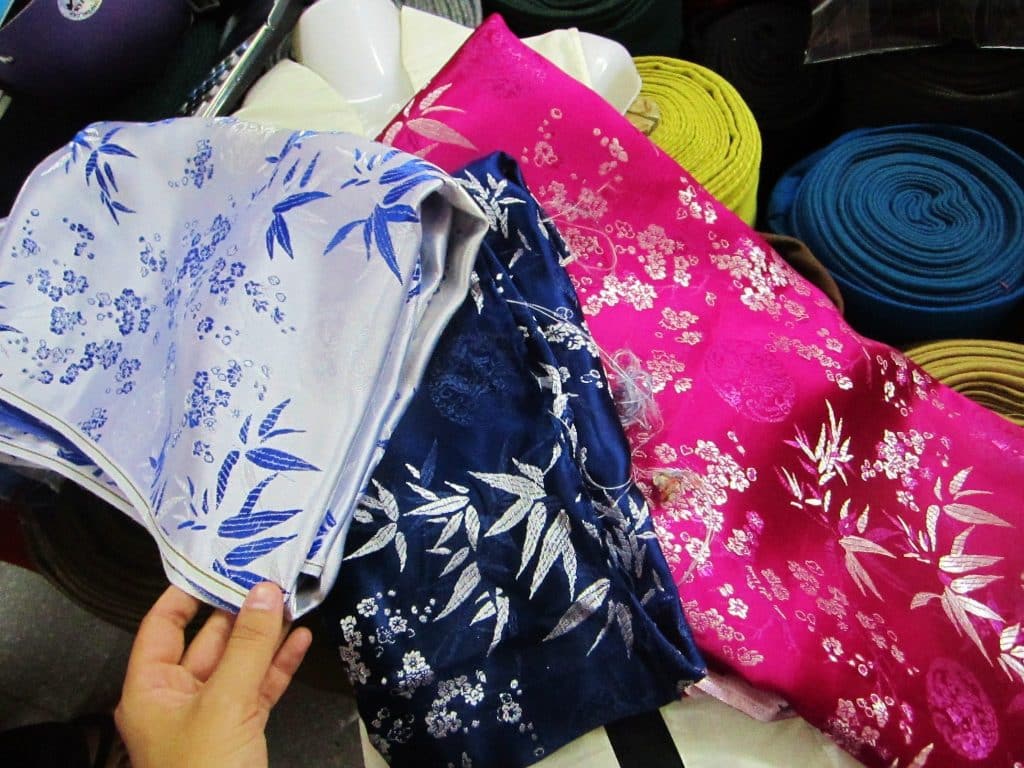 I knew that my mom and sister would love the custom clothing shops in Hoi An, but as far as our typical family holidays go, Vietnam was a bit too far for their limited time off.
So I decided to bring a piece of Vietnam home to them for their birthdays! I commissioned sure-to-be-gorgeous custom outfits for the three of us.  The white one is for my mom, the blue one (though it will be a brighter blue) is for my sister, and the fuschia one is for me!
Total cost: $45 per outfit, plus $40 for shipping.
No further details, since they're a surprise.  The outfits are currently being shipped home to the U.S., arriving for their birthdays in April.  I will absolutely do a post on the outfits once I come home!
If you plan on visiting Hoi An, plan on budgeting for plenty of custom clothing — you won't find one-of-a-kind duds of excellent quality for prices like these anywhere else in Southeast Asia!
This post was sponsored by a third party.
Get email updates from Kate
Never miss a post. Unsubscribe anytime!