Adventurous Kate contains affiliate links. If you make a purchase through these links, I will earn a commission at no extra cost to you. Thanks!
Koh Lanta National Park did not disappoint: it was just as beautiful and as inexplicably deserted as the rest of the island.
I still don't understand why Koh Lanta has so few visitors compared to the other islands and beaches on the Andaman Coast, but I don't care.  That's one reason why I loved the place so much.
Koh Lanta National Park is located at the southwestern tip of the island at the end of an unnerving motorbike path through uneven terrain.  Go down that road and you'll see why half of Lantans drive trucks or SUVs.
Upon arrival, this is the first thing we saw: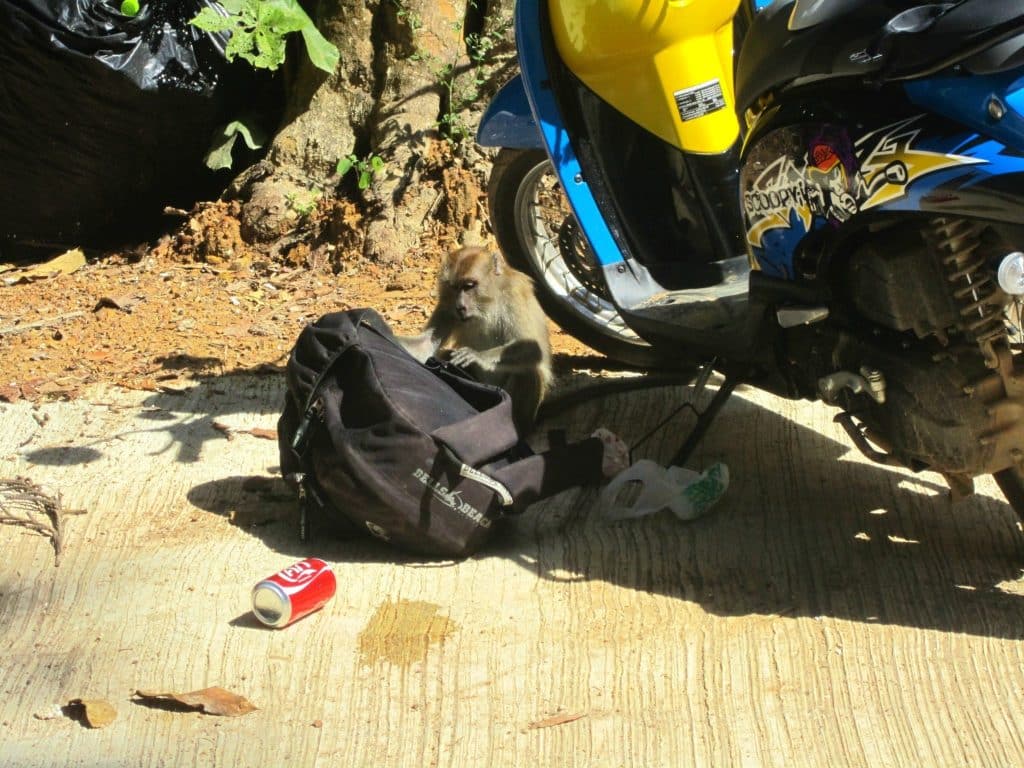 The monkey was cutting through the backpack's fabric with his teeth.  His teeth!
I guess the bag's owner didn't take note of this sign…
Love it.
But walk just a few steps beyond the car park and this is what you see:
Beautiful.  Isolated. Sandy beaches, rocky beaches, cliffs, a lighthouse.
Enchanting Asia.  Though from this shot alone, couldn't it appear to be New England?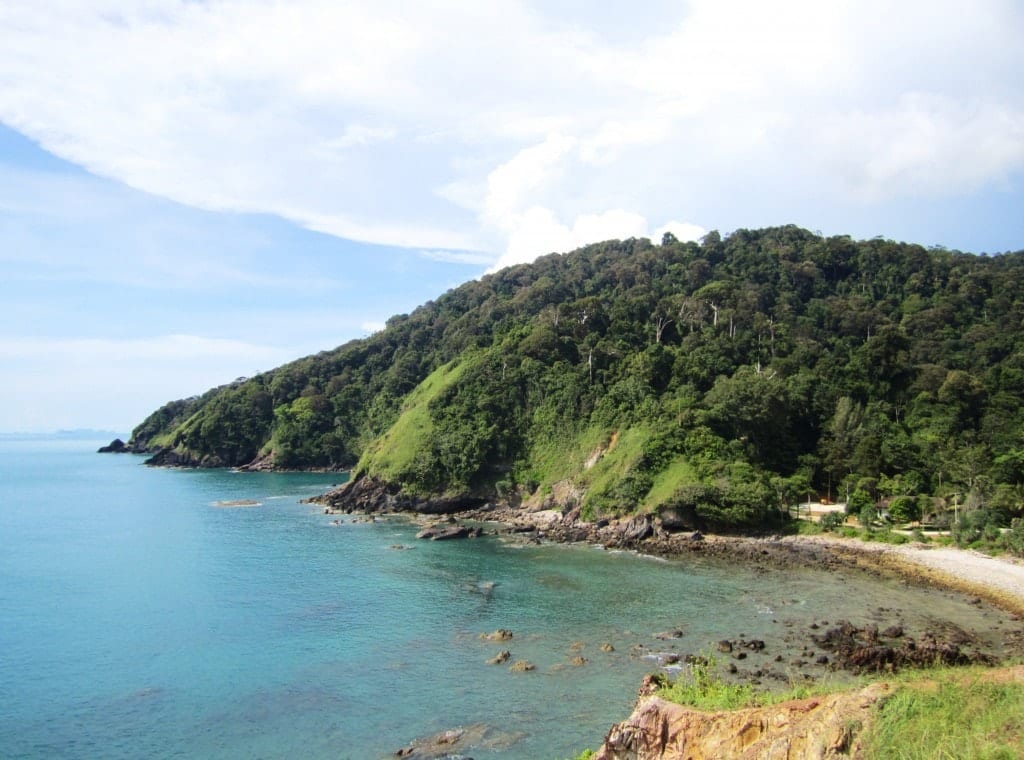 Put this national park anywhere else in the world and it would be swarming with tourists.
Not on Lanta. We probably saw about six people there in total.
Tiny crabs dug holes throughout the sand, creating perfect spheres of sand only a few millimeters wide.
Check out my video panorama of Koh Lanta National Park:
(I warn you, there's a brief f-bomb in the video, thanks to a certain Backpacking Matt!)
If you decide to visit Koh Lanta National Park, here are a few tips:
What to do:
Bring a picnic lunch. The area was made for picnicking!  If it weren't so hot, bringing a bottle of wine would have been nice, too.
Check out the rope swing on the beach. It's pretty awesome and you can fit a few people on it at once.
---
---
What NOT to do:
Don't leave your food with your motorbike. The monkeys will get it and destroy your bags in the process.
Don't do the hike. The upkeep isn't great — we had to hike around some huge trees that fell in the path.  That wasn't a major problem for us, but the hike itself is a bit of a letdown.
The ride there:
Are you a nervous motorbike driver? The ride there is intense and will get you over your fears.  Or you'll freak out and turn around.  It's doable. KEEP GOING.
When you leave the park, go as fast as you can. The hill is extremely steep and it might take you a few tries to get all the way up the hill!
And I include that last one mostly because it's slightly bruising to your ego when a guy tells you, "It's carrying too much weight.  You might have to get off [thatswhathesaid]."  (Guys, take note — as true as that may be, that's the kind of thing you should NEVER say to a girl.  Not ever. Thankfully, Matt redeemed himself with a quick, "But if it can't carry us, of all people, it can't carry anyone!")
Koh Lanta National Park is at the southwestern tip of the island and admission is 100 baht ($3).  Have a blast, and take lots of pictures.
Get email updates from Kate
Never miss a post. Unsubscribe anytime!