Adventurous Kate contains affiliate links. If you make a purchase through these links, I will earn a commission at no extra cost to you. Thanks!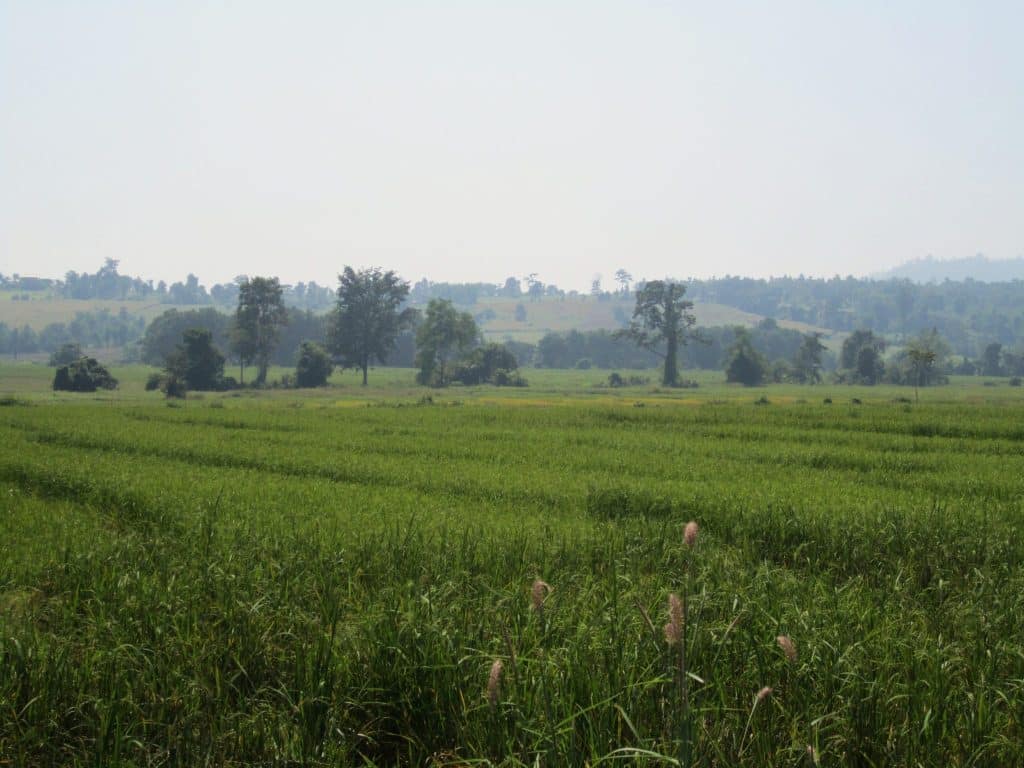 Pai, Thailand, is a tiny mountain town about three hours from Chiang Mai.  Originally a hippie enclave, today Pai is now a resort town popular with both Thais and foreigners.  It's still massively popular with the hippies as well.
For me, going to Pai was all about seeing the northern Thai countryside.  The town is so small that it has no real sights.  You can go trekking, take a rafting trip, or rent a motorbike to explore the landscape on your own!
Since it was the cheapest option by far, I chose the latter.  Let me add this:  I had never ridden a motorbike before.  Nor a motorcycle.  I hadn't ridden a bike in years.
This was a disaster waiting to happen.
And it was.  I rented a motorbike costing 100 baht (about $3.33) for thirty hours, plus an extra 40 baht ($1.33) for insurance.  The attendant taught me again and again how to start, stop and go.  And then I peeled off way too fast, weaving wildly between cars, as he yelled, "Slow down!"  People stared.  I took a left turn far too widely.  Yep.  Disaster.
But a few kilometers later, my worries turned to spellbound wonder as I realized what now surrounded me.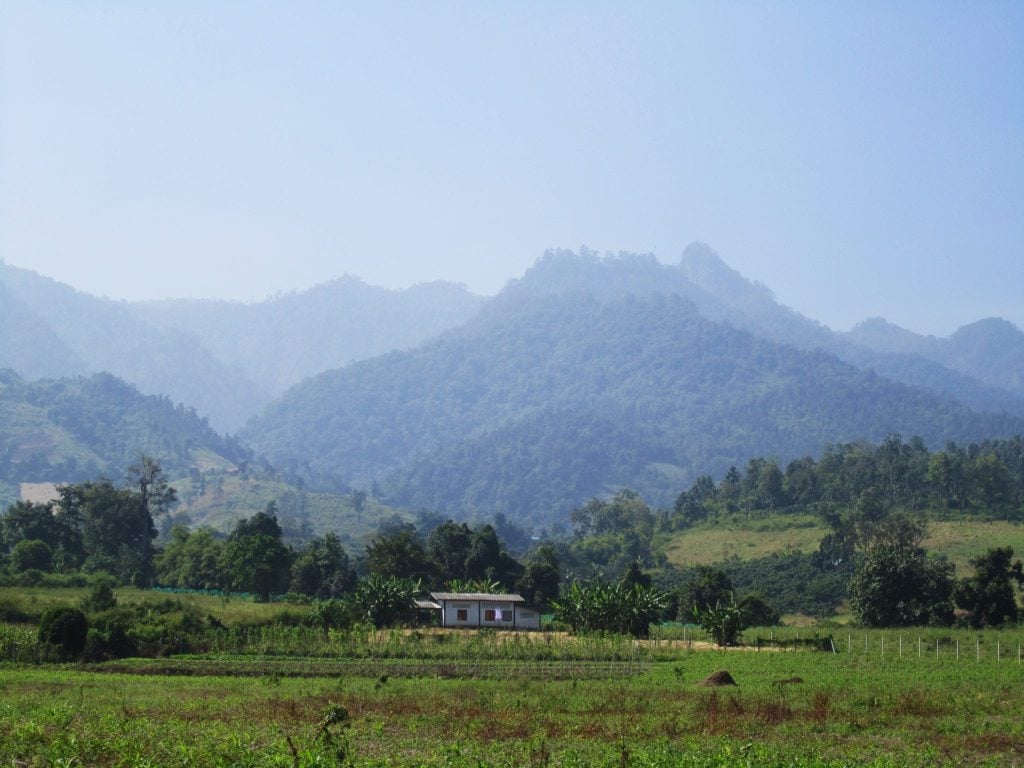 How could there be so much beauty in these mountains?
The sun was beating down, the wind was running through my hair, and I couldn't stop grinning.  The occasional bug smacked me in the face, but I didn't care — this was one of the greatest feelings in the world!
There is a loop around Pai that takes in most of the major sites in the area.  I hit up three of the most popular spots.
First stop: Mor Paeng Waterfall.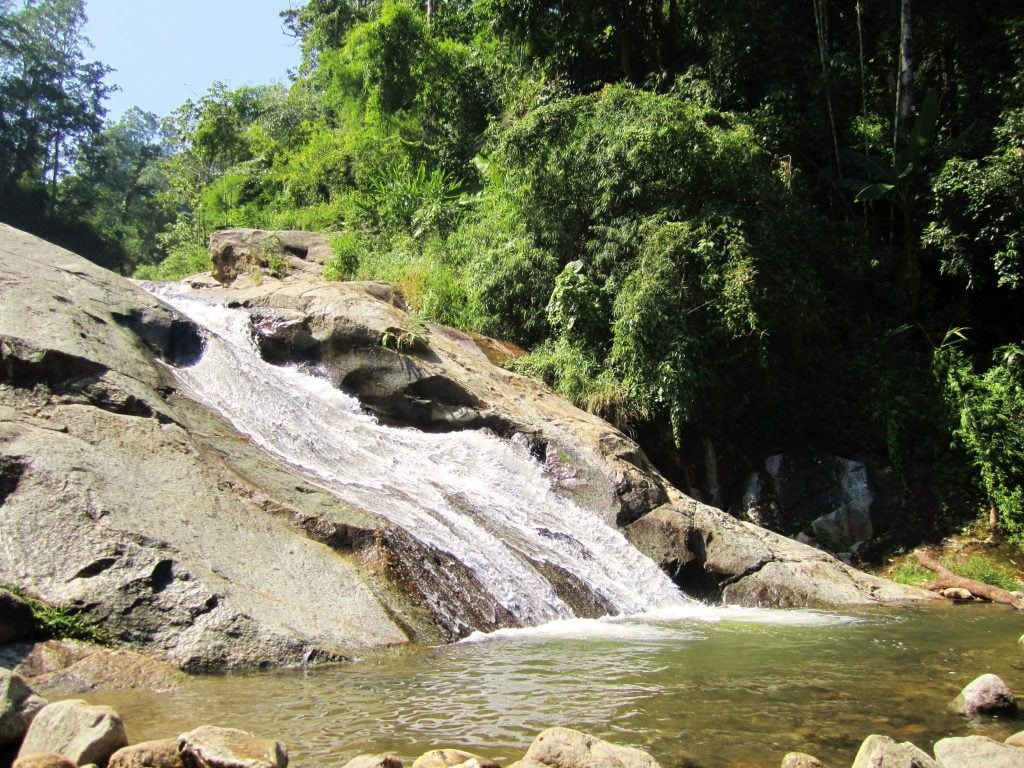 Mor Paeng Waterfall is located northwest of Pai town, past several small villages.  After arriving, you descend a steep hill and cross paths of rocks to get to it.
One American guy told me he slid down the waterfall like it was a waterslide and everyone clapped. Considering how freezing the water was and how rocky the bottom was, there was no way I was going to try that!
Next stop: Pai Canyon.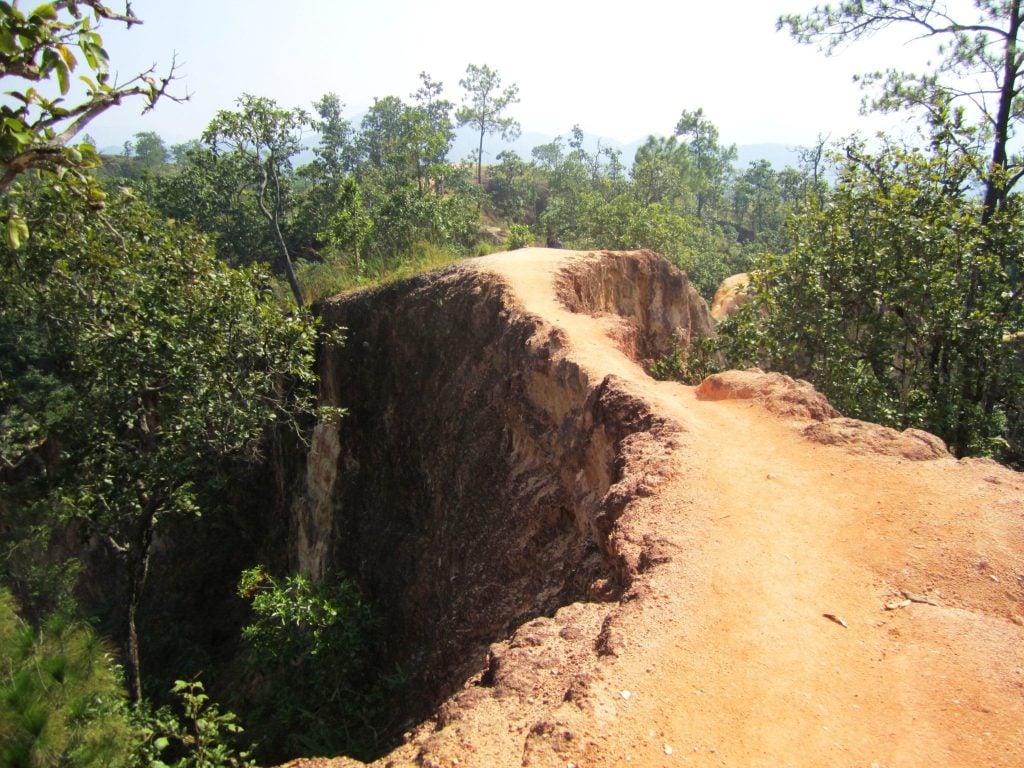 Pai Canyon is about six or seven kilometers south of town.  Once arriving, you climb a steep 50-meter trail through the woods, then arrive at the incredible viewpoint.
Check out the panorama:
This is a place where you can sit and stare for hours.  Or, if you're feeling daring, there are some terrifying trails with steep dropoffs!
Third stop: Tha Pai Hot Springs.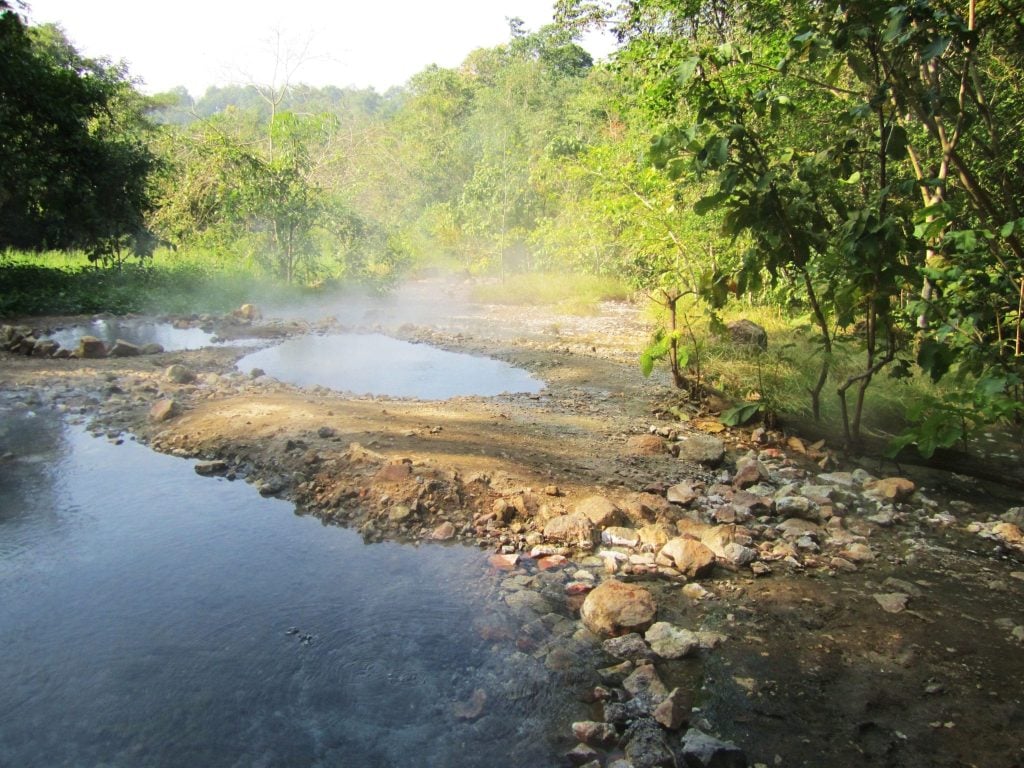 The Tha Pai hot springs, located two kilometers beyond Pai Canyon, are one of the area's biggest attractions, and there are several upscale resorts located nearby.  That said, I was one of only five tourists there, all of them foreigners.
There are areas where you can get in your bathing suit and soak in the hot springs, but since I didn't want to be the only one, I didn't partake.  Instead, I soaked my increasingly disgusting backpacker's feet and my Teva sandals — and, lo and behold, it worked.  After a fifteen-minute soak, both my feet and shoes were cleaner than they'd been in weeks!
The hot springs were the only attraction of the three that charged admission: 200 baht, or $6.66. There's a shop on site with overpriced drinks and snacks, including eggs that you can boil in the hottest pools!
After the hot springs, I decided to ride around aimlessly, enjoying the beauty of the countryside.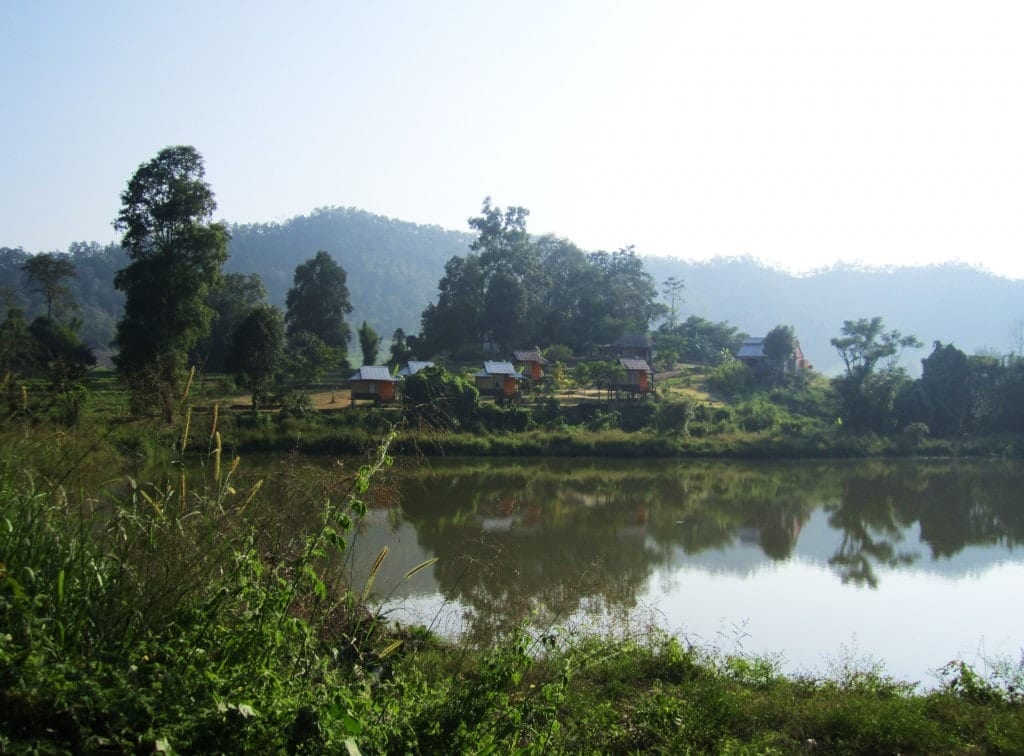 And then came the greatest moment of all.
I rounded a corner and found myself face to face with these: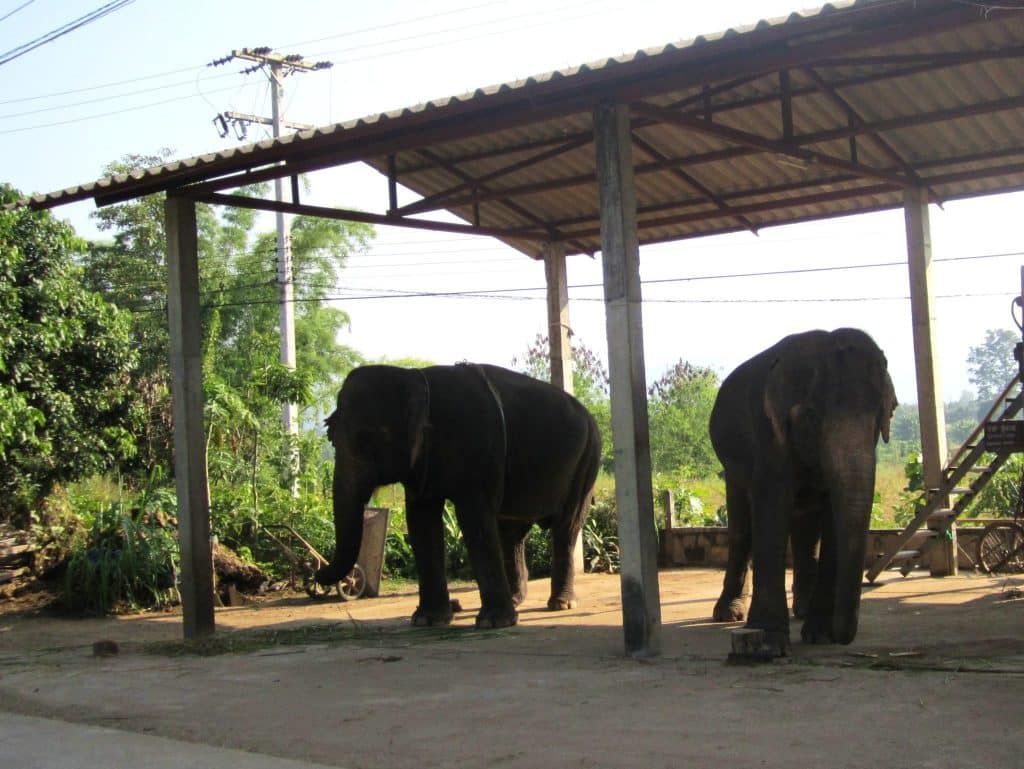 ELEPHANTS!  Just hanging out! I started laughing so hard I had to stop the bike.  How often does that happen?!
And then it hit me.  This is the life of which I've dreamed — and I'm living it now, in the present, riding a motorbike through the mountains and jungles of northern Thailand!
This trip was the right decision.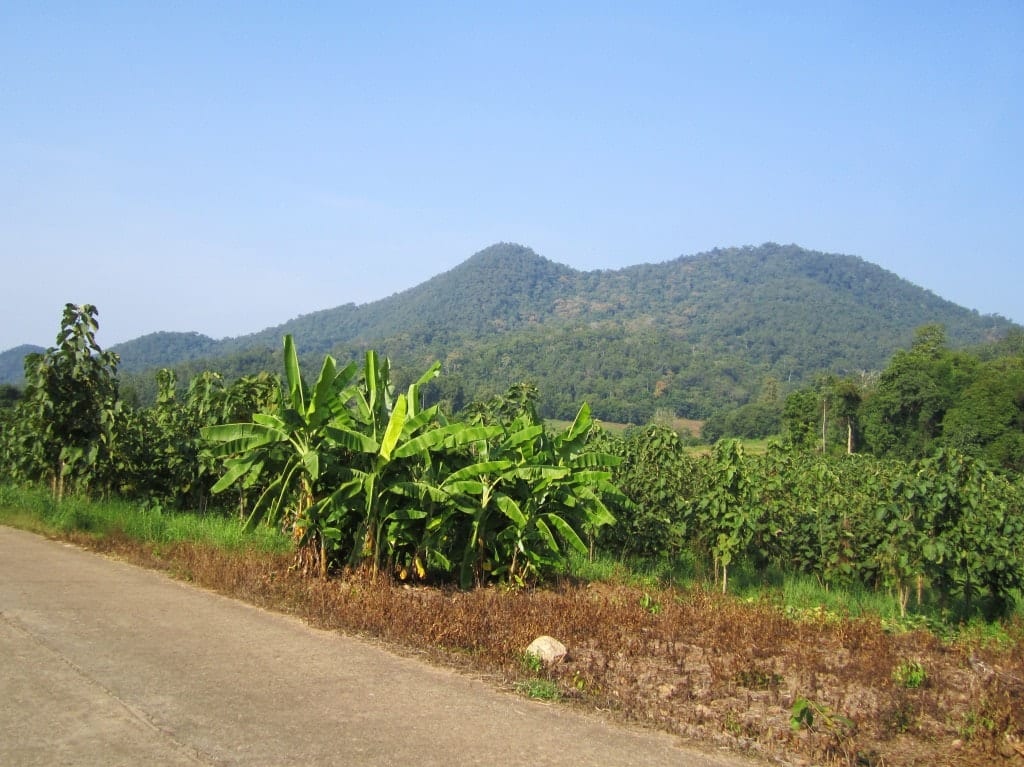 I'd like to say that the day was a complete success, but it wasn't.  While making an unnaturally wide right turn, I slightly overshot it and crashed headfirst into a ditch.
I was fine, though shrieking and covered in dirt, and a man stopped to help me and pull the bike out of the ditch.  He then insisted on taking me back to town.  I thanked him but told him that I'd be fine. And I was.  There were no more major mishaps.
I also made a complete ass of myself when returning to town, still unable to do a proper turn, but I was (and am) proud of myself for still being alive.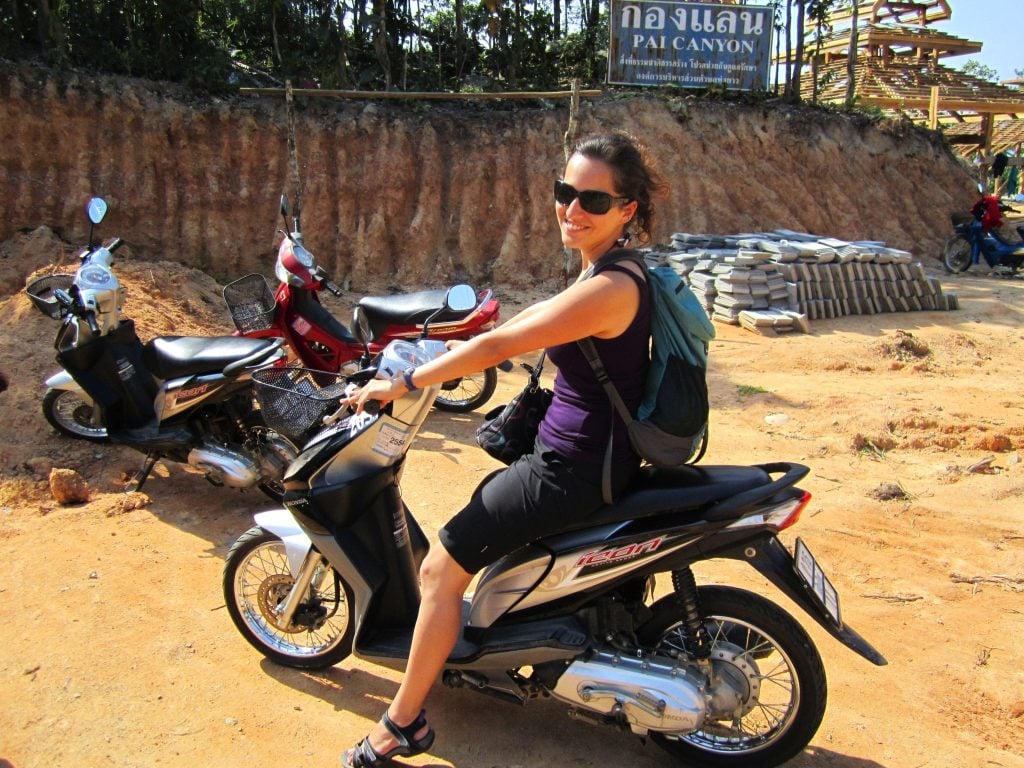 Thinking of renting a motorbike in Pai?  Here are some tips:
Stay on the left. Don't forget that they drive on the left in Thailand!  Be careful on your right turns!
Make sure to fill up. The tank tends to empty faster once you've gone through half of it.  You don't want to get stranded!
A GPS can be incredibly helpful. If you're going far off the beaten path, it's essential.
If you're an inexperienced rider, start somewhere rural. Get somewhere where you can be alone on the road. I'm glad I didn't start in Chiang Mai like I originally wanted to — there's no way I could handle the traffic!
DO NOT ride from Chiang Mai to Pai or vice versa! The road is extremely steep, extremely treacherous, and has 762 turns.  Yes, they counted.  Only advanced riders should consider this trip.
Overall, if you have a chance to explore Pai by motorbike, do it. The experience was nothing short of magical.
Get email updates from Kate
Never miss a post. Unsubscribe anytime!