Adventurous Kate contains affiliate links. If you make a purchase through these links, I will earn a commission at no extra cost to you. Thanks!
I have a few random phobias, and a few of them are about animals. One is birds, especially pigeons — touching them, them landing on my head, poop landing on me from the sky. But my biggest phobia of all is my fear of fish.
Growing up, we would spend our summers camping on a lake in New Hampshire. And I loved it — every year, I was always the last one out of the lake.
But when I was around eight or ten or so, I saw fish swimming around in the lake, and I developed an intense fear of feeling them touch me in the water. I would scream for my dad to save me. (And this was only a few years ago.)
This fear has continued to this day. Whenever I get in a lake, I constantly swirl my legs around so that the fish will hopefully get the memo that a human is standing there and not to go near her!
But now that I'm on the trip of a lifetime, I decided to face my fear first-hand: at the fish spa.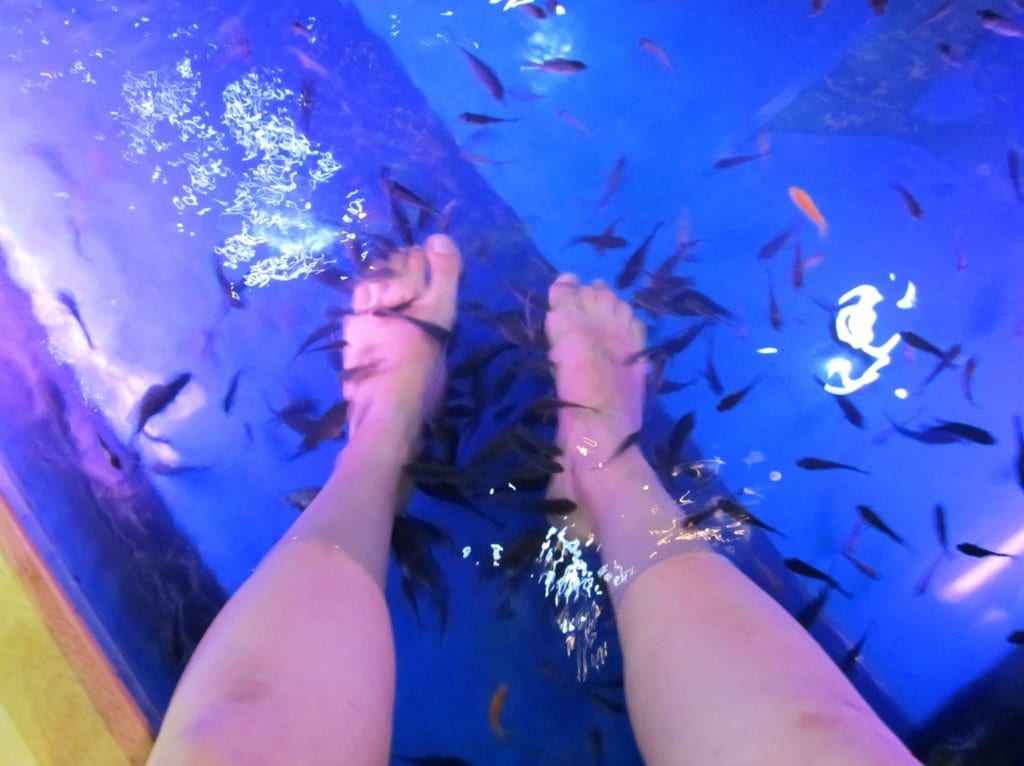 Fish spas are all over Bangkok and much of Southeast Asia. Basically, you sit with your feet in a giant fish tank and the fish chew the dead skin off your toes.
I found a cheaper one on Khao San Road, where 150 baht — about $5 — got me 20 minutes in the tank with the fishies.
I then spent about 19 of the 20 minutes screaming bloody murder.
The video:

So, did it work? Well, the tips of my toes were certainly smoother, but I'd draw the line there.
I think I'm all set on fish spas for the rest of my life.
Get email updates from Kate
Never miss a post. Unsubscribe anytime!