Adventurous Kate contains affiliate links. If you make a purchase through these links, I will earn a commission at no extra cost to you. Thanks!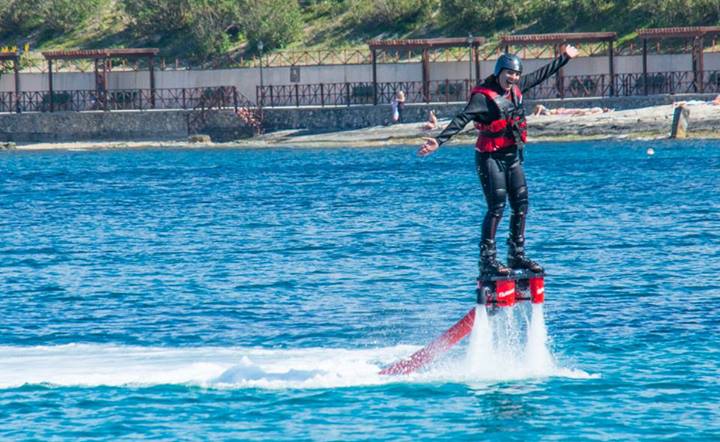 It was a perfect spring day in Malta — the sun was shining, the water was bright blue, and the flowers were in bloom. For the visitors who escaped the stormy springtime in their home countries of Britain and Ireland and Sweden, it was a much-needed and glorious dose of springtime.
Anyway, that's how Malta's visitors saw it. The Maltese themselves were still wrapped up in their winter coats. Everything's relative at 72 degrees fahrenheit (21 C).
I like to think that my Mediterranean blood tends to dominate the other ethnicities within me — and that certainly was the case that day. I shivered along with the Maltese, my teeth chattering, as I prepared to jump into the ocean. Meanwhile, a pale blonde couple bared sunburned arms as they strolled along the seafront.
It was time to strap on a jetpack and jump into the water. I was going to go Flyboarding.
Flyboarding is one of the more recent arrivals on Malta's activity scene. Basically, you strap your feet to a jetpack-like creation called a flyboard, which propels water through the bottom at a speed that enables you to rise above the water. And because the flyboard is attached to a long hose leading to a pump in the water, you can pretty much do it infinitely, or at least until the water runs out.
"How long do I get to stay up there?" I asked the instructors.
"You could stay up there the whole thirty minutes," they replied.
"Seriously?"
"Seriously."
The jetpacks of lore I had seen propelled people in short bursts — this was something different.
I'm not going to lie — I was nervous. Especially when the German girl in our group asked if flyboarding was available in her country and was told, "Oh no, Germany banned it for safety reasons." She promptly withdrew.
I had to go first.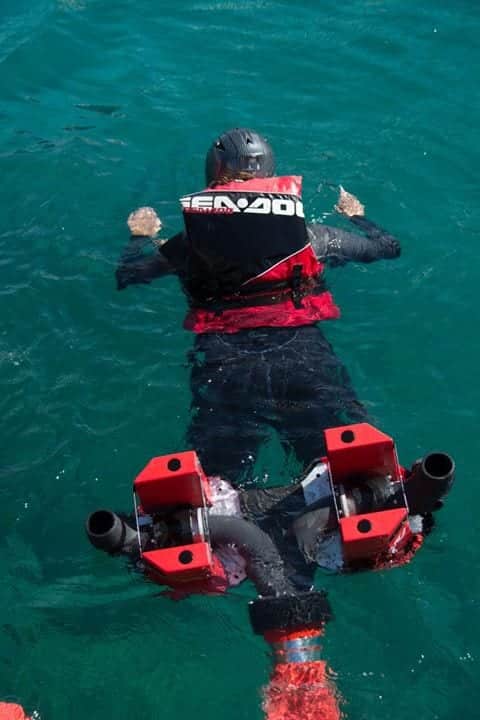 Shrieking as I fell into the water, I got on my belly and floated, arms out, as the flyboard gently propelled me to an open section of water.
From that point, my instructors, on board a jet-ski, coached me on getting up into the air. To rise on the flyboard, you rest as if standing in the water (your life preserver will hold you afloat) and they turn up the velocity more and more until it propels you out of the water.
It took some time.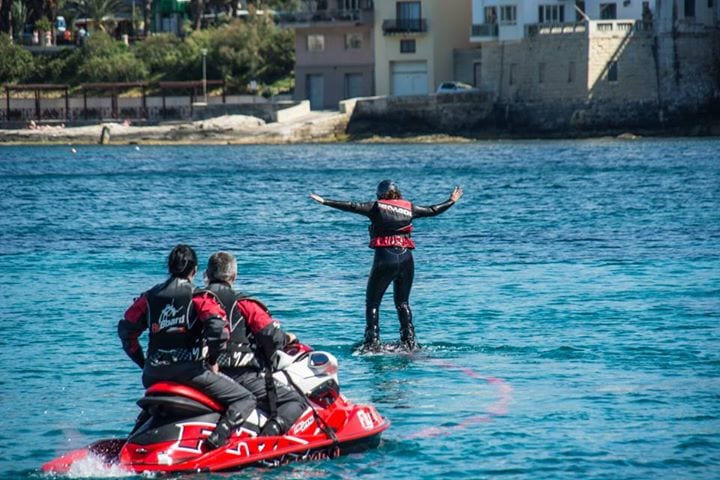 I took some spills.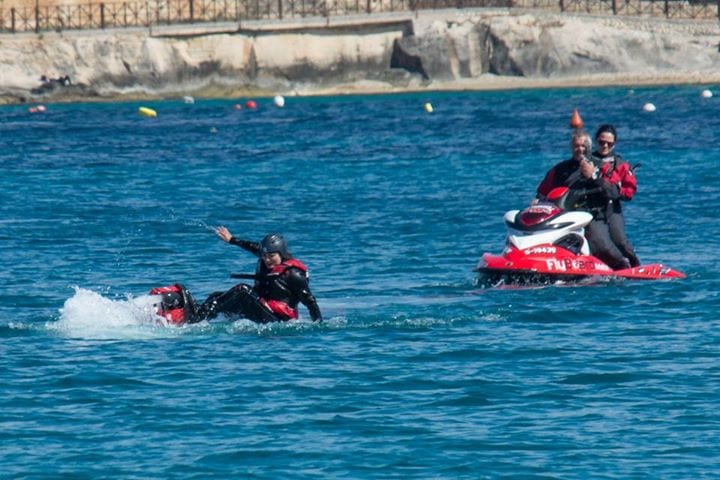 But eventually it turned into this…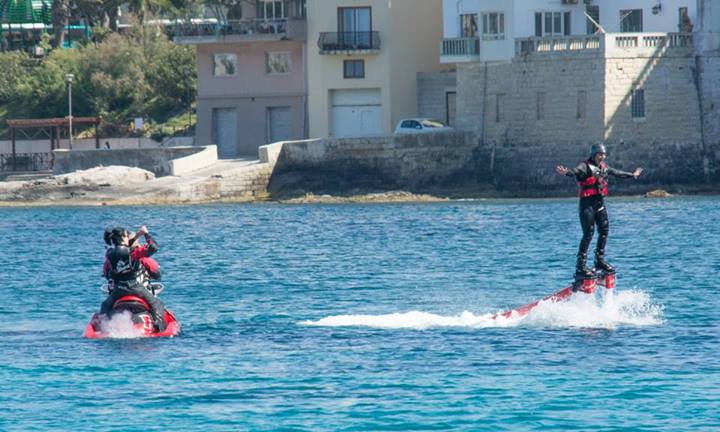 Which turned into this…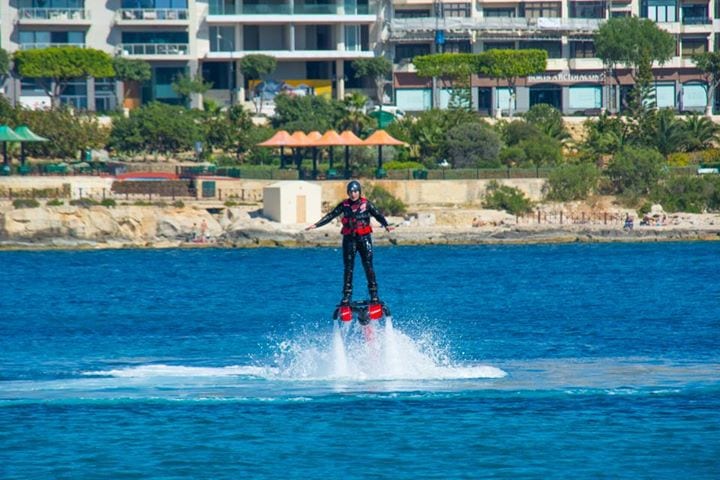 And eventually turned into this!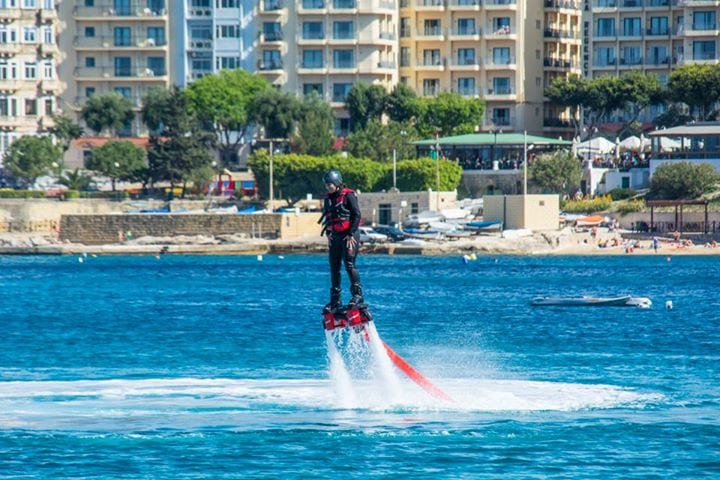 Look at that! I was so nonchalant about the whole thing!
Forget my fears and the cold water — this was AMAZING! I HAD BECOME IRON MAN!!!
Once you get the hang out of the flyboarding, you'll be able to raise yourself a meter or higher out of the water. And then comes the fun stuff — you turn by bending a knee and therefore raising and lowering your feet at different angles.
Experts are able to dive into the water and jump out like dolphins. There was no way I was going to be able to do that on my first lesson, but it's a testament to the cool things you can do on this board.
Here's the video of me flyboarding at the end:
Up until this point, I hadn't taken advantage of adventure activities on my trips to Malta — instead, I focused on photography, culture, and exploring the cities and towns on foot.
This was something different — something adrenaline-focused. Malta (and Gozo in particular) is known for having the best diving in Europe, but if you're not a diver, you might miss out on doing something crazy. But really, I can't imagine a better adrenaline rush in Malta than this activity.
All in all? I'm SO glad I faced my fears and flyboarded. It is one of the coolest things I've done in the past year. And the German girl who dropped out? As soon as I was towed in with a huge grin on my face, I looked her in the eyes — and saw a twinge of regret.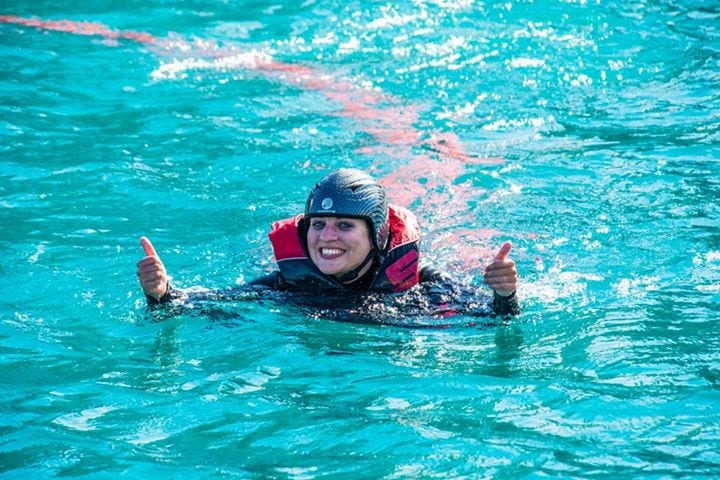 If I got to be a superhero for 30 minutes, I'd rather it be the funny, rich, awesome Iron Man than the brooding Batman or the heights-defying Spiderman. It was worth every minute.
Essential Info: Flyboard Malta offers a variety of packages, starting at 15-minute teaser sessions for 65 EUR ($88 USD). However, it took me about 15 minutes to get the hang of flyboarding, so I recommend booking a 30-minute session, which are available year-round for 120 EUR ($163 USD).

One big criticism: We didn't get to see a demonstration beforehand, so I had no idea what they were talking about when we were instructed on land, and it took me a long time to pick it up once in the water. (The girl who went after me got to stand up much more quickly because she watched me.) For that reason, I recommend you watch a few videos of flyboarding (including mine above, if you'd like) to get an idea of what it looks like and how to move to get the most out of your time.

I always make sure to have travel insurance before trying out any new adventure activity. I use and recommend World Nomads.
This post was brought to you as a result of the Blog Island Malta campaign, created and managed by iambassador in partnership with the Malta Tourism Authority and the support of Air Malta. Adventurous Kate maintains full editorial control of the content published on this site. All Flyboarding photos courtesy of Mario.
Get email updates from Kate
Never miss a post. Unsubscribe anytime!