Adventurous Kate contains affiliate links. If you make a purchase through these links, I will earn a commission at no extra cost to you. Thanks!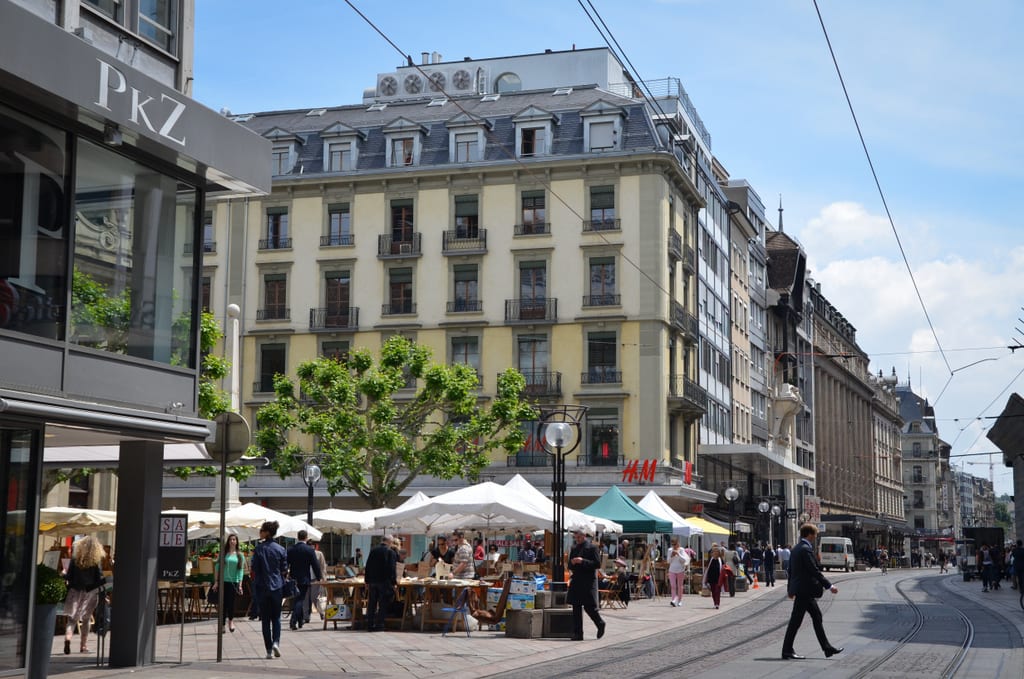 Wow.  My trip had only just begun, and Geneva was well on its way to being a complete and total disaster — but in typical fashion, it turned out amazingly!
Geneva isn't a typical city for backpackers to visit.  For starters, it's expensive. How expensive? 10 CHF ($10) for two coffees at an outdoor cafe; 16 CHF ($17) for a salad at a casual kebab place; 22 CHF ($24) for a one-way ticket to Lausanne, 30-45 minutes away; 7 CHF ($7) for a large bottle of water in a restaurant; 18 CHF ($19) for a five-minute taxi ride.
Beyond that, Geneva has a reputation for being, well, quite boring.
But I had a connection. My friend Helena, whom I met on my December trip to Paris, works for World Radio Switzerland.
So Geneva was a surefire stop for me, sandwiched in between Paris and Bologna.  Then once I got to Paris, things started falling apart.
Setback #1: No hostels or simple guesthouses were available.  At all.  Geneva doesn't have many hostels to begin with, but the hotels started at a shocking $300 per night.  I really don't have that kind of money, and at this point, I opted to stay an extra night in Paris. My friend Marie-Claire generously offered me another night at her Paris flat.
Setback #2: Helena wasn't going to be town.  Though I was sad to miss her, she kindly talked to her colleagues at World Radio Switzerland and got them to bring me on anyway.
Setback #3: I sent out Couchsurfing requests, but didn't receive a single reply.  A few local Couchsurfers offered me space, but they were either single guys with blank profiles and zero recommendations, which I consider to be a red flag, or people whose homes weren't accessible by public transportation.
Setback #4: I found affordable lodging on Airbnb at about $75 per night, but when I booked it, I was told by the host that it was too late to make a reservation.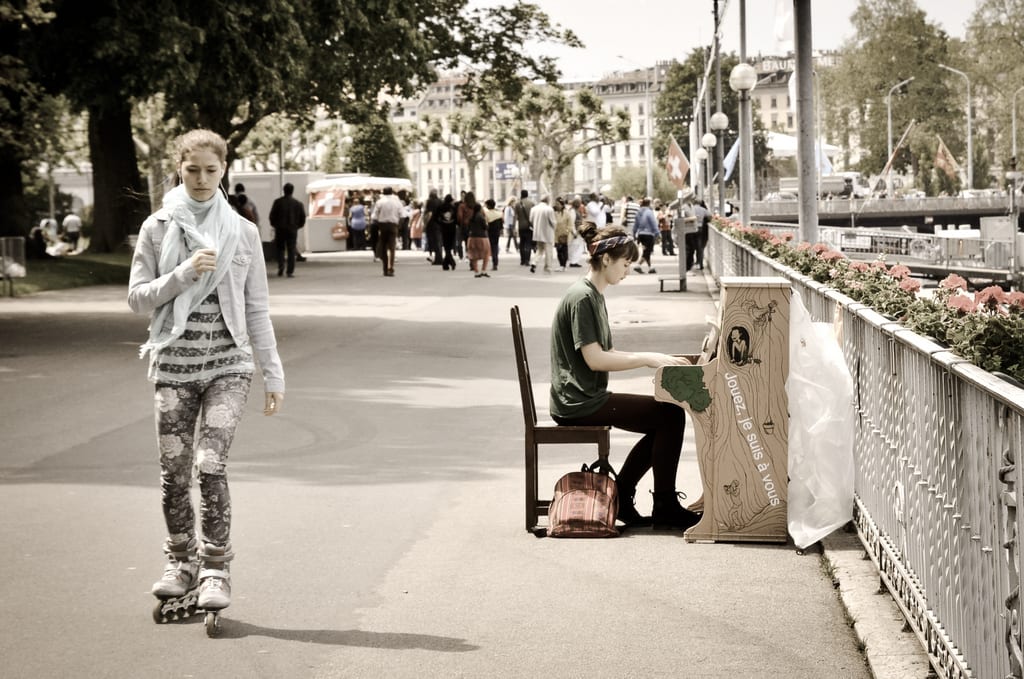 Then a miracle happened — My friend Julie lives in Lausanne, about a 45-minute train ride from Geneva, and she offered to put me up for the first night.  Incredibly, a friend of Julie's in Geneva owed her a favor — so he offered me his apartment for the second night, even staying over a friend's place so I could be alone!
Could you imagine giving up your apartment to people you've never met, handing over the key without even seeing them face to face or Skyping them to make sure they're not axe murderers?!
What a wonderful guy.  And what wonderful, generous people I've met on my trip so far.
So I arrived at Gare de Lyon in Paris, ready to book my TGV train to Geneva, when I was hit with:
Setback #5: No trains were available.  With my Eurail pass, I'm free to hop on local trains, but fast trains need to be reserved in advance.  It turns out that the lightning-fast TGV trains sell out super-fast, and there was almost nothing left.
Instead of an immediate three-hour train from Paris to Geneva, I had to take the only option available for the next few days: a five-hour local train from Paris to Lyon, a two-hour layover, then a two-hour local train from Lyon to Geneva.  Instead of getting to Geneva by 2:15 PM, we'd be getting in at 10:40 PM, just in time to catch the final 45-minute local train to Lausanne for the night.
I learned my lesson: from now on, I am booking the rest of my train journeys as soon as possible.  That lesson was particularly hammered home when getting on that five-hour train to learn that there wasn't any food or drink on board (!).
But then things turned around.  I got to Lausanne and had a great night's sleep in Julie's adorable apartment.  An early departure to Geneva got me there in time for the interview on World Radio Switzerland at 8:40 AM.
Then I got to explore Geneva.  The stereotypes are true, to a degree — it's a very orderly place without much of a personality.  In lots of ways, I found Geneva to be the opposite of Berlin: Geneva is quiet where Berlin is loud, sedate where Berlin is artsy, small where Berlin is large, and incredibly expensive where Berlin is dirt cheap.  Geneva plays it safe while Berlin lives dangerously.
But Geneva was a pretty and exceedingly pleasant place to spend a day, especially since the sun was shining.  And I LOVED the fact that the buses and trams have screens telling you where you are, what the next three stops are, and what lines you can connect to at each stop!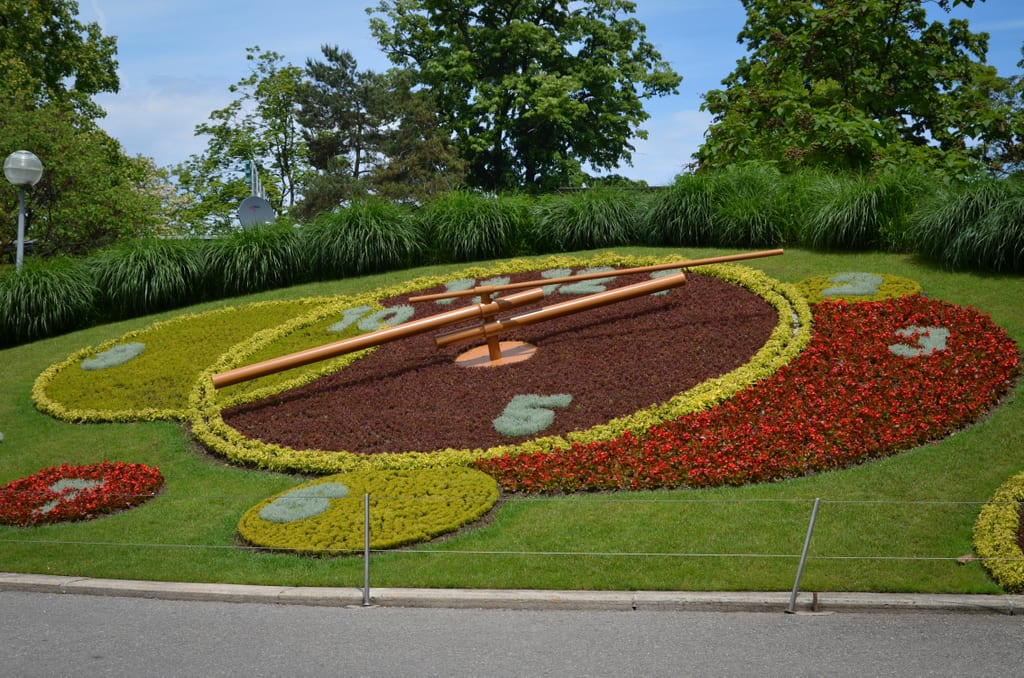 Cafe Marius, in particular, was a wonderful surprise.  I needed to find a bar for a meetup and I picked it on a whim after a bit of Googling.  It's a blink-and-you'll-miss-it wine bar with outdoor seating and an excellent selection of local wines — all of them organic!  Could this be where Geneva's hipster side had been lurking all along?
After a few hours, I even noticed more hipstery footprints: a cute coffeeshop attached to a bookstore.  A hair salon with wild cartoon fonts.  A boutique with crazy hand-knit sweaters.
Things aren't always what they seem, and that goes double for Geneva.  While I feel no need to return, I had a very nice day here.
Essential Info: Geneva is a very expensive city, and lodging is particularly pricey.  If you can't find a hostel or a couch to surf, take a look at Airbnb — rates were astronomically lower than what I could find at hotels. If you do prefer a hotel, you can find the best prices here.

You can buy daylong unlimited transportation tickets for 10 CHF ($10), which work on the buses and trams.  But if you buy after 9:00 AM, the price drops to 8 CHF ($8).

Free wifi is tough to find in town.  Your best bets?  One of the Starbucks, or Amo Cafe in the train station.  McDonald's has wifi but will only send passwords via SMS, so you need a working phone.

I never travel without travel insurance and used World Nomads while in Switzerland. I always recommend purchasing it before a trip because it will protect you financially if anything goes wrong.
Many thanks to Eurail.com for their support of the European leg of the SOTM Tour.  All opinions, as always, are my own.
Get email updates from Kate
Never miss a post. Unsubscribe anytime!