Adventurous Kate contains affiliate links. If you make a purchase through these links, I will earn a commission at no extra cost to you. Thanks!
Do you really think I would go to Texas and not get roped by a cowboy in the process?
After winning the lasso competition on Day Two, our cowboy decided to use me to show off his moves.
That story: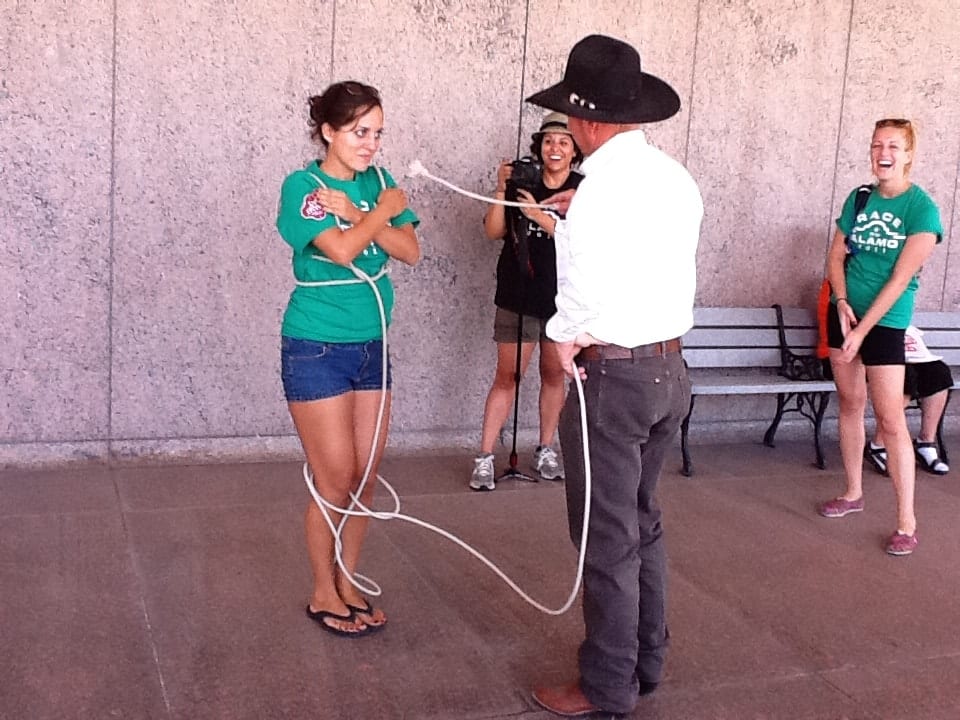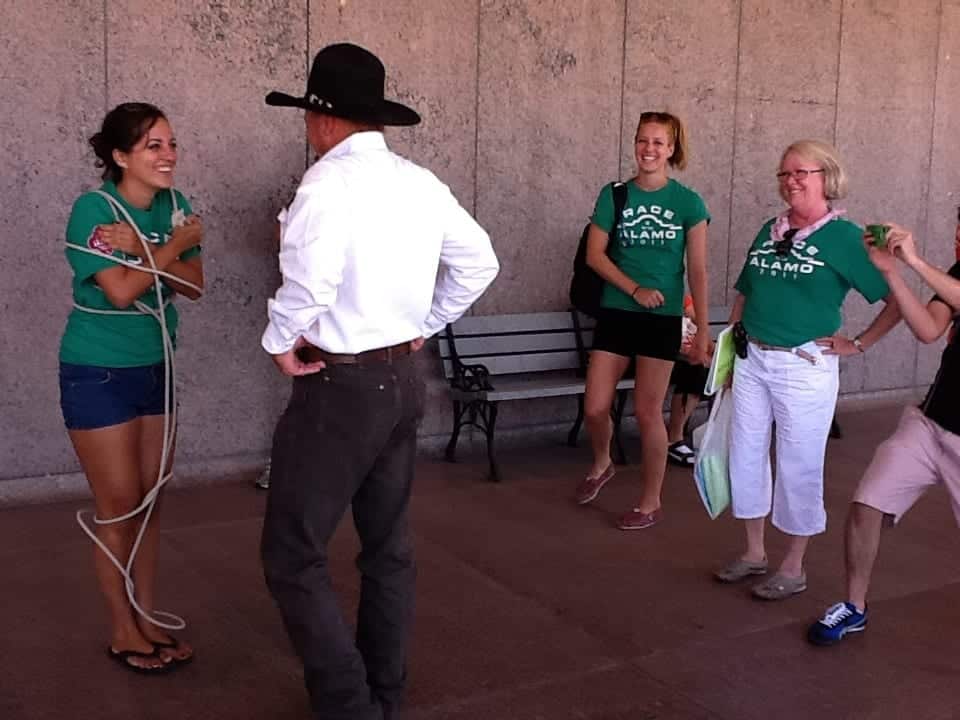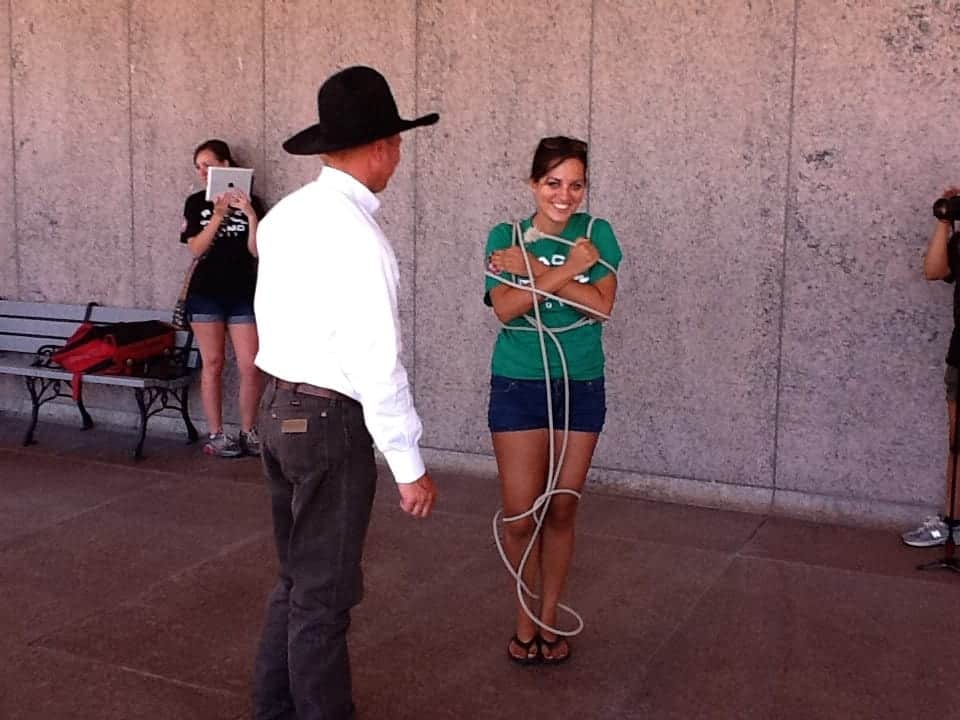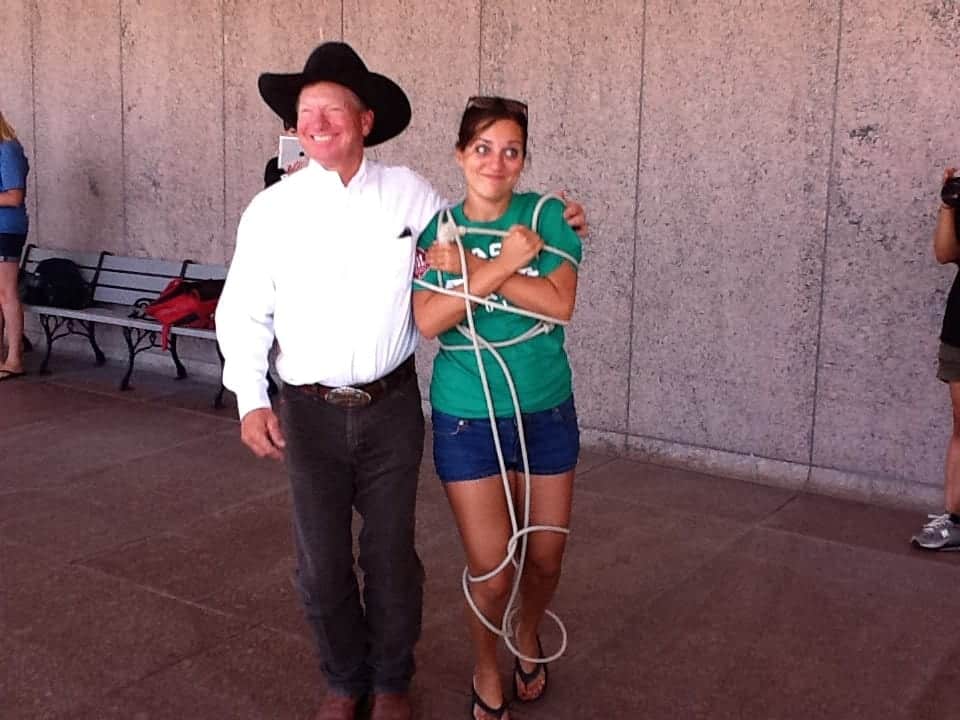 NEVER TRUST A MAN WITH A ROPE!
And then he got to the GOOD stuff!  Check out this video of a rope demonstration!
I guarantee you'll find more cowboys in San Antonio than on the usual cheap holidays to Tenerife.
Now: while we didn't get much time to see the Institute of Texan Cultures, we did get to learn a lot of facts about San Antonio.  Here are a few of my favorites:
The state of Texas has had six flags flown over it.  (This is how the theme park Six Flags got its name.)  They were: the American flag, the Texas flag, the Spanish flag, the Mexican flag, the French flag, and the Confederate flag.
Because Texas is the only US state ever to have been its own republic (which lasted from 1836 until 1845), it's the only state allowed to fly its state flag at the same level as the American flag.  This is confusing, as some Texans are under the impression that Texas is still its own country.
The motto of Texas is simply, "Friendship."  The word "Texas" comes from a Native American tribe from a word meaning "friends."
And any cowboy who has the opportunity to tie you up CAN and WILL do it.  My friends and I, despite having somewhat of an affinity for cowboys from our pre-teen years on, haven't spent much time with cowboys at all.  In fact, I think the only time was in Las Vegas, at the Bellagio, when we met a bachelor party from Montana.  They wore their formal hats and were ready to rock.
I can only imagine if we had been tied up in Vegas, though!
Don't forget to vote for Team Adventurous Kate to win the Race to the Alamo!  Remember, you can vote once per day through August 31, and each vote gets you closer to winning a dream trip to San Antonio!
My trip to San Antonio was sponsored by the San Antonio Convention and Visitors Bureau.  All opinions, as always, are my own.
Get email updates from Kate
Never miss a post. Unsubscribe anytime!