Adventurous Kate contains affiliate links. If you make a purchase through these links, I will earn a commission at no extra cost to you. Thanks!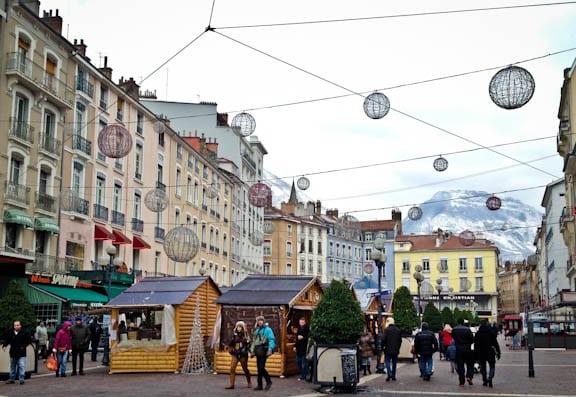 Winter in Europe can be such a gamble.  While we arrived in the Rhône-Alpes region to a clear day in Lyon, we were soon bombarded with snow, slush, and freezing temperatures in both Lyon and Grenoble.  Despite three pairs of socks, my toes nearly froze clean off.
Thankfully, Grenoble has a number of museums, including the excellent Musée de Grenoble, with a wonderful collection of art.  I loved strolling through the collections — but wistfully wished I was out enjoying the clean mountain air.
But after that first day, we woke up to an Alpine winter day that was absolutely PERFECT.
How could you not be excited with a view of the Alps like that?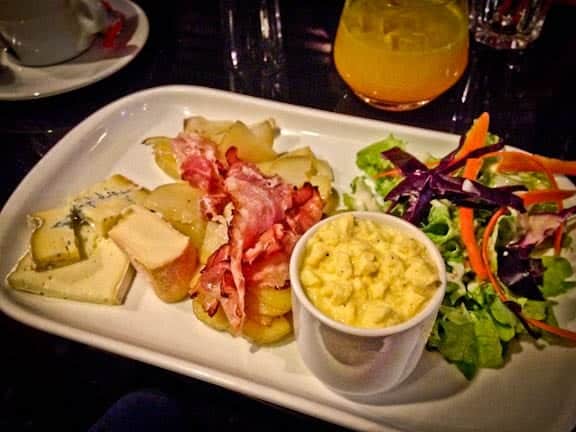 The day began with brunch, as all relaxing Sundays should!  diFérent is a hip, artsy cafe in the heart of the city.  Brunch is expensive (my brunch complèt cost €16, or $21!), but it was SO delicious…and I love that it came served with multiple cheeses!  Oh, France.
We worked off those cheeses with a stroll through the nearby markets.  I love that clementines are so prevalent in the winter — they're so refreshing.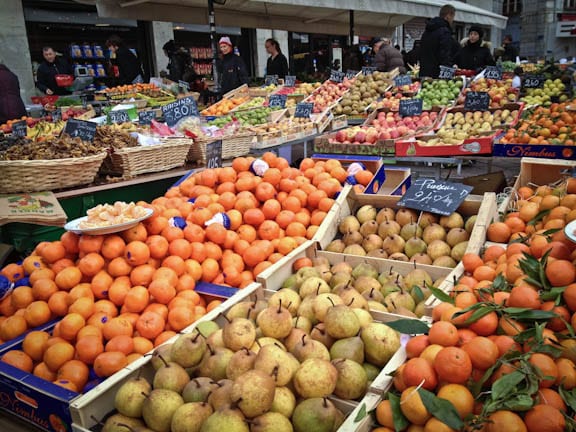 We also passed some interesting street art.  I call this one Screamin' Pope.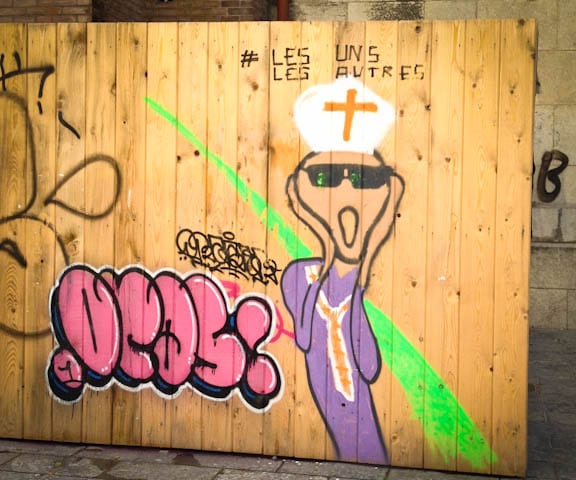 But the piéce de résistance lay before us — we would be traveling to top of the Bastille by cable car!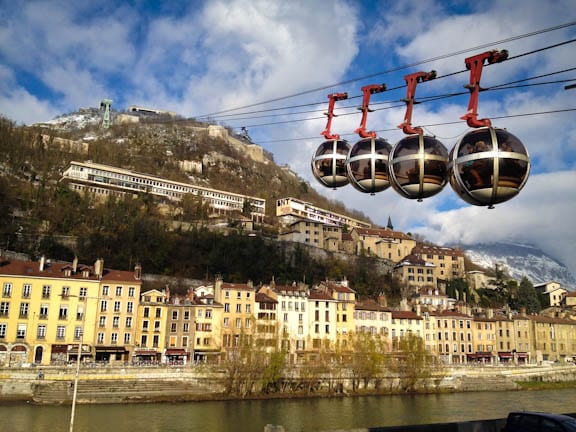 These bubble-like structures were some of the first cable cars intended for tourism, and today they're one of Grenoble's most famous symbols.  In 2011, they carried 300,000 people to the top!
We giggled as we rode upward, taking in the city. Then we got to the top — and this was the view: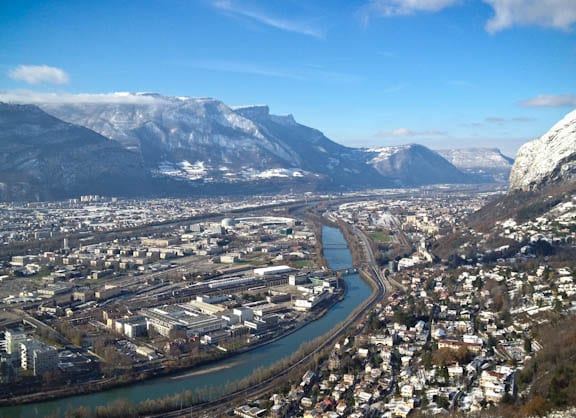 It could not have been a more beautiful day.
The Bastille is a fort originally built in 1591, then reconstructed in the 19th century to fend off attacks from nearby Savoie.  (To this day, Savoyards consider themselves different from the rest of France, not unlike Bavarians in Germany or Catalonians in Spain.)
Today, though, it hardly bears any resemblance to a fort — with modern facilities, it seems more like a great place to have a wedding!
Here's a fun fact: despite the fact that Grenoble is at the foot of the Alps, it's actually one of the flattest cities in France!  It seems strange, but pictures like this make it clear.
We relaxed in the winter sunshine on the restaurant balcony, sipping coffees and hot chocolates, before taking the cable car back down.
Getting photos from inside the bubble isn't the easiest thing — there are no windows, and the cable cars are heavily tinted and covered in scratches.  This photo has been majorly cleaned up.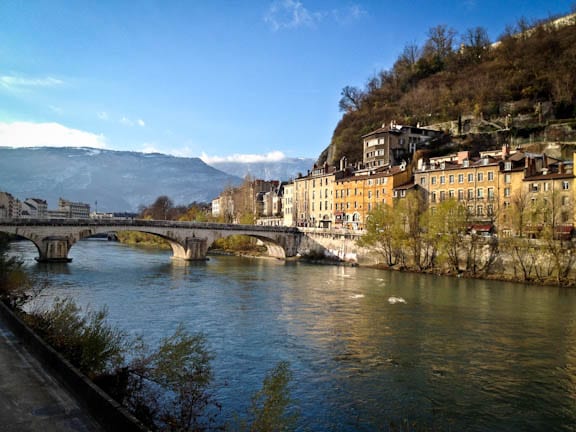 Grenoble is that perfect size of a small city — parts of it feel quite urban, with lots of shops and office buildings and an excellent tram system connecting all over the city.  But parts of it feel quite country — little riverside markets with homemade cheeses, tiny restaurants where the owner knows all her customers.
And most importantly — prices are SO much lower than Paris!
Winter may not be my favorite time of year — but on a sunny winter day in Grenoble, it's impossible not to smile.
Essential Info: One-way/round-trip tickets in the cable car to the Bastille cost €4.95/7.15 ($6.50/9.50).  The paths up are paved, but be careful in the winter — the snow might not be cleared.
Many thanks to Rhône-Alpes Tourisme and Magellan PR for hosting me in Grenoble.  All opinions, as always, are my own.
Get email updates from Kate
Never miss a post. Unsubscribe anytime!