Adventurous Kate contains affiliate links. If you make a purchase through these links, I will earn a commission at no extra cost to you. Thanks!
Show me someone who feels ambivalent about Hanoi, and I'll show you a liar. Hanoi invokes strong feelings, and the people who visit the Vietnam capital tend to either love it to pieces or hate it bitterly.
Into which category would I fall?
The former.  I absolutely loved Hanoi, and it was one of my favorite destinations on the trip so far.
So, what's there to love about Hanoi?
The Old Quarter. Hanoi's Old Quarter is one of the most interesting neighborhoods in Southeast Asia, crammed with stores of all kinds, street sellers, open-air restaurants with tiny stools, and foot traffic pushed onto the street.  Looking for shoes?  There's a whole street for that.  Chinese lanterns?  Also, yes.
The Old Quarter feels like Buenos Aires or even Paris, but with an Asian bent!
Also, I was rather chuffed after finding Degree deodorant and Maybelline mascara at a local drugstore.
Hanoi's street food is delicious, served at street stalls and open-air restaurants with teeny-tiny plastic stools.  One of my favorites?  Freshly grilled frog!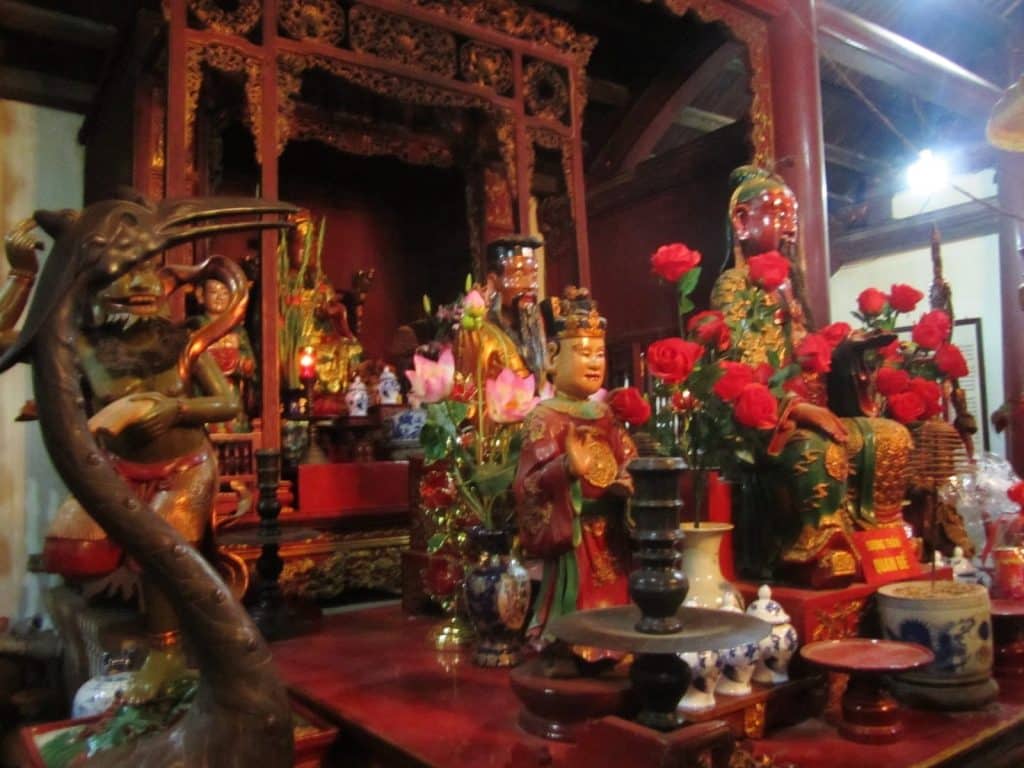 While Thai, Lao and Khmer temples seem to meld together stylistically, Vietnamese temples are completely different — and will blow your socks off. You definitely see Hanoi's Chinese influence in the temples.
Hanoi is home to incredibly friendly locals — including this bride, who asked if we would take a picture with her!  Again, she wanted a picture with us!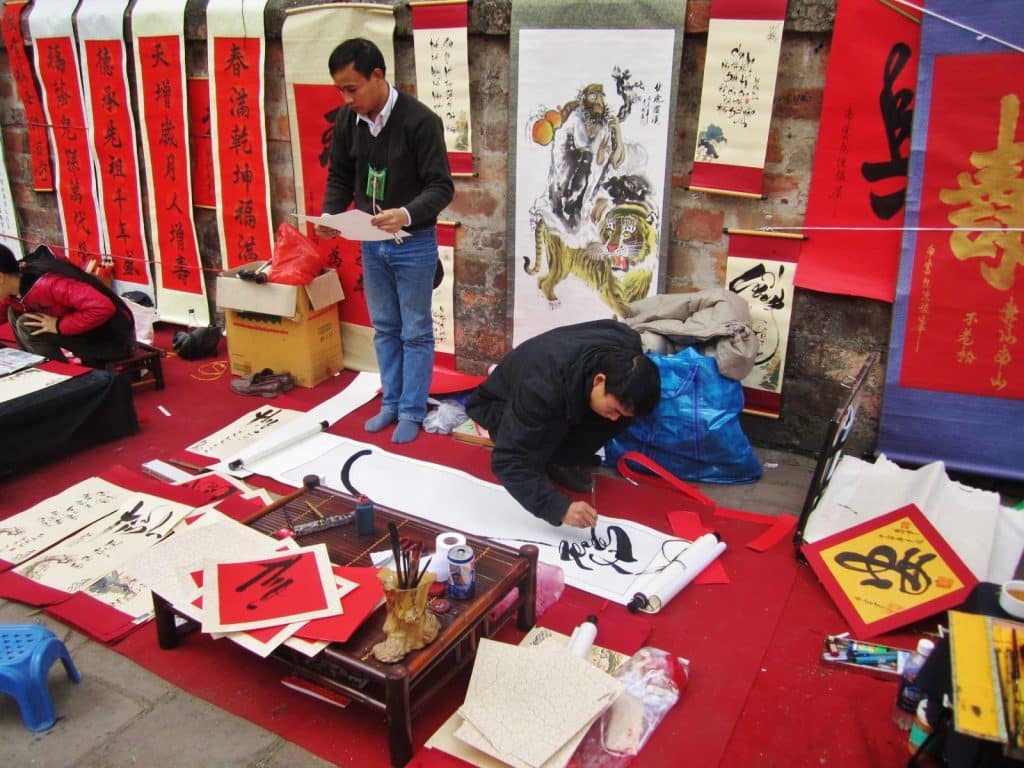 Take a look at a map, and you'll see how close Hanoi is to China.  The Chinese influence is present throughout the city and ancient Vietnamese and Chinese civilizations have a lot of similarities.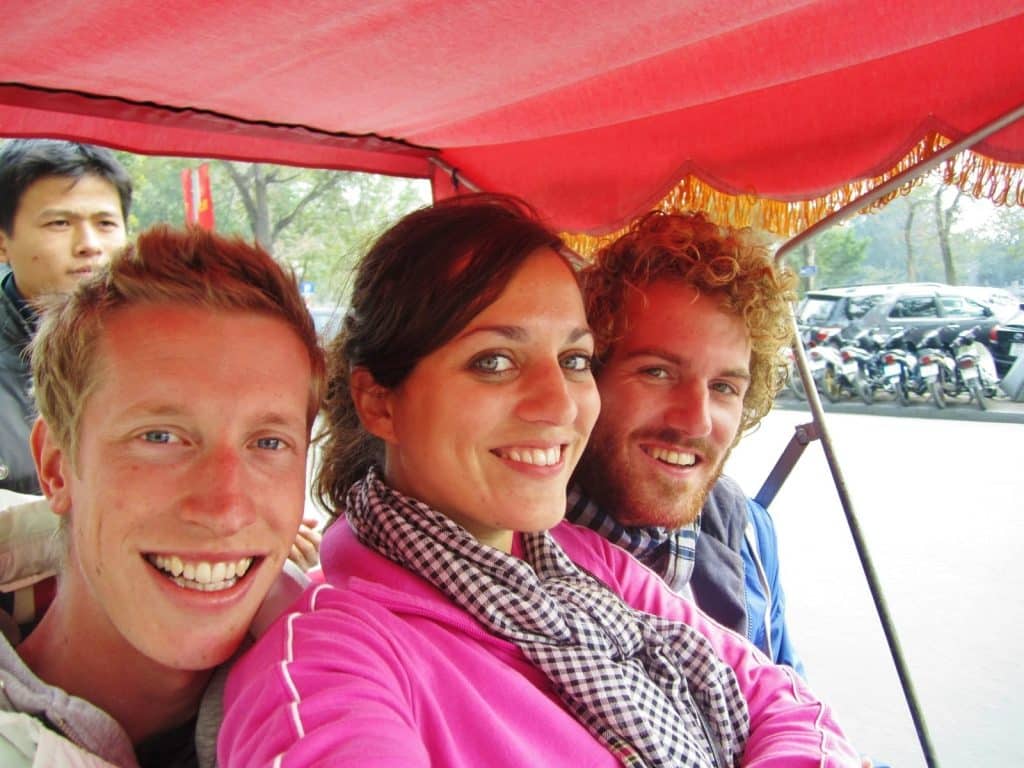 Every city in Southeast Asia has a different kind of tuk-tuk, and cyclos are Hanoi's tuk-tuks! The driver pedals you in a bike-like device that looks somewhat like a wheelchair.  While they're built for two people, maximum, I managed to squeeze in with my Dutch buds Sander and Cas!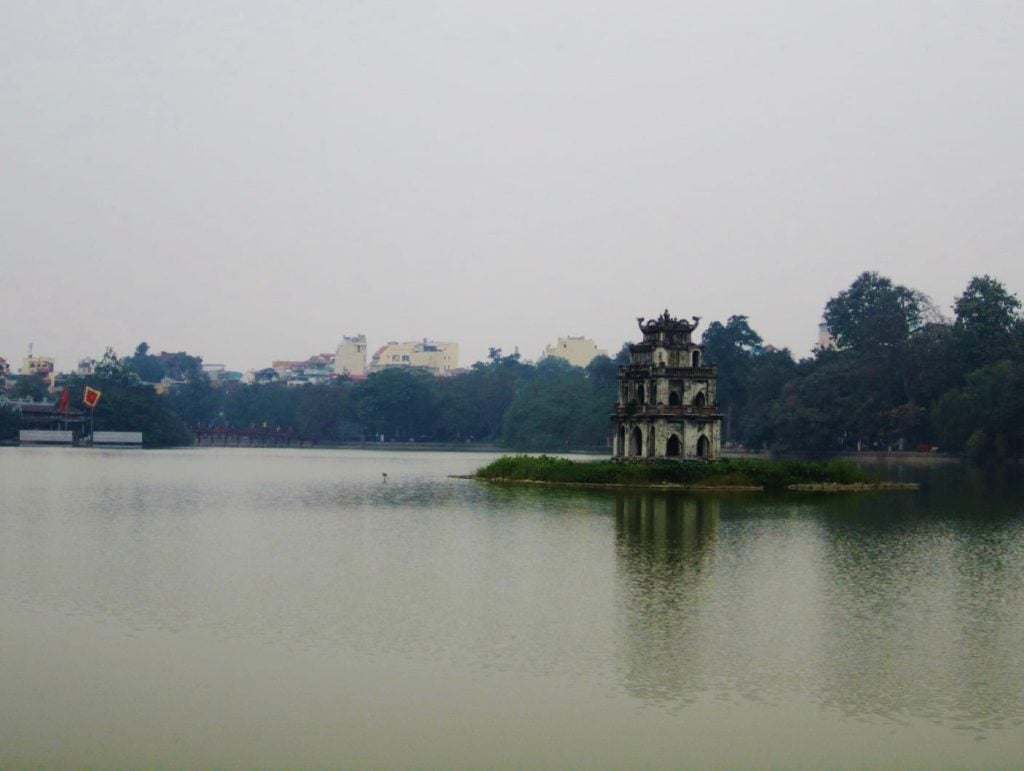 Hanoi has beautiful and varied architecture, both ancient and modern, including this pagoda in the middle of Hoan Kiem Lake in the heart of the Old Quarter.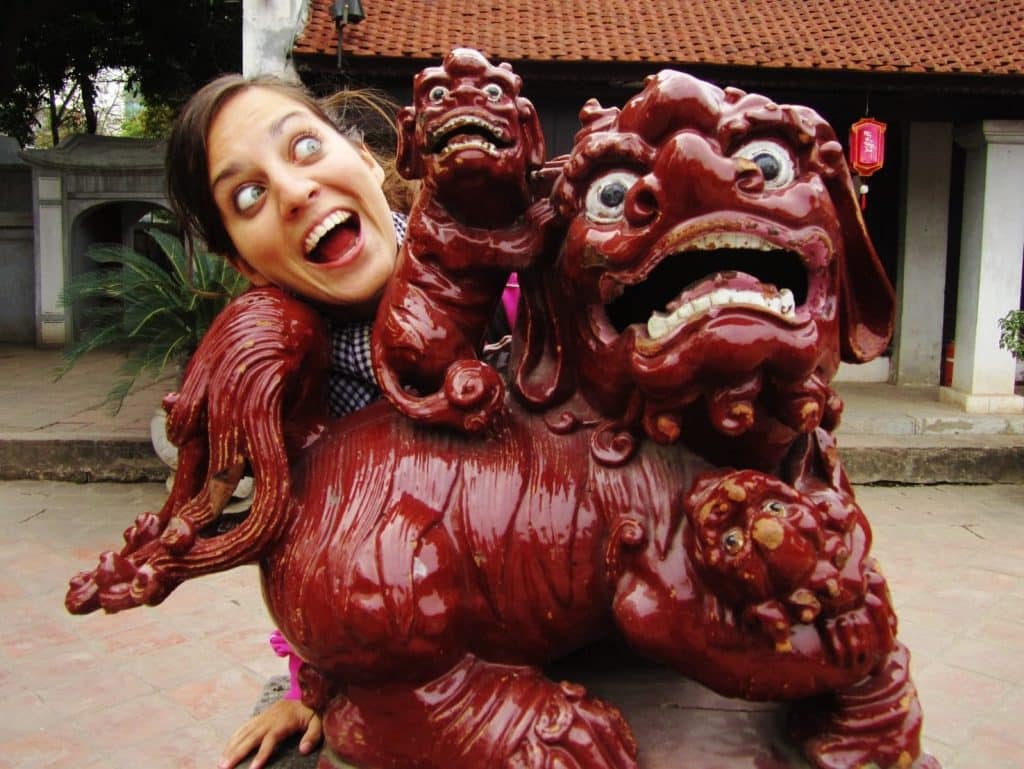 Looking for hilarious photo ops?  You'll find them!
And, of course — traffic, traffic, traffic. Hanoi is defined by its traffic, primarily composed of motorbikes.
Crossing the street in Hanoi is always an adventure — you do it by walking slowly into oncoming traffic. (If you wait for the street to be free, you'll be waiting all night.)  The motorbikes will drive around you!  It's scary, but it works!
A lot of people don't like Hanoi because of the ever-present scams and ripoffs.  It's true — you will get ripped off in Hanoi, and with frequency. But I went into Hanoi knowing that, so it didn't bother me much.
Bargain hard and viciously, settle transportation prices firmly in advance, and if an unscrupulous motorbike driver changes his price after you've arrived at your destination, give him the money you settles on before and walk away.
Don't listen to the naysayers — Hanoi is a really special place, and it's undoubtedly one of the best cities in Southeast Asia.
Get email updates from Kate
Never miss a post. Unsubscribe anytime!