Adventurous Kate contains affiliate links. If you make a purchase through these links, I will earn a commission at no extra cost to you. Thanks!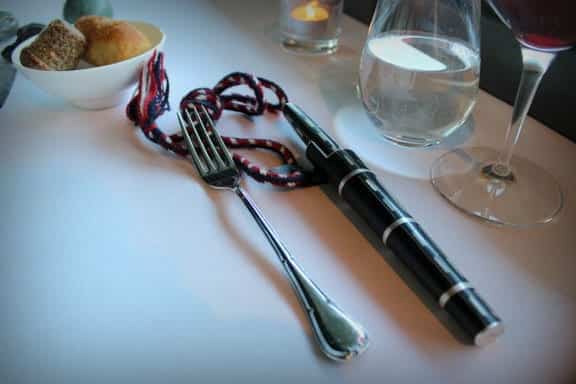 It's not very often that I get to experience the best restaurant in a country — but in the Faroe Islands, I got to do just that.
KOKS is the restaurant at the excellent Hotel Foroyar, famous for hosting Bill Clinton a few years ago.  (It's also not very often that I get to stay in the same hotel former awesome US presidents stayed in.)
Now — I was a bit apprehensive, as I'm not the biggest fan of Scandinavian food.  Salted fish and sweet, fatty cured meats don't appeal to me.  But haute Scandinavian cuisine is SO much better than salted fish and odd cured meats.  How good was it?
This is in the top 3 meals I have ever had in my LIFE.
KOKS offers four-, six-, and eight-course menus.  I went for six courses.  Here's how I started: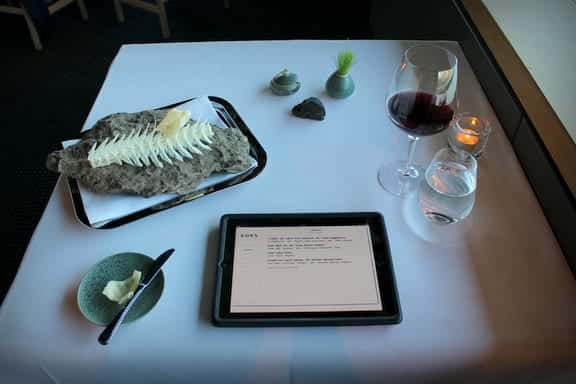 Yes, that's the menu on an iPad.  If they were looking to impress me, there's nothing better they could have done!
Here's what I dined on: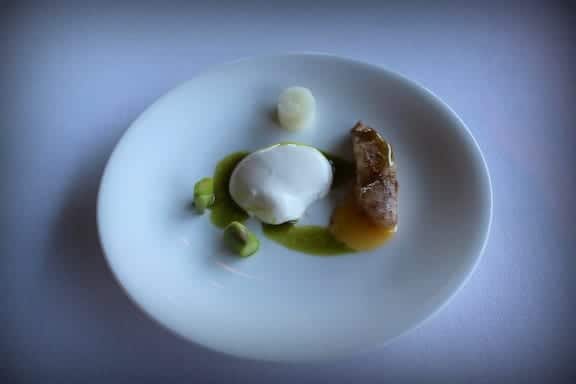 Amuse Bouche: Salted cod, asparagus, amanson oil
Two tiny bites of deliciousness.  For the record, I'm not sure if it's actually amanson oil — that's what I believe my waitress said, but I can't find anything when I google it.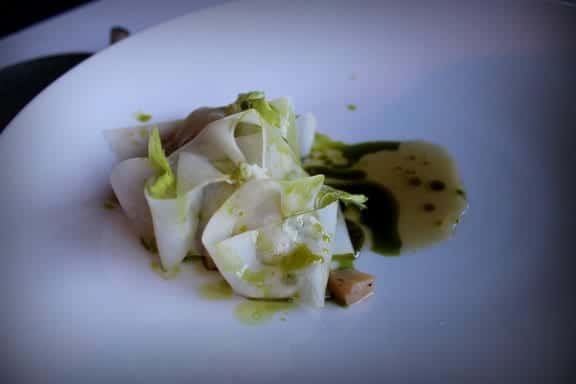 Course One: Five Times Celery
As the name dictates, celery is served five ways in this dish: celery leaves, mashed celery, pan-fried celeriac, blanched celery, and leaf of leaf celery.  My waitresse topped it with a few spoonfuls of oil with apple juice and dill.
This dish was cold, light, sweet, and delicate course.  Perfect for summer (or as summery as the Faroe Islands get!).
The strips of celery could almost be a substitute for pasta.  Celiacs, this could be a new recipe to try!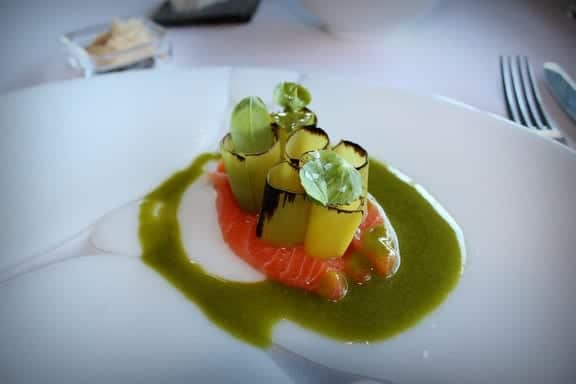 Course Two: Smoked Salmon, Burned Leeks, Cream Cheese, Oil with Watercress
Since moving to the UK, I've developed a fascination with leeks.  These delicious burned leeks were so good atop the juicy, fresh smoked salmon, and the dish was well-balanced, especially with the watercress oil.
Buying a mini blowtorch would be worth it just to blacken leeks like this!  (Not to mention creme brulee.)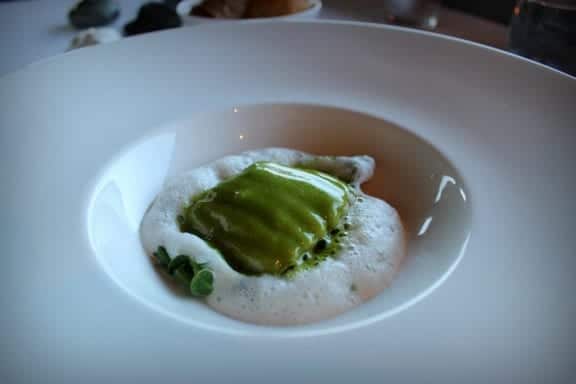 Course Three: Steamed Skate, Sea Sand Wort, Seaweed, Milk Foam with the Taste of Mussels
This dish was quite mild, and the fish was on the rubbery side, but I was thrilled by the creativity!  The milk foam literally tasted like it had the essence of mussels — but no mussels were in sight.  It was delightful, and unexpected.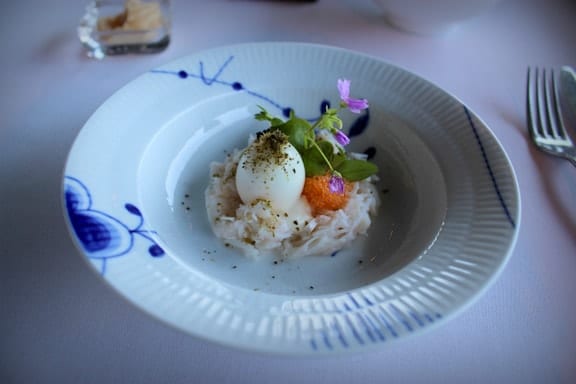 Course Four: Faroese Crab, Lump Fish Roe, Flour, Horseradish, Egg
I am a fiend for horseradish, and the horseradish took this delicious dish and elevated it to the next level!  This was a fantastic combination of crabmeat, roe, and horseradish, topped with a quail egg.  I could have eaten two more of these plates.
And that beautiful purple flower on top?  I wasn't sure whether it was edible, but went for it.  It was bitter.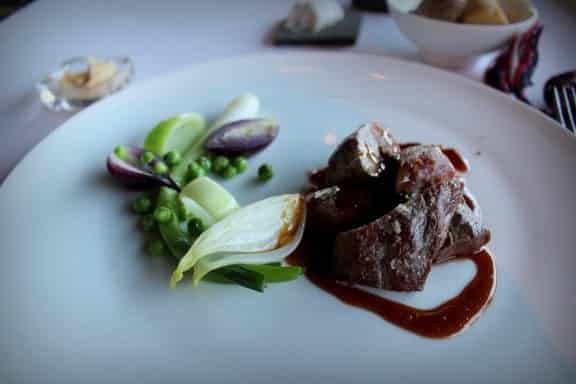 Course Five: Lamb from Sundoy, Salt from Fermented Lamb Meat, Lamb Glacé, Vegetables
Yes, you read that correctly — lamb topped with salt made from fermented lamb meat!  It sounds horrid, but IT WAS EXTRAORDINARY.  This salt was a miracle.  You can expect me to buy out all the fermented lamb salt in the Faroe Islands!
The lamb was excellent — tender, juicy, a touch gamey (as I experienced in Iceland) but ultimately a fantastic meat dish that I will be dreaming about for months.
They also brought out the best utensil possible:
A model of a Faroese whaling knife!  Using a knife like this makes eating infinitely more fun.
And then I moved on to the most adventurous course of all…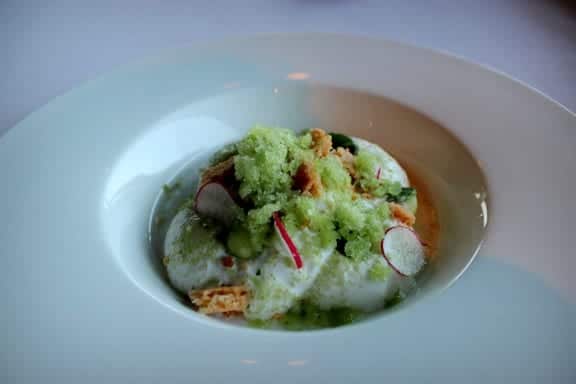 Course Six: Fresh Cream Cheese, Sour Cream Foam, Granite of Champagne, Tarragon Sugar, Raw Cucumber, Radish
My first thought: "It's like something out of Chopped!"  This is the most creative dessert that I have ever tasted — and I LOVED it!
The best way to eat this dessert is to start from the middle, with mounds of Faroese cream cheese and sour cream foam.  The extreme sweetness comes from the tarragon sugar and the granite of champagne, which crumbled like a big, sugary cookie.  And the crispy vegetables were the perfect counterpoint.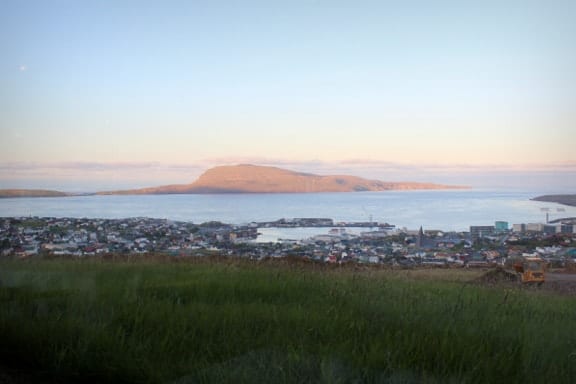 By the time I finished my meal, it was 10:30 PM.  Having a table with a view, I watched shadows obscure the city of Tórshavn more and more, but the sun never quite disappeared.
Thinking of the best meals I've had in my life, epic feasts in Italy and Vietnam come to mind first.  But the Faroe Islands — these cold, isolated islands in the North Atlantic — are full of culinary surprises.
Many thanks to Visit Faroe Islands and Travel PR for hosting my trip to the Faroe Islands.  All opinions, as always, are my own.
Get email updates from Kate
Never miss a post. Unsubscribe anytime!