Adventurous Kate contains affiliate links. If you make a purchase through these links, I will earn a commission at no extra cost to you. Thanks!

Here's something I've learned from a year and a half in the UK: if you open any guidebook about this nation and skip London, Edinburgh, and the most touristy sites, you'll soon see tales woven of cities once dark and desolate, cities defined by their industries, where life was hard and cold and there wasn't enough money, where streets were dangerous, violence was rampant, and there was absolutely no tourist value whatsoever.
That was the case as late as the 80s.  But now there has been a revival.  The city is much better, much safer, much cleaner and much prettier, and not only does it have a lot to offer tourists, it's also home to a growing arts scene.
The funny thing is, this same story could be told about Liverpool, Leeds, Manchester, Bristol, Birmingham, Belfast, or Newcastle.  Or, as I soon learned, Glasgow.
I ended up in Glasgow on a whim in November, just after returning from South Africa.
My love for Scotland is deep, as you all know, but I had never been to Glasgow.  For as much as I loved beautiful, perfect Edinburgh, I didn't know much about its harder, rougher sister.
But of all the gritty-turned-pretty British cities, I think Glasgow is my favorite.
Here is what I got to enjoy during my trip: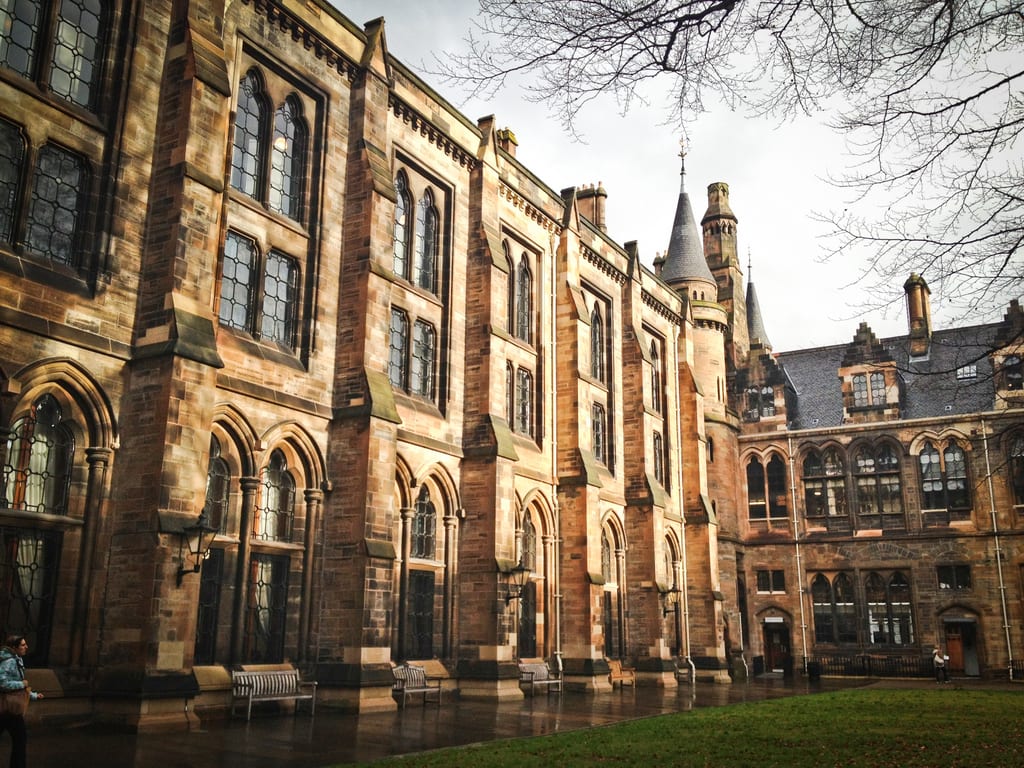 University of Glasgow
I was fortunate enough to have a friend act as a tour guide — my friend Emma, a University of Glasgow alumna and easily one of the fieriest Scottish lasses I know, offered to show me around her city.
The University of Glasgow is one of the best places in the city to enjoy traditional Scottish architecture.  Emma showed me the most famous parts, like the Cloisters.

The Cloisters were beautiful — but at the same time, haunting.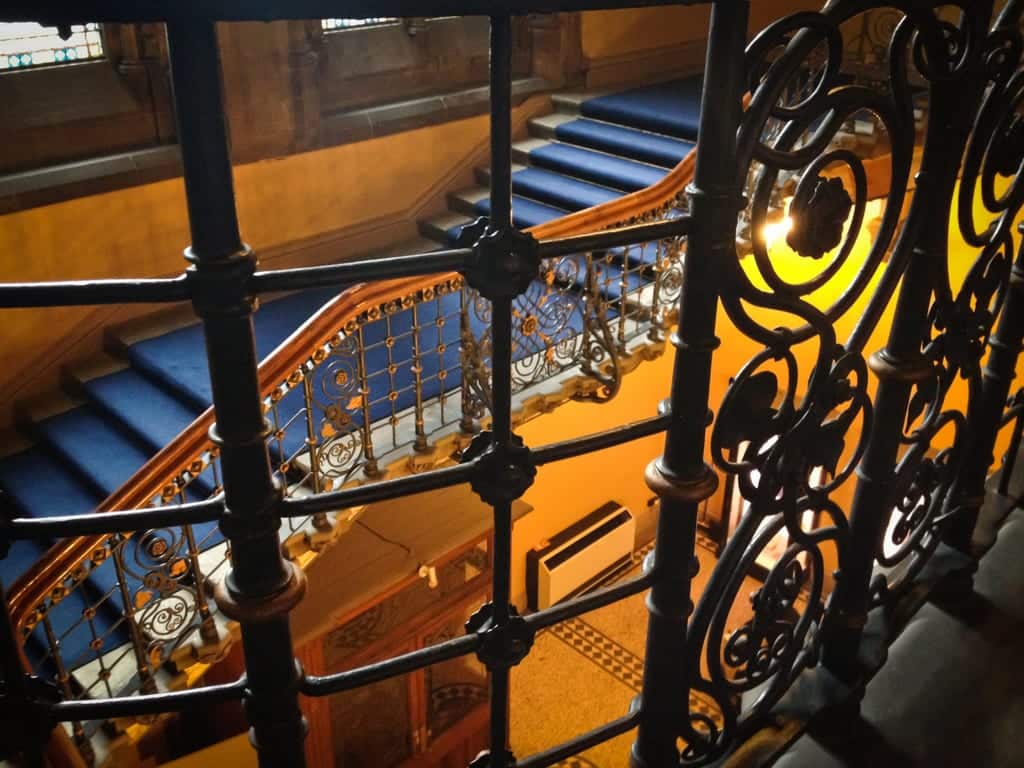 The inside was as grand as the outside.  Right away, I felt like I was spirited away to Hogwarts.  A lot of people like to claim that J.K. Rowling was inspired by the University of Glasgow when writing Harry Potter.  She's never said so — but if she was, I could definitely see it.
As for what the students like to do when they're not studying?

The Party Rock has been found!

Ashton Lane
Ashton Lane, just around the corner from the University, is one of the most famous streets in town.  Like Glasgow as a whole, it was once seen as no-man's-land back in the 70s, but today is filled with lots of cool cafes, bars, and restaurants, along with a tiny movie theater.

Glasgow Botanic Gardens
Whenever you visit Scotland, plan for overcast skies and rain at least a few times throughout the day.  It being November, I didn't expect much. But after a few days of drizzling, the sky cleared, just in time to reveal a perfect rainbow!
As lovely as the gardens are, November isn't prime time to see the flowers in bloom.  But what really were special were the glasshouses — greenhouses that looked like they were straight out of the Victorian era.

If it's a particularly chilly day in Glasgow, I recommend you head here to warm up.  The glasshouses are free and guaranteed to be hot and humid year-round!

Haute Homemade Booze from a Jar
Just outside the Botanic Gardens is Demijohn, a shop that the owners have christened a "liquid deli." They have homemade whiskies, liqueurs, and vinegars, all stored in large glass jars.  You pick a bottle and they fill it for you.  It's a perfect place for gifts — nothing says romance like a giant heart-shaped bottle of organic rhubarb vodka!
After sampling a few of their finest wares, I bought a small bottle of gin infused with Sevilla oranges.  (I really need to crack that open sometime.)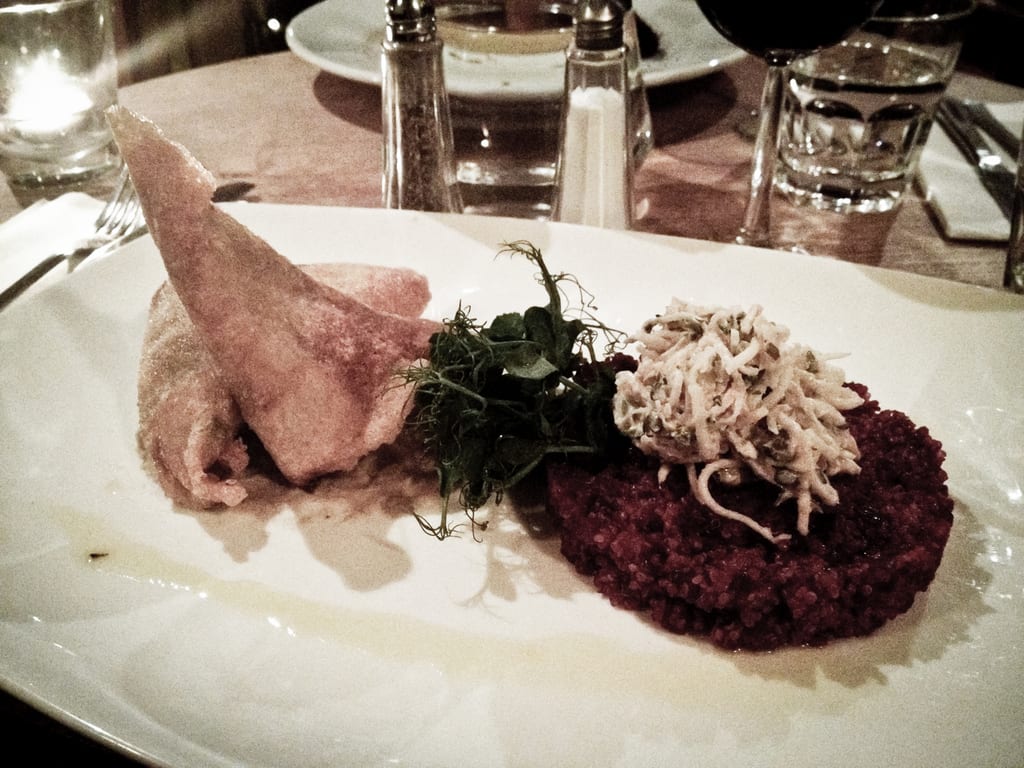 Cool Restaurants
I don't use Yelp very often, but I now will after the awesome restaurants it found me in Glasgow!  Best of all was Stravaigin.  This pub, which strays the line between traditional Scottish pub and artsy establishment, serves global cuisine from local ingredients.  I had a "smokey aubergine and chickpea pastilla, beetroot and quinoa tabbouleh, tahini remoulade, baba ghanoush" (pictured above) for £12.95 ($19.50). My friend had the haggis, neeps and tatties (£9.95/$15).
I also loved Ichiban, a cute and casual Wagamama-like Japanese restaurant on Queen St.  A big bowl of ramen topped with vegetables and a salmon filet cost me £8.90 ($13.50).
Emma took me out to Ketchup, right on Ashton Lane.  The burgers are huge and have hilarious names — I went for the Incredible Hulk with bacon and peppercorn sauce (£9.50/$15).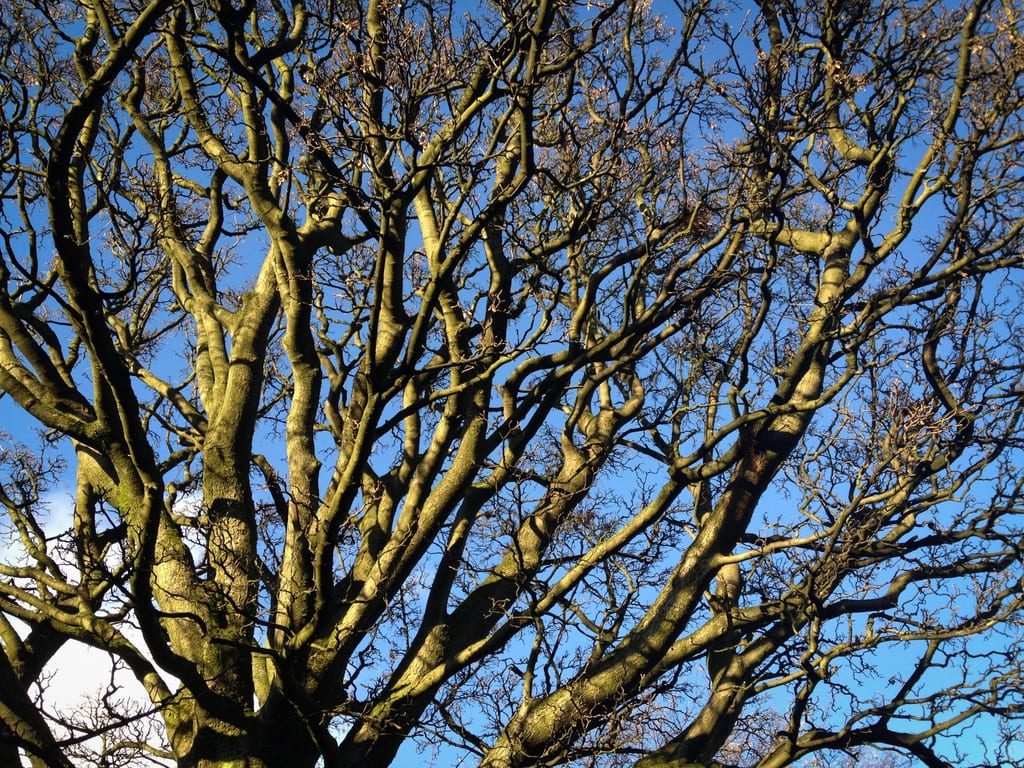 My favorite thing about Scotland is that the people are so friendly, and Glasgow absolutely has its share of friendly folks (aside from one scary guy who screamed at me on the street).  Every time we jumped into a cab, we immediately got into an epic conversation with our driver.  It feels like it would be impossible not to make friends in Glasgow.
My overall verdict?  What a great city!  I'm so glad I visited, and I'd love to return soon.  If you're spending time in Scotland, you might want to give Glasgow a second look.
What are some lesser-loved cities that you love?
Get email updates from Kate
Never miss a post. Unsubscribe anytime!