Adventurous Kate contains affiliate links. If you make a purchase through these links, I will earn a commission at no extra cost to you. Thanks!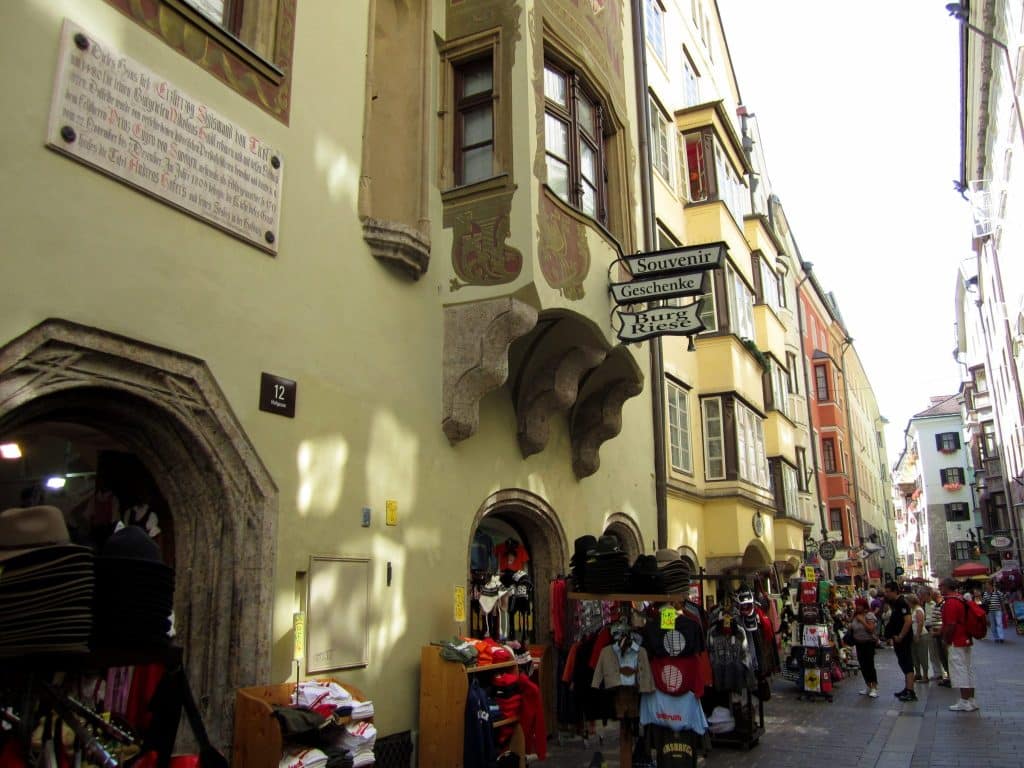 Oh, Innsbruck.  Just thinking about you now gives me such happiness.
I've said it before and it needs repeating: I never had any desire to visit Innsbruck because I thought it was just for skiiers, snowboarders and winter sports enthusiasts, and I'm pretty winter-phobic.
Boy, was I ever wrong.
Know this, readers: Innsbruck is not just a ski resort town.  This was the impression in my mind, and considering how much time I spend reading about travel, it's embarrassing just how OFF I was!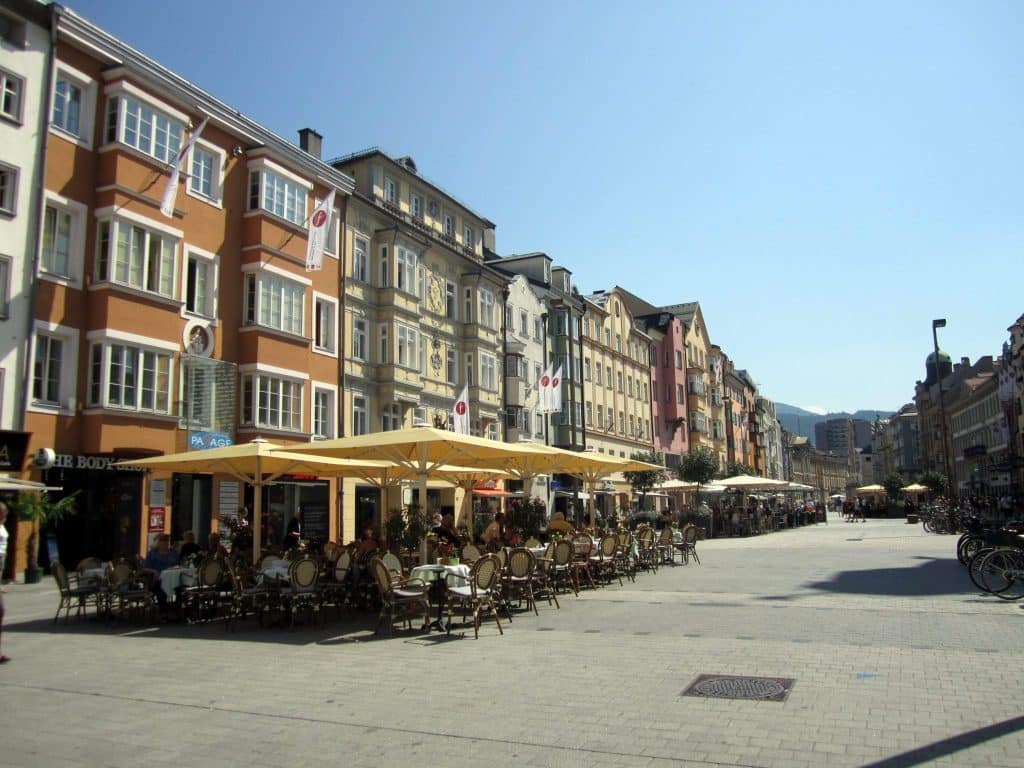 The city itself is probably most famous for its beautiful Old Town. Perhaps it was just my overactive imagination, but the buildings seemed to evoke almost-but-not-quite-Prague, almost-but-not-quite-Munich, and almost-but-not-quite-Italy.
The Old Town is also filled with throngs of tourists, as is to be expected, but unlike other major tourist cities, it's easy enough to get away from the crowds.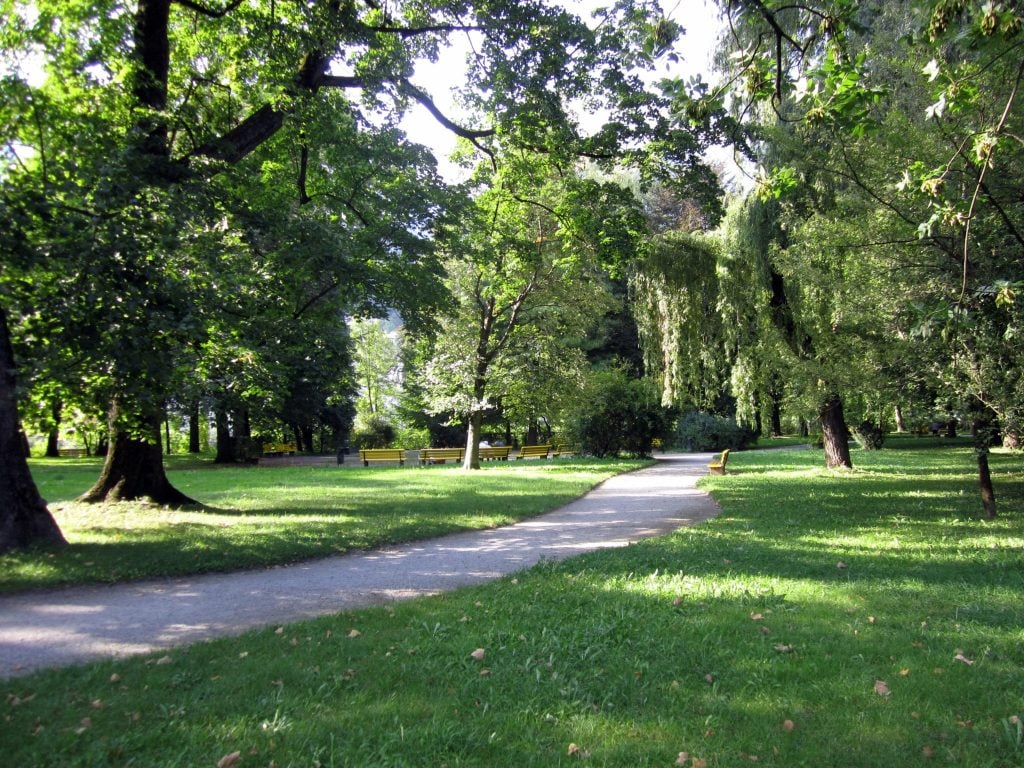 Whenever I visit a new city, I try to evaluate its "livability" as well, even if I only plan on being there for holidays.  And to me, Innsbruck was a very livable city.
There are several parks and bike paths (it's a VERY bike-friendly city).  We found some cool bars and clubs, and once you're away from the Old Town, it feels like a very normal city, relaxing but exhilarating.  There are tons of outdoor activities and you can ski year-round, if that tickles your fancy.
For getting around, there are trams and buses.  While the Innsbruck airport is pretty small, there are easy train connections to Munich, Zurich, and all over Austria.  It also isn't that far from Bolzano and northern Italy.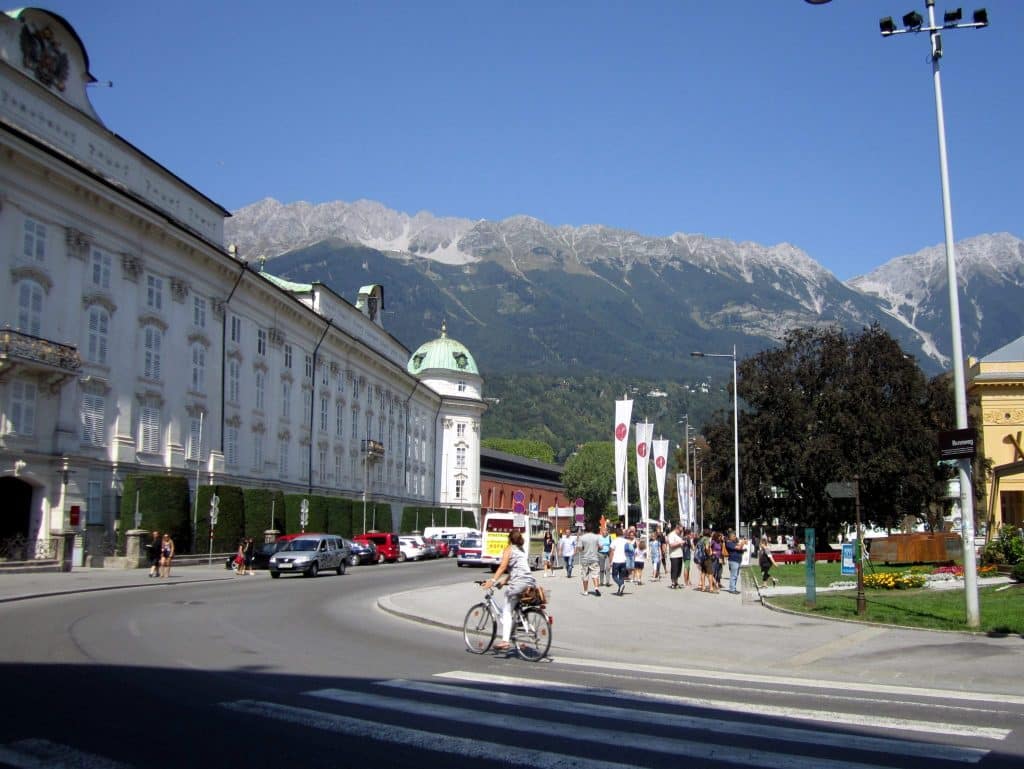 But what makes Innsbruck most spectacular is its setting, nestled into the Tirolean Alps.
Every single time I came out of the Old Town and saw the teal mountains rising before me, whether they were bare or newly covered with a layer of snow, I would sigh with happiness.  Loudly and deeply.  When was the last time you sighed with happiness?
If I were to live in Innsbruck, an option that I find increasingly attractive, I would never tire of looking at those mountains every day.  Not ever.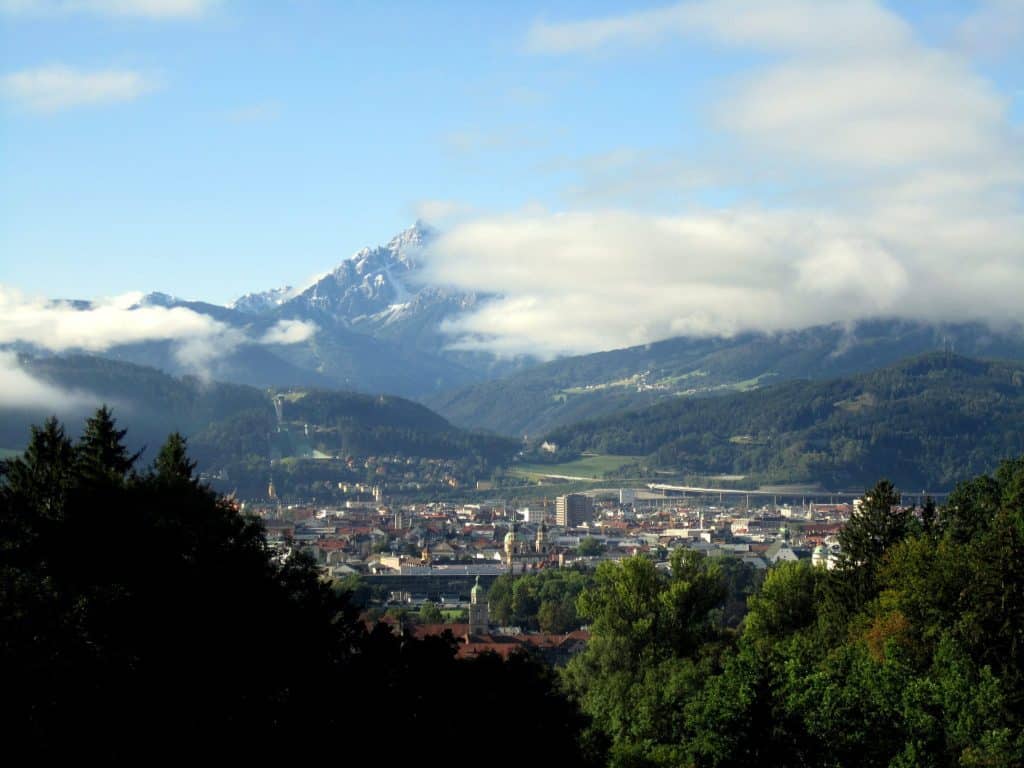 I'm also happy that I got to spend time exploring Tirol, the region surrounding Innsbruck (in fact, Innsbruck is the capital).  I climbed the Alps, went rafting down the River Inn, got above the clouds, and was spellbound by the surrounding beauty for just about the entire time I was there.
The best part: just about every single travel blogger felt the same way I did.  We all fell in love with this city, and we have Oliver of Travel Bloggers Unite, as well as the tourism boards of Innsbruck, Tirol and Austria to thank.
A few of us are already thinking of coming back for a ski holiday in December.  And yes, believe it or not, that actually includes my winter-phobic self.  I love Innsbruck that much!
Get email updates from Kate
Never miss a post. Unsubscribe anytime!