Adventurous Kate contains affiliate links. If you make a purchase through these links, I will earn a commission at no extra cost to you. Thanks!
You know, I wasn't sure if this was the right time to reveal my apartment to the world. Originally, I wanted to wait until I got art on the walls, decorated it more, and had a completely staged apartment to reveal.
Then I remembered that you guys always enjoy seeing the process of things, the nitty-gritty, the aspects that aren't 100% certain. You could see the place as it improves changes over time — and you would probably have a lot of suggestions for me!
Welcome to my place.
It's a floor-through apartment in a brownstone on a quiet, tree-lined street in Hamilton Heights, the upper northwest corner of Harlem, in New York City.
Privacy can be a tricky thing to figure out when you live a public life. I've decided to be private about exactly where I live, even taking care never to so much as snap from my street. I've also decided to keep what I pay in rent private.
I will say, however, that Hamilton Heights is one of the best value neighborhoods in New York City. There are plenty of renovated, one-bedroom apartments with dishwasher and laundry in the building, often with elevators, for $1800 per month. And for New York City, that is a hell of a deal, especially once you consider that this neighborhood is on the express train and three stops from Times Square.
As for living in Harlem, it's been two months and I am still so thrilled to be here! Moving here was absolutely the right decision, and I'm enjoying exploring this incredible neighborhood.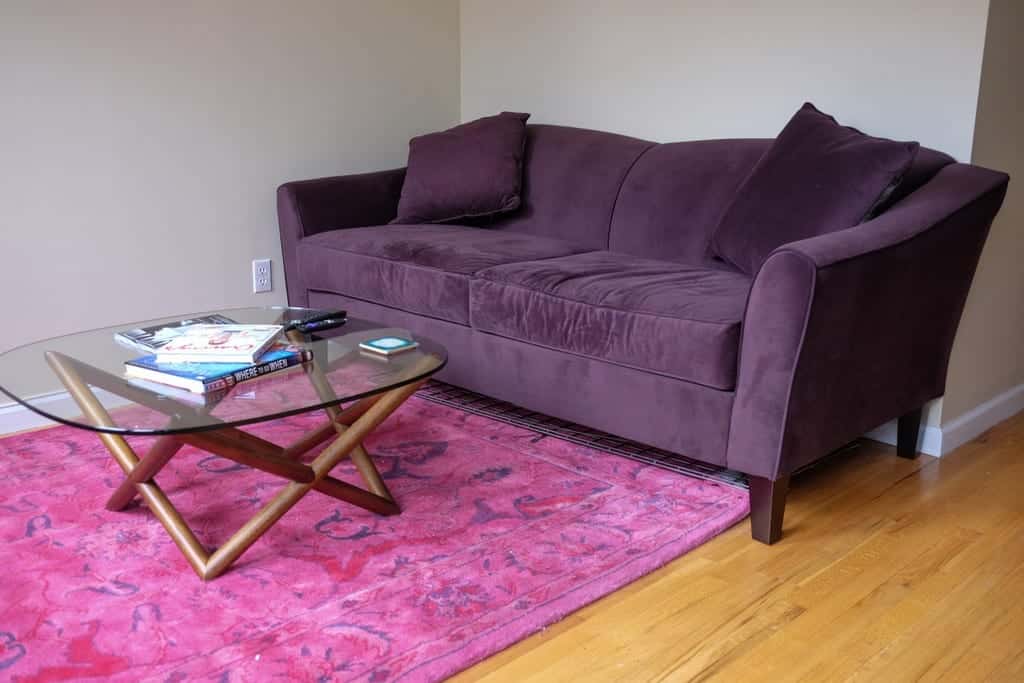 Meet the Living/Dining Room
I love this room, and it's where I spend most of my waking hours, either working or lounging. The couch was the first piece of furniture I bought — who can resist a big purple couch?
At first I had a gray patterned rug from West Elm that has since been discontinued, but then I found this fuchsia rug on One Kings Lane and FELL IN LOVE. It reminded me of something from a Wes Anderson film!
It would make a complete difference in my color scheme, but it was early enough that I could afford to make the switch. With the hot pink and purple, I want to add some teal accents to further pump up the room!
I'm thinking of putting the gray rug in my bedroom.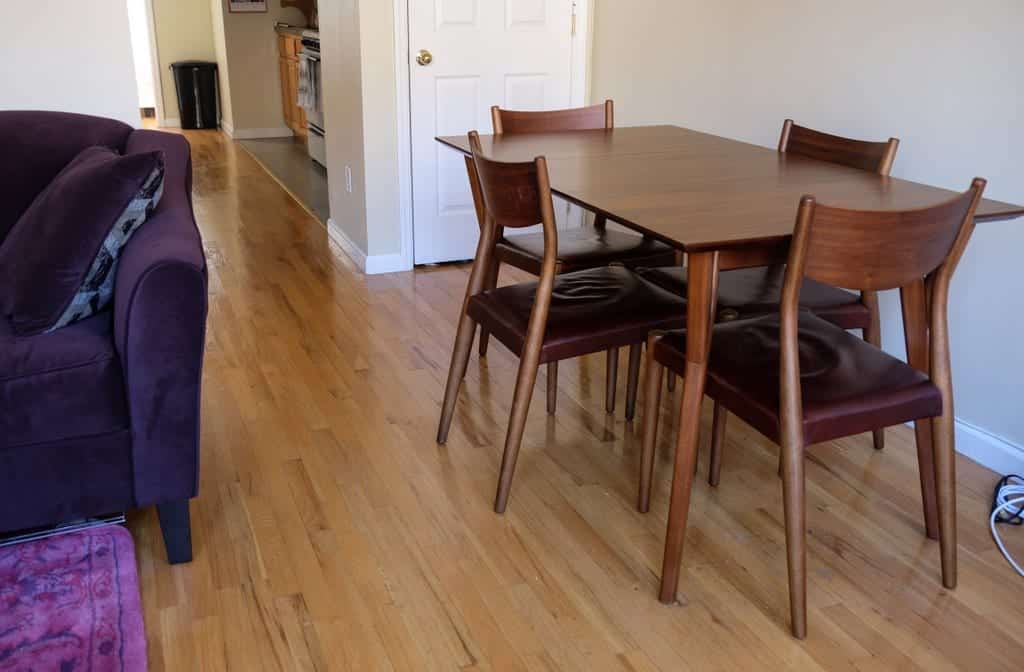 I want to have friends over for dinner on a regular basis, so it was a priority for me to get a dining table that could seat four.
This is the table with the leaf inserted — it can get a bit smaller. And you can't tell in the photo, but the table is placed beneath the overhead light in the living room.
The whole room gets plenty of light throughout the day thanks to those three large windows!
Living Room/Dining Room Next Steps
I need art! Absolutely nothing is on the walls yet. I've bought some art recently, but none of it is framed yet — that's the next priority!
For the four years I lived in Boston, I only hung one item on the wall: my diploma. That's it. Part of me always knew that I was going to go travel, and it wouldn't make sense to buy anything temporary.
Now? I'm here for the long haul. Let's get some ART.
Whatever hangs above the couch will probably be the biggest focal point in the apartment. Here are three pieces I'm considering right now:
This amazing, carefree shot (taken in Croatia, which I love!) by photographer Natalie Obradavich on One Kings Lane.
A funky map blending ancient and modern by artist Jbjart on Society6.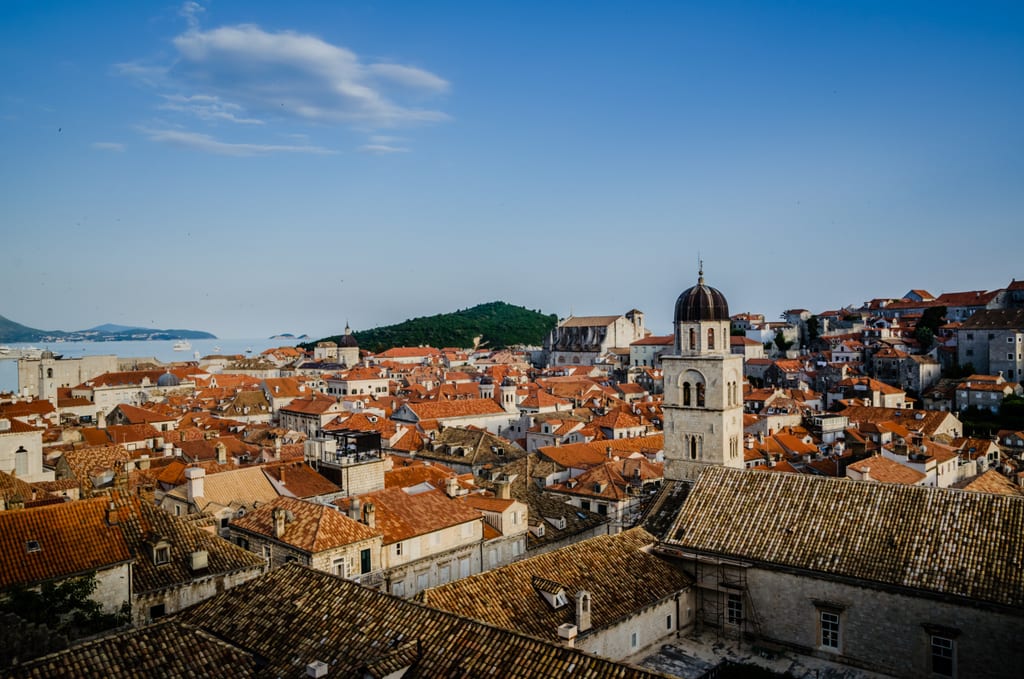 Or it could be this photo that I took of Dubrovnik two years ago. It's always been one of my favorites.
What do you think? Which one would you choose?
I need a media cabinet or other kind of display for the TV. I'm thinking of using the bar cart for this purpose for now.
I need a desk, especially since I work at home. I thought of getting a mini desk — I love this one from West Elm — but now I'm thinking it would be smarter to get a treadmill with a desk attachment. Honestly, that would make such a difference in how sedentary I am. Though I hate how it would look. It's something to think about.
That said, it's a lower priority because I can work from my dining room table.
I'll eventually need shades for the living room. The shade I got for the bedroom, which I adore, comes in a million different sizes.
A bookcase would be nice. I've gone mostly digital with my book collection, but it would be good for photos of family and friends in addition to the books I still own.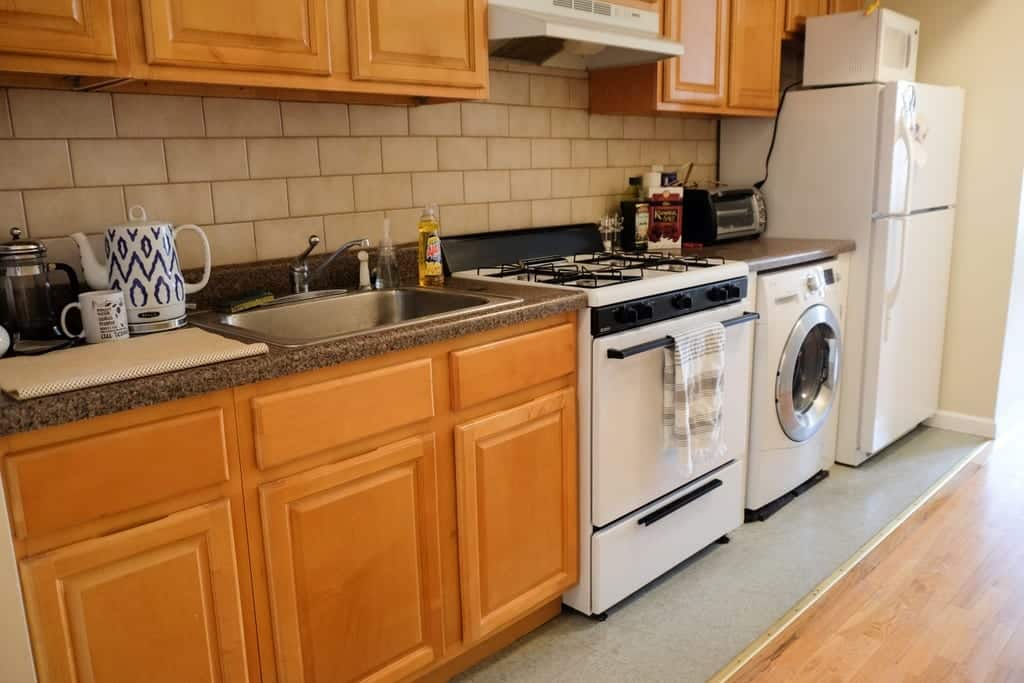 Meet the Kitchen
Jake: "He was so rich, he had a whole room in his house just to eat in."

Gina: "You mean like a dining room?"

Jake: "Yeah, but in Manhattan."

Gina: "Oh, dang."

–Brooklyn Nine-Nine
One thing about Manhattan — kitchens are tiny. And if you have a detached dining room that doesn't serve as a bedroom, then you're definitely rich!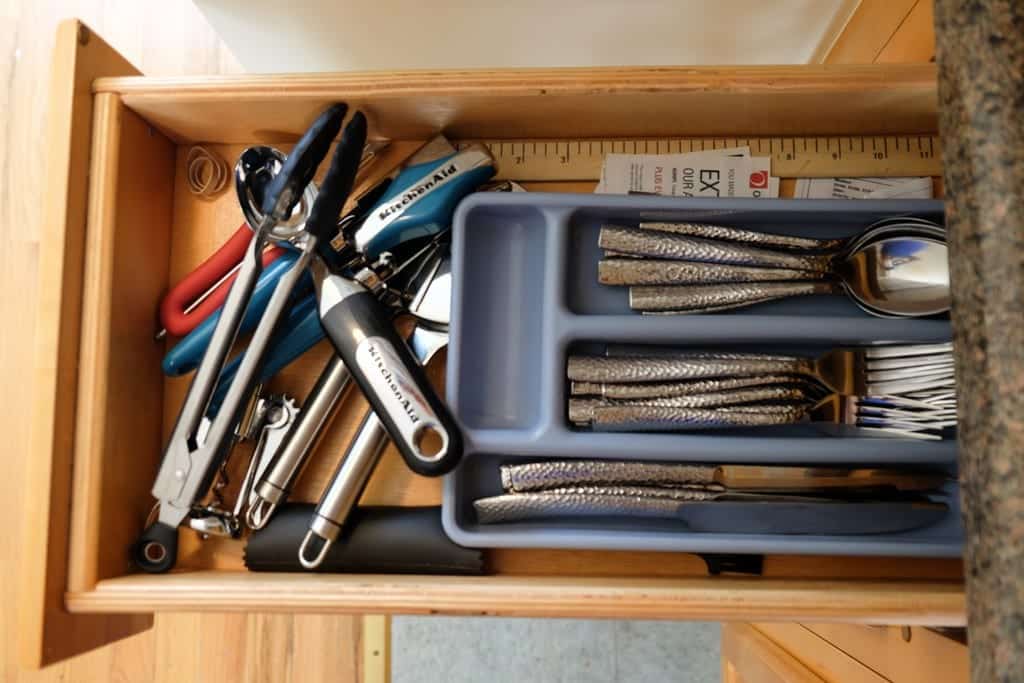 To my great shock when I arrived, my kitchen has exactly one drawer. And it's tiny.
Because of that, I've had to get creative with storage. Lots of stuff is going in cabinets.
What really sold me on this apartment? The washer! I have been LOVING IT. It's amazing just being able to do laundry when you need to, not to make a whole event out of it.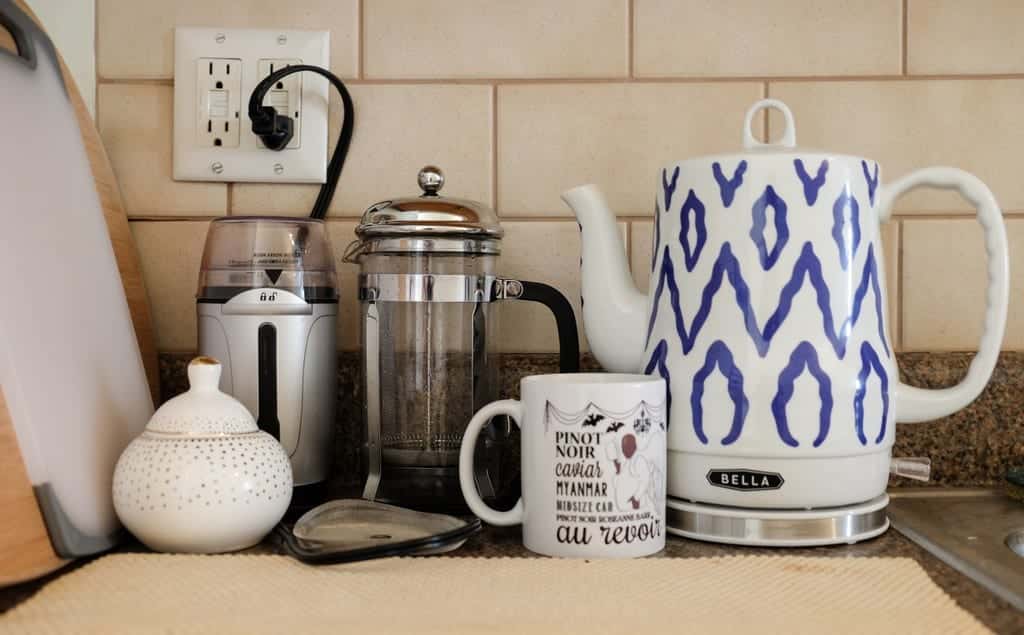 My favorite place in the kitchen is my coffee and tea nook. I have several cups of each per day. (Dentists love me!)
Interestingly, though, I filled up my sugar bowl right away and haven't touched it in the two months since I've been living here. I prefer my coffee black and I drink plain herbal tea — that sugar is just for guests!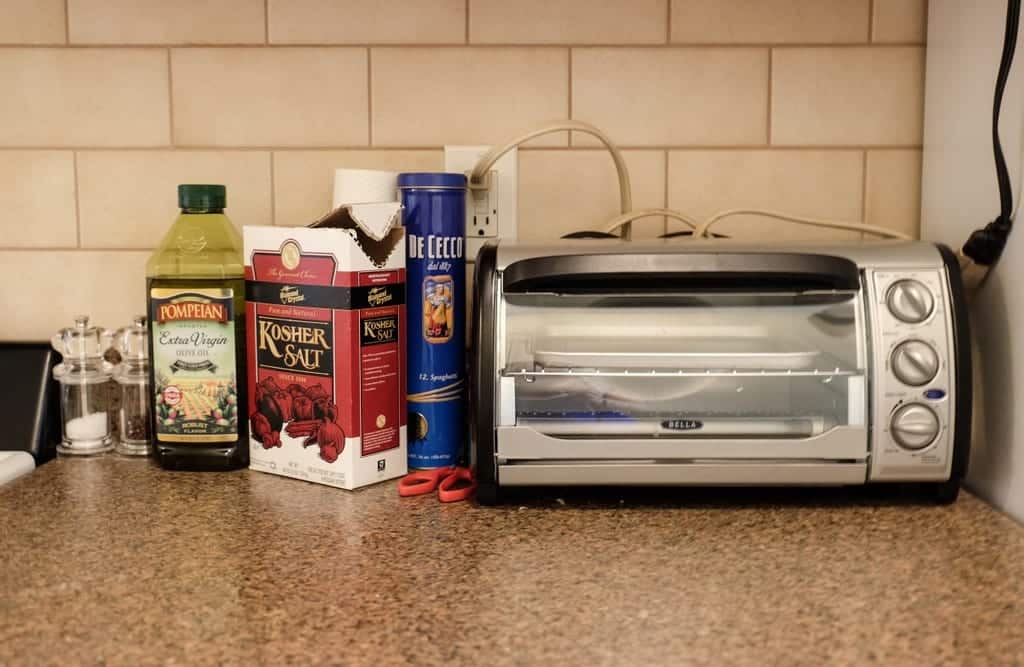 Little things give me such joy — like having a nook for my olive oil, salt, and pasta. (And now, currently, a bottle of red wine waiting to be opened when Dylan gets here Wednesday!)
Kitchen Next Steps
The kitchen is mostly done. Although I have a giant blank wall on the other side, I'm not sure I want to fill it with art just yet — or even at all. This one might be good to keep empty.
I'd like to buy a rice cooker (recommended by Kristin after I told her that I mess up quinoa almost every time I make it).
I'd also like to get an immersion blender for soup-making, but now that we're getting into spring, I may hold off until soup weather returns (yes, Jodi, I know all weather is soup weather!).
Meet the Bedroom
I planned on having an all-white-and-gold bedroom. Then I got there and realized that it was far too one-dimensional. And while all-white bedding makes me feel like I'm sleeping in a giant marshmallow, I was surprised at how uncomfortable I felt waking up with all plain bright white walls.
So I'm now planning on having a neutral palette — white, ivory, cream, gray, gold, silver. Multi-dimensional, and feeling like a comfy place to crash on a rainy day. Coziness and relaxation are priorities.
The bedroom is pretty small, but it's big enough to be able to get out on both sides of the bed.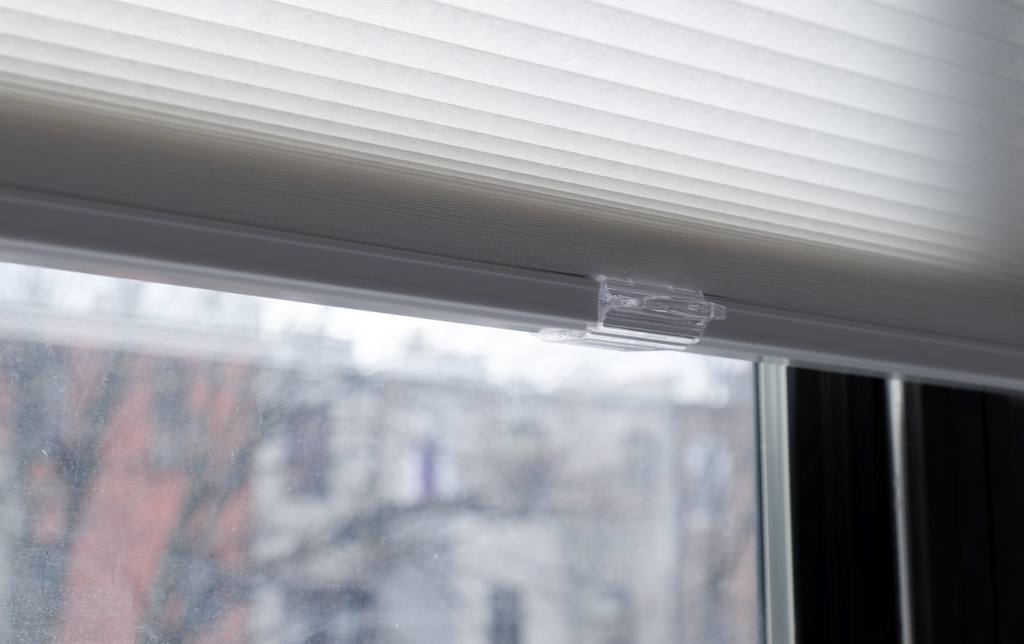 My favorite thing in the bedroom? It's actually my shade! It has no cord and you can raise and lower it with one finger.
Installing it was beyond my ability, so I hired someone from Taskrabbit to do it. I plan on getting more shades like this for the three windows in the living room.
To the left of the bed is an area for shelving. There used to be a huge metal grid to the left of the shelves, but I took it out so I could fit a dresser. Previous tenants hung a curtain over the whole area, but I plan to buy a screen to discreetly hide the shelving on the right.
At the moment, the dresser is at the ideal height for my 5'4″ self to do my makeup! That caddy, a Christmas gift from Mom, holds my day-to-day cosmetics.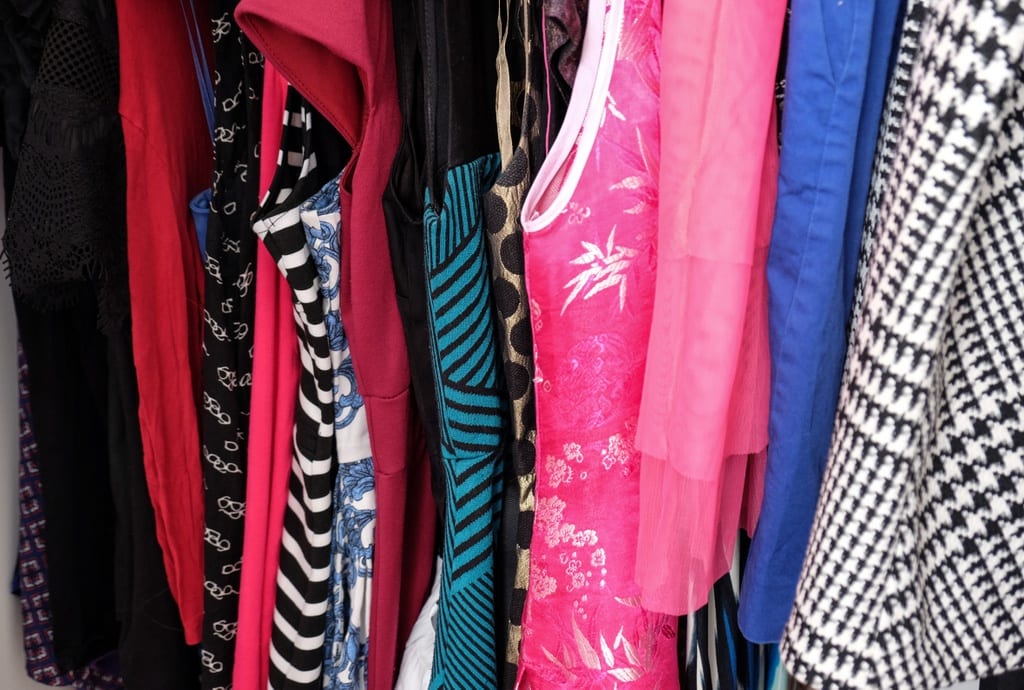 A glimpse of my closet. I rarely deviate from my clothing palette. Black, black and white, bright blue, bright pink, purple, and the occasional bit of teal or gold.
Bedroom Next Steps
I need art! I'd love to have a gallery wall on the large blank wall. I've already bought one piece that needs to be framed:
This beautiful photo is by artist Chelsea Victoria on Society6. I love the gray/gold/champagne color palette, I love its dreamy feeling, I love anything with hearts, and I love how it feels like New York. This photo is probably the best example of the color palette I eventually want for the bedroom.
I need more pillows and shams so that the bed looks made.
I'd like to get better sheets eventually. I went with microfiber sheets for now because they were cheap and had great reviews on Amazon…but they're kind of weird. They're super soft and comfy, but they pill easily and you can tell they're not as high quality as good cotton.
I definitely need a folding screen to hide the shelving. I'm thinking something white and gold, or maybe just plain white. The selection out there isn't great, so I'm on the lookout.
I need a jewelry box. And possibly also an earring tree.
I'd also like a long case for all my sunglasses to put on top of my dresser. My dad and I talked about him making me one! (My dad is basically Ron Swanson, only he lost his mustache in the mid-90s.)
Meet the Bathroom
When I first saw the bathroom, I loved the idea of it being in all black and white — but the walls were brown. Luckily, my landlady mentioned that the whole apartment needed to be painted, so I asked if she could paint the bathroom walls and the bedroom pure white. I'd have to pay for the paint, she told me, but it was no problem at all!
The bathroom is in great condition, but it isn't renovated like many other Hamilton Heights places — so there are quirks. There is exactly one towel rack, which doesn't make sense — don't you need hand towels and at least one body towel?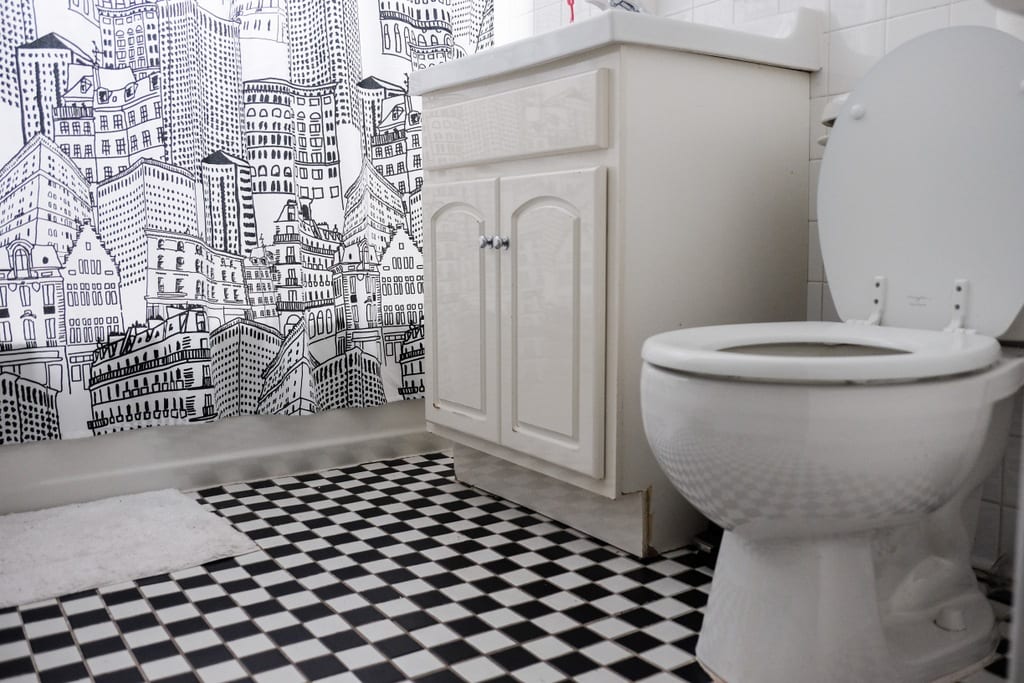 The tiles feel very New York!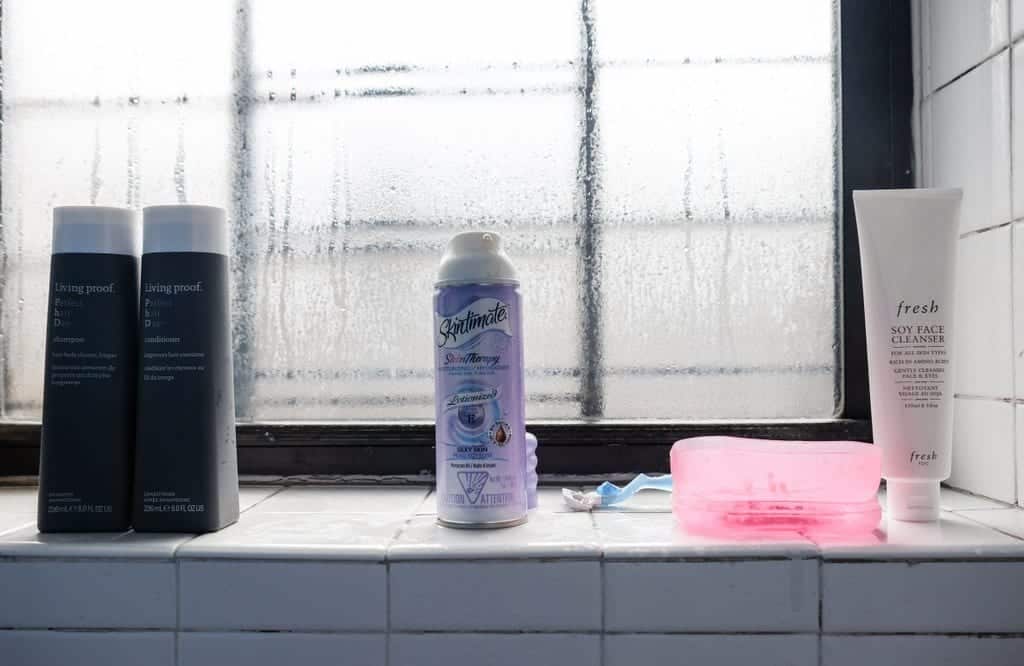 There's also a huge shelf carved out of the shower wall, with more than enough room for all my toiletries (and several other people's if need be).
I wanted only one pop of color — something bright and electric. These towels fit the bill!
The hallway to the bathroom is the first thing you see when you walk in. I love that it's on the complete opposite side of the living room — you don't have to worry about people hearing while you pee! (Or poop. When you gotta go, you gotta go.)
Shower curtain: Room Essentials
Towels: Ralph Lauren in St. Tropez Blue (possibly discontinued?)
Bathroom Next Steps
Art, art, art. I've bought two large prints that need to be framed, then hung side by side on the big wall:
This one and this one are the work of artist Jenny Liz Rome on Society6.
I have room for two more, one vertical and one horizontal. I really like this Bangkok map: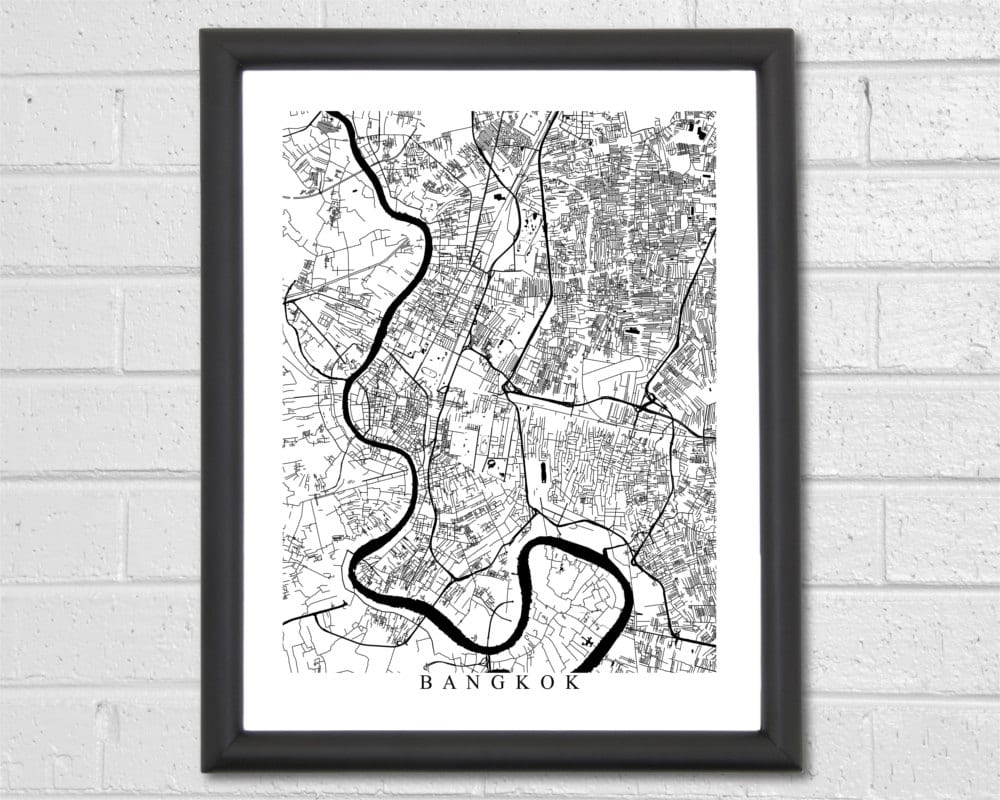 This is the work of The Map Collection on Etsy.
And for the horizontal one, I'm leaning toward this one: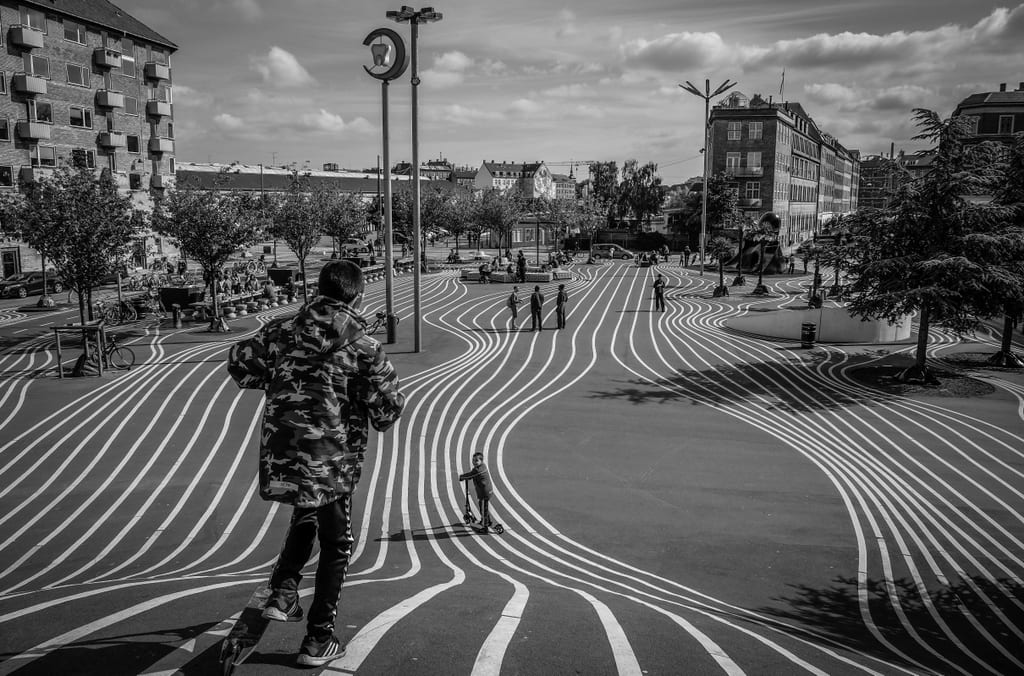 This is the Superkilen in Copenhagen, a photo that I took last summer.
I need to buy an over-the-door hanger for multiple towels. Probably today, as I have my first guest coming Wednesday!
And a matching blue bathmat would be nice with the towels. I'll see if I can track one down.
How I Saved Money on my Purchases
It looks like this was all a giant splurge, but this was all carefully planned over a long period of time. I was furnishing this place completely from scratch, as I had given all of my old furniture to my sister five years ago, and I started saving for furniture months in advance.
I spent months saving furnishings that I liked to private boards on Pinterest. As soon as I found the apartment in January, I began carefully choosing items that would fit and look good and watched carefully for any item to go on sale. I lucked out because January is a big month for furniture sales, so I made purchases early and arranged for them to be delivered once I moved in.
Yes, West Elm is expensive — but every single item I bought from there was on sale plus an extra discount added. You should never pay full price for anything from West Elm — it's too easy to get multiple discounts, especially if you're patient and can wait for a sale.
If you want to buy something from West Elm, I suggest you get on their mailing list and open every email they send you. They have constant sales and send out frequent coupons for 15% off, 20% off, and free shipping (non-furniture). I recommend creating a wishlist and double-checking it every time you get a coupon in your inbox.
The last time I got a 20% off coupon from West Elm, I went to my wishlist and saw that the dresser I wanted had been reduced by 30% already! With the 20% coupon on top of it I saved almost 50% off the sticker price!
I did the same thing with Anthropologie, signing up for emails, and bought the coasters as soon as a 15% off coupon came along (they send out coupons far less often and it took about six weeks).
You'll have to pay full price at One Kings Lane. They never do sales.
I chose to invest in quality furniture, but virtually everything else was sourced on the cheap via Target, Amazon, and Homegoods.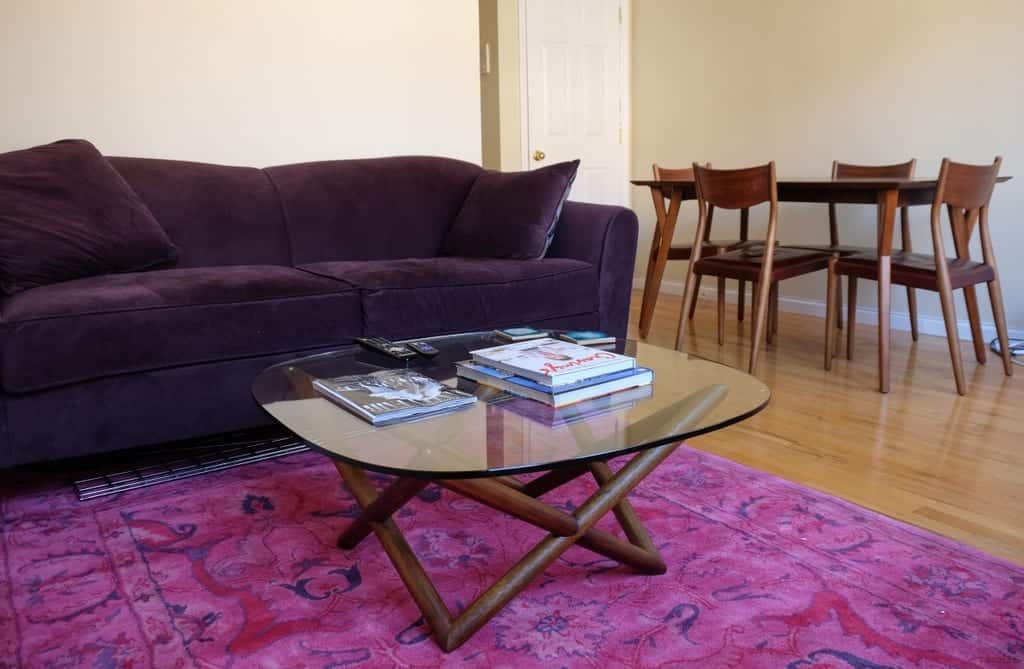 On Gratitude
I am humbled and grateful every single day that I'm able to live in a wonderful place like this. It took me a long time to get here and it was borne out of hard work, challenging times, and a good amount of luck that carried me forward.
I practice gratitude on what feels like an hourly basis. Just sitting on the couch with a mug of tea, or making a new recipe at the stove, or even something ridiculous like opening a closet and hanging my coat on a hanger instead of leaving it on the back of a chair — it fills me with so much happiness, my heart feels like it's bursting.
I'm a different person now. I still love to travel, but now it's important to me to have somewhere comforting to return to at the end of a trip. I think I've found that place.
What do you think? Any suggestions? How should I decorate?
Some of the links in this piece (only Amazon links, to be honest) are affiliate links. If you click them and make a purchase, I'll receive a small commission at no additional cost to you. These payments help reduce the ever-increasing costs of running this site, and I appreciate you being here today!
Also, special thanks to the many friends who helped me in my decorating so far!
Get email updates from Kate
Never miss a post. Unsubscribe anytime!