Adventurous Kate contains affiliate links. If you make a purchase through these links, I will earn a commission at no extra cost to you. Thanks!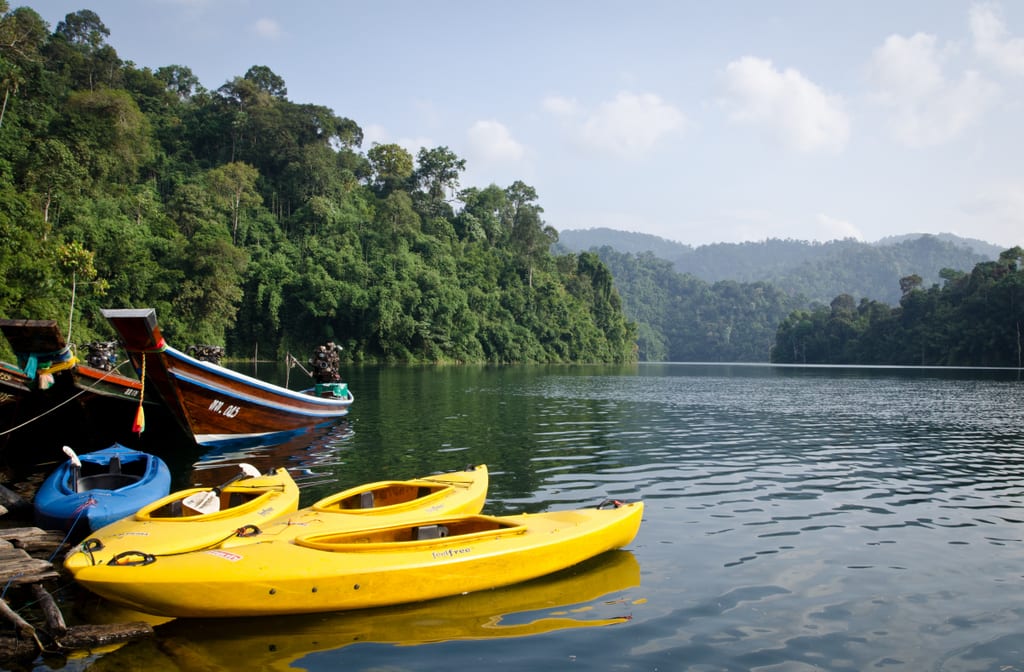 I had never heard of Khao Sok National Park on my first visit to Thailand three years ago — and now that I've been there, I am singing its praises to everyone I know.
Khao Sok is home to some of the most visually spectacular jungle I've ever seen. Limestone karsts rise out of everywhere — and I'm a girl who loves her limestone karsts. The park is capped by a gargantuan man-made lake, edged with brightly colored floating houses that seem poised to fall apart at any second — but staying in such lodgings would be part of the adventure, of course.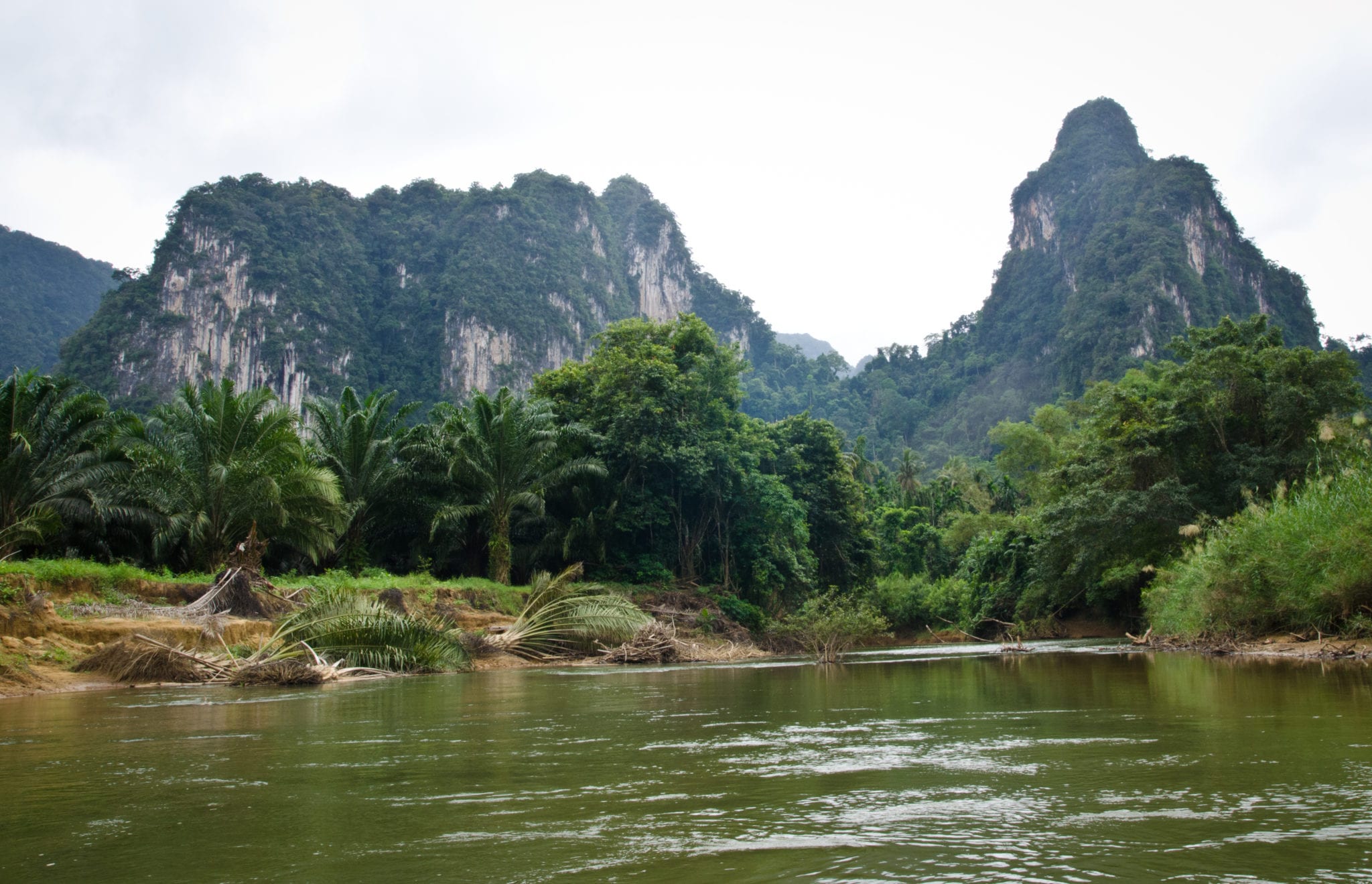 Khao Sok is located in Suratthani Province in southern Thailand, right in the triangle between Suratthani, Phuket and Krabi.
In other words, when you're starting to get beached out, THIS is where you go next. Go here for a jungle palate cleanser in between Koh Phi Phi and Koh Phangan. Go here to get your body back in shape after a week of lying on the beach.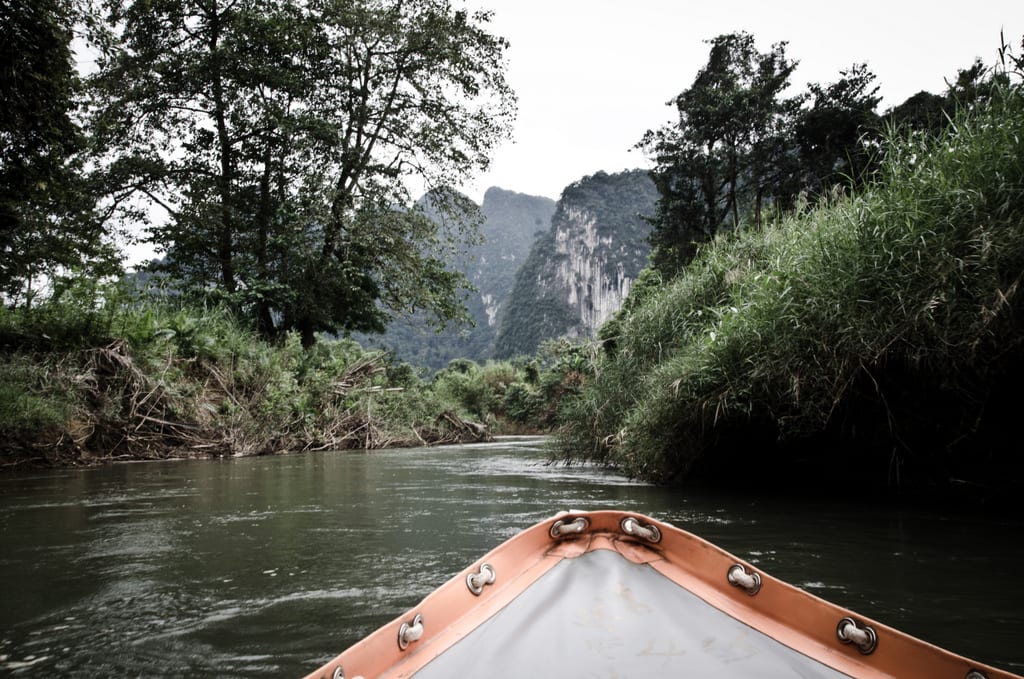 Canoeing the Sok River
I initially wanted to go tubing down the Sok River, but it was the beginning of the dry season and the river was running too low, so I chose canoeing instead.
Khao Sok is located in one of the rainiest parts of Thailand, and the scene was gray and ethereal, the limestone cliffs shooting upward from the thick jungle. My guide and I were the only two. I sat back and he paddled, occasionally pointing to birds and saying, "Kingfisher."
At one point he pointed to a snake in a tree.
"What kind of snake is that?" I asked him.
"No English," my guide replied.
"Oh." I grabbed my neck with my hand, pretending it was a snake. "GRAH! GRAH! UGGGGGH." I threw myself down and pantomimed dying, adding some foot convulsions for effect.
"Not poisonous," my guide said in perfect English.
Ah.
The Lake Trip
Khao Sok National Park is home to Cheow Lan Lake, an enormous man-made creation topped with lake houses. I decided to go with the one-day trip, which took in a journey to the lake houses, time to swim and hang out, lunch, and a jungle trek with some cave exploration.
The scenery on the lake is FANTASTIC — yet so difficult to photograph! We traveled an hour and twenty minutes each way, and since it's a longtail boat at top speed, the water sprayed us constantly and standing up was impossible. Most of my pictures were covered with sprays of water and unfortunately had to be discarded.

After our lengthy journey, we arrived at the lake houses and hopped into the water.
They looked…less than secure. Like they would fall into the lake any minute. (And in case you're wondering, there are real bathroom facilities — on land, not in the bungalows. I don't think people would be swimming if that weren't the case!)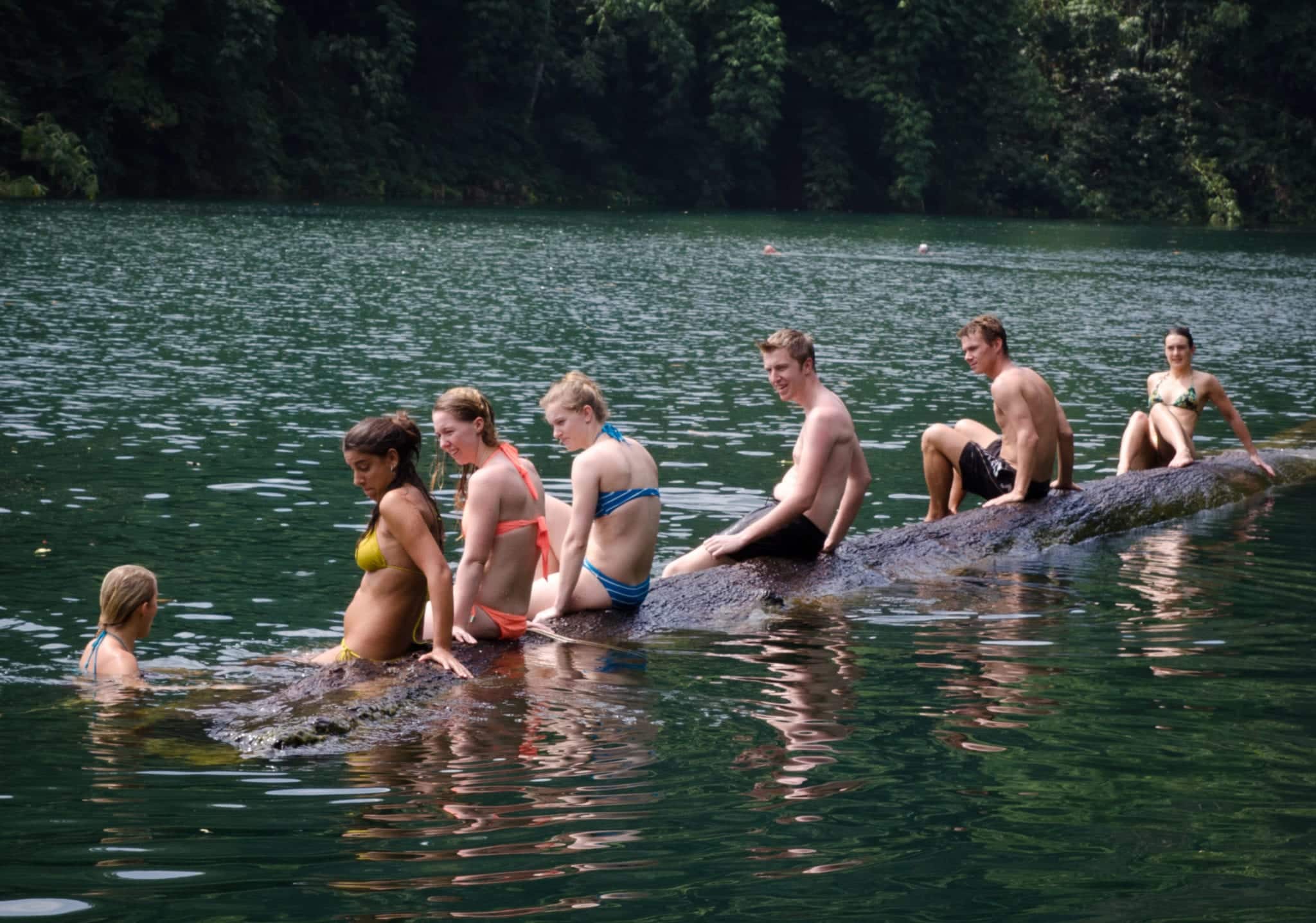 It felt like we were on our own private island. Phone signal had disappeared minutes after leaving the dock. I dove into the green water and floated on my back, taking in the scenery.
Soon, there was lunch.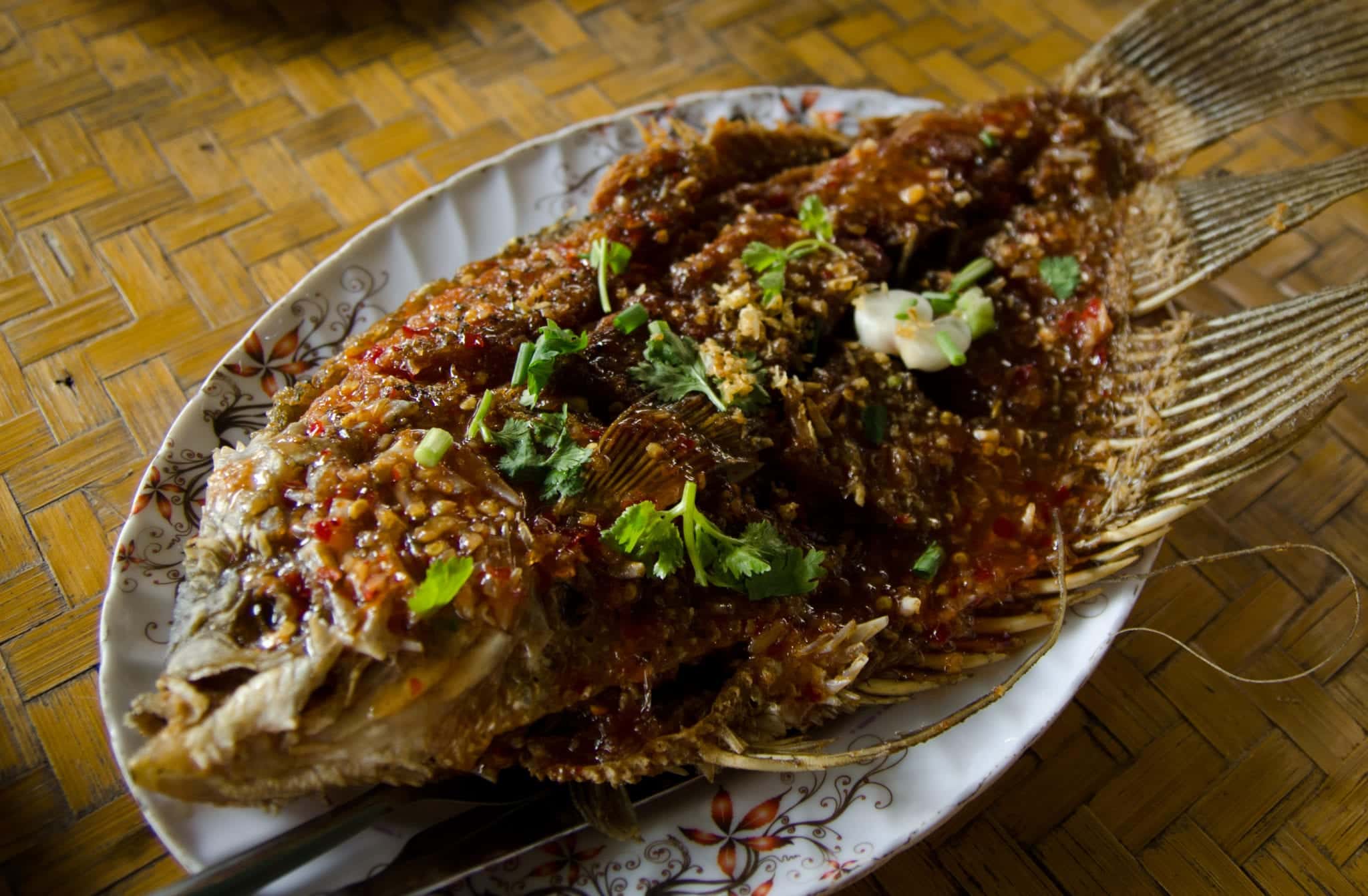 And then came the jungle trek. As far as the trekking went, I hated every minute of it.
Apparently I am a slow hiker. No idea why — put me in a city and I'm like Speedy Gonzales. Move me from concrete to dirt and it all changes. All I know is that in Australia and now in Thailand, my peers were hiking far faster than me. I could keep up with them — if I practically ran and never took my eyes off my feet, and didn't that kind of defeat the purpose of a hike?
"Hunger games. I'm in the f*cking hunger games," I muttered to myself as my tour mates hiked-ran up rocks and across streams, leaving me in the dust. This, of course, is why I have no photos from the actual hike.
But then we got to a cave — a cave more than a kilometer long. A cave filled with water. A cave with hundreds of bats hanging from the ceiling.
We were going to hike that cave. I donned my head lamp, tied up my belongings in my dry bag, and gulped as we were soon engulfed in darkness.
"Batman," one of the guides said while pointing upward at the sleeping winged creatures, making us all laugh. Then, a moment later: "Spiderman." The arachnid was the size of my hand.
The water was ankle-deep or knee-deep in places — until we got to rushing rapids. We swam through narrow crevices. We hiked over a flimsy-looking wooden ladder to avoid getting stuck in the rapids running between boulders underwater.
This cave hike was everything that I should have hated. I LOVED EVERY MINUTE OF IT.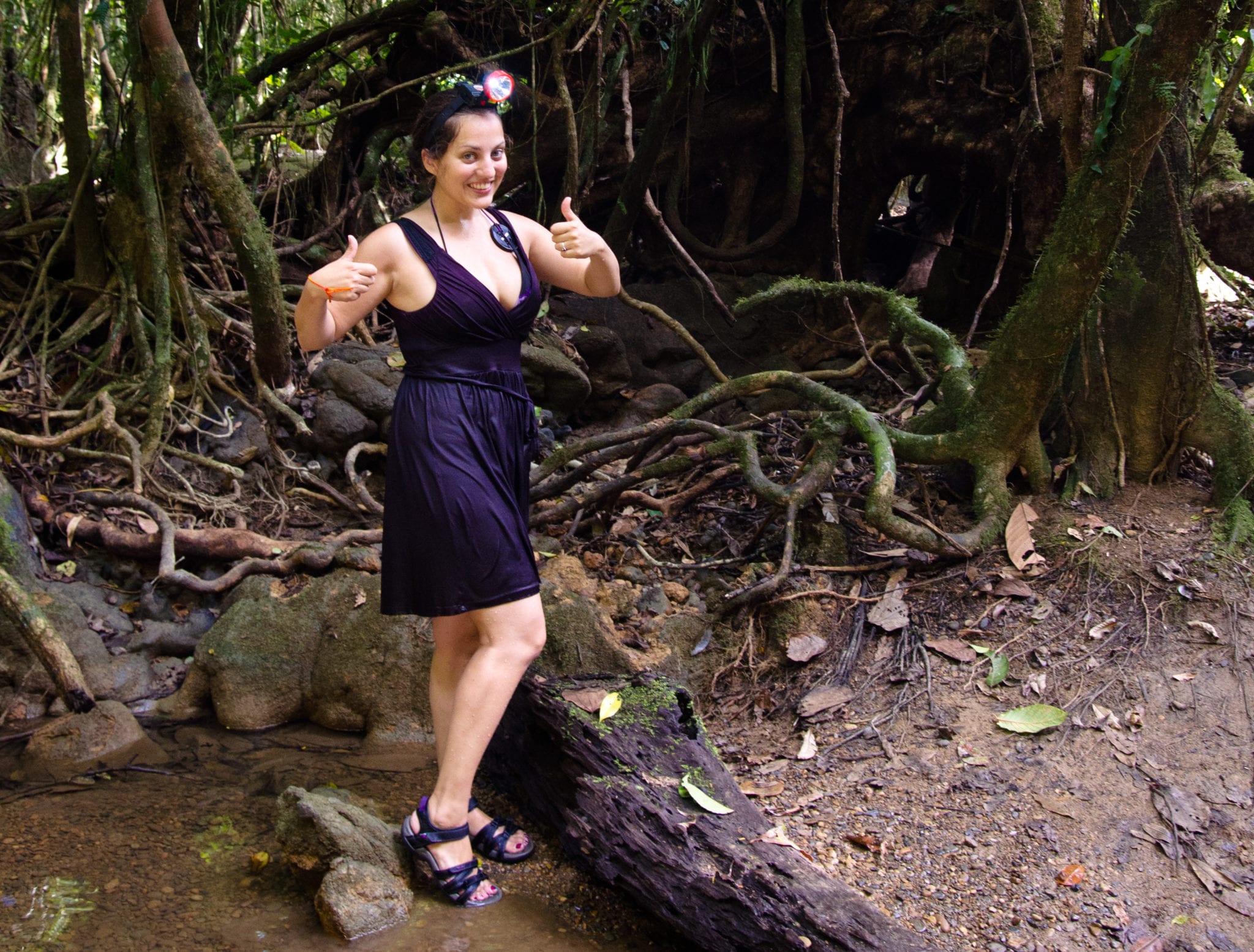 Again, I have no idea why. Maybe I'm just more comfortable in water. That's the face of a girl who survived bats, giant spiders, churning rapids, and swimming through a cave in her favorite purple dress!
After the trek, we spent a bit more time hanging out by the lake houses. I made a vain effort to squeeze water out of my soaked dress — yeah, that wasn't going to happen.
Soon we climbed back into the longtail boat for a ride back to civilization. The sun began shining brightly as we made out way back, illuminating the karsts beautifully.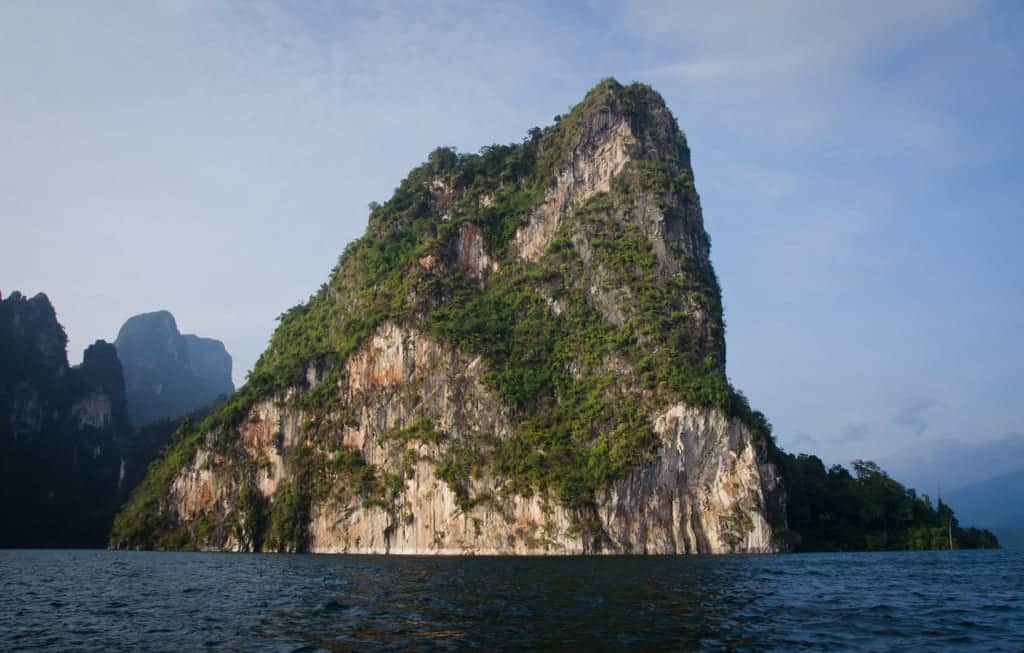 Several people were staying on the lake for a few days. For me, a day trip was perfect.
The Takeaway
I loved my time in Khao Sok. It's easy to get sick of Thailand's beaches, as lovely as they are, and Khao Sok is the perfect antidote that will distract you until you leap back into the beaches once more. Southern Thailand may be seen as a beach-only destination, but that's certainly not the case.
But beyond that, it's an incredibly beautiful national park and one that I highly recommend.
Essential Info: Khao Sok is a short bus journey from Suratthani, Krabi, or Phuket. We got there from Ranong and though we had to change buses, it wasn't complicated.

I stayed at Khao Sok Paradise, a comfortable guesthouse that I highly recommend, where double rooms started at 1300 baht ($40) per night. Their food is excellent and their pastas are shockingly good. You can find other hotels here.

I booked both the canoe trip and the one-day lake trip through Khao Sok Paradise. Most if not all guesthouses will be able to do this for you. The canoe trip cost 800 baht ($24); the one-day lake trip cost 1500 baht ($46). Overnight and multi-day lake trips are available as well, as are a variety of jungle treks.

Be sure to get travel insurance before heading to Thailand. It will protect you financially if anything goes wrong, like slipping and falling during a hike. I use and recommend World Nomads.
Have you been trekking in the jungle before? What did you think?
Get email updates from Kate
Never miss a post. Unsubscribe anytime!