Adventurous Kate contains affiliate links. If you make a purchase through these links, I will earn a commission at no extra cost to you. Thanks!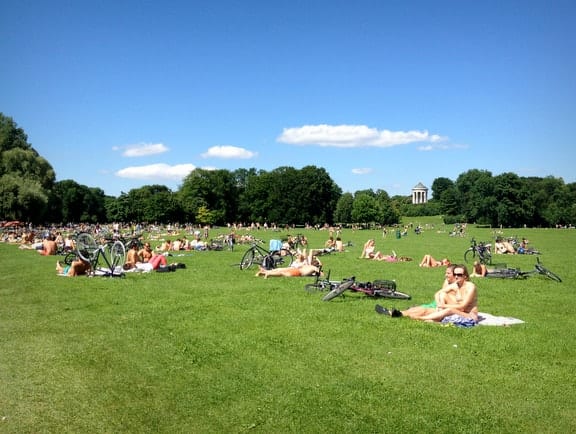 Growing up in Massachusetts, the ocean has always been a short drive away.  I LOVE being close to the ocean and LOVE spending time on the beach (remember my Southeast Asia perma-tan?), and the idea of being landlocked terrifies me a little bit.  Even if I'm not heading to the beach, it's nice to know it's there.
And then there's Munich — a nice city, a fun city, and a city VERY far from the ocean.  Looking at Google Maps, you'd have to drive across the Alps and two borders to get to northeastern Italy and the Adriatic!
So, with no beach in sight, how do Munich-dwellers kick back on hot sunny days?  They go to Englischer Garden.
Englischer Garden is one of the largest urban parks in Europe — it's much larger than New York's Central Park.  When the days are hot and sunny, young and beautiful Germans head to the Englischer Garden to take their clothes off and lie in the sun.
There are beer gardens, bike trails, a Chinese temple — even a set of tightropes to walk!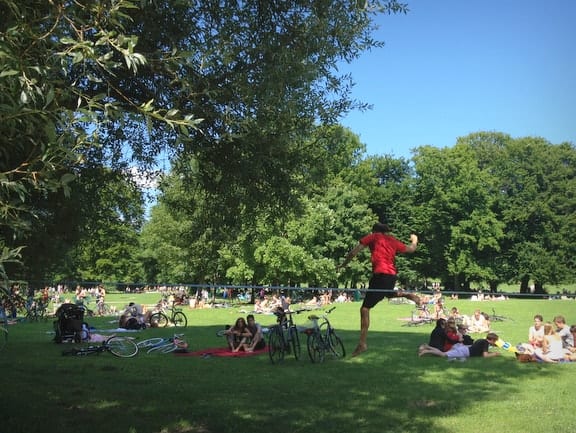 The best attraction in the park, though, is the surfing.
River surfing.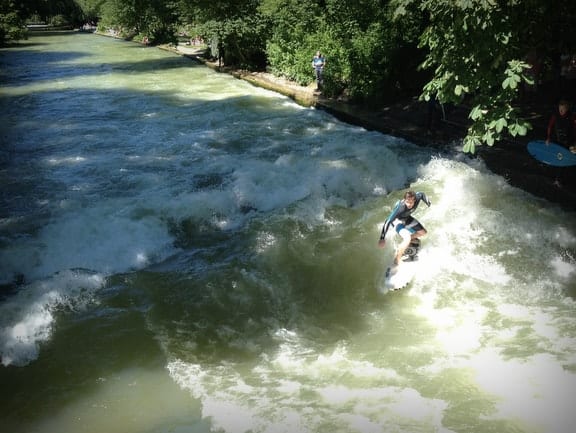 Yes, apparently it is possible to surf in the middle of a manmade river!  On Prinzregentenstraße between Bruderstraße and Lerchenfeldstraße, you can watch some of the most intense river surfing in the world.
The manmade Eisbach River has a large break, so surfers can just jump in and surf back and forth, back and forth, until they wipe out.  And the moment a surfer wipes out, the next surfer jumps in, not wasting so much as half a second!
This is open to expert surfers only and it's absolutely fascinating to watch.  Dave and I stood watching, transfixed, for the better part of an hour.
You can watch the surfing from three different angles.  That top photo is from the bridge overlooking the break.  You can also watch from behind on the west side of the river…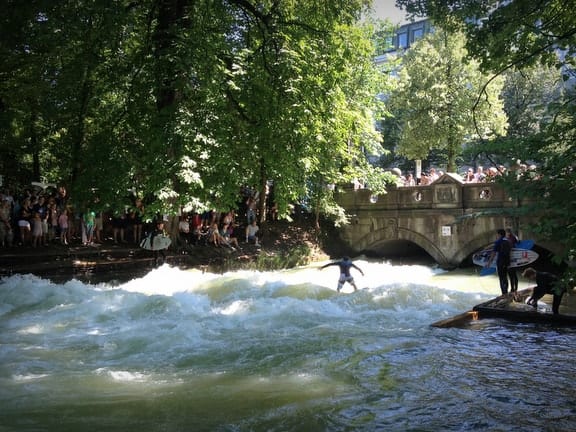 …and for the closest proximity, from the east riverbank.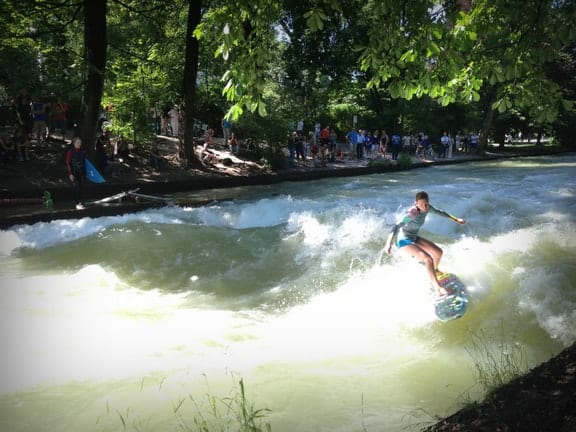 I'm so glad I got to see the river-surfing in Munich this time around.  During my first visit to Munich last year, I didn't make time for it.  Don't make the same mistake I did — make sure you go see this!
While surfing is permitted, swimming in the river is not.
Not that anyone listens.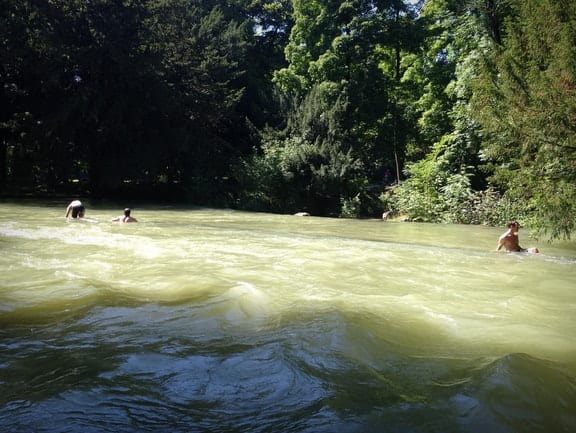 While this is technically against the rules, we saw plenty of people sitting in the river, swimming its length, and letting the current drag them along — sometimes with beers in hand.  (Though I wouldn't be surprised if those were mostly British stag dos with the beers.)
A bit disgusting?  Perhaps.  This IS Germany, though.  I'd be more apt to jump in a river here than in Bosnia.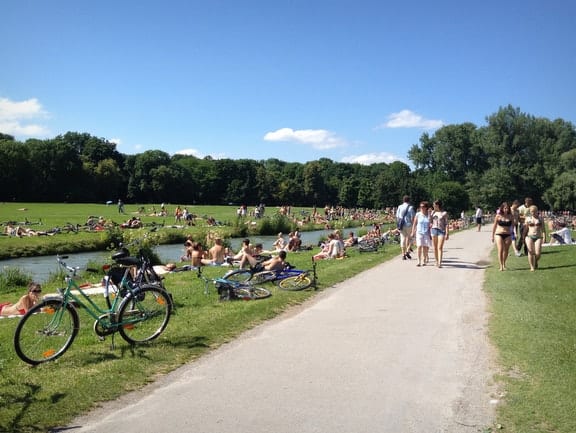 I loved this park.  I might go so far to say that it's my favorite park in the world!  It had just the right blend of widespread appeal, relaxation, and quirkiness.
And with the rivers running through it, Englischer Garden is almost a worthy substitute for an actual beach.  If I lived here, you can bet I'd spend my summer afternoons here.
Have a favorite park?  Where is it?
Get email updates from Kate
Never miss a post. Unsubscribe anytime!