Adventurous Kate contains affiliate links. If you make a purchase through these links, I will earn a commission at no extra cost to you. Thanks!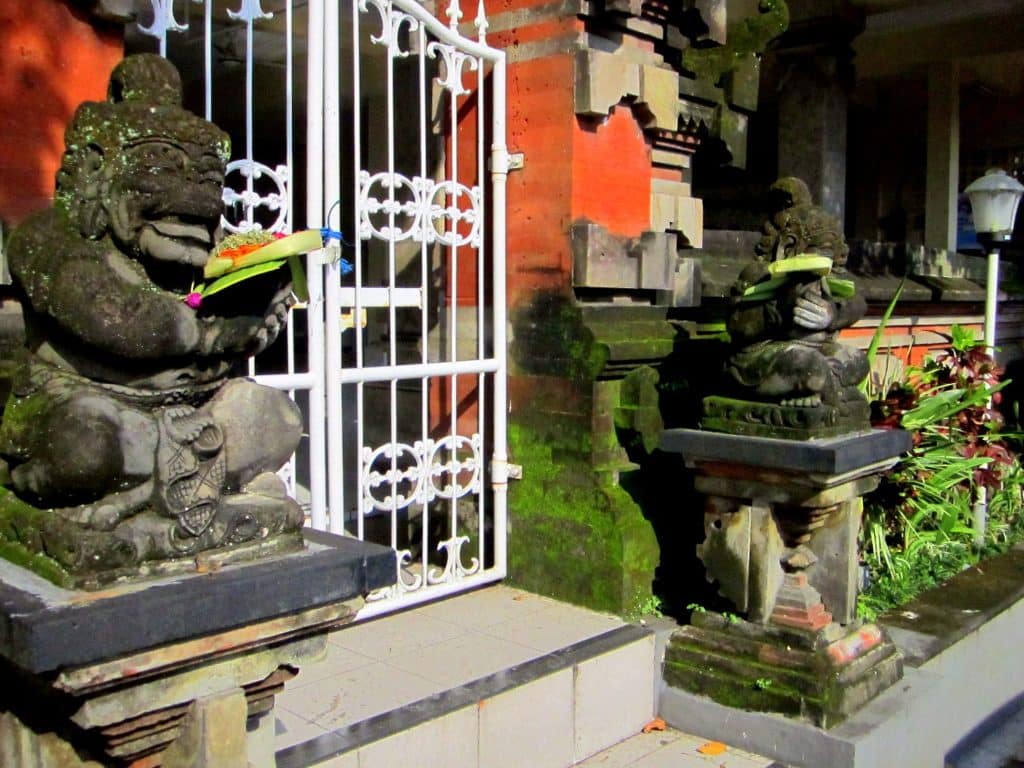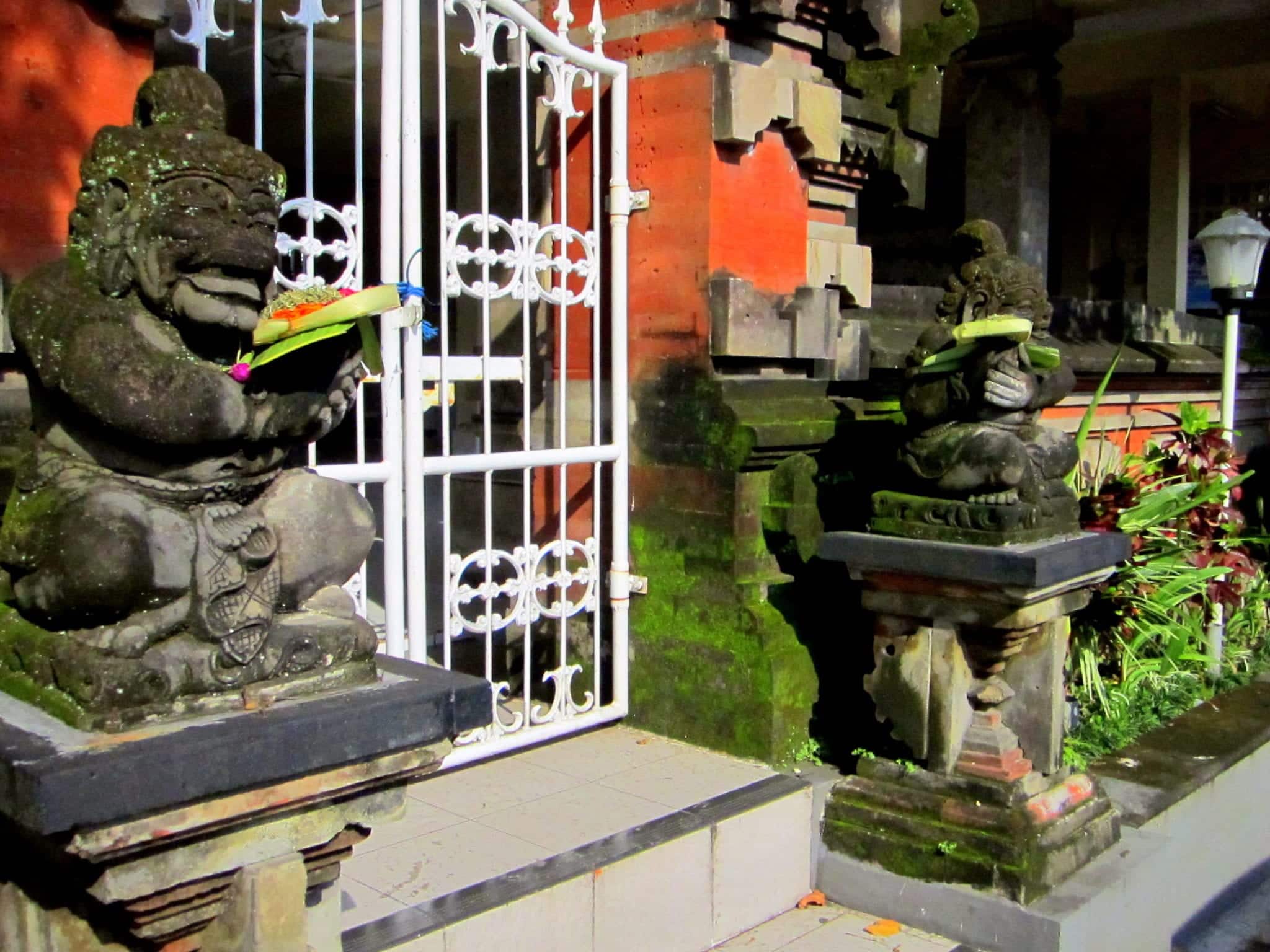 Don't let these pretty pictures fool you — Kuta may be the most vile place on Earth.
If you've researched Bali tourism, you may have heard that – but for me, I found that guidebooks mostly glossed over this fact. However, many travel bloggers wrote eloquently about this, none of them better than Wandering Earl.
Kuta is Bali's primary resort town and it's particularly popular with Australians. But don't come here expecting culture, temples and quiet beaches. Kuta is a mess, a lost paradise, a great opportunity twisted into a burned-out shell.
It's the bumper stickers and t-shirts sold on every block that read "UP THE BUM NO BABYS" and "WHAT PART OF DEEP THROAT DON'T YOU UNDERSTAND?"
It's the fact that come nightfall, the streets are filled with vomiting holidaymakers who wouldn't think twice about pouring beer on nearby onlookers.
It's the trash-filled beach, making swimming in Kuta akin to wading through a watery landfill.
If it weren't for the spiritual offerings placed on the ground in front of each business, the streets of Kuta might as well be part of Cancun or the sleazier areas of Las Vegas.
Now, I have no problem with a debaucherous weekend in Vegas or Cancun. God knows I've done my share of them. So why did Kuta bother me so much?
The Balinese people.
The Balinese people are among the kindest and friendliest people that I've met in Southeast Asia. They're inquisitive, helpful and incredibly polite. They're gentle. They're intensely family-oriented. Their spiritual beliefs shape their lives, and many aspects of their lifestyle haven't changed in centuries.
So to see the home of such wonderful people turned into a disgusting tourist mess really saddened me. I do know that this environment brings in jobs and revenue to many Balinese people, but it upsets me nonetheless. Why here? Why Bali?
Who knows?
I honestly believe that Kuta is past the point of no return. As long as they continue catering toward these kinds of tourists (and as long as Kuta remains right next to the airport), I genuinely believe that nothing is going to change.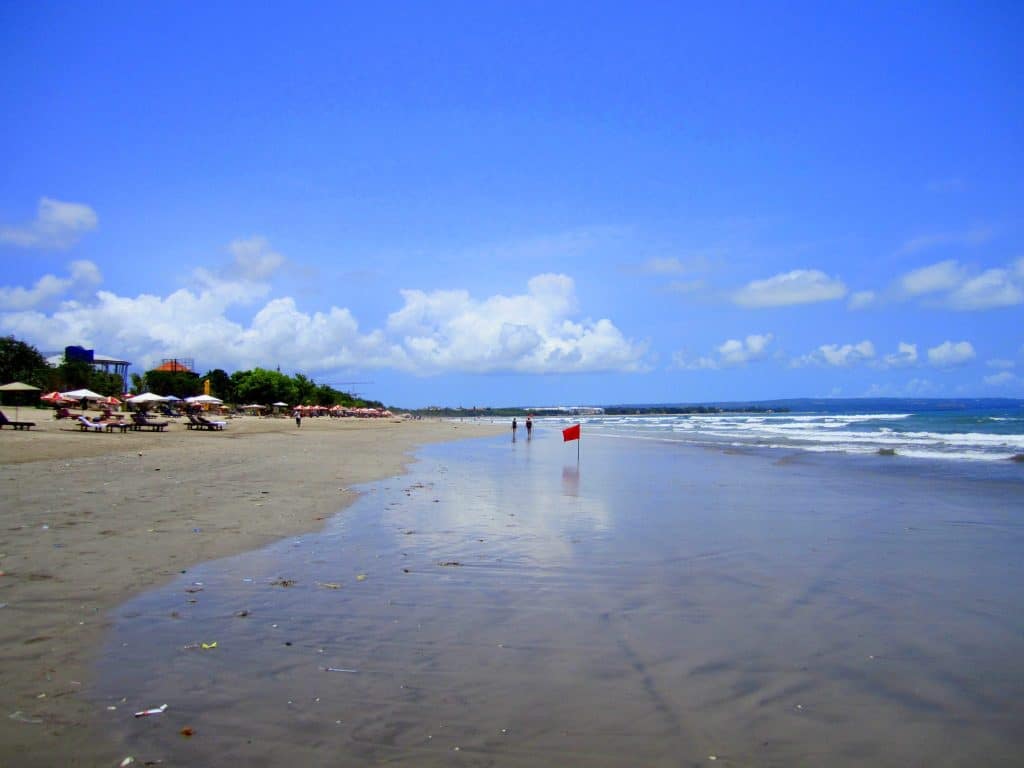 So if I knew that Kuta was this bad, why did I even go in the first place? Surfing.
Kuta is an ideal place for a beginner to learn to surf. If you've never surfed before, take advantage of learning in a safe and easy place like Kuta. I loved my surf lesson on a quiet beach and though I've taken surf lessons in South Africa, Mexico, and El Salvador since, I've never done as well as I did in Bali! You can book surfing lessons for beginners here.
---
---
I stayed in the Kuta region for four days. During that time, I learned to surf in the nicer, cleaner beach of northern Legian. I enjoyed cocktails in ritzy Seminyak with Theodora of Escape Artistes. I made more Indonesian girlfriends that I ever imagined and hit the clubs with them.
These were all great experiences – and they are proof that if you look beyond the obvious vile aspects of Kuta, you can still enjoy yourself here.
If you want to make the most of your time in Kuta, I suggest staying at an excellent Kuta hotel — the Anvaya Beach Resorts Bali is droolworthy — and spend your days doing cool excursions like doing a sunrise trek at Mount Batur, sailing to a private island for the day, or going on a street food tour. Not sure where to stay? Check out the best deals on Kuta hotels here.
Where to Go Instead of Kuta
Kuta may be the most popular destination in Bali, but here are three excellent alternative destinations a world away from Kuta's trashy atmosphere: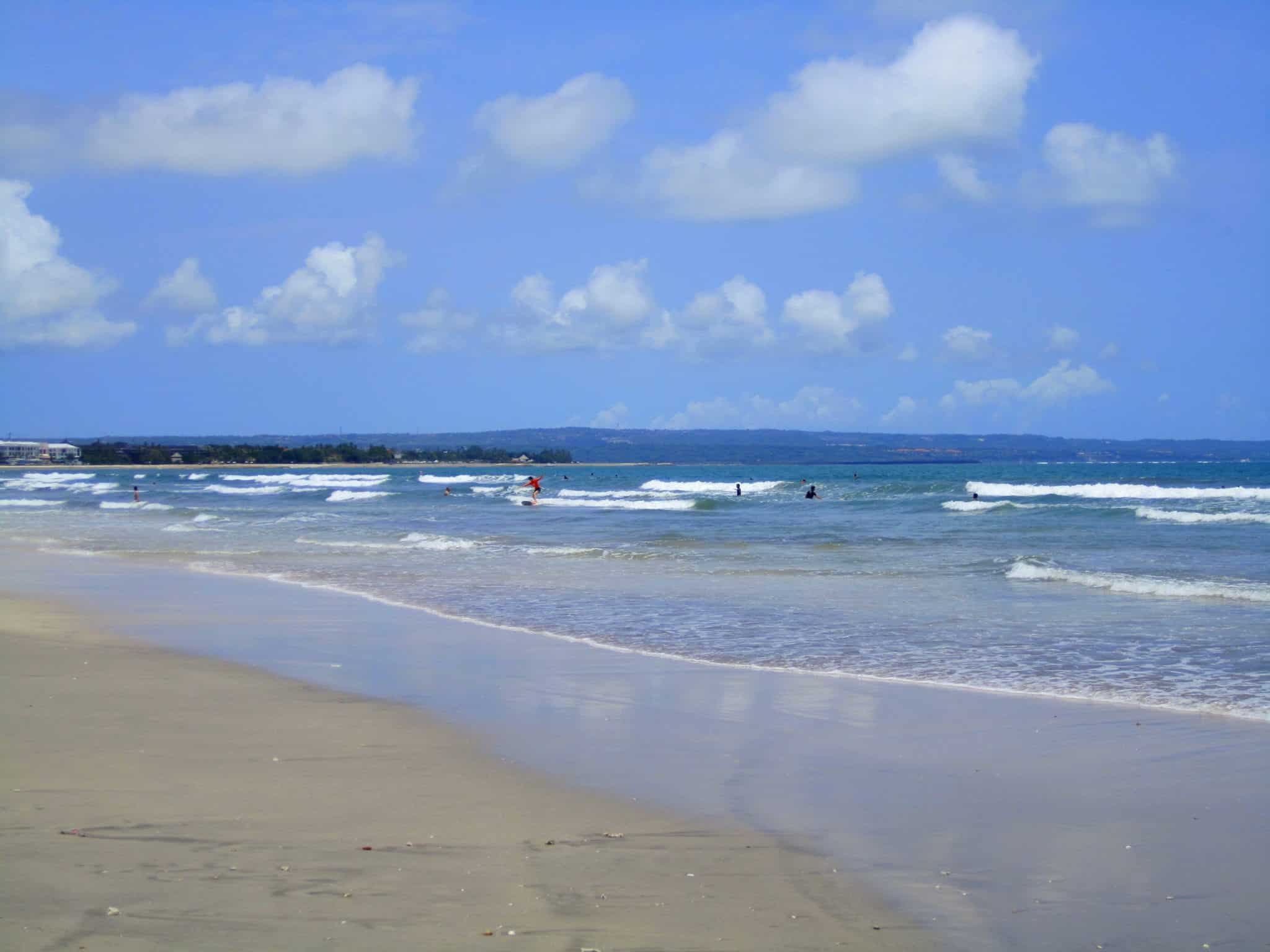 Seminyak
There are three towns connected along Bali's southern beachfront — Seminyak, Legian, and Kuta — but the difference between them is like night and day. Seminyak is the best and most beautiful of the three. Here you'll find upmarket resorts, charming guesthouses, and the best restaurants and nightlife in southern Bali.
Best things to do in Seminyak: Take a Balinese cooking class with a market visit, go on a mountain biking tour, or visit a luxury spa for the afternoon. Check out more activities in Seminyak here.
Best hotel bets in Seminyak: For luxury, you can't beat the Double Six Luxury Hotel with its pool overlooking the beach, top-notch spa, and butler service. For midrange, the Ping Hotel has beautiful rooms, a pool, and a rooftop terrace. For budget travelers, Stellar Capsules is a clean and well-located hostel with both dorms and private rooms. Check out the best deals on Seminyak hotels here.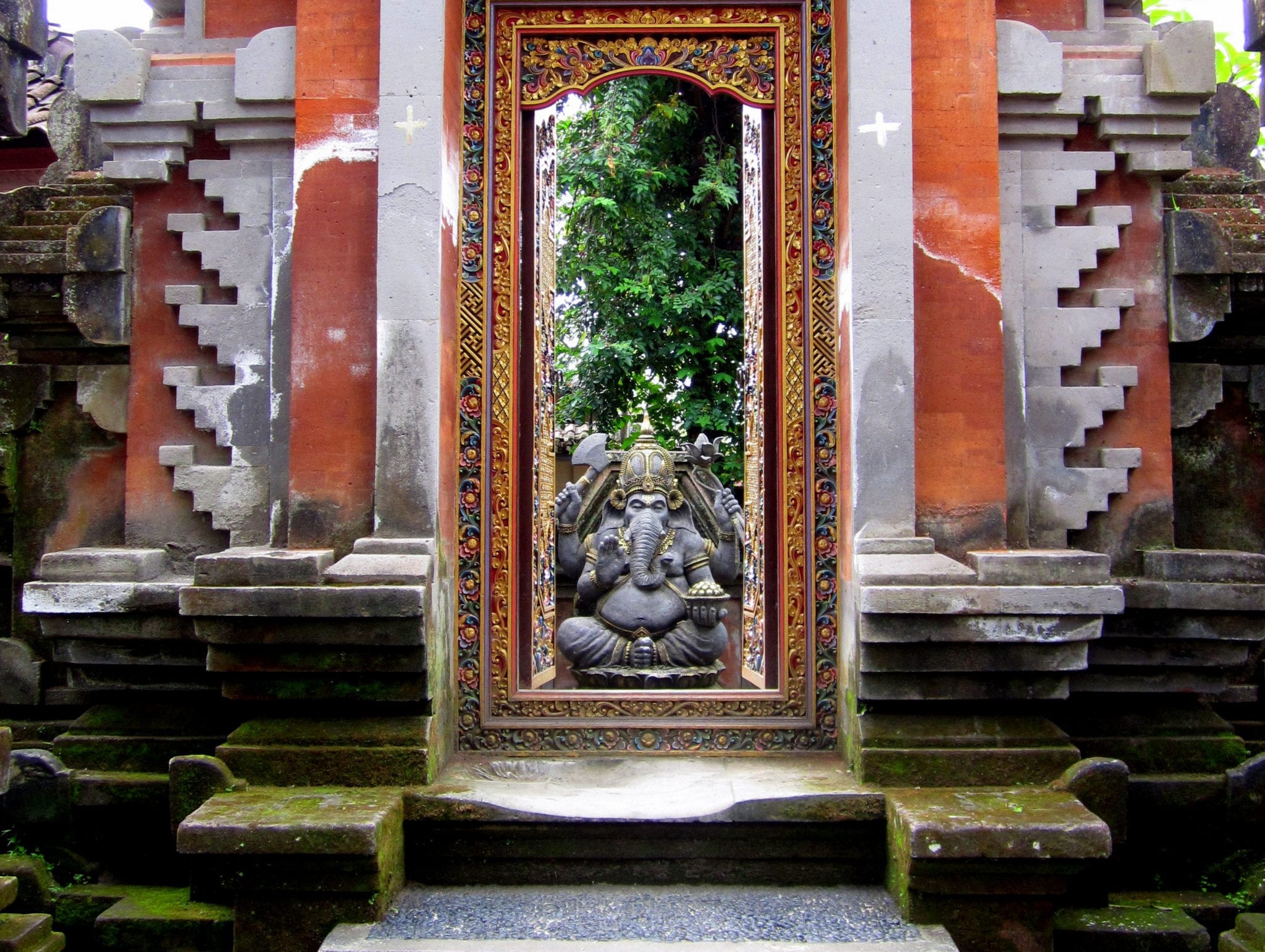 Ubud
Ubud is the Bali of Eat, Pray, Love. Riding bicycles around rice paddies, seeing traditional dance performances, wandering through the monkey forest, doing more yoga than you ever thought possible. Ubud is inland, so you won't have beach access, but it's the best place on the island to dive into Bali's cultural offerings.
Best things to do in Ubud: Explore temples and rice terraces, go whitewater rafting on the Ayung River, learn how to make traditional Balinese herbal remedies (just like Wayan in Eat, Pray, Love!). Check out more activities in Ubud here.
Best hotel bets in Ubud: For luxury, Maya Ubud Resort and Spa is an environmentally sustainable retreat set among Bali's rice terraces; don't miss their afternoon tea! For midrange, the Udaya Resorts & Spa has great value for money rooms and stunning pools. For budget travelers, Ojek's Homestay is a traditional Balinese home with both private rooms and dorms as well as traditional meals. Check out the best deals on Ubud hotels here.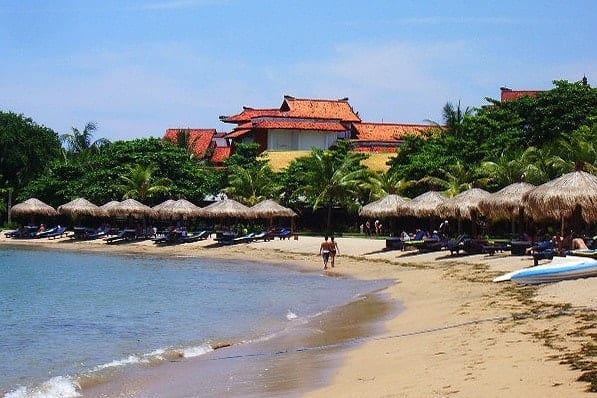 Nusa Dua
If you're looking for beaches but want a calmer environment with no "UP THE BUM NO BABYS" shirts in sight, consider heading to Nusa Dua instead. This southern getaway is a great choice for a peaceful getaway where the only thing on the menu is relaxation. (Image: Glen Scarborough.)
Best things to do in Nusa Dua: See the Devdan contemporary dance and acrobatics show, visit Ulawatu Temple at sunset, learn how to scuba dive. Check out more activities in Nusa Dua here.
Best hotel bets in Nusa Dua: For luxury, the award-winning St. Regis Resort Bali might be the best luxury resort in all of Indonesia, due in part to its spectacular grounds, insane views and butler service. For midrange, Merusaka has a traditional Balinese atmosphere and rooms that can fit all sizes of families. For budget travelers, The Studio One at Nusa Dua provides simple, clean rooms in a central location. Check out the best deals on Nusa Dua hotels here.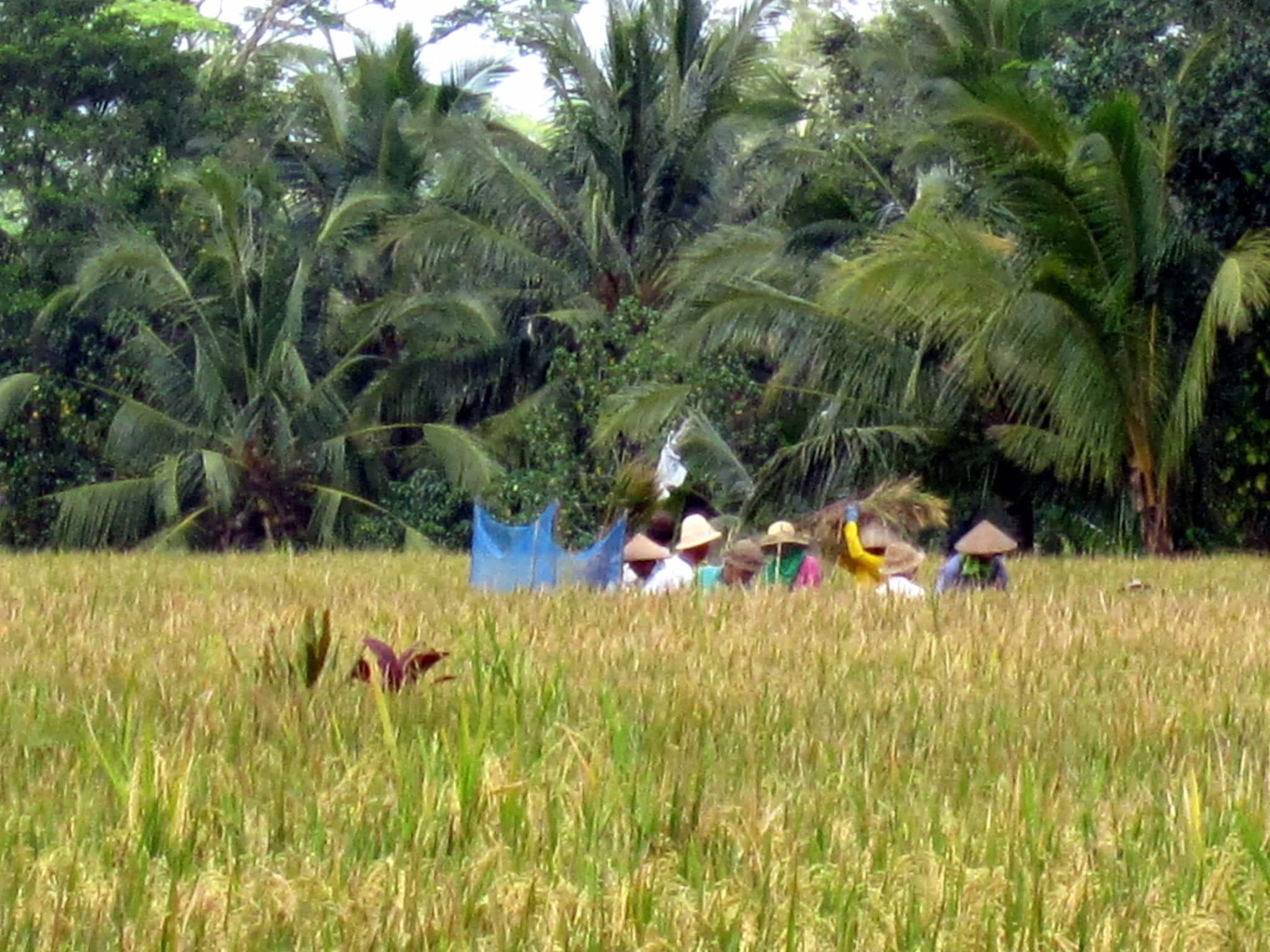 Want even more Bali? Consider a tour.
Bali is the kind of destination that lends itself well to a group tour, even if you're not a tour kind of person.
G Adventures is one tour company I've traveled with before and highly recommend. They do small group tours and they get to lots of off-the-beaten-path type destinations that you couldn't find on their own. Their 8-day Best of Bali tour visits mostly offbeat spots; their 14-day Classic Bali and Lombok tour is divided between Bali and the next-door island of Lombok. They have 19 different trips that cover Bali!
---
---
Essential Info: My best advice for avoiding the worst of Kuta is to stay in nearby Seminyak instead. Seminyak is ritzy and beautiful, yet not too far from Kuta and the airport. Find the best hotel deals in Seminyak here.

Even better? Book a tour of Bali that goes all over the island. G Adventures has several Bali tours that stridently avoid Kuta and instead take you to the most beautiful places on the island.

No matter where you go in Bali, be sure to book travel insurance. Travel insurance saved me when I was shipwrecked in Indonesia and lost all my possessions, and it could save you too, whether you get injured and need to go to the hospital or if you get robbed and need help getting money. I use and recommend World Nomads for trips to Bali.
Get email updates from Kate
Never miss a post. Unsubscribe anytime!