Adventurous Kate contains affiliate links. If you make a purchase through these links, I will earn a commission at no extra cost to you. Thanks!
My biggest reason for visiting Spain?  Attending the Las Fallas festival in Valencia — the festival filled with a week of fireworks, explosions, and giant burning effigies!
And it almost ended in disaster.  Read through to the end of this piece to see how I averted one of the most horrifying calamities that I can imagine.
So, what brought me here?  After having the time of my life at Up Helly Aa in Shetland with Haggis Adventures, I decided that I needed more fire festivals in my life — and Haggis's partner company, Busabout, had a Las Fallas trip that looked amazing!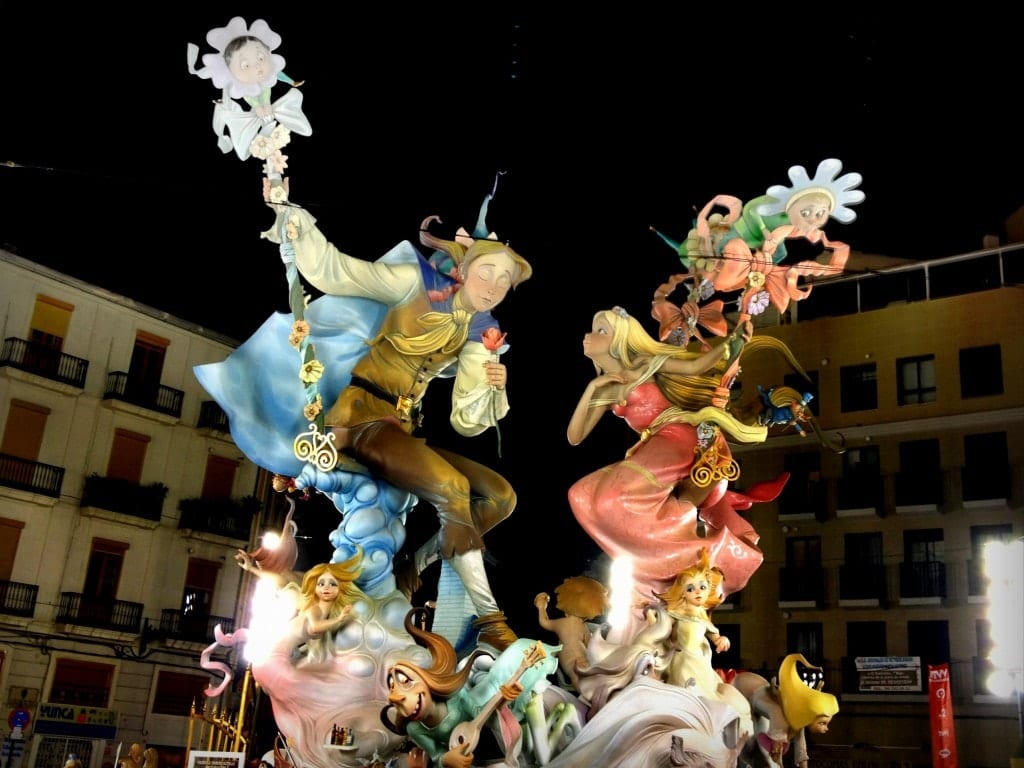 What is Las Fallas?
Every year, from March 15-20, Valencia is engulfed in a celebration of fire, explosions, music, and religious devotion.
Throughout the city are the Fallas: hundreds of giant paper-mache sculptures, like the one pictured above.  These are some of the weirdest and most wacky sculptures you can imagine!
People both young and old parade through the city in traditional Valencian costumes, the women wearing heavy dresses, mantillas and spirals of curls pinned to their temples.  Music blares from trumpets and drums.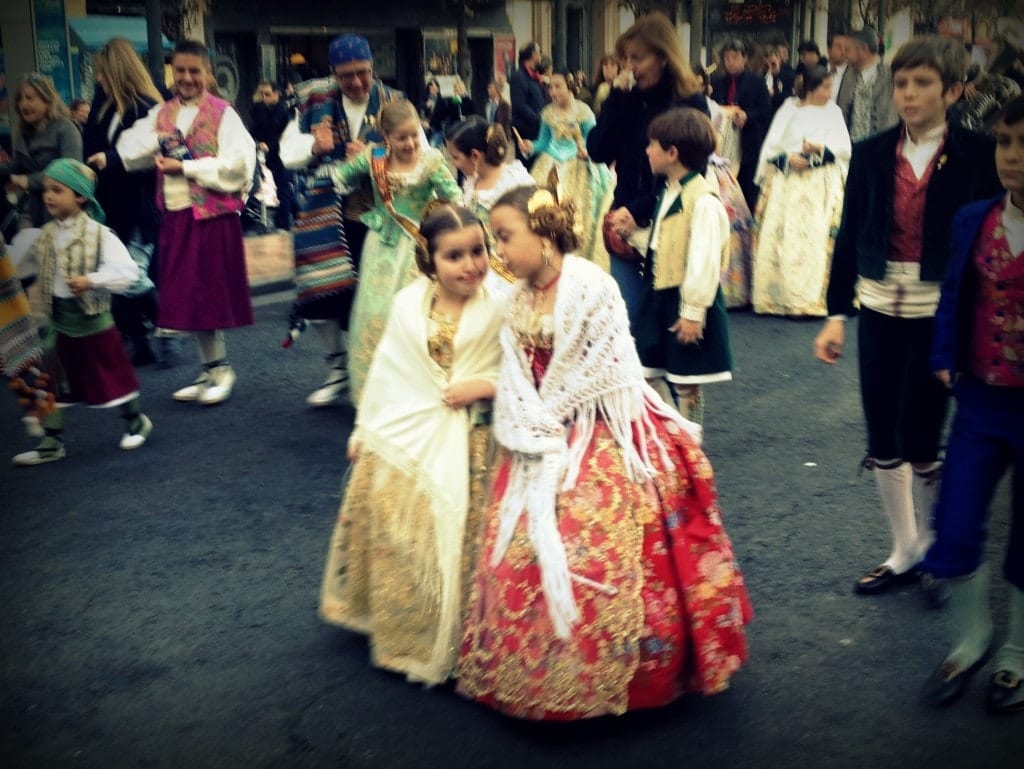 Each afternoon at 2:00 PM is the Mascleta: a deafening daytime fireworks display, bright white against the blue sky.  Tens of thousands of people in Valencia show up to the main plaza, and you can hear it from miles away.
The explosions never stop in Valencia — during any given minute, you'll probably hear about seven or eight firecrackers go off.  Even the smallest of kids are into it, running around with sparklers and setting off firecrackers of their own.  (You will NOT sleep unless you have earplugs!  Consider them essential packing for Las Fallas.)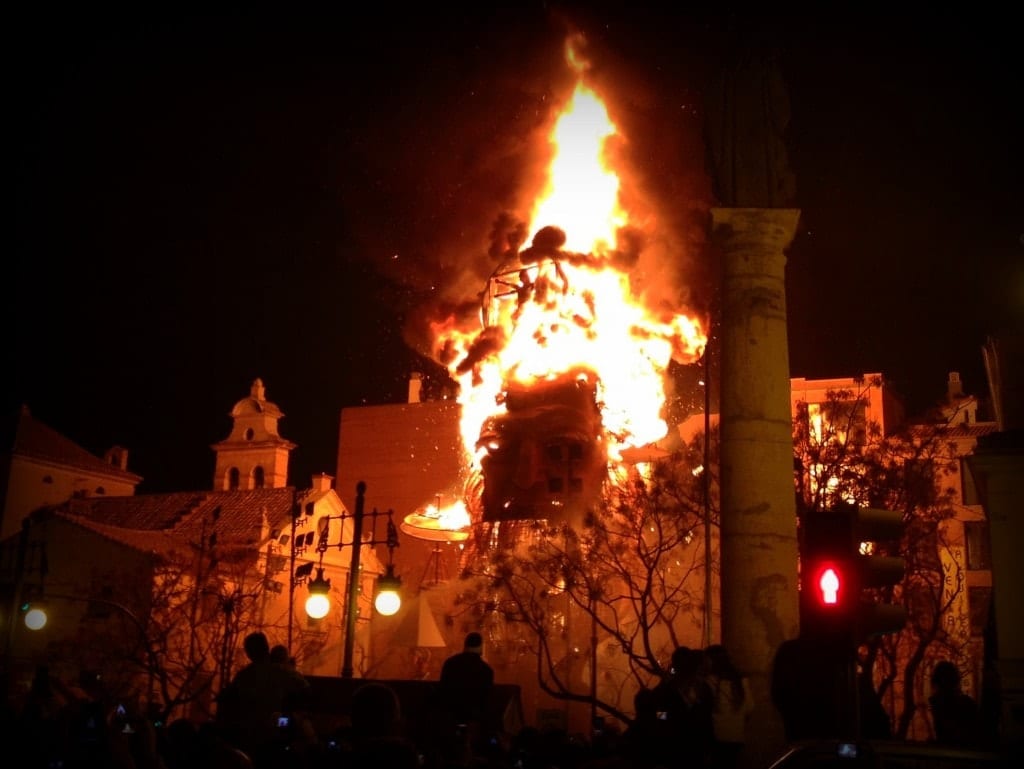 On the final night, the Fallas are burned.  This burning is far from meek — people pour gunpowder and gasoline on the Fallas and then strike up a match, firecrackers and fireworks raining everywhere as the effigies are engulfed in flames.
Once again, I said to myself, "This would never happen in America."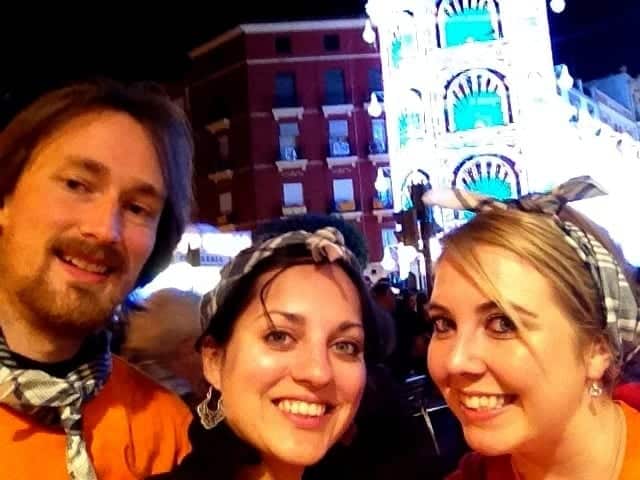 Las Fallas with Busabout
When you go to a festival with a group tour, you know you're going to experience the festival in the best way.  Our Busabout guide Dax knew exactly what to do — from precisely where to view the Mascleta to what local spirits to try (viva aqua de Valencia!).  And while food isn't included in this trip (save the opening night paella dinner), he took us to some cool, cheap restaurants that we loved.
Our group was mostly Australians, with a few other nationalities thrown in, and we became fast friends.  Every day in Valencia, we could explore together as a group or go off on our own.  Valencia has a lot of cool stuff to see — like the futuristic City of Arts and Sciences!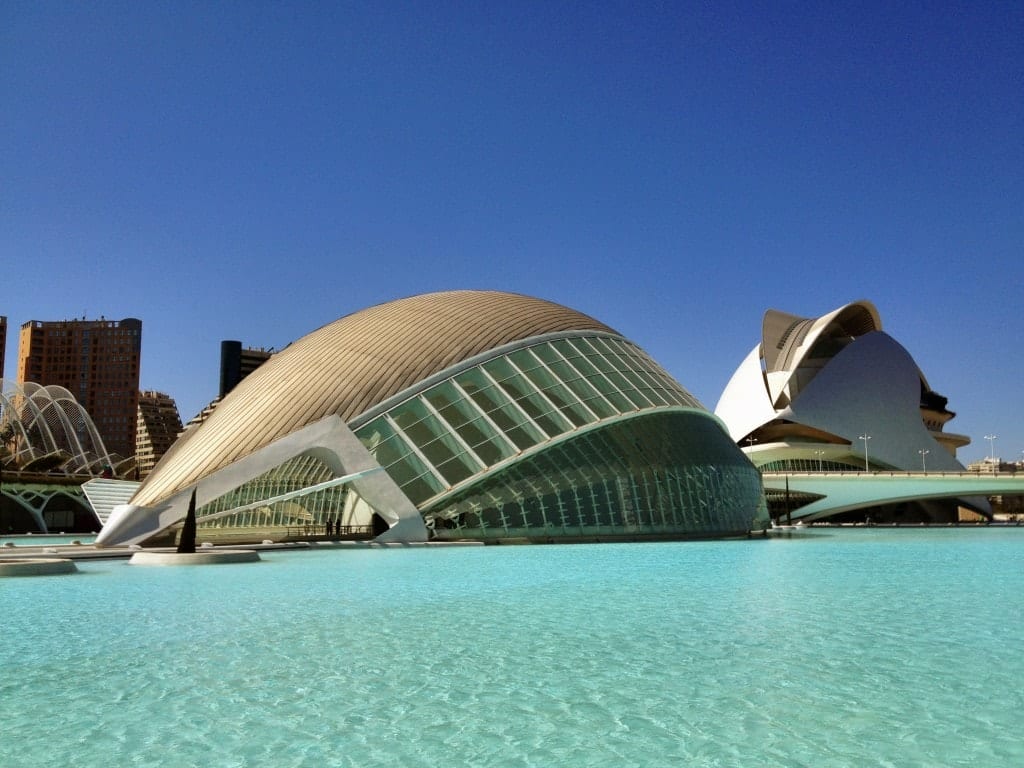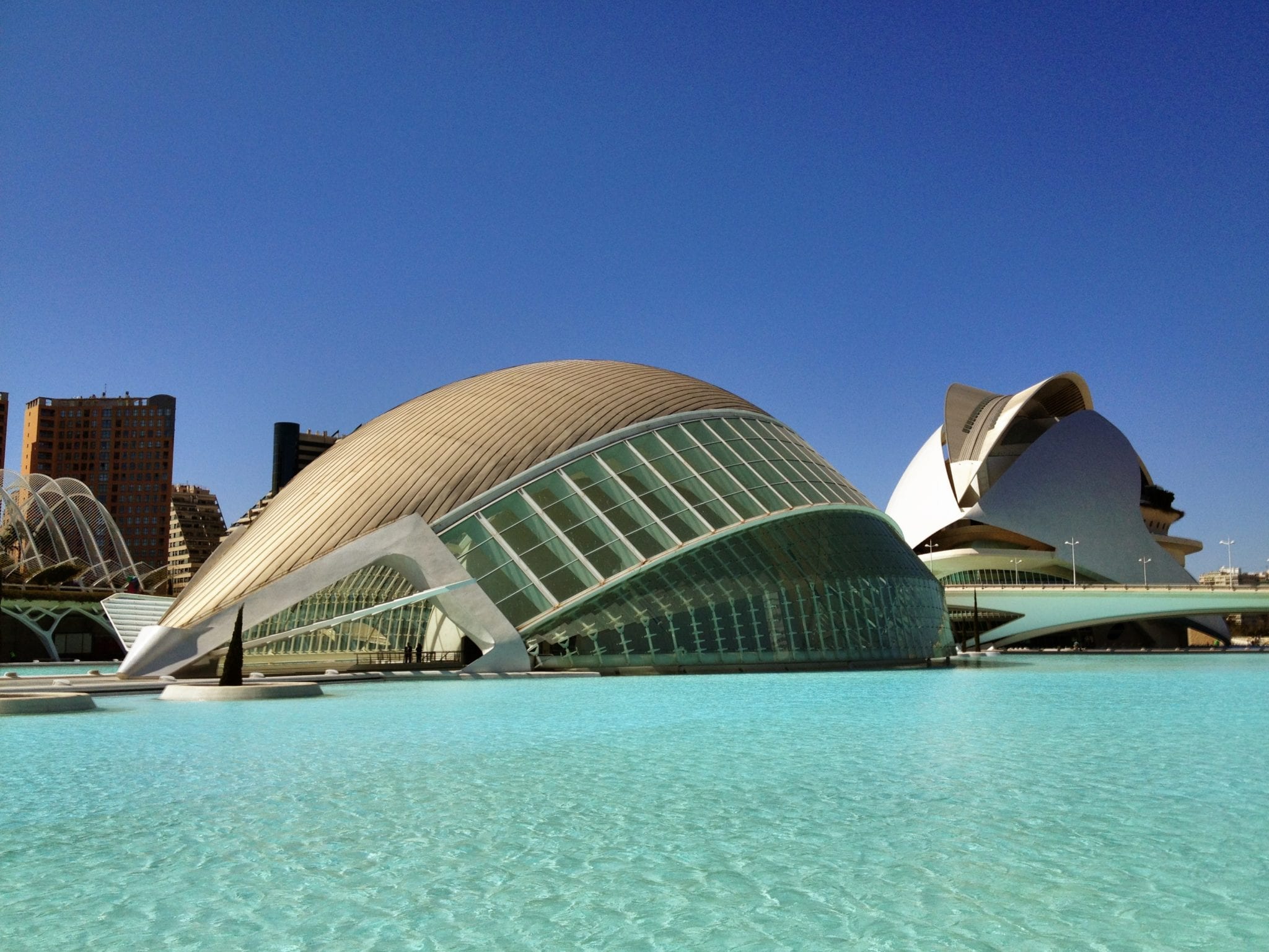 There were plenty of optional extras, like seeing a Flamenco show, or renting bikes to ride to the beach.
On the final night, we gathered to see a giant head of Leonardo da Vinci explode with fire, and joined the locals in their revelry.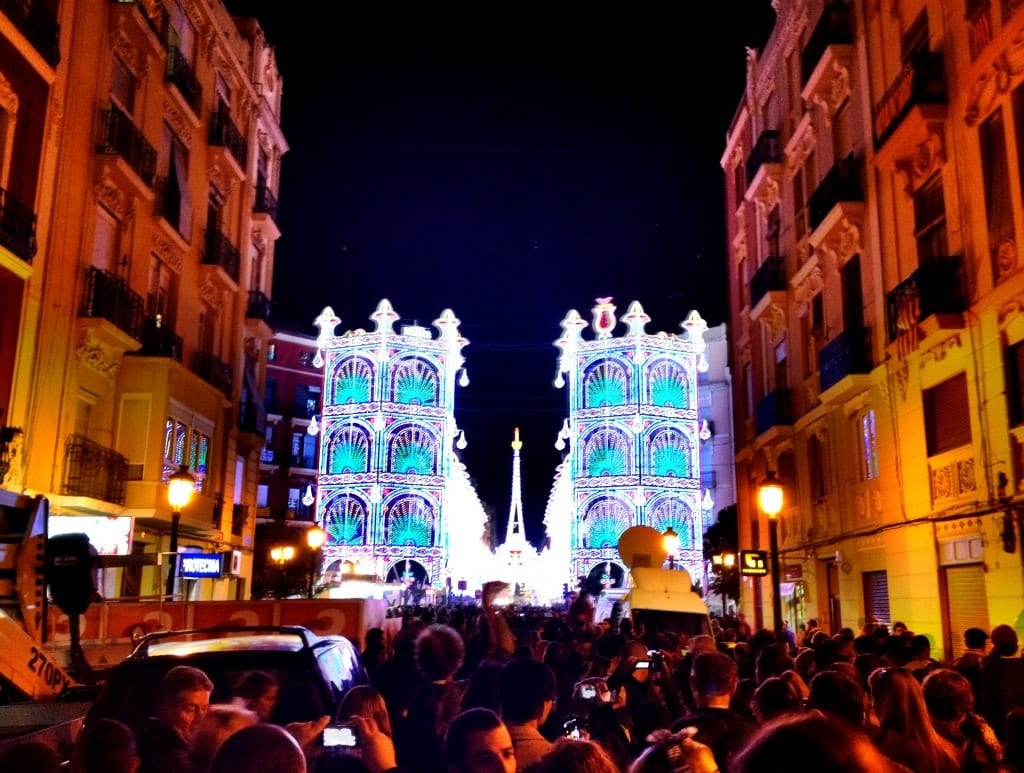 The Single Greatest Benefit of Going to Las Fallas with Busabout
I love Jackass and go crazy for the stunts Johnny Knoxville and his crew perform — but there are a number of skits that I just can't watch.  Like "the fart helmet."  Or "how to milk a horse."
OR: anything involving a porta-potty.  I'm looking at you, Steve-O.
I hate porta-potties — my friends will vouch for the fact that I walked from the Esplanade to the Whole Foods in Beacon Hill just to avoid using a porta-potty in Boston on the Fourth of July
So when I use one, it's a last resort.  And I got to that point when I was wandering the streets with our group and admiring the Fallas and light displays.
I went into the porta-potty, determined to get in and out as soon as possible.  All of a sudden, I heard guys from my group yelling, "NO, NO!  STOP!  She's in there!"
I peed harder than I ever had in my life and got out of there.
Turns out that two guys were about to throw a firecracker into the porta-potty while I was in there.  And because I had people with me, they stopped them.
Busabout saved me from literally being covered in sh*t.
I try not to shy away from anything on my travels just because it's intimidating or difficult, as you all well know.  I use this site to show that women can travel solo safely almost anywhere.
But the truth is that no matter where you are in the world, some people use festivals as an excuse to go crazy, drink too much, and cause damage to people and property.  Just read about Kieu's recent experience getting groped throughout Holi in India.
I wouldn't stop myself from attending most festivals on my own for that reason, but going with a group means that you have a safety net in the event that something bad happens.  And this time, that safety net saved me from becoming a one-woman Jackass episode.
Aside from this horrifying near-mishap, my four-day Las Fallas trip with Busabout was SO much fun, and Las Fallas is a really under-appreciated festival that more travelers should experience.  Stay tuned for more posts about the fire, the explosions, the processions, and the amazing Fallas!
Many thanks to Busabout for hosting me on their Las Fallas trip.  All opinions, as always, are my own.
Get email updates from Kate
Never miss a post. Unsubscribe anytime!