Adventurous Kate contains affiliate links. If you make a purchase through these links, I will earn a commission at no extra cost to you. Thanks!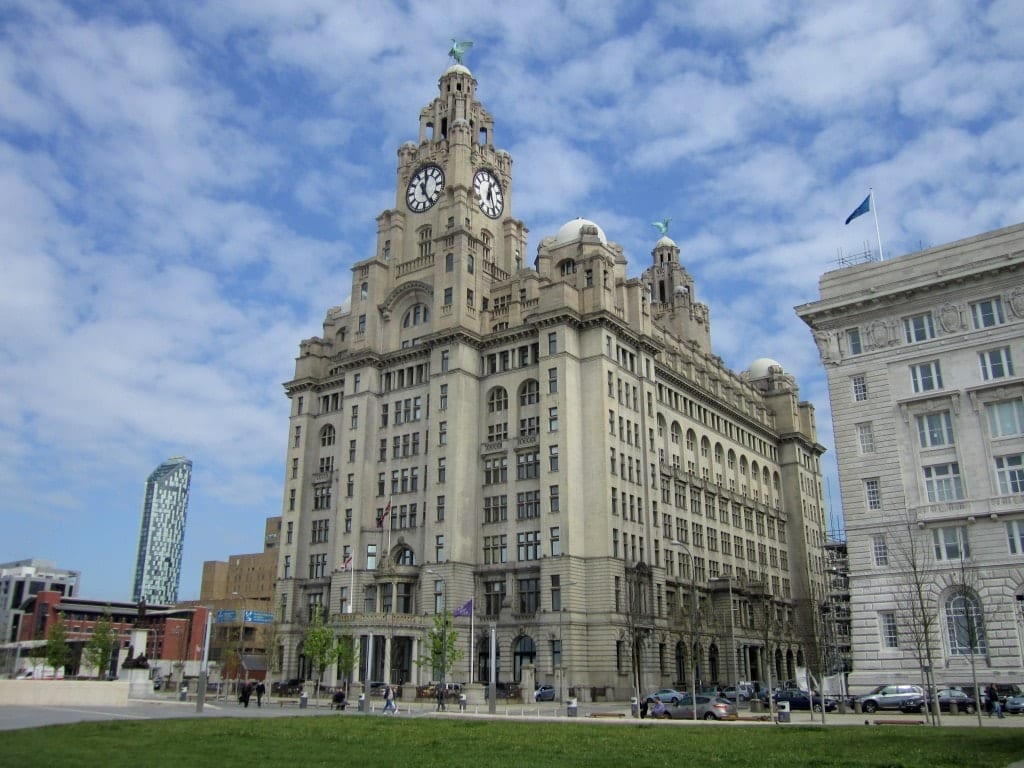 Years ago, I read a short essay written by an American expat living in Liverpool. She wrote about the smoke stacks, the cold, the poverty, the desperation of a city that made you want to do nothing more than curl up with a book.  Forever.
That essay was the only piece of literature that I had read about Liverpool, really, so it influenced me far more than it should have.
Well.  Maybe it was because it was an inconceivably gorgeous day.  Maybe it was because we explored the nicest areas.
But I found Liverpool to be nothing like what I expected — it was shining and beautiful.
Liverpool is just thirty minutes from Chester by train, so Dave spends a fair amount of time there.  He was determined to show me the best day in Liverpool possible.
We started — as everyone should — with a ride on the Mersey Ferry.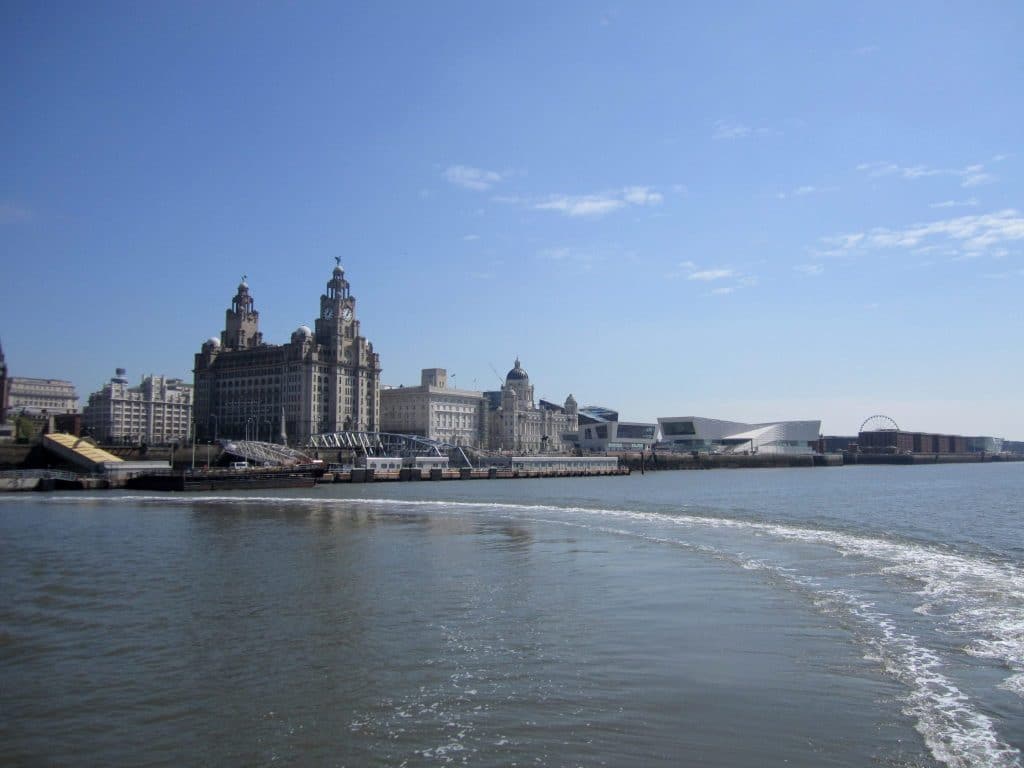 Though the point of the ferry is, ostensibly, to get from one side of the river to the other, many people just take the ferry to enjoy the view.  I loved the riverfront architecture — the newer buildings were designed with such careful consideration for the older buildings and the docks. Everything blended beautifully.
Take the Royal Liver Building, seen in in the first photo on this page.  See the two Liver Birds on top?  They say the one in front is female and facing outward so she can watch over the sailors.  The one in back is male and facing inland so he can see if the pubs are open!
It actually reminded me a lot of Boston.  The Mersey River is around the same width as the Charles, and some of the buildings in Birkenhead, on the other side of the river, seemed to evoke Beacon Hill.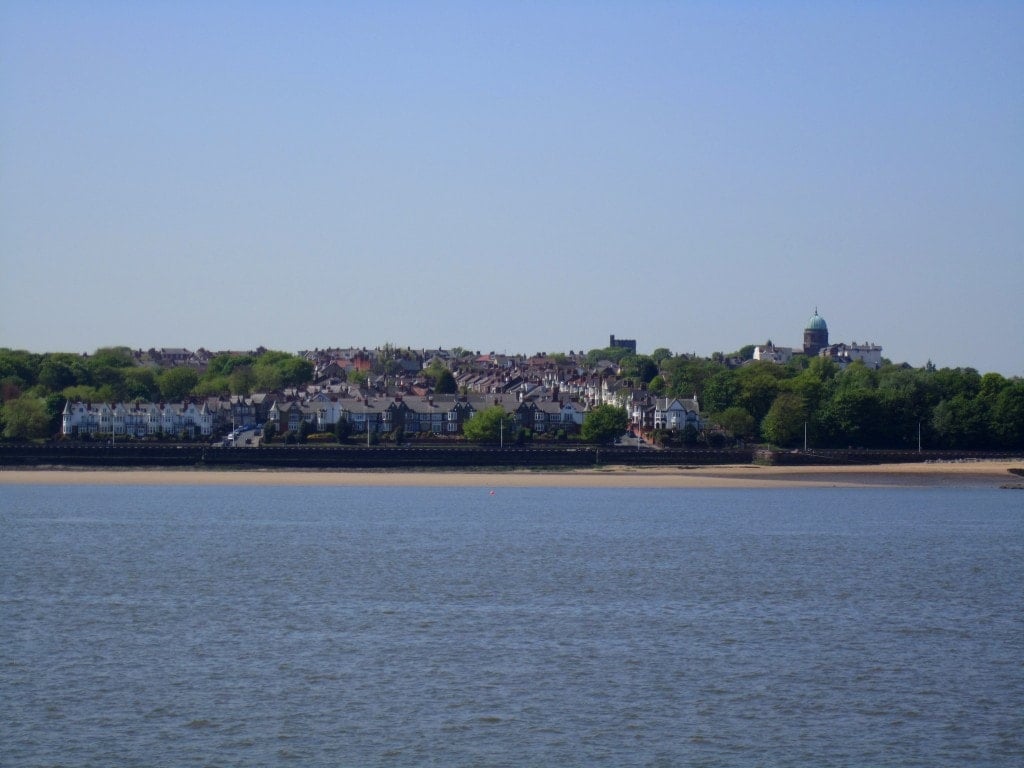 A short walk away is Albert Dock, another must-see in town, where warehouses have since been converted into museums, stores, chic restaurants, and galleries.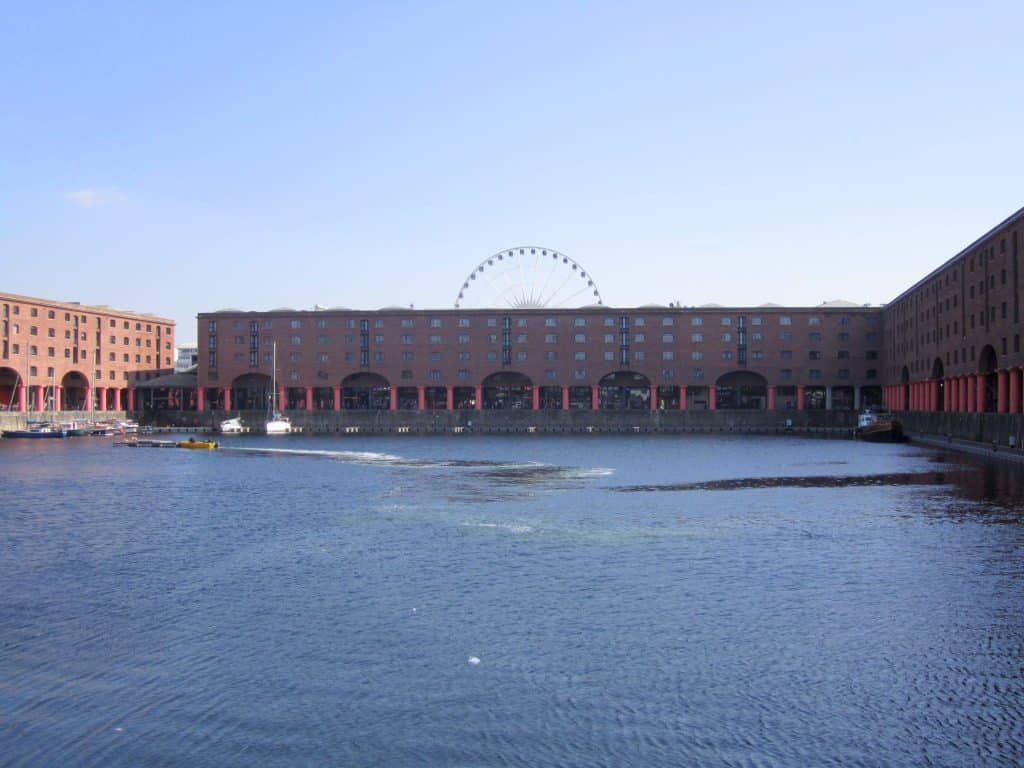 One of the museums there is the Tate Liverpool — a wild, quirky modern art museum. I love modern art museums, and this is one of the best I've been to in recent years.  And like the Tates in London, admission is free!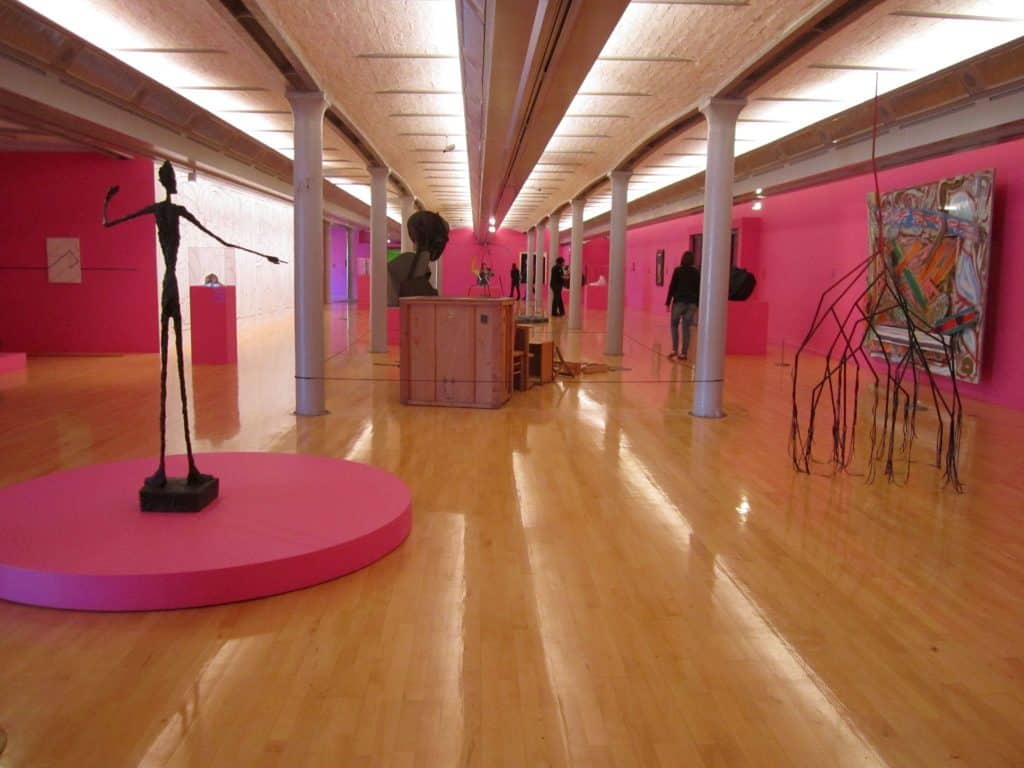 The second floor was really cool — it was a silent disco!  You put on headphones, which blasted music, and danced on a touch-sensitive dance floor that blasted different colors.
And, of course, there's what Liverpool is most famous for: Beatles worship.
If you're a die-hard Beatles fan, you'll be in heaven.  Liverpool is overflowing with Beatles nostalgia.  You can even visit the childhood homes of John Lennon and Paul McCartney.
We skipped The Beatles Story, which is supposed to be the great museum.  Instead, we made our way to Mathew St.
Mathew St. proudly refers to itself as "the birthplace of the Beatles."  They were discovered on this street while playing at the Cavern Club, and they spent a lot of their time in the pubs on this street as well.
You can still see bands perform at the Cavern Club — or just listen to the pitch-perfect buskers on the street.
I just had to tickle Ringo.
Mathew St. isn't far from Liverpool's downtown shopping area, and I was shocked at how nice it was.  It reminded me of The Grove in Los Angeles, or outdoors in Santa Monica, just planted into the gritty city of northwest England.
One stereotype of Liverpool is incredibly true, however — the accent is indecipherable. I hung out with a scouse for a few days in Siem Reap and I couldn't understand a word he said.  Ever.  This holds true for Liverpool, and remarkably, the accent stays firmly in Liverpool.  You don't hear the accent in Chester, just 30 minutes away.
UK accents fascinate me — how many there are, how different they are (having had a few more centuries to evolve than American accents), how easily Dave can hear a 5-second snippet of conversation and say, "Oh, he's from Newcastle but the others are from York."  But I can't even wrap my head around the Liverpool accent.
Yesterday, I dug out the essay that I had read years ago, the one that had been my source about Liverpool.
The author lived in Liverpool in 1978.
I can't believe I unconsciously put so much faith into that one essay!
It doesn't matter. Times change.  Liverpool back then might have been a dreary place — but the Liverpool today is shining.
You still have the opportunity to book some Holidays in 2011. Check out the holiday brokers that have access to the widest range of holidays. From ultra luxurious hotels to budget family resorts, a delightful vacation is awaiting you.
Get email updates from Kate
Never miss a post. Unsubscribe anytime!