Adventurous Kate contains affiliate links. If you make a purchase through these links, I will earn a commission at no extra cost to you. Thanks!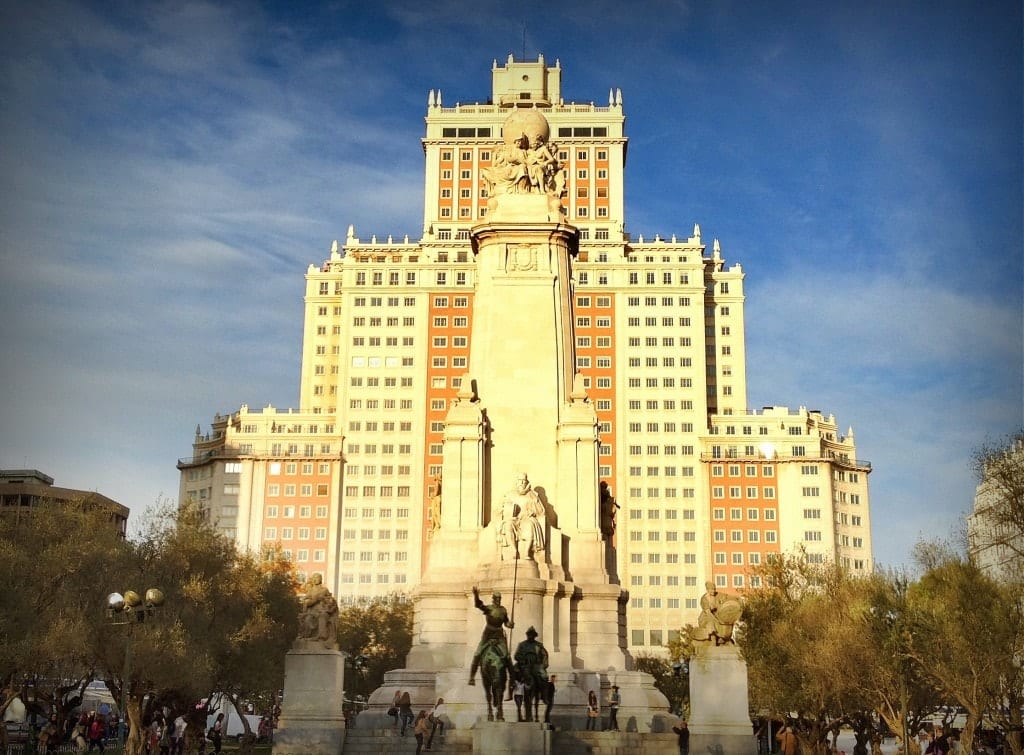 Madrid originally wasn't on my Spain itinerary.  With all I wanted to see in Andalusia, and needing to get to Valencia in time for Las Fallas, I didn't think I'd have the time.
But after I announced this, there was a mild mutiny on my Facebook page.  "DO NOT SKIP MADRID," my friend Hilary implored.  She wasn't alone — reader after reader chimed in, siding with her.  And once my friend Erin offered me a place to stay, I knew I had to visit Madrid!
Erin, the blogger behind La Tortuga Viajera, provided me with one of the nicest homestays I've had anywhere.  Erin, whom I met at TBU in Innsbruck last summer, is a California girl who moved to Spain and later married a Spanish man.  If Spain interests you in the least, her site is a fantastic resource — she's been all over the country.
She also knows where to get the best tapas.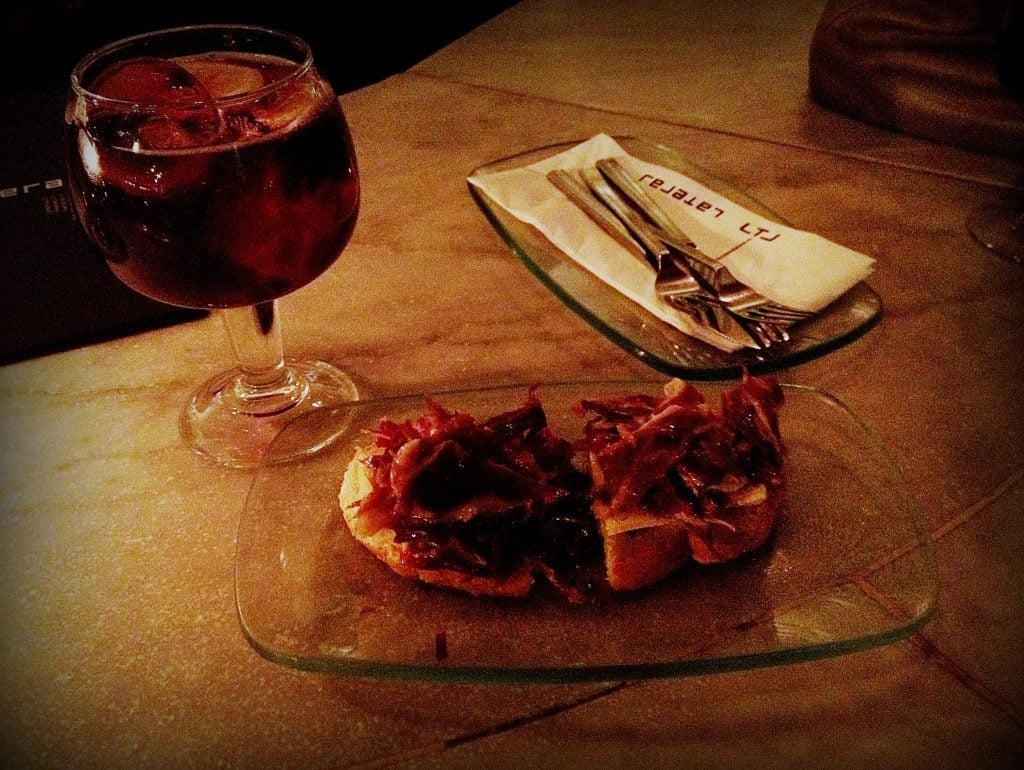 Bread, cheese, jamon iberico — GOOD!  Enjoyed with a tinto de verano, of course.
Erin got out a map and planned out the perfect route, showing me the best of the city.  She also showed me some places that most people wouldn't know about, like Goya's gardens.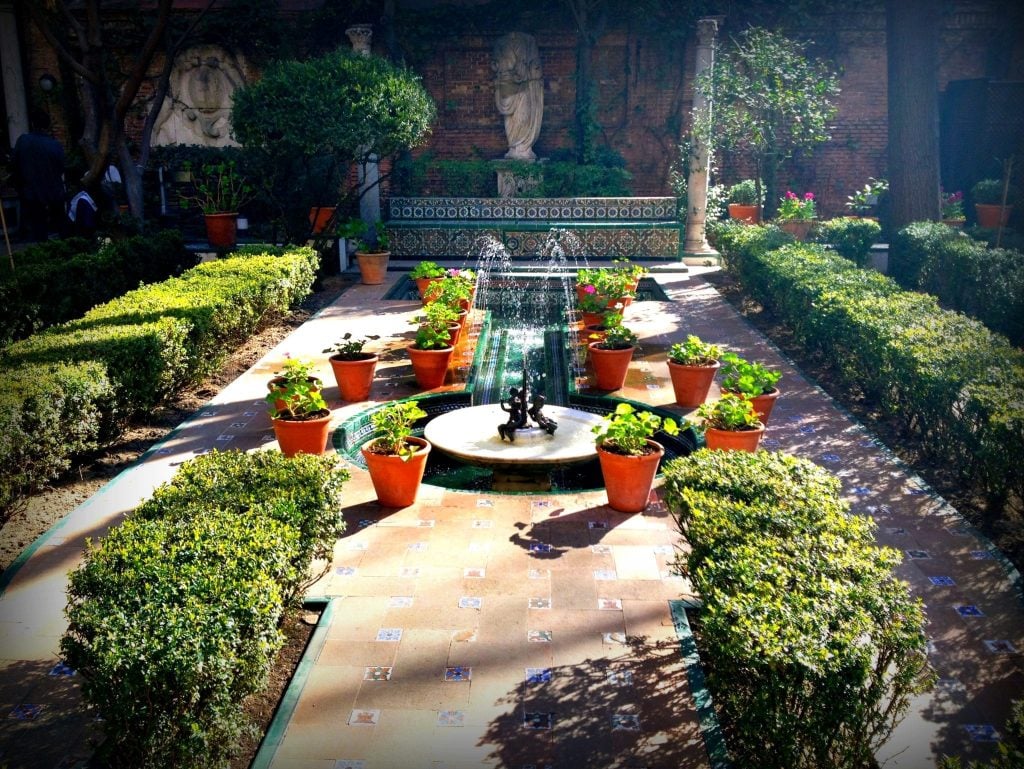 But in addition to Erin's suggestions, I decided to check out what you wanted me to see.  After I asked for my readers' advice of what to see in Madrid, you chimed in with so many suggestions.  I could go for days on your suggestions alone!
To get started, Chelsea and Karawan suggested I visit the Parque del Buen Retiro.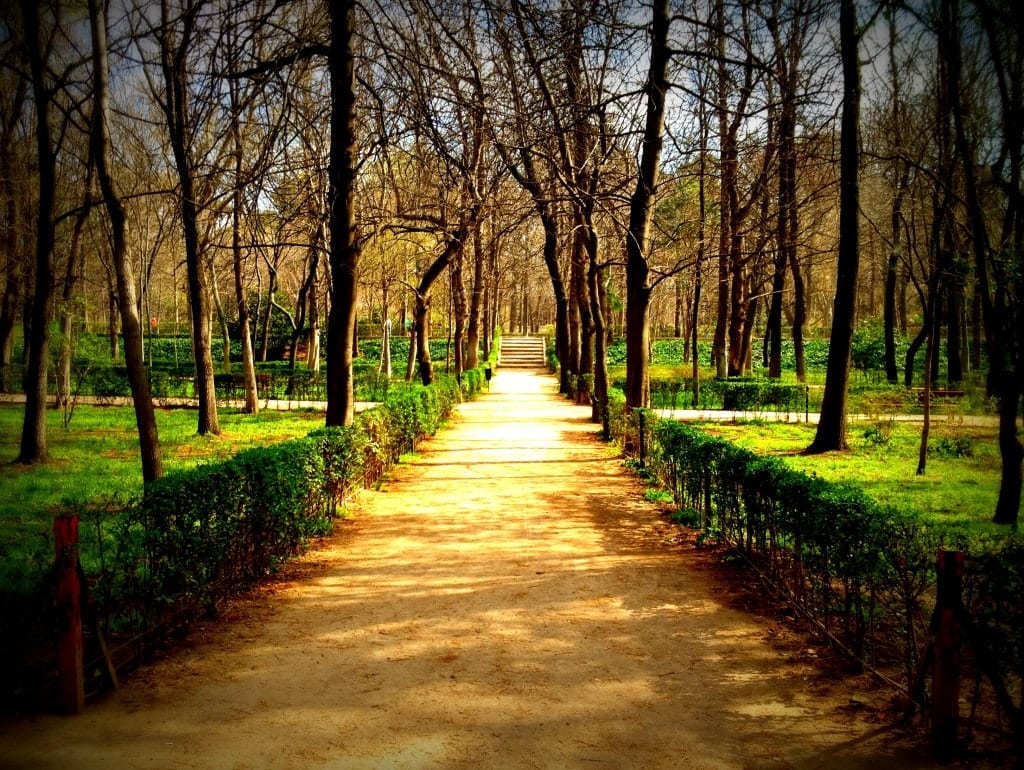 Madrid feels far more urban than the other cities in Spain, and consequently, getting away from the city feels like a challenge.  But when you step into this enormous park, you feel miles away from highways and concrete.
This park is a great place to relax, smell fresh air, and enjoy a bit of nature, smack dab in the middle of the city.
Next up, Adam, Coral, Gillian, and Liligo UK suggested I go to Reina Sofia Museum to see Picasso's Guernica.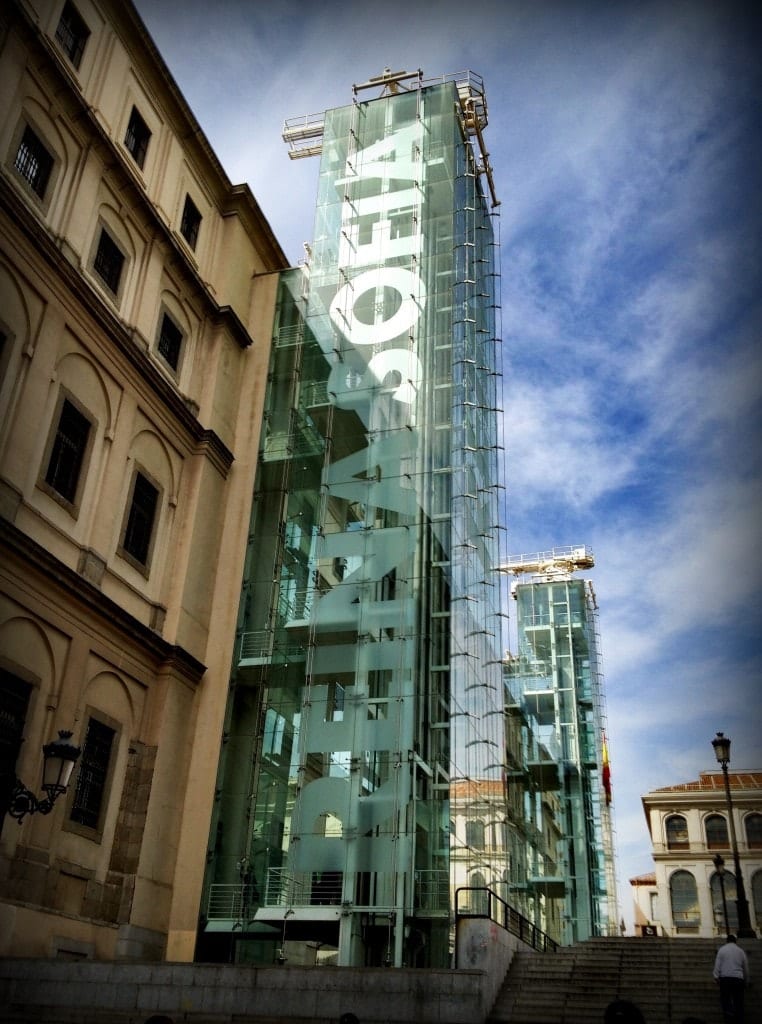 This is an excellent, extensive modern art museum — one of the best I've seen, along with the Centre Pompidou in Paris and the MALBA in Buenos Aires.  (And at a surprisingly reasonable six euros for a ticket!)
Guernica itself can't be photographed.  And while I understand that it's a very important piece of art when it comes to context, I'm just not a fan of looking at it.  I can think of dozens of Picasso paintings that I prefer (the man was prolific!).  Luckily, many more of them are at the Reina Sofia.
My favorite painting at the museum, albeit not by Picasso:
It's called A World and it was painted by Spanish artist Angeles Santos Toroella in 1911.  I spent a long time entranced by it.
The most popular suggestion for what to see in Madrid?  Rachael, Chelsea, Dylan, Gillian, the Globetrotter Girls, and the Time-Crunched Traveler suggested I visit Mercado San Miguel.
Now, this was one of my favorite stops in Madrid.  This market may be on the pricey side, but it's a great place to grab lunch.  Several food stalls are set up and you can get all kinds of food served in small portions so that you can try everything.  It's like a mini-Quincy Market.
My favorite part?  MEAT IN A CONE.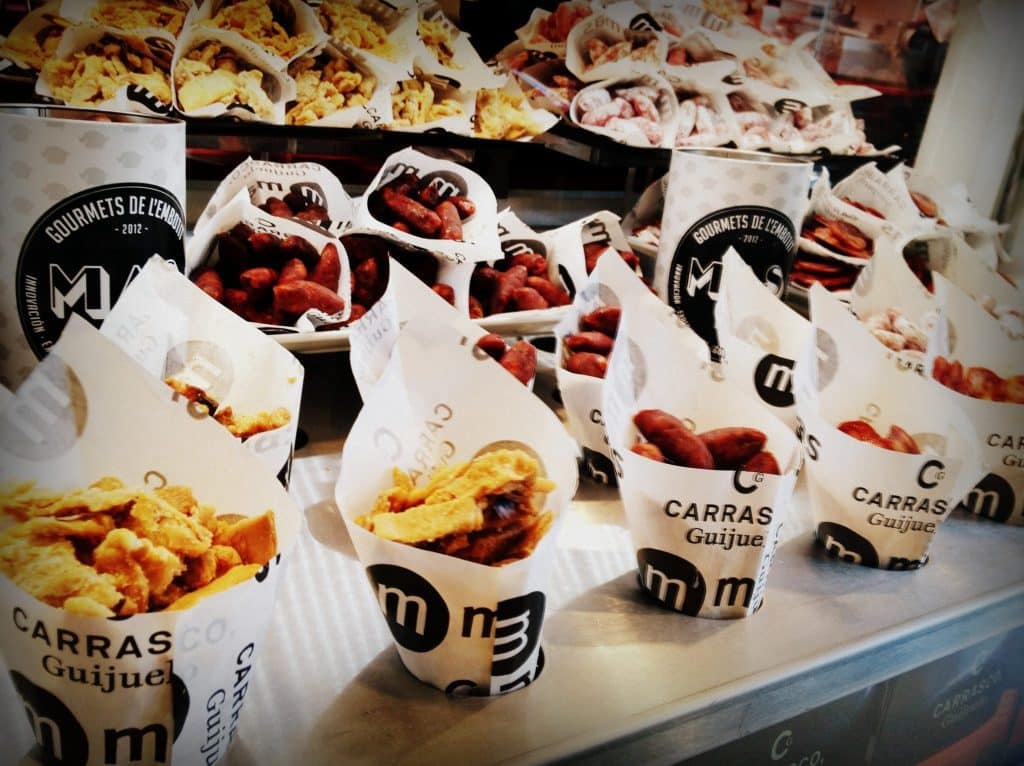 It exists, people.  Go to Madrid.
And just outside Mercado San Miguel is Plaza Mayor, one of the most famous plazas in Madrid.
Plaza Mayor is a great place to sit and people-watch for awhile.
By that point in the day, I started to tally up the interesting things about Madrid.  First of all, the metro, while nearly as extensive as the systems in Paris and London, seems far more efficient.  (Also, Erin and I got mooned by some Russians on the metro, but that's another story for another time.)
Secondly, drivers in Madrid stop vigilantly for pedestrians, even if you're just standing on the sidewalk.  According to Erin, it's the only rule of the road they actually follow.  It was jarring!
Third, Madrilenos have BIG dogs.  Most city-dwellers tend to have smaller dogs who can enjoy life in an apartment.  Not so in Madrid — I saw more huge dogs than I have in any other city in the world.
And fourth, Madrid has a LOT of statues of men on horses.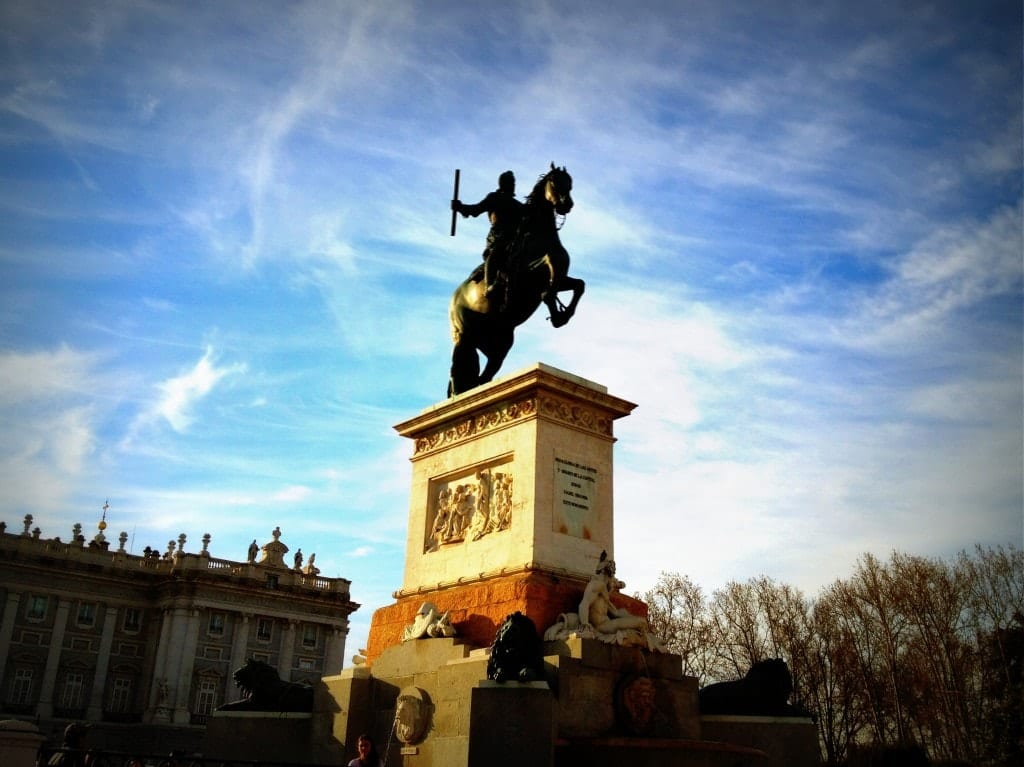 Anything else to do in Madrid?  I got a haircut.
Erin recommended I go see Leo, who might as well be the official hairstylist to American women living in Madrid!  Several of her expat friends swear by him.
Leo's salon is, essentially, his apartment.  Ordinarily, as a solo female traveler, I wouldn't go to someone's apartment on my own — but with so many recommendations from Erin's friends, I felt safe.  And my worries went out the window within moments of meeting him.
Leo is such a sweet and interesting guy, and he did a great job on my weak hair (it's still fried from a few months of beach bummery in Southeast Asia last year).  Best of all, the haircut only cost me 20 euros.  Going to Madrid?  Let me know and I'll hook you up.
Another nice thing about Madrid is that it's home to so many parks, filled with fountains like this one.  If you need to be near a bit of greenery, Madrid is a great city for you.
And finally, Erin's neighborhood is home to a place called Cheese Bar.  Do you think I could really walk past a place called Cheese Bar and not go in?  Mmmmm, nope.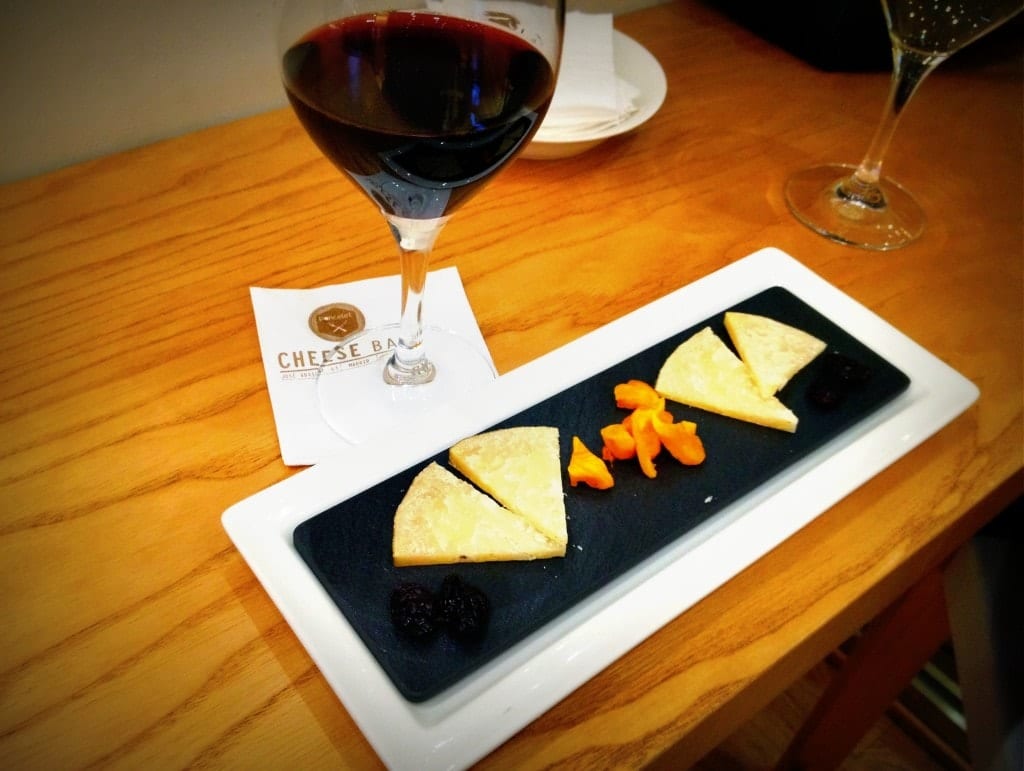 Overall, I enjoyed Madrid, but not nearly as much as I enjoyed Granada and Sevilla.  It was a nice city, and I had a fun time, but I just didn't connect with it.  Which is fine.  I'm not crazy about every place I visit, and I don't expect to be.
But am I happy I stopped in Madrid?  You bet.  Thanks for giving me the push I needed, readers.
Get email updates from Kate
Never miss a post. Unsubscribe anytime!