Adventurous Kate contains affiliate links. If you make a purchase through these links, I will earn a commission at no extra cost to you. Thanks!
Arriving in Lyon, I only knew three things about the city: that it was the second-largest city in France after Paris (if you include the metro area), that it was France's culinary capital, and that it was home to an amazing lights festival.
Lyon's Fete des Lumieres was one of the most spectacular things I've ever seen — but the city was beautiful to photograph during the day, as well!  Here are some of my favorite pictures from Lyon:
Unusually, Lyon sits on not one but two rivers: the Saône (pictured above) and the Rhône.  The two rivers run parallel throughout the city, creating a very long "island" of sorts.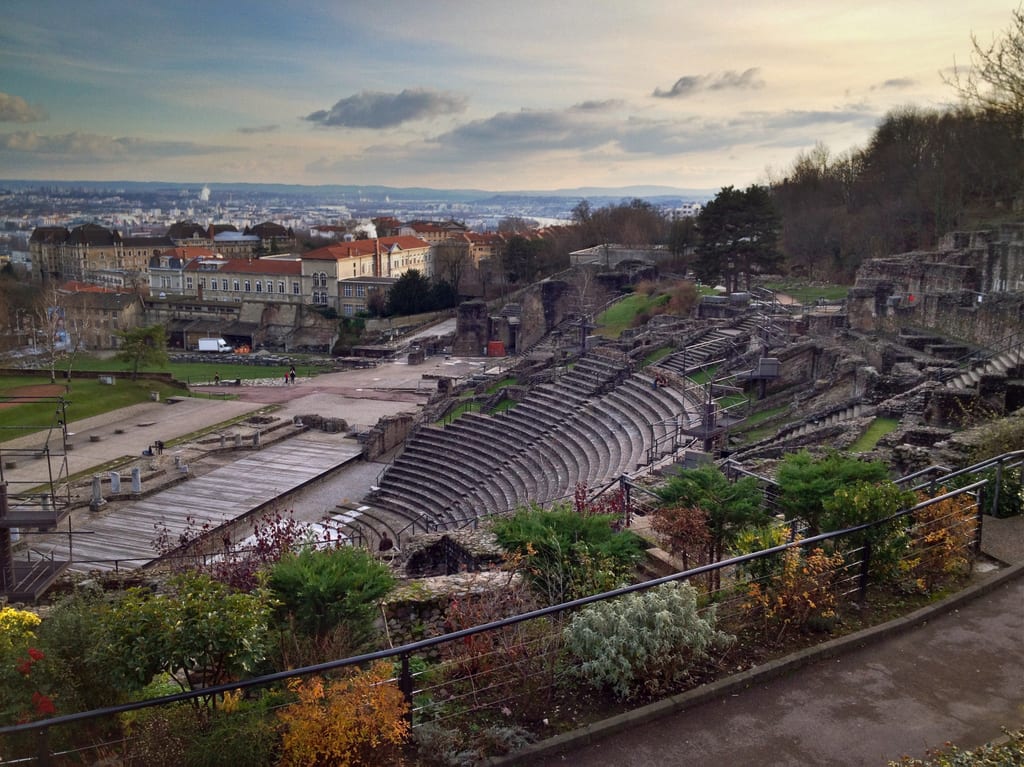 Roman ruins?  But of course!  This amphitheatre is one of the best-preserved ruins in the region.  (And I love the landscaping they did!)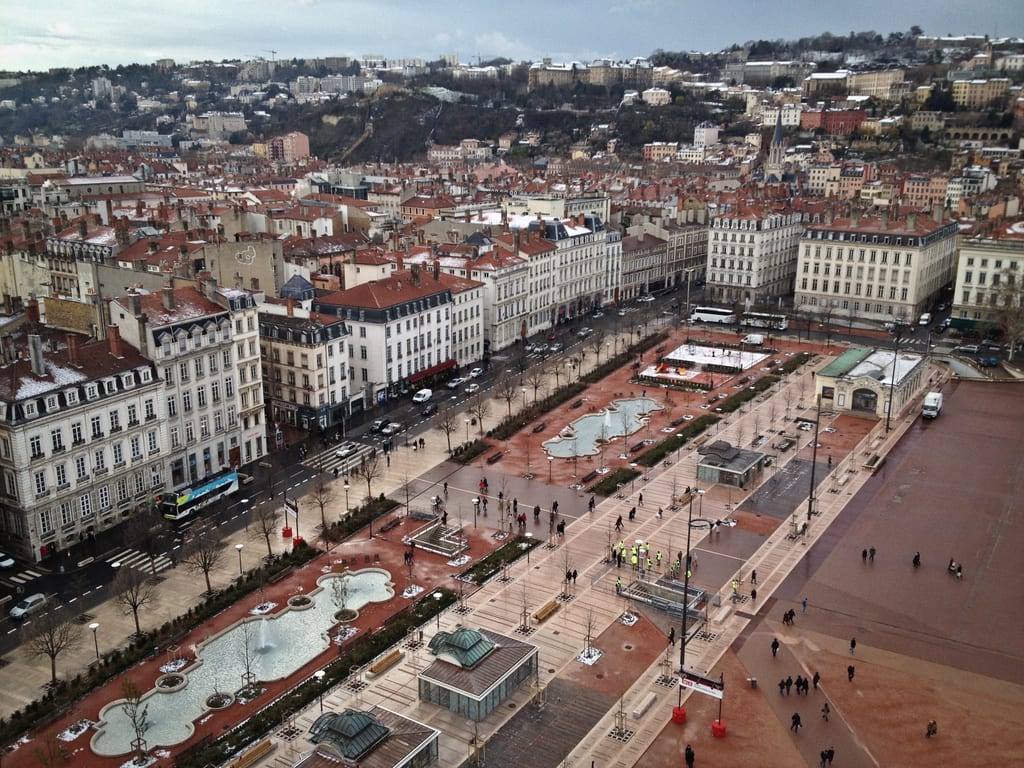 Forget summer — the ferris wheel in Place Bellecour runs year-round!  Views like this from the top were absolutely worth the chilly temperatures.  From the architecture to the shape of the fountains, this is just SO FRENCH!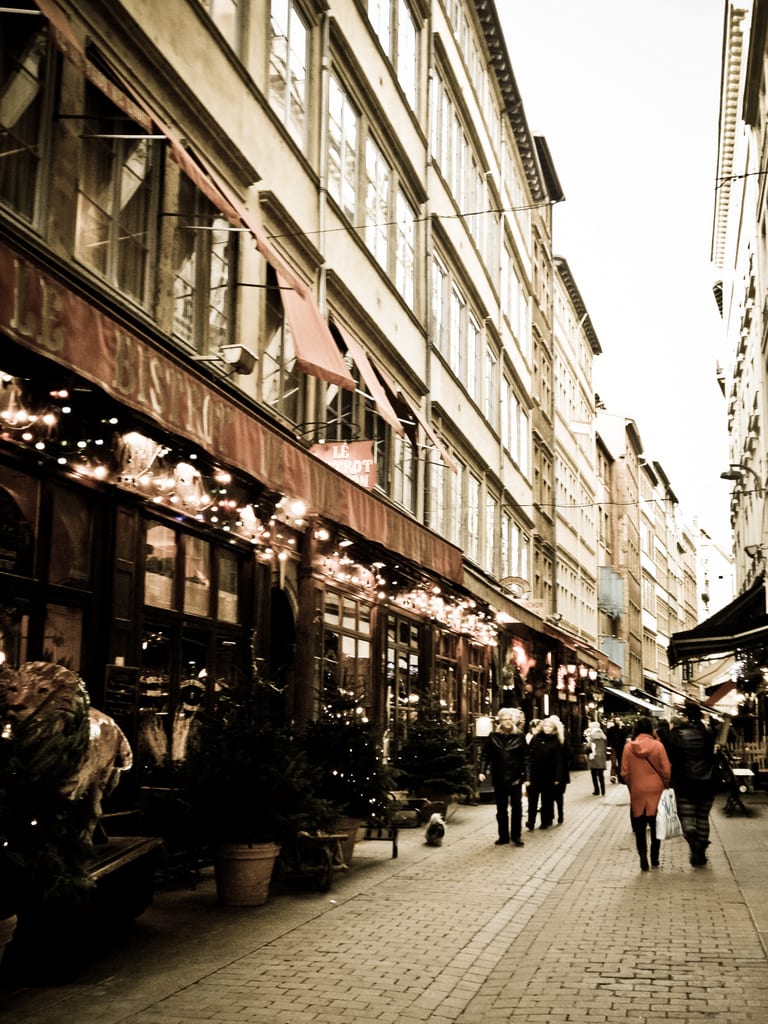 Lyon had so many things that I love about France, like architecture, tiny quaint streets, and amazing foods.  This street was filled with brasseries topped with bright red awnings and Christmas lights.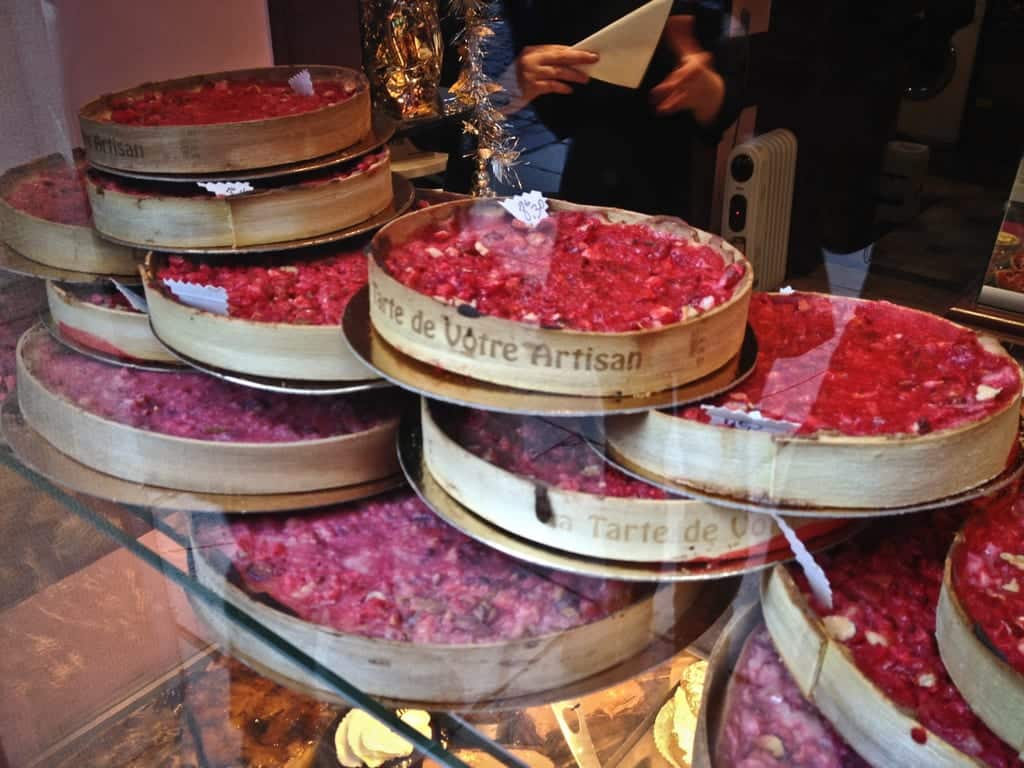 One of Lyon's most famous dishes is the tarte aux pralines — a tart packed tightly with nuts and sugar!
On our second day, we geared up for a Cyclopolitain tour, where a Frenchman with thighs of steel would pedal us all over the city…until it began to snow.  Hard.  Our guides weren't dissuaded — they continued to pull us through the city, even as they themselves got covered in snow!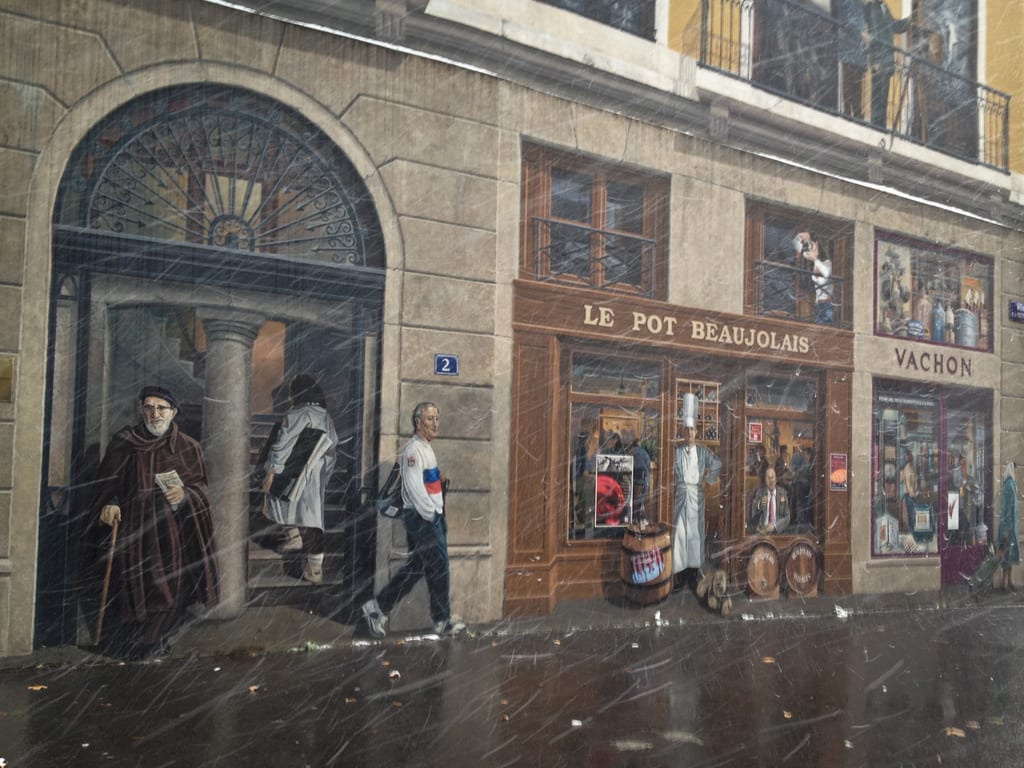 We stopped to check out Le Fresque des Lyonnais, an amazing trompe l'oeuil mural featuring Lyon's most famous residents, including chef Paul Bocuse and Antoine de Saint Exupéry, author of The Little Prince.
In some places, it was absolutely magical.  Lyon's Old Town in a fresh coating of snow looked like something out of a fairy tale.
And then it quickly turned ugly — snow, slush and sleet hitting from every direction.  Temperatures dropped.  Shivering underneath the blanket in the back of the Cyclopolitain, I felt like my toes were ready to freeze clean off.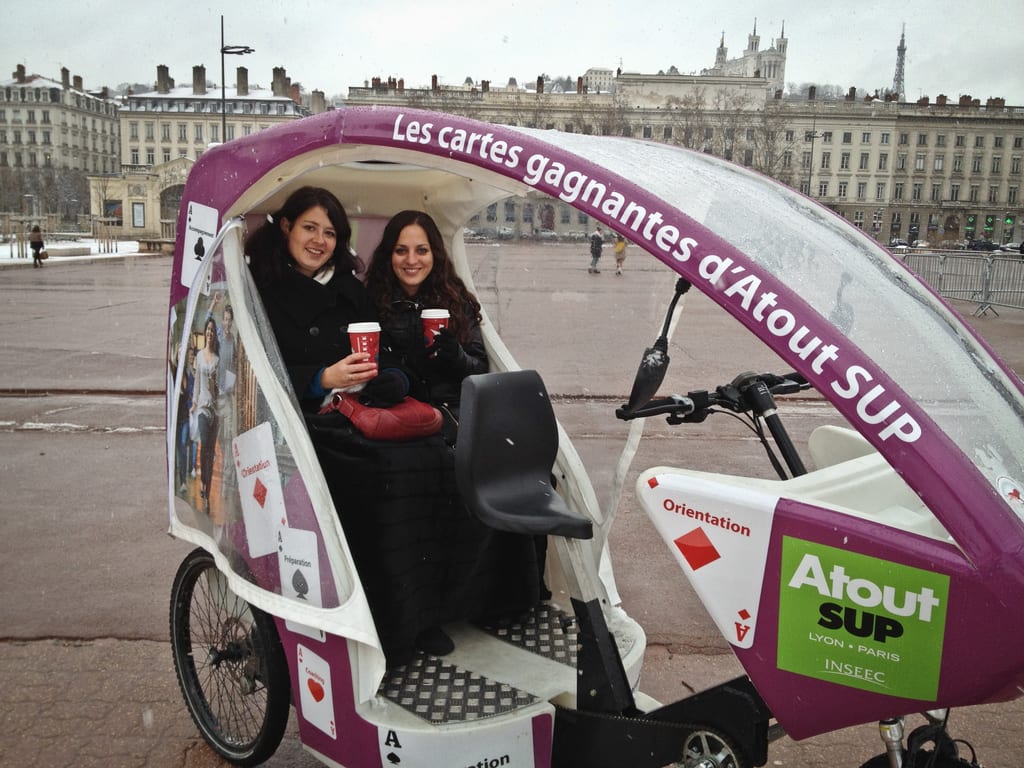 Laurel and I lasted as long as we could — then we begged for a Starbucks break so we could warm up our toes.  As soon as we returned, lattes in hand, the snow had stopped!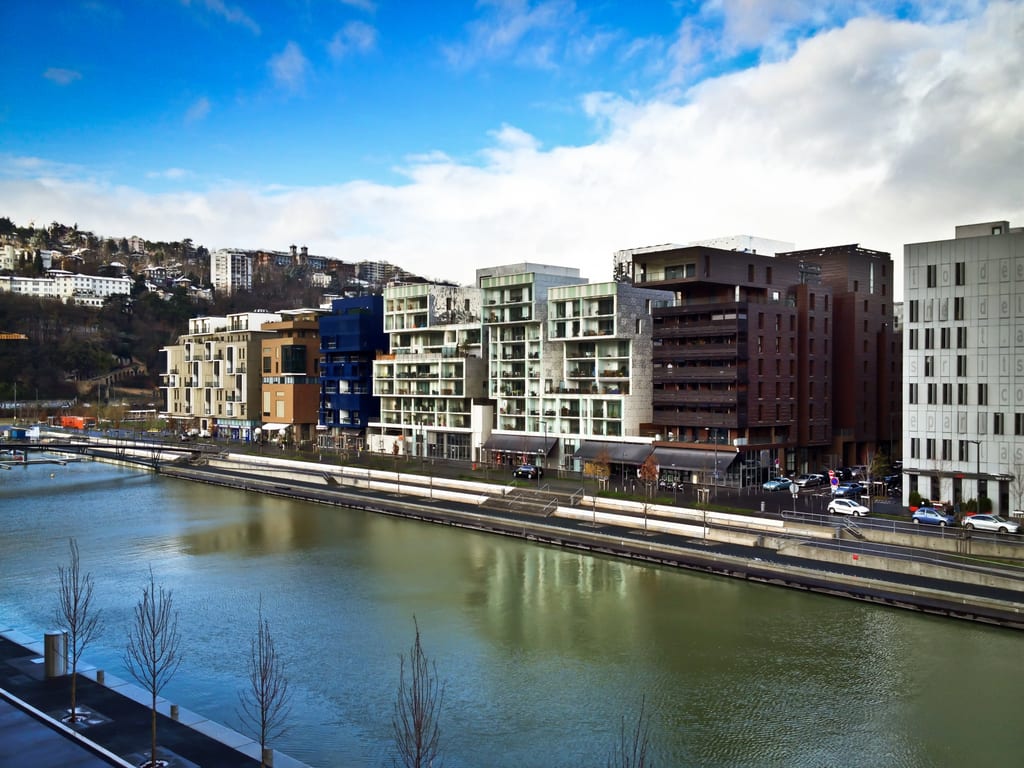 One thing I've learned, however, is that the weather in France rarely stays the same for long.  By the time we had finished lunch, we came out to sunshine and blue skies.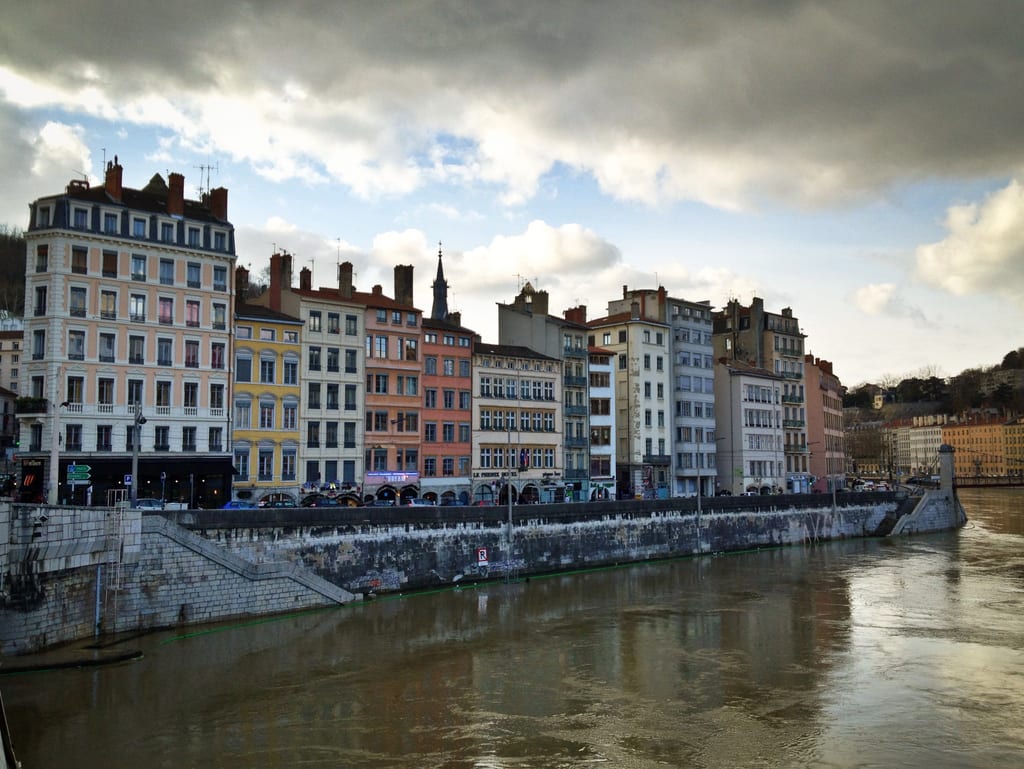 Lyon may be known as the younger sibling to Paris, but it's a beautiful city that absolutely deserves a visit of its own.
Many thanks to Rhône-Alpes Tourisme and Magellan PR for hosting me in Lyon.  All opinions, as always, are my own.
Get email updates from Kate
Never miss a post. Unsubscribe anytime!